Lee Hyung-chul vai Jin Sang-woo (SW Entertainment president)
Han Ye-won vai Cherry
Hong Ji-min vai Lee Hye-kyung
Yoo Seo-jin vai Yoon Hyun-soo
Choi Sang-hoon vai Kang Ho-sang
Lee Won vai Kwon Oh-suk
Lee Sung-min vai Song Soo-chul
Lee Dal-hyung vai Park Bong-shik
Yeo Ho-min vai Hong Seo-gyu
Kim Dong-gyun vai Noh Yong-chul
Park Joo-ah vai Park Hyung-ja
Shin Dong-woo vai Kim Joon-hee
Lee Chul-min vai Kim Hak-seon
Kang Joo-hyung vai Ahn Da-jung
Jin Sung vai Lee Won
Im Hyun-sung vai Kim Beom-rae
Sung Woo-jin vai Ra Seok-hyun
Ricky Kim vai Aidan Lee
Lee Kyung-jin vai Kwak Wook-shim
Min Seo-hyun vai Yang So-eun
Seol Ji-yoon vai người viết Kwon
Kang Rae-yeon vai hướng dẫn viên du lịch
Maeng Bo-hak vai nhà sản xuất phim
Jang Ki-joon (Lee Beom-soo) used to be a top manager in the business but he went bankrupt as he couldn't compete with other powerful agencies. He was 'rescued' by Oh Seung-ah (Kim Ha-neul), a top star who agreed to join his agency after breaking off with her former one. Lee Kyung-min (Park Yong-ha) is a drama PD who gets his first chance at being a director. Seo Young-eun (Song Yoon-ah) is a much sought-after scriptwriter who is divorced and has a young son. On Air revolves around these four entertainment industry figures - a director, a writer, an actress, and her manager - as their personal and professional lives intertwine during the shooting of a drama. It also portrays how the whole production team and performers complete a project in a tight schedule as well as how actors, actresses, and entertainment agencies handle rumors surrounding them.
==================================================================================
On Air

온에어
(2008) SBS 21 Episodes
Broadcast Melodrama,
Grade: B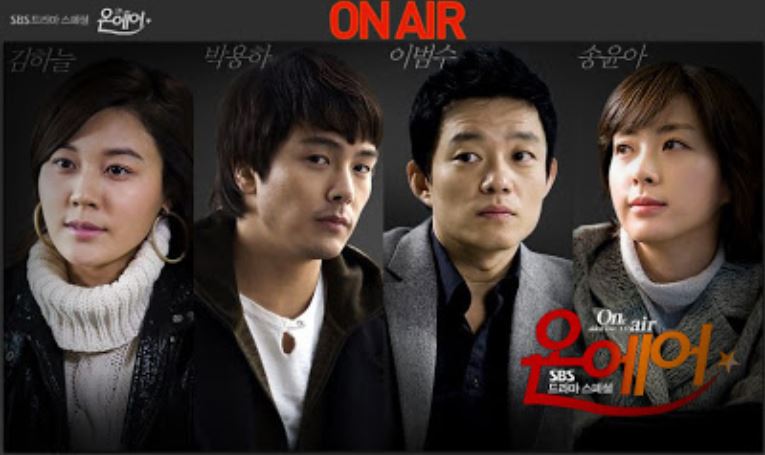 Korean Drama Review by Jill, USA

~~~~~~~~~

On Air
(2008) was a popular melodrama with high ratings about what goes on behind the scenes in the making of Korean dramas for television. It did for K-dramas what the drama
Producer
(2015) did for Korean variety shows
:
depict the hard work that goes on behind the scenes in creating the entertainment which interests us on Korean television. When the show emphasized and examined the intricate workings of making K-dramas I was fascinated and really learned a lot, but when the show focused on the love quadrangle between the four leads, Kim Ha Neul, Park Yong Ha, Lee Beom-soo and Song Yun-ah, I often became frustrated. I had such a
huge
case of the common K-drama phenomenon
Second Male Lead Syndrome (Second Male Leaditis)
in this drama that it hurt! I really wanted Kim Ha Neul's character with Park Yong Ha's character from episode one on, and I knew that chances were high that wasn't going to happen. I can count on one hand the number of Korean dramas where the female lead ends up with the second male lead.
The very best parts of
On Air
had to do with showing us the truth of K-drama making. For instance, when they showed us what
REALLY
goes on behind the scenes during script readings (when there are no cameras taking pictures of the actors) I was fascinated. Ordinarily we the public only see still photos of the actors smiling reading their scripts together, seemingly all friendly with one another, so I enjoyed seeing what really goes on during script readings
:
the strong disagreements that often result with writers and other actors about how to deliver their lines and flesh out their drama characters! It's not always smooth sailing in that department, as they would have you believe in real life by the pretty pictures they take of official script readings. Not everyone in this industry gets along with one another, far from it! I also enjoyed when the drama showed the many sacrifices crew members have to make in order to be involved in this profession, the time demands that keep them away from their families, often during major life events. How often have you thought about the lighting crew on a show you watch, for example, where the lighting engineers have to miss their kids' graduations or a family funeral because the latest drama star needs her lighting done "just so" to look her most beautiful for the cameras? Making a drama is an ensemble under-taking and this drama shows that very clearly. They have strict schedules to fulfill and no flexibility if anyone becomes ill or has a family emergency. 
When they showed both male leads Lee Beom-soo (playing studio producer Ki-joon Jang) and Park Yong Ha (playing director Kyung-min Lee) more interested in the annoying, less attractive second female lead, Song Yun-ah (who played the temperamental chief drama writer named Young-eun Seo at the station), instead of focusing on the gorgeous female lead Kim Ha Neul, who played the lead actress named Seung-ah Oh, I became exasperated. I had a really hard time relating to the second female lead in this show because she was ordinarily an hysterical type who whined a lot about her lot in life, her profession, etc. and it got on my nerves. Her character should have been
thrilled
she got to a point in her career where she could write for dramas, but often she thought everyone was picking on her instead of just disagreeing about a certain plot point or character she was writing. She was a single mother and practically the only time she showed a softer side was when she was with her kid when not working at the station. How could any man find that attractive, I wondered constantly, and much preferred when either of the two male leads had scenes with the first female lead, Kim Ha Neul! She -- as usual -- was
gorgeous
. Even when her character was petulant and sphinx-like it was understandable. Unlike the second female lead character, she had not had a strong family support system to fall back on in life. She was essentially physically and emotionally abandoned by family and had to become hard on the outside in order to survive in the acting world. Her grandmother had wrongly blamed her for the death of her parents and the poor thing had nowhere to turn for love. For awhile she ended up under the influence of shady types in the industry. After her success as an actress became solidified she put her career on the line for the other lead characters more than once, and I found that admirable.
I loved watching how beautiful Kim Ha Neul played her character in this show, and especially the contrasts between her actress character and how she had to portray different  characters on screen. For instance, they showed us what happens technically in a typical telephone scene in a drama. One actor is in bed and the phone rings and he picks it up and puts it to his ear, while the actress speaking over the phone is in a booth with audio equipment which makes her voice seem distorted through telephone lines. Kim Ha Neul's character, while talking into the audio equipment, spoke with girlish charm and emotion, depicting a weak and easily flustered character, but when the director yelled "Cut!" she was immediately back to her real self, a down to earth and practical, no nonsense actress who expected others to do her bidding so that she could excel. You can see Kim Ha Neul's extraordinary gifts as an actress in this show in every single scene, and it's no wonder she won several acting awards for her performance in
On Air
.  

Another reason I really enjoyed this drama was because of lovely Park Yong Ha, who played a rookie director in the drama. This was his second to last drama before his tragic suicide in 2010. (His last was
Story Of A Man
a year after
On Air
). He also won several awards for his gentle and introspective performance here
;
his character was just a nice guy with a decent sense of humor whom I found fabulously appealing and attractive. (Not to mention he looked at his most handsome in this drama compared to any other he was in, including
Loving You
and
Winter Sonata
).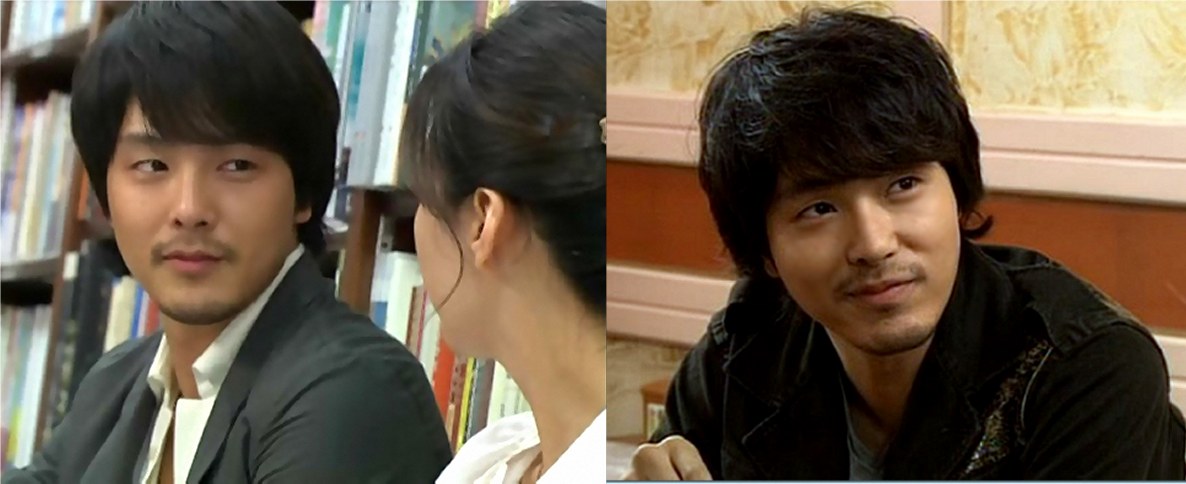 Park Yong Ha, looking so handsome in On Air that it pained me!
In contrast with the older Lee Beom-soo, playing the producer, who was so good with Yoona in
The Prime Minister And I
in 2013, Yong Ha was the most appealing male presence in the drama. He really listened to the other characters and cared about them. He wasn't just in his career to promote himself. He liked the work and was willing to learn, without putting his ego first. So often I would melt inside during his scenes, and wonder once again why he ended it all in real life when he had so much talent and so many people in the industry seemed to love him and would have helped him if they had known he was suffering. I am writing this review approaching the fifth year anniversary of his death (June 30th) and sometimes I still feel the tears sting my eyes when writing about him or looking at his pictures or watching him act. 
I particularly loved the on location shots in Taiwan when all four leads were together and their characters were discovering each other as human beings, finding out what made them each "tick". Anytime Park Yong Ha and Kim Ha Neul had scenes together I would doubly melt, like when he grabbed her hand and led her away from fans and paparazzi, and I wished again that their characters would end up together. They had a lot of chemistry together; Ha Neul had far more chemistry with Yong Ha than she did with Lee Beom-soo. I couldn't believe the drama writers couldn't see it and wouldn't adjust their script accordingly.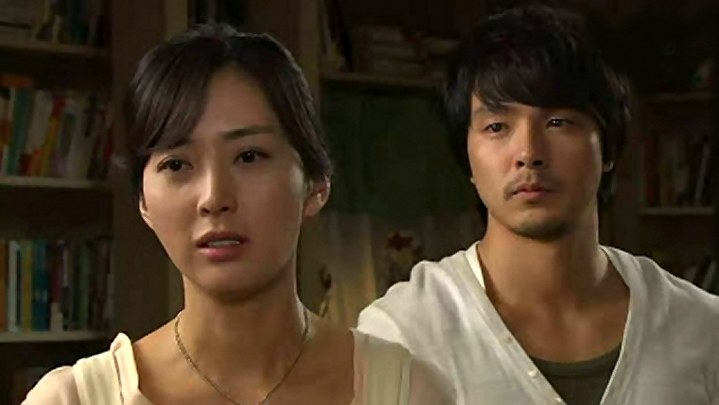 Song Yun-ah with Park Yong Ha in On Air
Why did you like her? WHY???

Yong Ha was so good looking I thought of Lina Lamont's line in
Singin' In The Rain
, "They'd come to see me if I played opposite a monkey!" Haha. I would have watched Yong Ha with anyone, but really did
not
want to see his character end up with the whiny scriptwriter gal!
No!
Meanwhile, her character seemed to have the secret hots for Lee Beom-soo's character, so I would talk back to the screen, "Yes! Please, please take him instead! Leave Park Yong Ha alone" LOL! The two lead female characters did NOT like one another and were constantly on the outs. In one funny scene in a Chinese massage parlor the two guys were in one room naked having a massage, while the two women were in another room naked having massages. The two guys knew the actress and scriptwriter did not get along, and fantasized about what would happen if they got into a cat fight in the other room while naked. Oh how I laughed and giggled at these scenes!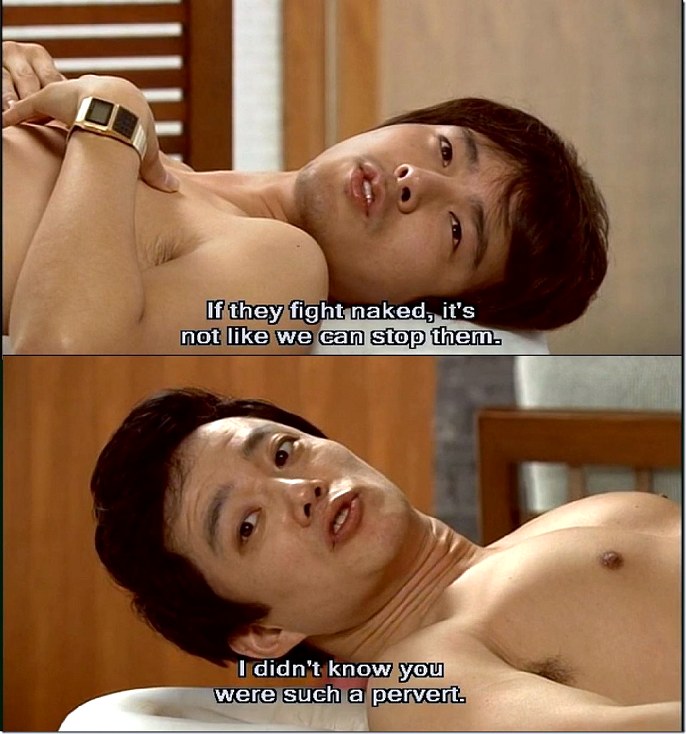 Another fun reason to watch
On Air
is because of all the cameo appearances by different stars playing themselves as actors and actresses. It's a challenge to play "Spot the Celebrity" in each episode. The series features 27
star cameo appearances
, among them Jeon Do-yeon, Kim Jung-eun, Lee Seo-jin, Kim Min-joon and Yoon Se-ah, who had previously worked with writer Kim Eun-sook and director Shin Woo-chul on
Lovers in Paris, Lovers in Prague
, and
Lovers
. Song Yun-ah also asked her celebrity friends to appear on the show, namely Lee Hyori, Kang Hye-jung, Uhm Ji-won, and comedian Kim Je-dong. If you love Korean actors like I do you will smile at everyone you recognize when they turn up.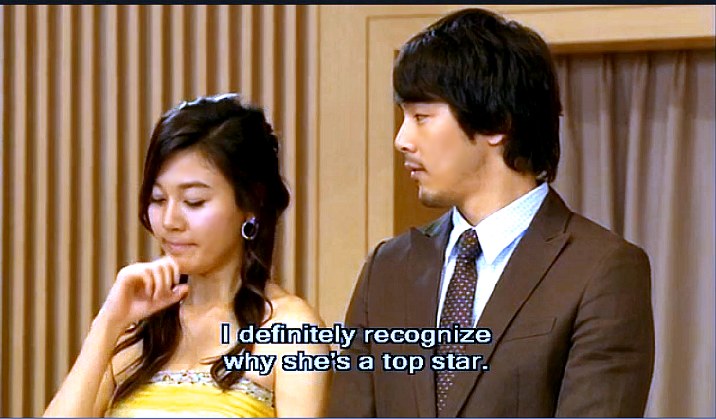 Usually many of the side characters in dramas add a lot of spice to a drama
,
here I have to be honest: many of them bored me or tried my patience. I kept feeling they were wasting time that could be better utilized showing more romantic scenes or more behind the scenes about drama-making. There seemed to be quite a few older Ahjummas in this show who had thorns in their characters and did nothing but complain and meddle, and I truthfully would just fast forward through their scenes. I understand the industry wants to give roles to as many actors and actresses as possible, but the main story shouldn't be put on the side-burner to accommodate them. If I had one main criticism of this series it would be that one.
Just give me more Kim Ha Neul and Park Yong Ha and I'm a happy camper!!!
~~~~~~~~~~~~~~~
HOME TO KOREAN DRAMA REVIEWS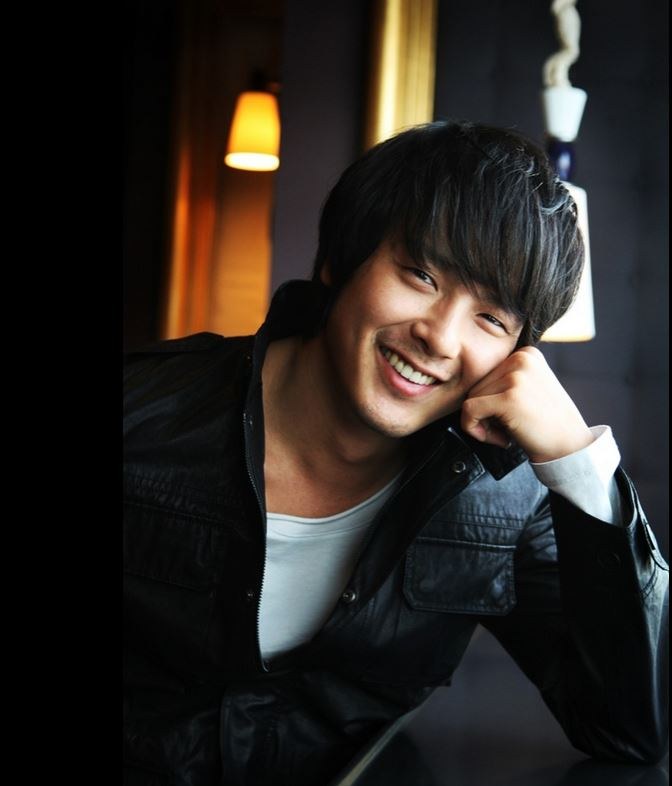 ==================================================================================
90
March 16, 2008June 12, 2013
On Air: First impressions
Hm. Perhaps SBS and I are not meant to be on friendly terms.
It's not that there's anything about the broadcast station in particular that I don't like; it's just that it's been ages since I've seen an SBS drama I really enjoyed. And the dramas I've actively disliked recently have all been SBS series.
I did not like On Air. There's no one specific reason for my reaction, merely a general spirit of distaste.
It's not that it's badly made — it's got an obviously high production budget and a glossy look to it. It's slick, it's quick, it's star-studded, it's… kind of heartless.
First off, the characters are all detestable: pretty on the outside, ugly on the inside. It's been a long time since I've so thoroughly disliked all the characters in a drama. Usually I can pick out something to connect to, in someone, but nope. Empty shells all.
In her plots, writer Kim Eun Sook has always relied on a confluence of contrivances, which I noticed previously and am again reminded of in On Air. Rather than creating believable ways for people to be connected — and in an incestuous industry like entertainment, that's not hard — she instead creates an entanglement of coincidences. Bah.
SONG OF THE DAY
On Air OST – "고마운 사람" (Thankful person) by Park Yong Ha [ Download ]
Audio clip: Adobe Flash Player (version 9 or above) is required to play this audio clip. Download the latest version here. You also need to have JavaScript enabled in your browser.
What didn't occur to me till now, however, was that her works (the Lovers trio, for instance) also tend to be a little empty on the emotional scale — they're all about romantic love and little else. And while I'm a huge sap for romance in dramas, I hate when that's ALL a drama is. What's driving these characters? Everyone's goals seem terribly shallow — Lee Beom Soo's manager character is the only one with a hint of more behind it, but perhaps that's the actor at work — that I can't care about any of them even IF their characters weren't disgustingly self-obsessed to begin with.
To wit:
A vain, egomaniacal actress (Kim Haneul channeling her best diva) rejects an award onstage at the award ceremony — because she's insulted that the award is shared. She refuses her manager's attempts to salvage her negative image, spews cynical diatribe out one side of her mouth while smiling sweetly to her "loving fans" with the other, and alienates anyone inclined to help her. The rising drama PD (Park Yong Ha) sees her for what she is but can't control her — no one can control her. So by extension, that automatically sets me/you up to like her nemesis, the A-list drama writer (Song Yoon Ah). Only the drama writer is petty and bilious and harbors ages-old grudges. Oh no! She refuses to do the drama! Oh no, he's insulted! Oh no, now the other one refuses to do the drama too! How dire.
All the antipathy flying around thereby confuses you — does this drama have no hero? Are they all antiheroes? Is it some kind of metaphysical statement on the status of entertainment as an industry? Is it satire? Is it… just shallow?
What the drama DOES have is a high profile, and lots of real-life celebrity cameos (mostly pointless, except to lend a superficial stamp of credibility on the drama, so okay, perhaps a teensy bit pointful). It looks smooth and glossy, and the writer showcases her trademark quick banter (is it still banter when the free-flying words are loaded with spite?). And you can always argue that the characters are MEANT to be hateful. I'll disagree — what's the point in using showbiz as your backdrop if you play upon its cliches and bypass the chance to humanize any part of it?
I don't buy that On Air is really that much of a realistic "inside look" at the entertainment industry, either — no more than 30 Rock is, at least. So what could be an interesting vantage point into one's own world becomes, then, a platform for self-aggrandizement. It's so self-congratulatory.
You're free to disagree (and I'm pretty sure the series is probably going to be a big hit), but for me: PASS.
Next up: Who Are You?
RELATED POSTS
====================================================================================
Dàn sao 'Sóng gió hậu trường' sau 10 năm - người hạnh phúc, kẻ tự tử
Kim Ha Neul kết hôn với doanh nhân giàu có, Lee Bum Soo viên mãn bên người vợ thứ hai, còn Park Yong Ha chọn cái chết vì trầm cảm.
Dàn diễn viên 'Những nàng công chúa nổi tiếng' sau 11 năm
/
Sao 'Phía đông vườn địa đàng' - người thành danh, kẻ bị chỉ trích vì thẩm mỹ
Theo Naver, "Sóng gió hậu trường" (On air) là đòn tấn công trực diện vào showbiz Hàn, vạch mặt góc khuất sau hào quang và sự thật về người nổi tiếng. Tác phẩm phản ánh chân thực công việc và hành trình chông gai của những người theo đuổi giấc mơ điện ảnh. Loạt quan hệ rắc rối và những lần chạm trán giữa ngôi sao, quản lý, biên kịch và nhà sản xuất... được khai thác triệt để. Mặt trái của giới giải trí cũng bị phơi bày, không ít diễn viên bất chấp thủ đoạn để được nổi tiếng, kẻ có quyền thì dùng tiền để thao túng quảng cáo, truyền thông...
Nhờ nội dung thu hút và quy tụ dàn sao chính hạng A, dự án lọt Top 10 phim hay nhất Hàn Quốc năm 2008. Chỉ tính riêng tại Nhật, giá bản quyền mỗi tập phim lên tới 60 triệu won.
Kim Ha Neul thủ vai diễn viên đang nổi Oh Seung Ah. Cô luôn bị chê diễn xuất yếu kém nhưng tự phụ, kiêu căng. Tuy nhiên, nhờ xinh đẹp, cô vẫn được truyền thông săn đón và là gương mặt bảo chứng phòng vé. Trải qua nhiều sóng gió, Oh Seung Ah dần hoàn thiện kỹ năng diễn xuất, có cơ hội đóng phim Hollywood và công khai tình cảm với Giám đốc công ty quản lý - Jang Ki Joon.
* Kim Ha Neul trong "Sóng gió hậu trường"
Kim Ha Neul là diễn viên thực lực xứ Hàn, được truyền thông nước này đánh giá có nhan sắc
phúc hậu
, dịu dàng. Cô khởi nghiệp với vai trò người mẫu từ năm 18 tuổi và thành công nhờ diễn xuất. Các phim ăn khách của diễn viên gồm "Hạnh phúc bên nhau", "Cô bạn gia sư", "Hoa thủy tinh", "Người đẹp nói dối", "Phẩm chất quý ông", "Đường đến sân bay"...
Người đẹp
kết hôn
với doanh nhân
gia đình bề thế
hồi năm 2016 - sau một năm hẹn hò. Tháng 10/2017, cô thông báo mang thai và dừng lại mọi dự án để chào đón con đầu lòng vào giữa năm nay.
Lee Bum Soo vào vai Jang Ki Joon - người đứng đầu công ty giải trí. Anh từng nhiều lần thất bại trong tình yêu, thích đơn phương nghệ sĩ của mình nhưng khi có tên tuổi, họ đều rời bỏ anh. Sự xuất hiện của diễn viên Oh Seung Ah khiến trái tim anh dao động. Về sau, Ki Joon cùng Seung Ah qua Mỹ đóng phim, hỗ trợ cô với vai trò quản lý đắc lực kiêm bạn trai. 
* Diễn xuất của Lee Bum Soo trong phim
Lee Bum Soo sinh ngày 3/1/1970, đóng phim từ năm 20 tuổi. Anh thành công trong cả tuyến vai phản diện và chính diện. Các dự án nổi bật của diễn viên gồm "Bác sĩ Bong Dal Hee", "Cuộc đời lớn", "Mật danh Iris 2", "Nước cờ sinh tử"...
Diễn viên kết hôn lần đầu vào năm 2003, nhưng ly hôn sau bốn tháng và một mình nuôi con gái. Năm 2010, anh tái hôn với cô giáo dạy tiếng Anh của con. Họ có hai con chung - một trai, một gái.
Ba bố con Lee Bum Soo nhận được sự quan tâm của fan khi tham gia chương trình thực tế "Siêu nhân trở lại".
* Ba bố con Lee Bum Soo tham gia show 'Siêu nhân trở lại'
Park Yong Ha thủ vai đạo diễn Kim Kyung Min - ít nói, lạnh lùng và ngạo mạn. Anh là người cầu toàn nên khá nghiêm khắc với mọi người. Vì luôn muốn mọi thứ phải hoàn hảo, anh nhiều lần đụng độ biên kịch Suh Young Eun. Từ đối đầu, họ dần phải lòng nhau và có cuộc hôn nhân hạnh phúc. 
Vai diễn giúp Park Yong Ha đoạt giải Nam chính xuất sắc tại SBS Drama Awards, lọt top 10 ngôi sao nổi tiếng do khán giả bình chọn. 
* Vai diễn của Park Yong Ha trong phim
Park Yong Ha sinh năm 1977, gia nhập làng giải trí hồi 1994 - khi mới 17 tuổi. Anh gây tiếng vang với loạt phim "Nếu tuyết rơi đêm Giáng sinh", "
Bản tình ca mùa đông
" (trong ảnh, thứ hai từ trái sang), "Yêu em"... Hai phim cuối cùng của anh là "The Scamp" và "A Man's Story" có doanh thu và tỷ lệ người xem thấp.
Ngoài diễn xuất, anh còn là ca sĩ, từng hát OST cho nhiều phim đình đám. Yong Ha cũng là nghệ sĩ Hàn đầu tiên đoạt giải Nghệ sĩ mới xuất sắc tại lễ trao giải Golden Disk của Nhật hồi năm 2005. Từ năm 2006 đến 2008, tài tử đoạt liên tiếp bốn giải âm nhạc lớn tại xứ sở Phù Tang.
Yong Ha từng có cuộc tình đẹp với Eugene - "
Thần tượng xinh đẹp nhất lịch sử Kpop
", nhưng họ buộc phải chia tay vì bị săm soi quá mức. Những năm sau này, anh rơi vào
trầm cảm
vì công ty làm ăn không thuận lợi, buồn chuyện tình cảm và bất lực khi phát hiện cha bị ung thư giai đoạn cuối. Tài tử tiết lộ bị mất ngủ suốt 14 năm và chỉ có thể ngủ nhờ thuốc. 
Sáng 30/6/2010, khi thấy cuộc đời không còn ý nghĩa, anh chọn cách ra đi mãi mãi. Hàng trăm nghìn người hâm mộ từ Nhật, Đài Loan, Hong Kong... bay sang Hàn đưa tiễn anh. Suốt tám năm qua, cứ đến ngày giỗ, mộ của sao quá cố lại
phủ đầy hoa
và những dòng người đến viếng. Trong ảnh: diễn viên So Ji Sub - bạn thân nhất của Yong Ha - mang di ảnh anh tại tang lễ.
* Tang lễ đẫm nước mắt của Park Yong Ha
Song Yoon Ah hóa thân thành biên kịch nổi tiếng nhưng tính tình kỳ quặc - Suh Young Eun. Các kịch bản do cô viết đều gây tiếng vang, thu hút người xem, vì thế cô được mệnh danh là "Cỗ máy rating", "Nữ thần bất bại". Về sau, cô dần điều chỉnh bản thân, muốn viết ra những tác phẩm "sạch sẽ" và tìm được hạnh phúc bên chàng đạo diễn khó tính Kim Kyung Min.
* Diễn xuất của Song Yoon Ah
Song Yoon Ah sinh năm 1973, là gương mặt nổi bật của làng giải trí Hàn thập niên 1990. Cô vang danh châu Á với loạt phim đình đám như "Chị gái tôi", "Nước mắt của rồng", "Love", "Mr.Q", "
Ông trùm
" (trái), "Người quản lý khách sạn" (phải)... Từ sau "Sóng gió hậu trường", người đẹp dừng mọi hoạt động nghệ thuật để chăm sóc gia đình và trở lại màn ảnh nhỏ vào năm 2014 với tác phẩm "Mama", sau đó là "
Mật danh k2
".
Song Yoon Ah kết hôn với nam diễn viên đã qua một đời vợ - Sol Kyung Gu - hồi năm 2009. Họ gặp nhau trên phim trường "Jail Breaker" (2002) và tái hợp trong tác phẩm "Lost in Love" (2007). Cô cũng bị đồn là người thứ ba khiến cuộc hôn nhân đầu tiên của tài tử tan vỡ. Sau gần chín năm gắn bó, cả hai có một con và sống hạnh phúc.
* Bản nhạc nền "We sarang" do Park Yong Ha thể hiện