Họa sĩ gió

Ảnh bìa phim Họa sĩ gió

 

Tên khác
The Painter of Wind 
Garden of the Wind
Thể loại
Tình cảm, Lãng mạn, Lịch sử, Cổ trang
Dựa trên
Họa sĩ gió
của Lee Jung-myung
Kịch bản
Lee Eun-yeong
Đạo diễn
Jang Tae-yoo 
Jin Hyuk
Diễn viên
Moon Geun-young
Park Shin-yang
Quốc gia
Hàn Quốc
Ngôn ngữ
Tiếng Hàn
Số tập
20
Sản xuất
Giám đốc sản xuất
Lee Young-joon
Địa điểm
Hàn Quốc
Thời lượng
Thứ 4 & 5 lúc 21:55 (KST)
Trình chiếu
Kênh trình chiếu
Seoul Broadcasting System
Phát sóng
24 tháng 9, 2008 – 4 tháng 12, 2008
Họa sĩ gió
 hay 
Vườn hoa của gió
 (Hangul: 바람의 화원, Hanja: 바람의畫員, Romaja quốc ngữ: Baram-ui Hwawon) là một bộ phim truyền hình cổ trang 
Hàn Quốc
 2008 với sự tham gia của diễn viên 
Moon Geun-young
 và 
Park Shin-yang
. Dựa trên cuốn tiểu thuyết giả sử của Lee Jung-myung
. Tại Việt Nam, phim từng được 
TVM Corp
 mua bản quyền và phát sóng trên kênh 
HTV3
.
14 năm trước, năm Nhâm Ngọ, Tư Điệu thái tử bị vu khống có mưu đồ tạo phản. Lo lắng mình bị hại, Tư Điệu thái tử đã từng giết người hầu của mình, và tỏ ra có vấn đề về mặt tâm lý. Lợi dụng điểm này, phe phái Ngoại thích mà đứng đầu là Tả thừa tướng Wusang và Vương phi Trinh Thuần đã tìm cách sàm tấu với đức vua Anh Tổ xử tội con trai của mình. Nhà vua không trực tiếp tuyên chỉ nhưng thế lực Ngoại thích đã tìm mọi cách hại Tư Điệu thái tử điện hạ chịu hình phạt chết ngạt trong thùng gạo và bị phế vương hiệu.
4 năm sau, vì hối hận với những gì mình làm với con trai, vua Anh Tổ đã cho gọi hai họa viên của Đồ Họa Thư (Học viện mỹ thuật hoàng gia Triều Tiên thời đó) hạ mật chỉ vẽ lại Ngự chân dung cho con trai theo hình thức Dung họa (Vẽ theo miêu tả) để công nhận Đế hiệu cho con trai mình, như một người chính thức kế vị. Không may, phe Ngoại thích nắm được tin tức này. Họ đã triệu tập Đại hành thủ thương lái Kim Triệu Niên bí mật ám sát hai họa viên. Họa sư đại học sĩ Khang Thọ Hàn bị hạ độc vì màu vẽ còn cộng sự là họa viên Từ Tĩnh cùng vợ bị đâm chết. Con gái của họ mất tích. Chuyện này xảy ra năm Bính Thìn(1766).
Năm Đinh Dậu, 1776, con trai của Tư Điệu thái tử lên ngôi, lấy hiệu là Trang Tổ Ý. Nhà vua trẻ mong muốn cải cách nhưng trong nước có nhiều điều không thuận lợi về thời tiết cũng như chính trị. Vua quyết định đi cầu mưa mong thái bình thịnh trị. Nhân lúc đó, Vương phi Trinh Thuần giờ đã là Thái Hoàng thái hậu bí mật xuất cung gặp lại tình nhân năm xưa. Đó cũng nhằm ngày các họa học viên của Đồ Họa Thư đi vẽ xuân họa. Một học trò của Đồ Họa Thư là Shin Yun Bok (Thân Nhuận Phước) - con thứ của Ijie đại nhân (tương đương với hiệu phó) Shin Hangpyung đã tình cờ vẽ lại hình dáng của Thái Hoàng thái hậu. Phát hiện ra, bà ta vô cùng nổi giận và lo sợ bị bại lộ, bà ta đã cho tìm ngay học trò dám vẽ lại mình.
Đồ Họa Thư náo loạn vì không một thầy giáo nào có khả năng tìm được học trò đó, hơn nữa lại có lệnh của Thái Hoàng thái hậu sẽ trị tội người đứng đầu Đồ Họa Thư. Nhân lúc đó, nhà vua đã ra chiếu chỉ triệu tập một họa viên bị Đồ Họa Thư đày đi Mỹ Hằng Sơn từ 10 năm trước là Đàn Viên Kim Hoành Đạo trở về. Đàn Viên là một đại danh họa, cũng là bạn thân của Từ Tĩnh, một trong hai người bị sát hại 10 năm trước. Anh ta quyết tâm tìm ra kẻ sát hại bạn mình nên thế lực Ngoại thích rất lo sợ. Họ tìm mọi cách hãm hại Đàn Viên.
Về phần Đàn Viên, sự trở về lần này là cơ hội để tìm ra kẻ sát hại người bạn thân năm xưa và cũng là để làm nhiệm vụ do hoàng đế giao phó. Đàn Viên không khó khăn gì để nhận ra, Thân Nhuận Phước thực sự là một tài năng bẩm sinh với cách nhìn nhận cuộc sống táo bạo và sáng tạo hơn hẳn những gì bó buộc tư tưởng của họa sĩ ở Đồ Họa Thư. Đàn Viên tìm mọi cách bảo vệ học trò khỏi hình phạt bị phế tay, thậm chí không ngần ngại chịu lãnh kết quả xấu nhất. Kết cục cuối cùng của vụ lộn xộn này là: Shin Young Bok - đại huynh của Thân Nhuận Phước nhận tội thay cho tiểu đệ và bị đày đến xưởng chế tác màu và trang trí hoàng cung Đan Thanh Sở. Thân Nhuận Phước vì chuyện này mà chán nản, định từ bỏ niềm đam mê hội họa nhưng Đàn Viên đã tìm đủ mọi cách để lôi kéo Thân Nhuận Phước khỏi sự chán nản đó.
Thân Nhuận Phước đã định bỏ học nên bị cấm túc và có nguy cơ bị đuổi trong khi Đàn Viên cũng có nguy cơ phải trở lại Mỹ Hằng Sơn. Điều kiện đặt ra cho cả hai thầy trò nếu muốn ở lại Hanyang (Hán Dương) thì Thân Nhuận Phước phải đỗ để trở thành một họa viên thực sự chứ không còn là một học viên nữa. Điều này không phải dễ dàng vì thường thì chỉ lấy duy nhất một học viên đỗ đầu cho các kỳ thi. Hai thầy trò Kim Hoành Đạo - Thân Nhuận Phước đã vượt qua thử thách, bất chấp sự hãm hại đủ mọi cách của Biệt Đề đại nhân (tương đương với hiệu trưởng của Đồ Họa Thư). Thân Nhuận Phước chính thức trở thành họa viên ngay năm Đinh Dậu (1776) nhờ duy nhất một vị giám khảo chấm đỗ là hoàng đế.
Ngay sau đó, hai thầy trò Kim Hoành Đạo - Thân Nhuận Phước trở thành cánh tay phải đắc lực của vua Chính Tổ trong việc tìm hiểu xã hội và dân tình. Tai hại là những bức vẽ của Thân Nhuận Phước đã động chạm đến xã hội thượng lưu và một vài vị quan lại. Cả Đồ Họa Thư bị cải tạo lao động, phải làm việc rất nặng nhọc. Chính Tổ tức giận vô cùng, thêm mong muốn tập trung quyền lực tối cao nên đã ra lệnh thi tuyển Ngự chân họa sĩ vẽ Ngự chân dung. Tất cả thành viên của Đồ Họa Thư được trở về và chuẩn bị cho kỳ thi đó. Lại một lần nữa hai thầy trò Kim Hoành Đạo - Thân Nhuận Phước vượt qua thử thách và trở thành Ngự chân họa sĩ, mặc dù phe Ngoại thích lại giở trò hãm hại.
Trong quá trình vẽ Ngự chân dung, Kim Hoành Đạo nảy sinh thứ tình cảm đặc biệt với học trò không chỉ là tình thầy trò, bạn bè mà còn là tình yêu, mặc dù Đàn Viên Kim Hoành Đạo đã tìm mọi cách để phủ nhận. Không may, màu vẽ của họ bị huỷ vì những mưu toan của phe Ngoại thích. Anh trai của Thân Nhuận Phước tìm cách chế màu cho em nhưng vì tác dụng phụ của màu vẽ, anh bị nhiễm độc và gặp tai nạn trong lúc làm việc. Đau lòng vì cái chết của anh trai, Thân Nhuận Phước đã không thể kiềm chế được trong lúc các quần thần phản biện Ngự chân dung và đã xé bức tranh cao quý đó. Thân Nhuận Phước bị khép vào tội chết nhưng Kim Hoành Đạo đã tự mình phế tay để xin hoàng đế tha thứ. Thân Nhuận Phước thoát chết nhưng bị trục xuất khỏi Đồ Họa Thư.
Thời còn là học viên Đồ Hoạ Thư, Thân Nhuận Phước đã từng quen biết với một cầm kỹ nổi danh là Jeong Hyang. Nàng cầm kỹ vừa thông minh vừa xinh đẹp đó đã phải lòng tiểu họa công vì chàng là người hiểu tiếng đàn của nàng và tâm hồn nàng. Giữa họ đã nảy nở một tình cảm tri âm tri kỷ. Không ngờ ngày Thân Nhuận Phước đỗ đạt thành hoạ viên cũng là ngày Jeong Hyang bị chủ kỹ viện bán cho Đại hành thủ thương lái Kim Triệu Niên. Nàng đau khổ, ngậm đắng nuốt cay về phủ thương lái. Trong lúc chơi đàn cho bữa tiệc rượu của Đại hành thủ, nàng nghe tin Thân Nhuận Phước bị xử tội do xé Ngự chân dung, Jeong Hyang đã tìm mọi cách để cứu Thân Nhuận Phước, kể cả khôn khéo gợi ý cho Đại hành thủ-người yêu thích hội họa- để cứu người nàng yêu thương. Vì thế, ngay sau khi thoát chết, Thân Nhuận Phước bị cha bán cho Đại hành thủ thương lái là điều dễ hiểu. Ngay trước đó, Thân Nhuận Phước được Kim Hoành Đạo đề tặng họa danh Hyewon (Huệ Viên) đi cùng hoạ danh của Kim là Danwon (Đàn Viên)
Trong thời gian làm họa công tại xưởng họa tư thục của Đại hành thủ, Thân Nhuận Phước một lần nữa được hoàng đế triệu tập vào cung điện, tại đây Thân Nhuận Phước gặp lại Kim Hoành Đạo. Hai thầy trò nhận thánh chỉ của nhà vua đi tìm bức Ngự chân dung bị mất tích của Thái tử bị truất phế năm xưa. Trong quá trình tìm kiếm, Thân Nhuận Phước bất ngờ lộ ra thân phận là một cô nương, và bất ngờ hơn nữa, chính là con gái đã mất tích của Từ Tĩnh. Cho đến lúc đó, Kim Hoành Đạo mới khám phá ra, Ijie đại nhân Shin Hangpyong vì thấy cô bé Yun (tên thật của Thân Nhuận Phước) có tài năng về hội họa đã mồ côi nên đem về nuôi với ý định nhờ tài năng ấy làm rạng danh cho gia tộc. Đàn Viên, với tình cảm dành cho người bạn quá cố và tình yêu đối với Thân Nhuận Phước giờ là Yun, đã vô cùng giận dữ và đứng ra tuyên bố cắt đứt quan hệ giữa Thân Nhuận Phước và nhà họ Thân. Jeong Hyang cũng đã biết chuyện này và nàng đã rất đau khổ, chỉ mong tìm lại cái chết, nhưng khi bình tĩnh lại, nàng đã giữ mãi mối tình ấy trong trái tim mình vì thực sự Thân Nhuận Phước cũng yêu quý nàng và mãi mãi coi nàng như tri âm tri kỷ.
Sau đó không lâu, hai thầy trò Đàn Viên - Huệ Viên phát hiện ra Đại hành thủ Kim Triệu Niên là người đã sai sát thủ giết chết Họa sư đại học sĩ và Từ Tĩnh năm xưa. Huệ Viên đã vô cùng phẫn nộ vì bấy lâu cô đã phục vụ cho kẻ giết cha mình, cũng mong muốn trả thù. Vì những thái độ thách thức với Kim Triệu Niên, cộng thêm với những chi tiết mà Biệt đề cung cấp, Kim Triệu Niên nhanh chóng đoán ra Huệ Viên là một cô gái. Tên lái buôn cáo già định đẩy hai thầy trò Đàn Viên-Huệ Viên vào một cuộc đối họa tỉ thí nhằm huỷ hoại sự nghiệp và danh tiếng của cả hai. May mắn thay, Đàn Viên đã tìm được cách để phá hoại mưu kế này. Kim Triệu Niên trở nên khánh kiệt vì đã tổ chức cá cược cho cuộc tỉ thí.
Thua một cách đau đớn, hắn muốn trả thù Đàn Viên nhưng sau hắn còn kinh ngạc hơn khi biết Huệ Viên chính là con của nạn nhân hắn từng hại. Hắn gửi thư cho Thái hoàng thái hậu tiết lộ thân phận của Huệ Viên. Thái hoàng thái hậu lợi dụng điểm này định phủ nhận bức Ngự chân dung vẽ Tư Điệu thái tử và ngăn cản việc phong Đế hiệu. Tuy nhiên, đức vua Trang Tổ Ý vì quá mến tài họa công, lại thêm cần làm việc lớn nên đã tìm cách che mắt Thái Hoàng thái hậu, đồng thời tha tội khi quân cho Huệ Viên, có điều Huệ Viên không thể trở về Đồ Họa Thư được nữa mà phải mai danh ẩn tích suốt đời. Đàn Viên tình nguyện đi theo để bảo vệ học trò cũng là người mà Đàn Viên yêu thương nhất. Thật không may cho họ là Thái hoàng thái hậu đã một mực truy sát Đàn Viên đồng thời muốn minh chứng thân phận thật của Huệ Viên. Trong lúc hai thầy trò cùng đường bỗng nhận được thư khẩn của thương gia Kim Triệu Niên. Hắn ta đã bị tể tướng Wusang truy sát hòng bịt đầu mối trốn tội.
Huệ Viên rất lo sợ nên có ý nghĩ ra đi một mình để đảm bảo an toàn cho Đàn Viên. Đọc xong thư của Kim Triệu Niên giao cho, Đàn Viên nhận ra dây là bằng chứng chỉ ra những người trực tiếp trong phe Ngoại thích hãm hại Tư Điệu thái tử. Đàn Viên hẹn Huệ Viên tại căn nhà cũ của Từ Tĩnh, còn mình thì trực tiếp vào cung, dâng sớ cho Hoàng đế. Được sự bảo hộ của nhà vua, Đàn Viên cảm thấy yên tâm, nhưng đó cũng là lúc Đàn Viên nhớ lại những lời Huệ Viên nói như muốn từ biệt. Đàn Viên trở lại căn nhà trên đồi nhưng ….trống vắng, chỉ còn một bức Mỹ nhân họa được căng khung.
Huệ Viên ra đi trên một chiếc thuyền nhỏ, biến mất khỏi lịch sử.
Moon Geun-young vai Shin Yun-bok
Ryu Seung-ryong vai Kim Jo-nyun
Moon Chae-won vai Jung-hyang
Lee Joon vai Shin Young-bok

Lee Byung-joon vai Young-bok khi trẻ

Park Hyuk-kwon vai Lee In-moon bạn của Kim Hong-do
Jung In-gi vai Hong Guk-yeong
Kim Eung-soo vai Jang Byuk-soo
Ahn Suk-hwan vai Shin Han-yeong
Park Jin-woo vai Jang Hyo-won
Han Jung-soo vai Seo Jing
Lee Mi-young vai Mok Kye-wol
Yoon Joo-sang vai Kang Su-hang
Lee Kyung-hwa vai Myeong vợ của Seo Jing
Han Yeo-woon vai Jung-sook
Yoon Bong-gil
Ko Gyoo-pil vai hwawon
Lee Sang-hee vai hwawon
Son Hwa-ryeong vai gisaeng
Min Joon-hyun vai eunuch
Ha Dae-ro vai cadet
Kim Won-seok
Jang Moon-seok vai Dol-soi
Choi Gwi-hwa
Jo Dong-hee
Kim Bo-mi vai Mak-nyun
Jeon Jin-gi
Im Ho vai Lee Myung-ki
Yoo Yun-ji
Choi Soo-han
Tae Hwang
No.
Title
Artist
Length
1.
"Song of the Wind (바람의 노래)"
Jo Sung-mo
 
2.
"Line of Sight (눈 길)"
Young Ji
 
3.
"Tears (눈물꽃)"
HowL
 
4.
"Yearning (Impossible Dream...) (그리움 [이루어질 수 없는...])"
Jo Sung-mo
 
5.
"Still Thinking of You (그리고 그리며)"
Kim Hyuna
 
6.
"Yearning (Love Theme) (그리움 [Love Theme])"
 
 
7.
"Dohwaseo (도화서)"
 
 
8.
"The Painter of the Wind (Title Theme) (바람의 화원 [Title Theme])"
 
 
9.
"Ink (Tension Theme) (墨 (먹) [Tension Theme])"
 
 
10.
"The Secret Painting (비밀의 그림)"
 
 
11.
"Laughing and Crying (울다가 웃다가)"
 
 
12.
"Aged Paulownia Hides Its Melody (동천련로 항장곡)"
 
 
13.
"Street Market Scenes (저잣거리 풍경)"
 
 
14.
"Student Wears Blue in the Morning (생도청의 아침)"
 
 
15.
"Moonlight Lovers (月下情人 [월하정인])"
 
 
16.
"Long Waves (장 파 형)"
 
 
17.
"Mountain Tiger (묘향산의 호랑이)"
 
 
18.
"The Aged Paulownia Hides Its Melody (Freestyle Ver.) (동천련로 항장곡 [산조 Ver.])"
 
 
19.
"Dancing Child (舞童 [무 동])"
 
 
20.
"Student Wears Blue in the Morning (Korean Classical Ver.) 생도청의 아침 [Korean Classical Ver.]"
 
 
21.
"Competition of the Workmen (필선의 대결)"
 
 
22.
"Youth Enjoying Nature (年少踏靑 [연소답청])"
"Painter of the wind"- "Họa sĩ gió", nụ cười và những giọt nước mắt
Tên phim: Painter of the wind – Họa sĩ gió.
Thể loại: sad drama, truyền hình, romantic.
Hãng phim: SBS, Hàn Quốc.
Năm công chiếu: 2008
Diễn viên chính:
Moon Geun Young – Shin Yun Bok
Park Shin Yang – Kim Hong Do
Moon Chae Won – Jeong Hyang
Bae So Bin – Vua Jeongjo
~oOo~

Lần đầu tiên một bộ phim Hàn Quốc lại đọng lại trong lòng tôi nhiều day dứt đến như thế. Tôi không phải là người thích phim truyền hình cho lắm, phim Hàn Quốc tôi cũng không xem nhiều, nhưng "Painter of the wind" quả thật đã để lại nhiều ấn tượng đối với tôi. Tôi đã buồn suốt cả một buổi chiều với những câu hỏi trong đầu:"Chẳng nhẽ tình yêu chỉ đẹp khi còn đang dang dở? Chẳng nhẽ tình yêu giữa những người nghệ sĩ chỉ ngắn ngủi đến như thế hay sao?".
Tôi đã từng học lịch sử nghệ thuật hồi năm thứ Tư Đại học. Môn học ấy không chiếm nhiều tín chỉ,mặc dù để nhớ được từng ấy vốn kiến thức không phải là chuyện dễ dàng, nhưng hoàn toàn không có văn hóa của Triều Tiên và Nhật Bản. Lần đầu tiên tiếp xúc với hội họa Triều Tiên, với tranh dân gian của Danwon và Hyewon, tôi cảm thấy thực sự thích, tôi thích những miêu tả chi tiết trong tranh của Danwon và cách đi màu tươi sáng của Hyewon, thậm chí kỹ thuật vẽ cũng lạ hơn với những gì tôi được học vv…vv. Nếu tôi được sinh ra dưới triều đại Chosun, có lẽ tôi cũng sẽ rất hâm mộ Shin Yoonbok, cũng như Jeonghyang vậy.
Trở lại với bộ phim, tôi đã rất xúc động khi thấy cảnh các họa viên học tập, cảnh hai thầy trò Kim-Shin đi vẽ tranh. Tôi thương và đồng cảm với Jeong Hyang về mối tình vô vọng của cô. Có thể nói "Painter of the wind"  là mối tình với nghệ thuật và tình yêu của những người nghệ sĩ.
Đầu tiên phải nói đến tình cảm của Jeonghyang và Shin Yoonbok. Ban đầu Jeonghyang nghĩ Yoonbok chỉ đùa cợt cô với số tiền năm lượng, nhưng khi Yoonbok giải thích rằng sau đêm ấy, đôi bàn tay sẽ bị phế bỏ, rằng năm lượng ấy là số tiền kiếm có được nhờ vẽ một bức tranh, và hơn thế nữa, là để lần cuối, tiếng đàn Gayageum sẽ là cảm hứng nghệ thuật cho tranh của Yoonbok, Jeonghyang đã đồng ý giúp. Ngay lúc ấy tôi đã cảm nhận được họ có mối đồng cảm về nghệ thuật. Những giọt mồ hôi vui sướng của Jeonghyang khi chơi xong khúc cầm phổ là niềm hân hoan của người nghệ sĩ khi tài năng của mình được trân trọng, được người khác hiểu thấu. Đêm trước khi bị bán, Jeonghyang cũng nói với Yoonbok rằng nàng mong chờ tìm được người quân tử hiểu thấu lòng nàng qua tiếng nhạc. Sau này gặp lại nhau, Yoonbok cũng luôn vẽ Jeonghyang trên tranh của mình, thể hiện sự ngưỡng mộ nhan sắc và tài năng của nàng, cũng như luôn quan tâm đến tâm tư tình cảm của nàng. Với Yoonbok, người không thể đáp lại tình yêu của Jeonghyang vì mình cũng là nữ nhi, Yoonbok luôn coi Jeonghyang như một người bạn tâm tình, một người bạn tri âm, tri kỷ, như tranh vẽ của Yoonbok làm bạn với tiếng đàn của Jeonghyang vậy. Cũng chỉ có Jeonghyang là hiểu nỗi lòng của họa công khi vẽ những bức họa mà nàng là nhân vật chính. Tình bạn của họ đẹp, tình yêu của họ chính là những rung cảm về nghệ thuật, và như Yoonbok đã từng nói với Danwon:"Nhìn thấy cô ấy, trò như thấy chính mình" và tình cảm của họ:"Không như mọi người nghĩ đâu!". Sau này, khi biết Yoonbok cũng mang thân phận nữ nhi như mình, Jeonghyang vẫn quan tâm tới họa công, vẫn lo lắng sợ họa công bị hại. Nhìn họ chia tay nhau, tôi cảm thấy xót xa thực sự. Có thể nói, đó là một tình bạn, tình yêu lớn trong đời.
Tình yêu của Danwon với Hyewon thì hoàn toàn dành cho hội họa. Có thể nói, họ đến với nhau nhờ hội họa và yêu nhau cũng vì hội họa. Lần đầu gặp nhau nhờ bức tranh của Danwon, tranh cãi về kỹ thuật vẽ, sau đó là giờ học trên lớp, cũng là tranh luận. Mới gặp không lâu, Danwon đã nhận ra Yoonbok là một tài năng trẻ, động lực ấy khiến cho Danwon tìm mọi cách để cứu lấy bàn tay của Yoonbok. Họ đã trải qua biết bao nhiêu chuyện, và thường thì Danwon luôn là người đến đúng lúc, gỡ nguy cho Yoonbok. Tôi thích nhìn họ cùng vẽ tranh, cùng giặt đồ, cùng tranh luận. Thực ra, Yoonbok bắt đầu có cảm tình với Danwon từ lúc họ vẽ xong bức:"Bát tiên quy vị". Yoonbok đã nắm tay thầy mình đặt lên trán nói lời cảm ơn. Tình cảm của hai thầy trò thể hiện rõ hơn khi họ cùng vẽ Ujingsawa, mặc dù lúc đó Danwon ko hề biết Yoonbok là con gái. Yoonbok đã ngây người nhìn Danwon trong quan phục với ánh mắt ngỡ ngàng. Họ vừa là thầy-trò, vừa thân mật như anh trai-em gái(lúc Danwon gọi Yoonbok là Đậu nhỏ), vừa như hai người bạn có chung chí hướng, chung lý tưởng. Danwon thậm chí sẵn sàng hy sinh sự nghiệp của mình để bảo vệ tài năng cho Yoonbok mặc dù đối với Danwon, bàn tay của hội họa còn quan trọng hơn cả cuộc đời. Sau này, thậm chí họa danh Hyewon của Yoonbok cũng do Danwon đặt cho. Tôi thích hai trường đoạn trong quá trình diễn biến tình cảm của Danwon-Hyewon. Đoạn thứ nhất là khi Yoonbok mặc trang phục hanbok, vừa dựng hình xong bức vẽ Tiên hoàng Thái tử , mặc trả lại áo cho Danwon. Lúc đó Yoonbok đã hỏi, nếu Yoonbok là con gái thì mọi việc sẽ ra sao? Danwon đã trả lời bằng một nụ hôn lên trán Yoonbok. Nụ hôn đó vừa trong sáng, vừa thể hiện sự tôn trọng, và như một lời khẳng định về tình yêu của Danwon dành cho Hyewon. Đoạn thứ hai, khi Danwon và Hyewon hoàn thành xong bức vẽ cho cuộc thi hội họa và đi rửa tay (lúc này Danwon đã biết nàng là Yun), Hyewon đã xắn tay áo, rửa từng vết bẩn trên tay Danwon với thái độ vô cùng quan tâm, trìu mến. Ánh mắt họ đã nói lên tất cả, và Danwon đã giữ tay cô trong tay mình. Ở tập cuối, lúc hai người gặp nhau tại căn nhà của Hyewon, cô đang dọn dẹp, Danwon đã hỏi:"Nàng biết làm những điều này à?". Cha của Hyewon chẳng phải đã khuyên bạn mình nên kiếm một cô vợ ngoan hiền luôn giữ sạch nhà cửa đó sao? Chưa kể đến lời đề nghị của Danwon đối với Hyewon về thi vẽ những người yêu nhau để họ có thể nhìn nhau cả ngày. Thái độ của Hyewon có vẻ ngượng ngùng, nhưng không từ chối, thậm chí còn tỏ ra thực sự vui vẻ. Cho nên, tôi ban đầu tôi đã shock trước kết cục buồn của phim, nhưng dù sao, Hyewon cũng đã để lại bức họa người đẹp cho Danwon như một kỷ vật. Như ta đã biết, chân dung là thể loại lưu giữ tinh thần và linh hồn của nhân vật trong tranh, vì thế, cũng có thể hiểu là Hyewon đã gửi lại tinh thần, tình cảm và tình yêu của mình cho Danwon thông qua bức tranh ấy. Nàng đã ra đi một mình vì không muốn nguy hiểm cho Danwon, cũng như không muốn vì mình mà làm hỏng đi sự nghiệp của một họa công nổi tiếng. Nàng cũng đi theo tiếng gọi của tự do, vì nàng thực sự là "Họa sĩ của gió".
Kết thúc phim, có fan từng hỏi, thực sự thì Yoonbok yêu ai: Jeonghyang hay Danwon? Theo tôi, Yoonbok yêu cả hai. Với Jeonghyang là bạn thân, là tri kỷ, là tiếng lòng, là bản thân nàng trong một thân xác khác, còn với Danwon là tình thầy trò, tình anh em, tình bạn, tình yêu nam nữ, và là người sẻ chia những ước mơ về hội họa.
Painter of the Wind: Episode 1
[When I asked for potential recappers of The Painter of Wind (or Painter of the Wind), I was lucky enough to get Dahee Fanel onboard for recaps, so I hope you'll all enjoy her write-ups! Another reader, heejae, will also be weighing in on her very insightful thoughts of the first episode in another post. Thanks Dahee and heejae! -javabeans]
I admit that I wasn't really expecting much from Painter of the Wind, mostly because I'm not exactly a fan of either the PD or Park Shin Yang. But it turned out to be a lovely, enchanting surprise, and I am happier than I can say. Ahhh, sageuk. You make the cockles of my heart go all warm and gooey.
Especially when it's a sageuk that plays around with the notion of gender! Oh, the possibilities…
SONG OF THE DAY
The Painter of Wind OST – "바람의 노래" (Song of the wind) by Jo Sung-mo [ Download ]
Audio clip: Adobe Flash Player (version 9 or above) is required to play this audio clip. Download the latest version here. You also need to have JavaScript enabled in your browser.
 
HISTORICAL BACKGROUND
The year is 1777, in the first year of King Jeong-jo's reign. Jeong-jo was the subject of many other sageuk in the past, notably the Lee Seo Jin hit Yi San, and 2007's beautiful masterpiece, Conspiracy in the Court. So some of you should be familiar with his life story by now, but I'll repeat some things, just in case, as it's important to note such historical facts (if history can ever really be "factual"!) for this particular drama.
Jeong-jo became king under heartbreaking conditions – his father, Prince Sado, was executed by King Yeong-jo, Jeong-jo's grandfather, thanks to some deep misunderstandings and Sado's unstable mental state. And er, let's just say that he and his stepmother, Queen Mother Jeong-soon (King Yeong-jo's second wife) did not exactly get along. In fact, they were political enemies. (The best enemies are always the people who are related to you, I say.) And this drama is already laying out their relationship beautifully. Huzzah!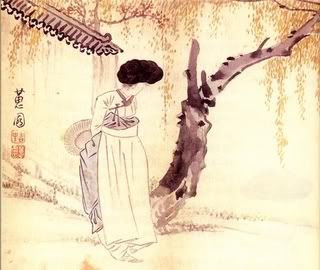 Two of Korea's greatest painters lived and worked during this period. And they undoubtedly knew each other, as they were both at the Dohwaseo (the Royal Bureau of Painting) at the same time. They also had very similar subjects for some paintings, such as the ones with more *ahem* "mature content" (you're going to google them, aren't you?). They are, of course, this drama's protagonists: Danwon Kim Hong-do, played by Park Shin Yang, and Hyewon Shin Yoon-bok, played by Moon Geun Young.
Painter of the Wind starts deviating from history a bit (or a lot?) in its handling of Moon Geun Young's character. Shin Yoon-bok was a man, but in this drama, which is based on the novel by Lee Jung Myeong, we take the "What if Shin Yoon-bok was actually a woman pretending to be a man?" approach. Which is an interesting stance to take, considering how very fond Shin Yoon-bok was of painting women. It also makes for lots of crossdressing opportunities, but also makes an interesting statement, in terms of both feminism and historical commentary.
So, now that we've got all that out of the way…
 
EPISODE 1 RECAP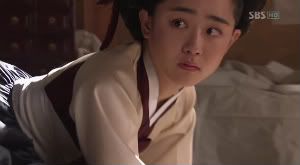 Episode one starts out with a hint of what's to come in future: In an absolutely gorgeous opening sequence, Park Shin Yang's character, Hong-do, heads up to a kind of shack on a mountain, and in voiceover, he tells us:
As he narrates, we get glimpses of Yoon-bok painting in the shack. One minute she's dressed in men's clothes, and the next, she's dressed as a woman – so right from the get-go, we're informed that she's a woman who's cross-dressing as a man. This show don't hedge around no bushes, yo!
Hong-do enters to an empty shack, however, and there, faced with the painting of a woman (Shin Yoon-bok's ultra-famous "Beauty"), he cries his little heart out. Obviously, something really terrible has happened. I can't wait to find out what! (Although I have a hunch.)
Aaaaaand…We're off! Leaving the foreshadow-y opening sequence behind, right away we're introduced to the art students, who are passing their time in what is clearly a very productive way (…not), by having a kind of competition in which two people (Yoon Bok, and her obvious (sleazy) rival, Jang Hyo-won, the dude played by Park Jin Woo) drag their giant brushes dipped in ink across paper. The one whose ink lasts the longest wins. Yoon-bok is the victor, naturally.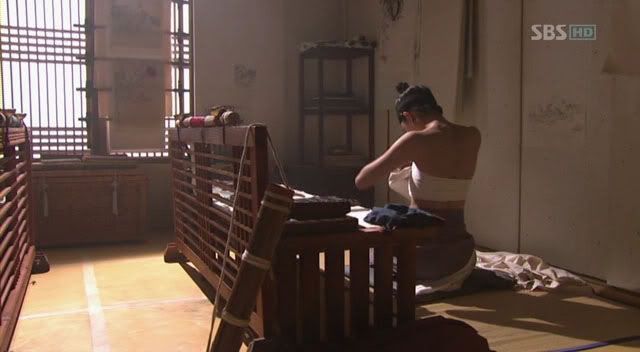 And then the writer and PD get to add in what we've all been waiting for: the obligatory breast-binding scene! Seriously, girl-dressing-as-guy books/comics/dramas/films are waaaaaay too fond of this scene. It's my theory that it's really just a chance to add in some fanservice for those who are fond of the ladies, since the actress can't exactly show a heck of a lot of shoulder or chest skin if she's dressing as a man. And yet they all want to see a little something-something anyway. Peeeeeervs. (Kidding!)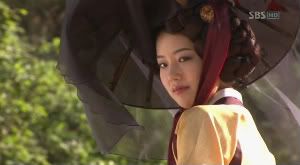 We move on to the outdoor class the students are having, which is briefly interrupted by a small group of kisaeng who are passing by, and making come-hither looks at the openly drooling boys. We even get a bit of a lesbian moment here, as one of the kisaeng and Yoon-bok lock gazes, and a strange, chemistry-filled connection becomes evident. I'm guessing that Yoon-bok's just interested from an artistic standpoint, but whatevs. This makes me happy.
Meanwhile, a high-class woman meets secretly with a mysterious (and probably tall and handsome, too) man. The two are obviously ex-lovers who haven't seen each other in years, but whose passion for each other has certainly not faded. As evidenced by the strategic slow-motion dropping of his hat on the floor. Ooooh.
The students all go off to draw whatever they want, as this is a kind of free drawing day, and they have to hand in their paintings by sunset. One of the students, Young-bok, who appears to be Yoon-bok's adoptive brother, and the teacher's son, follows her, and sweetly tries to give her tips on what to draw, etc. Yoon-bok is annoyed by his overprotectiveness, however, and sends him on his way.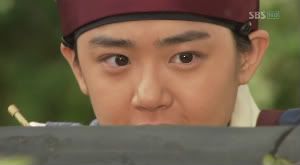 She happens to sit atop a pile of logs, and also happens to glance over into the courtyard of the house beyond the wall she's sitting beside. There, she sees the woman we met before, thoughtfully walking around, and holding the straw hat behind her back. Inspired, Yoon-bok whips out her drawing pad, and sketches the woman as she stands by the tree – producing another famous Shin Yoon-bok painting, titled "Wait".
Unfortunately, the woman notices her, and orders her lackeys to chase after her. We get the requisite chase scene through the market, and Yoon-bok winds up hiding in a fabric shop, where she encounters, quite by chance, the kisaeng she'd shared the lesbian moment with before.
And now the lesbianness (is that a word?) grows even more obvious, as the kisaeng and Yoon-bok exchange a very flirty conversation in which Yoon-bok compares the two of them to a flower (that being the kisaeng) and a butterfly (that being Yoon-bok). Then those lackeys who were chasing Yoon-bok earlier run by, and Yoon-bok hides again, her cool flirtines shattered. The kisaeng, being a bit of a Sassy Sally, pretends to call the lackeys over, and Yoon-bok falls for her trick. Embarrassed and annoyed, she says "As you're so full of thorns, you're not a flower, but poison!" and stalks off. But the kisaeng watches her go, and I'm thinking she's warm for this pretty boy's form. Ooh la la.
King Jeong-jo is being coronated in a fancy pantsy ceremony. The only thing I really took away from this scene is this thought: "Daaaaaamn, Bae Soo Bin is kinda hot."
And then! The straw hat-holding woman we saw before? Turns out she's Queen Mother Jeong-soon! Oooh, scandalous. She's desperate to find that painting of her that Yoon-bok made, afraid that Yoon-bok had drawn something that would rat her out. Because, of course, it ain't exactly "proper" for a queen mother to be consorting with a man in such a manner.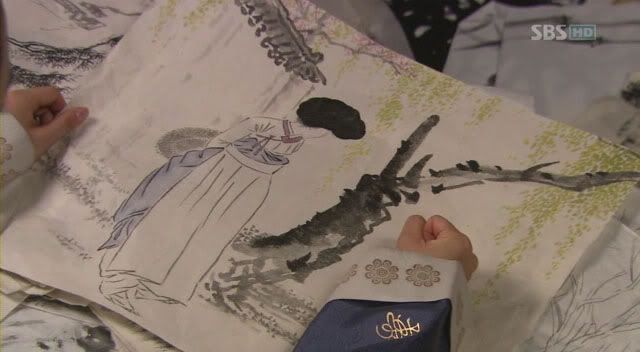 Once she finds out that the "mysterious artist" is from the Dohwaseo, she orders all the drawings that the students had drawn that day to be brought to her. She sorts through them one by one, until she finds Yoon-bok's work…And she's furious. She demands that the artist be found immediately. (The students don't write their names on drawings they made during free drawing period, so they have no way of knowing whose it is.)
All the higher-ups of the Dohwaseo get together for an emergency meeting, and condemn the painting as being scandalous and pornographic (they dislike the sexual hints they see in it, as it's a drawing of a woman holding a man's hat, etc). Shin Han-pyung, Yoon-bok and Young-bok's father and teacher, recognizes the drawing as being from his class, and is ordered to find out who the culprit is.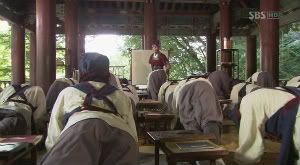 So the students all get punished with some literal butt-whooping as they try to find out who it was. Yoon-bok looks guilty, and seems on the verge of telling the teacher it was her – but he purposefully ignores her, and orders all of them to come to his room one by one for interrogation.
Thus follows a light and comedic interrogation scene (a little too light and comedic for my tastes, but whatever). When it's Yoon-bok's turn, it seems as though she's going to confess again, but as soon as she mentions the drawing, her father asks her if she has any idea who the culprit might be. He goes on to say that this is a very serious matter, and that the queen mother herself is involved. This frightens Yoon-bok enough to make her clam up, and thus the interrogations end with them unable to find the artist.
That night, Yoon-bok asks Young-bok if it's really so wrong to make a painting of a woman – after all, every time a woman even just passes by on the street, men start drooling openly. She comments on the hypocrisy of acting that way, and yet being forbidden to add those parts of life into painting. Yoon-bok then asks Young-bok if he likes any woman himself, and his over-exaggerated reaction ("What?! NO!") makes it obvious that yes, indeed, he has a crush. And that crush is on…Yoon-bok! Seriously. I am too delighted for words.
The Dohwaseo officials have another meeting, and lament the fact that they haven't been able to find Mr. Culprit. Then one of them suggests that maybe the currently-banished Kim Hong-do might be able to ferret him out. A couple of them go into an uproar, insisting that Kim Hong-do can never be called back from his banishment. I don't know what he did wrong, but it seems he was pretty naughty, because Jang Byeok-soo, the grumpy man in charge of the Dohwaseo, and Yoon-bok's dad in particular, seem strongly opposed to his return. Nevertheless, the official in charge declares that all their necks are on the line, and that he's going to make sure Hong-do gets called back, no matter what they say.
King Jeong-jo discovers what the queen mother's been up to with the Dohwaseo, and he asks her why she's been making all these orders. She replies that she was shocked to see such an erotic painting coming out of the Royal Bureau of Painting, and that the culprit must be found and punished. I don't think Jeong-jo is swallowing any of her B.S., but he plays along, and agrees with her. He adds that he'll even help her, and informs her that he's releasing the banishment on Danwon Kim Hong-do, and that he's sure that, if anyone can find the culprit, it's him. Jeong-soon is not pleased, but she's torn by her sense of urgency in finding the one who made that painting, and gives in by silent consent. King Jeong-jo: 1, Queen Mother Jeong-soon: 0.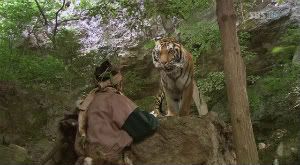 Aaaaand, we're introduced to Hong-do! He's decked out in his best Hobo in Greenery outfit, and, like the crazy wildlife man he is, is sneaking up on a tiger in order to draw it. He's wary of the tiger at first, but he eventually gets so into his drawing that he doesn't notice when the tiger is about two feet away from his face…and staring right down at him.
The tense moment is broken when he drops his chalk, and the chase begins! I don't know how on earth he's managing to outrun a tiger, when the animal could clearly catch up with him in two pounces, but hey, those stalks of grass on his head are pretty damn ridiculous, too. The tiger chases him all the way to a waterfall, and after pausing for a moment, Hong-do leaps off the cliff, and into the waters below.
In the water, he seems to lose consciousness for a second, and we get an image of a woman (we don't see her face), and two hands reaching out to each other…And then, miraculously, he's saved, by a vine that a government official tosses down to him. When they got there, and how they expected him to grab it, I do not know. There are a lot of things about this introductory scene that I don't understand. But I guess we're just supposed to go along with it? Bah! Humbug.
Anyway, the officials read out a royal declaration to him, ordering him to return to the capital.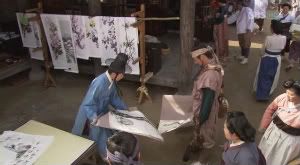 So he does. He and the officials separate in the marketplace, as they want to get a bite to eat, and he needs a new pair of glasses (he lost his other pair in his impossible leap off the cliff). He wanders around, and happens upon a painting that he himself made ("Drunken Student Under the Pine Tree"). He reaches out to look at it more closely – only to find that Yoon-bok wants to look at the painting, too. The two of them engage in a bit of a tug-'o-war, both physically and verbally, but of course, in the end…The painting rips in half. Tsk tsk. What a mature first meeting.
Turns out that the painting was worth 300 yang – which shocks them both – and Yoon-bok offers the enraged vendor to paint an exact duplicate in its place. So she gets to work, and Hong-do looks on, offering some advice and continually annoying her with what she sees as unnecessary pestering. Impatient to get him off her back, she even claims that she knows Kim Hong-do herself, and that's why she knows what his drawing style's like. Hong-do is amused by her lie. How embarrassing for Yoon-bok.
Hong-do goes to see Byeok-soo, and after exchanging some fake pleasantries, he learns what his mission is: To find the student responsible for the painting. Looking at it, Hong-do comments that the artist is quite talented, enough that it's hard to believe it was made by a mere student. Byeok-soo, ever the tightass, is insulted, and insists that it's an erotic painting, since the woman is holding a man's hat, and the symbolism of the tree, yadda yadda shut up. Hong-do finds his words to be ridiculous, but he lets it go, and asks what will happen to the student once he's found. It turns out that he'll have his hand cut off as punishment. Ouch. This makes Hong-do uncomfortable enough that he doesn't seem to want to take part, but with the threat of being banished again, he grabs the chance and asks how much time he has. Five days.
Some noblemen, including Byeok-soo – clearly the antagonists – have a get-together, during which they worry about Hong-do's return. All order must be kept in the Dohwaseo! Etc, etc. Suddenly, some peasant guy comes around, calling the host, Kim Jo-nyon, "Jo-pal" and begging for someone's life to be saved – Soo-jung? No idea who that is. Jo-nyon, who appears to be a very clever (and eeeeeevil) businessman, gets up and deals with the peasant properly, in the form of a merciless beating. It looks like he has a less-than-noble past? And he even has a boyish female sidekick! Interesting. So there's more than one cross-dresser in this show? Sweeeet.
The students learn that they're going to receive lessons from the great Danwon Kim Hong-do himself, and they discuss rumours, like the one where he stabbed himself after a friend of his was stabbed to death, or the one where he killed the friend himself. Most of the students dismiss the rumours as hogwash, however.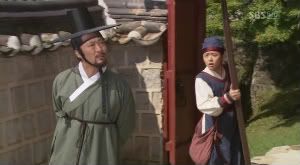 And then Yoon-bok and Hong-do actually run into each other at the school. Yoon-bok immediately insists that he pay the 300 yang, but Hong-do refuses. Yoon-bok then tells him to leave, thinking that Hong-do's here to sell a screen to someone, but Hong-do simply makes a taken-aback Yoon-bok carry the screen for him. It's kind of adorable. As they walk along, they encounter a group of painters, who recognize Hong-do for who he is. Yoon-bok's shocked, of course, and she slips on the stairs, falling. Hong-do catches her just in time, and then stops the screen, that was tipping over, from falling, too. End episode.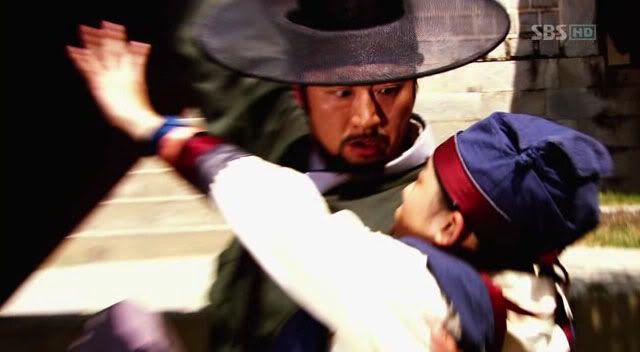 ADDITIONAL THOUGHTS
This is just a really gorgeous and complex show, with lovely music, beautiful visuals, and a breathtaking elegance. Add some exciting political intrigue into that, along with some interesting historical and social commentary, and I'm dancing like it's 1999.
Plus, there are some real gems in the acting department. True, some of the side characters are annoyingly comedic, but at least their scenes have actual weight in the storyline. And Park Shin Yang doesn't seem to suit sageuk, especially since he's really not acting like he's in a sageuk at all (and dude, what's with the glasses?). He's certainly not as bad as Eric was in The Strongest Chil Woo, but he's not brilliant, either. His character ought to be really fascinating, what with his interesting mix of contradictions and lightheartedness/OMGgenius, but I'm just not feeling it right now. It's a bit worrying, since he is a major character and all.
Still, I'm really excited to see how Bae Soo Bin and Im Ji Eun will continue to develop their characters, 'cause they're just two really kickass actors. And have I mentioned Moon Geun Young? Seriously, she's absolutely wonderful. She gets that whole androgynous vibe down pat, and she manages to be endearingly boyish and spunky without going overboard. She also maintains a perfectly subtle atmosphere of cuteness and youth, which isn't easy to do. I'm thinking this is going to be the turning point in her recently lagging career. Watch out, Korea, 'cause your little sister is all grown up!
Painter of the Wind: Episode 2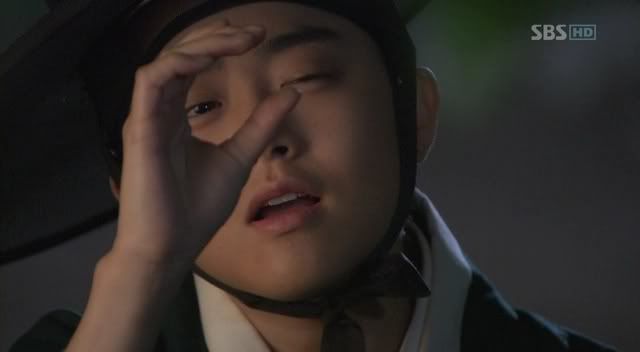 Y'know, Moon Chae Won is pretty hot, despite her lack of acting ability. And Moon Geun Young is so boyish here, I often forget that she's a girl. So when the two get together, I almost forget that they're actually two girls with some pretty crackling chemistry.
…Almost, but not quite. At last, Korea dips its hesitant toe into lesbianism! Muahahaha!
SONG OF THE DAY
Yozoh – "My Name Is Yozoh" [ Download ]
Audio clip: Adobe Flash Player (version 9 or above) is required to play this audio clip. Download the latest version here. You also need to have JavaScript enabled in your browser.
 
EPISODE 2 RECAP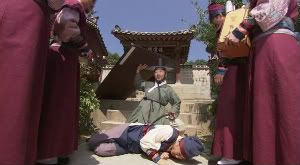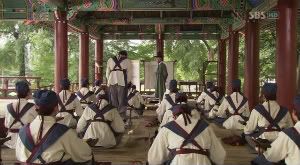 The artists express admiration for Hong-do's catching skills, and making a stupid, smirky face (Park Shin Yang seems to think he's still acting in War of Money…), he drops Yoon-bok like a hot potato, and walks off, commanding her to follow. She does, her tail between her legs.
Hong-do arrives in the classroom, making a commanding, tense first impression. He's obviously playing with the students' fear and respect for him, like any good teacher does. (Ha!)
Yoon-bok brings the screen up to the front for him, and sits down. Hyo-won takes this chance to kiss some ass, and welcomes Hong-do, introducing himself as the class leader, and ordering the other students to greet him. Teacher's pet wannabe.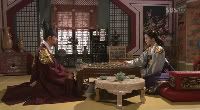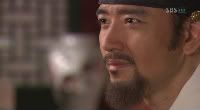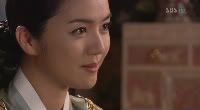 Interspersed with these scenes of the first lesson are scenes of Jeong-jo and Jeong-soon playing Chinese chess. It's a tense match, and clearly transcends the game to a less visible battle of wits and force. With every move they make on the board, they make their own points on whether Hong-do will or won't do a good job, with Jeong-jo on Hong-do's side, and Jeong-soon opposite him. The game metaphor has been done countless times in other dramas, but, if done well, it never fails to excite me. As it does here.
Jeong-jo comments that he's doing well in the game only because Jeong-soon is so lenient with him. And she replies, with a wonderful look of strength and charisma, "Is that so?", and pretty much proceeds to kick his ass. Jeong-jo praises her, and she says, "We'll have to take this game to the very end, won't we?" Dude, did I just get goosebumps?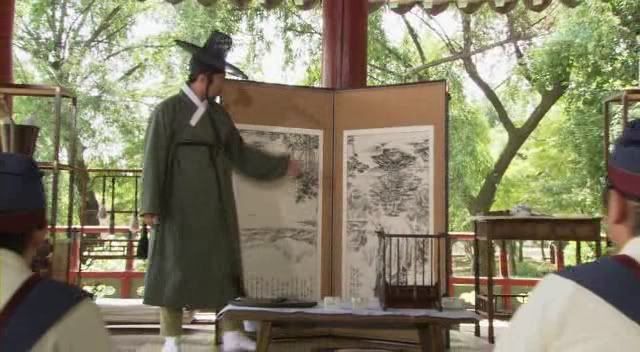 Meanwhile, Hong-do orders the students to copy a painting exactly the way it is…except upside down. He instructs them to paint what they see, not what they think they see. It's an important difference.
As the students are working on their paintings, Hong-do asks them, "What is painting?" The students all reach for their textbooks for the answer, but he stops them, instructing them to tell him their personal thoughts on what, exactly painting is. Ha. Reminds me of the time my high school drama teacher asked the class what art is, and wouldn't let us leave until we'd answered to his satisfaction. Ah, memories.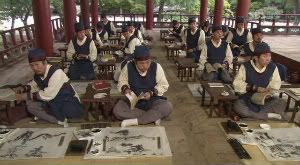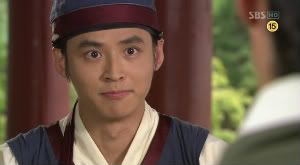 Ahem. Anyway. The students answer one by one, making commonplace, obvious answers, such as "Painting is placing what you see onto the page with your brush". Hyo-won makes a decent shot at it, saying "Drawing is grasping everything that will eventually disappear, and recording them down." Hong-do allows him some applause, then asks him his name. Hyo-won makes a long, convoluted answer, making sure to tell him who his father is, etc, and Hong-do cuts him down a few pegs, pretty much saying that he talks too much, and that he should shut up. Ha!
Hong-do gets angry, yelling at them for not even thinking once about what painting is, when they're studying at the Dohwaseo. What kind of students are they?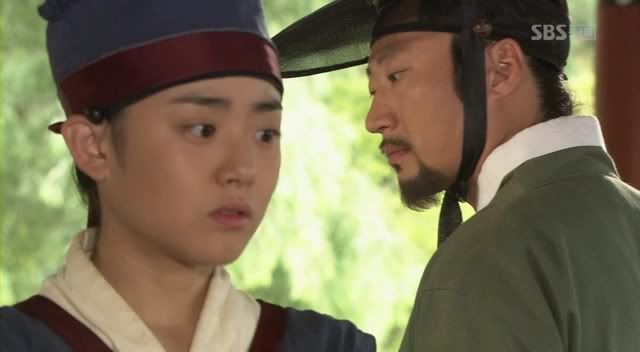 Then he notices that Yoon-bok is still drawing by herself, oblivious to what's going on around her. He calls on her, and orders her to tell him what she thinks painting is. And Yoon-bok makes a surprising answer: "Painting is longing."
Hong-do's intrigued, especially since she's using a play on words here – "painting" and "longing" are very similar in Korean. He asks her to elaborate, so she says "Longing turns into paintings, and paintings become longing as well."
Yoon-bok: "If you're longing for someone, then because they keep coming to mind, you end up painting them. Thus, longing becomes a painting."
Hong-do: "The person you long for becomes a painting? And then?"
Yoon-bok: "Also, even after you've forgotten, every time you look at the painting, you long for that person once more. Thus, wouldn't that be the same as the painting becoming longing?"
Hong-do: "So looking at a painting causes you to feel longing."
Yoon-bok: "Yes. So…so…Isn't painting the same as expressing longing?"
Hong-do's impressed, and the students are shocked and wowed.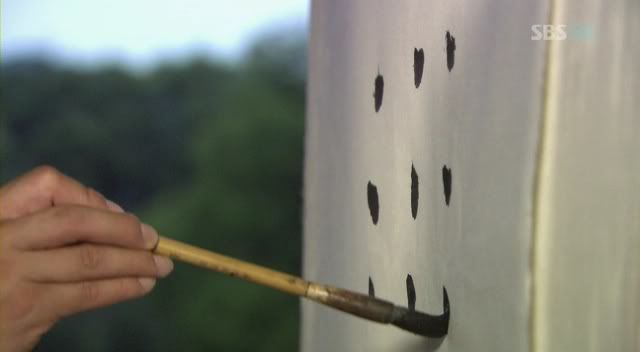 Sometime later, Hong-do gives the students a piece of homework: The classic nine dots set out in three rows. They are instructed to find a way to connect all the dots together with only four straight lines, without lifting the brush from the page.
Tee hee. I remember trying to figure that out in elementary school…Guess they did it in the Joseon era, too? Heh.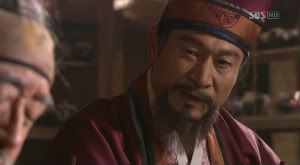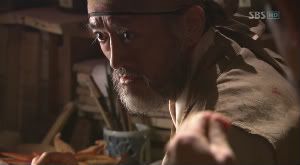 Upon learning that Hong-do is instructing the students to copy a painting upside down, Byeok-soo (aka Hyo-won's dad) visits a freaky old man (Heo Shim, an elder painter) and asks him what it means. Heo Shim tells him that he's doing it in order to see the students' abilities at painting with their eyes, and not with their minds. That way, he can pinpoint their differences. Heo Shim asks Byeok-soo who did such a thing, and Byeok-soo tells him it was Danwon (Hong-do). Heo Shim laughs in his freaky way, saying the Dohwaseo has suddenly become a much more interesting place.
The guy in charge of the investigation tells Byeok-soo that it's been decided that, if they don't find the culprit, then not only Danwon's, but their hands could get crushed, too. That wouldn't be very pleasant, eh?
Outside, Hyo-won and his friend are eavesdropping on the conversation. They haven't heard much, though, only the words "crushing the hand" and "Danwon", and they make the assumption that if they don't solve the puzzle, Hong-do will get their hands crushed, and run off to tell the other students.
The students all frantically work at solving the puzzle, but no one is able to make any headway. Yoon-bok seems to be the only one who isn't stressing out about it.
The Evil Jo-nyon visits a shop that he's in charge of. The "manager" shows him a painting that he bought from a young student painter – they've been having a pretty steady business relationship, and the painter is supposed to drop by later with a new work. The painting is "Spring Mood Covers All Places" by Shin Yoon-bok. Jo-nyon notices the signature seal on one of the paintings, "Il Wol San In", and keeps repeating it to himself.
And, of course, it's revealed that Yoon-bok is the one making and selling these paintings.
Hong-do shows his friend, Yin-moon, who's a fellow painter, the upside-down paintings that the students made. They're all rather mediocre, and unlike the original painting at all. And then Hong-do shows him the painting that Yoon-bok made, which is exactly like the original. Yin-moon tries to look at the name on the painting, and Hong-do stops him, telling him that the time isn't right yet.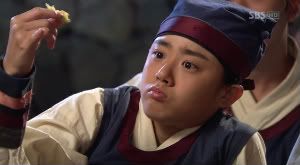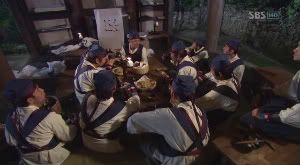 The students all get together and have a little night feast (with food brought by the 35-year-old student's wife), and try to solve the puzzle together. Yoon-bok suggests that, by breaking out outside of the dots, the puzzle could be solved. But Hyo-won calls him an idiot, saying that they're supposed to solve it by keeping the lines inside the dots. Yoon-bok wonders why that is. Great subtle way of showing the difference in Yoon-bok's thinking, and how her genius comes in part from the fact that she thinks outside of conventions.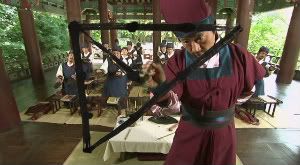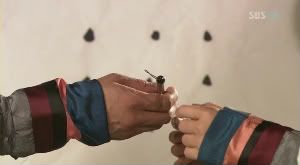 The next day, Hong-do shows them the answer: They did, indeed, have to start outside of the dots in order to solve the puzzle. As they're being punished, Yoon-bok suggests that, then, there would be a way of connecting all the dots with just three lines as well. Hong-do dismisses her, saying there isn't a way. But Yoon-bok presses the issue, saying "There is a way. We just haven't found it yet."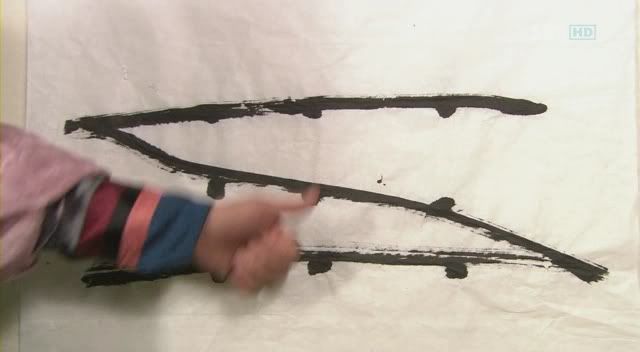 Hong-do tells her to demonstrate, so she gets up and does so – by drawing a big "Z", Zorro style. (Chil Woo flashbacks, anyone?) But Hong-do says that it's not foolproof, since the middle line doesn't go through the middle row of dots in a perfectly straight line. But Yoon-bok insists that it's right – giving a mini geometry lesson, she talks about angles, and how, the smaller they get, the straighter the lines get. Thus, if the "Z" is stretched horizontally to infinite amounts, then eventually, one should be able to make a straight line through the middle row of dots.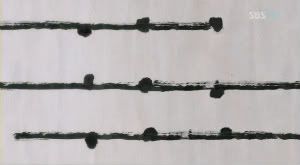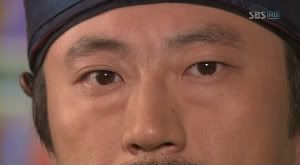 Hong-do envisions what she's saying, and he's pretty much placed in a position in which he can a) acknowledge that she's right, and he was wrong, and thus lose face in front of the class, or b) not acknowledge it, and be a jerk. After a pause, he says that what she's saying is nonsense, since an answer should be able to be seen by everyone in order to be relevant. He asks her if it's possible for her to show them what she means. She says yes, but she needs as much paper and ink as she wants. Hong-do tries to step on her some more, saying "So if you don't have an infinite amount of paper or ink, you can't show us what you mean?". Yoon-bok, not one to lose, says "It also means that, if I do have an infinite amount of paper and ink, I can show you." Buuuuuuurn!
Hong-do manages to slip out of the situation by saying, "Until the day that this puzzle can be solved, we should keep it in our hearts. End of class." Dude. What a loser. But what an excellent scene at the same time! The two of them may be teacher and student, but they're also rivals, in a very interesting way. And I like how Hong-do is placed in a difficult situation, and comes out the lesser (hu)man. Plus, the visuals are just really awesomely done here.
The boys all go off to a kisaeng house for a night of entertainment (it's Hyo-won's birthday, and he's even hired a famous kisaeng to play the gayageum – an ancient Korean string instrument – for them).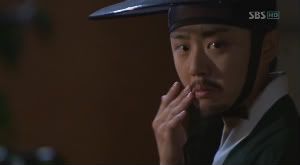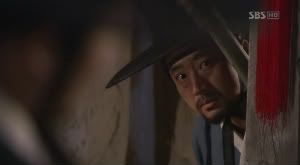 Meanwhile, Yoon-bok isn't with the other boys, but seems to be preparing to leave anyway. She even puts on a fake moustache. Hong-do, coming to talk to her, sees her leaving quite by chance, and decides to follow her.
Yoon-bok eventually notices that someone's following her, and hides amongst a group of diners, managing to shake him off her trail. Satisfied, she goes to see a vendor, to whom she sells an erotic painting – "A Young Boy Plucking an Azalea". He gives her five nyang, obviously ripping her off, the old fart. She leaves, and another group of customers come in, to whom he immediately shows the painting he just bought. They discuss it, talking about the sly expression on the woman's face, the way she's jutting out her hips, the way the man is grabbing her arm, etc. They call the painter a genius, and the vendor demands 50 nyang. Yoon-bok eavesdrops on all this, flattered, and really not very annoyed that she got so little money.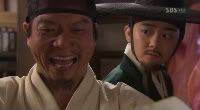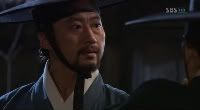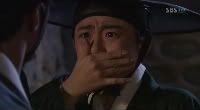 Unfortunately, Hong-do is right behind her, and although she pretends that she doesn't know who he is, without any delay, he rips off her moustache, revealing her. I don't know why this scene is in slow-motion, with such dramatic music. Maybe as a way of highlighting the crossdressing theme?
The two of them go for drinks, and Hong-do demands why she's been selling these paintings. Turns out she wasn't doing it for the money, but just because she enjoyed the fact that people seemed to like them so much. He looks at the painting (how did he get a copy?), and asks how she came to draw this. She replies, simply, "I just painted what I saw."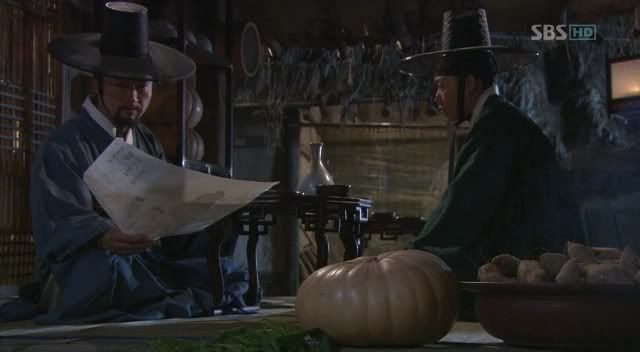 Then, nonchalantly, and quite suddenly, Hong-do asks, "Why did you draw that woman's back? The woman holding the straw hat?" He's clearly talking about the painting over which all the hoohaha is erupting, and Yoon-bok is taken aback. Somewhat changing the subject, but acknowleding that it was her work at the same time, she says, "It wasn't a straw hat. It was a buddhist nun's hat." Hong-do isn't having any of that, however.
Hong-do: "Why did you draw her back?"
Yoon-bok: "That is…That woman's back…There was something different there. It felt like something heartbreaking."
The conversation escalates, with Yoon-bok getting more and more excited as she describes the feeling she got as, without even thinking, she grabbed her paintbrush and started drawing. The world around her disappeared, and all that she could see was her painting. Hong-do eggs her on, saying, "You achieved the state of absolute altruism!", and Yoon-bok's awed and excited.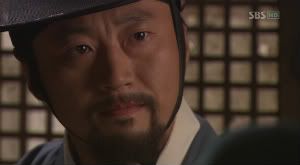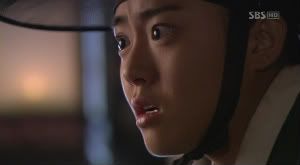 And then, as he's wont to do, he switches tack at the speed of light, and becomes sombre. Yoon-bok asks, 'What's wrong?". That's when Hong-do decides to tell her that the one who made that painting will be punished by having his hand crushed under a falling stone. Nice timing, buddy.
Hong-do: "Why did you create such a painting? What use is your talent now? You won't even be able to hold a brush anymore!"
Yoon-bok: "What do you mean, I won't be able to hold a brush?"
Hong-do: "Don't you understand what I'm saying? Tomorrow, at the Dohwaseo, they'll take the culprit who made that painting, and crush his hand under the stone! You won't be able to do anything anymore!"
Yoon-bok: "My hand will be crushed, teacher? Is that painting so immoral? What did I do that was so wrong? You said it was the state of absolute altruism! It's just a painting! How can one painting…It doesn't make any sense. No. How can one painting…"
Absolutely overcome with shock and distress, Yoon-bok gets up and leaves, ignoring Hong-do's calls for her to sit down. Yeah, you really handled that one nicely, Hong-do. Bravo.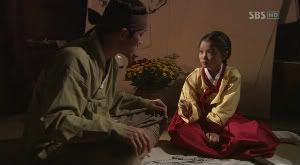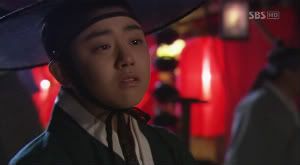 Yoon-bok walks, dazed and with tears in her eyes, through the market, remembering her memories as a child, when her father (NOT her current adoptive father) taught her how to paint by creating shadows with his hands on the walls, and having her paint the butterfly that he was shaping. Interestingly, she also remembers the scene in the market when she and Hong-do first met, when Hong-do was trying to give her tips on how to recreate his painting. The two important teachers in her life? Also, Moon Geun Young is just awesome in this scene.
Somehow, she winds up in front of the kisaeng house, and one of the kisaeng notices her and takes her inside, to where her fellow students are still celebrating.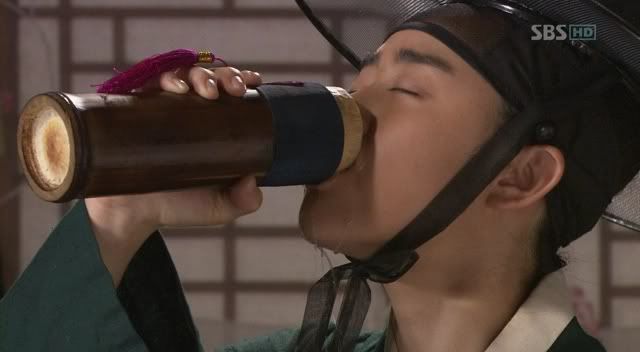 Once she arrives, Hyo-won, ever the bully, tells her to take a very, very large shot of alcohol. They jeer at her, calling her "girly" and saying she could never do it. Miserable and feeling reckless, she takes the drink and downs it in one go. One quip I have here: No prominent Adam's Apple! Does no one else notice? Yeesh.
Predictably, it turns out that the Lesbian Kisaeng from before (who, yes, actually has a name – it's Jeong-hyang) is the one providing the entertainment with her gayageum. The boys fawn over her, and, like an ass, Hyo-won tells her to forget her instrument, and to come sit on his lap. Jeong-hyang is all, "Ha! In your dreams, bitch." Okay, so she doesn't say that. But she'd might as well.
A drunk Yoon-bok speaks up. Let the flirting recommence!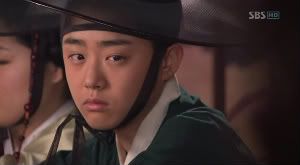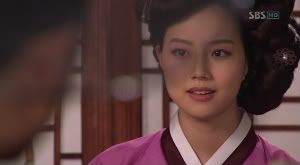 Yoon-bok: "You're as thorny as ever."
Jeong-hyang: "The more thorns the flower has, the more beautiful it is."
Yoon-bok: "This is the first time I've seen a flower call itself beautiful."
Jeong-hyang: "A flower doesn't stop being beautiful just because it calls itself beautiful."
Yoon-bok: "What does it matter if a flower's beautiful, if no one notices it?"
Jeong-hyang: "The flower simply exists. Whether it is beautiful or not is simply the passing figure of measurement."
One of the drunken students chooses this moment to throw a cup at Jeong-hyang, causing a string on her gayageum to break. The other students chastise him, and Hyo-won once again grabs the chance to tell her that, since her instrument is broken, she'd might as well come and drink with them instead. Being her regular Sassy Sally self, without a word, Jeong-hyang simply states the name of the song, and without further ado, begins playing.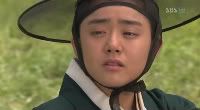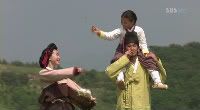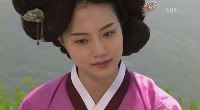 She starts off with a fast, rousing number, and then switches to a slow, melancholic one. Of all the students, Yoon-bok is the only one who appears to be really touched by the music – and Jeong-hyang notices. In an absolutely breathtaking scene, she and Jeong-hyang are transported to a green mountainside, in which Yoon-bok watches, tears in her eyes, as her younger self and her parents walk, half-dancing, down the mountain, a picture of happy family life. (Random note: Squee! Hottie Extraordinaire Han Jung Soo plays her dad!! :D)
Yoon-bok and Jeong-hyang's eyes meet, that connection between them reinforced. The moment is broken as the students start applauding, and Yoon-bok gets up to leave. Before she does, however, she quietly tells Jeong-hyang, "It was the very best performance."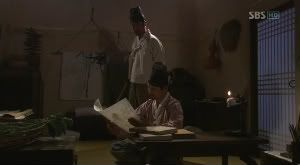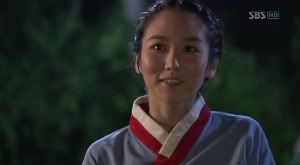 Hong-do, who incidentally is staying with that friend of his, Yin-moon, is showing him that erotic painting of Yoon-bok's, and is lamenting the fact that such talent will be going to waste. Yin-moon warns him that Hong-do's hand could be the one that winds up crushed. But Hong-do is still looking for a way to save Yoon-bok's hand.
Outside, his friend's sister, Jung-sook, is waiting with refreshments. She has a huge crush on Hong-do, and seems to have liked him since she was a little girl. Hong-do, of course, is oblivious.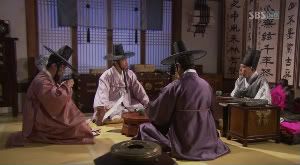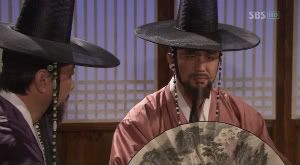 The Evil League of Evil – er, I mean the Evil Counsel(?), aka Jeong-soon's uncle, brother, Byeok-soo, and Jo-nyeon – are discussing, who else? Hong-do. And their worry over what they see as his imminent attempts to bring to light what happened ten years ago – whatever that is. Jo-nyeon tells them not to worry too much. If the culprit is someone who possesses talent that Hong-do himself acknowledges, then Hong-do will make sure that that talent doesn't go to waste. But if he tries to save the student, only one of two things can happen to him: His hand will be the one that's crushed, or he'll leave once again.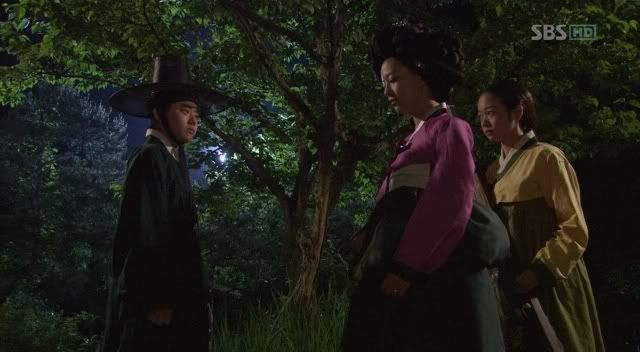 Jeong-hyang leaves the students, and Yoon-bok confronts her, asking her to play the gayageum for her again. She offers to pay the money that she earned for her painting earlier. Jeong-hyang tells her that she's worth much more than that, but Yoon-bok insists that it's all the money she has. Jeong-hyang tries to leave, but in an interesting twist on the traditional K-drama trope, Yoon-bok grabs her arm as she passes by. Ha! Bet Moon Geun Young's always wanted to try that. I know I have.
"This hand will be no more once tomorrow comes. These five nyang are the money I earned from selling the last painting I made with this hand. I want to spend the final night using this sale. With the music from that gayageum."
End episode.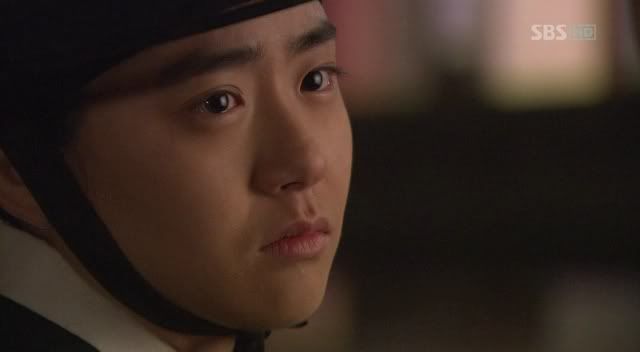 ADDITIONAL THOUGHTS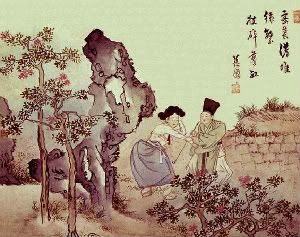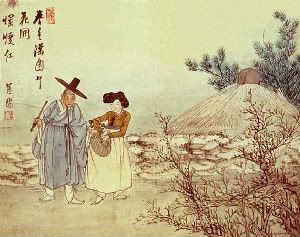 Moon Geun Young just keeps getting better and better. That last scene in particular makes me think that she'd make a really good K-drama hero. It's the kind of scene that would normally really get on my nerves, since it's become such a cliche, but here, it works, thanks to the gender-bending and the gay vibes. I think I'm sorta-kinda becoming a Yoon-bok/Jeong-hyang fan. It's just too bad that Moon Chae Won can't act to save her life.
Also, the music, while lovely, is really noticeable and loud. It was the same way in the first episode, but it's even more obvious in this one. I wish they'd tone it down a little. I do, however, like the way the camera keeps focusing on hands – it's little details like that that help reinforce the themes, and deepen the meaning. Although it can be a little overdone at times, just like the music.
I also really like how Yoon-bok's past isn't told to us directly, but just in bits and pieces. We don't know how she got to the Dohwaseo yet, and how she came to start dressing like a man. We aren't even reminded most of the time that she is, in fact, a woman. Instead, the story concentrates a lot more on her artistic maturation and thought processes, which I appreciate. It's like the direct opposite of 2006's Hwang Jini, which was so caught up in its (insipid) love stories that it forgot the fact that Jini was an artist first and foremost. Painter of the Wind is much more respectful to the artist's craft, and the writer clearly knows what she's doing. It can only make me look forward to the future.
Dahee
Painter of the Wind: Episode 3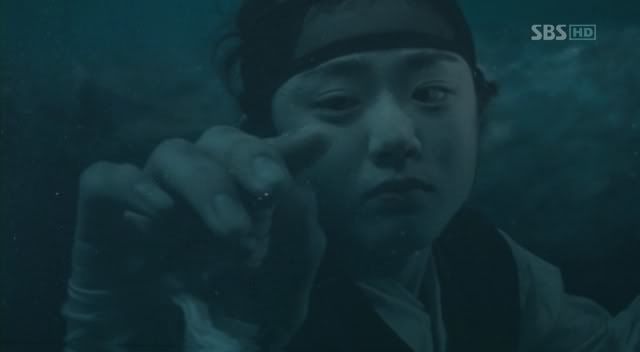 Painter of the Wind continues to impress, despite a few flaws here and there. I officially want to marry Moon Geun Young.
SONG OF THE DAY
Sam Roberts – "A Stone Would Cry Out." Dahee says: "It's by one of my favourite Canadian rockers, from his album 'Chemical City'." [ Download ]
Audio clip: Adobe Flash Player (version 9 or above) is required to play this audio clip. Download the latest version here. You also need to have JavaScript enabled in your browser.
 
EPISODE RECAP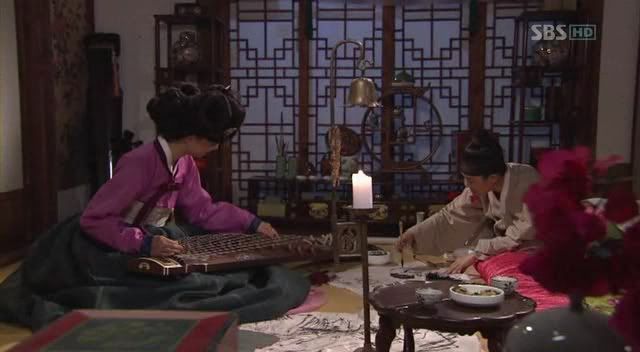 Giving in, Jeong-hyang plays her gayageum for Yoon-bok. As she does this, Yoon-bok paints her like she's possessed, clearly squeezing in as much painting as she can before her hand gets destroyed.
During a break, Jeong-hyang muses out loud, wondering why Hong-do told Yoon-bok about the punishment beforehand. It doesn't make sense. So she suggests: "Isn't it because he's trying to save you? Your teacher may be your only hope."
Yoon-bok, however, is very drunk, and doesn't seem to take her words seriously.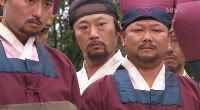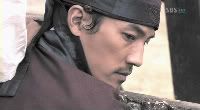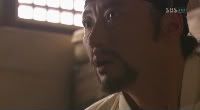 Meanwhile, Hong-do is having a nightmare in which he watches, horrified, as Yoon-bok's dad (!!) has his hand crushed under the stone. Even after he wakes up, everything he looks at reminds him of the dream.
During breakfast, Yin-moon asks Hong-do what he's going to do, and advises that he think it over carefully. Hong-do, seeming to make up his mind, turns and asks Jung-sook to do him a favour.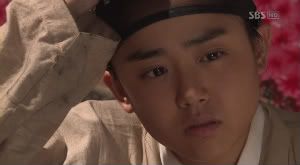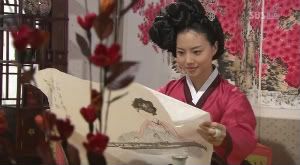 Yoon-bok gets up, clearly hungover, and remembers Jeong-hyang's words from the night before. But by the time Jeong-hyang comes around with what looks like hangover soup, it's to find that Yoon-bok has already left. She finds a portrait of her that Yoon-bok made the night before, complete with poem. Hehe. A romantic gift!
Han-pyung, Yoon-bok's adoptive dad, appears to have had a talk with Hong-do, in which Hong-do told him his plan, whatever it is. Han-pyung's worried about Yoon-bok, of course, but the thing that seems to weigh most heavily on his mind is the fact that Yoon-bok will have to give up the honour and glory that comes of painting for the royal family. No doubt he hoped to bask in that glory himself, as her father. DUDE, YOU FAIL AT FATHERHOOD SO HARD.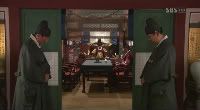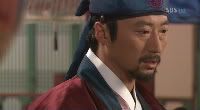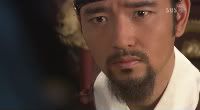 Hong-do visits the king, where the two of them discuss what will happen to the student who painted the "eeeeeevil" painting. Hong-do laments to the king that such talent will go to waste. Jeong-jo feels regret, as he realizes how well-made the painting is, but thinks that it's too late to change Jeong-soon's mind. Hong-do replies, "It may be too late, but…I do not want to give up on this student."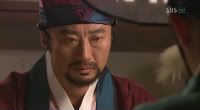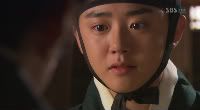 Yoon-bok returns to the Dohwaseo, and goes to see Hong-do. Hong-do tells her that he didn't expect her to return. Scared but resolute, Yoon-bok replies, "This is my doing, so I shall take responsibility." Hong-do tells her that soon it will be time for the hand to be crushed, and she asks, "What should I do now?"
Outside, Young-bok is eavesdropping on their conversation, horror-struck.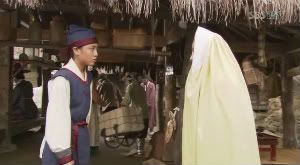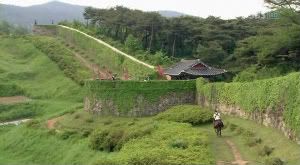 Following Hong-do's instructions, Yoon-bok goes to the marketplace, where she meets with Jung-sook. She hands over a letter, and tells Yoon-bok to go underneath the Gwangdo Bridge to meet a Mr. Bong. Yoon-bok asks if she's from Hong-do's household, and she gets all embarrassed and says, "Not yet…"
Yoon-bok meets the guy she's supposed to meet, and is given a horse, and instructed to go to Pyeongyang and meet someone else there. So off she goes!
But as she rides away, she remembers what Jeong-hyang told her at the beginning of the episode, and, realizing what Hong-do's going to do, she turns the horse around to go back to the Dohwaseo.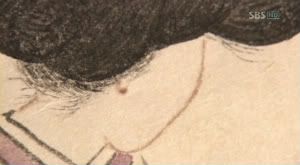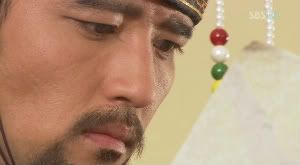 Hong-do's words earlier have really impacted Jeong-jo, and he continues to ponder the painting. And then – DUN DUN DUN! He notices the red birthmark on the painting!! Oh, that is too groovy for words. I've been waiting for this.
It's hand-crushing time! All the painters and students gather together in orderly rows to watch, because…I don't know why. To set an example? I don't know. If it were me there, I would wonder if they were trying to give me nightmares. I would sue them for emotional distress. Not that they could do that back in those days…
Jeong-soon is there, too, because she's a bit of a bloodthirsty bitch, and no doubt wants to make sure the culprit has been found, and is punished accordingly.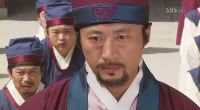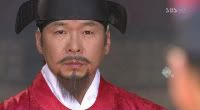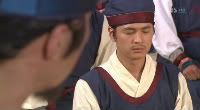 Hong-do is called forward, and asked if he has found the student responsible. Hong-do hesitates for a long time (to…draw…out…tension…). He turns and looks at Young-bok, who seems to be waiting for something. Finally, he says: "I was unable to find the culprit."
Shock all around. Hong-do continues, making his apologies, and says he will accept all punishment. He also adds that the student is still young, and that if the making of the painting is anyone's fault, it's the fault of the adults who are responsible for him. He requests that he be the one to receive the punishment in the student's stead.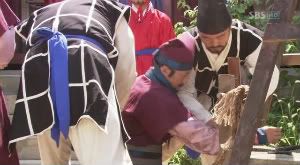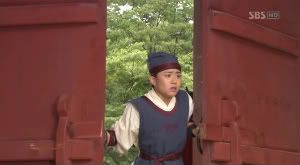 And so that's what they decide to do. Hong-do is tied to the hand-crushing machine, and he doesn't make one peep of protest. The guard lifts his hatchet to cut the rope…just as Yoon-bok finally arrives, and bursts in, screaming for them to stop. But it's too late. The guard cuts the rope anyway. Hong-do flinches, preparing for the worst…
But this wouldn't be a drama without some handy (HAHA I CRACK MYSELF UP) twisting of fate. It turns out that the guard didn't do a very good slicing job, because the stone is still hanging a few inches above Hong-do's hand, by a very frayed rope. Hong-do's safe…for now.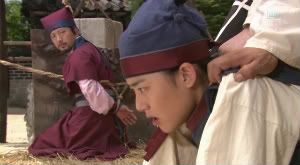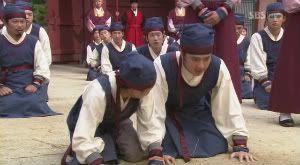 Yoon-bok rushes to Hong-do, hysterical and trying desperately to untie him. The guards drag her away from him, and she declares that she has something to say. But just as she's about to make her confession, Young-bok suddenly leaps up and declares that he's the culprit. Oy vey.
They each cry out that they're the culprit, that the other person is innocent. This goes on for some time, becoming more and more frantic, until Yi-pan, the guy in charge of this whole mess, finally tells them to shut up, and orders Hong-do to tell him which one of them is the real culprit. But Hong-do continues to declare that he doesn't know. And it's ordered that the rope be cut again.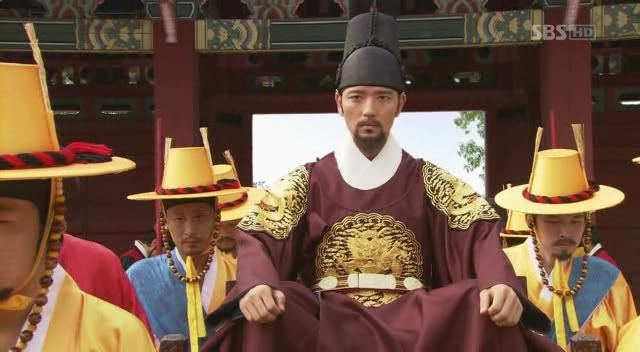 But look! He's saved! AGAIN. King Jeong-jo suddenly arrives, taking everyone by surprise and putting a halt to the proceedings for now.
He and his step-grandmother have a private little chat.
Jeong-jo: "Must there be bloodshed?"
Jeong-soon: "It's already begun. Since it has, shouldn't we see the end to it?"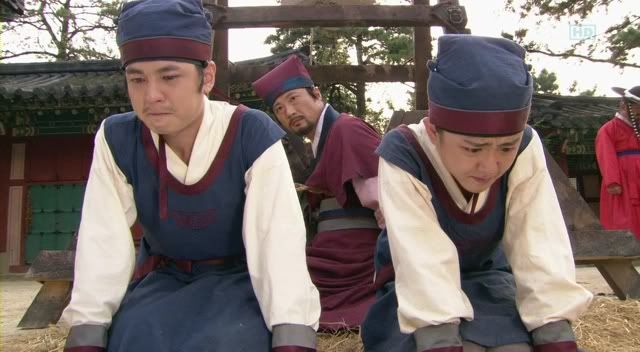 Outside, Hong-do, Young-bok and Yoon-bok have a whispered conversation. Yoon-bok insists that she's the one who should be taking responsibility, and that they should stay out of it: "I realized that there's no point in me running away. That's why I came back. Teacher. Hyung. I'm sorry." But of course, Hong-do and Young-bok are both far too stubborn to listen to her, with Young-bok insisting that he's the one who made that painting, and Hong-do telling them that he'll take care of everything himself, and they should stay quiet.
I like the acting in this scene. They're speaking softly, and, although they're crying, there aren't any big dramatic tears. There's just a sense of warmth and self-sacrifice that's nice to see. Oh, and I appreciate the lack of music during a big portion of it.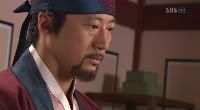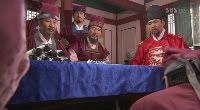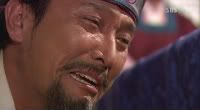 Hong-do is summoned to see the elders, and is asked once again who the culprit is. But all he says in reply is, "Is my own hand alone not enough for you?". Yi-pan freaks out and says that he'll have all three of their hands crushed.
Han-pyeong takes this chance to go onto his knees and beg that his sons be spared. Yi-pan tells him to reveal who the real culprit is – in other words, out one of his sons. Han-pyeong is in anguish. How can he possibly betray one son for the other?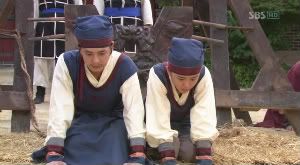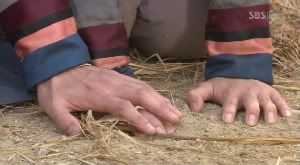 There's a really lovely scene added in here, with Young-bok and Yoon-bok alone. Yoon-bok is crying silently, and, to comfort her, Young-bok places his hand on top of hers. It's just so sad that he's the one who's comforting her, when he himself is just as in need of comfort. This scene is adorable enough that it pretty much makes up for all the slightly over-dramatic shenanigans earlier.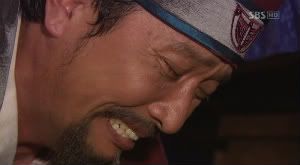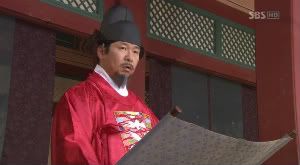 Well, it seems that Han-pyeong has decided to betray one of his sons anyway. Hong-do's shocked by his decision.
The final touches are put on the decree. Looks like Jeong-jo wrote up another one?
Aaaaand, the decree is read out. No hands will be crushed today. Yoon-bok's absolutely weak with relief and gratitude, but Hong-do remains uneasy, knowing there is more to come.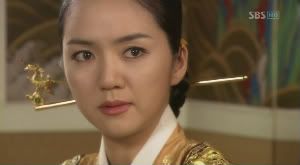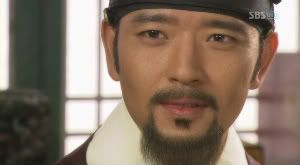 It's revealed that Jeong-jo bullied Jeong-soon into signing the decree in a very sneaky (and AWESOME) way:
"Your Majesty. I remember it very well. What my grandmother said when the two of you met for the very first time. 'What desirable ears you have! The lucky red mole under your ear, especially, is a sign that the nation will prosper.'"
Jeong-soon's been PWNED, and she knows it. Ha! (Also, Bae Soo Bin? Growing hotter by the nanosecond…)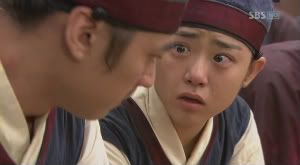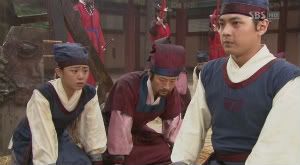 Even though no hands are to be crushed, the culprit must still be punished somehow. Yoon-bok steels herself for the worst, but it is Young-bok's name that is called. Looks like glory and honour was more important to Han-pyeong than his own son. Young-bok is thus banished from the Dohwaseo, and ordered to work in Danchongso and mix ingredients for the rest of his days. Dude. HARSH.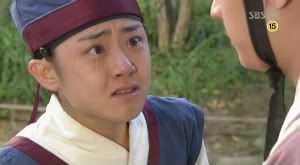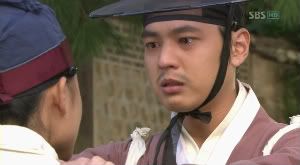 Young-bok says his goodbyes, and tells Yoon-bok that she possesses great talent, and asks her to become the very best painter, for his sake. But Yoon-bok is unable to accept it, and keeps insisting that she's the one who should be banished, not Young-bok. She demands of her brother, "Why must you always be like this?!" She declares that she can't fulfill Young-bok's wishes.
Hong-do's drinking alone, and we get a flashback where he remembers Young-bok who, after overhearing the conversation between Hong-do and Yoon-bok, begs Hong-do to save his brother. He begs him, in fact, to take his arm instead. But, of course, Hong-do didn't listen to him in the end.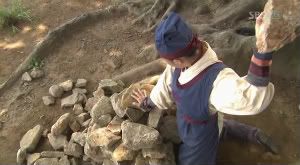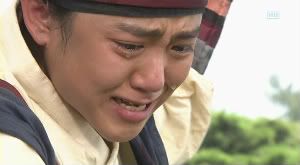 Yoon-bok runs off by herself into the mountains, unable to handle all the turbulent emotions within. She chances upon several piles of rocks (I assume for religious practices?), and throws them one by one, screaming out her guilt and anger. She lifts one particularly big rock, ready to throw it…and realizes that she can, in fact, strike her own hand with that rock, just like the punishment she thinks she should have received.
After taking a while to gather up her courage, to brings the rock down upon her hand…and her screams of anguish echo down the mountain.
Nicely-written scene, and I like the closing of it. But the real highlight here is Moon Geun Young's acting – the best I've seen from her so far. She makes Yoon-bok's pain and guilt and self-hatred absolutely tangible, and isn't afraid to throw her entire body and soul into this scene. Wonderful!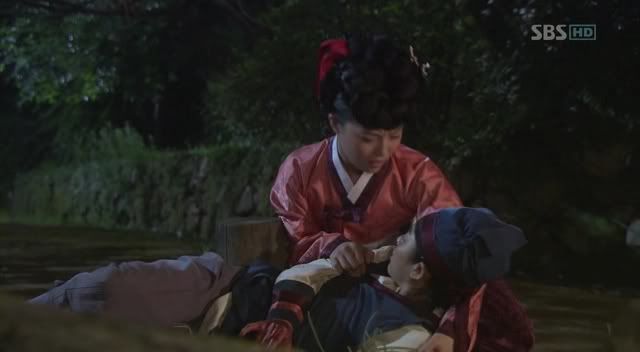 That night, Jeong-hyang and her maid are walking along, when they come across Yoon-bok, who is sitting near the place where Yoon-bok requested the gayageum concert before. Yoon-bok collapses, and Jeong-hyang gathers her into her arms. Just before Yoon-bok passes out, she whispers, "You're as beautiful as ever." OMG THEY ARE SO GAY.
Jeong-hyang takes her to the kisaeng house, but no doctors will come to help, as they refuse to enter a kisaeng house. Uh, so kisaeng don't get any medical treatment simply due to the fact that they're kisaeng? Bastards.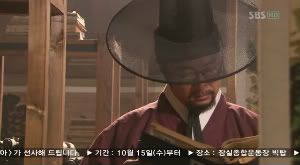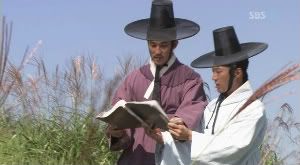 The next morning, Hong-do is off by himself in a corner of the Dohwaseo, looking at the written records of a certain painter – Seo Jing, Yoon-bok's daddy. We get intriguing flashbacks into the past, where we're informed that Seo Jing was murdered, and that it's suspected he was murdered by his enemies due to his supposed bad attitude. Seo Jing wasn't able to gain much prominence in Dohwaseo activities due to his practice of painting everday, mundane things. His good friend, Hong-do, was the one who conducted his funeral. In voiceover, Hong-do promises his friend that he'll be sure to reveal the truth.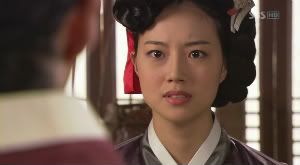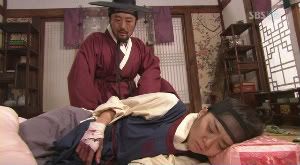 Jeong-hyang and her maid visit the Dohwaseo to ask Hong-do for help, causing quite a stir amongst the horny students. She tells Hong-do what happened, and he goes with her to the kisaeng house. Yoon-bok's hell-bent on never going back to the Dohwaseo, and yells at Hong-do to leave her alone. Hong-do bodily lifts up a struggling Yoon-bok and takes her out of there, easy as pie.
He takes her to a pool (with a small waterfall!), and throws her into the water to make her snap out of her stubbornness. Yoon-bok struggles weakly, clearly unable to swim. Hong-do continues to lecture her, not noticing that she is slowly stopping her struggle, and allowing herself to sink to the bottom of the pool. When Hong-do finally does notice, she's deeply immersed in the water, and losing consciousness. End episode.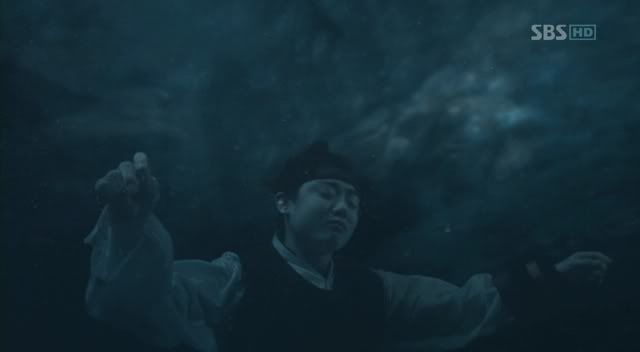 ADDITIONAL THOUGHTS
OMG sad episode. 🙁 I admit I teared up a little. It must have been exhausting for the actors to continually maintain such powerful emotions like that, especially for Moon Geun Young.
I really like the clever use of flashbacks in this episode – several of the events don't happen in a linear order, thus effectively hiding a lot of the twists, and keeping the viewer on her/his toes. Unfortunately, it does start feeling manipulative after a certain point, with everyone continually being saved from the worst case scenario at the very last minute. They could have toned that down a lot more, and it would still have been as effective (if not more).
Oh, and I liked how the problem was wrapped up in a way that didn't feel too neat. People suffered from the "solution", and the choices made along the way continue to further the plot – such as Jeong-jo's discovery that it's Jeong-soon in the painting. Am looking forward to how that will colour their relationship in future episodes.
The acting from a select few continues to shine, and Park Shin Yang doesn't annoy me as much this episode – I liked the way he portrayed Hong-do's concern and heartbreak for Yoon-bok and Young-bok, anyway. Here's to hoping he'll improve.
Painter of the Wind: Episode 4
Ha! Park Shin Yang in drag. That image has been BURNED onto my BRAIN.
I guess that shows you just how much more lighthearted this episode was over, say, episode three, which was Angstfest to the Max. What I appreciate about Painter is that, although it can try a little too hard to be humourous at times, those light scenes always serve something to the plot and the characters. So I can tolerate things that I wouldn't be able to tolerate in lesser dramas.
SONG OF THE DAY
Cherry Filter – "난 여자였다" (I was a woman). Dahee says: "From their first album, 'Head-Up'. I adore Cherry Filter with my entire being, and this song seemed very suitable, for obvious reasons."
[ Download ]
Audio clip: Adobe Flash Player (version 9 or above) is required to play this audio clip. Download the latest version here. You also need to have JavaScript enabled in your browser.
 
EPISODE 4 RECAP
Hong-do takes Yoon-bok to a doctor, who says she'll be just fine. As for her hand, she just needs to open and close it several times a day, and keep it flexible. Oh, and she needs to take some medicine too, but what doctor in a drama doesn't prescribe medicine?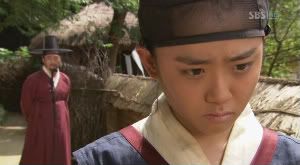 Later, once Yoon-bok's awake, Hong-do takes her to Jung-sook's place, and tells her to stay there for the time being. Yoon-bok tells him there's no need, and that he should butt out of her business, since she has no intention of going back to the Dohwaseo. In fact, she doesn't even need to call him "teacher" anymore, and reverts to the less formal "Kim hyung".
Hong-do, however, isn't about to let her go, and as she turns to leave, he reminds her that, with that battered hand, no one will hire her or take her. Faced with no other choice, she follows him into the house.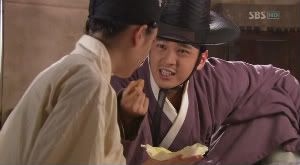 However, once she's there, she refuses to eat or change clothes, and simply spends all day lying in bed. But then she gets a special visitor: Young-bok.
The two of them have a light, friendly conversation, in which Young-bok tries his best to cheer her up, and shows her some paint powder from the Danchongso, which he supposedly made. He tells her that he's doing really well at the Danchongso, and, without outright saying it, that she shouldn't feel worried or guilty over his plight. Yoon-bok's too smart not to know that he's probably exaggerating, but she's very touched by his gesture. Young-bok is too sweet for words. Awww.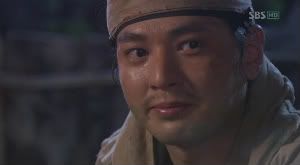 But then we get a glimpse of his real life at the Danchongso, in which things aren't nearly as cheery as he made them out to be. He's bullied there for being from the Dohwaseo (and thus originally of a higher class), and gets harrassed regularly. He manages to do okay, however, by the thought of Yoon-bok.
Meanwhile, Jeong-jo's meeting with an envoy from China, from whom he's received a gift (the one for Jeong-soon shown in episode one). It's now his turn to send a gift, and he instructs the Dohwaseo to submit paintings to send the Chinese.
Along with the Dohwaseo elders, Hong-do's planning on a painting, too, and Jeong-jo tells him that he's looking forward to seeing it. Talk about laying on the pressure.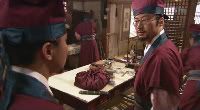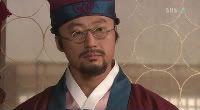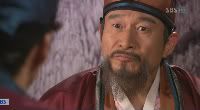 However, Byeok-soo has ordered several painters to pack up Hong-do's things, because he's sending him off to Pyeongyang. When Hong-do goes to confront him, Byeok-soo argues that, since he's done with his mission, he'd might as well leave. Hong-do asks him if he's that afraid of him, and Byeok-soo scoffs, but he doesn't answer directly.
Hong-do declares that he can't leave, and that he's a little different from his teacher, who died ten years ago. As he turns to go, Byeok-soo basically tells him that, since Yoon-bok has disappeared from the Dohwaseo and has pretty much done whatever she wants, that she won't be able to take the exam to become an official painter.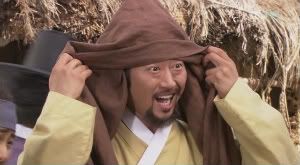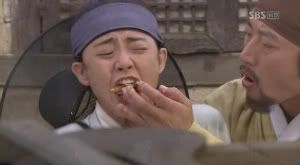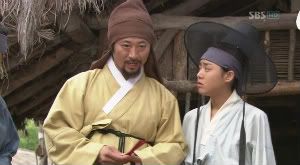 Hong-do goes to visit Yoon-bok, who's still in bed. He forces her out, and the two of them go on a little outing to the marketplace. They do things like drink, eat, try on sunglasses (yes, sunglasses), watch a cockfight, and look at pretty merchandise (Yoon-bok looks at a butterfly ornament again – this has been an interesting and recurring theme for her, since they are made for women. Does it symbolize her hidden womanhood, and her longing to "fly", and embrace the woman within her?). As they do, there's a voiceover in which Hong-do tells Yoon-bok that he, too, once upon a time, tried to quit painting. He refused to do anything, and caused lots of trouble for everyone. They all gave up on him, except for his teacher, who suffered a lot because of him. Yoon-bok's intrigued, and asks him why he paints at all.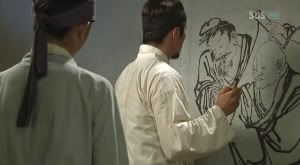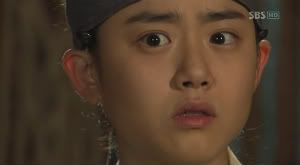 Hong-do takes Yoon-bok to what looks like a shack back at the house where Yoon-bok's staying, and the two of them stick up large sheets of paper. Looking at the blank paper, Hong-do has a Michelangelo moment, and asks, "Can you see it?". Yoon-bok can't see anything, however, and Hong-do tells her that everything they need is already in the paper, so it's the same thing as having painted an image already. Yoon-bok scoffs at him, and Hong-do goes to show her – quickly sketching an old man with his brush. Once he's done, he asks Yoon-bok, "Can you see it?".
Yoon-bok doesn't seem to get his point quite yet, so he continues to paint, repeating each time he's finished drawing another person, "Can you see it?".
Finally, after the third sketch, Yoon-bok realizes that he's painting random people that they encountered throughout the day. Hong-do tells her that it's easy to paint things exactly the way they are when they're right there in front of you, but it's important to know how to capture the images you want in your mind, and be able to draw them again later, having captured the essence – the spirit, if you will – of the person. It's just like when she broke through the invisible line of the six dots.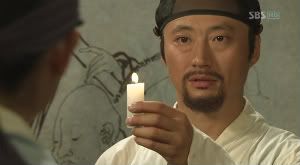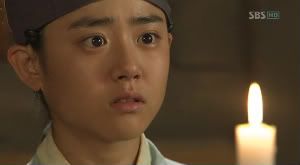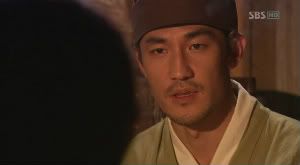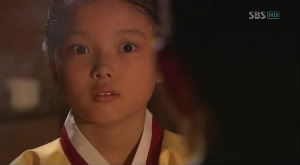 Inspired, Yoon-bok begins calling him "teacher" again. Hong-do holds up a candle, and tells her:
"Just like the way a single light creates countless shadows, one line can contain countless different shapes. If you can see those shadows, then you'll be able to capture everything within your painting."
As he's saying this, we're given the image of young Yoon-bok wih her father, who told her the exact same thing when she was little. Yoon-bok is startled, and a little touched – it's like her father is speaking to her through Hong-do, beyond the years (little does she know that Hong-do and her father knew each other!). Hong-do holds out the brush to her, asking, "Will you paint?". She takes it, hesitantly.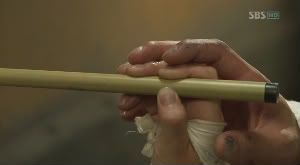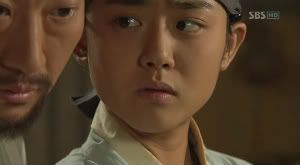 In a beautiful moment, Hong-do wraps his hand around hers, strengthening her grip on the brush. And he says, "Don't be afraid." He guides her hand, and the two of them paint, with Yoon-bok visibly affected by their close proximity. It's very romantic.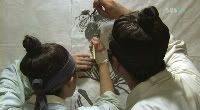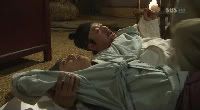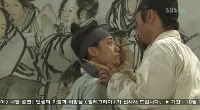 The romance factor is very in-your-face in the following sequence, in which we're shown images of the two of them painting together throughout the night, continually bumping into each other, accidentally bringing their faces close to each other, falling back onto the ground, and, after Yoon-bok accidentally splatters paint on one portion of the giant painting they're working on, Hong-do playfully chasing her with a rake. It's a great way to show how close they're becoming, and the underlying romantic tensions between them.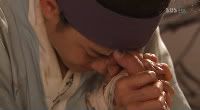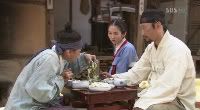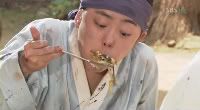 In the morning, Yoon-bok wakes up first. They've finished the painting, and it looks absolutely gorgeous. She watches Hong-do as he sleeps, and in a very tender gesture, takes his hand and whispers, "Thank you, teacher." She brings his hand to her forehead, and Jung-sook takes this moment to enter the shack, interrupting a highly embarrassed Yoon-bok, who drops Hong-do's hand like a hot potato. It's adorable.
Her spirits renewed, Yoon-bok attacks her breakfast like someone who hasn't eaten in years. The way she stuffs her mouth with random food is fairly disgusting. Poor Moon Geun Young. This scene must have been awful to do. And why do I keep getting reminded of Yoon Eun Hye's early jjajangmyun eating scene in Coffee Prince? Blergh.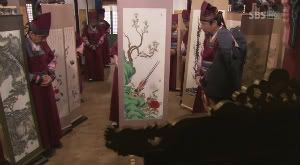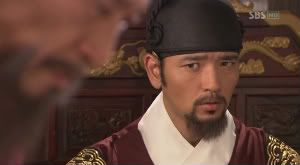 Jeong-jo is being presented with all the paintings that the members of the Dohwaseo prepared to be sent as a gift to China, but he's displeased with each painting that is brought forward. He asks where Hong-do's submission is, and Byeok-soo tells him that Hong-do hasn't prepared a submission. Asshole.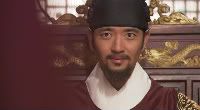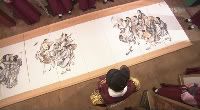 But! Hong-do arrives at the palace with his own offering – the painting he spent the night making with Yoon-bok. (Funny how it looks so much smaller now…) It is the super-famous work "Group of Gods" by Kim Hong-do. Jeong-jo loves it at first sight, naturally, and declares that this will be the painting sent to China, regretting, at the same time, that he won't be able to look at this painting for much longer. The Dohwaseo elders are not pleased.
Jeong-jo tells Hong-do that he'll grant him a wish in return. Hong-do tells him that he didn't make the painting himself, but that he was helped by a student, Yoon-bok. He would like Yoon-bok to be promoted to the level of official painter. Jeong-jo asks Byeok-soo for his opinion, and Byeok-soo argues that Yoon-bok ran away from the Dohwaseo, and that it would be wrong for the Dohwaseo to take him back so easily. So Jeong-jo offers a compromise: If Yoon-bok passes the official exam, then she'll be promoted. But if she doesn't, then Hong-do will have to return to Pyeongyang.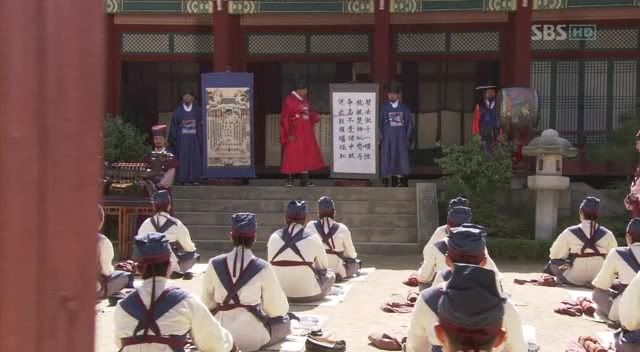 The day of the exam arrives! Only one person can pass (yes, it's that exclusive). They have until noon the next day to finish. WHO WILL BE THE WINNER? My god, it's like a game show! Only more awesome.
They're given two subject choices: One is a painting that depicts an event during the late King Yeong-jo's reign. The other is a poem (which mentions air, swinging, and skirts). They have to understand it, and paint something that depicts the poem properly.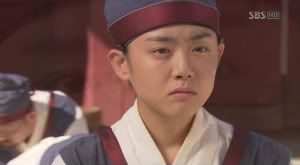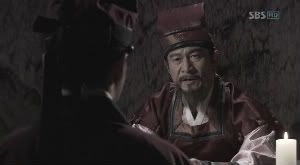 The other students get to work right away, with the oldest student conveniently mentioning that no one's ever chosen the very difficult poem choice before. But Yoon-bok simply sits, pondering it over. She remembers Hong-do's words – "Create a painting that lives." And she suddenly remembers Jeong-hyang (say it with me, folks: SO GAY!). She gets up and gets permission to leave, in order to find a suitable subject.
Meanwhile, it seems that Byeok-soo has instructed one of the painters to make sure that Yoon-bok doesn't pass the exam – no matter what it takes to stop her. He wants to make sure that Hong-do has to leave for Pyeongyang. Ugh, dude. Must you persist with your asshattery?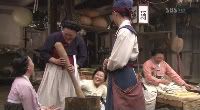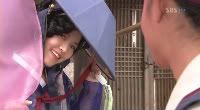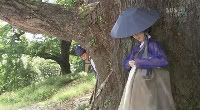 Once outside, Yoon-bok asks a group of women where the women's swinging (and bathing!) location is. The women tease her, pretty much calling her a Peeping Tom, and Yoon-bok runs off, her tail between her legs.
As she's running off, a random kisaeng calls out to her, acting all flirty. Yoon-bok asks her if she can ask her a question, and the kisaeng says yes – if, that is, she'll paint her. Yoon-bok turns away, uninterested…and then gets an idea. Setting it in motion, she says coquettishly, "I can't draw women when they have their clothes on." Ha! Yoon-bok, you giant flirt.
So she takes the kisaeng to a remote location by a tree, where the kisaeng passes her her articles of clothing one by one, and Yoon-bok puts them on. Once she's completely changed, she runs off, leaving the poor kisaeng alone and in her undergarments.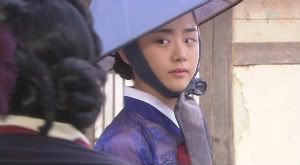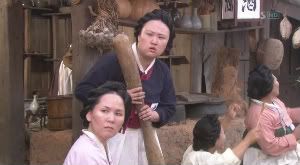 Yoon-bok saunters through the market, making ridiculously bad attempts to look feminine. It's really quite amusing. As she walks along, she accidentally runs into Hong-do, who's followed her out of the Dohwaseo, but has lost track of her along the way. Thankfully, however, Hong-do doesn't recognize her, and Yoon-bok hurries along on her way. She goes back to the women who teased her before, and once again asks where the swinging is taking place. They, too, fail to recognize her, and tell her right away.
Not long after Yoon-bok's gone off, Hong-do approaches the same group of women, and asks them if they've seen a short student painter around. They tell him that they saw one who asked them where the bathing was taking place, and thus Hong-do goes off to follow her there.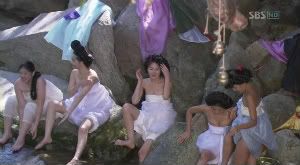 Yoon-bok successfully infiltrates the bathing area, where the women are taking turns on the swing, bathing, chatting and generally having a great time. She's found the subject for her painting.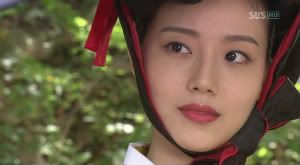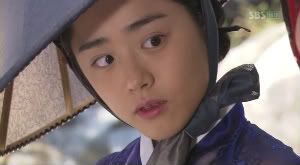 And then Jeong-hyang arrives! Feeling mischievous, Yoon-bok approaches her, and lightly chats to her as though she's a woman (which…she is. Oh. Right. I forgot). Jeong-hyang is confused at first, but it's pretty clear that she comes to recognize her, even if she plays along with Yoon-bok's ruse. Yoon-bok believes she's fooled her.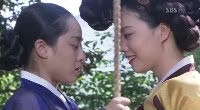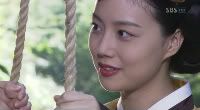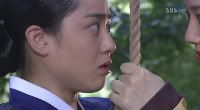 The person who's been taking a turn at the swing finishes, and Jeong-hyang suggests that the two of them ride together. So they get on the swing together, and begin – with Jeong-hyang revealing that she knows who Yoon-bok is, saying, "Hold on tight…student painter. The first time is always important."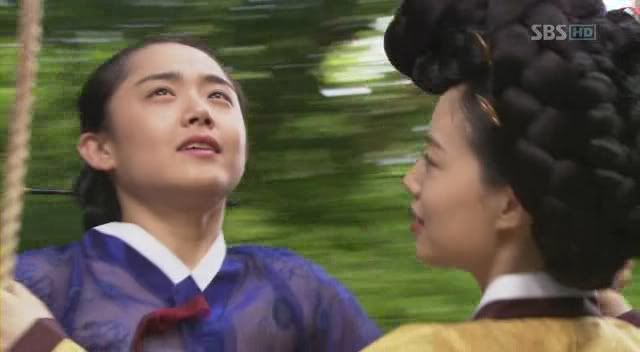 Thus follows the gayest scene of the entire drama so far. The two of them are swinging back and forth on the swing, facing each other, and Jeong-hyang's eyes are like, BORING A HOLE into Yoon-bok's face. Yoon-bok, on the other hand, is too awed by her surroundings, busy turning everything she sees into a painting in her mind's eye to really look at her all that often. But seriously. They're rocking back and forth. There's some serious chemistry going on there. And at the end, Yoon-bok shouts in jubilation (breathing heavily…), "It's done! It's done!" (she's talking about the painting, you pervs!). It is like a big, fat, obvious metaphor for sex. And Yoon-bok gets an orgasm at the end. OH. MY. GOD.
I knew I was watching this drama for a reason.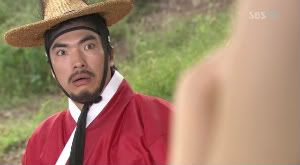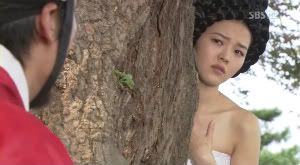 Meanwhile, a random male passersby sits down by the tree where the kisaeng is isolated, lamenting the fact that he doesn't have a girlfriend. That's when the kisaeng gets his attention, and asks him for his help. Tee hee.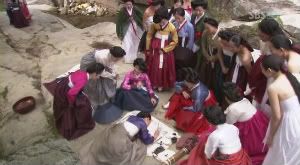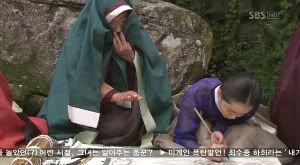 Hong-do's found a way to sneak to the bathing area. He steals some clothes from a sleeping woman, and basically crossdresses, covering up his face so that no one will know he's a man. He finds Yoon-bok, who's busy painting (surrounded by an admiring crowd), and lets her know that he's there.
This scene is interesting in its use of silences – every time the camera focuses on the painting, and on the painting process, everything becomes absolutely silent – we can't even hear the sound of the waterfall anymore. Very nice way to show the concentration and genius involved.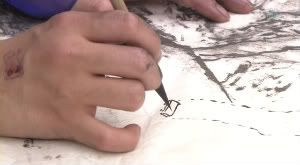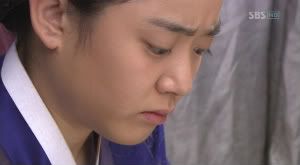 But as Yoon-bok's about to draw the person on the swing, she hesitates. Hong-do asks what's wrong. Yoon-bok says she can't draw the person there, because she hasn't seen into the heart of that particular woman yet. (Ooooooooh.)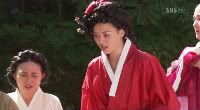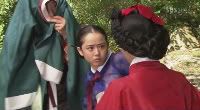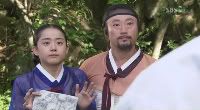 That's when the kisaeng finds her, and demands that she return her clothes. Hong-do tries to calm her down, and accidentally gets himself revealed as a man. Hong-do makes up a lie on the spot, pretending that Yoon-bok's his sickly wife, and that he just wanted to make sure that she was okay. The kisaeng shouts that it's Yoon-bok who's the one who stole her clothes, and that she's a man. No one believes her, but as Yoon-bok and Hong-do are about to make their getaway, Yoon-bok drops her male painter's clothes, and they're found out. Jeong-hyang promises to take care of Yoon-bok's painting supplies for her, and Yoon-bok and Hong-do run away. End episode.
 
ADDITIONAL THOUGHTS

We see some major developments in the Yoon-bok and Hong-do relationship in this episode, which was quite nicely done, I thought, despite the fact that the scene with them painting together could be a little too obvious at times. Painter always has that tendency to overdo things, but it hasn't quite slipped over the edge into obnoxiousness yet, which I really do appreciate.
But while it can overdo things at times, it can also be really subtle in its tiny, perfect little details – such as the repeated scenes of Yoon-bok looking at the butterfly ornament. Almost everything means something, and for that, I really have to respectfully bow my head towards writer Lee Eun Young, who seems to be turning out to be an exciting new talent in sageuk.
Also, I know I'm always fawning over Moon Geun Young, but I just want to note that she does a very good job of showing the awkwardness of Yoon-bok's masquerade as a woman – it's one thing to act like a guy, but to act like a guy who's trying to act like a woman? That's a little trickier. And Moon pulls it off with panache and charm. I really do want to marry her. I'm serious about this. Here's to hoping her poor nose makes a quick recovery.
Painter of the Wind: Episode 5
This episode had some aggravating scenes, which made me a little grumpy. But it also had some really beautiful scenes (GAYNESS!), and that pretty much balanced everything out. I will note, however, that I'm still waiting for a really stand-out episode from Painter, quality-wise. But good things come to those who wait, I suppose?
SONG OF THE DAY
Bobby Kim – "Weak Man." Bobby Kim = coolness personified. [ Download ]
Audio clip: Adobe Flash Player (version 9 or above) is required to play this audio clip. Download the latest version here. You also need to have JavaScript enabled in your browser.
 
EPISODE 5 RECAP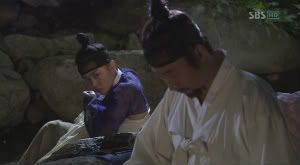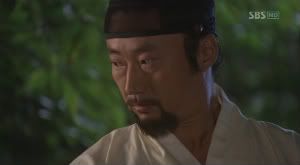 Yoon-bok and Hong-do run like mad, and the painter sent by Byeok-soo to sabotage Yoon-bok's painting follows them, all sneaky-like. Sneaky, sneaky.
That night, the two of them stop by a creek, and Yoon-bok tells Hong-do not to watch as she changes out of her women's clothes. Hong-do promises not to, but he peeps at her anyway – he seems to have been really struck by the way she looked when she was "crossdressing". Yoon-bok yells at him (don't worry, he didn't see anything important), and Hong-do tells her that with her bone structure, she could easily be mistaken for a woman. Yoon-bok's all flustered, and it's cute.
The outline for her painting's all done, but she still needs a focus to hold it down – the person on the swing. She tells Hong-do that she knows where to go to find what – or who – to put in there, however.
Meanwhile, the rest of the students are working diligently on their own paintings, and Hyo-won in particular is doing well, garnering lots of praise from the supervisors. His sleazy friend mentions that, if Yoon-bok doesn't show up, then Hyo-won is a shoe-in to be the one who's promoted to official painter.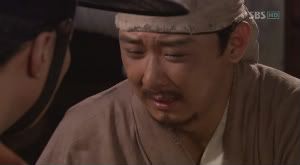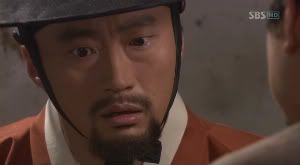 Hong-do meets with what looks like an old friend – Dok-bu, I think his name is – someone who seems to have known Yoon-bok's dad as well. He tells Hong-do that Seo Jing's daughter – in other words, Yoon-bok – is alive, but he doesn't know where she is. He tells Hong-do that he's still very afraid, and Hong-do reassures him that he'll take care of everything.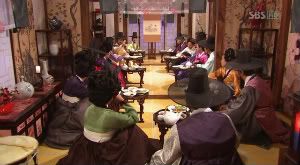 The evil group we're all friendly with by now – The Evil Quartet, I like to call them – are gathered with some other pals for Ye-pan's birthday at the kisaeng house, and they're all analyzing a certain painting the head kisaeng prepared for Ye-pan – "Cat in Fur of Shining Gold" by Kim Hong-do – and trying to guess who the painter is. When it's Jo-nyeon's turn to analyze it, he does it exceptionally well, as always. He even guesses that it was painted by Hong-do.
What I like about the characterization of Jo-nyeon is that, while he's pretty evil in parts, he's also very human. He's intelligent, rich and shrewd, but due to his original low status in society, he's looked down on by the nobles he consorts with, and he knows this well. He's quite the outsider. It's sorta sad.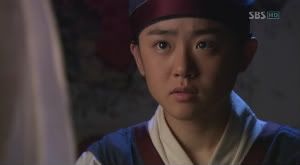 Yoon-bok and Jeong-hyang are meeting at the kisaeng house at the same time as all this is going on. Jeong-hyang plays the gayageum for her for a bit, and then Yoon-bok spreads out her sketch, and asks her for a favour.
"Please enter this painting. Show me everything. Everything that is concealed underneath your clothes. Your heart, your spirit, your constancy, and…Concealed underneath all of that, your music."
And so Jeong-hyang complies. BY TAKING OFF HER CLOTHES.
I ought to stop saying things like "This is the gayest scene so far", because Painter just keeps topping itself. You thought the swing scene in the last episode was suggestive? That was nothing, and I mean NOTHING, compared to this. It is enough to make a lonely, hetero teenaged boy shed tears out of pure joy.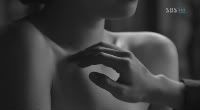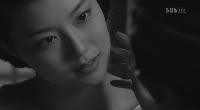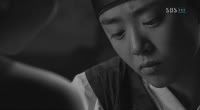 So, Jeong-hyang's taking off her clothes, la di da, and Yoon-bok's observing her. Fine. Artists do that. They draw people naked. I understand that Jeong-hyang is her muse, and that Yoon-bok's attraction seems to mainly stem from the fact that Jeong-hyang inspires her, sets fire to her…creativity, if you will. (For the record, I was totally NOT thinking of writing something other than "creativity" just now.) I get it.
But seriously, people. Was it NECESSARY to interweave that supposedly "innocent" viewing with that whole fantasy sequence of Yoon-bok touching Jeong-hyang's revealed body, and drawing her nekkid boobies? (Not that the Jeong-hyang we see is showing off her two little friends or anything…Mostly, I suspect, because the censors wouldn't allow it. But that doesn't stop 'em from suggesting through the drawing that, logically, she IS nekkid here! Full-on Janet Jackson-esque boobage. Yee-haw!) This may be a muse-artist relationship, whatever. But just because someone's your muse, it doesn't mean that you can't get all nice and cozy with them after the painting session's over. Just sayin'.
And Jeong-hyang sure doesn't seem to mind being touched!
All that being said, this is a really beautiful scene, quite tastefully and lovingly done, and, as Painter is wont to do, takes a very interesting approach to the blurring between reality and imagination.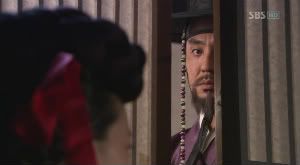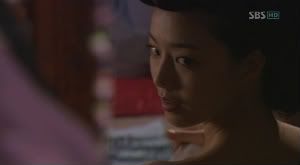 Unfortunately for these two "non-lovers" (ha!), someone seems to have left the door to the room slightly ajar, and Jo-nyeon happens to glance in as he's passing by. Stupefied by what he sees, he stops, opens the door a little wider, and does the whole Peeping Tom thing. His open look of lust as he stares at Jeong-hyang is more than a little creepy. Dude, how OLD are you?
Jeong-hyang gets the creepy vibes, and turns and sees him. Not at all taken aback or shocked (she is, after all, a kisaeng, and probably used to such grossness), she gently closes the door in his face.
The head kisaeng in charge of her has been watching Jo-nyeon watching Jeong-hyang for a while, and she takes this chance to go over and offer Jeong-hyang to him, if he wants her (for a price, of course). He acts like he doesn't care, but we all know he's a dirty little pervert at heart. He's definitely coming back for her. Ewwwww.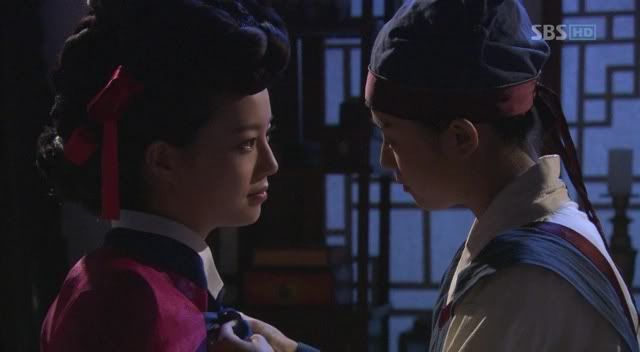 In the meantime, Jeong-hyang is no longer nekkid (not that she technically ever was…), and asks Yoon-bok:
"Have I entered your painting now?"
Yoon-bok nods.
Jeong-hyang: "Then, if you pass the exam, can I live in only your heart now?"
Yoon-bok: "In…my heart?"
She hesitates, and then leans over and helps Jeong-hyang put on her jeogori (the top outer garment). It's veeeerrrrrryyyyy sexual.
Yoon-bok: "What man could resist you? And…what man could take you so easily?"
COP-OUT! Oh, the hidden meanings behind her words!
But whatever. Jeong-hyang's pleased and touched, obviously thinking that Yoon-bok's one man who isn't in this just for her body. Oy vey. Does Yoon-bok not realize how flirty she's being? Does she not realize how much she may potentially be hurting Jeong-hyang by acting this way? OH MAN.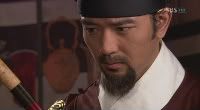 Jeong-jo's alone in his room, and he takes out a case, which contains a bow. And then we get a flashback to his younger days! Hurrah! I've been waiting for this.
We see the young Jeong-jo practising archery with his father, Prince Sado. And then we see him begging his grandfather to save his father's life. Jeong-soo watches, looking a little guilty. And then we see him, dressed in funeral robes, in his father's room, and taking his father's bow off its stand. Which I suppose is the same bow that Jeong-jo's looking at now. And he says, as though to his father: "Please wait just a little bit longer." OH HELLZ YEAH.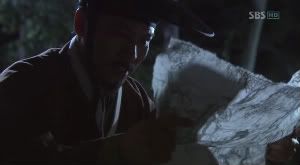 Yoon-bok's skipping away from the kisaeng house, all happy and satisfied, and remembering what it was like to swing with Jeong-hyang (GAY!). Only, her happiness gets a little marred by the fact that, the painter sent to sabotage her finally takes this chance to knock her out from behind, steal her painting, and drop her down a well. Real classy, dude.
Young-bok is working at the Danchongso, and he winds up accidentally breaking what looks like a bowl full of paint powder. Heo Ock, Heo Shim's granddaughter (you remember, the freaky old guy we saw in episode two…or was it one?), is looking on. She starts making some moves on him, and tells him that she has the keys to the storage room, where they can replace the bowl without anyone knowing. He asks her what he can do for her, and she tells him that, since she knows a secret of his, they should create a secret for him to know about her as well. So she goes up and smacks a big, fat, wet one on his lips. Uh, okay. Young-bok pushes her away, but she's completely unembarrassed, and leads him off to the storage room. Girl, if you think a guy's hot, just tell him so! Don't sexually harrass people. Then again, unfortunately, he is just not that into you, so it's kind of a lost cause.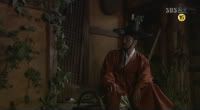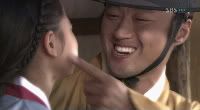 Hong-do's visiting the old abandoned home of Yoon-bok's father (Jing), and as he sits, he remembers a young Yoon-bok, whom he seems to have been on very good terms with. Her real name is Seo Yoon, so her first name is just "Yoon", not "Yoon-bok".
Then we're back to the Hong-do in the present, reminiscing sadly on all this. And he wonders, "Where are you, Yoon?". Um, go look in a well near the kisaeng house, and you'll find her. Kthxbai.
Speaking of Yoon-bok, she wakes up in the well, understandably confused, and with a twisted ankle. But it's really only once she realizes her painting's gone that she starts panicking, and screams for help. She even throws her things up, hoping someone will see.
A couple of guards hear her, but, jumping to the conclusion that they heard a ghost, and not a young student painter trapped in a well, they scurry off, like the cowards that they are. SO FRUSTRATING.
The painter/sabotageur goes to Byeok-soo, and hands over the painting. Byeok-soo rips it up into pieces, and also sets it on fire. It was agony to watch this scene. To destroy such a precious piece of art!! I think my soul just broke a little.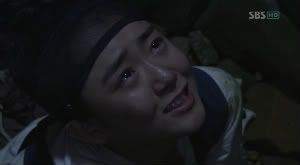 Hong-do sets out to look for Yoon-bok, worried because she hasn't gone back to the Dohwaseo yet. He asks Jeong-hyang where she is, but Jeong-hyang doesn't know either, so he sets out searching in earnest, calling out Yoon-bok's name.
Thus follows an over-long and teeth-grinding scene in which Hong-do passes by the well, Yoon-bok calls out to him (but he doesn't hear), he goes around to other places looking for her, and then, FINALLY, goes back to the well, where he encounters the two frightened guards. It's while he's talking to them that the three of them hear Yoon-bok's cries for help, and Hong-do goes over to the well and finds her. About time!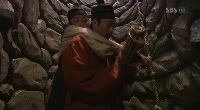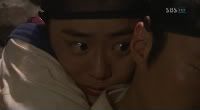 He climbs down into the well, and instructs her to get on his back. She does so, reluctantly – I'm thinking she might be a little worried that he'll feel her boobies (I would be!), and also, she feels the sparks that come from being in such close proximity to him.
So the two of them get out of the well, with some difficulty. (Note: I find it funny that there's a frog in the well…a reference to that old fable, perhaps?) Once they're out, Yoon-bok tells Hong-do that the painting's gone, and that there's no point in going back to the Dohwaseo. Hong-do tells her to try to go back to that time, to remember the scene. Anything at all will do – the sounds, the smell, the tastes. Once she remembers one thing, everything else will follow. And so she does.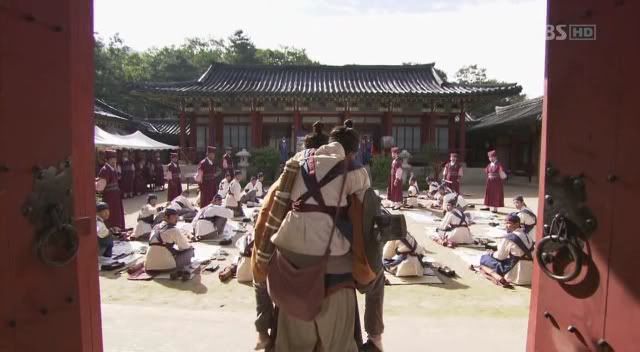 Hong-do piggybacks her all the way back to the Dohwaseo, with Yoon-bok clinging on to that memory the whole time. They burst in with little time to spare. It's the morning, and the exam ends at noon.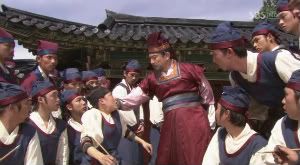 Yoon-bok spreads out the paper, and gets to work. (I love the way she envisions what she's going to paint, and it all appears before her eyes, on the paper – much like the statue hidden in the marble, a la Michelangelo.)
Everyone gathers around to watch as she paints, shocked by the way she paints the women naked – or, at least, she paints their breasts, anyway. Because we all know that nipples are sooooo scandalous. Byeok-soo, ever the ass, grabs her by the back of her shirt, and drags her away, telling her she has no right to paint such things – and, no doubt, hoping that she won't be able to finish the painting. Yoon-bok protests that she's simply painting living, breathing people, exactly as they are. Byeok-soo doesn't listen, but Hong-do stops him, yelling at him that she should get her chance to finish. Byeok-soo agrees, thinking that she won't have enough time anyway, and that the painting will never pass under the scrutiny of the conservative judges in the end.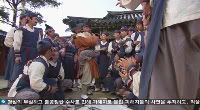 So Yoon-bok continues work on her painting. It's amusing how everyone holds their breath as she prepares to paint the nipples red – and, frankly, I'm surprised they were allowed to show that in the drama at all. Maybe it's okay because it's "just" a painting? Or because it's "high art"? Pfft. Censors have such double standards.
Time's almost up, but Yoon-bok feels like she needs to add one more thing. So, at the last minute, she draws a couple of Peeping Toms, watching the ladies below. And it's to my thinking that they represent Yoon-bok and Hong-do. Very clever. And thus we see the completed painting: Shin Yoon-bok's masterpiece, "Scenery of Dano Day".
And she's done, just as time is up! Everyone rejoices, with Yoon-bok and Hong-do even jumping into each other's arms in an ecstatic (and, later, embarrassing) embrace.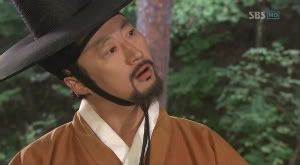 The judges are all together, looking at the paintings, and Byeok-soo forcefully criticizes Yoon-bok's painting, saying it's sinful, and that there's too much colour in it (WTF?). Hong-do arrives, clearly unable to keep himself away, and asks why it's so wrong to have so much colour in a painting. Byeok-soo adds that this painting makes the viewer's heart move, and that that's wrong. Hong-do yells at him for his stupidity, the two of them fight really loudly, and the judges tell Hong-do to leave, since he himself isn't a judge. As he leaves, he yells, "The Dohwaseo has gone completely rotten!". Anger management issues, much?
Ugh, what an annoying scene. Byeok-soo and the conservative viewpoints of the judges are really annoying, but Park Shin Yang's OTT, War of Money-esque acting is annoying, too. This is one scene that made me wonder if I should pause the drama and just stop watching. That was how annoyed I was.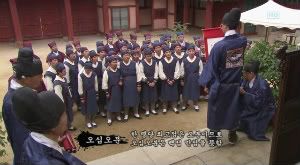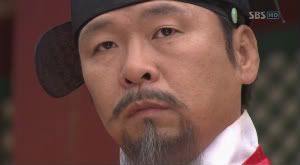 Anyway, the judges announce their pick – Hyo-won has been chosen to be elevated to the status of official painter. Everyone congratulates him, but the celebration is interrupted by the announcer adding that Yoon-bok, too, has passed the exam, for special reasons – a secret, 12th judge has approved her painting. Yoon-bok tears up, overjoyed, and everyone demands who this secret judge is who passed her. It is announced that that person was none other than King Jeong-jo himself. Shock! End episode.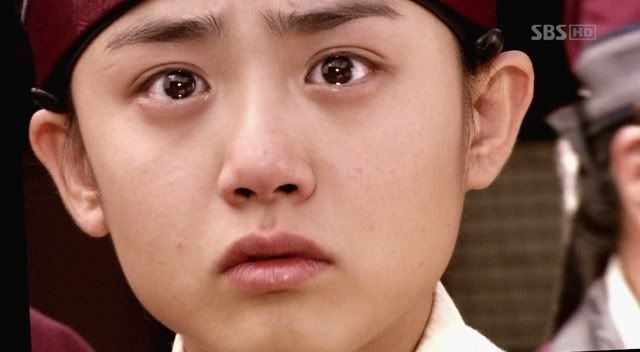 ADDITIONAL THOUGHTS
This was definitely not my favourite episode (too many conventional story twists), but it was a nice one all the same, as all of Painter's episodes have been, so far. We finally got to see a flashback regarding Jeong-jo's past, and I admit I salivated the entire time. I want more scenes with Jeong-jo and Jeong-soon, dammit!
As for Park Shin Yang, as I mentioned earlier in this recap, his acting still bothers me at times. It's like he doesn't understand that acting like you're in a cartoon simply doesn't work for a drama like this one. Still, he can be charming in his own little way at times, and I like the way Hong-do and Yoon-bok's relationship is developing. They have a believable chemistry to them. I just hope they don't kiss or anything, because that would be a little grody. And I would be SO jealous of Park Shin Yang. (Kidding! I…think.)
Painter of the Wind: Episode 6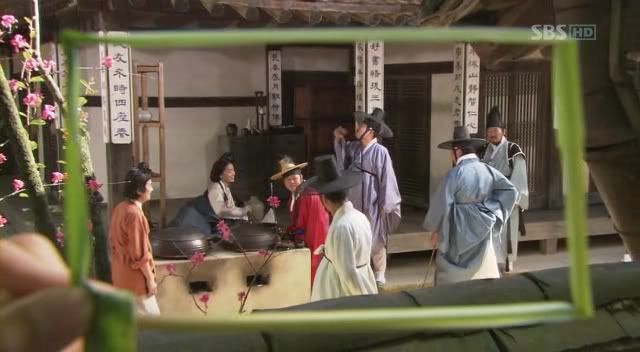 First of all, I'd like to apologize for the lateness of these recaps. Things are rather busy with school at the moment, and unfortunately, my education comes first. (Trust me, though, I would much rather be writing these recaps than writing a paper on Thomas King. My heart is with youuuuu!)
Anyway. This episode was: More lesbian action + feminist themes = one happy Dahee.
SONG OF THE DAY
Ani DiFranco – "Not A Pretty Girl" – I often listen to dear Ani whenever I write – she tends to get the creative juices flowing for me. This song in particular inspires me to write angry feminist poetry. Lol.
[ Download ]
Audio clip: Adobe Flash Player (version 9 or above) is required to play this audio clip. Download the latest version here. You also need to have JavaScript enabled in your browser.
 
EPISODE 6 RECAP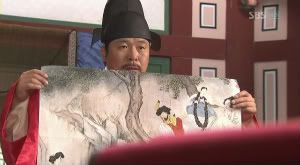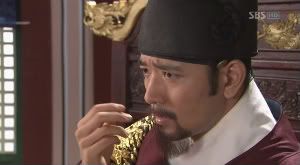 Everyone's shocked by this sudden turn of events (although I wasn't shocked, to be honest), and, in a flashback, we're shown how it came to be that Jeong-jo passed Yoon-bok.
The official is showing Jeong-jo the various paintings, and when Jeong-jo sees Yoon-bok's submission, he mentions that he can see why the judges rejected it. The official, relieved, prepares to put it away, but Jeong-jo stops him, and continues his appraisal of the painting. He gets more and more excited, talking about how natural it is, and how the painter must have seen this event with his own eyes in order to paint such a scene. He's amazed at the talent and the honesty embedded in the painting. And that is how he came to pass Yoon-bok. (Side note: Gawd, Bae Soo Bin is sooooooo hot. Every time I see him, I'm like, "Can lick plz?".)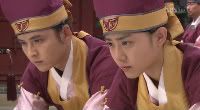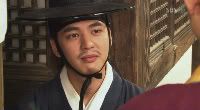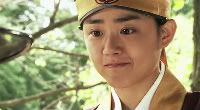 Thus, Yoon-bok becomes an official painter. After the ceremony, everyone gets together to celebrate, including Young-bok. Yoon-bok takes Young-bok aside, and gives him one of the prizes she got for becoming a painter. She tells him that she couldn't have done it without him, and says "Hyung. I'm sorry. And…thank you."
(Awwwww.)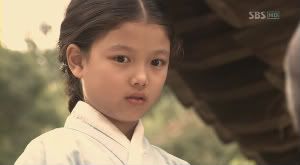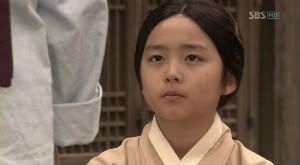 And then we get a lovely little moment, as we get a flashback of young Yoon-bok and Young-bok, back when Yoon-bok first joined his family. Young-bok's told that Yoon-bok is his new sibling, and Yoon-bok is instructed to call him "hyung" – not "oppa", which is what a girl would call her older brother. So with one flashback, we see her transition into a boy, and her introduction to Young-bok, all at the same time. Now that's good writing.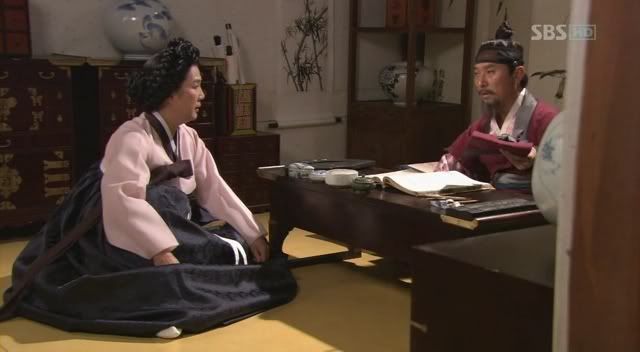 Meanwhile, Han-pyeong and his wife (in other words, Young-bok's mom) are having a conversation, in which it becomes clear that the wife is upset that Young-bok's having to go through such hardship while Yoon-bok succeeds. She doesn't appear to have any maternal feelings towards Yoon-bok at all. She hasn't forgotten that she's adopted, anyway.
Han-pyeong argues with her, telling her that Yoon-bok will be bringing great fame and honour to their family. He tells her that she, too, will understand someday. Yeah, because using orphaned little girls for your own ambitions is TOTALLY okay. NOT.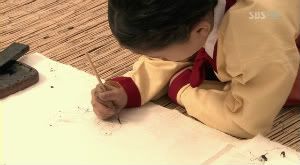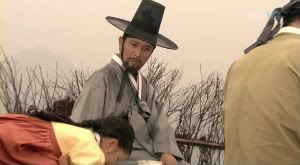 And then we get another flashback! What is this, the episode of flashbacks? We see how Han-pyeong saw Yoon-bok's talent when she was a little girl – he visited Jing, and happened to see Yoon-bok's drawings of some chicks nearby. We don't get to find out how exactly he came to adopt her, however. All in good time, I suppose.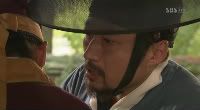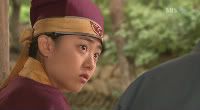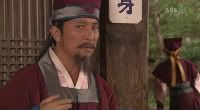 Hong-do goes to the celebration, and tells Yoon-bok, all secretive-like, to meet him that night by some bridge. Their exchange, however, is interrupted by Yin-moon coming and telling him that they've found Jing's daughter. YES YOU HAVE SHE'S STANDING RIGHT NEXT TO YOU. Yoon-bok's curious, but Hong-do goes off with Yin-moon without much of a farewell.
Han-pyeong overhears all this, and mutters to himself that Hong-do could eventually find out Yoon-bok's true identity. And that, of course, would be Very Bad for his plans of grandeur.
And the girl Hong-do goes to see, of course, turns out to be a fake, and he leaves, disgusted. HOW ANNOYING.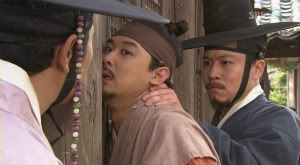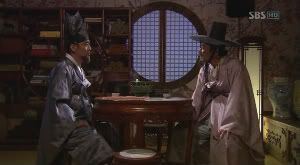 We get to see the guy that Hong-do visited before, who told him that Yoon-bok was alive – Dok-bu, his name was. It turns out he was a former painting student, and now makes simple drawings to sell in the marketplace. Byeok-soo finds him, and has him cornered in the requisite marketplace cranny by the painter who was stalking Yoon-bok last episode. Turns out they've found out about his visit with Hong-do, and they threaten him, eventually making him tell them what he knows – that Yoon-bok is alive.
Byeok-soo, not one to lose an opportunity, goes to Jo-nyeon and tells him what he's learned, subtly threatening to let this news reach their "boss" (the eldest of the Evil Trio). Jo-nyeon knows when he's being blackmailed, and coolly agrees to Byeok-soo's demands of helping out his son, Hyo-won, in becoming an Honour Artist (he needs some financial backing). And thus Byeok-soo's lips are sealed. Doesn't seem like either of them are very worried about Yoon-bok being alive – underestimating her because she's a woman, no doubt.
Jo-nyeon, however, is a little worried about whoever else might know this secret, and asks Byeok-soo for some names.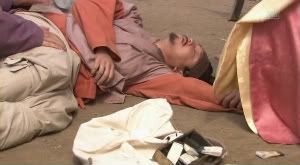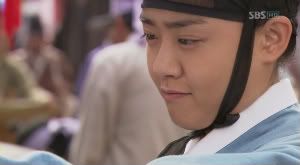 And so, Jo-nyeon's female lackey (who, I must agree with Sevenses, totally looks like Sasuke from Naruto) finds Dok-bu in the marketplace, and, casually walking by him, manages to stab a dart into his neck without anyone noticing. And he falls down, presumably dead.
Yoon-bok is standing nearby, buying an ornament, but she doesn't realize what's happened, and simply walks away. Aarrrggghhh!!!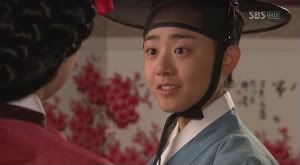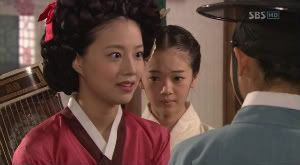 Turns out she's on her way to visit Jeong-hyang. She has something to tell her, and to give her. Jeong-hyang asks her to wait a little while, because she has a customer to entertain. Yoon-bok agrees, although she says at first "Must you go?". They are acting like two giddy young lovers, and it's pretty damn adorable. WHY can't these two get together? WHY must we be given only these sly little hints? WHY? I want MORE, dammit!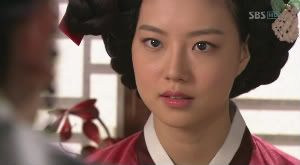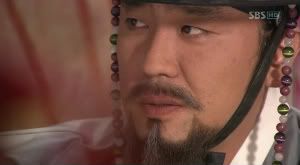 Jeong-hyang's customer is none other than Jo-nyeon the Pervert himself. As soon as she sits down, he asks her if he can buy her "services" for the night – in other words, have sex with her. The creep doesn't waste any time, does he? Jeong-hyang, of course, is having none of that. When he says that he'll pay whatever price, Jeong-hyang says, "Give me your entire fortune. Then I'll permit it." Jo-nyeon laughs, amused, and Jeong-hyang says bitingly, "…Of course, it's too precious for you to give away. You gathered your fortune with such difficulty, by extorting from the poor and the weak."
OH BURN. Jeong-hyang leaves, victorious.
Unfortunately, Jo-nyeon doesn't seem insulted. In fact, he's even more titillated (you can just tell he's a sadist), and he says "I'll turn you into the most beautiful flower." DUDE, GET A LIFE.
Yoon-bok's prepared a butterly ornament to give to Jeong-hyang as a gift, but seeing as how she needs to go see Hong-do, she leaves, leaving behind an outline of her gift, and a message saying she'll be back. Jeong-hyang's touched, but disappointed. How anyone can argue against their being a couple, I do not understand.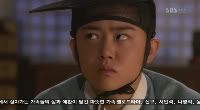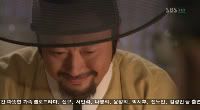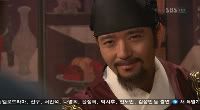 Yoon-bok and Hong-do meet up, and Hong-do tells her that they're off to see the king himself. It seems Jeong-jo wanted to see them. When they get there, Yoon-bok bows very low, terrified to lift her face in his presence. Even when Jeong-jo instructs her to lift her face so that he can see her eyes, she does so reluctantly, and tries not to look him in the face (she's not supposed to, but she's taking this to extremes). Jeong-jo and Hong-do are both amused. (And I melt over Moon Geun Young's adorableness. Awww, I just want to pinch her pretty cheeks.)
Jeong-jo tells them that he wants them to paint for him. They should both pick the same subject, and make their own separate paintings about it. It's a painting competition, in essence. The winner even gets a prize. Jeong-jo wants them to do this because he wants to see what the outside world looks like, but he can't see it for himself, since he's stuck in the palace. They'll be his eyes for him. They have two days to do it – and they have to keep it a secret.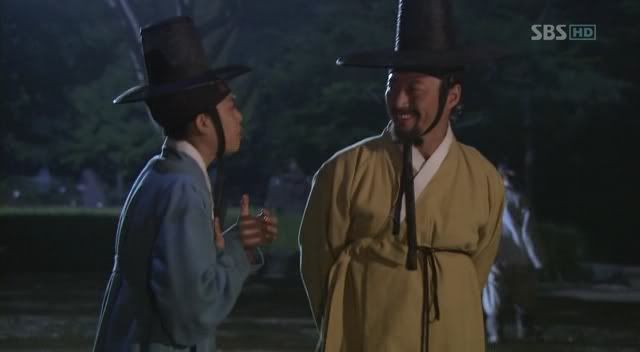 On the walk home, Hong-do and Yoon-bok are cheerfully joking with each other, talking about their assignment. This scene illustrates their nice chemistry and their comfortable, almost brotherly relationship. They're teacher and student, yes, but they tease each other freely, and aren't afraid to touch each other in a brotherly kind of way. It's pretty fun to see.
Anyway, they decide to meet before dawn, to choose a subject together.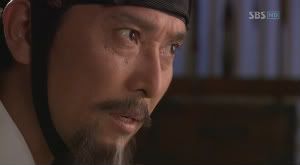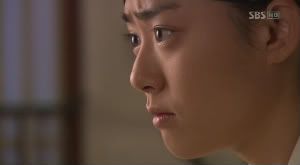 At home, Yoon-bok prepares all her painting supplies together, and is interrupted by Han-pyeong, who sits her down and tells her not to be too friendly with Hong-do – he's not as a good a guy as she thinks he is. Yoon-bok's a little worried by this warning, but she manages to brush it off, having too much faith in Hong-do to be particularly struck by this. It also illustrates, I think, the lack of closeness between her and her adoptive father.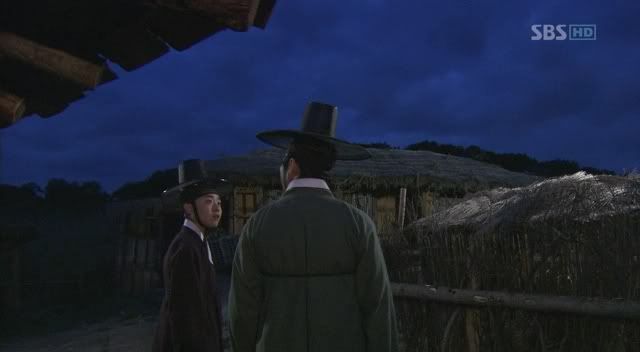 Hong-do and Yoon-bok meet, and Hong-do takes her to a house on a mountain (is it the same one that we saw in the opening in episode one?). I really like the lighting in this scene, and the way Yoon-bok looks around curiously. It seems to hint at things deeper than what's seen on the surface.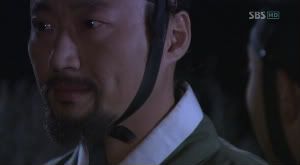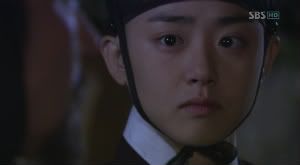 Yoon-bok asks Hong-do if this is the home of that woman that he and Yin-moon were talking about before, when they said they were looking for someone.
Yoon-bok's taken aback a little by his words, and, I'm pretty sure, is thinking what a cool guy he is. I also think she's a little bit envious. I love the way Painter makes these little hints in the most subtle of ways.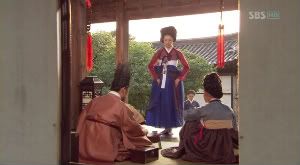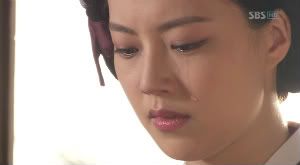 Jeong-hyang may have pwned Jo-nyeon in their previous meeting, but this time, it's Jo-nyeon's turn to pwn Jeong-hyang. The head kisaeng and Jo-nyeon are bargaining over and examining her, treating her like an object to be sold. She's instructed to show him her wrists, ankles, teeth, etc – all proof of her "beauty" and good luck. The head kisaeng lists off her good qualities, doing her best to get her sold off. Jo-nyeon instructs her to be brought to his home in two days, and hands over the money. Jeong-hyang, heartbroken, her pride terribly wounded, silently sheds a tear.
This is a heartbreaking scene, and made the feminist in me rear its head and roar with fury. It also made me realize that, while Moon Chae Won's acting isn't exactly stellar, it doesn't really need to be – in terms of looks, she's pretty much perfect for this role. And really, it's Jeong-hyang's looks, her beauty, and the atmosphere she has around her, that's most important for this character.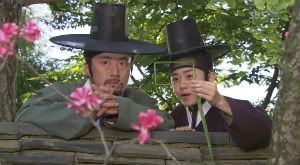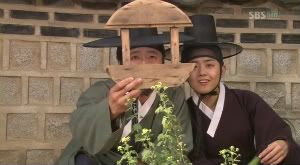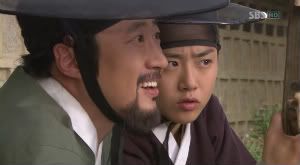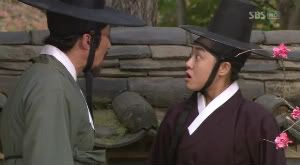 Meanwhile, Yoon-bok and Hong-do are happily walking around, looking for a subject for their paintings. They spot one particular nobleman, and decide to follow him, hoping for inspiration. They wind up at a drinking place, where they start arguing over how, exactly, they would wind up painting this scene. Hong-do argues that you only need a person's facial expressions and body in order to know what the person's feeling and thinking. Yoon-bok, however, disagrees, and says that you need to see where the person is, and what the person is surrounded by, in order to know what they want, and are feeling. Their disagreement escalates into a shouting match, eventually embarrassing them in front of the very people whom they were planning on making their subjects.
I love these scenes for the way they use mundane objects to create makeshift "frames" around whatever they're looking at, envisioning what the finished painting would look like. Painter is really quite wonderful at displaying imagination and inspiration in a very tangible, visual way.
Jeong-hyang's maid visits the Dohwaseo with a message for Yoon-bok, and she passes it on to Hyo-won's friend/lackey, mistakenly thinking it'll be delivered to Yoon-bok. The message is given to Hyo-won instead, and he decides to take (evil) action.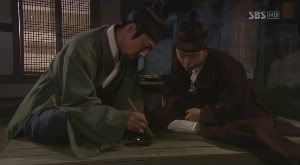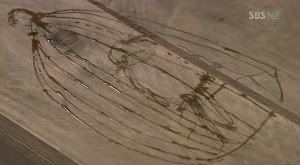 It's night now, and Hong-do and Yoon-bok are at a drinking place, still arguing their respective points. Dipping some sticks into some sort of sticky liquid, they draw on the wood on which they're sitting, drawing examples of what they mean. Hong-do draws a man, showing Yoon-bok that, with just his expression and body, you can tell what his personality's like. Yoon-bok, however, has her turn as well, and draws a bird, saying:
Hong-do realizes her point, but is unwilling to admit that she's right. And, again, we see the theme of flight, of freedom and imprisonment. Nicely done.
They then realize that they've been so busy arguing that they forgot to pick a subject. Since they have no time, Hong-do decides that they should just paint the drinking place that they saw earlier, even though Yoon-bok argues that it's too lowly a subject for the likes of the king.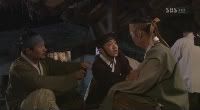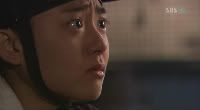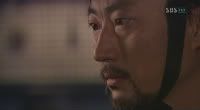 They're preparing to leave when Yoon-bok overhears two men talking about the fact that Jeong-hyang has finally been sold off. Yoon-bok goes nuts, demanding when she's being sold, and Hong-do has to drag her away. (He grabs her by her wrist at one point, too. He keeps doing this, doesn't he? Very romantic-like.) Yoon-bok then begs Hong-do to let her go see Jeong-hyang, her desperation and earnesty standing out on her face. Hong-do's shocked to see the intensity of her emotions, and, I think, a little jealous as well. He lets her go. But he definitely doesn't feel good about it.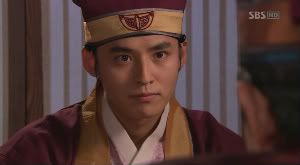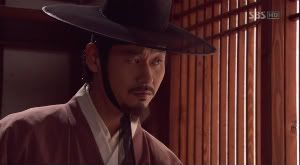 Hyo-won has brought the message to his father, who realizes that this is another chance to implicate Hong-do – a painter is supposed to keep himself "clean and pure" for at least three days after getting promoted. But, of course, consorting with a kisaeng violates this rule. Outside, Yin-moon overhears, and runs off to tell Han-pyeong, who brushes off the information, saying it's impossible. (Dude, who says Yoon-bok's not into girls, huh? Talk about being heterocentric.) But they decide to go too, just in case. Oy vey.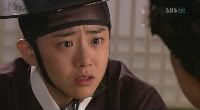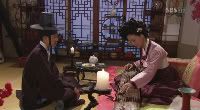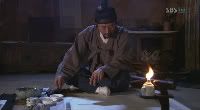 Yoon-bok arrives at the kisaeng house, and begs Jeong-hyang not to go. Tearfully, Jeong-hyang tells her that go she must, but that she wanted to spend this last night with her. She also wants to play the gayageum for her one last time.
As she plays, we see Hong-do, alone in the house where he and Yoon-bok were to paint together. His jealousy is even more obvious, and after some internal struggling, he finally decides to get up and go get her himself.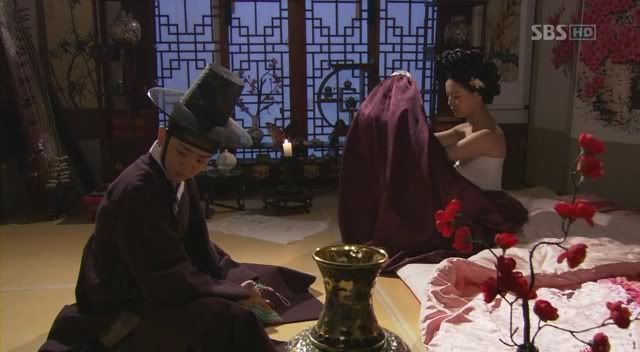 Jeong-hyang finishes playing, and she tells Yoon-bok that, before she gets sold off as an object, she wants to experience the feeling of being in the arms of the person she loves. To be blunt: She wants to experience what sex is like when love is involved. Girl doesn't beat around the bush, does she?
And so she takes off her clothes, for the second time in the entire drama. (Poor Moon Chae Won must be getting tired of this.) Yoon-bok can do nothing but silently sit, unable to look at her, struggling silently. I can't help wanting to yell at the screen, "Just tell her you're female! She won't care! Do it like they do on the Discovery Channel!".
As Jeong-hyang starts to lie down (always a sign of sageuk of some fun, sexy times), Yoon-bok tells her to stop, that she can't do this.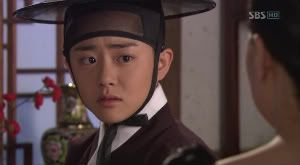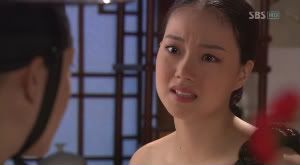 Yoon-bok protests that that's not what's the matter, and Jeong-hyang demands what's wrong, then. The Truth Must Be Revealed.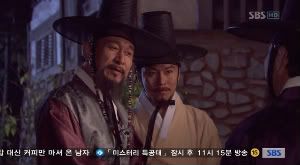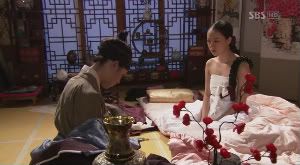 Meanwhile, outside, the mob is gathering – the mob being Byeok-soo and his lackey, Yin-moon, Han-pyeong, and Hong-do. Oy vey. I didn't know this was going to be a public experience. These old perverts.
Yoon-bok, finally coming to a decision, starts to take off her clothes, just as Hong-do arrives outside the door of the room. She takes hold of the tie on her shirt, preparing to undo it, and reveal the truth (otherwise known as her breasts). Dun dun dun! End episode.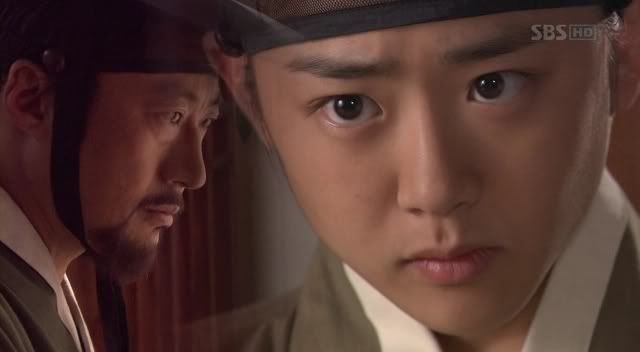 ADDITIONAL THOUGHTS
Ah, it makes my heart sing every time I catch a drama making subtle little feminist statements. LOVE IT!
I will say, though, that, while the ending sequence was poignant in the development of the "love triangle" and of Yoon-bok's sex, it was really quite overdone with all the other painters who came running to catch the lovebirds in the act. Hong-do alone going to the kisaeng house would have been more than sufficient in carrying out that sense of tension. Or even just Hong-do and Han-pyeong. So what, exactly, was the point of everyone and his dog coming along for the ride? It was yet another example of Painter momentarily slipping into cliched, overdramatic tropes.
I'm thinking this episode really highlighted Moon Chae Won's good points, which was nice. I think I can watch her without being too annoyed in future. Hurray!
Painter of the Wind: Episode 7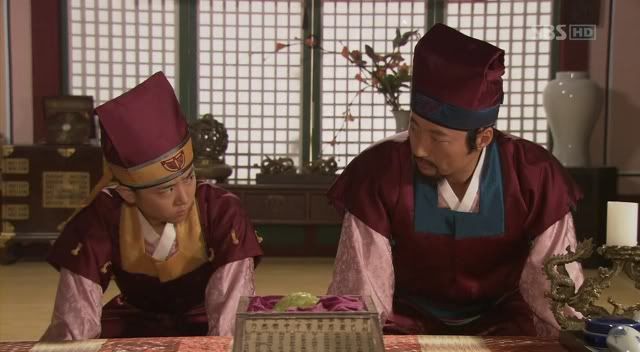 Eek! I am so, so behind. *facepalm* I actually considered mushing some of the episodes together into one giant recap, just so I could catch up, but then realized that this drama has waaaaay too many important details to leave out. Also, I don't know when to shut up. But y'all probably already know that by now.
POTW has now entered what I like to think of as the second phase in its love story process. First was Yoon-bok and Jeong-hyang, and now, we get to see some Yoon-bok/Hong-do action. Also, Jeong-jo plays a much bigger role in this episode! Ahhh, the smell of sexy politics…I'M LOVIN' IT!
SONG OF THE DAY
The Strokes – "Heart in a Cage" The first concert I ever attended was a Strokes concert, so of course they hold a special place in my heart. Fabrizio Moretti is too hot for this planet. [ Download ]
Audio clip: Adobe Flash Player (version 9 or above) is required to play this audio clip. Download the latest version here. You also need to have JavaScript enabled in your browser.
 
EPISODE 7 RECAP
Hong-do hesitates outside the room, working up the nerve to open the door. Just as he makes up his mind and grabs the handle, however, Byeok-soo and the other elders arrive, to his befuddlement and to my great annoyance.
Byeok-soo taunts him in his usual aggravating way (I would have slapped the screen long ago if it weren't for the fact that I kind of love this actor), and throws the doors open, revealing Yoon-bok and Jeong-hyang in undressed state (well, Yoon-bok's still mostly clothed, with her breasts safely hidden). Oh dear. That's like getting caught having sex by your teacher, older brother, AND dad, all at the same time.
Lots of shouting ensues, while Yoon-bok begs for more time. No one listens to her, but the head of the kisaeng house (who is actually Jeong-hyang's mother!!) chooses this moment to make her entrance and order the men to leave. I get all fangirly over her utter coolness. (I love this actress.)
No one listens, and they shout some more. Jeong-hyang, clearly fed up, takes out a knife, shocking everyone into silence. She then cuts off some of her braid and gives it to Yoon-bok as a token of her affections, and gives her her final goodbye in the form of a bow. Sniff. Don't leave, Jeong-hyang! Don't leeeeeeave!
Byeok-soo goes to his co-conspirators and talks about how this is their chance, but they deflate his balloon by telling him that this isn't big enough to send Hong-do packing. They have to find something bigger. Um, so what was the point of all that drama, then? Plz do not waste my time, Kthxbai.
A mystery man sent by the king tells Han-pyeong to let Yoon-bok go (she'd been locked up as punishment) so that she can paint something secret for the king (the painting she's supposed to be working on with Hong-do). Han-pyeong is all too glad to let her go, of course.
Meanwhile, Hong-do is alone in the house in the mountains, painting alone. But all he can think about is Yoon-bok. Remembering her arguments for drawing the environment around a person in order to know what the person's thinking and feeling, he proceeds to do so for his own painting. So he's pretty much admitting that she's right, which is interesting – sorta flips the teacher-student dynamic on its head, doesn't it?
The following moment is really beautifully done. Hong-do glances at the empty spot beside him, and imagines that Yoon-bok is there, painting along with him. It's a great way of showing how important Yoon-bok has become to him, and how lonely he feels at this moment. And it makes me say "Awww" really loudly. (My roommate thinks I'm a little insane, yes.)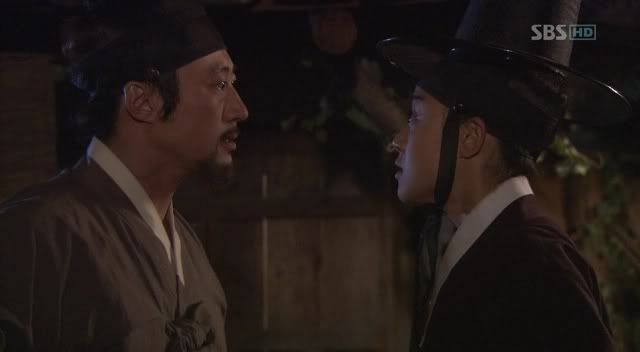 Yoon-bok arrives at the house, but Hong-do has nothing but angry words for her. He brushes aside Yoon-bok's feelings for Jeong-hyang (out of jealousy, no doubt), and Yoon-bok gets angry, too. The two of them scream at each other for a while, and Hong-do winds up taking his painting and leaving. It's like a lovers' jealous spat, really – it's just as silly, just as immature, and just as devoid of proper communication. The two of them clearly care a lot for each other, but they can't put it into words due to pride. And so they angst away the rest of the night, accompanied by that relentless soundtrack.
In the morning, things are still rather stiff between the two of them. They want to make up, but neither wants to make the first move. They talk with a mixture of thorniness and affection, but nonetheless go to see Jeong-jo together.
At the palace, Jeong-jo shows them the prize the winner will get – a lovely shiny stone globe-y thing (or something like that, anyway…I am super-duper specific!) that glows in the dark. If this contest winds up being a tie, Jeong-jo will be the one to keep the globe.
They show him their paintings, and Jeong-jo looks them over, pleased (the paintings: "Holding a Drinking Party" by Shin Yoon-bok, and "The Tavern" by Kim Hong-do). Hong-do and Yoon-bok also glance at each other's paintings, thinking their own silent thoughts about them. Yoon-bok's warmly amused that Hong-do followed her arguments and drew the people's surroundings, while Hong-do's thoughts hold a more serious note. He marvels at her ability to finish the painting in so short a time, but also worries: "I think that, if you're not a genius, you must be an idiot. How can you paint something like this exactly the way you saw it? What are you trying to do?" (He's referring to the fact that she didn't put a rosier, falsely optimistic shade over the rather sleazy goings-on of the subject of the painting.)
Jeong-jo looks at the paintings for a while, unsure whom he should name the winner – they're both excellent works. But when he notices the flowers in Yoon-bok's painting, he announces that Yoon-bok is the winner.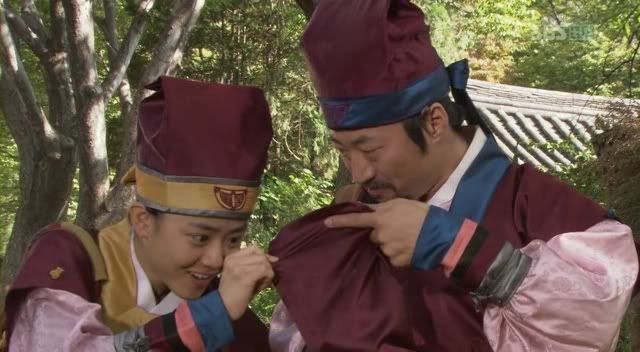 On the walk home, the atmosphere between Yoon-bok and Hong-do is a little more relaxed, with their old camaraderie returning, and Hong-do says "I'm sorry" first. (Note: I really like Hong-do here. He's disappointed that he didn't win, but he's not a sore loser, and he's mature enough to make the first apology. Being on good terms with Yoon-bok is what's most important to him. Also, I like how Park Shin Yang's toning things down a bit, acting-wise.) Yoon-bok tells him that tonight's Jeong-hyang's first night with her new master, and Hong-do decides to take her out for drinks.
Thus, that night, Yoon-bok and Hong-do drink together. Hong-do asks her what Jeong-hyang is to her, exactly, and Yoon-bok replies, "She's the first person I gave my heart to." (Squee!) And Yoon-bok proceeds to tell him the story of her and Jeong-hyang. At the same time, we see Jeong-hyang preparing for her first night with Jo-nyeon, and narrating her own version of their story.
(SO SAD. And beautiful. And interesting! Through her rather sexual interactions with a fellow woman, Yoon-bok regained some of the womanhood that she herself had been forced to give up…That's a fascinating concept, really, and one that wouldn't even be brought up in a lesser drama. Not that I think Painter is a masterpiece or anything, but in this year of dramas that stank like feces, it shines like a diamond in the rough.)
Jo-nyeon and Jeong-hyang are just about to get it on, and as Jo-nyeon lowers his head to kiss her, Jeong-hyang turns her head away from him. Ha! Take that, dirty old man!
Aaaand he walks away, choosing not to rape her (thank goodness). (But still. EWWWWW! She's not a personal pet to win over, you perverted fool!)
Yoon-bok's passed out in a drunken, blubbering mess, and Hong-do takes her home. As he's making her more comfortable for bed (er, I didn't mean for that to sound quite as dirty as it does), the globe thingy she won tumbles out, glowing in the darkness of the chamber. Its light falls across Yoon-bok's pretty face, and Hong-do freezes, overwhelmed by her womanly beauty. Unable to stop himself, he lightly touches her face, remembering how she looked back when he saw her dressed as a woman (y'know, at the bathing place. When he was crossdressing, too).
Suddenly, Yoon-bok's eyes open, and Hong-do's shocked. But she's not quite in her right mind, and she turns away, falling asleep again. Hong-do's left shaken and vulnerable by his feelings.
(Just when one gay storyline (sorta) ends, another one begins…THERE IS A GOD!)
In the morning, Yoon-bok wakes up alone. Hong-do's gone. Speaking of Hong-do, he's talking with Yin-moon and his sister, Jung-sook. She's heard rumours about a nobleman who paid a lot of money to get a feminine clown (think Lee Jun Ki in the movie "The King and the Clown") to basically be his sex slave. Once the higher-ups found out about it, they both got flogged, and became crippled. Jung-sook wonders how a man can possibly harbour sexual feelings for someone who's young enough to be his son. (Interestingly, she doesn't say that she thinks the homosexuality aspect of it is gross – it's just the age difference that she has a problem with.)
Hong-do's disturbed by this, plagued by thoughts of his own "homosexuality" PLUS feelings of desire for a much younger person (I won't call it pedophilia, because that would just be cruel). Too bad the "guy" he's into is actually a girl. Sigh. (Actually…I think one could make a good case for the argument of Yoon-bok actually being a man. She clearly identifies more with maleness than she does with femaleness, and she's lived so long as a boy that she doesn't know any other way of living. And isn't gender a social construct in and of itself?)
Worried about what she might have done in her drunken state the night before, Yoon-bok accosts Hong-do, asking him if she did anything strange (I'm thinking she's worried that she might have let something slip about her girly parts). Hong-do's still feeling uncomfortable about what happened the night before, and tries to avoid the issue. He eventually tells her that all she did was snore, and she leaves, satisfied. Her ex-fellow students notice her walking away from his "office", and wonder why the two of them are spending so much time together lately. A little unwarranted PSA here from moi: "If you suspect inappropriate teacher-student relations, TELL SOMEONE!"
(Although, to be fair, Yoon-bok is legal, since she is eighteen. And it's not like they really cared about that stuff in the good ol' Joseon days. And Hong-do is still young, in…his early thirties. Oh dear.)
Jeong-jo gathers all his advisers together, and tells them to tell him what they see in Yoon-bok and Hong-do`s paintings (although they don't know that they were painted by Yoon-bok and Hong-do, of course). When they don't answer to his satisfaction, he directs their attention to the flowers in Yoon-bok's painting. Turns out they're flowers that only bloom during the daytime, which means that the scene in the painting took place during the day. Thus, it's showing government officials, etc, drinking during the day and not doing their work. The painter is showing his (or, in this case, her) disapproval of these actions by having all the people in the painting show gloomy, unsmiling faces.
Thus, Jeong-jo orders all these lazy officials arrested, and puts an end to all the immoral festivities.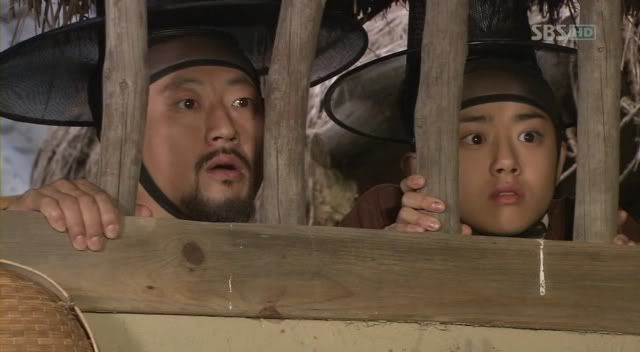 But, of course, Yoon-bok and Hong-do are still looking for more subjects for future paintings for Jeong-jo, unaware that all this is going on (I'm pretty sure they're unaware of it, anyway). They stumble across an illegal shaman ritual, and Yoon-bok decides to paint it (which will result in Shin Yoon-bok's "Dance of a Shaman"). Hong-do is alarmed at her thoughtlessness, telling her that it'll cause a lot of trouble if she goes through with painting it. But Yoon-bok, in her naivete, thinks that it's enough just to paint reality exactly as it is. She sees the desperation in the people who are praying to this shaman, and wishes to paint their feelings honestly.
And so she does, and when Jeong-jo takes a look at it, he asks her if this was a scene she personally witnessed. She tells him, truthfully, that it is, and thus, again, he takes action.
It's kinda sad to see the suffering that Yoon-bok has caused through her paintings – she actually felt sorry for the pregnant woman (who is related somehow to the eldest member of the Evil Trio – maybe his wife or daughter-in-law?) at the shaman ritual, but through the painting, she winds up having her get arrested. Jeong-jo is doing all this for what he sees as the good of the country, but one can't make changes without some people getting hurt in the process.
The nobles/advisers, of course, are pissed off by all these events, and plot to put an end to them. Thus, in their typical classy way, they send an arrow plummeting into a pillar of the palace with a message for Jeong-jo: "The son of a criminal cannot be king." (Referring, of course, to his father, Prince Sado, who was executed by the late King Yeong-jo.) They also post a bunch of these same types of messages for the common folk to see, which government officials promptly rip down again.
Lastly, they seize all of the painters in the Dohwaseo in an effort to find the person painted the offending painting, and stop them from painting more. Included amongst them is Yoon-bok and Hong-do. End episode.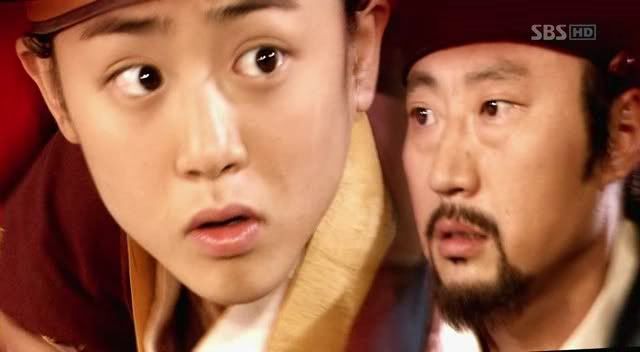 ADDITIONAL THOUGHTS
Now this is the kind of drama I enjoy – tricky, devilish, scheming political backstabbing. Yessssss.
And, y'know. Bae Soo Bin is hot. The more screentime he gets, the happier I am. I'm tempted to start calling myself Soo-bin Girl…But that wouldn't be fair for my future wife Ms. Moon, would it?
I will note, however, that the last part of the episode felt rather rushed – but that probably had something to do with the more hurried atmosphere of filming after Moon Geun Young's unfortunate collision with Park Shin Yang's elbow. Other than that, no major complaints here! Hurrah!
Shin Yoon-Bok and Kim Hong-Do return to the art department.
The competition for Uhjinhwasa,drawing the King's portrait, is going to be held. Yoon-Bok learns how to draw portraits from Kim Hong-Do because he wants his brother to return to the art department.
Lee Myung-Ki also takes part in the competiton. He knows well about the incident in 10 years ago.
The competition starts. The subject is drawing only by listening to someone's appearance.
Kim Hong-Do's glasses are broken by Lee Myung-Ki. So, he makes Yoon-Bok draw thin lines.
Yoon-Bok listens to "his eyes are reached everywhere." and he draws strabismus.
Kim Hong-Do and Shin Yoon-Bok win the competition.
Kim Hong-Do and Shin Yoon-Bok draw the portrait of the King.
Yoon-Bok wants to use red ink of Yoon-Bok's brother made. But Kim Hong-Do says to Yoon-Bok,"We can't do this because of rules."
Yoon-Bok's brother,Yeong-Bok, dies because when he made red ink, he absorbed poison. Yoon-Bok knows his brother's death and he is very shocked.
Bong Shim is held. Officers ask Kim Hong-Do and Shin Yoon-Bok about the portrait of the King. They questions them about red ink. Yoon-Bok is very angry and tears the portrait in front of the King.
Kim Hong-Do and Shin Yoon-Bok are in jail. Yoon-Bok is sentencesd to death, Kim Hong-Do implores the King directly to save Shin Yoon-Bok, but the King doesn't accept it.
Kim Hong-Do sits in front of the palace in order to save Shin Yoon-Bok. He puts his hand into fire.
Yoon-Bok is taken to the excution field. The excution isn't held with the King's order.
Yoon-Bok leaves the art department. He goes to the head of the market,Kim Jo Nyum's house.
The King says to Hong Guk-Yeong,"There is a portrait of my father,Sado."
The King calls Kim Hong-Do and Shin Yoon-Bok. The King orders to look for Uhjinhwasa of Sado during era of dragon.
The privious King is dead 14 years ago. The year of dragon is 10 years ago.
Kim Hong-Do asks Kim Myung-Ryong to show his portrait. Kim Myung-Ryong says to Kim Hong-Do,"If you can draw a picture to make my son laugh,I'll show you my portrait."
Kim Hong-Do draws a picture,"a boy dancer". The picture makes him laugh.
Kim Hong-Do sees the portrait of Kim Myung-Ryong. The one part of the portrait is different from the actual face.
Kim Hong-Do and Shin Yoon-Bok try to get the portraits of five bamboo group. The last member is the head of the art department.
Yoon-Bok, disguised as a woman, takes part in a birthday party of the head. Yoon-Bok attracts a son of the head and succeeds to get the portrait.
Kim Hong-Do is attacked. Because the hand of Kim Hong-Do is about to be hit, Yoon-Bok throws five portraits.
Yoon-Bok draws the portrait of the King's father again. The portrait has no line of the chin.
Kim Hong-Do and Shin Yoon-Bok meet the King. They show the King the portrait. They draw the line of the chin based on the King's memory.
Kim Hong-Do shows the King a portrait. The portrait has no face. Kim Hong-Do's friend drew the portrait last.
The paper of the portrait is very thick. Two go to a paper factory at Pimat hill.
Yoon-Bok says to Jung Hyang, "I'm a woman."
The paper has many layers. Yoon-Bok dips the portrait into water. Yon-Bok remove a layer one by one. A face appears. This ia the face of the person who killed Yoon-Bok's father.
Kim Hong-Do finds out Yoon-Bok is a daughter of his friend,Suh Jing.
A message is hidden into pictures Suh Jing drew. It is "killed by Jo-Nyum".
Kim Hong-Do says to the King,"The criminal who killed two artists, Kim Hong-Do's friend,Suh Jing, and teacher is Kim Jo-Nyum."
The King makes Hong Guk-Yeong investigate Kim Jo-Nyum. Kim Jo-Nyum is an orphan.Queen Mother's brother is behind Kim Jo-Nyum.
Kim Jo-Nyum says to Kim Hong-Do and Shin Yoon-Bok,"You compete with drawings."
Two decide to compete.
The competition starts. The topic is "the fight".
The picture by Kim Hong-Do is "Wrestling".The picture by Shin Yoon-Bok is "The double's sword dance".
Judges discuss two pictures.
Kim Jo-Nyun says to judges,"In the picture by Kim Hong-Do, a right hand and a left hand is drawn wrongly."
It's sunset. The picture by Kim Hong-Do absorbs the sunset light and it becomes more brilliant.
The competition is a tie. Kim Jo-Nyun decides to spend all his wealth for people who betted on the competition.
Shin Yoon-Bok says to Kim Jo-Nyun,"I'm a daughter of Suh Jing".
The King gives his father the title of the King.
Queen Mother says to the King,"Shin Yoon-Bok is a woman". The King tells Yoon-Bok to leave the city.
Kim Hong-Do wants to be with Shin Yoon-Bok. But Yoon-Bok leaves Kim Hong-Do.