Em Là Định Mệnh Đời Anh

You Are My Destiny (2008)

Quốc gia:

Phim Hàn Quốc

Thể loại:

phim hài hước, phim tình cảm

Thời lượng:

178 Tập

Trạng thái:

Tập 109 VietSub

Tập tiếp theo:

Tập 110 111 112 VietSub

Diễn viên:

Im Yoona, Park Jaejung, GongHyunjoo, Jangyong Lee Jihoon, Lee Pilmo, Jung Aeri, Sa Mija, Kang Seokwoo, LeeHyesuk, Lee Seolah, Hyunsuk, Yang Geumsk, Park Minji, KimJungnan

Đạo diễn:

Kim Myeong-wook

Năm phát hành:

2008

Điểm IMDb:

Lượt xem:

147817 lượt

Cập nhật lần cuối:

11/03/2014
Phim nói về cô gái mồ côi cha mẹ tên Jang Saebyuk, bố qua đời còn mẹ vì nghèo không nuôi nỗi cô nên đã bỏ rơi cô nhưng cô luôn lạc quan, yêu đời chứ không bi lụy. Rồi trong một tai nạn cô đã không còn nhìn thấy ánh sáng may nhờ có Kim Nayoung - vị bác sỹ chết trong tai nạn xe đã hiến tặng giác mạc cho cô. Cũng từ đó Saebyuk thân thiết với gia đình bác sĩ đó mặc dù ban đầu họ còn ngỡ ngàng trước sự ra đi của con mình nên chưa chấp nhận cô, nhưng dần dần với tình cảm chân thành họ cũng đã chào đón cô như chính cô con gái của họ vậy. Phim Em La Đinh Menh Đoi Anh bắt đầu rắc rối khi Saebyuk và Kang Hose nảy sinh tình cảm với nhau trong khi Kang Hose đã có vị hôn thuê nên hai người đã gặp không ít khó khăn. Cuối cùng vượt qua thử thách họ được kết hôn, nhưng sau hôn nhân thì cuộc sống có được như ý khi gia đình của Kang Hose quá giàu so với Saebyuk?
You Are My Destiny (Hangul: 너는 내 운명; RR: Neoneun Nae Unmyeong) is a South Korean television series that aired on KBS1 from May 5, 2008 to January 9, 2009 on Mondays to Fridays at 20:25 for 178 episodes. Starring Im Yoon-ah, Park Jae-jung, Lee Ji-hoon and Gong Hyun-joo, the rating of the drama is started from more than 20% since the 1st episode and keep increased rating. The rating reached a peak viewership rating of 41.6% in its final episode. its huge success was in Korea and many Asian countries. this kdrama even became a Best seller.
Im Yoon-ah is a member of the K-pop group Girls' Generation, and this was her first leading role.
Jang Sae-byuk is a cheerful and grateful orphan who always tries her best. She dreams of one day becoming an interior designer, despite her lack of education and money. Because of an accident that happened before the story starts (about three years ago), she loses her sight and undergoes corneal transplantsurgery. Different events unravel when she encounters the Kim family, who has lost a daughter in a horrible car crash, unbeknownst to everyone besides the father and older brother. The stories then intertwine when Sae-byuk meets the Kim's extended family and the son of a big interior design company, Lohas, in Korea.
Im Yoon-ah as Jang Sae-byuk, a milk delivering woman who finds her way through Lohas' design competition
Park Jae-jung as Kang Ho-sae, manager of Rohas, a company specializing in making kitchen sets
Lee Ji-hoon as Kim Tae-pung
Gong Hyun-joo as Kim Su-bin (Kim Tae-pung and Kim Tae-young's cousin)
Lee Pil-mo as Kim Tae-young. Tae-young is a teacher at a course institution
Jang Yong as Kim Dae-jin (Tae-pung's father). Dae-jin owns a mover service company, Pung Express. Before establishing Pung Express, Dae-jin was the Kang family's driver.
Jung Ae-ri as Oh Young-sook (Tae-pung's mother). Works at a food catering company owned by Lee Hwa-ran for some time. Used to work as a housemaid at the Kang family's house.
Kim Hyo-seo as Kim Na-young (Tae-pung's deceased twin sister).
Sa Mi-ja as Son Poong-geum (Dae-gu's and Dae-jin's mother)
Kang Seok-woo as Kim Dae-gu (Su-bin's father). He worked as a mayor
Lee Hye-sook as Hong Yeon-sil (Su-bin's mother). Nosy and gossipy.
Lee Seol-ah as Kang Yu-ri (Ho-sae's sister).
Hyun Seok as Kang Chil-bok (Ho-sae's father). Chil-bok is the president of Lohas.
Yang Geum-seok as Seo Min-jung (Ho-sae's mother).
Kim Hyung-il as Kang Charles (Chil-bok's brother / Yeon-sil's dance tutor)
Kim Jung-nan as Ban So-young (Tae-young's love interest and Yun-hui's single mother)
Park Min-ji as Ban Yun-hui (So-young's daughter)
Sunwoo Yong-nyeo as Lee Hwa-ran (So-young's mother). She owns a food catering company named "Sandeul Bada".
Choi Won-young as Nam Gyeong-woo (Na-young's boyfriend). He survived the accident they were in together.
Park Seul-gi as Bok-ju (Sae-byuk's best friend). Ditched Sae-byuk and stole her money. Sae-byuk later sees her in town and finds out why she left.
Kwak Hyun-hwa as Oh Sun-jeong (female Lohas employee)
Lee Jung-ho as Lee Dong-soo (male Lohas employee)
Yoo Hye-ri as Jeong Mi-ok (Sae-byuk's biological mother)
Jung Jae-gon as Jo Sang-ki (Yun-hui's biological father)
Kim Sung-hoon as Jang Pan-jae (night sales manager)
Shin Pyo as assistant director
=============================================================================
Phim "You are my destiny" - Em là định mệnh đời anh đang đứng hạng #6 trong top tìm kiếm phim truyền hình Hàn Quốc trên trang mạng Baidu.
cr 梦见小龙人zzzZ
Phim này đang chiếu lại trên kênh JiangXi TV của Trung Quốc.
via: mystarmyangel
Thông tin cho những bạn nào chưa biết về phim YAMD:
Nội dung phim: Bộ phim xoay quanh cuộc đời của nhân vật nữ chính Jang Sae-byeok, một cô gái bị mất thị lực với một hoàn cảnh sống bất hạnh, éo le khi mồ côi cả bố và mẹ. Sau khi được cấy ghép giác mạc từ một cô gái cùng tuổi, cô đã quyết tâm bắt đầu một cuộc sống mới. Để bày tỏ sự biết ơn đối với gia đình ân nhân, Sae-byeok đã đến thăm gia đình cô gái đã cho cô giác mạc Na-yeong. Nhưng mẹ Na-yeong thậm chí còn không biết con gái họ đã bị chết do tai nạn giao thông, và đã bị sốc đến ngất xỉu. Thời gian qua đi, Sae-byeok trở nên thân thiết hơn với gia đình ấy và họ đã xem cô như là con nuôi. (nguồn: internet)
Bộ phim "Em là định mệnh đời anh" ngay sau vài tập đầu phát sóng đã đạt từ 30 – 40% tỷ suất khán giả, và làm mưa làm gió trên các bảng xếp hạng những bộ phim được yêu thích nhất năm 2008 của Đài truyền hình KBS.
Bộ phim dài 178 tập này đã đem lại cho Yoong hình ảnh mới trong mắt khán giả Hàn Quốc và một số giải thưởng sau:
*Năm 2008
- Netizen Popularity Award
- Netizen Award
- Best New Actress
*Năm 2009
- Most Popular Actress (TV)
- Best New Actress (TV) (Nguồn: wiki)
=============================================================================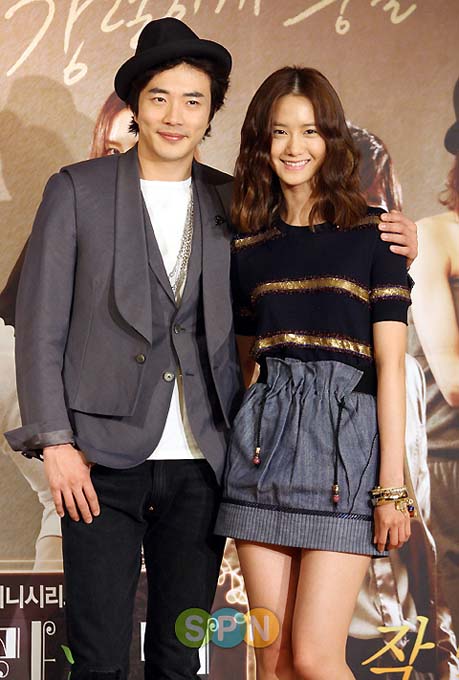 Yoon Ah.
Yoon Ah
, gương mặt thiên thần của nhóm nhạc 
Girl Generations (SNSD)
 với thành tích hai bộ phim. Đầu tiên là 
You're My Destiny
 với rating trên 41% và là một trong những drama có rating cao nhất 2009. Tuy nhiên, với 
Cinderella Man
 cùng Kwon Sang Woo, diễn xuất của cô lại bị chê là "dở tệ" đã làm giảm bớt phần nào thành công của nữ ca sĩ này.
You Are My Destiny – First Impression / Episodes 1- 50
July 31, 2008 by Evee