Coffee Prince/ep. 1-17 Plot Synopsisep. 1
Eun-chan (actress Yoon Eun-hye) supports her family by working two jobs; as Taekwondo instructor and food delivering girl. While making a delivery, she meets Han-gyeol (actor Gong Yoo). Han-gyeol is the grandson of chairwoman Bang (actress Kim Young-ok) of Dongin Foods, a company that has a thriving coffee b usiness. Han-gyeol is a smart young man but he is fiercely independent and abhors the thought of being tied down by one career in his life. Sporting a short haircut, Eun-chan looks like a guy instead of a girl. After taking a shower and wearing a towel covering his private part, Han-gyeol meets Eun-chan for the first time.
Meanwhile, Chairwoman Bang arranges blind dates for her grandson Han-gyeol to see him settle down.
ep. 2
While Eun-chan (actress Yoon Eun-hye) is strapped for cash to pay the rent and buy a ring to replace the one she lost, Han-gyeol (actor Gong Yoo) offers her a deal to pose as his lover, Eun-chan agrees to do it. Han-gyeol, thinking that Eun-chan is a guy, brings Eun-chan to another one of his blind dates and. Wearing a men's suit, Eun-chan goes with Han-gyeol to his blind date and kisses Han-gyeol as part of the deal.
Meanwhile, Han-sung (actor Lee Sun-gyun), a cousin of Han-gyeol, meets Yoo-joo
(actress Chae Jung-ahn), who broke up with him because she wanted to pursue her studies in New York. When she proposes that they resume their relationship, Han-sung rejects the idea and leaves her. When Yoo-joo keeps knocking on his door, Han-sung takes her inside his apartment...
ep. 3
After Eun-chan (actress Yoon Eun-hye) loses her job, she heads to a doll factory with a plastic bag full of dolls. When it starts to rain, Eun-chan begins to run as fast as she can while carrying the bag and she bumps into a young couple by accident. The woman gets dirty water splattered all over her shirt because of Eun-chan, and so Eun-chan tries to wipe it off and brushes her breasts, which causes the woman' s boyfriend to get mad at Eun-chan because she looks like a guy.
By coincidence, Han-gyeol (actor Gong Yoo) sees Eun-chan while passing by in a cab and he gets off to help her.
Eun-chan goes over to Han-gyeol's place because of the rain. She tells Han-gyeol that she overheard him say that he's having a bad day and asks him what's it about. Han-gyeol tells her that his grandmother ordered him to run a cafe in some neighborhood and he hates the idea. When Eun-chan realizes that Han-gyeol is talking about the Coffee Prince cafe, she tells him that it's a great place to work at. Eun-chan asks Han-gyeol if he could hire her at the cafe...
ep. 4
On the opening day of Coffee Prince, Eun-chan (actress Yoon Eun-hye) reports to work after wrapping bandages tightly around her breast. She is eager to make a good impression on her first day at work. Eun-chan is surprised to see so many flowers sent by executives from Dongin Foods. Ha-rim (actor Kim Dong-wook) tells Eun-chan that Han-gyeol (actor Gong Yoo) is the heir to Dongin Foods but she doesn't believe him because it doesn't make any sense for the heir to work at a small neighborhood cafe. However, Mr. Hong (actor Kim Chang-wan) tells Eun- chan that Han-gyeol's mother is the husband of the chief of Dongin Foods and that is when Eun-chan finally believes the truth. She is surprised to learn that someone like Han-gyeol is so rich.
Meanwhile, Han-sung (actor Lee Sun-gyun) arrives late at the opening day of the cafe and congratulates Han-gyeol. He gives a warm hug to their grandmother (actress Kim Young-ok). Eun-chan is shocked when she sees Han-sung...
ep. 5
Han-sung (actor Lee Sun-gyun) takes Yoo-joo (actress Chae Jung-ahn) to a college reunion. One friend asks Han-sung when he'll marry Yoo-joo. Recalling an interview that Yoo-joo gave where she said she didn't want to be tied down by marriage, Han-sung replies that Yoo-joo wants to stay single for the rest of her life. Yoo-joo reacts awkwardly to Han-sung's words.
Min-yeob (actor Lee Uhn) is stuck working at an outdoor bar for the night and he is toldby Eun-chan (actress Yoon Eun-hye) that Eun-sae (actress Han Ye-in) will wake up instantly from her sleep if anyone mentions creamy, spicy chicken's feet. So Min-yeob packs some spicy chicken's feet and calls up Eun-sae. He waits for Eun-sae to finish her bath at a bathhouse but is shocked when he sees Eun-sae leave the bathhouse together with Eun-chan. He spills the spicy chicken's feet on the ground.
Mr. Hong (actor Kim Chang-wan), Han-gyeol (actor Gong Yoo), Eun-chan (actress Yoon Eun-hye) and the boys (actors Lee Uhn, Kim Jae-wook, Kim Dong-wook) take a day off on a national holiday when the tap water is cut off. They decide to go on a trip together to the mountains but change their plans and head to Mr. Hong's friends' apple orchard. While reading a book along a road, Han-gyeol makes a big mistake...
ep. 6
Eun-chan (actress Yoon Eun-hye) is invited by Han-sung (actor Lee Sun-gyun) to attend Yoo-joo's (actress Chae Jung-ahn) art exhibit. Wearing a chiffon one-piece dress and high heels, Eun-chan looks gorgeous at the exhibit. She cannot contain her excitement while looking at the paintings. Han-sung introduces Eun-chan to Yoo-joo as his little friend. Eun-chan becomes flustered when she is introduced to Yoo-joo and excuses herself, saying she needs to use the bathroom.

When Eun-chan is told by Han-sung that Yoo-joo is his ex-girlfriend, she gets green with envy and laments how she cannot compare to the sophisticated Yoo-joo. While leaving the exhibit, she bumps into Han-gyeol (actor Gong Yoo)...


ep. 7
Han-gyeol takes Eun-chan to a bookstore. Han-sung gets a call from Eun-chan and when Han-gyeol hears Eun-chan talk to him in a friendly tone, he gets annoyed... In the crowded subway, Eun-chan and Han-gyeol try hard to keep their distance from each other but... Han-gyeol starts to develop mixed feelings for Eun-chan... Eun- chan tells her sister Eun-sae that she likes Han-gyeol while looking at the gift she received from him. Eun-chan gets jealous when she sees Yoo-joo and Han-gyeol together. Eun-chan is scolded by Han-gyeol and they get into a big argument where Eun-chan eventually storms out of the cafe... Han-sung takes Eun-chan out for a drive. Han-gyeol would like to have Eun-chan come back to work but he is hesitant. Eun-chan and Han-sung have a lot of fun at his recording studio. Han-gyeol calls Eun-chan out and they make up and become friends again. Eun-chan returns to work at Coffee Prince. Eun-chan kisses Han- gyeol to cheer him up when he tells her that his grandmother became ill...


ep. 8
Han-gyeol feels sad to see his grandmother ailing but he talks to her in the same smart-alecky way he usually does. Eun-chan introduces herself to Han-gyeol's grandmother and tells her to hang in there in a loud voice. The old lady hollers back at Eun-chan that she's not deaf so there's no need for anyone to yell into her year. She also tells Han-gyeol to fire employees who cannot act correctly in a situation like this.
Meanwhile, Han-sung (actor Lee Sun-gyun) brings Yoo-joo (actress Chae Jung- ahn) with him to visit his grandmother at the hospital. When he opens the door to the room, he sees his grandmother, Han-gyeol, and Eun-chan playing flower cards. Han-sung is happy to see Eun-chan but feels uncomfortable to see her with Han- gyeol.

ep. 9
Yoo-joo (actress Chae Jung-ahn) calls Eun-chan (actress Yoon Eun-hye), requesting a face-to-face meeting. When Eun-chan tells Yoo-joo that she once liked Han-sung (actor Lee Sun-gyun), Yoo-joo asks her if she still likes him. Eun- chan tells Yoo-joo that she has feelings for someone else. After hearing that, Yoo- joo asks her if the person she likes is Han-gyeol (actor Gong Yoo) and wonders out loud why Eun-chan won't tell Han-gyeol that she is actually a girl. Eun-chan says that she just wants to stays as friends with Han-gyeol.
Meanwhile, Han-gyeol gets restless and bored after talking with his mother over the phone. So he calls up Eun-chan and asks her if she would like to go to the beach with him. They try to act like friends while they hang out together at the beach. But Han-gyeol starts to harbor conflicting emotions towards Eun-chan...


ep. 10
When Han-gyeol gives Eun-chan the silent treatment and tells her to stay away from him, Eun-chan gets furious at Han-gyeol and deliberately irritates him while she is in his car. Han-gyeol loses his temper and grabs Eun-chan by the collar and pulls her out of his car. When Han-gyeol tries to drive away, Eun-chan blocks the car and accuses him of betraying her.

ep. 11
Eun-chan takes off her bandages that she wore inside her shirt and goes to work wearing a dress. Han-gyeol meets his biological father for the first time and he turns out to be the person he believed was his foster father's friend. Arriving at work late, Han-gyeol talks about his mother to Eun-chan and asks her to comfort him. When Eun-chan strokes Han-gyeol's hair, Han-gyeol tells her that his heart is heavy with sadness. He tells Han-gyeol that it is such a misfortune that they were both born as guys and decides that he'll leave for America. Eun-chan tries to tell him that she is actually a girl but she doesn't get the chance to say it.
Meanwhile, Yoo-joo packs her belongings that were at Han-sung's home. When Han-sung arrives, he confronts Yoo-joo and asks her what she is doing. She tells him that she'll be leaving the country next week.

ep. 12
Han-sung calls up Han-gyeol and tells her how he first met Eun-chan and what kind of relationship he had with her. Han-gyeol gets confused and doesn't want to hear any of it. Han-sung explains to Han-gyeol that Eun-chan kept her identity a secret from him because she trusted him.
Meanwhile, Han-gyeol meets Yoo-joo and tells her not to leave for America and break Han-sung's again or else he'll hate her for the rest of his life.


ep. 13
Eun-chan tells Han-gyeol that it'll be sad to be apart from him when he leaves for America in a month. Han-gyeol says he might not go and then quickly changes his mind and suggests she go with him. Eun-chan likes the idea of going to America with Han-gyeol but she knows it's impossible since she has to support her mother and sister, and this saddens her.
Meanwhile, Han-gyeol's grandmother takes Han-gyeol to a cemetery. While warmly holding Han-gyeol's hand, she tells him that Lee Myung-jae, the man he met a few days ago, is his biological father. Han-gyeol is shocked to hear this.


ep. 14
After delivering melons, Eun-chan visits Han-gyeol's home with Han-gyeol. While watching Eun-chan and Han-gyeol playfully quarrel with each other, Han-gyeol's grandmother comments that it looks like they're dating each other. While Eun-chan slices the fruits, Han-gyeol's mother tells Eun-chan that she'll become a fine husband to one lucky woman. Han-gyeol teases Eun-chan by telling her that she's like a woman. Then he goes on to tell his grandmother and mother that he is dating Eun-chan and likes her a lot. His grandmother gets furious at Han-gyeol for hanging out with someone who looks androgynous. She even accuses Eun-chan of deliberately approaching Han-gyeol for her personal gain. Eun-chan and Han-gyeol quickly make a beeline for the door as Han-gyeol's grandmother's tirade goes on and on...

ep. 15
On the day Yoo-joo shops for wedding dresses, Eun-chan tells Han-gyeol she'd like to try on a wedding dress for fun so Han-gyeol takes her to the wedding dress shop. When Yoo-joo tries on a wedding dress and appears before them, Han-gyeol slides up next to Eun-chan and urges her to try on a dress, too. Eun-chan tells Han- gyeol they should go back to work, but Han-gyeol blurts out that he'll marry her if she puts on a wedding dress. Eun-chan is flabbergasted and asks him if he's proposing marriage to her. Han-gyeol doesn't know what to say after making such a silly remark. Han-sung and Yoo-joo look at Han-gyeol with surprise. To extricate himself out of the situation, Han-gyeol tells Eun-chan to think it over before she accepts his marriage proposal. Eun-chan tells him she already made up her mind on whether she'd marry him or not....


ep. 16
Han-gyeol doesn't think Eun-chan likes him enough to justify marriage. Eun-chan speaks her mind about how marriage and love are two different things in life and wonders if Han-gyeol is rushing to get married to her because his grandmother is ailing and could pass away at any time. Han-gyeol gets cranky as he frankly tells Eun-chan that what she said about his motives are true but he also wants to live with her for the rest of his life. Eun-chan suggests they can get married 5 years later if he truly loves her. Han-gyeol resents Eun-chan's statement and asks her if she'll marry someone else if they break up. Eun-chan gets upset after hearing that and looks at Han-gyeol without saying a word.

Meanwhile, Han-gyeol's grandmother says she'll see if the girl that Han-gyeol wants to marry is a suitable wife for him and tells him to bring her home. Still smarting from the conversation he had with Eun-chan, Han-gyeol tells his grandmother there is no need to rush things. When she hears from Han-gyeol that Eun-chan is not willing to get married so soon in her life, she decides to get involved and calls up Eun-chan.


ep. 17
On her last day at work, Eun-chan says bye to her coworkers who she got to know so well. When she sees the nametag she always wore at work, Eun-chan gets emotional. Min-yeob, Ha-rim, and Seok-ki give a mirror and cosmetics to Eun-chan as farewell gifts. When Eun-chan reads a touching letter from Ha-rim, tears well up in her eyes.
On the day Eun-chan leaves for Italy, Han-gyeol decides not to see her off at the airport because he feels like he'll stop her from going. The baristas at the Coffee Prince cafe feel like the place is empty without Eun-chan. Eun-chan tells Han-gyeol she loves him as she leaves Korea.
====================================================================================
Coffee Prince Store #1: First Cup
by
javabeans
Okay okay, so I'm totally behind on Air City (and Bad Couple, and soon to be Flowers For My Life…) but I promise I'll get to it.
I wasn't sure if I was going to be following COFFEE PRINCE (and I'm wary of jumping into things purely based on hype), but come on, with a name like that, how could I not be watching? It ain't javabeans for nuthin'.
Today's first episode (cutely labeled "First Cup" instead of the standard "Episode 1") was cute and entertaining enough — if just for the sheer curiosity of watching one of Korea's prettiest faces acting like a boy — to merit "breezy summer watch" status. Like a beach novel for drama addicts.
 Off to a light and frothy start, I'm not sure Coffee Prince promises much profundity, but who needs to find deep meanings in everything? It doesn't mean Coffee Prince can't take a turn for the serious later on (Bad Couplesurprised me with its recent developments), but I'm not going in expecting that.
Part of the charm is watching such a gorgeous girl as Yoon Eun Hye stripping away all the makeup and femininity and acting like a boy. Not just looking like one (which she does), but getting down the mannerisms — the careless swagger, the unpretentious lack of coy self-awareness that many girls have.
Plus, Korea loves to reward those who step outside of vanity (which is so strictly enforced by the media and the rabid fan culture) for the purpose of a role, like Samsoon did for Kim Sun Ah. Yoon Eun Hye's already a superstar, but we'll see if this earns her some serious acting cred to go with her mainstream popularity. Or maybe not, who knows.
 PRODUCTION INFO
Director Lee Yoon Jung 이윤정: "태릉선수촌" (Taereung National Village), "매직 파워 알콜" (Magic Power Alcohol"
Scriptwriters Lee Jung Ah and Jang Hyun Joo
Based on novel by Lee Sun Mi
Official site: http://www.imbc.com/broad/tv/drama/coffeeprince/index.html
 CAST
Yoon Eun Hye 윤은혜 stars as Go Eun Chan
Gong Yoo 공유 is Choi Han Gyul
Lee Sun Kyun 이선균 as Choi Han Sung
Chae Jung An 채정안 as Han Yoo Joo, or Yu Ju if you prefer
 EPISODE 1 SUMMARY
The story's pretty simple: EUN CHAN is a hard-working young woman who looks (and acts) like a boy — so much so that people even question her when she insists she's female. She works multiple jobs, delivering jjajangmyun (Chinese-style noodles) and milk, and teaching Taekwondo. She's used to being mistaken for a boy, but doesn't really seem to care. She's also got a huge appetite.
HAN GYUL is a rich, conceited ladies' man who's got women throwing themselves at him left and right. His mother and grandmother are after him to marry and stop playing around with his life, although they too aren't immune to his charm when he deflects with sweet words. His grandmother is the head of a large (food?) company and he's been living off her money, and agrees to go on a matchmaking date to appease her. (Han Gyul's a playboy, but has a soft spot for YU JU, who used to date his older cousin, HAN SUNG (Lee Sun Kyun of the swoony velvety voice.) That rounds out our main love rectangle.)
They briefly meet when Eun Chan delivers jjajangmyun to Han Gyul, and she's shocked to see him flashing his family jewels at her from under his loosely draped towel. He doesn't think much of it, but it flusters her. And just in case you're wondering how much she actually saw, I think it's safe to assume she saw plenty. And I'm not talking about the towel.
Eun Chan's younger sister, EUN SAE, a pretty, feminine girl in her last year of high school, calls Eun Chan "oppa" (meaning brother, rather than "unni" for sister) and seems to regularly call Eun Chan to help when she's being pestered by annoying guys.
This time (meeting at the run-down Coffee Prince cafe) it's Min Yup bothering her, a somewhat coarse, uncouth guy who insists he loves Eun Sae. He assumes Eun Chan is Eun Sae's boyfriend, and Eun Chan doesn't bother correcting his misconception. She easily subdues the hot-tempered Min Yup, but agrees to a challenge — an eating contest. First person to finish five bowls of jjajangmyun wins; loser pays (with money and presumably also his pride).
It is truly one of the more disgusting things I've seen in my life:
Eun Sae makes it worse by mixing in fruit yogurt in Min Yup's dish, and as he watches Eun Chan eat her radishes with yogurt, he can't take it. He loses.
Their family's big problem is money, with a mother who's careless with funds and a general tight economy all around. On top of their house deposit needing to be paid (approximately $10,000 — leases are paid in a lump sum), their mother has thoughtlessly lost someone else's expensive ring, and the person wants it back. Eun Chan tries to go around asking for employee loans or paycheck advances, but doesn't get anywhere.
Things get worse when Eun Chan witnesses a purse-snatching and rushes to catch the thief, only to find it's her sister's not-boyfriend. Unfortunately, the victim is Yu Ju, who's there with Han Gyul.
Eun Chan goes easy on Min Yup when he says he was going to help pay for her sister's school fees; she instructs him under her breath to shove her aside and run away. He does, and she pretends to chase him but allows his escape.
Yu Ju is thankful for her purse's return, but Han Gyul sees everything and assumes it was a con operation planned between Eun Chan and the thief. Still, he says he feels sorry for her and gives Eun Chan his card to contact him for reimbursement for her scooter, which was damaged in the process. As a result, she's fired from her delivery job.
Eun Chan first encounters Han Sung when she greets his dog while delivering milk. On the other side of the fence, he hears her talk affectionately with the dog (and this is how he knows that Eun Chan is female, since she refers to herself as a girl). Curious, he goes out to see her as she bicycles away.
He is, meanwhile, nursing a still-wounded heart over Yu Ju, whom we can assume dumped him in some cold and callous way, judging from the way he can barely stand to look at her. I just hope she didn't leave him to go off and treat her terminal cancer in the States and is now back to win him over again.
Han Sung and Eun Chan officially meet when she takes another part-time job as a server at a wine bar. Han Sung recognizes her as the delivery girl, and in a thematically related conversation, Eun Chan learns his dog isn't a girl, as she'd presumed, but a boy.
He's adorable and I love him already. In fact, I like him so much I don't know how they're going to flip me over to Team Han Gyul, cuz Gong Yoo's assy ego ain't doing it for me.
Eun Chan reaaaally doesn't want to ask Han Gyul for money (compensation for her bike repairs), but she doesn't have many options. She agonizes between pride and money, money and pride… and finally decides that pride won't feed her.
She visits him, and he remarks what a girly face she's got for a guy. She asks for the money, and he gives her a hard time, insinuating she's a scammer. When he tries to remove her by force, they end up on a heap on the floor… leading to the misconception that both are gay by the girl who sees them there.
Then, he insults her parents (for not raising her properly), which hugely offends her. She demands an apology, and when he doesn't respond, she follows him all the way to his blind date. Or rather, his string of six blind dates, all with equally crazy or weird women. She pesters him all day for an apology.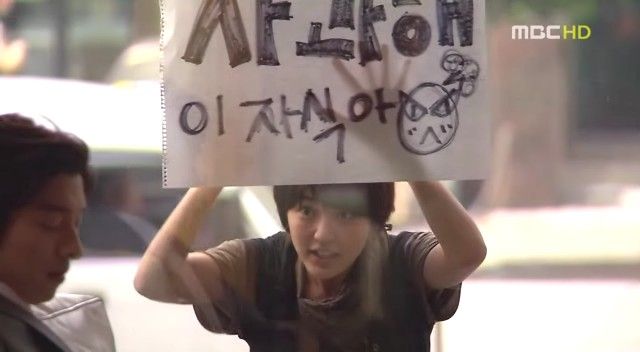 (The sign reads: "Apologize, punk!")
She follows him into the men's room, demanding an apology and compensation. She wonders if he's really gay, which seems to spark an idea in his mind. And he surprises her by looking at her closely and asking: "Want to play my boyfriend?"
 KDRAMA CLICHE WATCH
Poor, struggling lead female…
…who is good-hearted enough to take care of her family…
…because a parent is depicted as less than fully competent of doing so herself…
…with a father out of the picture (I presume deceased)…
…working multiple jobs to make ends meet…
…who meets her Prince Charming in the form of a rich man who's the inheritor of a family business…
…whose cold, unsentimental heart will no doubt become thawed by our heroine…
…and he becomes her boss…
…and his close relative becomes the rival for her affections…
…who will initially seem much more worthy of our heroine because he is accessible and kind…
…but who harbors a deep scar from a previous romance…
…with a beautiful woman who rounds out the love polygon when she comes back to reclaim his affections…
…with the added complication when the hero is in love with her…
And yet, I find all these cliches are made bearable by the simple, refreshing twist that one of the men thinks our heroine is a boy. And starts to question his own sexuality when he feels attracted to her, not knowing she's actually female. Let the games begin!
==========================================================================
Coffee Prince: Second Cup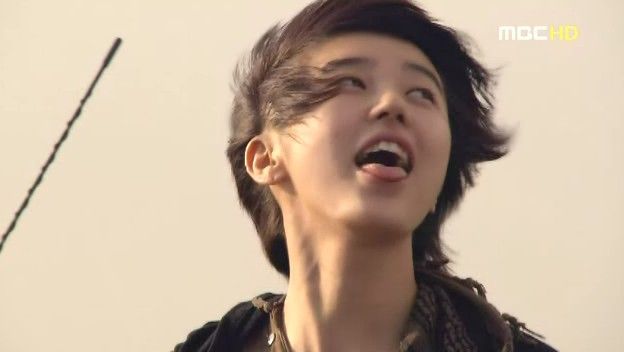 SONG OF THE DAY
Kan Miyoun, formerly of Baby VOX – "Kiss" [ zShare download ]
Audio clip: Adobe Flash Player (version 9 or above) is required to play this audio clip. Download the latest version here. You also need to have JavaScript enabled in your browser.
 EPISODE 2 SUMMARY
Han Gyul asks Eun Chan if she wants to work for him acting as his boyfriend. He can see Eun Chan needs money but doesn't trust her enough to just lend it to her, so he'd rather hire her.
All he wants her to do is show up at his matchmaking blind dates, and she figures it sounds easy, as long as she's getting paid. They argue over price, and Eun Chan has to settle for far, far less than she's hoping (about $100 each time), but says she'll charge him for all the extras — clothing, food, and each instance of physical touching on an "a la carte" basis (charging per each touch to the face, shoulder, waist, and so on). Being in a money crunch, Eun Chan asks for advance payment, which he gives.
Despite Han Gyul's fussiness over his car, not allowing her to touch anything, Eun Chan raises the convertible top and enjoys the ride. Han Gyul, initially annoyed at her antics, smiles to see her having so much fun.
Eun Chan runs into Han Sung in their neighborhood, and I'm really digging Lee Sun Kyun here, with his deep, soothing voice. We learn she's 24; he's 31. He asks how her money-versus-pride issue turned out, and she says she keeps going back and forth, wondering if he's ever felt that way. He starts talking about his "friend," but stops himself, causing her to ask him to finish what he was going to say.
Han Sung explains that his "friend" once loved a woman who left him two years ago, who's reappeared wanting to start over, and the "friend" is now in a dilemma over what to do. Eun Chan asks if the guy still loves the girl, and he answers that the friend doesn't know that yet.
When Han Sung arrives home, Yu Ju's waiting to tell him she broke up with some guy whom we can assume is the reason she left him. He answers tersely, "I know. You're famous, I read about it in the paper." She wants to start over with him, but he gives her a cold stare and leaves her outside.
Han Sung walks inside his home, but pauses, thinking things over, then turns around and goes out again, where Yu Ju is waiting. He grabs her and leads her back inside, and they kiss. I'd screencap but the lighting is horrible in this scene.
They spend the night together, and in the morning, Yu Ju finds Han Sung brooding in the backyard. She asks what he's thinking about, and he answers that she must find him really easy, jerking him back and forth — when she wants to end things, they do. When she wants to start again, they do. But he's changed since they were first together, and tells her, "Just go. Let's not see each other again either."
I'm vastly relieved at this. I was disappointed when he took her back, figuring they'd be back on track immediately (like in My Girl and My Name Is Kim Samsoon) before running into the inevitable troubles later on. But here, Han Sung's kiss (and their night together) is treated like a lapse in judgment, a moment of weakness, and in the light of day he can still see things for what they are.
Han Gyul takes Eun Chan shopping for proper clothing, and we can see he's quite the narcissist — if he's going to be dating a man, he wants someone just like himself.
Midway through his blind date, they put the plan into action, pretending to kiss so they can be "accidentally" caught by the woman… which is a procedure they repeat date after date after date. Their victory handshakes evolve into more and more complicated gestures with each successful encounter.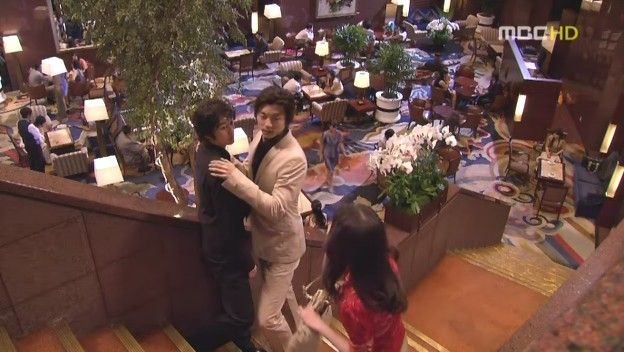 On the last date, Han Gyul is so thrilled at chasing away the woman successfully that he plants a kiss on Eun Chan, causing her to react in mild distaste. She says it was her first kiss, and he says it was his first too — with a man.
They go out to lunch, where Eun Chan calculates how much he owes her. She mentions needing money (house deposit, sister's school fees), and he asks how much her deposit is. Eun Chan: "Why, will you give it to me if I tell you how much it is?" and answers that it's approximately $5,000.
Han Gyul takes back the watch he'd bought for Eun Chan (she calls him cheap, since it's a fake anyway but he still won't let her keep it). We find out that Eun Chan has a keen nose, smelling coffee outside the restaurant, and she even tells him she could tell what he ate for breakfast when he kissed her. Ha. Still, we can see Han Gyul's already warming up to Eun Chan, smiling at her antics and bickering back and forth.
They get their cups mixed up (hers has liquor, his is water) and he (already established at having low tolerance) gets drunk.
He completely passes out, and Eun Chan drags him home, but can't figure out a way inside. She tries leaving him on his doorstep, but her conscience won't let her. So, she carries him piggyback all the way to her neighborhood, where she puts him at the Taekwondo studio overnight.
In the morning, Eun Chan goes to her sister's school to take care of a problem, as Eun Sae has been caught running a minor moneylending operation of her own. The teachers caught her accounting information in her notebooks, and Eun Chan scolds her sister, who insists she's going to keep doing it and earn enough money to start training as a pop singer.
When Eun Chan arrives back at the Taekwondo studio, she finds Han Gyul tied up with the kids' belts, completely at their mercy as their toy.
Eun Chan lets him borrow her father's shirt, and he takes a moment to look around her home. He marvels at her chart of daily activities, crammed full hour by hour, remarking that his grandmother was right in calling him lazy. He sees pictures of Eun Chan as a young kid (looking like a boy even then) and smiles.
He drops by to watch her teaching the kids, and leaves her a note on the door, along with the watch he'd taken back. The note says he's lending her the entire amount ($5,000) for her deposit fee. $1,500 is payment for her work, and the rest is a loan.
Audio clip: Adobe Flash Player (version 9 or above) is required to play this audio clip. Download the latest version here. You also need to have JavaScript enabled in your browser.

Loveholic's "화분" (flowerpot) plays in the next scene, while Han Sung despondently thinks back to happier times with Yu Ju. (As much as I love Loveholic, it doesn't really seem to mesh well with the tone of the series, at least in my opinion. But it's a nice song, so I can enjoy it for that.)
Han Sung arrives at Yu Ju's sprawling apartment (just how rich are all these people, anyway?) and flatly notes how she can continue doing her work, while he finds himself unable to get any done. He's a mess, but she's getting along just fine. He asks if she knows how much she hurt him, how much he struggled after being left behind. And yet, even if he tries to hurt her, she's unaffected — there's no use in him trying to play the game.
As he turns to go, Yu Ju grabs him from behind in a back-hug.
(They sure aren't wasting time burning through the list of well-worn kdrama conventions, are they? I wasn't expecting the back-hug for at least another five episodes or so.)
She tearfully tells him, "Thanks. I didn't think you'd come." He tells her, "I want to hurt you." And so do I. Not for any reason other than she's wounded the heart of Mr. Soulful Voice.
Eun Chan has a hard time working up the nerve to call Han Gyul to ask when he needs his money back. When she finally gets up the courage to call, she interrupts his dream:
Hahahahaha. At the last moment, his blushing (female) bride is replaced by the suit-wearing Eun Chan.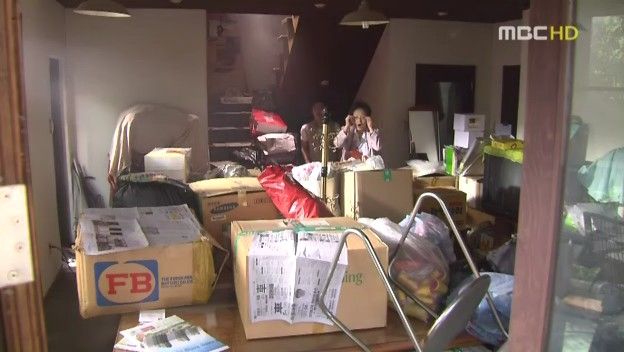 Han Gyul's grandmother forces him to come with her to visit the Coffee Prince cafe, which she owns.
The manager she put in charge (also the friendly ajusshi with whom Eun Chan is close) isn't that worried about making money, and thus the place is in horrible shape. No customers and awful conditions.
Han Gyul asks what they're doing there, and his grandmother introduces him to the manager, telling Han Gyul he'll be working there from now on: "Say hello to your new instructor."
At the same time, Eun Chan finds out that the owner of the Taekwondo school has fled without paying her, and cleared out his studio, leaving her high and dry…
==========================================================================
Coffee Prince: Third Cup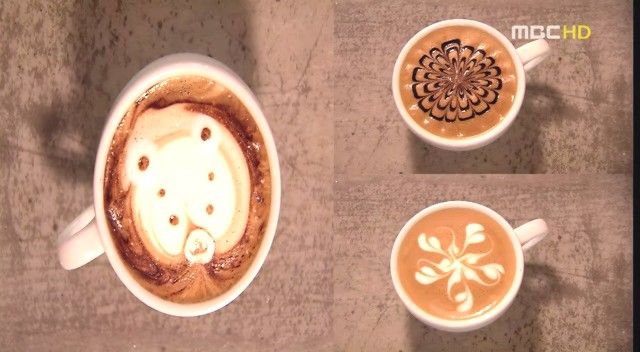 SONG OF THE DAY
Apls – "Very Special Girl" Pronounced "apples," the album is called "Sexualmetro," which keeps making me wonder if it's an erroneous (or purposeful) misuse of the word "metrosexual." Either way, it's appropriate enough, I thought. [ zShare download ]
Audio clip: Adobe Flash Player (version 9 or above) is required to play this audio clip. Download the latest version here. You also need to have JavaScript enabled in your browser.
 
EPISODE 3 SUMMARY
Han Gyul flatly rejects his grandmother's proposition that he work alongside the slovenly Mr. Hong in running Wang Ja Coffee (which means "prince coffee"), only to have his grandmother immediately cut off support (partially). She has his car towed, and sends movers over to clear out his apartment, informing them he will be vacating right away.
He tries to sweet-talk his granny, who's upset at Han Gyul's mother for pampering him so much. It's because she coddled him and never pushed him that he's grown to this age not knowing what real work is. Han Gyul agrees to work for her if she gives him a job at the company ("A supervisor slot should be fine") but she insists: If he doesn't work in the cafe, he's on his own. She gives him three months to succeed. (Han Gyul is on bad terms with his father; the two refuse to acknowledge each other for reasons that have yet to be disclosed.)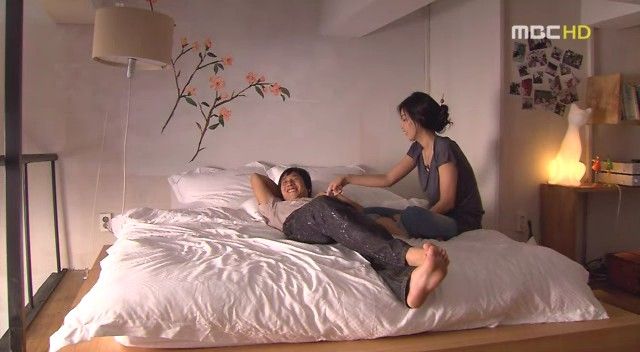 For some reason, Han Sung and Yu Ju are back together, and all is well. I thought he wanted to hurt her. Ah, men. Still, they do make a cute couple.
Han Gyul eagerly drops by to see Yu Ju, but is disappointed to see Han Sung already there. Uncomfortable at seeing the couple looking happy together, he leaves early.
On his way home, he sees Eun Chan running into trouble out in the rain. Having lost her earnings from the Taekwondo studio owner who fled without notice, Eun Chan has thrown herself into the tedious work of sewing eyes on stuffed dolls.
She bumps into a stranger in the rain, sending her dolls scattering onto the wet sidewalk, and the belligerent stranger takes offense. The man tries to pick a fight with Eun Chan and gets possessive over his girlfriend, assuming Eun Chan is male.
Han Gyul arrives to break it up, but in a rather hilarious turn of events, the girlfriend takes offense at her boyfriend's crude treatment of her, and she turns her own anger on him. Han Gyul and Eun Chan take advantage of the distraction and run.
They go to Han Gyul's apartment to dry off, and Eun Chan's mother advises Eun Chan to stay at her "friend"'s place overnight, because the rain isn't going to let up. Eun Chan puts on a record from Han Gyul's vinyl record collection, and tears up in nostalgia as she remembers being a kid when her father was still alive.
Initially, Han Gyul brusquely tells her to take better care of his records, since he collects them as a hobby (although if that were true, he would definitely not be stacking them flat on top of each other in careless piles). Seeing her wipe a tear away, however, he asks what's the matter, and she says her father used to play records; this particular record was one in his collection.
They cook together, and Han Gyul asks if her father passed away (he did). That must make Eun Chan the head of the household. Han Gyul seems to feel sympathy for her predicament, but Eun Chan just changes the subject. She cheers up rather than sinking into pity, and Han Gyul looks on in amusement at Eun Chan's huge appetite.
Han Gyul lends a hand sewing the doll eyes, and they talk while sewing side-by-side. She asks, "You seemed kind of down today. Why? Girl problems? Tell me, I'm pretty good at understanding these kinds of things." Han Gyul merely tells her about being forced to take over a ridiculous cafe. Eun Chan asks if he still sees Yu Ju; he says he does. She seems a bit disappointed to hear it, and asks what kind of relationship they have.
He answers that it's more like a bad habit. "Like drinking water in the morning… Can't not see her, and even if I try not to, I end up seeing her anyway… a terrible habit."
Hearing that the cafe in question is Wang Ja Coffee, Eun Chan tries to persuade him to do it, and hire her as well. He's not inclined to humor her, but she persists, appealing to his weak spot and saying he should take the opportunity to show the girl he likes what he can do. If he succeeds, he'll look cool to his grandmother and the girl.
Eun Chan is grossed out when Han Gyul bursts in the bathroom while she's brushing her teeth (he sees no problem since they're both guys). Han Gyul comments on how small her butt is, and hits it. Enjoying her flustered reaction, he acts like it's no big deal and dries his hands on her butt (instead of a towel).
When Han Gyul wakes in the morning, Eun Chan's already gone, but she's left little footprint cutouts on the ground, leading him outside. She's left him a note (and his crookedly sewn doll), telling him to take on the cafe job. Han Gyul just smiles and says, "How cute." But he does decide to work at the cafe, surprising even his grandmother.
(Commentary detour: Personally, I like how they're developing Eun Chan and Han Gyul's relationship. We're seeing them have genuine conversation and close moments without other romantic issues getting in the way. He'll fall for Eun Chan's personality, regardless of her gender, and if that makes him gay, fine. If that makes him straight, fine. If this is the direction that the relationship takes, which is where it seems to be headed, then I'm all for it — it's actually a fairly tolerant argument in acceptance of homosexuality even if the couple in question is straight. Go, progressive Korea.)
Han Gyul takes Eun Chan along while he goes to look around the neighborhood as research, and Eun Chan asks him to compensate her since he called her out ("Do you just see me as a source of money?" "Yep."). They observe a waffle cart doing extremely well, mostly in part because it's stationed outside a girl's school and the guy running it is hot. (I believe he's Tae Bong's pretty man-friend from Dal Ja's Spring, and if so, he's well-cast here — given that they're blurring the lines of Yoon Eun Hye's femininity, it's only appropriate to have a male counterpart.)
Han Gyul tries to offer the waffle guy a job at the cafe. The guy declines, but they tell him to drop by Wang Ja Coffee if he changes his mind. Both Eun Chan and the co-manager Mr. Hong agree that it's a pretty smart idea to bring the waffle guy into the cafe (to attract his loyal female following). Han Gyul also wants to change the name from the plain, older-fashioned name "Wang Ja Coffee" to the hipper "Coffee Prince."
Han Sung's relationship with Yu Ju is going well, and when Eun Chan asks how his "friend" (Guy A) worked out his situation with Girl B, he says things are okay. Eun Chan deflates a little, disappointed that there'll be no reason for him to ask for her opinion anymore. Perhaps to indulge her (and perhaps also because he enjoys conversing with her), Han Sung mentions there IS an issue with a Guy C (Yu Ju's ex, DK, who is continuing to call her). "Guy A feels a little upset over Girl B and Guy C continuing to call each other. Isn't he pathetic?"
Eun Chan disagrees, expressing her full support for Guy A: "I totally get Guy A. If she's broken up, she's broken up. Why keep talking to an ex-boyfriend?" She wonders if Guy A lacks confidence about Girl B: "I think Guy A's pretty cool, so tell him to have confidence."
As she leaves, she stops and asks Han Sung haltingly, "Um, I don't know if we'll meet by chance or not… so if I don't get to see you… if I want to call you… Or-maybe-not-nevermind."
But Han Sung is happy to give her his number, and as she bikes away, she sings his phone number, over and over, in great spirits.
Han Gyul enlists the help of his interior designer friend, who takes a keen interest in the pretty-boy Eun Chan, noticing his/her good looks and saying, "He's totally my style." Is he gay? Then again, he could be kidding since he knows Han Gyul was faking homosexuality to get out of his blind dates.
In any case, everyone gets to hard work tearing the place apart and renovating.
In an amusing turn of events, the dim Min Yub arrives to challenge Eun Chan, blaming her for being the reason Eun Sae won't see him anymore. Eun Chan tells him to help her with the heavy lifting, and he asks why he should. She tells him she has to finish her work quickly if they want to get around to fighting. The guy sees her point (ha!) and does his best to move things quickly — and Han Gyul, watching the strong stranger accomplishing so much, offers him a job at the cafe.
Audio clip: Adobe Flash Player (version 9 or above) is required to play this audio clip. Download the latest version here. You also need to have JavaScript enabled in your browser.
Han Gyul asks Yu Ju (an artist) to paint a mural for his cafe, and watches adoringly as she spends all night doing her work as "Back for Good" by Take That plays (ah, brings me back to my youth. I feel old). I find Yu Ju terribly annoying — she's like the girl who feigns helplessness to get manly men to do her bidding, which irritates me. It's the fake-coy-cute act. (What, she can't tie her own hair?)
Determined to do a good job acting the part of a boy, Eun Chan goes to work, excited to see that Han Gyul's already there. She's decidedly less excited to see Yu Ju there as well (I can only imagine how she'll react knowing that Yu Ju is also Girl B).
Han Gyul doesn't get into the particulars of his acquaintance with Eun Chan ("It's a long story") and interferes with their introductions. He takes Yu Ju out for breakfast, leaving Eun Chan behind to kick in frustration at Yu Ju's half-painted wall. I'm there with ya, sister. Or brother.
A mistake occurs with an order, and 20kg coffee beans sacks are delivered instead of 2kg bags. Eun Chan admits she mistakenly ordered the wrong amount (it's likely Min Yub made the mistake; she's taking responsibility). Han Gyul takes her aside and rips into her for being irresponsible. This is probably exacerbated by the fact that his grandmother is putting him on a tight budget and expecting him to increase profits, and he's feeling the stress of being unable to return the large order for a refund. Still, he's way over the line, snapping at Mr. Hong for defending her, feeling no remorse seeing Eun Chan wiping away a few tears. He says he mistook her (for being decent) and yells that if she's not going to take her job seriously, she'd better quit immediately.
Coffee Prince: Fourth Cup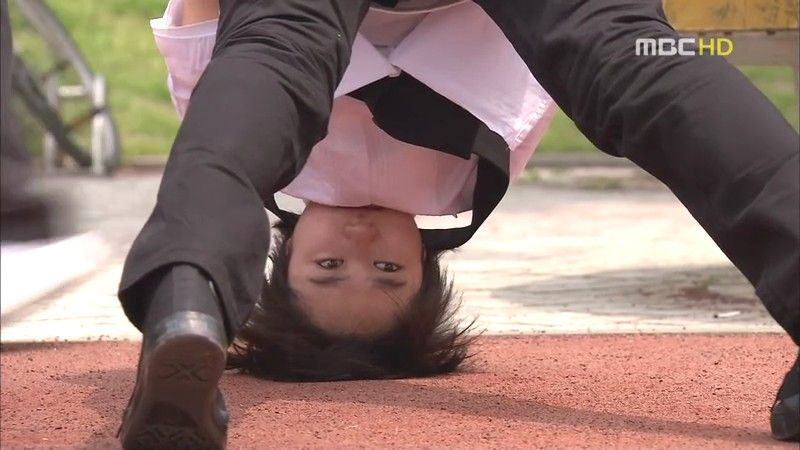 Male bonding is too cute. (Now if they could just get rid of that manipulative Yu Ju… I don't think she adds much.)
Btw, I know Coffee Prince is based on a novel, and I was curious to see how the drama and novel differ, so I picked up a copy of the book today. I'll let you guys know if I find anything interesting. 😉
SONG OF THE DAY
The The Band – "Bang Bang Bang" [ zShare download ]
Audio clip: Adobe Flash Player (version 9 or above) is required to play this audio clip. Download the latest version here. You also need to have JavaScript enabled in your browser.
 
EPISODE 4 SUMMARY
After Han Gyul blows up at Eun Chan for messing up the order, Yu Ju takes him out to cool off. Despite losing his temper, she tells him it's nice to see him worked up about something, since he'd always been rather apathetic. To cheer him up, she grabs his hand and swings it like a kid, which succeeds in making him smile.
Eun Chan scolds Min Yub for ordering the wrong amount — she'd delegated the task to him. Min Yub honestly can't remember what he ordered, and he feels sorry that Eun Chan got the brunt of Han Gyul's anger — but he's too wimpy to step up himself.
Mr. Hong roasts the beans with the idea of selling them. Han Gyul gets the idea to give out 1kg bags of roasted beans in a promotional gesture, and sends everyone out on deliveries.
Eun Chan's still upset over being unfairly accused, and Han Gyul gets annoyed when she refuses to respond to him. Annoyed at the nonreaction, he wants her to admit she was wrong, but she won't. He blows up at her again, telling her to leave if she's going to be uncooperative, and she stalks off angrily.
As Han Gyul is really about to lose it, Min Yub speaks up in remorse. He kneels in apology and owns up to his mistake, and Han Gyul feels like an ass. As well he should.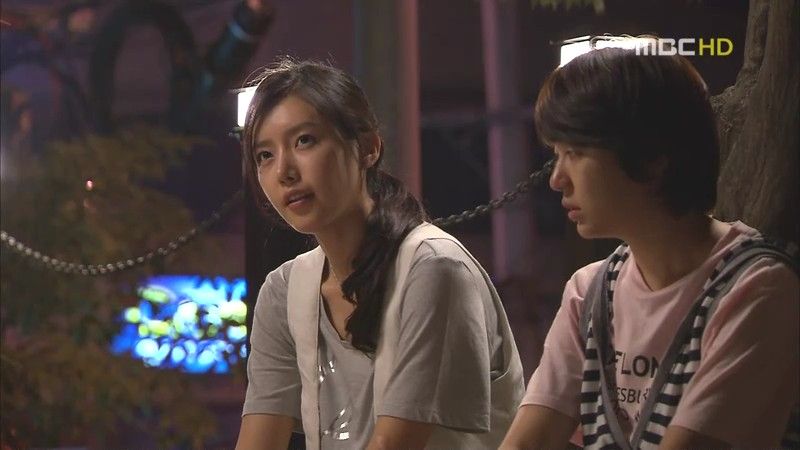 Yu Ju joins Eun Chan outside to commiserate, telling her a story of when she was unjustly accused (back in high school, involving a teacher she liked and a flasher). Eun Chan compliments Yu Ju for being pretty, good at art, and having a good personality. Yu Ju agrees. (Seriously. I know she's joking, but…)
Eun Chan says she used to like art in school — or rather, she liked her art teacher — prompting Yu Ju to surmise that the teacher must've been good-looking. Eun Chan affirms he was — then stops in embarrassment at the implication that she (as a guy) liked another guy. Yu Ju gives an easygoing answer that it's okay, she's liked her female teachers too. (Good answer.)
Feeling apologetic but not actually apologizing, Han Gyul tells Eun Chan that Min Yub might've made the mistake, but it was her responsibility too. He grabs Eun Chan playfully, but she doesn't like the way he disregards her own feelings — "You think everything's fine just as long as you're not mad!"
One her way home, Eun Chan runs into Han Sung, and they stop to chat over beer.
Eun Chan confides that she's feeling down because she feels wrongly accused. The hypothetical scenario gets confusing, so they nickname the story participants Guy K and Girl N (the equivalent of the first two letters in the hangul alphabet). Guy K, the boss, used to be nice and appreciative to employee Girl N, but then suddenly lost his temper and accused Girl N of being useless.
Embarrassed, Eun Chan stops and changes the topic, but Han Sung laughs along, understanding what she means.
He walks her home, and she thanks him: "Actually, this is the first time anyone's seen me home." Han Sung tells her, "Call me anytime. I'll see you home." In good spirits, they part ways, and Eun Chan watches him go off. Han Sung tells his dog, "Seeing that girl makes you feel great, doesn't it?"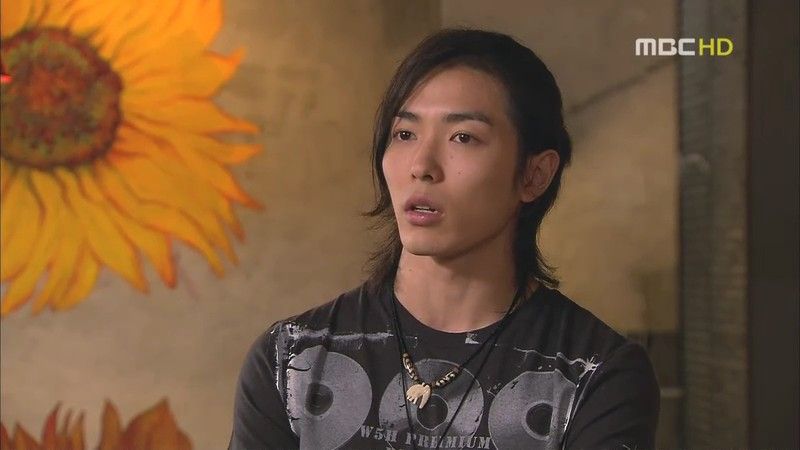 The waffle guy comes by to reluctantly ask if the job offer's still good, and introduces himself as No Sun Ki. Min Yub comments on the guy's pretty looks: "Are you a girl or a guy? It's hard to tell."
Eun Chan retorts: "You shouldn't talk, it's hard to tell with you, too — whether you're a gorilla or a human." Sun Ki talks to himself in Japanese, muttering disgruntled things like "I can't believe I have to work with these guys."
Han Sung gifts Yu Ju with a serenade, at the end of which Yu Ju says, bittersweetly, "It makes me sad, wondering if hearing this song will bring me pain later." A bit of advice, Yu Ju? If you don't want that, how about maybe you DON'T BREAK HIS HEART? 'Cause we're all pretty sure you're gonna.
The Coffee Prince guys go out for dinner together, where they marvel at Eun Chan's appetite. To prove how yupgi (bizarre, quirky, slightly disgusting but somewhat cute) Eun Chan is, Ha Rim tosses a piece of cooked meat on the floor — which Eun Chan then eats.
Ha Rim (who calls her "My Chan") says the behavior really is Eun Chan-like, and they start using her name as a verb, adjective, and adverb: "Eun Chan-like," "Eun Chan-ly," pulling an Eun Chan. She retorts that "Han Gyul-like" or "Han Gyul-ish" can be used similarly to describe someone with a fussy personality and bad temper.
Actually, the whole group is a little yupgi, really, with Min Yub mixing beans into his soju and going around trying to drunk-kiss everyone. The guys deflect his unwanted attention, but Eun Chan's distracted by food, and doesn't see him in time to prevent him planting a kiss right on the lips. Ha Rim: "Hey, Eun Chan's mine!" and Han Gyul automatically responds, "Why is he yours? He's mine."

She's disgusted, hitting Min Yub in retaliation and stuffing peppers up his nose. They are so weird. But it's cute.
Natalie Cole's "This Will Be" plays as our Coffee Princes prepare for the grand opening, which draws a fairly decent crowd. Eun Chan's family arrives, and we see that her mother has a little flirty thing going on with both Mr. Gu (the butcher) and Mr. Hong (the cafe manager).
Audio clip: Adobe Flash Player (version 9 or above) is required to play this audio clip. Download the latest version here. You also need to have JavaScript enabled in your browser.
When Han Sung arrives, Eun Chan's alarmed to realize he knows Han Gyul. She desperately waves him aside and begs him not to act like he knows her. She hurriedly explains that Han Gyul believes her to be a guy; she lied to keep the job.
Vastly amused to realize she and Han Gyul are Girl N and Guy K, Han Sung wonders how anyone could mistake her for a guy — "Anyone can see right away you're a girl."
After closing, Han Gyul offers Eun Chan a ride home, but when he gets a sudden call from Yu Ju, he leaves in a hurry, leaving Eun Chan to find her own way.
Yu Ju invites Han Gyul in, but he declines, saying he's so exhausted he can't think straight, and might find himself suddenly taking hold of her hand. Running her fingers along his face, Yu Ju tells him, "Don't do that," and sends him off with an early birthday present. It's a toy that makes him laugh, and the accompanying note reads: "Laugh just like that! Happy birthday." So Han Gyul returns to her apartment and does a silly dance in appreciation.
Sigh, mixed signals. Yu Ju knows how he feels (he's not exactly subtle about it) but doesn't choose him. She runs her fingers along his face and then pushes him away. She's flirting, then hiding behind a facade of innocence. But she can't be unaware of her effect, which makes her at the very least inconsiderate. (At worst, she's manipulative, cold-hearted, and enjoys toying with men, but I'm not going that far. I just think she's thoughtless and hurtful.)
In the midst of a boring day with no customers — they only turned out for the opening because it was free — Min Yub accuses Eun Chan of still meeting with Eun Sae (his "angel") and challenges him to a fight. First up is a digging match, but he's too dim to realize that while he's "racing" to dig as fast as he can, Eun Chan's just sitting back, observing. Then, they have a water-drinking contest — but Eun Chan doesn't participate, leaving Min Yub to drink the entire bucketful alone.
Han Gyul arrives to find Mr. Hong taking a nap and the rest of his staff goofing off, and punishes them.
He makes Eun Chan and Min Yub play a basketball game against him, two-to-one. They're to play for an hour straight with no breaks, while the other two guys remain in their upside-down positions. Eventually, Min Yub tires and can't continue, and crawls over to the sidelines. Eun Chan keeps playing despite her exhaustion, and Han Gyul finally calls an end when time winds down.
He tells her, "You're cool, Go Eun Chan. For sticking through to the end without giving up, you're cool."
Audio clip: Adobe Flash Player (version 9 or above) is required to play this audio clip. Download the latest version here. You also need to have JavaScript enabled in your browser.
They cool off in an outdoor fountain while The Wannadies' "You and Me Song" plays.
In a grumbly mood, Mr. Hong bristles at the way Han Gyul orders him around despite their equal status. He says the only reason they've done any business is because of his coffee-roasting ability, and Han Gyul shoots back that they wouldn't have had any business if he hadn't renovated the place to begin with. The others try to smooth things over and keep them from fighting.
Han Gyul's grandmother hears the cafe isn't doing well, and orders Han Gyul to start reporting sales figures to his father… which is probably not going to go well given their current rift.
The two cousins chat, and Han Sung asks about Eun Chan, wondering what "his" deal is. Han Gyul: "That guy's really funny. He's definitely not an ordinary guy." Han Sung laughs knowingly.
Han Gyul returns to the cafe later that night to see Eun Chan still there, and gets a lesson in pouring coffee. Telling Eun Chan he needs to get some work done, he sends her off, declining her offer of help. Han Gyul: "I said go home, I can't focus with people around." Eun Chan: "Fine, I'm going. I'll go even if you ask me not to. I have things to do too… I've got to brush my teeth, wash my hair, go to sleep, dream some dreams."
She takes off, but first rattles off a quick rendition of "Happy Birthday."
Han Gyul may face an opportunity to go abroad to New York, but it's contingent on how well the cafe does. If things don't go well, he'll stay, but if they do, he's off to the States. At home, Eun Chan wonders to her sister which option is better.
Eun Sae asks about Sun Ki (whom Eun Sae has a crush on, since he's so purty), and Eun Chan tells her it's not cool to string along Min Yub if she's not interested. Eun Sae says two-timing is a family trademark, citing their mother's flirting with both Mr. Gu and Mr. Hong, and Eun Chan wonders, "Am I two-timing too?" (Note: the word doesn't necessarily imply cheating, it means more that one is indecisive and stringing two people along at the same time.)
Eun Chan explains that there's a certain guy who always makes her feel good when they meet — he's warm, welcoming. Then there's another guy who's sometimes okay, sometimes not. He's not an awful person, but he's not great either. Eun Sae tells her that's two-timing, and tsk-tsks that she's got two cases of unrequited affection going at the same time, with neither guy aware of it.
Eun Chan arrives in the morning with milk for Han Gyul, who's spent the night working at the cafe. Seeing him sleeping on the couch, she waves at him, then prods him, and blows air into his face. He awakes to see her poised like that, hovering above him.
Coffee Prince: Fifth Cup
What I like about Coffee Prince is that it's good-natured and feel-good. The male-bonding scenes are fun and energetic, and despite not having some evil force lurking in the shadows, we have plenty of entertainment. Then again, we're only five episodes in, so who knows what may change. I've noticed a lot of shows start off strong for the first two or three weeks, but around episode 6 or 7, they start to falter. And yet because I'm the eternal optimist (hidden in a cynic's body), I always think, This one will be good all the way through. I hope this one is.
(Note: I'll be replacing some of the grainy caps with better/clearer images if I manage to get the vastly better-quality MickeyBaby version of the episode, which isn't available as quickly as the ones I get now.)
SONG OF THE DAY
Coffee Prince OST – "Mocha" by Casker. I really like Casker. You can listen to another of their songs, "Every Saturday," posted here. [ zShare download ]
Audio clip: Adobe Flash Player (version 9 or above) is required to play this audio clip. Download the latest version here. You also need to have JavaScript enabled in your browser.
 
EPISODE 5 SUMMARY
Han Gyul awakens to see Eun Chan hovering right over him, but they're interrupted by Ha Rim, who sleepily comes downstairs to ask what they're up to, then teases them, asking if they're dating. To which Eun Chan stammers that they're not.
Han Gyul smiles as he reads the notes attached to the milk Eun Chan brought him:
(The note says: "This is a birthday present~ It's three hours before its expiration date, so drink up quickly!")
Ha Rim, Eun Chan, and Han Gyul go out for breakfast, where they wonder why Ha Rim's sleeping at the store. He's been kicked out from home because he doesn't want to go into the family business. He mentions hating knives and blood, and Eun Chan perks up, asking if they're butchers (everything's meat-oriented with her, haha) — I wonder if maybe they're doctors?
Seeing Eun Chan eyeing his food, Han Gyul laughingly gives up his kalbi (beef ribs) to her. Cute.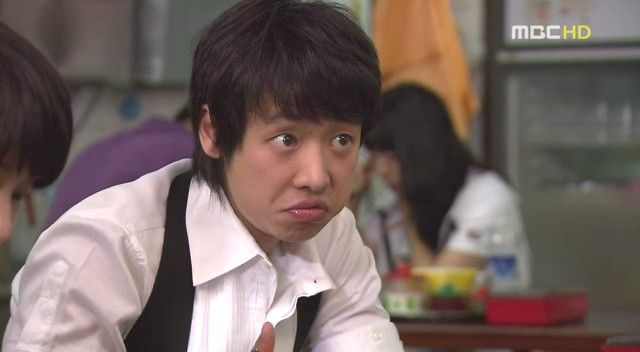 Eun Chan tells Ha Rim that Mr. Hong has a free room, so Ha Rim goes to see him, and they find that the cool, detached pretty boy Sun Ki's also there. He heard a room was available and needs one too. Both guys enter in horror, however — if you thought Mr. Hong was filthy at work, that's nothing compared to the squalor of his home. It's disgusting.
At work, Eun Chan hears from Han Gyul that Min Yub quit suddenly. She berates Han Gyul for being so disinterested, not caring to ask what the matter was. Feeling sorry for his situation, Eun Chan finds Min Yub working at a pojangmacha (a streetside food stall).
She doesn't understand why he'd quit the cafe to take over the pojangmacha for his friend, but Min Yub says the friend is a good guy who fed and housed him when Min Yub needed help. He's returning the favor, temporarily taking over the food stand while his friend is sick. He didn't want to quit the Coffee Prince (it's the first time he's ever done something for himself completely on his own), but things just happened that way.
Eun Chan helps him tend to customers (and drops the hint that Eun Sae loves to eat chicken feet).
At dawn, while Eun Chan's out on her milk delivery, Han Sung waits by the gate with Terry (the dog) and wonders why she's late. He gives her a call and says at first that Terry misses her, then amends it to: "No, I think I miss you more."
Eun Chan tells him she'll go over as soon as she's done with her deliveries. He tells her he'll be waiting, and Eun Chan happily pedals off, and sing-songs, "He'll wait… he'll wait… He says he'll wait!"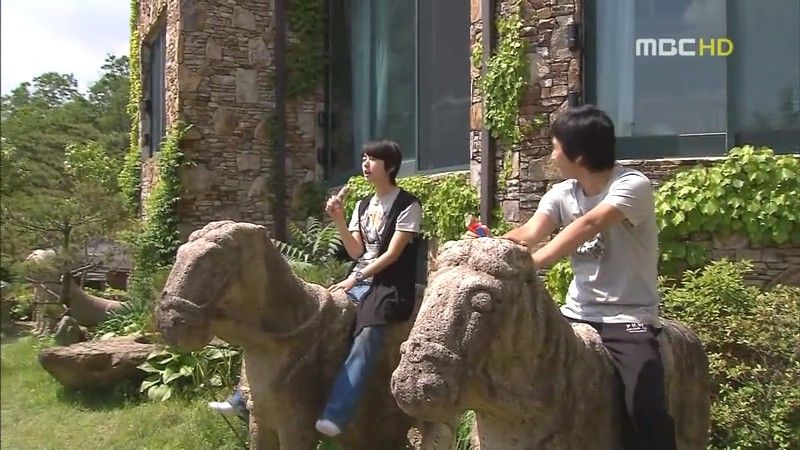 Han Sung makes her breakfast, and afterward Eun Chan heads outside to play around on his decorative statues. He notes that she's the first person who's ever thought to sit on the horse — everyone else just looks at it.
Han Sung asks if she wants to go to a party with him, for the opening of an art show. She feels self-conscious about her appearance, figuring it'll be a fancy event, and tells him that he'd be embarrassed to go with her. He tells her she's great as she is, and she agrees to go — she'll do her best to look pretty, to not embarrass him.
As she leaves, he calls out, "You know, you have the ability to make people feel really great."
Min Yub prepares chicken feet for Eun Sae, and waits outside to give them to her… but then realizes with a shock that Eun Sae and Eun Chan are walking out of the women's public bath together.
Ironically, one of Min Yub's big grievances is having drunk-kissed Eun Chan (was he okay with that when he thought she was a guy? I suppose it could be an issue of his loyalty for Eun Sae, whom he really does seem to be infatuated with). Eun Chan begs him to keep it secret, dangling his affection for Eun Sae in front of him as incentive. She tells him she trusts him, and after all, he should be happy that she's not Eun Sae's boyfriend but her older sister — his rival has disappeared.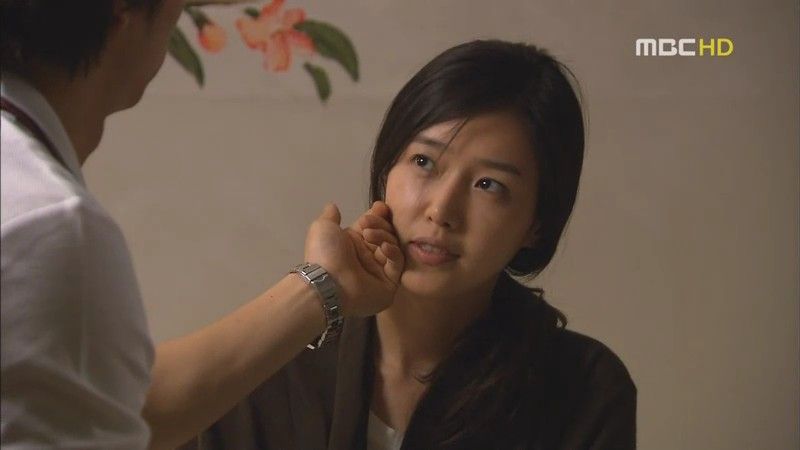 Yu Ju falls sick (fever and cold), and Han Gyul's there to make her soup and tend to her. (When they spoke over the phone, he could tell from the way she said she was okay that she wasn't really okay.) Wondering why Han Sung's not there, he asks if they fought; she says she hasn't heard from him for a few days, so it feels like they did fight.
Brief rundown of their relationship turns this episode: Han Sung reads a magazine article about Yu Ju, where she's quoted as loving work more than anything and not wanting to marry. Later, as they dine with another couple, when asked if/when they plan to marry, Han Sung speaks up for Yu Ju and says she's intent on remaining unmarried. Then, Han Sung watches as Yu Ju gives an interview, and overhears people mentioning how she's still working with DK, even if they've broken up. So now, it's been a few days and he hasn't called her.
Anyway. Yu Ju looks at Han Gyul's worried expression and wonders, "Were you always this handsome?" (I'll just reiterate the "deliberately sending mixed signals" complaint and leave it there.) Han Gyul calls Han Sung to tell him Yu Ju's sick; he should take care of her.
And so, Han Sung goes over to see Yu Ju, who pouts about how sick she really was, although he points out the obvious, asking why she's drinking wine if she's so sick. She asks why he hasn't called, and he admits it's still hard for him to realize she loves work more than him. Yu Ju says although what he said about her remaining single is true, it felt bad hearing him say that to the others. But for the moment their relationship is back on track.
Han Gyul shows up at the pojangmacha, where Eun Chan is helping Min Yub. He asks Min Yub if he's going to quit Coffee Prince or not, and Min Yub says he'd like to continue, but they're interrupted by a customer. Neither Eun Chan nor Min Yub know how to make an omelette, so Han Gyul steps in with a resigned sigh and cooks.
When a customer's dog runs into the street, Eun Chan instinctively runs after it, and Han Gyul sees her running into oncoming traffic with alarm. He grabs her to avoid being hit by a car, and they fall to the ground.
Seeing Eun Chan's bleeding hand, Han Gyul takes her to get it treated, as well as getting acupuncture for his injured shoulder. Eun Chan tells him a story of how when she was eight years old, she was playing around on the balcony and fell from the third story. (Han Gyul: "Ahh, so you fell and that's how you became so weird.") Her father caught her, but fell and broke his arm — but in his worry for her, he rushed her to the hospital not aware of his own injury. "That's what I thought of. You were pretty cool today."
Han Gyul asks why she keeps stepping in to help other people, like Min Yub and Ha Rim. Eun Chan cites a sense of loyalty and humanity between people, and when Han Gyul admits he doesn't know that feeling, she points out that he came to see Min Yub: "You have loyalty. Why else would you save me? It's not like you love me." He tells her to sleep, and they do.
Taking advantage of the severe lack of business, the Coffee Princes convince Han Gyul to take them on an employee retreat, which Mr. Hong arranges.
When they get there, they find that Mr. Hong told his friend, the owner of an apple orchard, that the guys would help with the harvesting, and so they get roped into helping out. All in their special way: Min Yub shakes the apples out of the tree instead of plucking; Ha Rim takes photos; Sun Ki carves apple-o-lanterns; and Han Gyul gets talked into running the roadside stand.
Han Gyul gets a firsthand taste of how hard selling is, and gets really into doing a good job. He's mighty proud of himself for selling off a huge amount of the inventory, until he finds out that he sold the prime merchandise for much less than their value. He feels awful, although the orchard owners are kind about it (it was the wife's fault for leaving him there without instructions).
To make up for it, he helps with the apple-picking…
…and is there to catch Eun Chan when she falls off her ladder.
After a long day of work, the Coffee Princes cool off in the lake. Han Gyul apologizes to Mr. Hong for his mistake, and Mr. Hong shoves him into the lake (in fun), shouting to the Princes, "Hey! This guy says he's sorry to you guys!"
Cutely, Min Yub now finds himself watching over Eun Chan, knowing she's a girl and interfering whenever the other guys act ungentlemanly in her presence. It could be because he wants to make a good impression on Eun Sae, but actually I think it's just Min Yub's blockheaded attempts at chivalry. It's adorable.
(Eun Chan asks Ha Rim about the girl Han Gyul likes, and Ha Rim says he's been in love with her for nine years.)
That night, after the guys disperse and go to sleep, Eun Chan runs into Han Gyul outside, and they lie down to look at the stars together. Eun Chan, seeing everything as food, muses that she'd like to pluck the stars to eat them. Han Gyul asks how she'd eat the moon, and she answers, "Since it's only a half-moon, I'd wait for it to fatten up, then steam it and eat it."
Han Gyul gives her a little toy (looks like a Lego robot), and she says he must've had a hard time working today: "So if someone makes a mistake, understand them."
He asks what her dream is, and she answers it's to live well with her mother and sister: "I don't know what my dream is exactly, but these days, I want to become a person who makes coffee well." He says his dream is "To see only what I want, to not see what I don't want, to live joyfully and happily."
Eun Chan asks about his "habit" (Yu Ju): "When you were with her, you didn't look very happy. What do you like about her?" He says there might be a million reasons to like her, but goes on: "There aren't really a million reasons. I just do. Even if I try not to, it doesn't work, so I can't do anything about it." Eun Chan says the phrase "not being able to do anything" is scary to her.
At home, Eun Chan talks with Eun Sae while playing with the toy given to her by Han Gyul, mulling over the phrases "habit" and "unable to do anything," trying to make sense of them.
Preparing for her date with Han Sung (who tells her to dress just like she normally does), she gets help from Eun Sae and her mother… Oh man. Comparing her appearance as a made-up, dressed-up girly girl to her boyish behavior, there's such a weird disconnect. (She reminds me of that Minho guy from High Kick, in the episode when Yunho draws lipstick on his face as a joke.)
You'd think Yoon Eun Hye finally getting to dress as a girl would produce prettier results, but thankfully (for the story) they've produced this awkward and horrible version of a girly Eun Chan, who looks like a manly hooker.
Han Sung reacts with good humor, but takes her to have her appearance handled a little more naturally… and even he's amazed at the results.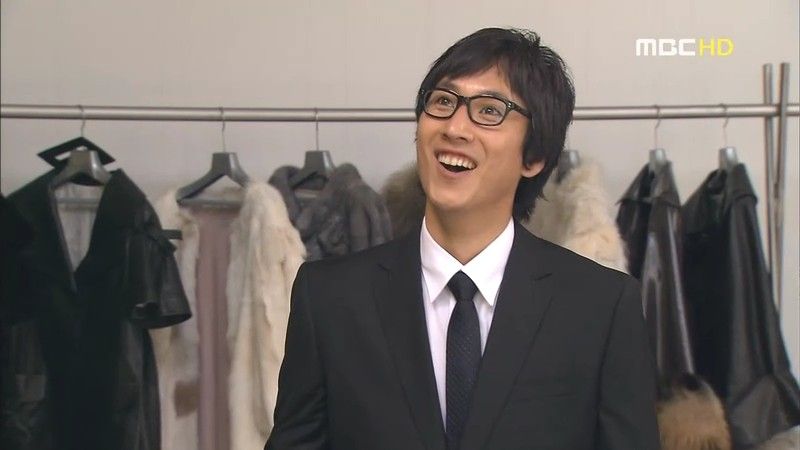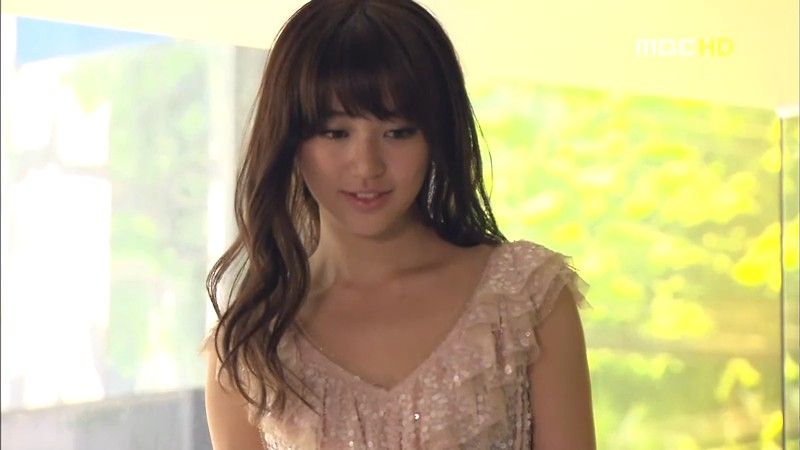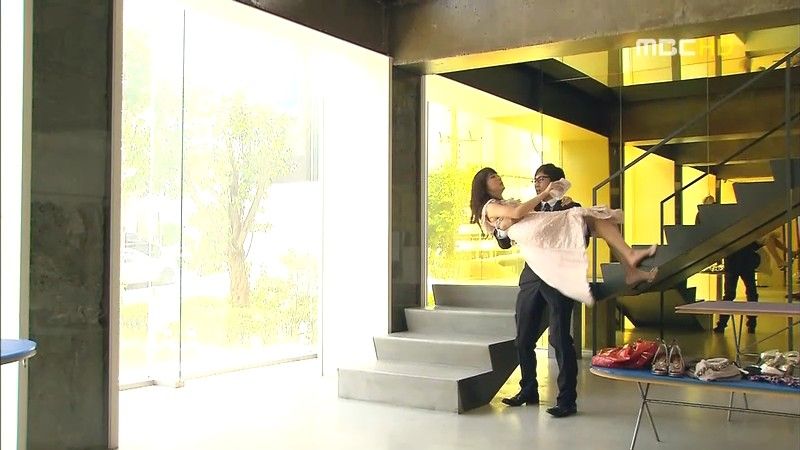 Looking more like the real Yoon Eun Hye, he watches as she awkwardly makes her way down the staircase, and catches her as she stumbles in her heels.
==========================================================================
Coffee Prince: Sixth Cup
Coffee Prince is (so far) proving to be better than I expected. Episode 6 was tons of fun, and starts getting a little more emotionally meaningful, but doesn't get bogged down with too much seriousness.
And the gender-bendy, pseudo-gay-homoerotic mindfuck really gets going!
SONG OF THE DAY
The Smiles – "Rainbow"… The Smiles is an indie-rock band that reminds me of American indie-popsters Of Montreal. They're both a little twee, a little unabashedly precious, a little offbeat (they've even got a ragtime tune on their album). I think they'd make a fabulous soundtrack band, really. The only thing is, they sing mostly in English (clearly not their native language); I wish they'd sing more in Korean, actually.
Audio clip: Adobe Flash Player (version 9 or above) is required to play this audio clip. Download the latest version here. You also need to have JavaScript enabled in your browser.
(Also, I keep hearing that there's a Coffee Prince manhwa, but I haven't seen any indication of that. The series is based on the novel, but any comic-related images I've seen are based on the drama, not a manhwa. If anyone knows for sure that there's a manhwa, please correct me!)
 
EPISODE 6 SUMMARY
At the art gallery opening, Eun Chan recognizes Yu Ju and runs off, trying to hide her face, afraid of being found out.
Han Sung talks to Yu Ju while Eun Chan goes to the bathroom, and when Eun Chan sees them talking, she's bummed to realize Yu Ju is Girl B. She mutters in dismay that Girl B was supposed to be ugly.
Seeing Han Gyul unexpectedly show up (he'd said he couldn't make it), Eun Chan tries harder to hide (look at her scurrying behind him). I like that Eun Chan still acts in the same boyish way even when she's dressed up prettily — despite the fact that she's completely female, she's not comfortable with feminine frills, and that makes sense to me.
Unable to escape the notice of the others, Han Sung drags Eun Chan over for introductions (he half-jokingly refers to her affectionately as his "girlfriend" and also his "kid friend"). But Han Gyul's fixated on Yu Ju and doesn't notice anything. Yu Ju doesn't get a good look at her face, and doesn't recognize her either.
Feeling uncomfortable, Eun Chan leaves early, and Han Sung apologizes for putting her in such an awkward position. He sees that she's upset, and says he should have made sure she didn't bump into Han Gyul. Although she's mostly upset at seeing him with Yu Ju, I think she's also partly disappointed that Han Gyul didn't notice her, because she wonders how he could work with her every day and still not recognize her.
Han Sung tries to take her home, but Eun Chan insists on going alone, trying to fake cheer. He gives her money for a taxi, but Eun Chan walks along dejectedly and takes a bus anyway. Her feet hurting from the heels, she digs out a discarded pair of slippers from the trash, and cries.
Eun Chan crying in her fancy dress, taking off her long wig and messing up her makeup makes for a sadly grotesque sight, and I respect Yoon Eun Hye's lack of vanity in her portrayal of Eun Chan. Most of the time, pretty actresses do their best to look gorgeous regardless of its place in the story (waking up with perfect makeup, or dressing a poor girl in the most fashionable clothes), so I always appreciate when an actor gives up his or her highly safeguarded image for the sake of the work at large. Actors have to be emotionally stripped bare to be genuine, and often their protective vanity interferes with their art. Sorry to sound all pretentious about acting as a "craft."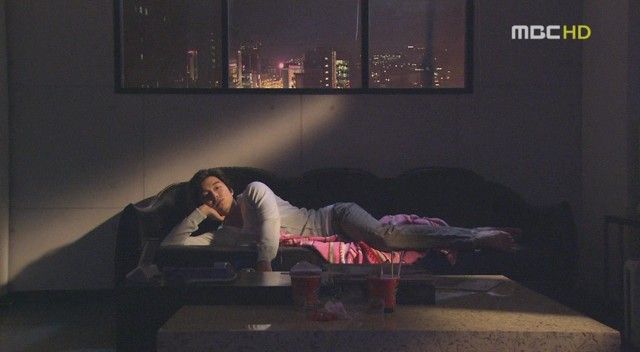 Anyway, Han Gyul is suffering the same depression at seeing the happy A/B couple together, and mopes around the house. Finally, he calls Eun Chan for company (who has him entered in her phone as "재수없어," or loosely, "pain in the ass").
They eat pizza together on his porch, and he motions her over to test her coffee-smelling ability. She says if she gets it right, he has to show her the room in back that he didn't let her see before.
Guessing correctly, Eun Chan is shown the back room, which houses Han Gyul's collection of Legos (he used to work with them in the States). He marvels at the concept of playing with toys: "Here, I can do anything I want." (Eun Chan retorts, "You do whatever you want outside, too.")
They play with the Legos (in a cute moment, Han Gyul "corrects" Eun Chan for bringing a bulldozer toy into the mix, because it doesn't fit the time period of his horse-mounted knight-era setup).
Eun Chan comments on how sad Han Gyul is for his lingering crush on Yu Ju, and after a beat, he agrees that he's dumb for liking a girl who's unavailable. He wants to stop now, and Eun Chan tells him he made the right decision: "Goodbye, our unrequited loves." Han Gyul asks what she means by "our" and she answers that it's her business.
While Eun Chan falls asleep, Han Gyul muses: "Tonight, I really hated the idea of eating dinner alone. But on a day like this, why of all people did I think of you?"
Seeing that Eun Chan has fallen asleep, Han Gyul stares down at her face… and cautiously touches his fingers to her face, lightly… And then he realizes what he's doing with an alarmed shake of the head, and gets up immediately, prodding Eun Chan awake and telling her to go home.
After a meal at home, Yu Ju tells Han Sung she occasionally has very selfish thoughts (only occasionally?): "I think, if it were always like this, I could get married. Then I think, Ah right, this isn't all there is to marriage. I like how things are now."
At work, Han Gyul gets a kick out of ordering Eun Chan around, enjoying her disgruntled expressions. That causes Min Yub to step in and take over (misguided chivalry = still cute), telling her she should pass on the heavy labor to him. (Aw.)
In fact, Han Gyul can't take his eyes off Eun Chan, and at one point appears directly behind her to help her reach something on a high shelf. He's standing way too close for comfort, and after he leaves, Eun Chan nervously smells her hair, thinking she ought to have washed it (since he must have been close enough to smell it). Hehe.
Han Gyul's obvious attention toward Eun Chan is noted by Mr. Hong (who smiles knowingly) and Min Yub (who looks on worriedly). For what it's worth, Ha Rim notices too but he doesn't get it. Mr. Hong tells Han Gyul to just admit he likes Eun Chan instead of harassing her with work, causing Han Gyul to bluster that he isn't doing that.
Han Sung drops by to talk to Eun Chan, worried that she's been avoiding him. She makes the excuse that she's working earlier in the day, and is going to give up the milk delivery because it's hard working both jobs: "I'll miss Sseulja a lot." Han Sung: "What about me?" She deflects, saying she can call him whenever she wants to see him.
He apologizes again for the day of the art show. With tears falling from her eyes, Eun Chan tells him: "Because you're such a good person… because I like you… I didn't know it myself, how much I really liked you… I went home that day and my heart ached. But I'm fine now. She's pretty, and refined… so I'll give up. I hope you two will be happy." She puts on a brave smile and insists she's okay. Han Sung looks on with a mixture of (I'm inferring) sympathy, pity, and maybe a little sorriness.
With that issue aired out, they resume their friendly relationship. At one point, Han Sung puts Yu Ju on hold when she calls because he's on the line with Eun Chan. He takes a long enough time chatting happily with Eun Chan before getting back to Yu Ju that she seems bothered.
Meanwhile, the cafe picks up business with the assistance of Eun Sae, who's taken phone-videos from Eun Chan's phone and her own and uploaded an amateur commercial onto the internet. Since the video prominently features the cute Coffee Princes, advertising them more than the cafe itself, it's not long before women come in droves to the cafe to drool over them.
[A few small plot detours: Eun Chan's mother goes on a date with Mr. Gu the butcher, who asks her to go steady, then retracts it in embarrassment at her nonchalant reaction. Sun Ki seems to be in search of his ex-girlfriend from three years ago, from when he lived back in Japan, although at present he has no leads. Ha Rim is getting fed up living in such a pigsty with Mr. Hong. And Han Gyul's grandmother seems to be getting more ill.]
Increasingly bothered by his distraction with Eun Chan, Han Gyul tries to ignore his interest/attraction, acting cool around her. (Which annoys Eun Chan because she takes his behavior at face value.) When he sees Yu Ju for a movie (who's feeling a little odd about Han Sung, preferring a friend to a boyfriend), he asks if he can give her a hug, and she complies.
Although at first I was worried that his interest in her was renewed, Han Gyul is actually hugging her to confirm he's still attracted to women, and breathes with relief: "Thanks. I won't have to go to a mental ward after all."
Still, during the movie (Shrek the Third), Han Gyul sees Eun Chan's face on the screen and laughs to himself, remembering all her cute antics.
Han Sung and Eun Chan hang out at the park, playing with Terry/Sseulja. He asks about work, and she says Han Gyul is making life tough on her at the cafe. Han Sung wonders: "Does Guy K like Girl N? Why would he be harassing her?" Eun Chan: "Nope. Guy K has a pretty other girl."
Han Sung asks what Girl N thinks of Guy K, and she answers it's a boss-employee relationship. Smiling knowingly, Han Sung prods, "Just boss-employee?" She answers, "Yes, because Girl N has fallen in love with another handsome man."
Going back to his place, Han Sung gives her a change of clothing and tells her to wash up (she's sweat-soaked). So when Yu Ju shows up uninvited to bring him breakfast, she's shocked to see Eun Chan there, and to realize her true gender.
The girls talk, and Yu Ju notes that she could've figured it out when Eun Chan said she liked her male teacher. Eun Chan apologizes for lying, and explains she had to because of her circumstances, and asks her to keep it a secret from Han Gyul, for now. She'll tell him eventually. It's wasn't exactly her intention to come across as a boy; she just kind of looks like one. When she was a student, lots of girls would call her "oppa" as well. Eun Chan asks if she can call Yu Ju unni, and Yu Ju answers, "It sounds nicer than noona."
After Eun Chan goes, Yu Ju teases Han Sung about liking Eun Chan. At his awkward reaction, she persists, teasing him while he tries to change the subject.
At work, Han Gyul sneaks glances at Eun Chan while piling task after task on her and enjoying her reaction (like a little boy picking on a little girl — or another little boy, I suppose — because he likes her. Or him). Eun Chan bursts out, exasperated, "Why are you acting like this to me? If you've got a complaint, just say so." But in a hilarious bit, Eun Chan blows her bangs out of her eyes in frustration, but to Han Gyul, Eun Chan's hair waves… in s l o o o o w … m o t i o n …
Unnerved, he tells her to stop that, and she does it more to annoy him. (Hysterically, both Min Yub and Ha Rim join in.)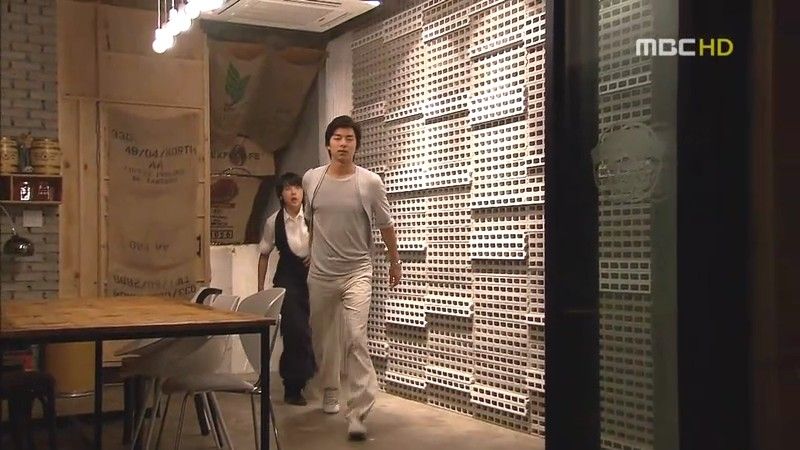 Han Gyul drags Eun Chan aside, staring at her intensely, making Eun Chan worry that he's discovered her secret. She tries to run away, but he holds onto her, still staring, and says, "Let's hug once."
Trying to explain, he stammers, "I can't think straight because of you. Let's just hug, once. Then I think I can figure things out."
Startled, Eun Chan asks what's up with him and moves away. He grabs her in a hug…
(As One's "White Love Story")
Audio clip: Adobe Flash Player (version 9 or above) is required to play this audio clip. Download the latest version here. You also need to have JavaScript enabled in your browser.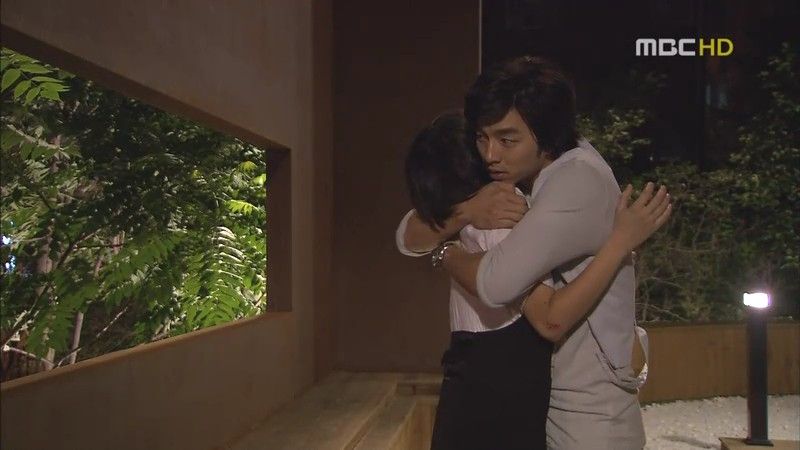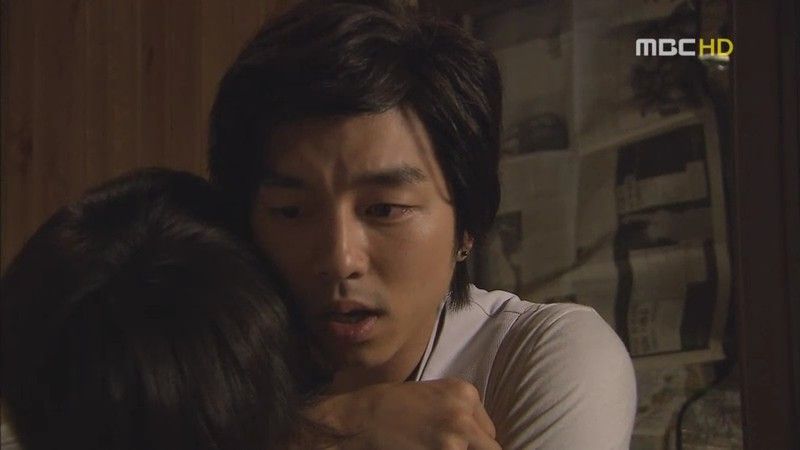 …and from the expression on his face, it seems things didn't figure themselves out the way he was hoping.
At first unable to react, slowly Eun Chan hugs him back, closing her eyes… and the subtitles onscreen tell us:
The song snippet in the last scene translates to:
 
Additionally, I don't think Eun Chan's secret can stay secret for the rest of the series, with more and more people gradually finding out. Min Yub alone is careless enough to let it slip accidentally, but now with Yu Ju aware, I can't see her NOT using this knowledge at some point. I don't necessarily mean in a malicious way; but I don't expect her to sit on it, especially since she knows Han Gyul so well… At least, that's my hope, that they don't drag out the secret through the very last.
For now, though, it's fun — and I want to see the issue linger long enough for Han Gyul to have to deal with his preconceived notions of homosexuality in a substantive way (it'll be a wasted opportunity if they flirt with the idea, but discard it by revealing that she's really a girl to stay "safe"). I'm really curious to how they'll treat Han Gyul's growing attraction to Eun Chan. On one hand, attraction is physical — pheremones, instinct, chemistry. On the other, the mind is a powerful thing, and although he may not be able to deny his feelings, I expect him to sure as hell try. I wonder at what point he'll have to give up resistance — Han Gyul seems pretty gay-friendly by nature. Will he be able to accept himself as gay? Or, at least, liking another man, even if he doesn't only like men?
Geez, I'm dying of curiosity. I've got to get back to reading the book. Somebody make me more hours in a day.
Coffee Prince: Seventh Cup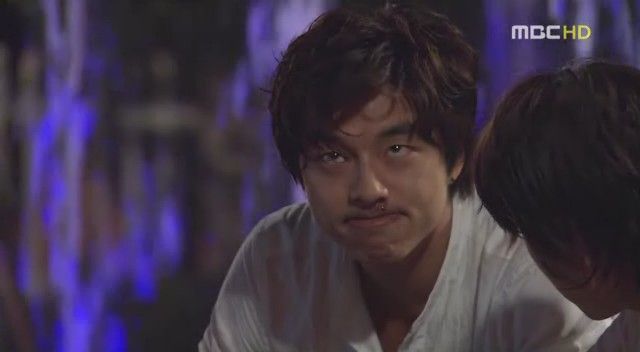 For me, Coffee Prince is shaping up very nicely. It's a drama that I bet is going to lead to a lot of accusatory finger-pointing at the label "overrated" but I notice a lot of those complaints generally come from those who haven't watched the show. How can you "overrate" something if you can't "rate" it? I'm more than willing to admit many popular hits don't deserve their hype… but for me, I think the buzz level for Coffee Prince is just right. So far.
I really, really like the music of the series. Not just the official soundtrack, but the other songs they sprinkle throughout. Because this is such a popular, mainstream trendy drama, I was expecting a soundtrack that was fun but not that musically interesting — you know, fluffy, standard pop-song fare. But surprisingly, there's more to it — the featured songs are a diverse mix that, so far, comprises the best use of music in a drama since 2006's Soulmate. Que Sera Sera was pretty good too, but not as eclectic or varied.
SONG OF THE DAY
Humming Urban Stereo – "Insomnia." This group has a song on Coffee Prince's soundtrack (not this one). Often compared to Clazziquai, some of Humming Urban Stereo's songs also remind me of French pop-electro-rock band Tahiti 80. Also a bit of Sondre Lerche (love him!), maybe some Architecture in Helsinki, Nouvelle Vague… [ zShare download ]
Audio clip: Adobe Flash Player (version 9 or above) is required to play this audio clip. Download the latest version here. You also need to have JavaScript enabled in your browser.
 
EPISODE 7 SUMMARY
After hugging Eun Chan for a moment, Han Gyul suddenly pushes her away and laughs in relief, saying he worried over nothing. The hug, however, has shaken Eun Chan, and as Han Gyul leaves, Eun Chan feels its aftereffects.
However, the moment Han Gyul's out of view, he tries to get a grip on himself. It wasn't nothing after all.
The next day, without explaining the reason, Han Gyul takes Eun Chan with him to the bookstore. Although he's quieter than usual, Eun Chan is pretty much her normal self.
Han Gyul carries the heavy books for her, and tells her they're for her. She wanted to become a barista, so she should learn more about it. (The advent of Starbucks and franchise coffee stores has, in my opinion, diminished the word barista. But I suppose the word originally carried implications of higher skill level, kind of like a wine sommelier.)
Eun Chan is touched at the gesture and Han Gyul smiles at her appreciation, until she receives a call from someone with whom she's very friendly. She listens as her caller plays her a song, and Han Gyul tries to suppress his curiosity, acting cool. He gets more irritated hearing that it's Han Sung, who feels bad for interrupting her while she's busy, and Han Gyul drops her books and leaves her to carry them.
Han Gyul scoffs at Eun Chan's admiration of artistic people, still feeling annoyed. When the subway lurches, a crowd of people pushes Han Gyul into Eun Chan, who reacts in dismay when she pulls out of her pocket the toy Han Gyul gave her: It's broken. Although he admonishes her for carrying it around, he seems pleased that she has it.
Eun Chan tells Han Gyul his stiff arm — holding him at a distance away from her — is making things difficult for the people behind him. She bends his elbow, which brings them closer together, and they both (well, more Han Gyul) try to ignore how much they enjoy the proximity.
Alone in his apartment, staring at a picture of Eun Chan on his computer, Han Gyul tells the picture firmly: "I'm the boss, you're the employee. That's it!" After a beat, he amends: "Fine, you're a kinda pretty employee. But really, that's it!"
At work, Eun Chan sees Sun Ki with a toy, which he identifies as souvenirs given by Han Gyul for the cafe's one-month anniversary. However, she doesn't find one for herself, and asks Han Gyul where it is. She guesses that he has another one for her, one that's different (one with more meaning, perhaps, or that's more valuable). But, she's guessed wrong. He says he already gave her one, that's it.
Han Gyul carefully avoids talking or looking too much at Eun Chan as he gives her permission to go home early for her father's memorial (death anniversary). And then, he asks flat-out: "Do you like me?" That startles Eun Chan, and he continues, "Don't. If you entertain your hopes, it'll just end up hurting you."
The moment he says it, he grimaces (keeping his face away) over his words.
That night, the Coffee Princes join Eun Chan and Eun Sae at home for their memorial dinner. Although Han Gyul doesn't join them, he sends her a box full of action figures with a note telling her ("Steel Arms, Steel Legs") to buck up and be strong. Excited over the thoughtful gift, Eun Chan wonders to her sister if he's interested in her. Eun Sae tells Eun Chan not to confuse love and friendship; Han Gyul thinks she's a guy.
Bubbling with good spirits, Eun Chan calls Han Gyul to thank him, and asks what the gift means, because it shows a lot of thought… Han Gyul cuts her off, overcompensating for his awkward feelings with brusqueness, saying it means nothing special, and hangs up.
When Eun Chan grumbles over Han Gyul's capricious moods, Eun Sae says Eun Chan is worse. Eun Chan takes one of the toys with her under the bedcovers, giving it a kiss before going to sleep holding it.
But, all Han Gyul's repression and frustration isn't just going to go away, and it finally boils over the next morning, when Eun Chan drops by with breakfast. He's out jogging, so she says she'll meet him — and because of Han Gyul's growing unease, he calls Yu Ju to come along, quickly.
Eun Chan is disappointed at Yu Ju's arrival, but it's made worse by Han Gyul's reaction. Again overcompensating to push Eun Chan away, he dotes on Yu Ju (so much that she thinks it's weird), and eats the breakfast Yu Ju has brought.
Han Gyul tells Yu Ju he disliked Eun Chan initially, thinking (s)he was a thief. But, he's since learned that Eun Chan's the head of the family and holds tons of jobs — food delivery, milk delivery, sewing doll eyes, Taekwondo instruction. Eun Chan feels like he's betraying her confidence, and tells him not to make fun of how others live.
Eun Chan casts several dark, meaningful looks at Yu Ju and reminds him of his bad habit, spitting out: "Why don't you fix your bad habits? Is it that hard? Since it's been so long?" She accuses him of living an easy life, and he counters, charging her with putting on cute or pitiful acts all the time. She's also so unperceptive that she can't see that he wants to be alone with Yu Ju.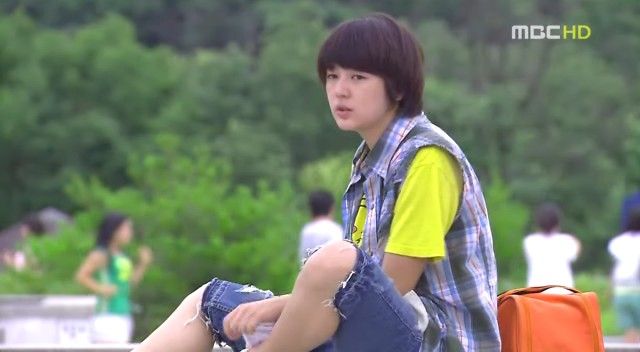 Having had enough, Eun Chan walks off, leaving them both in awful moods.
Sun Ki meets with the woman from earlier (who may be the mother to the woman he's looking for, someone named Yuko, who I think is also named Hee Sun?). The mother encourages Sun Ki to give up looking; although he's willing to take responsibility for Hee Sun and her child, it's a huge burden. Sun Ki asks her to convey one message: He just wants to be by her/their side. If that's not possible, he just wants the chance to meet occasionally.
Back at the cafe, Eun Chan has a hard time with a difficult customer, grumbling over her impossible demands. The friction between her and Han Gyul escalates when he takes her aside to scold her. What's so hard about accepting a customer's order?
Min Yub and Ha Rim try to calm them down, but they're both too angry. Han Gyul yells that he took Eun Chan in because he felt sorry for her, and she tells him not to bother.
Eun Chan storms off and leaves.
To cheer her up, Han Sung takes Eun Chan on a drive. I don't know if there's a reason for Han Sung's car being foreign (steering wheel on the right), but this works in a nicely poetic way to punctuate the similarity of Han Gyul and Eun Chan's emotions, sitting in the same seat, feeling the same down-spirited aftermath of their fight. (The song is MNI 민재's "For a While," on the OST.)
Han Gyul remembers eating with Eun Chan as he eats alone, and tries to practice different ways to tell her to return to work. Both Han Gyul and Eun Chan obviously want her to return, but can't actually say it. Han Gyul feels he can't ask her back because he fired her; Eun Chan feels she can't go back because she walked out.
Han Sung and Eun Chan have an interesting (IMO) discussion about a song he plays for her in his studio. As various instruments join in, he asks her what she hears, and what she thinks upon hearing them. Eun Chan thinks the rhythm of the drums reminds her of a thumping heartbeat, and when they get to the keyboard, Han Sung asks if she agrees that the keyboard's a little annoying. Kind of bratty. Eun Chan: "You're right. Like she'd be stick-skinny, only eat vegetables, and be sensitive." I would take a swipe at Yu Ju normally but I actually liked her this episode.
Audio clip: Adobe Flash Player (version 9 or above) is required to play this audio clip. Download the latest version here. You also need to have JavaScript enabled in your browser.
Meanwhile, Maximilian Hecker's "I'll Be A Virgin, I'll Be A Mountain" plays (wonderful song) while Yu Ju waits at Han Sung's house for him to come home. She looks around, plays dominoes with his CDs, but basically just waits.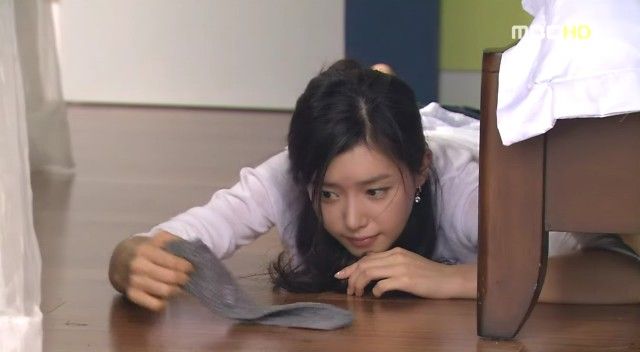 Likewise, Han Gyul passes the time in his toy room, alone. It's sad and poignant that he pretends to be playing as though Eun Chan is there (telling his toys to attack her), even as he's by himself.
Leaving the studio late at night, Han Sung suggests that Eun Chan return to the cafe — he'll talk to Han Gyul. She stops him: "Please don't talk about me to other people. I've found that makes me feel really awful, and miserable."
Yu Ju drops by the cafe (where the Princes are still pestering Han Gyul to bring Eun Chan back — even Sun Ki), and she's starting to grow on me. For instance, she was gracious during Han Gyul and Eun Chan's fight even though she got dragged into it, even though she knew Eun Chan's situation.
She brings up Han Sung's new "girlfriend," then follows that directly with, "Hm, I don't see Eun Chan around." The connection is too subtle, though, and Han Gyul just says he fired her. He's not sure if he did the right thing: "It feels like I need him here, but also like I don't."
Yu Ju tells him if he really thinks Eun Chan's better off gone, there'd be nothing for him to feel uncertain about. "Doesn't your dilemma mean you need him?" Han Gyul feels he can't just bring Eun Chan back after firing her like that.
Yu Ju tells a story of a huge fight she had with a gallerist once. She was so angry she thought she'd never talk to her again, but after a month, she got a call. The gallerist asked, "Is four o'clock good, or is seven better?" Yu Ju asked what it was for, and the gallerist replied, "A play." So Yu Ju found herself answering, "Seven o'clock."
Using Yu Ju's advice, Han Gyul calls Eun Chan, and jumps right in: Let's eat! Jajangmyun or soup? Surprised, she answers jajangmyun, and he tells her to meet at the restaurant they went to before, and hangs up quickly.
At the restaurant, Han Gyul watches Eun Chan stuff her face with sweet-and-sour pork, and starts smiling. When he asks why she's smiling too, she says: "Because you are… so I am too."
Audio clip: Adobe Flash Player (version 9 or above) is required to play this audio clip. Download the latest version here. You also need to have JavaScript enabled in your browser.
"Getaway" by Texas plays as Eun Chan and Han Gyul, restored to their former high spirits, sing and yell and play in the fountain.
Han Gyul tells her to punch him once, with all her strength. Then, in a more serious tone: "I've never once looked down on you. Delivering milk and food, peeling chestnuts, sewing doll eyes… It wasn't an insult. It was because I really think the way you live is impressive. I know I couldn't do that…"
She says she's over her anger now, but he tells her, "No, if I don't take the hit from you, I won't feel comfortable. Hit me." She does (she's stronger than he expected), and Han Gyul apologizes for saying he took her in because of pity.
Naturally, the others are thrilled to have Eun Chan back. (And naturally, so is Han Gyul.)
(Min Yub stands up to Han Gyul for picking on Eun Chan, but Mr. Hong tells Min Yub not to be a dummy — that's not harassing, that's playing around. Can't he tell a lovers' spat when he sees one?)
Han Gyul's good mood is short-lived, though, as he gets news that his grandmother has collapsed.
Worried about him, Eun Chan goes to his place to see if he's doing all right. His grandmother's condition is pretty advanced, and things aren't looking great. Lost in his remorse, Han Gyul says he should have guessed she was ill. He says he hates himself right now; he'd never worried about tomorrow, never once thought the way he lived was wrong. How selfish.
Eun Chan, feeling bad for him, asks: "Do you want me to make you feel better?"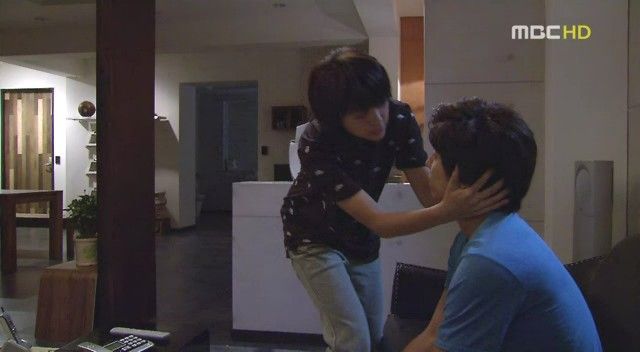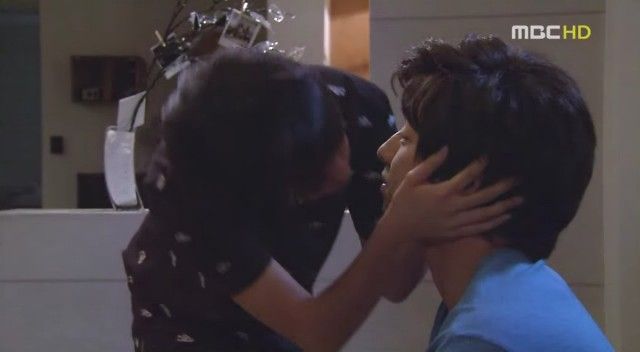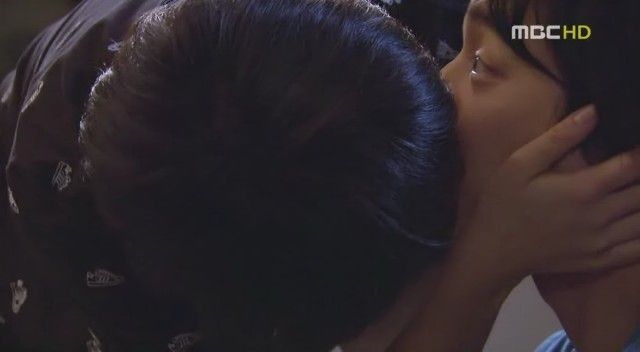 Coffee Prince: Eighth Cup
I really like where they're taking this story. I'm so pleased to discover that they've taken what could so easily have been a bit of fluff — cotton candy entertainment — and somehow made it thoughtful, even poignant at times.
In other kdramas, I frequently get frustrated at some of the obvious plot manipulations that could be so easily resolved with one honest conversation (I know I'm not the only one yelling at my computer screen, "Just tell her already!" or "Woman, how can you not know?!"). But here, I find myself feeling the reality of these people's quandaries and why they feel the way they do… Particularly so in this episode.
SONG OF THE DAY
웅산 / Woong (or Oong, or Ung) San – "아무말 말아요" (Don't say a word). Female jazzy-blues singer, similar in style to Madeleine Peyroux, with a vocal quality that kinda reminds me of Rachael Yamagata.
[ zShare download ]
Audio clip: Adobe Flash Player (version 9 or above) is required to play this audio clip. Download the latest version here. You also need to have JavaScript enabled in your browser.
 
EPISODE 8 SUMMARY
As Eun Chan and Han Gyul kiss, Han Gyul closes his eyes for a moment… before he pushes Eun Chan away, alarmed. Eun Chan's unbothered — she says the kiss worked in reviving his energy. She reminds him of his blind dates, how Han Gyul kissed Eun Chan in exuberance. Han Gyul blusters in denial, and Eun Chan mutters, "So why'd you close your eyes then?" and makes a face imitating him.
But thankfully, that doesn't ruin anything between them, and they drink together outside. Eun Chan makes kissy noises to annoy Han Gyul until he threatens her into stopping.
Han Gyul wonders how to act around his grandmother, and Eun Chan relates a story about her father, who was sick for a long time before passing away. She'd lay beside him in bed while he slept, or go to him when she got scolded by her mother. The day he died, as she was leaving for school, she thought: "When I come home from school, dad might not be here."
Eun Chan tests the waters by asking Han Gyul, "What if I were a girl?," and he looks at her curiously. "If I were a girl, could we date?" Han Gyul answers it's a good thing she isn't; if a girl like her pestered him to date, it would be a headache.
Han Gyul tells her his time for playing around has passed: "I'll have to get married, so I should meet a good woman that my grandmother and mother would like." Eun Chan figures that means a daughter of some corporate family, and Han Gyul says that's the kind his grandmother likes.
Talking it over with Eun Sae, Eun Chan wonders if she should just reveal that she's a girl. She says, "The other day at work, I had this thought: Even if I could just be by his side, that would be nice. Then I wouldn't have anything more to wish for."
Eun Sae lays out her two options: Either she tell him the truth, or forget about having a romantic relationship and just go on acting as a male to be near him.
Eun Chan tags along on Han Gyul's visit to his grandmother. While playing Go Stop, Eun Chan sees grandmother and grandson conspiring, and accuses them of scamming. Although the grandmother acts like she's annoyed, she likes not being treated specially because of her illness, and Eun Chan does just that.
Also visiting are Han Sung and Yu Ju, and because I'm feeling a little more generous to Yu Ju these days, I'll give her the benefit of the doubt in this scene. Yu Ju marvels at Eun Chan's ability to be comfortable around everyone, and Han Sung answers that Eun Chan treats everyone well — if he had the opportunity, he could do anything he put his mind to: "He's a unique guy."
Yu Ju offers her shoulder to lean on for comfort, but Han Gyul prefers her lap. He lies down, admitting how bad he feels for not spending more time with his grandmother.
However, Eun Chan and Han Sung see the scene, and Eun Chan feels the blow of seeing them together. Han Sung looks over and reads the expression on her face.
Driving back to work, Eun Chan is pissy and short-tempered, causing Han Gyul to wonder what's with her. She uses Han Sung as the reason to vent her own hurt, saying he's really got some nerve laying in the lap of another woman, knowing she's his cousin's girlfriend.
The mood thus soured, Eun Chan arrives at the cafe in an awful mood. Alone in the dressing room, she wipes away angry tears:
Yu Ju asks Han Sung what she was like in her twenties (which I guess means she's in her thirties), and he tells her: "Busy, dizzying, hurried. It was like something was always chasing you, but you didn't know what." Eun Chan makes Yu Ju think of her own younger days, wondering why she wasn't as lively and exuberant.
Understanding the subtext of this conversation, Han Sung assures her, "She's cute and pretty, but that's all." Yu Ju half-seriously tells him she's not going to let it slide anymore. (As in, he's paying Eun Chan a lot of attention, and she wants to be understanding, but there's a limit.)
At work, Min Yub swears to Sun Ki that he'll keep his secret (about his devotion to his former love), and Sun Ki, warming to him, asks if he wants to know another one. He's actually Japanese (later we find out he's half-Korean). Min Yub feels so grateful to be trusted with a secret that he wants to give something in exchange… so he whispers one of his own to Sun Ki: Eun Chan's really a girl.
Eun Chan is still feeling upset with Han Gyul, and avoids him while working. Since she won't speak to him, Han Gyul tries to engage her attention by giving her tasks, but no matter what he says or how he provokes her, she makes no response. Finally he brings up the subject directly.
Her comments about his behavior toward Yu Ju must have connected with his conscience, because he stumbles over his words as he explains: "The thing about me and my cousin's girlfriend… well, about me and Han Yu Ju… so we used to… now, we're…" But Eun Chan just walks off.
Eun Sae goes on an audition amongst some truly terrible acts, and although they like her telegenic appearance (but what's with the phallic wand?), her singing is pretty awful. She sings the Korean remake of Blondie's "Maria" from 200 Pound Beauty and cracks on the chorus.
Finally, Han Gyul takes Eun Chan aside to ask what's wrong. She says it's nothing, but he has too much to worry about — just say it: "What's the problem?" And without missing a beat, Eun Chan tells him: "I like you." That stops him short, and she repeats: "I like you. But that can't happen, right? Since we're both men."
Han Gyul tries to brush it off as a joke, but she continues: "That's why I'm trying to get over you. So just leave me alone."
While in the hospital, Han Gyul sees a sign for psychiatry and consults with a doctor. He answers no to the questions of whether he's ever wanted to be a woman, or use makeup to look like one. But the doctor, who's clearly unhinged, doesn't listen to his response and jumps to the conclusion that he's attracted to all men, and gives him a few days' worth of medication. Ah, Korea, aren't we progressive. They revised the DSM-III in the '70s, you know.
Min Yub presents Eun Sae with a bouquet of flowers, but she's in a foul mood due to her failed audition, and is feeling no desire to be nice. She insults Min Yub, saying she hates ignorant guys like him, and when he won't leave her alone, she throws his flowers to the ground. Aw.
That night, Eun Chan tells Eun Sae it really seems it can't work with Han Gyul, but she still likes him. Eun Sae tells her to get over it, rather than being strung along. Hearing Eun Sae's choked voice, Eun Chan comforts her sister, who cries over her failed audition.
DK (I assume) arrives at Yu Ju's gallery to recruit her services for a restaurant he plans to open. He wants her to design everything.
At work, Sun Ki looks pointedly at Eun Chan's chest and asks how she managed to flatten it. Eun Chan realizes Min Yub has told, and goes to give him a piece of her mind. He's feeling depressed over Eun Sae (Ha Rim offers to help him win her over), but their confrontation is cut short by Han Gyul, who orders them to stop disturbing customers and get back to work. Eun Chan retorts that Han Gyul's being more disruptive with his yelling, and he talks to her sternly — but as he's finally gotten Eun Chan to talk to him again, he smiles to himself.
Han Gyul asks her if she's gotten over her feelings for him, and she answers that she's almost done. She'll let him know when it's complete.
At Han Sung's house, playing around with the instruments, Han Sung notices that Eun Chan looks good today. She answers that she's found that it's better to follow your heart, even if it's difficult. (I infer that she's talking about confessing her feelings for Han Gyul.)
She compares Han Sung to Santa ("Whenever I see you, it's like I'm getting a Christmas present"), and they play "Heart and Soul" together on the piano, side by side.
Bringing Eun Chan along as he takes his grandmother for dessert, Han Gyul watches as they get along. He promises his grandmother he'll work hard to succeed.
Meanwhile, in a park at night, a couple of thugs harass Eun Sae. Look closely and you'll recognize them.
Eun Sae isn't intimidated, and snaps a photo to send to the police. Alarmed that their simple plan to make Min Yub look good is going awry, Ha Rim and Sun Ki chase Eun Sae with the aim of getting her phone. That freaks her out, and seeing her reaction, Min Yub bursts in and goes overboard in retaliating against her attackers. As a result, though, Eun Sae is both thankful and impressed, which makes Min Yub adorably happy.
At Han Sung's house, he plays another song for Eun Chan, and it looks like he's starting — has been, over the last episode or two — to see her in a new light…
Shocked at his kiss, Eun Chan pushes him aside and runs out, running into Yu Ju in the front yard. Yu Ju goes in the house, reads Han Sung's troubled expression, and tells him simply, "I'll call you tomorrow."
The next day, Eun Chan asks Ha Rim if he's kissed before, and if people really do it so easily. Ha Rim jumps to the conclusion that Eun Chan has found a girlfriend and tells Han Gyul, saying they should all help Eun Chan along. Han Gyul tells Eun Chan to bring her by the cafe, then hurriedly goes off into the empty kitchen to take some of the doctor's medication.
Like Eun Chan recalled doing with her sick father, Han Gyul visits his grandmother and lies beside her as she sleeps. On his way out, his father calls him over for a drink, and tells him to enter the company. He's set aside a job in marketing for him. Han Gyul finally stands up to him, saying his father doesn't know what Han Gyul wants. He'll do as he promised his grandmother — in three months, he'll return to New York.
His father sneers at his interest in making toys, and Han Gyul notes that whatever he does, his father gives him only silence: "If you were going to neglect me like that, you should never have taken me in." (More on this below.)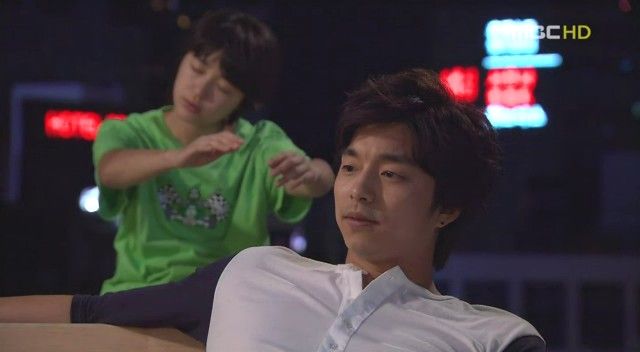 Han Gyul calls Eun Chan over to lift his spirits, and tells her the story of his youth. He was born of an affair his father had, and his mother, being kind and generous-hearted, took him in as her own son. (His birth mother is dead.) He found out one day when he came home early from school and overheard the adults talking. His first thought was that he had to leave without revealing that he knew, and thus he lived till now… But today, the truth finally came out, and he regrets it.
After Han Gyul passes out from drinking, Eun Chan carries him in on her back, dropping him on his bed, his arm strewn across her torso. Lying next to him, she stares at his face, his eyes closed, for a long moment before getting up — but his arm suddenly tightens and pushes her back down.
Han Gyul asks, "You're gay, aren't you?"
Eun Chan tries to get up again, and he pushes her back down again. He continues: "But I'm not. So stop trying to tempt me."
She mutters that he's the one who called her over, and one more time, she tries to get up, and one more time, he pushes her down: "Let's be sworn brothers."
Eun Chan tosses his arm off, gets up, and sits at a distance while Han Gyul alludes to a story about sworn brothers who are closer than blood brothers. Understanding his meaning, Eun Chan says, "So that means… we wouldn't have to separate till we die, then."
Han Gyul: "Call me hyung from now on." He suggests her getting an earring or something to be a mark of proof of their brotherhood.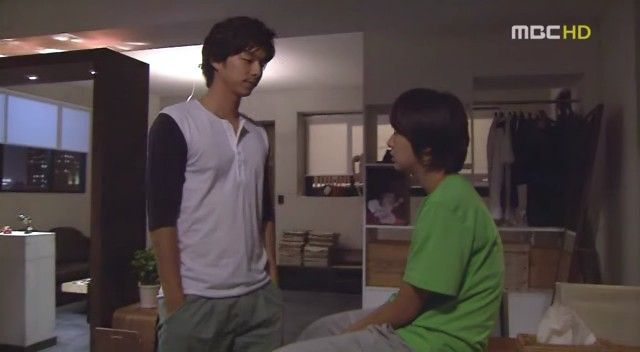 Audio clip: Adobe Flash Player (version 9 or above) is required to play this audio clip. Download the latest version here. You also need to have JavaScript enabled in your browser.
She shrugs him off, but the mood lightens as Low-End Project's song "연애를 망친 건… 바로 나라는 걸 알았다" (which translates loosely to "I know I'm why the romance failed") plays as Han Gyul chases Eun Chan around, telling her to call him hyung, until she finally does.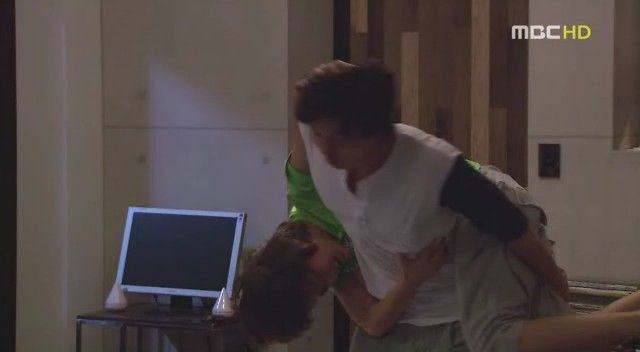 Some additional thoughts:
I particularly like — love? — this latest development. I think someone mentioned how one wonderful thing about the relationship between Han Gyul and Eun Chan is that the friendship component is just as important to Han Gyul as the gay aspect. After wrestling with his own emotions, he's concluded that he values Eun Chan too much to lose her. He showed that in Episode 7 a little, but Episode 8 really seals the deal, because regardless of the nature of the relationship, they want to be with each other. Even if that bars anything romantic (and they both clearly feel something romantic).
I don't think it's necessarily a homophobic reaction for him to arrive at this decision that he's not gay. (Someone else might feel it is, and I can understand that.) Despite having feelings for Eun Chan, when he saw the doctor, none of those conditions applied to him, and he knows he's not attracted to men in general.
This also further highlights Eun Chan's dilemma. Even if she wants more from him, she now has more to lose. There's a special closeness that comes from male bonding (and female, too, for that matter), and even if she were able to win him as a lover, she'd lose him as a hyung.
Coffee Prince: Ninth Cup
First things first. As usual, I thoroughly enjoyed the episode, and continue to enjoy the way they are progressing the relationship between Han Gyul and Eun Chan. But let me get this bit of criticism out of the way, and that is that this episode didn't flow perfectly.
There were a few awkward transitions, which felt choppy at first. Disjointed. I think they were busy trying to squeeze in some new plot points to set us up for more stories — like exploring more about Han Gyul's birth, for instance — and because elements felt shoehorned in, it disrupted the otherwise nice developments of the episode. Thankfully, that bit of awkwardness mostly occupied the first half (minus the very beginning, which was entirely too cute); the latter half was lovely.
(Background) SONG OF THE DAY
Arco – "Perfect World." This song plays in one of the early scenes between Yu Ju and Han Sung.
Audio clip: Adobe Flash Player (version 9 or above) is required to play this audio clip. Download the latest version here. You also need to have JavaScript enabled in your browser.
 
EPISODE 9 SUMMARY
Now that they've agreed to be like brothers, Han Gyul starts off the next morning goofing around and making Eun Chan breakfast. Eun Chan wonders what'll be different now that they're acting as brothers (in a "hyung-dongsaeng" relationship), and asks, does that mean she'll be treated with more love? Han Gyul awkwardly mumbles at the mention of love, and Eun Chan asks, then will he treat her better? That he can do, and to show it, he heaps food in Eun Chan's bowl.
Eun Chan tests out the word hyung, joking around as she calls him that repeatedly. It also appears that at some point, they've pierced Eun Chan's ear and marked it with one of Han Gyul's earrings as "proof" of their sworn brotherhood.
At work, the two continue their happy, giddy new relationship. Seeing the two of them getting along so well strikes the others as strange.
Sun Ki uses the fact that he knows she's a girl to blackmail her into promising to help clean out his (Mr. Hong's) home. Min Yub notices that she's wearing Han Gyul's earring. And Ha Rim is put off, grumbling that he's known Han Gyul much longer than Eun Chan. If anyone should be such a close hyung-dongsaeng relationship, it should be Ha Rim, not Eun Chan.
Yu Ju asks to meet with Eun Chan after some hesitation. Her relationship with Han Sung has hit a bump after she ran into Eun Chan after Han Sung surprise-kissed her. Han Sung understands that Yu Ju's upset, and tells her he'll wait until she's ready to talk to him. When Yu Ju meets Eun Chan, she doesn't quite know how to begin, but Eun Chan answers the questions before they're asked.
Eun Chan tries to deny it, sees Yu Ju's perceptive look, then admits, "Yes." Yu Ju asks why she doesn't tell Han Gyul she's a girl, and Eun Chan replies: "I've thought a lot about it too. He suggested I be his younger sibling. If he knew I'm a girl, I couldn't be with him like now. And things aren't bad, they way they are now." Eun Chan tells Yu Ju that she doesn't have to worry about her (regarding Han Sung), and Yu Ju sees Eun Chan's response is sincere.
I love this shot. Their distance is so eloquent. Yu Ju asks if Han Sung's feelings wavered because she'd made things hard for him, and he answers no. Yu Ju: "It would be easy if it were because of me. Since then I could just fix myself."
Audio clip: Adobe Flash Player (version 9 or above) is required to play this audio clip. Download the latest version here. You also need to have JavaScript enabled in your browser.
(The song posted up top, Arco's "Perfect World," plays.) Han Sung tells her he's in the middle of thinking over what happened, figuring out what it means. Yu Ju: "So you're saying it wasn't a mistake, but that you love her?"
Han Sung suggests, in a somewhat urgent (last-ditch-effort?) tone, that they go on a trip together.
Everyone goes to Mr. Hong's place to clean the place up, and Eun Sae keeps sending Min Yub away to do chores so she can be alone with Sun Ki. Although Min Yub knows she's not treating him well (as does everyone else, including Sun Ki), he still follows her orders, doing the laundry, taking the trash, doing the dishes — until finally she's so dismissive that he can't take it anymore.
He stands up to her — just because he likes her, she shouldn't use him like that. Eun Sae: "Who asked you to like me? Just give up! I really hate you following me around too! You're ignorant, and all you've got is brute strength. I was really embarrassed showing you to my friends, you know!"
With no other way of venting his aggravation, Min Yub growls and runs around the neighborhood — trying to climb poles, lifting furniture, and at one point running around with a refrigerator. HA!
Eun Chan tells Eun Sae to apologize to Min Yub, figuring she doesn't really hate him: "People fight as they grow attached to one another." Eun Sae asks, "Like you and your boss?" Eun Chan sighs with satisfaction: "I get to see him everyday, we spend time together, play around, have good conversation. It's great." But Eun Sae says she'll start wanting more — that'll lead to wanting to hold hands, then wanting to hug, and then wanting to kiss.
Han Sung and Yu Ju go on their trip, and seem to have regained some semblance of their former relationship, but Eun Chan is still a barrier between them. Yu Ju sees that he's not answering Eun Chan's calls and tells him that he's the adult; he should be mature and talk to her first. Han Sung says he will when he's gotten his feelings in order. He gets a text from her, an awkward message that asks: "Ajusshi, you're doing fine, right? I'm all right. Please give me a call when it's convenient. Bye."
Sun Ki, meanwhile, sees a woman with a young child and chases after her — looks like he's found the one he's been searching for — but is unable to catch up. He manages to see the name written on the van, and urgently tries to find out more about it over the phone. At the same time, a pissed-off Min Yub tries to pick a fight, asking if Sun Ki's enjoying Eun Sae's attentions. He provokes Sun Ki, and the mood turns dark as they nearly come to blows.
Okay, here's where they start to lose me a little, because they introduce a new character who hints at mysteries to come. He's an older man who speaks quite familiarly with Han Gyul's father, and of whom the father is very wary. (He asks about "Mother," and I wonder if they're brothers despite having different last names.) The man, Lee Myung Jae, is in Korea on business and asks if Han Gyul is doing well.
Then, Han Gyul has lunch with his father. He asks his father to not mention to his mother that he knows about his birth secret, and also inquires about his birth mother. Han Gyul knows his father had an affair, sent him to an orphanage, then later adopted him back. Han Gyul's father describes his birth mother as a warm, affectionate person, a middle-school teacher. Han Gyul cuts in to ask, "Did she leave you? Or did you abandon her?"
Han Gyul's father admits he left her — at that point in his life, he wasn't ready to be responsible for anyone. She died in a car accident before Han Gyul's 100-day birthday (a big event for Korean babies). Han Gyul's reaction to his father's cowardice may be best described as disgusted — it might've been disappointed, but he'd have to have had faith in his father in the first place to be able to lose it now.
In a despondent, pensive mood, Han Gyul calls his mother to tell her, "Mom. You know I love you lots, right?… Thanks, Mom. Thank you."
When his mother hangs up, Han Gyul's father's and grandmother's reactions indicate that they know the full story, whatever that is. They're suspicious over the reappearance of Lee Myung Jae, and Han Gyul's mother warns her husband to be careful: "I can't allow our Han Gyul to meet that man."
Han Gyul then drives over to Eun Chan's house, still in his quiet, reserved mode. He parks outside and wakes her from sleep with his call.
Han Gyul takes Eun Chan to the batting cages to relieve some tension, and suggests they go to the beach. He lets Eun Chan drive his car (complaining all the while at how fearlessly she drives), and they arrive at the ocean in the middle of the night.
With Han Gyul's mood much lifted at Eun Chan's antics, they laugh and goof around on the beach. Han Gyul asks about her birthday and blood type (December, O) and Eun Chan jokes around by telling him (with a straight face) that she doesn't like guys with his blood type, B — they're fussy and uptight. Han Gyul protests that he's not like that at all, defending himself, before realizing Eun Chan's teasing.
Eun Chan asks when he started liking toys so much, and he says he played with toys since he didn't have many friends. Kids disliked him because he has a rather unfriendly personality — he'd get angry and annoyed easily.
Audio clip: Adobe Flash Player (version 9 or above) is required to play this audio clip. Download the latest version here. You also need to have JavaScript enabled in your browser.
"Last Arpeggios" by 푸른새벽 (Blue Dawn) plays. The mood of this segment is so tense and pregnant with meaning that I wish I could convey it in words. You'll just have to watch. Basically, they both skirt around the topic they both want to broach but are too afraid to — and both tentatively draw closer with the words they want to say, then pull back in skittish fear, covering up with their excuse of being in a brotherly relationship. It's all nerves and hope and fear.
The ambiance grows more serious when Eun Chan faces Han Gyul, and steps closer and closer, while he backs away, unsettled. She asks, "Do you really just like me as a sibling? What do you like best about me?"
Han Gyul tells her uneasily to stop joking, then asks what she likes about him, and she answers, "Everything." Having laid one truth out plainly, she retracts it a bit as she walks ahead of him, adding, "But of course, as a hyung."
After staring at Eun Chan for a long moment, Han Gyul walks up to her and casually takes her hand. Without looking at her surprised reaction, he explains, "As hyung and dongsaeng, we can do this much."
And then, Han Gyul takes the hand he holds and intertwines their fingers together. They walk along wordlessly.
Eun Chan uses the same reasoning to lay her head in Han Gyul's lap as they sit on the sand: "As hyung and dongsaeng, we can do this much." She snuggles into his side and falls asleep.
Audio clip: Adobe Flash Player (version 9 or above) is required to play this audio clip. Download the latest version here. You also need to have JavaScript enabled in your browser.
Azure Ray's "Across the Ocean" plays some time later, as Han Gyul looks over at the sleeping Eun Chan. He hesitantly draws nearer to her, lying close to her back, touching her hair, tentatively cupping her hand in his.
After resting like that for a moment, he rises abruptly, disturbed and conflicted. He looks over at her, sleeping soundly, and says, "Go Eun Chan. I can't go any further."
He drives her home, and she awakes with her usual cheer, unaware that anything's the matter. Han Gyul tells her quietly, coldly, that he's decided he can't be her hyung; they're over. "Let's stop meeting." Eun Chan assumes he's joking, and goes to work eagerly anticipating seeing him.
When he won't look at her, or talk to her, Eun Chan asks what the matter is — did something happen? Did she do something wrong?
He tells her curtly to stop coming to work; he'll forgive her debt. She doesn't understand, and insists she'll keep coming, and he says, "Fine, then I'll leave." He reminds her of what he said that morning, and Eun Chan realizes he meant it — but how can someone change so much in one morning?
Han Gyul tells her, in a wearied tone, "I really… dislike you." Eun Chan responds, as though in challenge: "Why? Because you love me?" He doesn't object — just laughs a small, rueful laugh. At this point, both have traces of tears in their eyes — Eun Chan's indignant, Han Gyul's regretful.
Han Gyul walks out and drives home, where he idles his day away in frustration.
Likewise, Eun Chan spends her day listlessly going about her daily work, her heart not really in anything. Mr. Hong wonders how long she'll keep her gender hidden from Han Gyul, and she answers: "If I tell him the truth, everything's over. He said he was glad that I was a guy."
Audio clip: Adobe Flash Player (version 9 or above) is required to play this audio clip. Download the latest version here. You also need to have JavaScript enabled in your browser.
Kim Yeon Woo's "나는 사랑이 뭔지 모르나봐요" ("I must not know what love is") plays as they go about their day. Han Gyul doesn't respond to her messages asking him to come in to work.
Han Gyul ends up trashing his apartment, throwing things, beating his head into the wall.
Finally, Eun Chan arrives outside his place, pounding on his door. "Boss… Boss… Please don't be like this. Okay? Boss…"
Getting no response, Eun Chan returns home, and writes (but can't finish) a series of text messages: "I miss you…" "Where are you?" "Please call me." "I love you…"
Thwarted at every turn, Eun Chan shouts in bitter frustration, "Hey, you jerk! Why won't you call?!" as she cries.
Coffee Prince: Tenth Cup
Oh holy frijoles this was a good episode.
I've been careful (I think) to indicate that I've been enjoying Coffee Prince, but held off on a verdict… Given a history of disappointments, I kept expectations low in starting this series; I just hoped it would be light fun. As of today's episode, I can say with certainty that I love Coffee Prince. I was so curious to see how they'd handle the pseudo-homosexuality angle, and I've been pleasantly surprised.
The story works whether you see Eun Chan as a girl, of course, but also if, like me, you find yourselves occasionally forgetting and thinking she really is a male, or at least some kind of new hybrid gender. I'm telling ya, the actors are selling it, particularly Mr. Gong Yoo (Yoon Eun Hye is doing wonderfully as well, but I'm speaking specifically to the struggle with sexuality-questioning here). I actually believe Han Gyul as someone struggling with feelings of homosexuality, rather than merely thinking, "But she's a girl so this is all moot." It's NOT moot — because the way they're exploring his struggle is really rewarding for me.
(Background) SONG OF THE DAY
Arco – "Alien." One of a few songs used in today's episode.
Audio clip: Adobe Flash Player (version 9 or above) is required to play this audio clip. Download the latest version here. You also need to have JavaScript enabled in your browser.
 
EPISODE 10 SUMMARY
Eun Chan runs into Han Sung at a neighborhood convenience store, and they sit down for an awkward talk. Han Sung apologizes to her for startling her with his kiss, and she says she's been having some trouble with that, too: "Should we just forget about it?" Han Sung replies he has a good memory, and she revises: "Then, should we pretend we've forgotten?"
Han Sung asks why they need to forget, and seems disappointed in her answer that they should, in order to be friends again. Han Sung: "Friends? You want to be friends with me?" Eun Chan readily answers yes, so he says (not totally convincingly), "So I've made another good friend. It feels great."
Eun Chan tells him about Han Gyul wanting her to quit the cafe. "I guess I like him. No, I really do like him, a lot." She asks if he's surprised, and Han Sung says he's not — he already sensed it. "But things are bound to get complicated, since he thinks you're a guy. Are you going to confess to him?" Eun Chan answers, showing her insecurity: "I think it's better to get along as a male than to be rejected as a female."
Worried about Han Gyul, Ha Rim goes to his place and is concerned to see the place in such a wreck and Han Gyul looking so rough. Ha Rim asks what's wrong, persisting until Han Gyul responds.
Ha Rim trails off, realizing the implication. Stunned, Ha Rim asks if Eun Chan knows, and Han Gyul just says, "What's there for that guy to know? Don't worry. I'll get over it soon."
Ha Rim's concern for Han Gyul puts him in an irritable mood. He sees Eun Chan's (feigned) indifference to Han Gyul's continued absence, and snaps at her. Doesn't she care about their boss at all? Without knowing the full story, Ha Rim assumes that Han Gyul is alone in his personal torment, and that Eun Chan is blissfully unconcerned, so her attitude fills him with indignation.
Just as Ha Rim's accusing Eun Chan of being rude and uncaring, Han Gyul arrives. He greets everyone but Eun Chan, whom he ignores and won't even look at.
Eun Chan fights back tears as she tells Sun Ki, "He looks like he went through a lot of pain." Sun Ki agrees: "Yeah, looked like it."
Yu Ju's considering going back to New York for work. Han Sung asks if she's decided yet, and she replies, "Choice one, I go. Two, I wait. Three, I don't go or wait, but we break up. Which number will it be?"
While cleaning up that night, Han Gyul and Eun Chan steal glances at each other, but Han Gyul looks away immediately every time. Ha Rim asks him: "Is it that hard just to look at him? It's written all over your face — you're so tense you can't even turn in that direction."
Eun Chan waits for him outside, but he keeps her firmly at a distance. He tells her not to hang around him, to stay away (physically), and not to concern herself with his affairs: "If you don't like it, you can pack up and leave." Eun Chan bristles at his coldness, and rides her scooter in front of his car, forcing him to look at her. Unable to move, he angrily honks the horn. Throwing a resentful glare his way, she leaves.
Still thinking that Eun Chan is ignorant of Han Gyul's feelings, Ha Rim asks her what she thinks about homosexuality (she doesn't really have an opinion on it). In a misguided attempt to help, Ha Rim prepares to go on a coffee delivery run with Han Gyul, then fakes a stomachache and calls Eun Chan to take his place.
Eun Chan keeps trying to smooth things over to maintain a friendly conversation, but that just makes Han Gyul angrier. Upset that he won't talk to her, as soon as she gets in the car, Eun Chan turns on the radio, which he turns off. That fuels her mood, and after a brief battle over the radio dial, Han Gyul orders her out of the car. When she won't leave, he walks over to her door and drags her out by the arm. She glares at him furiously, and asks why he's toying with her.
Starting to blink back tears, she goes on: "I really liked being at the beach… I was doing fine all on my own, and you came and made me into this…" Han Gyul reminds her of the time she asked him to leave her alone so she could get over her feelings for him: "Let me borrow those words. Leave me alone." This time, when she doesn't follow him back to the car, Han Gyul grabs her and drags her back.
Barely able to control himself, Han Gyul tells her to shut her mouth. One more word and she's asking to be hit.
Arco's "Alien" (also posted up top)
Audio clip: Adobe Flash Player (version 9 or above) is required to play this audio clip. Download the latest version here. You also need to have JavaScript enabled in your browser.
They drive in silence. Han Gyul looks over surreptitiously while Eun Chan wipes away angry tears. In a small gesture of remorse(? compromise?), he turns on the radio.
Eun Chan tells her sister (who's annoyed that Min Yub is ignoring her, which is driving her crazy) that she and Han Gyul had a huge fight. But:
Eun Sae tells her to tell him the truth.
Over the next few days, the Coffee Princes prepare for their public performance (meant as a promotion for the cafe). They start off haphazard and unskilled, but gradually manage to pull it together.
Han Gyul and Eun Chan continue not to talk. The most they can do is look at each other.
In a nicely poignant, wordless scene, Han Gyul carries dirty plates to the kitchen, where Eun Chan is washing the dishes. Slowly, he moves next to her, first washing alongside her, then using the dishes as an excuse to reach across her for closer proximity. And finally, they both reach into the soapy water — and freeze completely still, alarmed, unsure how to react to the accidental touch. Han Gyul quickly withdraws his hand from the sink and leaves.
While setting up for their performance, Eun Chan is greeted as "oppa" by a flock of girls (Eun Sae and company). Han Gyul witnesses the scene from above, disturbed to see Eun Chan receiving so much female attention. He's even more bothered to see Han Sung arrive to give Eun Chan congratulatory flowers.
The performance gets off to a lively start with Min Yub as the MC. They use instruments made of coffee-related implements (beans, crates, utensils) in keeping with their coffee theme, as well as singing and dancing. Even Eun Sae is impressed to see Min Yub onstage, getting lots of attention. One of the songs they sing is "Java Jive" (this is the song, although this track itself isn't used in the show).
"Java Jive"
Audio clip: Adobe Flash Player (version 9 or above) is required to play this audio clip. Download the latest version here. You also need to have JavaScript enabled in your browser.
After the performance, Han Sung sits with Han Gyul while the Coffee Princes dance around energetically. Han Gyul fights his jealousy when Sun Ki grabs Eun Chan to dance (Min Yub intervenes, taking Eun Chan's place).
It worsens when Eun Chan gives Han Sung a present — her first attempt at roasting coffee beans. Han Sung happily accepts: "How can I drink this coffee? I'll want to save it."
Unable to contain his jealousy, Han Gyul needles them both, telling Han Sung he's treating Eun Chan like she's a girl. Han Sung merely smiles knowingly while Han Gyul keeps picking on her. He asks Han Sung how he can stand Eun Chan's attention — he couldn't. "Ugh, I can't look at you guys — you look like a couple."
He deliberately brings up the name Yu Ju to provoke Eun Chan, and she gets the message, leaving right away. Han Sung walks her home as she tells him despondently how Han Gyul wants her to quit work. Starting to cry, Eun Chan explains:
Now crying in earnest, she continues, in between sobs:
Han Sung can only offer her a silent pat on the back (and he seems to see that there's no room for him in her heart). As they near her house, Eun Chan regains her composure and thanks Han Sung for his comfort.
She promises.
Han Sung talks to Yu Ju on the phone while she's with Han Gyul, who tries not to notice when Yu Ju mentions Eun Chan. Han Sung tells her that Han Gyul and Eun Chan both like each other.
Yu Ju doesn't know what to do with that knowledge, but tells Han Gyul she's sorry, though she doesn't explain why: "I wish nobody would get hurt… but that's too much to ask for."
At work, Ha Rim asks Eun Chan if she's good friends with Han Sung, and she says yes — they meet often, hang out, ride bikes, eat and drink together. Around the corner, Han Gyul overhears this with dissatisfaction.
Finally, Han Gyul looks up to see Eun Chan, and notices the belt on her apron has come undone. Without warning, he goes up her, putting his arms around her to retie it.
 
Uncomfortable, she takes over. Min Yub rushes in, elated that Eun Sae has texted him to meet for dinner, and grabs her in a huge hug. Unable to stand watching that, Han Gyul immediately breaks them apart.
Later, Han Gyul overhears Eun Chan talking cheefully to Han Sung over the phone as she does the dishes. Ha Rim brings in an improperly washed cup (a customer complained), and Han Gyul vents his jealousy by scolding her. She apologizes, and offers to do the after-hours cleaning.
Yu Ju tells Han Sung she's decided to leave for New York and start over with DK. She tries to make it sound like she's leaving him (like she's cold and flighty), but she's merely pretending to be. Alarmed, Han Sung tells her not to go:
Done for the night, the Coffee Princes leave without Eun Chan, to whom Han Gyul has given instructions to clean the entire cafe as punishment for her carelessness.
Ha Rim latches on to Mr. Hong's words —
Ha Rim can't believe it (Min Yub carries him inside before he can react), and becomes angry with Eun Chan for tricking Han Gyul. He's also upset with the others for keeping it a secret, though they're of the opinion that it's not their decision to say anything. Ha Rim has seen Han Gyul's suffering up close and feels how unfair it is to him, but Sun Ki says he can understand Eun Chan, needing to take care of her struggling family — "Do you think she found it easy to lie?"
Ha Rim tries to call Han Gyul immediately, but is stopped. He yells out furiously when Min Yub snatches his phone and shoves him in a room to prevent him from going to Han Gyul.
어른아이 (Adult Child) – "Sad Thing"
Audio clip: Adobe Flash Player (version 9 or above) is required to play this audio clip. Download the latest version here. You also need to have JavaScript enabled in your browser.
Han Gyul drives home, assailed with memories of Eun Chan along the way. How she cried in his car earlier that day… how he tied her apron… how she blew air in his face while he slept…
Coming to some kind of decision, he turns around and heads back to the cafe. He runs in to face Eun Chan, staring intensely at her face…
Startled, Eun Chan starts to explain that she's trying to fix some damage to Yu Ju's mural drawing.
Still silent, Han Gyul swoops in purposefully —
After a brief kiss, Han Gyul backs off. This time Eun Chan grabs him and initiates another, longer kiss.
Breaking apart, Han Gyul tells her, "I'll say this just once, so listen to me. I like you."
As a small smile appears on his lips: "Whether you're a man, or an alien… I don't care anymore."
And, continuing as Eun Chan absorbs this: "I tried getting rid of my feelings, but I couldn't… So let's go, as far as we can go."
 
Additional thoughts:
I know a lot of people didn't see Que Sera Sera or read my recaps of it, but for those of you who did, hopefully you know what I mean when I say that this episode reminded me a lot of QSS's Episode 9 — you know, the big one. Thatone.
Not because of the content — but rather in the feeling that everything has been cracked wide open. The heroes (Han Gyul here, Tae Joo in QSS) have tried — and failed — to contain their feelings. Their jealousies have caused them to lash out at the source of their affections, because deep down they're actually upset with themselves. And they spend all episode alternately trying to ignore the source of their frustrations, and being unable to tear their eyes away.
And now that our heroes' efforts prove ultimately futile, the denial is swept away. Where we go from here is completely up in the air.
Coffee Prince: Eleventh Cup
Oh, zee angst! It keels!
(Great acting all around.)
There were fewer songs used this episode, with more empty spaces, which I actually appreciate. I have this odd belief (totally unbased in anything tangible) that really good acting requires less music. That bad or mediocre acting requires extra frills (cuts, effects, music) to elicit emotions from the scene. But in strong, emotional acting, you could have a single long take, with no cuts and no music, and still be compelling. There were a few scenes here that had that spare, raw feeling, which I thought was cool.
SONG OF THE DAY
Oldfish – "같이가자" (let's go together) [ zShare download ]
Audio clip: Adobe Flash Player (version 9 or above) is required to play this audio clip. Download the latest version here. You also need to have JavaScript enabled in your browser.
 
EPISODE 11 SUMMARY
The night of their kiss, Eun Chan and Han Gyul have their first giddy new-lovers phone call. She has to forcibly calm herself down before answering, and the conversation starts slowly and awkwardly. But now that Han Gyul has accepted his feelings, he seems much more willing to admit them to her, and says, "I miss you." Eun Chan thrills at the sound of that, but tries to sound normal as she answers, "We just saw each other, what do you mean…? …me too."
Eun Chan asks, "Tomorrow… will we be able to laugh together? We won't fight anymore, and we can talk… right?" He answers yes. Although Han Gyul wants to stay on the line longer, her fluttery heart can't take too much, and she has to make up an excuse to hang up. Before going to bed, Eun Chan takes out the Lego toy Han Gyul gave her, and tells it, "Now I have to tell him. Right?"
Han Gyul receives a request to meet from the mysterious stranger, Lee Myung Jae. Han Gyul has been told that he used to really like the man when he was young, but admits he can't really remember him. The man's comment that Han Gyul must have inherited his stubbornness from his mother leads him to the realization: "Did you… know my biological mother?" The man gives Han Gyul a photo of her.
[Note: The following is explained much later in the episode, but I didn't want to interrupt the flow of the recap (as if that should be a concern) so I'm explaining here. Lee Myung Jae is Han Gyul's blood father, and his (adoptive) family have kept it secret all these years. They're worried that Mr. Lee will cause problems even as they understand a father's natural desire to want to claim his son. The 'why' of the matter is not disclosed, but I presume there's a big reason hidden somewhere.]
Eun Chan arrives for work dressed as a girl, mentally prepared to tell Han Gyul everything. Ha Rim is still angry with her, and accuses her of being cunning — now that everyone's found out the truth, her dressing as a girl is just a ploy at damage control. He sarcastically congratulates her on such wily thinking.
He sneers at her apology, asking about Han Gyul: "Do you know how much he suffered? That was the first time I've ever seen him so broken-down, do you know that?" He accuses her of playing around with people, saying she's gone too far. Frustratedly: "I can't even hit you, seriously!" Ha Rim takes a look at her teary eyes and scorns her for using tears to manipulate.
Han Sung arrives home to find Yu Ju packing her things. He asks what she's doing, and she says she moved up her departure date. He tells her not to go — he's serious about getting over his feelings for Eun Chan, if she just gives him some time.
Yu Ju acknowledges that she did the same (or worse) to Han Sung and he took her back, so he must be wondering why it's so hard for her to accept this:
And I really like this scene, not merely because the acting is so in-the-present, but because you think they're talking about one thing, but suddenly they're talking about something else altogether:
Yu Ju doesn't say a word, and leaves in tears.
Han Gyul arrives at the cafe and immediately looks for Eun Chan. As she's dressed in her work clothes, he doesn't notice anything different, and she tries to work up her courage to tell him the truth. He tells her about meeting the man who knew his mother, and says, restlessly, "On a day like this, I really hate to work. Comfort me." He describes feeling like a lump of ice is wedged in his chest — heavy and cold.
Sensing an opening, Eun Chan tries to speak, but can't get the words out. Ha Rim interrupts, startling them both. Assuming Han Gyul already knows the truth, Ha Rim wonders to Han Gyul (when Eun Chan isn't there) how they could've been so fooled. Han Gyul can't believe it, but Eun Chan appears just as Ha Rim is going on about they should have known.
[Side note: I think it's really freaking cool of Han Gyul that, when Ha Rim first says Eun Chan is a girl, he laughs, "However much I might like that guy, how can you just turn a guy into a girl like that?" This is the day after he's decided to be happy with (a male) Eun Chan, and doesn't have a problem saying that in front of everyone — which shows that he really was ready to go for it, and without shame.]
In disbelief, Han Gyul asks, point blank: "Ha Rim says you're a girl. Are you really?" She can't look him in the eye, so he asks again, "What, so you really are a girl?" At her continued inability to speak, he demands an answer, and yells at her to say something.
Holding back tears, she nods yes, and Han Gyul walks out. She runs after him, but he drives off.
Han Gyul recalls all the little details that should've tipped him off — his initial impression that she looked like a girl, her identification number with a female designation (which he assumed was her error), why she didn't grow facial hair, her asking how he'd feel if she were a girl…
Worried, Eun Chan calls him, and he demands to know who else knows the truth. Mr. Hong? Sun Ki? Ha Rim? And then, his face darkens when he thinks of Han Sung — "Does he know? Does Yu Ju know too?" Eun Chan's afraid to say yes, but he barely contains his fury as he demands, "Answer me, you bastard. Does Choi Han Sung know or not!?" Looking sickened, Eun Chan admits he knows.
He shows up at Han Sung's house and jumps right in: "Why didn't you tell me Eun Chan was a girl?" Interestingly, Han Gyul still refers to Eun Chan as "that guy": "Don't you know how much I agonized because of him? And you still didn't tell me?" Han Sung says that Han Gyul never asked him — if Han Gyul never brought it up, how could he say anything?
At that, Han Gyul punches him in the face.
Han Gyul tells Han Sung to give him a straight answer: "When Yu Ju said you'd strayed, who was the woman?" Han Sung declines to answer ("That's my business. Don't involve yourself"), so Han Gyul calls Yu Ju:
Han Sung grabs the phone, and levels with him (with Yu Ju still listening): "Fine. I liked Go Eun Chan. But she wasn't interested in me. I've already gotten over my feelings, all right?"
Han Gyul arrives home to see Eun Chan waiting outside his door. He tries to ignore her, but she has something to say.
Han Gyul grabs her suddenly and pushes her against the door. He says, in a pleading tone:
All she can do is weep and say sorry. Hearing those words, Han Gyul deflates in disbelief, barely whispering:
He goes inside in a pained daze. Overwhelmed, Eun Chan cries outside his door.
She tells Eun Sae, "Even if I can't see him anymore… even if he refuses to see me… I want to tell him. That I really, really love him."
Eun Chan still comes to work every day, to Ha Rim's ire, and he takes every chance to sarcastically make her feel bad, calling her shameless. It's kinda mean, but kinda understandable. Ha Rim: "I don't understand you at all." Sun Ki steps in to defend Eun Chan: "Then don't understand. What's the problem?" Sun Ki's perspective is that the two like each other so there's no problem. Ha Rim sees things differently: "Liking each other isn't everything. She deceived him and destroyed his trust."
Min Yub apologizes to Han Gyul for his part in keeping the truth secret, offering a rather weak excuse that it was because of Eun Sae. Han Gyul calls him out on his selfishness, asking, "Is your love the only thing that's important? You act all innocent, but you sure know how to lie and stab someone in the back."
Mr. Hong casually-but-on-purpose tells Han Gyul how rough Eun Chan's had it, providing for her family since she was sixteen, after her father died. It was easier not to worry about acting feminine, with so much else to worry about. Han Gyul tells Mr. Hong to fire her; Mr. Hong counters that since Han Gyul hired her, he should do the firing.
Han Sung visits Yu Ju, once more asking if work is truly the only thing that matters to her — can she live happily without him as long as she has her work? What does she really want? He says earnestly that he's settled his feelings for Eun Chan.
Yu Ju isn't buying it, though:
Han Sung asks why she can't trust him, and Yu Ju tells him to look straight into her eyes and tell her Eun Chan means nothing to him. He can't.
Han Sung says that if she wants to break up, this is the last time. Yu Ju bursts out that she can't even stand to see him, and Han Sung replies:
Han Gyul's mother drops by to make him dinner, and although Han Gyul accepts her presence without suspicion, it seems her real reason for being there is to find out about his meeting with Lee Myung Jae. (I'm not sure whether she's a nice woman or someone to distrust.)
Han Gyul sinks into quiet thought, then tells her: "I think you're the only one in the world who has faith in me."
Mr. Hong drops by to give Han Gyul some roundabout advice. He relates the story of a woman he once loved, a long time ago. She always lied to him about everything — she'd say she was meeting friends but go drinking; or that she was going home but then go dancing. Han Gyul: "You really loved someone like that?"
He asks why Mr. Hong laughs when it should make him angry, and gets the answer: "Whenever I think of her, I laugh." He figures the girl must've really liked him, though, and lied about those things for fear that he'd think less of her. "How much must she have liked me to have lied for so long?" He explains that he never once fought with her, because whenever he got angry, he would ask himself: "So you're angry, but can you really live without her?"
Han Gyul gets the point ("So you're saying if I'm not going to break up with Go Eun Chan, I should let this go?") but doesn't seem to be buying it.
Eun Chan looks at her Lego toy while repeating Han Gyul's words to herself: "Whether you're a man, or an alien…" Eun Chan tries to tell herself she hates him, but ends up saying, "I miss him… I miss him."
At work the next day, Han Gyul briefly argues with Sun Ki and notes that everyone seems to be on Eun Chan's side. She hangs her head and once again apologizes: "I should have told you from the beginning. I didn't know things would come to this."
Without sparing her a look, he tells her to pack her things and leave. She grabs his arm, and he flings it off harshly. He tells her it must've been fun for her — she got him to hire her, and admit he liked her thinking she was a man.
He turns to leave, and Eun Chan says to his turned back: "You said you wouldn't like me as a girl. You said it was a good thing I was a guy. So what could I do, when I wanted to see you—"
He grabs her and shoves her against the wall, and assaults her in a kiss.
It's harsh and unsexy — angry, and kinda almost ugly.
Eun Chan shoves him off — and he grabs her forcefully for a second kiss — and she forces him away again —
He stalks out, leaving Eun Chan in shock.
Coffee Prince: Twelfth Cup
I wish Coffee Prince were a man, so I could marry it. We'd be happy together making beautiful latte art and raising lots of musically inclined children.
Unless……
……*gasp*……
……Coffee Prince is a GIRL?!?!
SONG OF THE DAY
Linus' Blanket (라이너스의 담요) – "Labor in Vain" [ zShare download ]
Audio clip: Adobe Flash Player (version 9 or above) is required to play this audio clip. Download the latest version here. You also need to have JavaScript enabled in your browser.
[First off, credit where it's due — thanks for the compliments on the new Coffee Prince-themed banner. You might have to force-reload (control + F5) to see it. All credit goes to Luv, who's been wonderful in designing all but one of my headers. Thanks a zillion, Luv!]
 
EPISODE 12 SUMMARY
Eun Chan still comes to work despite being told to quit. She approaches the still-angry Han Gyul, who gives her three minutes to talk. After that, she'd better leave because she's fired.
 
Phew, way to reduce me to a sniveling mess in the first five minutes.
Han Gyul tells Mr. Hong that Eun Chan will be leaving, and Mr. Hong scolds him for his behavior. Yes, he gets that Han Gyul went through a harder time than Eun Chan, but why is he so angry? She's a girl, and they like each other — that's a cause for celebration. Mr. Hong can't stand working there like this, so he leaves. Ha Rim tries to convince him to stay, and Han Gyul tells him he'll be gone in a month anyway. Mr. Hong says, "Fine, then I guess I'll be back in a month," and walks out.
Eun Chan packs her things and leaves. Han Gyul watches her go.
Han Gyul has no desire to talk to his cousin, but Han Sung calls and says all he has to do is listen. He explains that he first met Eun Chan when she delivered milk to his house, and yes, she was the girl he took to Yu Ju's exhibit.
Yu Ju apologizes for not telling Han Gyul about Eun Chan, and explains that she's leaving. Han Gyul asks if it's because of Eun Chan. Was the relationship between Han Sung and Eun Chan serious enough to drive Yu Ju away? Yu Ju explains: "Their relationship wasn't a matter of how far they went. It's just that Han Sung's feelings swayed toward her, and even then it was just a short while. So forgive Eun Chan."
Han Gyul asks why she's leaving, and she answers they've got a lot of issues between them. Yu Ju was always the one depending on Han Sung, and he was the one to comfort and accept her. She'd thought his anger was something exclusive to her (born of love): "But I realized that's not true. I know I'm not being mature about this, and I can't be cool either. I'm really horrible, I know. But my feelings don't listen."
Han Gyul wonders how Han Sung felt, knowing how he liked Yu Ju all this while, and concludes that Han Sung didn't worry about losing Yu Ju to his cousin because he trusted her — so much that he waited for her even after she left for another man. Yu Ju: "Then you don't have faith in Eun Chan."
Han Gyul says he'd always felt that Yu Ju and Han Sung were so rock-solid that he never had a shot of squeezing himself in between them. For Han Sung's sake, he asks her not to go: "If you do, I think I'd hate you."
Eun Chan and Han Gyul spend the next several days moping. Han Gyul recalls Eun Chan's words from the first scene, and also thinks of Mr. Hong's words: "Ask yourself carefully if you can live without Go Eun Chan."
Han Sung drives Yu Ju to the airport, and tries to convince her one last time not to go. Their argument spills over onto the sidewalk when Yu Ju tells him to pull over. Han Sung yells: "You strayed too. Why is it okay for you, but not for me?!" He put up with so much — he knew she was lying about DK even before they broke up — but he forgave her.
Yu Ju counters — if he'd been so accepting all this time, why is it now that he faltered? She watched him lie to her face when he said Eun Chan was merely a cute little kid. Han Sung admits that he made a mistake, but it wasn't love. Yu Ju can't tell the difference.
As she turns and walks off, Han Sung begs her not to leave, shouting after her, "Don't go. Don't go!"
[Side note: The scene was okaaay, but felt a little… acted. Usually this series does amazing things with letting scenes breathe (like in Episode 7 when Yu Ju waited all day in Han Sung's house, and Han Gyul dealt with the aftermath of his fight with Eun Chan), but this felt suffocated. The emotions seemed prepared, not in-the-moment (which is what I loved about their fights in Episode 11). And perhaps a little overacted. Okay, criticism over.]
At the airport, Yu Ju finds DK waiting for her — but stays at a distance. They have a wordless exchange — and, realizing Yu Ju's not leaving, DK goes alone with a rueful wave. Han Sung races to the airport to find her, but he's too late, and thinks that she's already gone.
 
Now jobless, Eun Chan keeps herself occupied peeling chestnuts and sewing doll eyes. Taking a break to go to the convenience store, she runs into Han Sung, who can tell she hasn't been doing so well.
Han Sung assures her Han Gyul will understand, but tells her not to tell Han Gyul about their kiss — because he's found that when you tell someone something to ease your own guilty conscience, sometimes it only brings the other person pain. She thanks him and tells him again that he's like Santa, and Han Sung responds,
At the cafe, Han Gyul is confronted on all sides with appeals to forgive Eun Chan. No matter how mean Ha Rim was to Eun Chan, when talking to Han Gyul, he plays the part of pacifier, asking to hire her back. Min Yub has heard from Eun Sae how poorly Eun Chan is doing these days, eating badly, not sleeping well. Sun Ki tells him, "The way I see it, it was really hard on her too. She's young. And don't you think she was afraid things would end up like this?"
Han Gyul goes to see his cousin. At first, the mood is strained, as Han Sung asks Han Gyul to forgive him for having feelings for Eun Chan: "If you really don't want me to see her anymore, I won't. I'll do my best so that we don't even happen to meet by chance."
Han Gyul apologizes for hitting him, for overreacting to learning the truth about Eun Chan, and also for passing off his feelings for Yu Ju as mere friendship. He invites Han Sung to hit him if it'll make him feel better.
Han Sung informs him of Yu Ju's departure: "But don't worry too much about us. Yu Ju and I have ten years of history. There's something between us that you wouldn't even be able to imagine. We won't just end like this."
(Aww for brotherly love! These cockles, they are warmed.)
(Somebody needs to give the writer a raise, because I love this next sequence like you wouldn't believe. I love it so much it makes me sad I didn't write it.)
 
That night, Han Gyul goes to Eun Chan's home, looking up at her window. After staying there for a while, he drives away.
At the same time, Eun Chan waits outside Han Gyul's apartment. It's getting late, so she starts wheeling her bicycle away, unaware that her burlap sack is leaking chestnuts.
 
When Han Gyul arrives home, he finds the chesnuts on the ground, leading him like a trail of breadcrumbs. He follows the trail, and starts to pick them up, just as Eun Chan discovers the torn bag and starts collecting the chestnuts from her end.
And thus they meet in the middle.
Sitting side by side on a park bench, they remain silent for a while as they try to decide how to handle this. But Han Gyul's anger has been slowly subsiding over the course of the episode, and he tells her to come to work tomorrow.
He sees her tearing up and chides her for crying so much: "From now on, you'd better only cry in front of me. Don't you dare cry like this in front of other men, or you're dead." He reaches over and wipes the tears from her eyes.
Eun Chan apologizes again:
Han Gyul apologizes too:
Eun Chan tells him it was her mistake from the start, so it's okay.
 
Han Gyul rests his head on her shoulder, saying:
Eun Chan quickly turns her head to kiss him, and they stay like that, together in silence.
The next day, Eun Chan's back at the cafe, and Ha Rim, for all his bluster and aggravation, is genuinely happy to see her back. When Han Gyul arrives, they all watch with bated breath, not quite sure of the situation.
Han Gyul pretends to ignore Eun Chan, although he steals looks at her while the others are too busy speculating over the status of the relationship. They ask Eun Chan if something happened the night before to cause the change, and with a shy smile, she nods. The Princes whoop in glee.
They accost her for details, and Ha Rim jokes that they should use her phone to send Han Gyul lovey-dovey text messages. Ha Rim says they don't even need her phone since they can send it with his, and starts typing a message. Eun Chan stops them — and hands over her phone: "Send it with mine."
The Princes watch Han Gyul receive the message, which reads: "Thank you ♥." He smiles (and the Princes are thrilled).
After going on their coffee bean deliveries, Han Gyul and Eun Chan enjoy a walk through the park, and Han Gyul is adorably playful. As he walks hand in hand with Eun Chan down the street, he excitedly turns to strangers to tell them, "She's a girl. She's a girl. A girl!"
She tells him when she first saw him, she thought he was incredibly good-looking. He's pleased to hear it, until she clarifies that their first meeting wasn't at the purse-snatching, but when she delivered food to his apartment. Han Gyul exhibits a belated sense of modesty.
 
Han Sung finds out about Yu Ju not going to New York from DK: "I thought work was the most important thing to her, but it seems there's something you have that's more important."
Worried, Han Sung tells Han Gyul that he hasn't been able to locate her. Far from being angry, Han Sung realizes he didn't know as much about her as he should have: "I don't know where her mother's house is, or have phone numbers of her close friends."
Later that night, Eun Chan and Han Gyul talk on the phone, and he wonders why she's so interested in Han Sung's business. He tells her Han Sung had liked her — and she, remembering Han Sung's caution, pretends not to know: "No, that can't be." He asks if she'd had feelings for him, and she admits that at first, she did like Han Sung, but then she started liking Han Gyul more.
Han Gyul pretends to be miffed, asking why she picked him over his cousin, who's nicer and warmer: "Be honest. You like both of us, right?" Eun Chan takes his teasing for real and insists, "Han Sung is just a nice ajusshi, and you — I don't really know the reason, but I just… like you."
Han Gyul enjoys her reaction while carrying on his mock indignation, telling her he's still upset: "My anger just won't go away." Left with nothing else to say, Eun Chan says, almost defiantly: "I love you. I love you! I really love you!"
That catches Han Gyul totally off guard, and in an instant, he goes from playfully happy to completely stunned. His legs give out and he sinks down on the couch, catching his breath. (The song is "Coffee Is" by Cloud Cuckoo Land".)
Audio clip: Adobe Flash Player (version 9 or above) is required to play this audio clip. Download the latest version here. You also need to have JavaScript enabled in your browser.
He covers, accusing her (in bluster) of playing with words and being a smooth talker:
Eun Chan smiles in relief, and then he tells her sternly, gruffly:
Both are stunned at their mutual admissions — you can almost feel their visceral reactions to their words — and then, overcome with giddy happiness. Eun Chan jumps around her room, yelling, "He says he loves me! He loves me!"
Coffee Prince: Thirteenth Cup
This episode was, as I suspected it might be, entirely full of small, sweet moments. As much as my romantic-loving side would love to believe things remain in an Episode 13 zone of optimistic happiness, the side that's all too familiar with dramas can only brace itself for what lies ahead.
It's like walking along a razor's edge of tentative, hopeful, but momentary happiness — lovely in the moment, but you're aware that at any point the teeniest misstep may cut you.
Or maybe that's just my uneasiness born of cynicism — creating problems where they don't (yet) exist.
SONG OF THE DAY
Crispy Rhodes / 크리스피로즈 – "Crispy Paradise" [ zShare download ]
Audio clip: Adobe Flash Player (version 9 or above) is required to play this audio clip. Download the latest version here. You also need to have JavaScript enabled in your browser.
Note: To anyone who requests that I post a recap "quickly" —
These episodes air in Korea from approx 10pm-11pm, which is 6am in my time zone. After the rippers upload the file, I download it, watch it, take screencaps, upload images, find songs, translate and write recaps. I've been managing a turnaround of half a day. I'm fast. Honestly, there's little I can do to hasten my process. I'm not offended at requests — I'm just letting you know this so you'll understand why I can't oblige. And now, onward.
 
EPISODE 13 SUMMARY
Adorably, Han Gyul asks Eun Chan on a date for that evening. But Eun Chan, who's been studying extra hard lately, says she was going to study that night (Han Gyul: "Do it tomorrow"), then declines again because her mother's been complaining that she's been out late too much.
Han Gyul blusters, "Then when can we go on a date—?" before realizing, with amused surprise, "You're playing hard to get?!"
Eun Chan makes a series of suggestions, all of which Han Gyul summarily dismisses for one reason or another — amusement parks, shopping, plays, musicals, the park, out driving. Han Gyul's decision: "Home. DVDs. It'll be cozy." He walks off before she can respond, grinning to himself.
Meanwhile, Eun Sae, who's a bit of a brat this episode, acts like a queen while Min Yub loyally follows her around, doing her bidding. Ha Rim hears about this and can't stand seeing Min Yub reduced to such a puppet state. He tells him to dump Eun Sae immediately — he'll introduce him to a different girl.
That night, Eun Chan and Han Gyul play a little game to decide who has to do the dishes — all questions and answers must be given in five syllables, and the first person to mess up loses.
Thus Han Gyul loses.
Han Gyul asks about Eun Chan's feelings for him (it's cute how, now that they're happily dating, he keeps fishing for affirmation from her — not because he needs it, but because he likes hearing her say it). She answers that she'd thought they were on such different levels — he's handsome, comes from a good family, and has great qualifications. On the other hand, she's not that pretty or feminine, and her family background is nothing impressive…
Eun Chan mentions his plans to leave in a month, and Han Gyul asks, "Should I not go?" Eun Chan: "You know you're going." Han Gyul: "Do you want to go with me?" He mentions all the things they could do together if she went with him to New York — they'd live in his family's place, and while he's at work, she could go to the park to read. After work, they could eat dinner in the East Village, and go listen to music.
She likes the idea, but knows she can't really go with him. He asks why not, and she answers, "Because I'm not thinking about marriage right now." Han Gyul doesn't follow, but she answers, if he wants her to go with him to the States, aren't they going to be living together? Doesn't that imply marriage? Han Gyul tells her people can live together without being married, and her surprised expression makes him amend embarrassedly that they could live in separate rooms. But, surely she can't mean that for them to sleep together, they'd have to get married, right? "People who love each other can sleep together. Can't they?" At Eun Chan's continued silence, he grows more embarrassed.
She doesn't really have an answer for that, and Han Gyul distracts her with ice cream to sneak a kiss. He tells her once again, "I'm really glad you're a girl."
Eun Chan's family thinks the same way she does, though, and Eun Sae assumes that talk of taking her to New York means that Han Gyul's proposed. Eun Chan says no, they're not getting married. Eun Sae's first concern is if Han Gyul will provide for the family (i.e., get them an apartment), and Eun Chan chides her — why should he do that? Eun Sae rants that Eun Chan's only thinking of herself — she's just happy at the idea of going to New York and leaving her family behind to fend for themselves. How will they manage without her? How will Eun Sae pay for college and make their rent?
(Before you hate Eun Sae too much, she explains herself in a following scene. So don't judge her too strongly — yet.) Their mother tells Eun Chan not to be too upset — Eun Sae's just acting up because she's sad at having a guy steal her sister's attention.
Sun Ki goes to see the woman he's been searching for, meeting her face to face at her apartment, and that's all we get this episode.
Min Yub takes Ha Rim's advice and goes on a date with another girl — one who's not only pretty and sweet, but who's particularly good at taking care of the guy. Min Yub finds himself happy to be doing well — the girl agrees to a second date — and blows Eun Sae off when she calls.
Bummed, Eun Sae chats with Mr. Gu, who's excited to hear Eun Chan might be on the verge of marriage — she really met a good man. Eun Sae jumps over him: "Why is he good, because he's rich? My sister's not the type to go after someone just because of his money, you know!"
Eun Sae glumly tells Mr. Gu she'd intended to buy her sister a car and her own cafe when she succeeded as a singer — but now Eun Chan's being strung along blindly by a guy. After her mother leaves her (implying she'll end up marrying Mr. Gu), Eun Sae will be all alone. In a sweet, fatherly gesture, Mr. Gu tells the despondent Eun Sae that he does want to marry her mother, but if she doesn't want him to, he won't pursue it — he'll wait until she accepts the idea. Also, if her mother marries, she's not losing a family member, she's gaining new ones. (Okay, if you want to hate Eun Sae, now you can judge her.)
Now that everything's out in the open, Eun Chan gushes to Sun Ki about how handsome Han Gyul is, practically drooling over his broad shoulders, long legs, good-looking face… Sun Ki just smiles knowingly. Bringing up the issue of Han Gyul leaving for the States, Sun Ki advises her to talk out her issues (about needing to provide for her family) together: "Don't just worry about it on your own."
 
That night, Eun Chan eats ramyun with her mother, who's supportive of her daughter's romance with Han Gyul but wonders if the social disparity between the two families isn't too great. Eun Chan defends their family — what's there to be ashamed of? — but in a clever transition, the director takes us from Eun Chan's pot of ramyun to Han Gyul's pot of expensive crab soup, made by his elegant mother.
Han Gyul's family has decided it's finally time to reveal the entire truth about everything, and his grandmother takes him to his birth mother's crypt. As they look at the slab marking her resting place, his grandmother tells him that Lee Myung Jae, the man he'd met a few days earlier, is his biological father.
She leaves Han Gyul to give him space to digest this latest bit of shocking news…
 
Han Gyul then sees his adopted father for more answers. His adopted father had liked Han Gyul's mother (and so had Lee Myung Jae), and even wanted to marry her. But because of his mother's fierce opposition (Han Gyul's mother was orphaned), in the end, he ended up leaving her.
Ha Rim tells Eun Chan (jokingly referring to her as the Mrs., aka Han Gyul's wife) that Han Gyul recently got an offer from the toy company in New York to be one of their designers. It's an amazing accomplishment — he worked his ass off for three years to get the offer — and he strongly advises her not to let love get in the way of a man's aspirations. If she wants to stay together , she should go with him — Han Gyul would take care of everything for her (living expenses, etc.). But she refuses to just receive everything from him. Eun Chan tells Ha Rim not to worry that she'll hold Han Gyul back: "Even if you don't say all this, I'm going to let him go."
Han Gyul, quiet and withdrawn, asks about Eun Chan's day, and she relates all the events that happened at the cafe. He prods her after each vignette ("What else?") until she finally gets around to it: "Without you around… I kinda missed you." He says he missed her too.
Han Gyul tells her everything he's learned today — his adopted father was friends with his birth parents, who'd divorced within a year, after which his birth father left for Australia. Shortly thereafter, his mother passed away in an accident, and his current family took him in and raised him as their own.
Han Gyul asks Eun Chan again to go with him to New York, and she answers that she can't because she has to take care of her family here, but she'll write often. Han Gyul starts to say, "If it's because of your family's circumstances, I can—" but Eun Chan tells him she'll manage. He should go, do a good job, and come back. She warns him: "I didn't say this before because I thought you'd get cocky… Don't wear black shirts. Last time, all the female customers couldn't stop staring."
Han Gyul asks, "Eun Chan, should I not go?"
Eun Chan can't let him do that, hearing how he worked so hard for the past three years. She tells him she'll think of it as him going off to do his military service, and wait patiently:
Ephemera's "Balloons and Champagne" ::
Audio clip: Adobe Flash Player (version 9 or above) is required to play this audio clip. Download the latest version here. You also need to have JavaScript enabled in your browser.
But, if they miss each other too much, maybe they can see each other once a year… or once every six months. Han Gyul, on the other hand, would much prefer to fly back and forth every weekend.
Eun Chan tells her sister not to worry anymore since she won't be going away with Han Gyul. Eun Sae, young and flighty, is entirely too happy about it. I'm trying not to place too much weight on Eun Chan's (casually delivered) line after she tells Eun Sae that Han Gyul wanted to fly back every week to see her: "Honestly, if we do all that and still end up breaking up, it's better to break up now."
Eun Sae exults to her mother that Eun Chan isn't leaving, but her mother looks troubled to hear it.
Han Sung comes home expecting to spend another lonely night wondering where Yu Ju is… but to his shock, he finds her sleeping in his bed. I love that hesitant, relieved, hopeful smile on Han Sung's face enough to forgive this couple for their awkwardly uncomfortable fight in the previous episode.
Fanny Fink's "좋은 사람" (good person) ::
Audio clip: Adobe Flash Player (version 9 or above) is required to play this audio clip. Download the latest version here. You also need to have JavaScript enabled in your browser.
 
In the morning, Yu Ju awakens first, and tells Han Sung she'll step out for some groceries for breakfast. Han Sung takes her arm as she walks by, and tells her, "Hurry back."
Ha Rim prods Eun Chan for some details of her love life, asking what she and Han Gyul do so late at night. What's the extent of their physical contact? She shyly admits they hug, and he tells her with exasperation that she's gonna drive the guy crazy. She doesn't get it, so Ha Rim tries to explain from a man's point of view… and it's hysterical watching him attempt to convey a guy's, um, raging hormones, which dominate his mind all day long. She innocently wonders what guys do, and just as Ha Rim brings up porn, Han Gyul overhears and jumps in, alarmed, telling Ha Rim not to tell Eun Chan stuff like that. Ha Rim just says he's just educating her to help Han Gyul.
 Han Gyul takes offense to the way the other Princes heap chores on Eun Chan, and yells at them to take care of it themselves — why are they making Eun Chan do all the work? The Princes grumble at how protective Han Gyul is being. In exaggerated theatrics, they accost Eun Chan, calling her madam (effectively saying Mrs. Han Gyul, really), fanning her, feeding her, etc.
 Han Gyul gets a call from his mother telling him Lee Myung Jae is leaving for Australia tomorrow morning, and that he should go send him off. If he doesn't, he'll probably regret it later.
He tells Eun Chan about it, and she doesn't quite know what to tell him, how to react, so instead, she goes to his apartment early the next morning to leave him with a cheer-up message (the song is Casker's "Mocha," on the OST and posted on the song list, if you're curious):
Han Gyul finds it on his way out, and reads the message on the milk carton: "Super-strength-supplying milk! Go Eun Chan Milk. Be strong. Kiss, muah!"
 Neither man refers to their true relationship, but it's clear that both are aware — and both know that the other person knows. They make fairly generic goodbyes, but at the last minute, Han Gyul asks one more question: "I heard you have a son. What's his name?" Lee Myung Jae tells him he's Lee Han Young, twenty-two: "He's about your height. He resembles you a lot, too."
They shake hands, and Han Gyul watches his father leave with a small smile.
 On his way home, Han Gyul calls Eun Chan to report his successful morning venture, thanks to her strength-providing milk. He informs her proudly that he sent off his father grandly with a handshake and no tears. He's now on his way to report sales figures to his grandmother, and will return to the cafe in the afternoon.
Coffee Prince: Fourteenth Cup
Cuuuuuuute.
I'm also no longer worried about the issue of familial opposition. Do I expect drama? Of course. But will it be the heart-wrenching kind? If it is, of course I'll take it, but I'm not concerned, because Han Gyul isn't a rebellious adolescent. He's a mature, thoughtful, decisive 30-year-old man who's lost enough in his life to know when something's not worth giving up.
SONG OF THE DAY
Instant Romantic Floor – "Luv Punch" (radio edit) [ zShare download ]
Audio clip: Adobe Flash Player (version 9 or above) is required to play this audio clip. Download the latest version here. You also need to have JavaScript enabled in your browser.
 
EPISODE 14 SUMMARY
Min Yub has been taking after Ha Rim's playboy tendencies, which Ha Rim mentions in Eun Chan's presence. Min Yub takes Ha Rim aside to prevent Eun Chan from hearing about it, and voices his concern about the new girl, who keeps asking for him to buy her things. At least Eun Sae would buy him things in return, but this new girl seems to just want to accept gifts.
But it's too late, and Eun Chan has heard enough to figure out that Min Yub's cheating around on Eun Sae. She gives him a thorough piece of her mind — she thought he was a nice guy, but from now on, he'd better not mess with her sister.
Han Gyul reports the cafe's finances to his grandmother and takes the opportunity to show his affection after the previous episode's rocky family issues. He's managed to triple the sales, as promised, but when asked about his plans to leave, Han Gyul asks his grandmother, "Should I not go?"
He also meets with his father to discuss the possibility of franchising Coffee Prince. His father asks when he plans to leave, and Han Gyul answers that he's thinking it over. His father gives him some advice: "You don't get that many chances in life. Think about what it is you really want."
He arrives at the cafe as Eun Chan's busy studying about different coffee beans. She's distracted enough that he can't command her attention, so he vies for her notice like a little boy, and steals her notes.
They head over to have dinner with Han Sung and Yu Ju, and Han Gyul observes her familiarity with Terry with some jealousy — how often did she come by for the dog to know her so well? Eun Chan estimates it at 120 or 130 times — and at his surprised reaction, she reminds him that Han Sung's house was on her milk delivery route. Still, Han Gyul sputters and scolds the dog, accusing it of being male (which it is); he warns Terry not to get too close to Eun Chan.
While Eun Chan and Han Sung tend to the barbecue, Yu Ju and Han Gyul talk inside. Yu Ju notices how Han Gyul's changed toward her: "You know, your feelings for me left a long while ago." She points out that if he'd truly liked her, he would have pursued her regardless of Han Sung, but he didn't:
 
The foursome make a toast to being happy and not fighting, and immediately, Han Gyul starts to pick on Eun Chan playfully. She picks up her wineglass and clinks his, toasting again ("No fighting") rather than responding to his teasing.
Playfulness leads to bickering between Yu Ju and Han Sung, which somewhat alarms Eun Chan, who thinks they're having a real fight. (It starts when Yu Ju asks Han Gyul how he found out about Eun Chan being a girl, and Han Gyul warns everyone not to bring up her "lying incident," since they were all in on it together. Han Sung counters that a "lying incident" is better than a "betrayal incident," to which Yu Ju retorts that she's not the only one who did the betraying. They start nitpicking about who's more at fault, until Han Gyul breaks it up, saying Eun Chan will think they're being serious.)
Adult Child – "Star" ::
Audio clip: Adobe Flash Player (version 9 or above) is required to play this audio clip. Download the latest version here. You also need to have JavaScript enabled in your browser.
As Eun Chan drinks more wine, Han Gyul pats her on the head affectionately — he is too giddy being with Eun Chan and it is a-dor-a-ble.
On their drive home, Eun Chan wonders if they'll ever reach a point like Han Sung and Yu Ju, acting like they're fighting one moment, laughing the next.
Ha Rim talks to Sun Ki about his situation with that woman, and here's where we are with that story: Sun Ki met the woman when she worked for his father's waffle place. He was in love with her silently for three years before confessing, while she had an abusive husband and a child. One snowy night, someone knocked on his door, and it was her, barefooted and lost in shock. Her drunk husband had beaten her, and she was huddled over, trembling. Just then, the husband came, drunk and furious, and beat Sun Ki so hard he fractured three ribs. Ha Rim can't believe Sun Ki didn't fight back, but Sun Ki says, "It was obvious that if I hit back, it would harm her more later."
So the woman fled to Korea to escape her husband, and Sun Ki came to follow her. Ha Rim: "But you said that woman doesn't like you. What are you gonna do about that?" Sun Ki: "I can be happy just being able to see her, do you get that?" Ha Rim, of course, does not.
Eun Sae hears that Min Yub is cheating around on her and makes the swift decision to cut him out of her life. Eun Chan's mother hears Mr. Gu's sick and brings him porridge — and when he tells her he's decided to get over his feelings for her, you can see from her fidgeting that she's disappointed. It's funny, actually, that both ladies are guilty of taking their men for granted. However, the moment Eun Chan's mother extends the teeniest hint that she's not uninterested, Mr. Gu perks right up. (He apologizes for being so clinging and annoying, and being so talkative when she says she finds it irritating. But then, she concedes that she likes talkative guys more than silent ones.)
Sondre Lerche – "Once In a While" ::
Audio clip: Adobe Flash Player (version 9 or above) is required to play this audio clip. Download the latest version here. You also need to have JavaScript enabled in your browser.
Yu Ju's initial reaction to finding out she's pregnant is alarm, but she accepts it rather quickly, and I'm vastly relieved that they didn't decide to drag out her pregnancy story as a source of artificial drama. Aside from being a forced cliché, it's refreshing to have things play out in a way that isn't overblown or exaggerated, and still prove to be dramatically interesting. This is something that can be said of Coffee Prince on the whole, actually.
She goes into a baby-clothing store while Han Sung talks on the phone, and sends him a text message with the simple note: "We're going to have a baby," with an attached photo of her ultrasound. Han Sung mouths to her excitedly, "Really?" Yu Ju mouths back, cradling a baby doll, "Shh, it's sleeping."
While out on a delivery run, Han Gyul drops by home to change clothes, and brings Eun Chan to see his grandmother and mother. Eun Chan keeps his grandmother company while Han Gyul has a moment with his mother.
Han Gyul tells her he first knew of his birth mother years ago, when he found out his adopted mother was observing his birth mother's death memorial rites. He asks why she did that (it's a courtesy above and beyond the expectations for an adoptive mother), and she answers, "She gave birth to you. How could I ignore it?" She tells Han Gyul that from now on, he should participate, and bow in respect to his birth mother (the concern is that it would be disrespectful to his adopted mother if he observed rites for his birth mother, but she's telling him it's okay). She says it's a chance for her to be proud that she raised the woman's son well.
In Han Gyul's room, Han Gyul unnerves Eun Chan by staring at her intensely and saying he likes the feeling of being alone with his girlfriend in his room while the adults are outside. Uncomfortable at the romantic tension, Eun Chan defuses the situation by pushing him aside playrfully.
 
Although Han Gyul's mother and grandmother treat Eun Chan nicely still thinking she's a boy, they startle when Han Gyul informs them she's a girl. After the initial moment of denial, Han Gyul's grandmother sees the way Han Gyul is looking after Eun Chan, and demands to know if they're dating. Han Gyul holds Eun Chan's hand and answers that they are.
His grandmother has a huge fit, yelling at him for having lost his mind. He rejected all those girls she'd arranged him to meet, and for this? She accuses Eun Chan of affixing herself to Han Gyul to pursue his money, and Han Gyul rises to Eun Chan's defense, telling his grandmother she's being harsh. She yells at Han Gyul: "You! Get this thing out of here immediately!" If he's going to date a girl like Eun Chan, he'd better pack his things and leave for the States immediately, to which Han Gyul responds that he may not leave anyway. He takes Eun Chan by the hand and leads her away, while his grandmother sputters in fury.
Han Gyul can't believe his grandmother's strong words, but Eun Chan actually defends her, saying he overreacted by yelling back: "Mothers and grandmothers are naturally like that. Why? Because they think, my son is the best."
Still, she does feel bad, and says his grandmother was really harsh. She asks why he said he might not leave for New York, and he answers that he's thinking it over. Eun Chan: "Is it because of me?" Han Gyul: "Hey, do you think I'm a guy who gives up a dream because of a girl?" Eun Chan suggests that while he's thinking it over, he might as well give her a piggyback ride. After all, she's carried him a bunch of times already. (Purely on a superficial level, I've never seen a guy carry a girl so effortlessly before. It's strange. And cute.)
Aquibird – "Different World" ::
Audio clip: Adobe Flash Player (version 9 or above) is required to play this audio clip. Download the latest version here. You also need to have JavaScript enabled in your browser.
Han Gyul looks over his letter inviting him to be a designer at the toy company… and folds it into a paper airplane, sending it sailing over the roof and down into the street below. (Song: Low-End Project's "연애를 망친 건… 바로 나라는 걸 알았다," posted on song page under episode 8.)
Han Sung marvels over the ultrasound picture, trying to identify every little part. Yu Ju asks how he likes it, and he answers that he feels the baby is a gift from god, but he's also nervous. Yu Ju feels the same, explaining that at first she wondered if she could bring a life into the world, but when she asked herself if she could give it up, she couldn't. Han Sung tells her, "Yu Ju, thanks for making me a father." Yu Ju thanks Han Sung, too.
He asks if they should marry. Of course, they could raise the child without being married, but what would they tell him or her when asked why his parents weren't married, or why they didn't live together? Yu Ju asks what he would tell the child, and Han Sung replies: "I only have one answer. Ask your mother, I don't know."
Han Gyul's mother and grandmother arrive at the cafe without warning to grill Eun Chan alone while Han Gyul's meeting his father to discuss franchising options. Grandma asks if they've promised to marry, and Eun Chan responds: "Is that what you were worried about? Please don't worry, I'm not even dreaming about marriage yet." She's a little young to be thinking of that, and for the moment, they're happy dating.
Then, Grandma demands to know if she's after Han Gyul's money. Because Han Gyul is so soft-hearted, he was probably swayed by pity, and it's better to cut things off now: "How much money will it take?"
Out of nowhere, Han Gyul appears, solemn-faced and firm.
Taking his family aside, Han Gyul announces that he's not going to New York. When asked if it's because of Eun Chan, he answers, "I can't say that it's not." Grandma says no matter what, Eun Chan won't do, but Han Gyul reasons, "You'd say that about whomever I brought to see you."
Meanwhile, Eun Sae exacts her revenge on the thick-headed Min Yub, who's a bit drunk on his recent success with the ladies. Or lady. Eun Sae tells him in a down-spirited, saddened tone that she realized too late how much Min Yub meant to her. He likes hearing it, of course, and you can see he'd go back to her in a heartbeat, but Eun Sae continues that she wanted to see him one last time for a formal farewell. With that, she plants a kiss on him, then walks away, leaving him all a-flutter. Keke. Yes, she can be a brat, but Min Yub kind of had this one coming.
Surprised, she asks why not, and he notes her seeming lack of enthusiasm. Does she want him to go? She answers no, but she just worries that he decided only because of her:
 
Ha Rim interrupts, and they both unceremoniously tell him to get lost.
Coffee Prince: Fifteenth Cup
 
One thing I've noticed about the acting in Coffee Prince: Aside from the generally solid performances given by the main characters in any given scene, also worth pointing out are the reaction shots. By which I mean: the responses of those not performing the main action or dialogue in the scene, but rather reacting to it.
A lot of times, actors aren't very conscious of their reaction shots (actors are vain; why act when I'm not "on"?), but when they do deliver a great reaction, it gives a scene that extra layer of completeness, three-dimensionality. Without that layer, it's like you're just an audience member watching something being performed in front of you. With it, though, the scene feels more like it's unfolding around you, that you've witnessed a genuine moment, and that's a lovely thing. Lee Seon Kyun (Han Sung) in particular has some great reaction shots this episode.
SONG OF THE DAY
Oldfish – "Movement." (By the way? You need this album. Yes, that's an affiliate link, but I'd recommend it regardless. They're like a Korean Postal Service.) [ zShare download ]
Audio clip: Adobe Flash Player (version 9 or above) is required to play this audio clip. Download the latest version here. You also need to have JavaScript enabled in your browser.
 
EPISODE 15 SUMMARY
It's the day after the end of Episode 14, and Eun Chan asks Han Gyul repeatedly, happily, if he's truly not going to leave for New York. Apparently she's been asking nonstop since he first mentioned it.
Enjoying her response, Han Gyul asks if that makes her that happy, and she nods yes. She feels guilty for being the reason he's staying, though, because toy designing was his dream. Han Gyul responds that he'd liked the idea of being a designer because it was something he could do all on his own, but he's finding that managing a business, and working with others, is fun too.
Eun Chan tells him that after meeting his grandmother, she gained newfound motivation to become a cool, impressive woman worthy of him. Someone who doesn't just receive support but also provides it, for him and also her family.
Han Gyul's grandmother is still upset with Eun Chan, and complains to Mr. Hong about her. Mr. Hong matter-of-factly tells Granny that she should be thankful for Eun Chan, who's not only a decent kid but a far better catch than even Han Gyul. Han Gyul shaped up and did a great job with the cafe because of her pushing him along and motivating him. Granny should count her lucky stars; Eun Chan's perfect granddaughter-in-law material.
As for the Princes: Min Yub is in a dark mood, replaying Eun Sae's goodbye kiss in his head and scowling at everyone. Sun Ki's in a good mood, now that he's a frequent visitor to the woman he'd been searching for, even if they're not progressing into a romantic relationship (in fact, she'd rather he leave her alone, because she doesn't want to keep being painted by his parents as the horrible married lady who ruined the life of their precious son).
Ha Rim, the most frank and sexual-minded of them all, doesn't get Sun Ki's whole platonic thing. He offers Eun Chan the benefit of his expertise, should she need it. (Uncomfortable with the subject, Eun Chan turns the tables on him by mentioning his butt tattoo, which effectively scares him away. Heh.)
That night, Han Gyul again vies for Eun Chan's attention while she's busy studying. Their playful mood turns into an argument when Eun Chan brings up the debt she's still repaying — complete with interest. Han Gyul bristles — he never asked for interest, and he doesn't want to take her money: "Would you accept it? Think about it from my position! What kind of guy would take money from his girl, knowing she was in a tough spot?"
Eun Chan doesn't see things his way. It's her debt, and it's her responsibility to repay it, no matter their relationship. If she doesn't, she won't feel right. She opts out of the fight by leaving for the night, and Han Gyul shouts after her as she walks out the door: "Hey! Hey, where are you going? Stop right there! One, two, two and a half, three! Hey, you're not really gone, right? I know you're standing outside, come back in! Don't go!"
After trying to resist calling, Han Gyul finally gives in — only to find her phone is turned off. He stews with impatience, worry, curiosity. She's not really mad, but she's making a point, and sends him a good-night text message ("See you tomorrow!") — then shuts off her phone again. Hehe.
Yu Ju fills Han Sung in on meeting her mother (who's on her fourth marriage), who initially warned her against marrying. (After seeing Yu Ju starting to consider the idea, her mother changed her mind and told her to go for it.) Her mother said Yu Ju would have a hard time finding a man willing to put up with her; Yu Ju looks at Han Sung and says, "Ah, but there's one such guy right here."
With the subject on the table, Han Sung digs through a bag of snack crackers, and places a ring-shaped one around her finger: "Let's marry." She doesn't respond directly, and he entreats her to think about it. She says she will.
The Choi cousins discuss their woman troubles together (after Han Gyul congratulates Han Sung on the pregnancy); the underlying issue is similar for both. Han Sung: "Wouldn't it be nice if the girl leaned on the guy just a bit? It's a worry, when the girl's too well-off on her own."
Han Gyul says he envies Han Sung, who wonders why — wasn't he happy being independent? Has he changed? Han Gyul tells him something that can be translated as a cross between "I'm crazy about Go Eun Chan" and "I adore her to bits." He continues: "I want to live with her."
The cousins don't even pretend to listen to each other as they both ponder their respective concerns, aloud:
Han Gyul's mother calls Eun Chan out for lunch, and asks her kindly about the status of her relationship with Han Gyul. It seems Han Gyul's thinking of marriage, but she worries that they've only known each other for three months. Eun Chan answers that she knows she's lacking much; Han Gyul has much more going for him than she does: "Seeing him, I've gained a goal, too — to become an impressive person. So I can't marry right now, because I haven't accomplished anything as Go Eun Chan yet." She assures Han Gyul's mother that Han Gyul truly loves his family a lot; she won't do anything to cause them trouble.
Blur's "Sweet Song" ::
Audio clip: Adobe Flash Player (version 9 or above) is required to play this audio clip. Download the latest version here. You also need to have JavaScript enabled in your browser.
Dancing together as the sun sets, Han Sung prepares himself for bad news when Yu Ju tells him she has something she has to say. But he's caught completely off-guard when Yu Ju kneels, takes out a ring box, and asks him, "Will you marry me?"
I love Han Sung's shocked, hopeful reaction as Yu Ju tells him she can't give him the stars and the moon or make other impossible promises: "But I'll try hard." She knows she isn't the type of daughter-in-law his parents will like, but still, she'll try her best at that too.
Rendered speechless, Han Sung attempts to say something.
(Practically crazy with excitement, an ecstatic Han Sung calls Han Gyul to tell him the news, so thrilled he can hardly tell if it's a dream or reality. Han Gyul: "You're calling just to brag?!" Haha.)
Eun Chan's mother seems to feel sorry toward the quieter, downspirited Mr. Gu, who's decided to get over his feelings for her. She knows he's a good man, and thanks him for allowing her to feel like a woman again — she'd thought that time of her life was over. She tells him that maybe, if after both her daughters are married and well settled, if he's still available, they might give it a try then. She seems sincere, and he's thrilled to have just even that tiny nod of encouragement.
Han Gyul tells Eun Chan about Han Sung and Yu Ju's good news, which she's happy to hear. She exhibits her naivete when she wonders for a moment how they can be pregnant already, then catches Han Gyul's eye and half-embarrassedly says, "Ah, right." He asks her how many children she wants, and she jokes ten, then amends that to three. He figures about the same. With his mind on the future, he asks if she likes cleaning ("Who likes cleaning?") or dish-washing ("Can't you see how I break dishes?").
Han Gyul decides, "No, that won't do." Eun Chan asks what won't do, and he answers: "Living together."
Han Gyul lists all the reasons she wouldn't be a good living partner (snoring, eating too much), and she retorts, "Who said I wanted to live together?" Han Gyul's response: "Then what about marriage?" Surprised, she asks cautiously if he's saying he wants to get married, and he tries not to act too serious, saying that he's just bringing up the subject — it doesn't mean he's suggesting it.
Han Gyul asks, a little more seriously, what kind of proposal she'd like to receive. Playing along, Eun Chan lists a bunch of silly things, like a big diamond ring, 100 red roses, violins on a ferry boat, a blown-up picture of herself posted at the roof of a skyscraper… At her jokey response, Han Gyul tells her to forget it and go home… then drags her back for another hug. "Don't go."
The next day, while driving along, Han Gyul fantasizes what it would be like living with Eun Chan (the song is "Maiden Voyage" by Missing Island):
Audio clip: Adobe Flash Player (version 9 or above) is required to play this audio clip. Download the latest version here. You also need to have JavaScript enabled in your browser.
Everyone seems to be aware of Han Gyul's marriage-minded feelings, because his father tells Grandma that his biggest life regret is allowing her to split him up from Han Gyul's mother: "I'd like for Han Gyul not to go through the same." Han Gyul's mother mentions meeting Eun Chan, and tells Grandma: "At first, I thought she was completely wrong for Han Gyul, but looking at her, she's cheerful and straightforward. I found her comfortable." She compares her to Yu Ju, who has a few difficult points, whereas Eun Chan is pleasant and easy to be around.
Yu Ju invites Han Gyul to come with her and Han Sung while she tries on bridal gowns. Initially he declines, but hearing Eun Chan wistfully say she'd like to wear a nice dress too makes him change his mind. Again, his imagination takes off:
 
But alas, it's Yu Ju wearing the dress, not Eun Chan.
 
Han Gyul watches the happy couple enviously, and suggests that Eun Chan try a dress on, too. It's like Han Gyul is so bursting with the idea of marriage that he can't stop himself, and he blurts:
Han Sung (thoroughly enjoying the scene, particularly Han Gyul's discomfort), breaks in to note that Han Gyul sure is in a hurry to get married, but this proposal is all wrong. Han Gyul tells Eun Chan not to answer right away; he's just telling her to think about it. She starts to say, "What's there to think about?" but he stops her from answering, most likely assuming her answer will be negative, and tells her to think it over carefully.
Eun Chan says she was gonna say yes, but then goes on (teasingly) that it's a good thing he stopped her. He's difficult to please, and it would be tiring marrying him: "Cancel that." The happily engaged, ignored couple watch as Eun Chan runs out of the room, and Han Gyul chases her.
Han Sung and Yu Ju drop by the Choi residence to deliver their good news to the adults. The family suggests a nice, small wedding between close family and friends, which suits the couple. Furthermore, I love how when Han Sung drops news of Yu Ju's pregnancy, everyone is happy to hear it (no moralistic preachiness about premarital blah-blah-blah).
Granny makes a jab at how she's displeased with Han Gyul, and Han Gyul takes the opportunity to do a little reverse psychology. He grumbles about Eun Chan's stubbornness over diligently repaying his loan (and insisting on giving him interest!), how she's always hounding him to save money and not be so wasteful, how she won't indulge him to go out and play because she's so engrossed in her studies…
At Grandma's continued disapproval, Han Gyul appeals to her to reconsider. Yu Ju praises Eun Chan, as does Han Sung, and Han Gyul counts all those in favor — Yu Ju, Han Sung, his father… and notes with excitement that his mother seems to have changed her mind. She admits she gives half her consent.
Eun Chan tells her sister about her proposal, and figures they can get married in another five years. Or maybe four, if five is too long. Eun Sae sighs in frustration — four years? Is he going to wait for her for so long?: "How is it you know less of the world than I do?"
Meanwhile, Han Gyul goes ring shopping.
 
Arriving for Han Sung and Yu Ju's wedding, Han Gyul works up his nerve and fumbles, flustered, as he puts a ring on Eun Chan's finger (in a hilarious bit, he panics when it doesn't fit right, upset that he got the wrong size, until Eun Chan corrects him — he's got the wrong finger).
Eun Chan assumes it's a couple ring, but Han Gyul asks: "Will you be my bride?"
Eun Chan smiles and nods shyly, and he smiles in relief. They walk along happily together — for about a second. Because Eun Chan alludes to a wedding in four or five years, stopping Han Gyul short, confused: "Four, five years? But I'm going to get married this year."
Eun Chan can't imagine getting married so soon — she has things to do with her life, she's too young. Wasn't he intending to marry later?
Inside the hall, Han Gyul's grandmother finally falters under the pains that have been plaguing her all episode long…
Unaware of this, Han Gyul and Eun Chan continue their discussion. He suggests talking through each point thoughtfully. Why does she want to wait five years?
Eun Chan answers that she'd only ever worked to make money to support her family, but now she finally has a dream of her own, and that's to become a good barista. Han Gyul tells her she can still do those things after getting married — and if she's worried about her family, he'll take responsibility for them.
She starts to walk off, and he holds her back, telling her:
Eun Chan storms off, leaving Han Gyul to yell after her, "Hey! Stop right there!"
Additional thoughts:
Here's what I think of this latest development. I've seen comments from people who are gradually starting to "bore" or tire of the recent plot turns, because the fact that Eun Chan and Han Gyul are happily dating reduces the angst of the prior episodes. Yes, that's true, but I will heartily disagree with the stance that "they got together too early" or "they're running out of story," because that supposes that there's no story worth telling after a couple's initial realization of their feelings for each other. That argument would also force Coffee Prince into a story mold that I've seen before (couple meets, struggles as they develop feelings for each other, realizes they're in love, happy end). I've already grown tired of that version of boy meets girl. I wanted Coffee Prince to do something different, and they're doing it.
What I particularly dislike is when a series does the opposite and ends entirely too abruptly. There's a lot more to love than the declaration thereof, and stories that crescendo suddenly with a tearful reunion and avowal of adoration belittle the stuff that comes afterward. What I enjoy about this development is that Eun Chan and Han Gyul have to now work through a very real conflict, one with no winner and no right answer. Despite the fact that they clearly love each other, they're at different points in their lives right now, with different priorities. Heck, it took Yu Ju and Han Sung ten years to finally get on the same page about their future together.
I don't doubt that we'll get a satisfactorily happy ending. I have my own ideas about how that'll come about, but frankly I'm satisfied not speculating, and would rather just see how things play out. But I do appreciate that I'm not being shortchanged on the relationship developments that occur after a couple falls for each other, because that's a part of their love story, too.
Of course, you're all free to disagree.
Coffee Prince: Sixteenth Cup
I've read the comments on whether Coffee Prince is or isn't "realistic." Here's my take: Coffee Prince isn't realistic, and it doesn't tout itself as realism. From reading about writer Lee Sun Mi, I highly doubt that's a claim she aspires to anyway. Coffee Prince isn't even purely original. What it IS, then, is a wonderfully rendered telling of a story that has elements of the familiar — and it reworks those familiar points in a refreshing, clever, and entertaining way.
Rather than the story being (or not being) realistic, I find that the series displays flashes of realism in the little moments it captures, which I think is a quality many overwrought, emotional, and/or melodramatic series forget. Coffee Prince has those large-scale dramatic moments too (i.e., every cliffhanger episode ending), but balances those out with lovely little touches here and there, and that's where it shines through for me. Like Yu Ju waiting for Han Sung to come home, whiling away her day in Episode 7, or how Han Gyul tries to figure out ways to get Eun Chan to return to the cafe after she quits. Or the way Han Gyul intertwines his fingers through Eun Chan's while on the beach in Episode 9, or how he cups his hand around hers later while Eun Chan sleeps. There's the great moment when Han Gyul shaves, and smears the shaving cream over the mirror in self-loathing, having a hard time accepting that he might be gay. Or how he pours water over his head in front of the open refrigerator in Episode 11 after finding out Eun Chan lied to him.
Coffee Prince isn't reinventing television. Who would want to see something that claimed to do that? (If I wanted pretentious experimenting, I'd watch Soderbergh, thanks.) But rather than merely regurgitating stale cliches in well-worn genre, Coffee Prince manages to add fresh insights to the landscape. And that's why I'm watching.
SONG OF THE DAY
재주소년 (Jeju Boy) – "새로운 세계" ("New World")
[ zShare download ]
Audio clip: Adobe Flash Player (version 9 or above) is required to play this audio clip. Download the latest version here. You also need to have JavaScript enabled in your browser.
 
EPISODE 16 SUMMARY
Yanni – "Reflections of Passion" ::
Audio clip: Adobe Flash Player (version 9 or above) is required to play this audio clip. Download the latest version here. You also need to have JavaScript enabled in your browser.
Yu Ju and Han Sung get married, while Han Gyul's grandmother is taken to the hospital quietly. When Han Gyul and his mother visit her later that night, he asks his mother if he should take the idea of marriage more slowly, but his mother can tell that isn't what he wants.
Eun Chan's mother tells her to go ahead and marry Han Gyul soon — she'll cash in their house deposit and live in a one-room apartment with Eun Sae, so Eun Chan doesn't have to worry about them.
 
Things remain awkward between Han Gyul and Eun Chan the next day. Eun Chan had sent him multiple text messages saying she missed him and asking him to call when he had time, but he hadn't called back. He takes her aside to talk.
She acknowledges that she was thinking too much of herself — but even though she's sorry, she can't marry him right away. Han Gyul acknowledges that he took her financial situation too lightly as well, and wants to help her. Eun Chan says it's not just about money:
Eun Chan answers that she wants to stand on her own: "When my father was alive, I lived dependent on him. Now I'd live being dependent on my boyfriend. I don't want to live the rest of my life being unable to do anything properly on my own." Han Gyul asks impatiently if she'd marry him if he didn't give her any money, then — she can send Eun Sae to college and support herself with her own money.
Eun Chan asks why he can't wait — why does he always decide everything on his own, making one-sided decisions? Han Gyul chafes at the phrase "one-sided" — is he the only one wanting to get married?
Their argument is interrupted, so Han Gyul revisits their discussion later. Calmer now, he asks her, "It's because you don't like me enough to marry, isn't it? It's okay, so tell me honestly."
Eun Chan's point isn't that she doesn't want to marry him. She just wants to wait. Han Gyul reminds her that he'd given up his dream job and faced his parents' opposition for her — can't she give up that little bit of pride for him? Getting more worked up, he asks if she'd still refuse to marry him if that meant they'd break up. Does she dislike the idea that much?
Eun Sae hears about the latest developments with sisterly indignation: How could he be so selfish? How can he threaten to break up with Eun Chan over that? He thinks money solves everything. Psh. She grumbles about how Han Gyul treats her family lightly, then sneaks in a phone call to the offender himself.
Han Gyul answers the call with some surprise, and makes plans to talk to Eun Sae the next day. He wonders about the cause with some anxiety.
As for the Princes: Min Yub blames Ha Rim for pushing him along and causing him to lose Eun Sae. Sun Ki makes the astute observation that Min Yub listened to the wrong guy. Everyone else has somebody, but Min Yub took love advice from Ha Rim, the playboy who has nobody. But Sun Ki also finds himself alone when he arrives at Yuko's place to find her gone, just as she'd warned him she'd do if he wouldn't leave.
Han Gyul's grandmother senses things aren't going smoothly for Han Gyul and Eun Chan. He admits that he'd rushed with the marriage talk — and as he explains Eun Chan's position to his grandmother, it seems that he understands it better. He describes Eun Chan's need to be independent and to support her household, and asks his grandmother to consider Eun Chan's attitude as something good, admirable.
Eun Sae meets Han Gyul and asks him plainly: "Are you really going to break up with my sister?" She tells him of her mother's intent to cash in their home deposit to marry Eun Chan off, but neither she nor her mother can afford a monthly rent — therefore, she asks Han Gyul if he could please consider pushing the marriage off a year. She's not planning to go to college, so she'll get a job right after she graduates from high school, at which point they'll be able to afford a monthly rent. Worried he might really break up with Eun Chan, she assures him that her sister is a good person.
Han Gyul listens to Eun Sae's speech with a mix of confusion and amusement, and tells her, "But I have no intention of splitting up with Eun Chan." Eun Sae mentions how he told her sister he'd break up with her if they didn't marry, sees Han Gyul's smile, and realizes, "I knew it. You were just saying that to get to her, weren't you? Aish, what an idiot. How could she not tell that from the truth?" Eun Sae calls Han Gyul "brother-in-law," and a wide smile spreads on his face, liking the sound of that.
Min Yub begs for Eun Sae's forgiveness, saying earnestly: "No matter how meanly you treat me, you're still pretty to me. Even if you get mad and yell, you're cute. I really like you a lot. But if you truly hate me, I won't call you anymore and I'll give up. So tell me, do you really hate me?"
Stony-faced, Eun Sae tells him yes. Min Yub accepts her answer contritely, saying he understands. He tells her to take care, and turns to go. Eun Sae calls him back, upset, asking when he got so "cool" that he'd accept one answer right away and leave so quickly. She seems genuinely hurt as she lays out his offense — he'd said he only liked her, then saw other girls. He acted so innocent, then went behind her back — that's worse than anything a player could do.
Eun Sae turns to walk away slowly, and Min Yub takes a few hesitant steps. He tentatively calls out: "Eun Sae. I'm following you right now… Just saying that to let you know. In case you don't." Eun Sae looks back a few times to confirm that he's still there, and crooks a finger to beckon him close. Ecstatic, Min Yub grabs her and runs around the playground in excitement.
Despite finding Eun Sae annoying half the time, I can't be too upset with her (is it little sister syndrome?), because her logic makes some sense. True, she treated Min Yub poorly, and he took a lot of abuse. But on the other hand, she never pretended she was anything different. He knew what she was like and still pursued her. He, on the other hand, was disingenuous (albeit stupidly, at Ha Rim's prodding).
Han Sung and Yu Ju have their first marital argument when Han Sung goes to Yu Ju's studio to find it strewn with tired co-workers (new project) and empty wine bottles. Even though he knew she's used to staying up all night working and drinking, and that she puts work above him, he's still disappointed. Yu Ju's sorry, and explains that she doesn't rank work above him — both are important. She asks for his understanding, but he asks, upset, if he's just supposed to stand by and watch from the sidelines.
Eun Chan is summoned to Han Gyul's grandmother's office, and Han Gyul listens in astonishment (and panic) to find that his grandmother is offering to send Eun Chan to Italy to study to become a barista, as she did for Mr. Hong. Bursting with agitation, Han Gyul jumps into the conversation, insisting to his grandmother that Eun Chan will never take her support, that she'll insist on staying to provide for her family.
Eun Chan voices her concerns about accepting the offer, but it seems she'd like to consider it. If she goes abroad, she'll be earning a salary, which she can send home to her family. Han Gyul recognizes the danger of this development, and asks if his grandmother's doing this to tear them apart (Granny: "So does that mean your relationship is something I can tear apart so easily? All the better for me, then").
Han Gyul hounds Eun Chan repeatedly, asking if she's really considering going. At his persistence, Eun Chan frustratedly says no, she's in no position to go abroad. Han Gyul mutters in worry, "It's hard enough as it is not seeing her every day. How am I supposed to last two years?"
Eun Chan's mother asks her to be honest: "You want to study abroad, don't you?" Eun Chan admits she found the offer very tempting, but thinking of how she'd have to leave her family changed her mind. Her mother asks, "Am I holding you back? Don't decide that if it's because of me." She assures Eun Chan she'll be fine — if Han Gyul agrees, she should go. Eun Chan tells her mother she's not going, and that she'll have to marry her mother off first — to Mr. Gu. (Eun Chan's mother denies it, blushing in embarrassment.)
(Song: "Star" by 어른아이 [Adult Child], posted under Episode 14.)
The Choi cousins again commiserate together. Han Sung understands Eun Chan's situation: "Eun Chan's still young. There's a lot she must want to do. There are a lot of things she probably gave up in choosing you." Han Gyul says he gave up things too, but Han Sung points out he's placing the reason for giving up the New York job entirely on Eun Chan. If he's honest, he'd admit he'd found his work here fulfilling too.
Han Sung brings up his problems with Yu Ju. He'd married her knowing all about her habits and her work, but now he finds himself just barely holding back from insisting she quit working: "Is this why women don't want to get married?"
Han Gyul sees Han Sung's point, laughing in agreement:
Note: I enjoy this conversation, but it strikes me as something a woman would want to hear, rather than something a man would actually say. I don't mean to give men too little credit, but somehow this kind of understanding of a woman's role in contemporary society seems to be exactly the kind of thing women desperately WISH men would understand… but unfortunately, too many times, they don't. Great, have I alienated all the men now?
Eun Chan tells Han Gyul she's decided not to go abroad. She was about to call his grandmother to tell him so. He asks why she decided not to go, and she answers that she's got at least a hundred reasons.
Eun Chan says she doesn't want to be apart from him, but he tells her he can go to visit: "I hate the idea of you giving something up because you love me. I want to be your support, so you can grow, and advance." When she asks if he really wants her to go, he can't answer yes, but he does say:
(Song: "이별전의 발렌타인" ["A Valentine Before Farewell"] by Pineapple)
Meanwhile, Yu Ju makes the first step in reconciling by calling Han Sung home early to make dinner (and her first batch of kimchi, which both note as lacking something in the taste department, although her efforts are duly appreciated). I don't think their problems are completely over, but it's a nice first show of compromise.
Han Gyul makes his official greeting to Eun Chan's family, who accept him gladly. Though it's merely a formality, he asks for her mother's approval to marry Eun Chan.
Eun Chan shows Han Gyul her room, and the toys he'd made for her. He warns her away from smooth-talking Italian men ("They say 'you're beautiful' to everyone, so don't pay them any attention!") and sighs that he misses her already. While they kiss, his hand makes his way under her shirt, but at the first contact of his hand on her skin, Eun Chan jumps and pushes him back, skittish.
Flustered and embarrassed, Han Gyul realizes she's not comfortable with going further. Frustrated, he keeps her at a distance and tells her not to touch him from now on.
That sexual frustration continues the next day — Han Gyul is serious about not letting her touch him anymore. She finds his reaction cute, and he does his best to keep away, with limited success.
Ha Rim, going through girl problems of his own, tells Eun Chan not to torture Han Gyul — if she's limited their contact to mere kisses, Han Gyul is probably feeling all churned up inside.
Misty Blue – "위로" (comfort) ::
Audio clip: Adobe Flash Player (version 9 or above) is required to play this audio clip. Download the latest version here. You also need to have JavaScript enabled in your browser.
Eun Chan looks wistfully around her as she thinks about how she'll be leaving soon. She writes on a leaf, "Let's meet again in two years," and affixes her name tag on the branch.
That night, Han Gyul and Eun Chan text back and forth.
Han Gyul: "Are you sleeping?"
Eun Chan: "Nope."
Han Gyul: "What are you doing?"
Eun Chan: "I miss you."
Han Gyul: "Let's meet in our dreams."
Donawhale – "Running" ::
Audio clip: Adobe Flash Player (version 9 or above) is required to play this audio clip. Download the latest version here. You also need to have JavaScript enabled in your browser.
 
After reading the last message, Eun Chan makes a swift decision, and gets up. She makes a lame excuse to Eun Sae, then sneaks past her mother out of the house. She runs through the streets and arrives, out of breath, at Han Gyul's apartment.
 
He's shocked to see her there (Eun Chan: "I missed you, so I ran over"), but he can't trust himself to be near her this late at night, and won't let her inside. She pushes past him, and he keeps his distance, agitated at her every movement as she drinks wine, looks around his apartment, and wanders from room to room.
He insists repeatedly that she leave, and tries to occupy himself reading a book. (Eun Chan: "Do you hate me being here so much?" Han Gyul: "Not you, me. ") He tries to push her outside, but can't bring himself to touch her, so he resorts to dragging her toward the door by her foot.
 
He manages to shove her outside, shutting the door and forbidding her from coming inside anymore (only in the daytime, and accompanied by Ha Rim).
Unfortunately, he's forgotten her shoes. She pounds on the door, and taunts him, saying she'll go off to Italy and be sure to have an affair with a handsome Italian man. Finally, Han Gyul cracks the door open and tells her he'll drive her home. She shoves her foot through the opening.
Looking him straight in the eyes, Eun Chan squeezes herself across the threshold, and firmly plants both feet indoors.
 
The Melody – "Paradise" ::
Audio clip: Adobe Flash Player (version 9 or above) is required to play this audio clip. Download the latest version here. You also need to have JavaScript enabled in your browser.
 
Han Gyul stares at her intensely, understanding the choice she's made, then sweeps her up in a kiss.
Coffee Prince: Seventeenth Cup (Final)
And, finally. Here we are: the final episode!
 
SONG OF THE DAY
The Hi-Lights – "울트라 캡숑 히든 보너스" (ultra awesome hidden bonus) [ zShare download ]
Audio clip: Adobe Flash Player (version 9 or above) is required to play this audio clip. Download the latest version here. You also need to have JavaScript enabled in your browser.
I'm sad for two reasons: First, that Coffee Prince is over. And second, that the finale wasn't nearly as good as it could have, or should have, been. Don't get me wrong; it was a perfectly serviceable final episode. It was cute, and we had a happy ending. For that alone, it was fine. I'll leave off commenting on the rest till the end.
 
FINAL EPISODE SUMMARY
 
Han Gyul and Eun Chan wake up from their night together feeling happy but bashful. Han Gyul is so flustered he hurries to dress as Eun Chan wakes up, and puts both legs through one pant leg, causing him to fall to the ground onto some conveniently dropped pillows.
Eun Chan knows her mother's going to kill her when she finds out she spent the night with Han Gyul, but she's not so panicked that she can't first have breakfast with him. Han Gyul tells Eun Chan not to grow her hair or wear miniskirts when she's in Italy: "If men ask if you have a boyfriend, tell them you're married. No, just stay invisible." Sobering to the fact that she's leaving soon, he cautions her to take good care of herself. They'll have to go on dates every day before she leaves; he'll take her all the places she wanted to go to before.
Driving in to work together, Eun Chan gets a call from Eun Sae, who tells Eun Chan she owes her. Eun Sae covered for her, telling their mother that Eun Chan had left early for work.
Maximilian Hecker – "Flower Four" ::
Audio clip: Adobe Flash Player (version 9 or above) is required to play this audio clip. Download the latest version here. You also need to have JavaScript enabled in your browser.
 
Ha Rim sees them arriving to work together and immediately senses something different. With glee, he guesses the truth and tries to go around proving it. He manages to sneak up on them, and singsongs his congratulations to the couple.
 
Han Gyul goes out of his way to sneak a present to Eun Chan so she'll find it while cleaning, which turns out to be a pair of shoes (for comfort, since baristas are always on their feet). Eun Chan wonders if it's okay to accept, because there's a saying that you shouldn't give your lover shoes because they'll run away from you — but Han Gyul has taken proper precautions, writing inside them: "You're mine!" and signing with his name.
That night, Eun Chan falls asleep while on the phone with Han Gyul, and he leaves her on speakerphone — and awakens the next morning with a laugh to realize Eun Chan is still snoring into her phone. He hangs up and calls back to serenade her with the song "I Love You," originally sung by Han Dong Joon.
Audio clip: Adobe Flash Player (version 9 or above) is required to play this audio clip. Download the latest version here. You also need to have JavaScript enabled in your browser.
On her last day of work, Eun Chan makes her sad goodbyes with everyone. Each of the Princes takes his turn to say a few last words, finding Eun Chan crying in her work locker. Min Yub is first, and gives her some cosmetics as a present, saying she'll be very pretty when she does herself up. He tells her, "You know I really respect and like you, don't you? Don't worry about Angel and your mother, because I'll look after them."
Next is Sun Ki: "Take care of yourself, and come back safely. You'll do a good job — I have faith in you." For once, Ha Rim has the fewest words, tearing up as Eun Chan tells him how much she likes him, even if they've fought in the past. He cries, and leaves her with a goodbye letter without being able to say anything.
Eun Chan cries as she reads the note (song: Maximilian Hecker's "I'll Be a Virgin, I'll Be a Mountain" from a previous episode):
Meanwhile, Han Sung and Yu Ju's marriage has been going well. Yu Ju has taken special care to refrain from working or going out to meet friends to watch out for the baby, but still, she encounters trouble. She experiences pains that send her to the hospital, and (the implication is that) they lose the baby. Han Sung comforts her (without anger or resentment, merely worry).
 
Everyone's sad to see Eun Chan go, starting with her family, the Coffee Princes, and of course, Han Gyul. Eun Chan goes to the airport alone to avoid a painful parting, especially with Han Gyul, and says her last goodbyes to him over the phone. Her last words before hanging up are a choked string of "I love you"s. (Song: "Sad Thing" by 어른아이 / Adult Child, posted previously.)
And then, we're two years later.
 
Eun Chan's voiceover reads the various messages she's sent to Han Gyul over the past two years via postcards, which he has posted up on his refrigerator.
Her messages include:
Han Gyul has been busy working with the company to franchise the next store — Coffee Princess.
Min Yub has been working as a model, while Eun Sae works with the behind-the-scenes staff. They're still together, and at her suggestion, he's changed his modeling name to simply "Hwang Min." (Eun Sae's nickname for him, though, is "Yub." I wonder if part of her suggestion, aside from professional reasons, was so she gets to be the only one to call him that. It's cute.) It's nice to see her so proud of him for something, which is a nice change from their early relationship.
Han Gyul is eagerly counting down the days to Eun Chan's return, so naturally he's shocked and panicked when Eun Chan mentions the possibility of staying in Italy for another year to further her studies. It's a great opportunity for her, her tuition will be covered, and she'd like to stay… Han Gyul yells an insistent no, and reminds her that she signed the contract with his grandmother to come back after two years. He'd even planned the opening of the new cafe to time with her arrival. She asks, "Then should I give it up and return?" and tells him she'll forget the idea since he doesn't like it… which makes Han Gyul feel guilty.
Ha Rim, who's in charge of the interior design for the new Coffee Princess cafe, has been dating Byul for the past two years. I find her inclusion in the story pretty pointless, but I suppose she's there to give some promise of a happy ending for Ha Rim. She brings up the fact that Ha Rim's family is going through tough times (they had to close their hospital), which is another weirdly tacked-on story bit. But okay.
Likewise, a new girl walks into the Coffee Prince one day to earnestly request a job there, and the girl seems to serve the main purpose of giving Sun Ki a potential happy ending too. The girl (who also had a minor role in Dal Ja's Spring) gets on Sun Ki's nerves, until she responds to his grumbling in fluent Japanese, which is a welcome surprise. It's also hinted that she's sort of an Eun Chan version 2.0 — Ha Rim's reaction to her appearance echoes the very words he first said about Eun Chan, she's cheerful, she's 24, and I think she's supposed to be tomboyish (although the actress is too feminine for that to come across well).
 
Even Mr. Hong gets a storyline, meeting his long-ago love (the good liar) by chance and having a brief conversation with her. She's married and has a child now, and I suppose his sense of closure comes when he gets up to leave, and she tells him, "Go on. This time I'll be the one who stays behind." He answers, "Sure, I'll try being the first to go this time." Closure's good and all, but I never really felt his story was opened enough to require closing.
Han Sung and Yu Ju celebrate their two-year anniversary. They seem happy, but Yu Ju appears to still be affected by the baby they lost. Han Sung comes upon her as she stares at a set of baby shoes, and guesses what she's thinking:
Han Sung tells her that he thinks they should stop going to the hospital, which I surmise is because they've been trying to become pregnant. Yu Ju suggests they go away on a trip together.
(Song: Arco's "Perfect World," previously posted.)
Meanwhile, at home alone, Han Gyul deliberates over his new dilemma — whether to persuade Eun Chan to come home quickly, or to let her further her studies as she wants. Finally, he comes to a decision, and calls her, leaving the message:
He runs off, yelling, "Come home quickly! I miss you! Come back soon!"
Later, Han Gyul has a somewhat disappointing interview with a potential barista, who wants double the pay that was offered. After she leaves, Eun Chan arrives unexpectedly, rendering him stunned and speechless.
Eun Chan starts off by saying that she's here to interview for the barista position, and lists all her qualifications. (Song: "Make Up" by 어른아이 / Adult Child.)
After the initial gladness at seeing each other again, Han Gyul is (mildly) upset that she came back without saying anything, and for putting him through such worry, thinking she'd be gone another year. She assures him that she won't leave him alone ever again: "Even if you told me to leave now, I won't. I've got to stick by your side every day from now on. I won't leave you for even a minute." Mollified, Han Gyul asks, "Twenty-four hours? Night and day, every day? Then we'll have to get married quickly."
 
It appears she misled him purposely with her suggestion of staying another year, and had his parents and grandmother in on the secret. Eun Chan's kept in contact with them all this time (Han Gyul's father even met her in Italy when he traveled there on business), and his parents are firmly in favor of the relationship. Even his grandmother can't hide her gruffness too much: "She asked me to keep her return a secret, but she's with Han Gyul right now. They're just crazy about each other."
And naturally, everyone at Coffee Prince is thrilled to see her (and shocked at her new look).
(Song: "La la la, it's love" by The Melody, on the OST.)
Han Sung and Yu Ju have their romantic getaway…
 
And Han Gyul tries out his coffee-making skills for Eun Chan.
(Ending song: "Coffee Is…" by Cloud Cuckoo Land, posted previously.)
Additional thoughts:
This episode left me smiling widely and feeling good. It was a nice wrap-up to a series that turned out to be surprisingly more insightful, fun, and engaging than I'd hoped when I first started watching. I re-read what I'd written in response to the first episode, and was particularly happy to be proved wrong in initially supposing the series held little promise for profound meaning.
As a final episode, I didn't particularly find this 17th hour to be anything extraordinary. I seem to be in the minority in having absolutely no problem with the "__ years later" device, at least on principle. Some series misuse the time skip in a lazy or poor way, and some use it very well. My disappointment with the last episode has nothing to do with the fact that they skipped two years. It's merely that this episode felt like a (very, very) long epilogue. They could have cut it in half and been fine. It felt like a tacked-on extension to a series that had been so popular that its very talented director and writer were forced to artificially lengthen its material to fill an extra hour. Imagine that.
But when all's said and done, I thoroughly enjoyed Coffee Prince, and didn't tire of it at any point through its conclusion — which is remarkable, given the pure statistics: seventeen episode summaries, twenty novel recaps, and an additional ten posts on miscellaneous news items and behind-the-scenes interviews. That's a whopping total of forty-seven posts, and I won't even dare to do a word count, but I'm guessing it must top out at more than 60,000 words, at least. That's the size of a novel.
And the comments from everyone! All 2,830 of them. That makes Coffee Prince nothing short of a phenomenon. Thanks to everyone for participating in what has been an overwhelmingly pleasant fandom (as far as I can tell), and here's to hoping it's not too long before we get another series (and fandom) that's as widely entertaining and engaging as this has been.