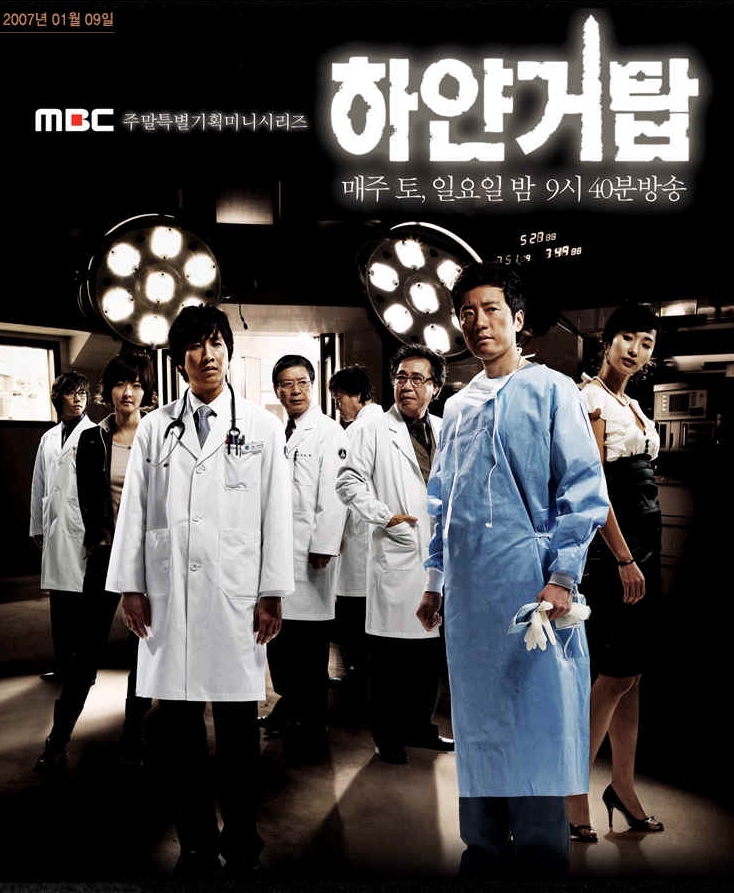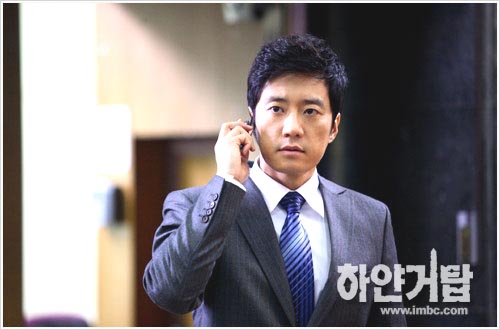 Dựa trên tiểu thuyết Shiroi Kyoto của nhà văn nổi tiếng người Nhật Toyoko Yamasaki, White Tower mang tới cho khán giả cái nhìn chân thật về cuộc chiến chính trị của ngành y xảy ra ngay tại một bệnh viện đại học, nơi vẫn còn bị thao túng bởi quyền lực và những hành động phi pháp. Không chỉ là một tác phẩm ăn khách, White Tower còn được đánh giá cao bởi diễn xuất, kịch bản, đạo diễn cùng cốt truyện thông minh mà không cần tới yếu tố melo hay lãng mạn. Đây cũng là một trong những bộ phim đáng nhớ nhất trong sự nghiệp diễn xuất của "Ông Hoàng Truyền Hình" Kim Myung Min, ngôi sao của Beethoven Virus và Six Flying Dragons sau này.
Behind The White Tower đem đến một cái nhìn sâu sắc hơn về "y tế". (Ảnh: Internet)
Dựa trên tiểu thuyết Nhật Bản Shiroi Kyoto (Tòa tháp trắng) của nhà văn Toyoko Yamasaki , bộ phim Behind The White Tower đem đến một cái nhìn sâu sắc hơn về "y tế". Phim cũng đào sâu về những sơ suất trong quá trình chẩn đoán, chữa trị dưới hai góc nhìn tương phản của bác sĩ Kim Myung Min và Lee Sun Kyun . 

Một phân cảnh phẫu thuật trong phim. ​(Ảnh: Internet)

Kịch bản thông minh, hình ảnh phim được đầu tư, diễn viên giỏi là những yếu tố giúp Behind The White Tower giành được giải thương phim truyền hình xuất sắc nhất lại lễ trao giải Baeksang Art lần thứ 43 cùng các giải cá nhân khác. 


Behind The White Tower xứng đáng là một trong những phim y khoa đúng nghĩa và kinh điển nhất của màn ảnh Hàn dù sau bao nhiêu năm nữa. 
"Bí mật tòa tháp trắng" là câu chuyện về cuộc sống, công việc và cuộc chiến quyền lực tàn khốc giữa các bác sỹ tại một bệnh viện lớn. Tâm điểm của bộ phim là Jang Jun-hyeok (Kim Myeong-min), một bác sỹ phẫu thuật tài năng luôn khao khát địa vị và quyền lực. Vị bác sỹ nhẫn tâm và giàu tham vọng không từ bất kỳ thủ đoạn nào để có thể ngồi vào chiếc ghế trưởng khoa phẫu thuật, từ việc tìm cách cưới con gái một nhân vật có quyền thế trong bệnh viện cho đến bợ đỡ những bệnh nhân giàu có hoặc nổi tiếng trong khi không thèm đếm xỉa tới người nghèo. Khôn ngoan lắm thì oan trái nhiều, Jang cuối cùng cũng phải trả giá cho tham vọng của mình. Trái ngược hoàn toàn với Jang, bác sỹ Choi Do-young (Lee Seon-gyun), chỉ toàn tâm toàn ý chăm lo đến sức khỏe người bệnh mà không cần biết thân thế họ ra sao.


Bức tranh chân thực về ngành y chính là điểm mấu chốt khiến "Bí mật tòa tháp trắng" giành được nhiều cảm tình của cả giới phê bình điện ảnh lẫn khán giả. Các nhà sản xuất đã phải bỏ ra khoản kinh phí khổng lồ để xây dựng một phòng phẫu thuật như thật với đầy đủ các dụng cụ y khoa cần thiết. Dù đi sâu vào cuộc sống và công việc của các bác sỹ nhưng bộ phim không chỉ đơn thuần phản ánh thực trạng của ngành y mà còn vạch trần cuộc chiến quyền lực tàn nhẫn tại các công ty, tổ chức, cơ quan công quyền hay bất kỳ nơi đâu còn hiện hữu quy luật "khôn sống mống chết". Xét về khía cạnh này, "Bí mật tòa tháp trắng" có thể được coi là một bộ phim về chính trị tại nơi làm việc. Nó lột trần bản chất của nhiều vị bác sỹ "đáng kính": nịnh trên nạt dưới, lật lọng, giẫm đạp nhau để leo lên nấc thang danh vọng. Bệnh viện là bối cảnh không thể lý tưởng hơn để xây dựng một bộ phim về hiện thực xã hội vì đây chính là nơi mà sự sống và cái chết cùng tồn tại.
Một điểm thú vị là nhân vật bác sỹ Jang không bị người xem ghét bỏ mà trái lại còn gây ấn tượng nhiều hơn so với bác sỹ Choi Do-young thánh thiện. Theo mô-típ của các phim truyền hình thông thường, Jang là nhân vật phản diện điển hình đáng bị trừng phạt và lên án nhưng "Bí mật tòa tháp trắng" còn muốn đề cập đến những vấn đề nằm ngoài sự lưỡng phân truyền thống giữa cái thiện và cái ác. Jang cuối cùng cũng nhận một kết cục bi thảm: anh chết vì ung thư. Nhưng khán giả không ai phê phán Jang khi anh chính là một phần của thực tế xã hội.  Kim Myung-min, diễn viên đảm nhiệm vai bác sỹ Jang tiết lộ rằng anh bị trầm cảm sau khi phim đóng máy do quá nhập tâm vào nhân vật. Nhìn chung, "Bí mật tòa tháp trắng" được đánh giá là phiên bản thành công của bộ phim truyền hình Nhật Bản cùng tên.
Awards and nominations
User Rating
Current user rating: 88 (84 votes)
You didn't vote on this yet.

Profile
Plot
Set in a university hospital, Behind The White Tower follows one brilliant doctor's relentless pursuit of his ambition to its conclusion. By microscopically depicting the hidden side of the medical profession, it sheds light on a variegated spectrum of human types. The show recounts the friendship and conflict between two male doctors, one with a brilliant gift for his craft and the other with an innate warmth and a firm devotion to the healing art, and tenaciously investigates the lust for power that moves human beings in the White tower that is the university hospital.
Notes
Based on novel "Shiroi Kyoto" by Toyoko Yamasaki (published from September, 1963 to June, 1965 in magazine Sunday Mainichi ).
"Behind The White Tower" was re-broadcast from January 22 - March 15, 2018. The rebroadcast was aired in "Ultra HD" format.
Related titles:

The Great White Tower | Shiroi Kyoto (1966)
The Great White Tower | Shiroi Kyoto (Fuji TV / 1978-1979)
The Great White Tower | Shiroi Kyoto (Fuji TV / 2003-2004)

Behind The White Tower

 | Hayeon Keotap (MBC / 2007)
The Great White Tower | Shiroi Kyoto (TV Asahi / 2019)
Cast
Additional Cast Members:
Behind The White Tower/ep. 1-20 Plot Synopsis
ep. 1
Brilliant surgeon Jang Jun-hyeok is an associate professor in the Department of Surgery at Myeongin University. With his unsurpassed skill and cool judgment, he saves a patient who had been on the brink of death due to another doctor? error. Still, chief of surgery Professor Lee Ju-wan regards the ever-confident Jun-hyeok with a disapproving eye.
Jun-hyeok? school friend, Associate Professor Choi Do-yeong, comes across a rare case of early-stage pancreatic cancer and transfers the patient to Jun-hyeok. Jun-hyeok becomes excited about performing the unusual procedure, but finds himself faced with a choice when he discovers that the powerful deputy chief of the hospital, Wu Yong-gil, has made an incorrect diagnosis...
ep. 2
Jun-hyeok and Do-yeong secretly operate on the patient who was misdiagnosed by Professor Wu Yong-gil, but is discovered by the wily Wu. Jun-hyeok attempts to cover up his illicit operation by lying that Wu? initial diagnosis was correct, but he encounters opposition from the honest Do-yeong.
Meanwhile, Professor Lee Ju-wan, who has always been disapproving of Jun- hyeok, conspires with Professor Wu to send Jun-hyeok to a hospital in the countryside by using the surgery as a pretext...
ep. 3
Professor Wu declares Jun-hyeok? gift of a painting as an attempt at bribery and sets out to transfer Jun-hyeok to a rural hospital. If he is transferred, all of Jun- hyeok? efforts thus far will have been in vain. Alarmed, Jun-hyeok goes to his father-in-law, Min Chung-sik, for aid.

Meanwhile, Professor Lee tells Jun-hyeok not to worry since the transfer is only a temporary measure, and instructs him to prepare for the transition as scheduled...
ep. 4
Jun-hyeok discovers the identity of the man Professor Lee is grooming as his successor: Noh Min-guk. Min-guk is Lee Ju-wan? alumnus and a professor at Johns Hopkins University. Jun-hyeok becomes nervous, sensing that the man he will be competing against is a formidable opponent.

Even amid his preoccupation with becoming the next chief of surgery, Jun-hyeok ends up scrubbing in with Professor Lee on an extensive procedure to simultaneously transplant the liver, pancreas, and kidney...
ep. 5
As a result of Professor Lee? scheme, Min-guk ends up taking the older man? place in the OR. In an atmosphere of breathless tension, Min-guk and Jun-hyeok begin the surgery. But the two rivals, each of whom considers himself the best in the field, clashes constantly over the order and method of the procedure.

Professor Lee, who has been watching from the observation room, stresses that he is in charge of the operation and orders the procedure to be performed according to Min-guk? directions. Jun-hyeok, though shocked, removes his gloves and steps back.

Meanwhile, Do-yeong, who is doing all he can to save Jin-ju, visits Professor Oh Gyeong-hwan for a consultation, but is distressed by the fact that the cancer has already progressed to a dangerous degree.
ep. 6
Pathology professor Oh Gyeong-hwan volunteers to head the election committee in order to ensure that the election for the next chief of surgery proceeds fairly. Professor Lee secretly cheers at the development, since Professor Oh disapproves of Jun-hyeok, but Professor Wu cannot help feeing bitter.

Made uneasy by Professor Oh? appointment to the head of the election committee, Jun-hyeok pays Do-yeong an unexpected visit. Jun-hyeok asks the surprised Do- yeong to arrange a meeting with Professor Oh, since he needs the latter? help to become the chief of surgery. But Do-yeong refuses, saying that he cannot help Jun- hyeok in such a self-serving endeavor...
ep. 7
Jang Jun-hyeok, Noh Min-guk, and Mun Sang-myeong are named as candidates for the next chief of surgery. With Professor Oh helming the election committee, voting begins in earnest. At that moment, Professor Lee raises his hand. Declaring that he cannot choose among two of his students and Noh Min-guk, he gives up his vote and exits the room. The less knowing of the department heads nod their heads in admiring approval.

Jun-hyeok, who is in the auditorium busily preparing for the symposium, is flabbergasted when Professor Lee suddenly appears and declares that he has waived his vote. Later on, Lee approaches Jun-hyeok as he waits to deliver his lecture and tells the younger man not to be offended by his decision to give up his vote. At that very moment, Geon-ha rushes in to deliver the results of the vote...
ep. 8
Jun-hyeok visits Min-guk in his hotel room. Throwing away his pride, he kneels before Min-guk and entreats his rival to withdraw from the race. At that moment, Professor Oh Nam-gi comes to Min-guk? room, and the startled Jun-hyeok hastily leaves the scene.

When Professor Lee learns that Jun-hyeok has been to see Min-guk, he informs Professor Wu Yong-gil, thus exacerbating the situation. Angered by Jun-hyeok? irresponsible act, Wu turns his back on him.

Meanwhile, Kwon Sun-il comes to see Do-yeong, at the insistence of his wife. Do- yeong begins to run various tests on Sun-il as if he were any other patient.
ep. 9
Suspecting Sun-il of having pancreatic cancer, Do-yeong refers him to Jun-hyeok, who remarks that he will operate on Sun-il before the international surgical conference in Jeju. Do-yeong suggests that Jun-hyeok perform a lung biopsy before the operation, but Jun-hyeok, who is preoccupied by his preparations for the conference, does not heed the advice.

Meanwhile, Min-guk, who has lost the election for the chief of surgery, calmly leaves Korea...
ep. 10
At the international surgical conference in Jeju, Jun-hyeok tries his utmost to perform successful surgery on the wife of the international surgical association? chairman. However, due to the unseen machinations of Oh Nam-gi, who had supported Min- guk, Jun-hyeok finds himself unable to perform the operation.

Meanwhile, Dong-il, who has taken on Jun-hyeok? post-op patient as his very first patient, begins to grow uneasy when the patient in question begins to display strange symptoms...
ep. 11
Just as he successfully completes the operation on the wife of the international surgical association? chairman, Jun-hyeok receives the news that his post-op patient Kwon Sun-il has died. Sensing the gravity of the situation, Jun-hyeok requests a detailed inquiry into what happened.

Sun-il? wife, Sun-gi, and other family members wail in grief around the bed on which Sun-il lies with a white sheet covering his body. Unable to watch the heartbreaking scene, Dong-il runs down the stairs and bursts into tears.
ep. 12
Sun-il? wife and Jun-hyeok come face to face in the hallway of the courthouse. Jun-hyeok? attorney, Yun, patronizes the plaintiff? attorney by patting him on the shoulder, and Sun-il? wife directs an anxious gaze toward Jun-hyeok and company.

Yun speculates that the plaintiff? side will summon Oh Gyeong-hwan, Yeom Dong- il, and Choi Do-yeong as witnesses, which plunges Jun-hyeok into nervous apprehension.

Meanwhile, the plaintiff? attorney, Kim Hun, visits Do-yeong at work...
ep. 13
Do-yeong barges into Kim Hun? office to prevent the lawsuit from being dropped. Sun-il? wife, after witnessing the exchange, decides not to sign the settlement papers. Jun-hyeok? legal team, gathered in the office of the hospital? deputy chief, struggle to come up with a countermove. They inform Lee Ju-wan that his daughter appears to be helping the plaintiff? side.

Jun-hyeok decides to try and persuade Do-yeong? wife rather than Do-yeong himself, who refuses to listen. While Do-yeong is away from home, Jun-hyeok goes to see his wife and entreats her aid. Meanwhile, Wu Yong-gil calls out Professor Lee Ju-wan and takes issue with his daughter Yun-jin? actions...
ep. 14
After his verbal battle in court, Jun-hyeok runs into Lee Ju-wan in the hallway outside the courtroom. Unable to pass him by, he engages Lee in a psychological confrontation. Lee, who has pledged to lend the patient both material and moral aid, prepares meticulously for the trial, even explaining to attorney Kim Hun the daily routines of a chief of a university hospital.

Do-yeong and Wu Yong-gil watch the operation from the observation room. Yong-gil tries to change Do-yeong? mind by stressing Jun-hyeok? indispensable value to the hospital. Do-yeong divines Yong-gil? intention, but squarely voices his own beliefs...
ep. 15
When Jun-hyeok continues to perjure himself in court, Do-yeong jumps to his feet and cries out Jun-hyeok? name in implicit accusation. However, Jun-hyeok carries on without a single sign of perturbation. Sun-il? wife, who has also been watching the trial, becomes likewise enraged at Jun-hyeok? lies and tries to object, but the judge only issues ineffectual warnings...

Meanwhile, Professor Oh Nam-gi calls Jun-hyeok in and informs him that the chairman of the International Surgical Association wishes to recruit him for a proposed Northeast Asian hub hospital, which the American Medical Center is planning to build in Songdo. Jun-hyeok feels his heart soaring at the news.
ep. 16
Wu Yong-gil learns that Jun-hyeok is planning to leave Myeongin University Hospital for an even bigger hospital. To teach Jun-hyeok a lesson for pursuing his transfer plans in secret, Wu goes to see Lee Ju-wan, who is friends with the chairman of the International Surgical Association.

Meanwhile, Do-yeong, who has quit his job, seeks out a friend who works at a different university hospital. He hands his friend his resume and asks after a position, but is disappointed by the latter? reluctant reply...
ep. 17
When nurse Yu Mi-ra takes the witness stand and swears to tell the whole truth, Jun-hyeok watches her with apprehension. Surprised by her unexpected appearance in court, the members of the audience focus on her testimony. Recalling Jun-hyeok? visit with the late patient just prior to his surgery, Mi-ra testifies that there was no mention of the cancer spreading to the lungs.

The new testimony overturns the flow of the trial. Jun-hyeok? attorney works on finding a witness to back up his client? testimony, and Jun-hyeok remembers Ham Min-seung, the head of the Medical Center...
ep. 18
The tides of the trial are turned once more by Dong-il? surprise testimony and both sides devote themselves to procuring new evidence. Kim Hun tells Dong-il to lay low for a while since Jun-hyeok? party may try to exert pressure on him; in response, Do-yeong takes Dong-il to his own home. Kim Hun learns from Mi-ra that medical students were in attendance during Jun-hyeok? visit with the patient and requests that the students?reports be held as evidence. Meanwhile, while performing surgery, Jun-hyeok feels an acute pain in his stomach and falls to the floor...
ep. 19
Sensing that the people around him are hiding something from him, Jun-hyeok goes to Do-yeong? cancer center in the middle of the night and asks him to perform some tests. While carefully watching the monitor showing the images of the test, Do-yeong?br> s gaze is riveted to a single spot on the screen. He calls Professor Hong Sang-il to find out the facts...

Face to face with Hong Sang-il, Do-yeong demands to know who will be performing the procedure. Sang-il confesses to being apprehensive about performing the surgery himself. Do-yeong goes straight from his meeting with Sang-il to see Wu Yong-gil. They both agree that Jun-hyeok? operation should be performed by Chief of Surgery Lee Ju-wan.
ep. 20
As the pain in his abdomen grows increasingly intense, Jun-hyeok calls Do-yeong in and tells the latter that he knows his condition is biliary tract cancer. Do-yeong tries to fend him off with lies, but Jun-hyeok asks to see the test results and films, so that he can have time to prepare himself. Finally learning the entire truth, Jun- hyeok sits and gazes at the OR from the observation room. His eyes brim with tears at the recollection of all the procedures he performed there.

Later, his condition having worsened, Jun-hyeok fails to recognize even the medical staff around him and lapses into delirium...