Country of origin
South Korea
Original 

language(s)

Korean
No. of episodes
163

Production

Producer(s)

Jang Geun-soo
Running time
30 minutes
Release
Original network
Munhwa Broadcasting Corporation
Picture format
SDTV
Original release
February 14 – September 30, 2005
Be Strong, Geum-soon!
 (
Hangul
: 
굳세어라 금순아
; 
RR
: 
Gutse-eora Geumsuna
) is a 2005 
South Korean television series
 starring 
Han Hye-jin
 and 
Kang Ji-hwan
. It aired on 
MBC
 from February 14, 2005 to September 30, 2005 on Mondays to Fridays at 20:20 for 163 episodes
The drama starts off with Geum-soon in the midst of a hairdressing exam in a hairdressing school, but failed after suffering a high tide in her bladder. Geum-soon later married Song-hwan, who died in a car accident within days of their marriage. She later gave birth to a boy, Hwi-seong and lived with her in-laws.
Geum-soon took on various jobs to earn her keep, from a nutritional drink seller promoting her products in the Korea University Hospital but later went on to be an apprentice in a hair salon, after much pleas from her mother-in-law, who initially insisted that she should stay at home for another year to look after her son.
Geum-soon encountered an accident after her scooter crashed onto the car of a young, fastidious doctor, who reported her to the police and picked up every tiny little fault from a broken finger to a sprained ankle. Later, much to her surprise, when she signed up to be an apprentice in a hair salon, she realized that the man was the son of the salon's owner. The assistant manager of the salon, Eun-ju, initially rejected her application on grounds that the salon had more than enough staff, but a decision was made after Jae-hee and Mi-ja find it better to employ her.
Geum-soon was placed under the guidance of a colleague, Hae-mee, but found herself to be bullied by her. Around this time, Geum-soon changed her hairstyle from a "cabbage-head" hairstyle (which became her nickname for Jae-hee) to her normal straight and curly hairstyle and eventually she managed to leak out Geum-soon's secret that she was a mother shortly after she revealed her past to Miss Yoon after being late one day. When the secret was discovered by the assistant manager, she was rapidly fired.
Han Hye Jin sinh ngày 27-10-1981, đã tốt nghiệp Trường Cao đẳng Nghệ thuật Seoul. Sự nghiệp diễn xuất của cô bắt đầu với loạt phim truyền hình Friends (năm 2002) đóng cạnh những tên tuổi như Won Bin, Lee Dong Gun. Cùng trong năm đó, Han Hye Jin xuất hiện liên tiếp trong các phim Romance, I love Hyun Jung và Inspector Park Moon Soo nhưng vì là người mới nên những vai diễn của cô chỉ là phụ họa. Danh sách phim của Han Hye Jin còn dài ra với New Human Market, One percent of anything, You are a star, Heroes... nhưng phải đợi đến Be strong Geum Soon, Han Hye Jin mới thực sự gây ấn tượng cho người xem với vai diễn Geum Soon đầy cá tính. Với tỉ suất người xem luôn vào khoảng 30%, Be strong Geum Soon được bình chọn là một trong những bộ phim truyền hình Hàn Quốc thành công nhất trong năm 2005, đưa Han Hye Jin trở thành gương mặt nữ triển vọng của màn ảnh nhỏ Hàn Quốc. Sau thành tích của Be strong Geum Soon, hãng MBC nhanh chóng mời cô tham gia trong "siêu phẩm" tốn kém Truyền thuyết Ju Mong. Cùng bạn diễn Song Il Gook, Han Hye Jin đã lôi kéo người xem ngồi trước màn hình mỗi đêm để khóc cười cùng mối tình éo le của Ju Mong và Soh Suh No.
Với gương mặt xinh xắn, vóc dáng mảnh mai (cao 1,65m; nặng 47kg), ngoài đóng phim, Han Hye Jin còn được một số hãng thời trang mời làm người mẫu. Nếu như trong công việc Han Hye Jin luôn gặp nhiều may mắn thì ngoài đời, đường tình duyên của cô cũng đầy thuận lợi. Mũi tên của thần tình yêu đã bắn trúng trái tim cô với nam ca sĩ R&B Naul. Mối tình 3 năm của họ đến nay vẫn tiến triển tốt đẹp và Han Hye Jin không giấu niềm vui sướng chờ ngày lên xe hoa.
Xinh đẹp, nổi tiếng nhưng trong đời thường Han Hye Jin vẫn là một cô gái thân thiện. Cô có thói quen đi xe buýt và rảnh rỗi thường phụ giúp cha mẹ quản lý nhà hàng. Han Hye Jin từng thổ lộ mơ ước lớn nhất của cô là kiếm đủ tiền mua cho cha mẹ một căn nhà lớn để họ dưỡng già.
Trước đây đã từng xuất hiện trên màn ảnh nhỏ tại Việt Nam với phim "Hạnh phúc bất ngờ", nhưng Han Hye Jin vẫn chưa tạo được ấn tượng nào đối với các fan phim Hàn. Gần đây, cô đã thực sự chinh phục được trái tim người hâm mộ với vai nàng tiểu thư So Seo No mạnh mẽ, xinh đẹp trong phim "Truyền thuyết Joo Mong".
Han Hye Jin sinh ngày 18/10/1981 tại thành phố Seoul xinh đẹp. Cô bắt đầu sự nghiệp diễn viên sau khi rời Trường Nghệ thuật Seoul năm 2002 với vai diễn trong seri phim truyền hình "Friends" hợp tác giữa Hàn Quốc và Nhật Bản. Bộ phim này đã gây được tiếng vang, đẩy tên tuổi cô lên một tầm cao mới. Nhưng tài năng của cô chỉ được công nhận sau bộ phim truyền hình "Be strong, Geum-Soon" (ra mắt năm 2005). Và lần này, Han Hye Jin đã vụt sáng trở thành ngôi sao trên bầu trời điện ảnh châu Á. Đây là lần đầu tiên đảm nhiệm vai chính nên cô đã phải cố gắng rất nhiều bên cạnh sự toả sáng của 2 nam diễn viên đang rất được hâm mộ lúc đó là Kang Ji Hwan và Kim Nam Jin. Theo đánh giá của tờ Star Focus (Hàn Quốc) "Trong phim Han Hye Jin đã thành công với việc thể hiện một quý bà thật sự mạnh mẽ, can trường và điều này đã khiến cô trở thành một ngôi sao ngọt ngào, quyến rũ của truyền hình châu Á".
Đến năm 2006, khi phim "Truyền thuyết Joo Mong" được tung ra, làn sóng hâm mộ Han Hye Jin tiếp tục lan toả khắp châu Á. Không phụ lòng đạo diễn nổi tiếng Choi Wan Gyoo, cô đã hoàn thành xuất sắc vai diễn nàng tiểu thư kiều diễm So Seo No. Ánh mắt da diết đầy đau thương cùng gương mặt khả ái của cô đã để lại ấn tượng sâu sắc trong lòng khán giả Hàn Quốc cũng như khán giả toàn châu Á. Bộ phim cổ trang hoành tráng này được thực hiện với kinh phí 4 tỉ won nhưng đã thu về 12 tỉ won nhờ xuất khẩu sang các nước trong khu vực. Còn tại Hàn Quốc, bộ phim được xếp hạng là bộ phim ăn khách nhất năm 2006 và có tỉ suất người xem cao nhất từ trước đến nay.
Cuối năm 2006, Han Hye Jin vinh dự đoạt giải Nữ diễn viên xuất sắc nhất trong phim "Truyền thuyết Joo Mong" do đài MBC trao tặng. Trước đó, cô cũng đã đoạt được nhiều giải thưởng danh giá như Diễn viên triển vọng xuất sắc nhất năm 2004, Nữ diễn viên xuất sắc nhất năm 2005.
Ngoài 2 bộ phim gây được tiếng vang là "Truyền thuyết Joo Mong" và "Be strong, Geum Soon!", Han Hye Jin cũng đã diễn xuất rất thành công trong các phim truyền hình như "Thanh tra Park Moon Soo", "I love Hyun Jung", "Romance", "New human market"… và phim nhựa "Dalmaya Seoul Gaja".
Hiện tại cô đã tìm thấy được tình yêu đích thực với nam ca sĩ R&B Naul và có ý định sẽ lập gia đình vào một ngày gần đây. Ở tuổi 26, Han Hye Jin thực sự đã đạt đến độ chín về tài năng. Nét hồn nhiên trong sáng của cô không những được các đạo diễn đánh giá cao mà còn nhận được rất nhiều cảm tình từ khán giả. Không hề tự mãn, kiêu căng, Han Hye Jin càng làm cho hình ảnh của mình trong lòng công chúng hâm mộ thêm đậm nét.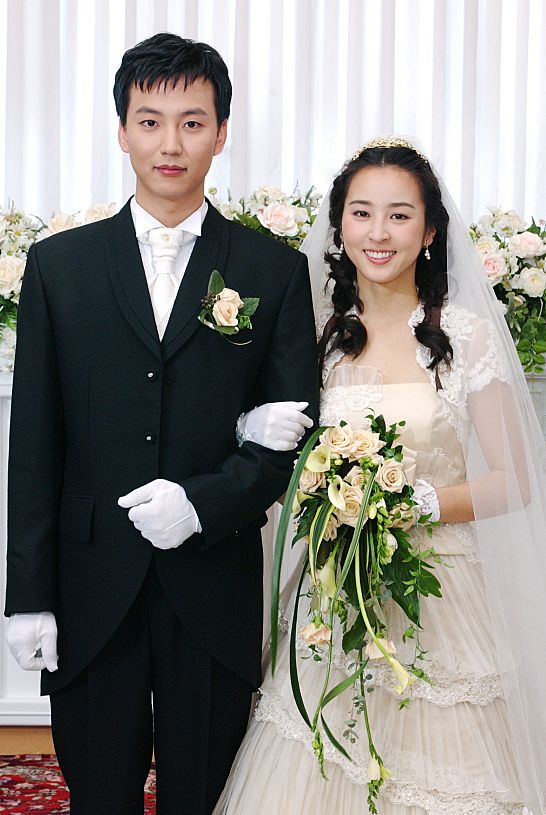 "Chú rể" Kim Nam Gil trông cực "ngố tàu" bên cô dâu Han Hye Jin trong phim "Be Strong, Geum Soon" (2005)
Be Strong, GeumSoon!
굳세어라 금순아
(Feb – Sept 2005)who's in it
Han HyeJin (
Jumong
, 
Terroir
)
Kang JiHwan (
Hong Gil Dong
,
Rough Cut
 – film)
Lee MinKi (
Dal Ja's Spring
, 
Really, Really Like You
)
Kim SuhHyung (
Temptation of Wife
)
what's it about
Han HyeJin plays GeumSoon, a simple but warm-hearted country orphan who was raised by her grandmother. She falls for a boy, gets knocked up young in life and is forced into a shotgun marriage, to the chagrin of her boyfriend's parents who see her as nothing more than a poor and conniving hussy who seduced their youngest son with sex and has now become the sinking anchor that will prevent him from succeeding in life. 
Whoa
, mouthful! Anyway, when the young husband dies unexpectedly in a car accident soon after they are married, Han HyeJin is left behind with an infant son to raise on her own and in-laws who blame her for their son/younger brother's death. Because she is the mother of their grandson/nephew, they very grudgingly let her continue to live with them until her financial situation improves. Through hard work and perseverance, she studies to become a hair stylist at a boutique salon in Seoul and also manages to snare the romantic interest of the owner's handsome son, a surgeon internist played by Kang JiHwan. This is a classic story of lemons being sweetened into lemonade.
commitment
A truly frightening nightmare for those afraid of long term relationships at an 
intense
 length of 163 episodes. 
Seriously long sucker.
network
MBC
wildcard factor
This drama was so L-L-L-L-LONG it took the better part of a year to end its run. Soooo long it could have had its own zipcode. I'll be honest, probably (felt like) one of the longest miniseries I've ever watched in my entire life (although A&E's 
Pride and Prejudice 
felt close). It took me a long time and multiple breaks to finish this one. By the end, I felt like I'd gone through every excruciating trial with Han HyeJin and her drama-ridden families! The good news was obvious, there was going to be lots of quality character development and its long length indicative of the success it enjoyed. The bad news was equally obvious, this kind of length implied a lots of side characters and multiple plot arcs, some more snooze-worthy than others, although in relation to other daily dramas, not too excessive an amount of 
banchan 
characters. For a daily one, aside from the obvious tell in the 30-minute episodes and the 163-episode run, it had the snappy and modern feel that MBC was so good at capturing and didn't scrimp on the quality of the production.
first impressions
I liked it. At the very start, looking ahead, I did feel somewhat daunted by its extraordinary length, as if in the middle of trekking up a 12-mile mountain hike then getting overwhelmed after only passing the 4-mile mark, realizing that I was far too deep into the climb to turn back, yet faced with so many more miles to go! Suddenly there's this feeling of extreme dehydration and not even the little bag of almonds and beef jerky and granola bars can perk the energy level back up…okay, right, don't worry, I'm snapping out of my reverie now. 
Anyway, Han HyeJin was so completely lovable and pitiful at the same time, there was a desperate need to continue, if only to see her finally overcome all the obstacles tossed in her way before happiness could finally stick. Talk about someone who was constantly whacked by the unfair stick.
gave up
snoozer moments
The thing I found most disappointing about 
GeumSoon
 was the scarce amount of time (in the scheme of the entire length of it) Han HyeJin and Kang JiHwan interacted. They were together probably only 50% of the entire show. Since I loved them both so much and their relationship was also the core focus of my interest, that was slightly 
under
whelming.
soju-guzzling
This show really frustrated me. All the characters were so annoyingly 
real
, a compliment to the writers of the show, for sure, but damn it all, I really wanted to grab these people by the shoulders and shake some sense into them! If anything, there wasn't 
enough 
drinking. All the characters needed to be locked together in a soju distillery for a week and forced to drink until so completely wasted that they would cease and desist with their annoying habit of lying at a the drop of every awkward situation. Come clean with one another once and for all! Exhausting people, all of them!
what didn't work
On the whole, nothing was especially bad. This was a successful drama for a good reason.
what did
Lee MinKi had a smaller part here as one of Han HyeJin's brother-in-laws. He was a cutie pie, and also temperamental and whiny as all hell, but at least he stayed consistently so.
And, of course, there was the puppies-and-kittens-sugar-and-spice chemistry between Kang JiHwan and Han HyeJin. The development of their relationship was a pleasure to watch. For example, their manner of address for one another (Cabbage Head and Mister) was simply too adorable.
Then we have my personal favorite: Kim SuhHyung. She played a divorcee who married the oldest brother in the Noh family and became Han HyeJin's sister-in-law. She was an independent and successful woman who had been burned by love in the past but against her better judgment, takes up a second chance and enters into marriage again. This pitted her modern sensibilities against the more traditional Noh elders. She was undoubtedly the character I related to the most in the show and the one that felt the most like a social commentary. You see, this self-sufficient woman married for love, and she imagined marrying a 
man
, not his entire family. She didn't understand why she needed to move in with her in-laws after marrying, she didn't understand why she had to suffer the injustice of having to work a full day at the office then come home to cook and clean, she didn't accept anyone belittling her because of the mistakes she had made in her past, etc. Essentially, she was an empowered feminist who understood that she was living in a society that had been built to be inherently unfair to women and she'd decided there was no reason to play by those rules anymore. I loved her.
what made me want to gouge my eyes out
Not that this took away from any of Han HyeJin's natural charms, but her permed hair (or as Kang JiHwan called it: Cabbage Head) was not that flattering. Although, admittedly, the Cabbage curly-do was 
the most adorable thing ever 
on her little son.
Many of the characters here were stingy on love and excessive on the selfish, which felt tiring after...oh, I dunno, episode 140!
what kept me going
The fact that I had already grappled my way for 4 miles, what was a few more, right? A good show, but I won't lie, it was a struggle to finish and by the end, it was hard to even remember what happened in the first half. There were definitely parts here and there that felt repetitive.
______________________________
Other factors:
predictability
 Yes
engrish
 No
originality
 Hmmm...the characters were fairly original, if not the story itself
eye-candy
 Kang JiHwan was very handsome in this role, and this is coming from someone who isn't really a Kang JiHwan fan. Although, I will concede, I really enjoyed his film 
Rough Cut
 with So JiSub (aka 
Movie
). It was really insane and yet so funny. Go watch it if you haven't, very amusing and 
mudalicious
.
hair and fashion
 Cute as they were, I don't think Kang JiHwan or Han HyeJin were dressed very well throughout the show. There was one particularly hideous purple-circus-tent-like blazer Kang JiHwan wore that made my eyes vomit. It was the type of jacket a guy would wear on a date if he was angling to be dumped by his girlfriend. And what do you know, he got dumped that night.
______________________________
is it worth trying to find?
Yes…
Now, as for 
finishing
, that'll depend on your level of endurance.
total enjoyment factor
7/10
It could have been an 8, but as I mentioned, I had a truly difficult time crossing the finish line so I must not have liked it as much as I convinced myself. The last third of the drama was a tough haul despite the cuteness of the main couple.
total disdain factor
why this review is completely biased
Han HyeJin is one of my favorite actresses 
of all time
. Lady Seo SuhNo of 
Jumong
 will remain one of my favorite enduring heroines so Han HyeJin can do no wrong in my eyes. I mean, she probably could, but I would grade her on a very generous curve. Luckily, she's such an amazing actress, I know I'll never have to bend so far.
could a non-kdrama fan like this
I'd have to say no because of its loooooooong length.
verdict
I personally find that dramas this long are a bit difficult to summarily review because they can be both too much and too little, emotionally involving yet distancing. It's a contrary conclusion, I know, but let me explain. At a 163 episodes, it's not remarkable that a viewer will become intimately acquainted with each and every character, which inherently means the drama will have more characters and therefore, just by simple mathematics, will equal to less time spent with your favorite people, whoever they may be. Especially in this show, it was simply not easy to connect to 
everyone 
and the desire to focus only on one's favorites started to become more and more tempting as the miles turned into months. Getting burned out and tired of the show's repetition is a big risk with this one. After a break, you might not be motivated to pick it up again…not because it isn't worth the effort, but because you've already watched so much of it…and the tunnel is so long and winding, the end so far out of sight. Right about the 90th episode mark, your stamina will be tested. Those that have it will go on, others may not make it. I am obviously assuming interested kdrama viewers will be catching this as a set as I can't imagine it is airing anywhere at this late juncture in time. 
Since the drama spans quite a long period of time I won't bother highlighting any plot points, instead I'll offer words to encourage you. The critical reason why you should check this out: Han HyeJin was wonderful. My personal take on her is simple: true talent. She's one of those rare classy actresses in the biz and there's an integrity about her that is both welcoming and brave, which is probably why she is often cast in strong female roles. It took some time for her character GeumSoon to grow, but the development was enjoyable to witness.
Kang JiHwan was equally up to task in his role as the young but brusque doctor who became enamored with Han HyeJin's strength of character and innocent beauty. I believe the actor just concluded some legal tangles with his former agency (this review is being written in early 2010) which lead a brief hiatus, so while waiting for his new work, go back and enjoy this classic. I personally think it's better than picking up 
Hong Gil Dong
 if you're looking for an introduction into Kang JiHwan's charms.
In a nutshell, this show truly felt like a commentary about women in Korea and the constant struggle for them to find their way in a society trying to find a balance between traditional values and the influx of western influences challenging that belief system. A micro-snapshot capturing one facet of everyday life that is being tested in a culture caught in the process of movement and change. In fact, 
GeumSoon
dealt with a lot of Korea's modern social issues (which are pretty similiar to most societies' modern social conflicts), including issues like the role of blended families, the 'scarlet letter' status of divorced women, the stigma that often follows children into their adulthood if they were orphans or children born out of wedlock, the juggling done by modern women for the sake of their careers, and of course, the challenge and discussion about the tradition of new daughter-in-laws moving into the home of her husband's parents, etc. 
All very interesting and intricate. I mentioned 
Pride & Prejudice 
in passing up above (in regard to its length), but 
GeumSoon 
wasn't too far away from the Jane Austen classic in theme, too. 
GeumSoon's 
was also a story about pride, the traditions that guide a culture, and the prejudices societies carry despite well-intentioned hearts. In the end, the moral here was that one cannot truly be happy or share love with others until both pride and prejudice are wholly set aside. 
If you are at a loss for something to watch and haven't seen this one, I give it my recommendation. It's a long watch, yes, but if you survive it, a meaningful one that will leave you buoyant.