Nấc thang lên thiên đường (chữ Hán: 天國의階段; Hangul: 천국의 계단), là phim truyền hình nổi tiếng của Hàn Quốc do đài SBS sản xuất, đã lôi cuốn rất nhiều người xem trong năm 2003-2004. Phim cũng góp phần tạo dựng tên tuổi cho rất nhiều diễn viên trẻ như Kim Tae Hee, Kwon Sang Woo, Park Shin Hye.
"Nấc thang lên thiên đường" đã trở thành bộ phim có tỷ lệ người xem cao thứ ba tại Hàn Quốc vào năm 2004, với 38,4% số khán giả xem truyền hình quan tâm theo dõi. Bộ phim cũng đã "làm nên lịch sử" tại Singapore khi là bộ phim truyền hình đầu tiên của Hàn Quốc được chiếu vào "giờ vàng" (10 giờ tối) trên kênh Channel U
Vai
Diễn viên
Cha Song Ju

Kwon Sang Woo
Han Jeong Seo / Kim Ji Soo

Choi Ji Woo
Han Yuri
(Eunice Han)
Kim Tae Hee
Han Tae Hwa / Han Chul Soo
(Tristan Han / Charlie Han)
Shin Hyun Joon
Seo Min Hyun
- mẹ của Song Joo / Chủ tịch Suh Min-hyun
Kim Ji Sook
Han Soo Ha
- bố Jeong Seo
Ha Jae Young
Tae Mira
- mẹ Tae Hwa & Yuri

Lee Hee Hyang
Han Pil Su
- bố của Tae Hwa & Yuri
Jung Han Yong
Giám đốc Jang
Lee Cham
Cha Song Ju (thời niên thiếu)

Baek Sung Hyun
Han Jeong Seo (thời niên thiếu)

Park Shin Hye
Han Tae Hwa thời niên thiếu

Lee Wan
Han Yuri thời niên thiếu

Park Ji Mi


Han Jung Seo (Choi Ji Woo) và Cha Song Joo (Kwon Sang Woo) là bạn thân từ thuở nhỏ. Bố của Jung Seo tái hôn với bà Tae Mira, một nữ diễn viên và đưa hai con riêng là Han Yoo Ri (Kim Tae Hee) và Han Tae Hwa (Shin Hyun Joon) về sống cùng nhà. Hai mẹ con Yoo Ri đối xử tàn tệ với Jung Seo và còn ngăn cản cô bé đi du học cùng Song Joo, may thay Tae Hwa đã ở bên an ủi, chăm sóc Jung Seo và dần anh đã đem lòng yêu cô.
Ba năm sau, trên đường ra gặp Song Joo từ Mỹ trở về, Jung Seo bị Yoo Ri cố ý tông xe vào người. Tại bệnh viện Yoo Ri đã tráo đổi chứng minh thư của Jung Seo với một người chết cháy khiến ai cũng tin rằng cô đã chết. Sau khi Jung Seo tỉnh dậy và bị mất trí nhớ, Tae Hwa đã đổi tên mới cho cô. Từ đó Jung Seo sống một cuộc đời mới với cái tên Kim Ji Soo
Tae Hwa đã âm thầm cùng cô bắt đầu lại cuộc sống ở nơi khác. Còn Song Joo thì chưa kịp gặp Jung Seo mà buộc phải tin là cô đã chết. Sau khi gặp lại Jung Seo, Song Joo đã tìm mọi cách giúp cô nhớ lại. Trải qua bao khó khăn cộng với sự giúp đỡ của Tae Hwa và bố anh, Jung Seo đã đòi lại công lý, bắt mẹ con độc ác Yuri và Mira phải trả giá (Yuri phải đi tù, còn bà Mira phải vào viện tâm thần) để cưới Song Joo thì cô gái đáng thương lại bị mù do di truyền từ mẹ và vụ tai nạn 5 năm trước. Sự sống của Jung Seo chỉ tính được bằng từng ngày. Kết phim là cảnh Song Joo đánh đàn pianô bên bờ biển để tiếng đàn có thể là "chiếc thang" đưa Jung Seo tới thiên đường.
Stairway to Heaven (2003-2004, SBS drama special)
2003 could be said to be a pretty fulfilling year for Korean dramas. From All In to Mermaid Lady, Yellow Handkerchief to Damo, these dramas have garnered a pretty faithful following when played on TV. To top off the moving year of titillating Korean dramas, SBS broadcast Stairway to Heaven, starring current heartthrob Kwon Sang-woo and entrancing actress Choi Ji-woo.
This show was a big hit, considering that it could absorb a viewership of anything from 25%- 45%. Of course, one of its main reasons could be the star-studded cast. Starring Kwon Sang-woo, who returns to the screen after his major movie hit My Tutor Friend, fans can't seem to get enough of him. Also, Choi Ji-woo, the awe-aspiring actress from Winter Sonata, has not been in any productions since Winter Sonata, except a Hong Kong-Korea production, 101 Proposals. Another of its lead actors, Shin Hyun-joon has also been missing from drama productions since 1999. With a cast like that, it's no wonder that it was one of the most anticipated dramas of the year, even in its pre-production stage.
Alas, this drama is not exactly captivating or exciting. The storyline is too cliche. Most of the plot seems to have been copied from other dramas such as Autumn Fairy Tale and Winter Sonata. Certain parts of it also parallel the storyline of Beautiful Days, which might be due to the fact that the PD of this drama Lee Jang Soo was the PD of Beautiful Days.
Like any other melodrama, this story opens with two childhood friends: Cha Song Joo (Kwon Sang-woo) and Han Jung Suh (Choi Ji-woo). However, as Jung Suh's father remarries, her new stepmother Tae Mira, brings her two children along, Han Tae Hwa and Han Yuri (Kim Tae-hee). An introvert, Han Tae Hwa (Shin Hyun-joon) is touched by Jung Suh's kindness towards him and gradually falls in love with her. On the other hand, Jung Suh and Song Joo have an inseparable relationship. At the same time, Yuri also likes Song Joo. So you can see that there's pretty complicated relationship triangle, or rather, rectangle here.
The show than fast-forwards years later, when the children have all grown up. However, due to a freak accident, Jung Suh is run over by Yuri's car, which leaves her suffering from memory loss and living with Tae Hwa under a pseudonym. Song Joo is devastated, but never forgets about Jung Suh even though the irritating Yuri tries at all times to get his attention. When the lovers finally reunite, another cruel misfortune occurs…
Like Autumn Fairy Tale, this story also depicts two children who grew up together and become lovers. Kwon Sang-woo is captivating as Song Joo. In fact, the media reported that Kwon shed so much tears in one of the scenes of the show that even the production crew became teary. In fact, this seems to be his best production to date, having acted in pretty minor roles before. Choi Ji-woo is also charismatic in her role as Han Jung Suh. However, it seems like she has become so fixated in playing pathetic, damsel in distress roles (recall: Beautiful Days, Truth, Winter Sonata) that it is becoming numbing for the audience to see her in such pitiful renditions.
However, it was refreshing to see Shin Hyun-joon in dramas again. Taking a five year hiatus in drama productions to concentrate on his movie career, there have been significant changes in his acting style, becoming more mature and in-depth in his character portrayal. Another actress Kim Tae-hee, who plays the evil Yuri, failed to impress with her bad-girl impersonation. Going by the same few expressions, Kim clearly shows her weakness in portraying the inner feelings of Han Yuri, especially since the four main characters in the drama focus a lot on inner feelings. Lee Wan could be said to have brought in a breath of fresh air. Acting as the younger Tae Hwa, Lee Wan is considered one of the most prominent up-and-coming actors to look out for. In fact, he is Kim Tae-hee's brother in real life.
To conclude, Stairs to Heaven is typical Korean melodrama. Unless you are a big fan of Kwon Sang-woo or Choi Ji-woo, you would most probably find this story boring, since the storyline has been used in so many other high profile drama productions before. Watching the last episode, one feels not forlorn, but rather, melancholic.      (Review by Kit Lim)
Stairway to Heaven ("Cheon-guk-ui gyedan"). 20 episodes. Written by Park Hye-kyung. Produced by Lee Jang-soo. Starring Kwon Sang-woo, Choi Ji-woo, Shin Hyun-joon, Kim Tae-hee, Ha Jae-young, Kim Ji-sook, Jung Han-yong. Aired on SBS in Korea from December 3, 2003 – February 5, 2004 on Wednesday and Thursday nights at 9:55pm. Official website (in Korean): click here. Available on DVD from SBS in Korea (no subtitles).
stairway to heaven - episode 1  
Damnit.
 Sometimes, I wish I just didn't read the synopsis because I feel that they give away too much of the story, but at the same time, I want to read it because I want to know if the drama is at least a tad bit interesting or worthwhile watching. Whatever. Anyway, Refer to my previous entry if you would like to know a bit more about the drama 
Stairway to Heaven
. 
Episode 1 Recap:

rating: 
/5
The beginning starts off with a sad undertone, a man playing a grand piano on the beach near the shore. It's a beautiful picture, with the waves washing in and out at the foot of the piano. It's beautiful, but I can't help but think 
What is he doing playing the piano on the beach? How did he move it there? It's not often people do that.
 Meh, maybe I think too much into the situation. Anyway, the part that makes this beginning scene sad is the man's inner dialogue which goes: 
"Maybe that person loved that girl more than I did. But even though I say that, I'm not saying that I didn't love her a lot."
 This already indicates that the drama is going to have a sad ending. The episode then switches to the past which lasts for the next couple episodes. A girl and a boy (Jung-suh and Song-ju) are very close and are obviously the best of friends. It is also very evident that they both have feelings for each other at this young age of junior-highness. 
Their friendship stays strong during times such as when Song-ju's father is lost in a traffic accident and Jung-suh's mother dies due to cancer. Some time after her mother's death, Jung-suh's father remarries an actress and a model who seems to be kind and caring. However, it is revealed in the episode that Jung-suh's stepmother had a previous relationship by which she had two children she hadn't seen in five eyars: a girl - Han Yuri and a boy - Han Tae-hwa whom she had apparently abandoned to their father in their run-down house. Perhaps a little due to guilt, but mostly due to fear of being exposed to the media, the step-mother allows her two children to move in to her big mansion.
 Needless to say, the relationship between Jung-suh and her two step-siblings do not start off well. Firstly, her step-sister Yuri is just plain jealous of her and a plain bi-otch if you ask me. Her step-brother is just creepily scary because of his constant tempter tantrums and running away in a mad huff when Jung-suh tries to show him kindness. But I guess I say that I sort of kind of understand a little why the step-siblings are they way they are. Their mother abandoned them to a poverty lifestyle and while she was an actress and model making lots of money, she didn't come to see them for five years. How is that supposed to make someone feel? I can't believe I'm saying this, but I understand how Yuri, the step-sister can be jealous that Jung-suh had a wealthy and good childhood filled with love while she had to live without nice clothes and good food to eat. It's very obvious that the most important thing to her is her mother's approval, probably because she didn't feel good enough for her mother. I mean, how are you exactly supposed to feel when your mother abandons you?
The step-brother Tae-hwa who is played by Lee Wan by the way is a boy who had never experienced affection in the way that his step-sister tried to show him and so whenever she would show him kindness, he would get upset and run away or freak out. Geesh, it always weirded me out and I was like, "what is his problem?" 
Anyway, it goes to say that the step-mother's true nature is revealed when she gets all freakishly angry that her step-daughter got higher grades than her biological daughter and slaps jung-suh's cheeks multiple times. It really pisses me off when people just stand there and take things they don't deserve and that's exactly what Jung-suh does. She doesn't even tell her father a single word. I mean, I know it may look to be 
the noble thing to do
 when you take punishment well or you don't complain or talk back to your elders, but I mean, come on that is ridiculous when this is the situation. The step-mother is a witch, the step-sister is a b-itch, and the step-brother is a psychopath. Right now, it seems as if Jung-suh is in the most hellish house ever.
Of course, the step-sister Yuri is jealous of Jung-suh's romance and relationship or whatever it may be with Song-ju and of course, she manipulates a situation to have a date with him at an ice-skating rink. She tells him that Jung-suh is sick and could not come which backfires because of course, he wants to come and visit her to wish her well. And what does the step-mother do? She locks Jung-suh in the closet of course. Therefore, Song-ju does not see her when he comes to visit because she is not in her room. However, he sees a tape recorder on her dresser and tapes a love confession on it for her. Whilst being locked in rather large closet, Jung-suh is surprised to see that her psychopath step-brother is also in the closet hiding near the back. What is he doing in the closet you ask? Good question because it's not explained in this episode. The episode ends with the same beginning scene with the man who is playing a grand piano on a beach.
Omy! 
That was longer than I thought it would be!
 No worries, I will try my best in the future not to make it this long anymore. I'll definitely cut it down some.
stairway to heaven - episode 2  
Episode 2 Recap:

rating: 
/5
In this episode, it's finally time for Song-ju to depart and be on his way out of the country to study overseas. Anxious, he wonders why Jung-suh isn't there at the airport to see him off. 
Oh, Song-ju, don't you know that Jung-suh was tricked by her evil step-sister Yuri and has been locked in the closet?
 Having planted a cassette tape recorder in the closet, Yuri asks Jung-suh to get it. Falling into her trap, Jung-suh runs to the room, but she soon hears the door slam behind her and the lock clicking. Her evil-step sister then heads off to the airport to see Song-ju off herself. Crying all alone and locked in the closet, Jung-suh decides to play the cassette tape recorder and is shocked to hear Song-ju's love confession to her that he recorded in Episode 1. 
Fortunately, for Jung-suh, her step-brother comes walking down the hallway and sees that a hair clip (must be a pretty strong hair clip) has been used to lock the the closet door. Curiously, he lifts the hair clip off the lock and lo and behold, Jung-suh is free! She speeds past her step-brother and hails a cab to the airport. After much hustle and bustle, she barely makes it in time to catch Song-ju just before he departs. In an emotional state of having just escaped from a closet and rushing to get to the airport, Jung-suh also confesses her love to Song-ju and is rewarded with a heart pendant necklace which is a farewell and forget me not gift. It is also the other half to Song-ju's own necklace in which when they are put together, they sort of come together like a puzzle. 
A picture of the necklace is shown up at the top.
 Shortly after, Song-ju departs for wherever he's going off to. (Don't really know which country he's going to study in)
Not surprisngly, the evil step-sister named Yuri has been hiding all of Song-ju's letters to Jung-suh and is therefore preventing Jung-suh from receiving any of them.
Later on, a very expensive vase that Jung-suh's father treasures is knocked over and smashed to pieces due to a heated argument between the evil step-mother and the psychotic step-brother. When Jung-suh's father asks what happened, the evil step-mother attempts to put the blame on Jung-suh in a sly, innocent way. 
Very surprisngly
, the psychotic step-brother admits to it being his fault stating, 
"I broke the vase, not Jung-suh."
 I guess somewhere in there was a real human being after all.
Later that night, the very freaky and evil step-mother, still raging with anger forces her son into the closet and this time, it's him who gets locked in, not to mention that the mother has done something to make the closet freezing cold. During breakfast the next day, in which the step-brother Tae hwa is absent due to 
"not being home" (he's still in the closet)
, evil step-sister Yuri lashes out at Jung-suh for making seaweed soup. Apparently, sea weed soup doesn't help her do well on tests. (Seaweed soup is traditionally made for someone when it's their birthday in Korea)
Later that day after school, Jung-suh prepares a nice meal including a bowl of seaweed soup and brings it up to the closet where step-brother Tae-hwa is still locked in. She wraps a scarf around his neck and sets the tray on his lap. Before leaving the room, she turns around and says 
Happy birthday
. Despite being resistant, Tae-hwa breaks down, touched by her kindness and the fact that she remembered his birthday. 
The next day after school, wearing the scarf Jung-suh gave him the day before, Tae-hwa awaits her as rain heavily pours down. As soon as she steps out, he does this:

I have to say, that part made my heart melt. I know it isn't that romantic of a gesture, but for psychotic step-brother, it's a leap into psychotic step-brother. Not only that, on the way home, he pretty much forces her to let him carry her bag home for her by grabbing it off her shoulder and running.
Due to being caught in the rain, Jung-suh somehow catches a fever (so typical of dramas to do that) and it is left to Tae-hwa to carry her to the hospital. There, he cares for her and stays with her until she gets better. This of course, is the beginning to the step-brother Tae-hwa's growing affection for his step-sister Jung-suh and near the end of the episode, he's confessing his love to her and asking her to accept his feelings. Jung-suh of course, has Song-ju on her mind as well.
stairway to heaven - episode 3  
Episode 3 Recap:
/5
Now before you freak out and ask why I only gave this episode 5 stars, I will explain why in this entry. Most of this episode pretty much focuses on the continuing development of the relationship between Jung-suh and Tae-hwa who are step-siblings. This episode pretty much confirms their closeness and the fact that Tae-hwa cares about his step-sister in a way that is more than brotherly love. This is also the episode that fast forwards five years into the future and shows the characters as adults. I was...
hmm, how do I say this?
Not happy with the choice of cast in terms of chemistry and believabilty (that's not a word I know, but bear with me) when it comes to the cast growing up. I thought it was interesting to post so here are the befores and afters:
Jung-suh
Tae-hwa
Yuri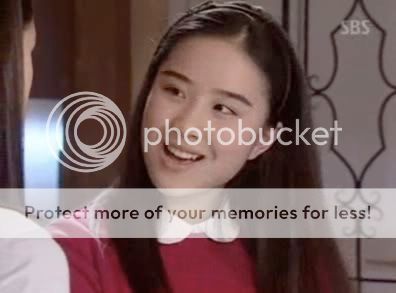 Song-ju
I have to say, I'm a little disappointed by the adult actor and actress of Tae-hwa and Jung-suh. It might sound picky, but their child actors didn't look like them and to add to that, the adult Tae-hwa and Jung-suh don't have much chemistry together. The young Tae-hwa was cute and the adult one...nevermind. It's not even just that, it's also that the adult Tae-hwa and Jung-suh look a lot older than how they're supposed to be. To me, they look to be about in their late twenties when they're supposed to be in their late teens to early twenty's. I think Tae-hwa looks thirty five, older maybe. As far as the other two, I think they pretty much match, if not, more so than Tae-hwa and Jung-suh child and adult do.
Anyway, on to the rest of the recap. Even as they are older, Tae-hwa still has strong feelings for his step-sister Jung-suh. However, she continually pushes him away saying that she is his younger sister and it isn't appropriate. During yet another fight with her step-sister (who is still evil by the way), Jung-suh picks up the phone and guess who it is? It's 
Song-ju
! Apparently, he is on his way back to Korea from wherever he came from and is asking her to be at Global Land(the amusement park or whatever it is that his family owns) right away. I would've been like, 
"Duuude, you need to let me know in advance, childhood love or not.
 But of course, Jung-suh races off to meet Song-ju much to the chagrin of the evil step-sister.
Grabbing the picture of her and Song-ju on her dresser when they were young, Jung-suh hails a taxi to the airport while Yuri the sinister step-sister steals her mother's car keys and speeds to the airport in a rampage.
When Jung-suh steps out of the taxi, she spots Song-ju from up above on a terrace/balcony waving to her and she runs across the street to meet her. Likewise, Song-ju turns around and heads for the stairs to meet his childhood love.
Just as Jung-suh is running across the street, her wicked step-sister Yuri is driving down the road and spots her and what does she do? Does she stop and slow down to allow her her step-sister to cross the street safely? Are you crazy? No way! Of course, she guns it and slams on the gas pedal. What happens? 
This of course:
A panic-stricken evil step-sister Yuri doesn't know what to do and so 
she does something she really shouldn't have
. She picks up her unconscious wounded step-sister that she ran into with a car and shoves her onto the back seat. 
This was my reaction:
DLKJS @!@$@#
#GF
($JGJGISJLGJ!!! Perhaps it's because I'm a nursing student, but many others will tell you this: 
NEVER EVER EVER EVER EVER EVER EVER EVER move someone with a suspected head injury or spinal injury because you could cause them even more damage!
 I think a good example of when you would move someone with a spinal or head injury is when there is immediate danger and there is no choice, but to move them. Since Jung-suh was hit by a car, there's a pretty good possibility that she has a head, neck, or spinal injury, not to mention the blood around her neck and head area. *SIGH. But then again, this is a drama where things aren't real.
Within the next few minutes of the drama we see Yuri panick and panick even more because she begins to realize the consequences and the repercussions of her actions. In a panic, she takes Jung-suh's wallet which contains all her id and slips it into the pocket of a corpse at the hospital. What she also does is beg her biological father to help her keep it a secret that she nearly killed Jung-suh and to keep an almost dead person at his house. Much to his reluctance, he finally agrees in the end.
Finding out what happened to Jung-suh, Tae-hwa races over to his biological father's house to take care of his step-sister/woman he's in love with. 
Meanwhile, Jung-suh's father and Song-ju are lead to believe that Jung-suh is dead and they spread her ashes at the beach. Some time later, Jung-suh awakes from her unconsciousness with no memory whatsoever of who she is or any memory of her life before she awoke. Can I just mention how improbable this situation is? I mean, I know it's a drama and all, but come on! A person survives being hit by a car, with a 
HEAD INJURY (unconsciousness and MEMORY LOSS)
, not to mention survives without receiving any proper medical treatment whatsoever! Sooooo improbable, so much so that it bothers me. But I'll exhale and slowly let it go. 
The end scene shows us a different Jung-suh whose name is now 
Kim Jisoo
. Not only has her name changed, but so has her personality as she is caught in a fight over clothes or something. Meh, I wasn't too concerned with what she was fighting over with some stranger. Bottom line: Jung-suh survived being hit by a car, lost her memory and now lives as Kim Jisoo. Of course, Tae-hwa is still by her side.
stairway to heaven - episode 4  
Episode 4 Recap:
/5
"But, how do you paint heaven?
I just have to paint you."

I have to say that the only thing that was holding me back from giving this episode a full five stars was the acting. It could've been a lot better in some of the parts, especially during the emotional parts or the heart felt parts, particularly by one actor who I will not identify because I'm feeling nice today.
Whoo!
 Well let me just say that this episode was one hell of a ride! But it also teased the viewers so much in the beginning. It did end with a bang though, especially with the previews for next episode which I am already excited to watch.
This episode starts off with the end scene from the last episode in which it is five years after the faked death of Jung-suh(who is now called Jisoo). Yoori and Song-ju are sitting in a plane heading back to Korea from some place that is not mentioned and are apparently now working together. (I think) Still not able to forget about Jung-suh, Song-ju returns to the beach where they spread her ashes, or rather, someone else's ashes that they thought were her ashes and throws a boomerang around. It's 
symbolism
 I suppose for Jung-suh coming back to him since boomerangs come back to the person who throws it.
Coincidentally, (the first of many in this episode) Jung-suh who is now 
Jisoo
 is at the same beach with Tae-hwa who now known as 
Han Chulsoo
. I know it's starting to get confusing with all the name changes, but bear with me, I'll keep trying to remind you who's who.
Anyway, Song-ju enters the house and begins to play the grand piano (which is the same piano he plays on the shore of the beach in the beginning of episode 1) and I guess he is so enthralled with his piano playing and so focused on it that he doesn't even notice Jung-suh (or now Jisoo) come right up to the window pane. She has approached because she was curious about who was playing piano. So the teasing of the viewers begins because both leave the beach and Song-ju never even knew that his childhood love was a few feet away at one point.
This episode reveals that Jung-suh(now Jisoo) was told that she was Tae-hwa's father's friend's daughter (You got that?) who lost her memory and her parents in a house fire. Of course, she believes that Tae-hwa(Chulsoo)'s father took her in and took care of her. It is also established that Jisoo(formerly Jung-suh) and Chulsoo(formerly Tae-hwa) are a couple because Jisoo verbally says that she likes Chulsoo.
Another relationship that is confirmed in this episode is one between Yuri and Song-ju who are to announce an engagement. It is very evident, however, that Song-ju is not at all excited about the engagement and neither about the lady he is to be engaged to. During a trip to the mall or some sort of shopping building, Song-ju coincidentally sees Jung-suh(now Jisoo) there. Needless to say, 
a mad chase
ensues in which the chasee doesn't know she is being chased at all. In the end, Song-ju's effort fails because she speeds away in a subway train without even knowing she was being chased in the first place. To add to that, Song-ju believes that it was just a Jung-suh look alike.
As the future chairman of his family company, Song-ju plans to put up a mural at Global Place, an amusement park/activity building where he and Jung-suh(now Jisoo) spent many times together. He proposes that a local artist do it and not someone who is famous or known. Lo and behold, Jisoo(formerly Jung-suh) sees a poster for the contest and she enters one of Chulsoo's(formerly psychotic step-brother)'s paintings in the contest.
Tada! His entry wins and she aks him to meet her at Global place where she shows him the wall area which he will be painting. He is quite hesitant to say yes, however, probably because he knows that Global Place belongs to Jung-suh(now Jisoo)'s former childhood love. As an encouragement, (or a bribe, think of it as you may) Jisoo says that if he finishes the mural, she'll give him an engagement ring. 
Wow, that's an amazingly big present
. Fallen to the bribe, Chulsoo/Tae-hwa agrees.
HOWEVER,
dun dun dun!
 (that was dramatic music by the way) of course Song-ju is there and he sees Jung-suh/Jisoo. He grabs her and hugs her happily, but is baffled when she acts surprised and does not recognize him. 
Psychotic step-brother
 becomes psychotic once again and rips Jung-suh/Jisoo away from Song-ju and they both bolt it out of there.
Outside, Jisoo asks who that man was who called her Jung-suh. Freaking out like a psychopath, he gets angry and he tells her that he can't believe that she doesn't believe what he told her was the truth and that she's not trusting him. 
(insert roll your eyes cue here)
 After that, he runs away and hops on a bus.
Before Jung-suh/Jisoo could get on the same bus, however, Song-ju catches up to her and forcefully hugs her once again. This time, he knows for sure that this is Jung-suh that he's seeing and not a look alike. Of course, having lost her memory, Jisoo doesn't know who he is and asks him if he knows her.
Seeing that the bus that Chulsoo/Tae-hwa hopped on was driving away, Jung-suh/Jisoo bolts after the next bus to catch up to him. Of course, this causes Song-ju to also chase after which again starts another goose chase. Eventually, Song-ju catches up to the same bus that Jung-suh/Jisoo has boarded and shows her the photo of them that the took when they were kids. He tries to make her admit that she is Jung-suh, but of course, she doesn't because she doesn't think she is. After some more chasing, Jung-suh yells "assault!" in that which she is able to escape because Song-ju is held back by people on the street.
At the end of the episode, we see Jisoo walking away from the clothing store that she owns called "Icarus". 
Suddenly, out of the shadows emerges Song-ju
 who takes note of the name of the store.
stairway to heaven - episode 5  
Episode 5 Recap:
/5
In this episode, Song-ju seriously suspects Jung-suh's death and continues his pursuit in getting closer to Jisoo. As a result, he continues to follow her (pretty much stalk her), so much so that he shuts down her clothing business so that she has no choice but to join a contract with the mall that he is the President of. Speaking of which, don't Yuri and Song-ju work at the same place? Why, yes they do and the picture above that you see is Yuri's expression when she comes face to face with the fact that Jung-suh is very much indeed alive and right in front of her. Of course, Jisoo/Jung-suh doesn't recognize her step-sister because her memory was lost in the accident. Poor Yuri. (we actually don't feel sorry for her) She will now have to work with her step-sister that she nearly killed five years ago. Meanwhile, psychotic step-brother who lied to his step-sister so he could have a romantic relationship with her is going 
psycho
 because he knows that Song-ju suspects that Jung-suh is still alive and he's probably afraid that Jung-suh/Jisoo might found out she had been lied to all these years.
This brings me to the notion of...
Why didn't he take her and run away to a different place? If he really didn't want her to remember her old life, then why did he keep her in the same place where there were people she was bound to meet up with from her old life? Why, why psychotic step-brother?
 He may be good at painting and lying, but he is not good at keeping people's memories hidden from them. I have to say, he is not a favourite of mine, that psychotic step-brother Tae-hwa/Chulsoo. So whatever, he was a poor boy who never felt any love when he was growing up and he really loves Jisoo/Jung-suh. But I don't think that justifies the fact that he lied to her so he could keep her all to himself. Besides, this actor's not a favorite of mine either. I wish he would've given more in a lot of the scenes. His eyes lack emotion a lot of the times and they don't convey enough feeling. Of course, that's just my opinion.
Anyway, the events of this episode were pretty good. Mainly the fact that 
Jung-suh/Jisoo and Yuri were reunited
. Looking forward to the next episode.
stairway to heaven - episode 6  
Episode 6 Recap:
/5
This episode was a 
tear jerker
. But before we get to that, we see more and more that Jisoo(used to be Jung-suh) is starting to realize that Song-ju isn't just playing around about knowing a girl named Jung-suh. She is starting to see his deep deep love for her that never went away. What really made me tear up was when her biological father (who she doesn't remember of course) sees her and also calls her by the name that Song-ju has been calling her, which is Jung-suh. Jung-suh's dad held her hand, said she was the same age as Jung-suh and began to break down in tears. The whole sight of it made me start to tear up because father and daughter are right in front of each other, but of course, Jung-suh doesn't remember and sticks by the fact that her name is Jisoo.
On the other hand, 
psychotic Tae-hwa/Chulsoo
 is going crazy that Jung-suh might recover her memory or that she is even beginning to suspect. He goes all crazy on her, crying and getting pissed off that she let Song-ju spend some time with her. Of course, Jung-suh/Jisoo who thinks that Chulsoo/psychotic boy is a good person who took care of her after her parents died sticks by his side and tells him that she will quit the company.
Of course, Song-ju won't have any of that quitting business and so he gets his director/secretary (the foreign guy who can speak korean well) to pick her up and drop her off at a hotel suite which he is also in.
I don't know what it is, (besides the fact that he is deceiving Jung-suh and pretending to be the victim) but I really dislike 
psychotic boy
 aka Tae hwa/Chulsoo. He just gets on my nerves and so does the step-sister Yuri who is still a 
bi-otch
 and has the freakiest angry face ever. It's not that her angry face is freaky in a scary way, it's freaky in a revolting way. Anyway, I don't feel sorry for both of them at all right now. I hope they both get what they deserve.
stairway to heaven - episode 7  
Episode 7 Recap:
/5
This episode was sort of a 
burn
 for Yuri. First of all, Song-ju takes Jung-suh/Jisoo to her old house just when Song-ju's mother is over too. Not only that, of course the evil step-mother sees her and they're all shocked to see that Jung-suh has come alive from the dead. The evil step-mother faints, 
(an act, I'm sure)
and and Yuri goes stomping upstairs. Bringing Jung-suh/Jisoo back to her old house didn't relieve her memories, but she's certainly seen that more than one person thinks she looks like Jung-suh. 
Also, an important event that happens is an 
engagement between Jisoo and Chulsoo
! Here's a picture of the ring:
I suppose it's an official engagement because Jisoo said that she wouldn't give him a ring back until he finished the mural project at Global Place. The way he proposed however, bugged me to no end. He pretty much put the ring in her hand and said, 
"Don't ask, it's not expensive."
 -silence, blink, silence, blink- 
Whaaat? It's not expensive?
 What does that say to a woman? 
You're not worth enough for an expensive ring.
 I'm not even talking about the price here. I'm talking about how he said it, how he proposed. If he just omitted the part about it not being expensive and put the ring in her hand, it would've been a better proposal in my opinion. He looked really blah-say about it too, like here's the ring...do what you want with it. Whatever, ok maybe he's not the type of person who's romantic. Still, I think Song-ju would've showed him up in the romance department and if he's the competition, shouldn't Chulsoo/Tae-hwa make more of an effort?
After finding out that Jisoo is engaged, Song-ju gets a little jealous and tries to counteract that by making Jisoo jealous by taking Yuri out on a date to the same place that she and Chulsoo are out on a date at. Near the end of the episode, Jung-suh/Jisoo who has stayed late at the office to finish up some work sees Song-ju sleeping on the couch in his office. Accidentally waking him up, he decides that they should eat, hence the picture you see at the top of this entry. He pretty much drags her to the ice rink where they skate without ice skates (which may sound dorky, but I want to try it some day). Little by little, Song-ju is making a big impression on Jisoo's heart.
stairway to heaven - episode 8  
Episode 8 Recap:
/5
So the first part of the episode pretty much goes on about how much Song-ju misses Jung-suh. Also, Jisoo finally gives Chulsoo an engagement ring back so they are officially engaged. Most awesomely, 
Kim Jisoo finally gets her memory back!!
 Yessssssss! How does it happen? Well, Yuri hits her with her car again as she is on the street. (Really, Yuri should get her license revoked or something) and because of that hit, Jisoo began to have flashbacks of the first time she was hit with the car. She then starts having multiple flashbacks of other various memories before she lost her memory. Even more awesome than that was her face off with the evil step-mother in the elevator when she lets the witch know that she has her memory back.
Up above is Jung-suh(I can call her that completely now) holding her step-mother against the wall in the elevator. *wipes tear* I feel like a proud mama. Show that evil witch what she deserves.
Anyway, here's the heart breaking part: Now that Jung-suh has all her memories back, of course she remembers that her love is Song-ju. She immediately runs to find him, but when she finally does, she is rendered 
speechless
 because after all, for her, this is the first time she's seen him in what? 10 years now? But of course, Song-ju doesn't know that Jung-suh has all her memories back and thinks that she is still Jisoo who just looks a lot like Jung-suh. After making sure she's alright, he walks on.
I can't wait to watch the next episode! What happens with Tae-hwa? What happens with Jung-suh? The previews look really really good. The story line is becoming more and more interesting.
Anyway, haven't I done a good job at reducing the length of these entries? I decided that I would only write about the important parts of the plot that is important to the story.
stairway to heaven - episode 9  
Episode 9 Recap:
/5
This episode would've gotten 
5 stars
 had it not been for the carousel ride scene in which the 
mic was visible
 at the top. Little technical things like that can't get in the way. I'm sorry, I can be a harsh critic.
Anyway, this episode was friggin' awesome in terms of the advancement of the plot. Well, first of all the evil step-mother and step-sister get confirmation that Jung-suh has regained her memories. Of course, Yuri is freakin' out because she doesn't know if Jung-suh knows that it was her who caused the accident. Yuri later admits to her more or less that she helped to deceive everyone about Jung-suh's death.
On to the heartbreaking part:
 Just when Jung-suh was about to tell Song-ju that she is not Kim Jisoo, but Jung-suh, he tells her that he "sent Jung-suh to heaven" which I would translate to as "I let her go". 
Ouch.
Perfect timing. Also, he admits that he liked Kim Jisoo and said 
even though she's so different from Jung-suh
, he came to like Kim Jisoo. 
Double ouch.
 Great, so now he only likes her for being Kim Jisoo instead of being Jung-suh. 
How ironic.
 The pictures at the beginning of this entry are from the confession of their feelings.
Of course, Jung-suh is pretty 
peeved off
 about the fact that Tae-hwa kept her identity a secret from her this entire time. He tells her to leave and not come back to the house, also saying that he will leave to place where no one knows him.
Of course, the evil step-mother will not just lie down and wait for Jung-suh to ruin her life so she makes it seem to Sung-ju's mother as if Jisoo is just pretending to be Jung-suh. You know how manipulative she can be with her acting. Alright so Sung-ju's mother believes the evil step-mother/witch and decides to ask Jung-suh(who she thinks is only pretending to be Jung-suh) to leave the company. Song-ju also is tricked by this and tells Jung-suh that she didn't have to pretend to be Jung-suh because he liked Jisoo. 
Triple ouch.
Well anyway, since Jung-suh has been pretty much kicked out of her house by Tae-hwa, she is forced to stay at a motel. She then gets a call from Tae-hwa's dad saying that Tae-hwa is dying and is calling for her. 
Here's what happened:
Tae Hwa's dad's irresponsibility with money got him into a bit of a predicament. All of a sudden a bunch of mysterious men in black suits barge into their house and start beating them up, saying something about paintings. (Tae Hwa's dad sold one of Tae Hwa's painting to an art gallery claiming that it was by some famous artist) So they are beaten, kicked, punched all because of Tae-hwa's irresponsible money-grubbing father and now his son is paying for the consequences.
stairway to heaven - episode 10  
Episode 10 Recap:
/5
This episode gets 5/5! The emotion in the scenes were good and the advancement of the events in this episode was awesome! Where do I begin? Ok, firstly, the beginning of the episode started off where the last episode ends off. (Which of course, always happens) To review, at the end of the last episode, Tae-hwa's dad calls Jung-suh on her cell phone and tells her that Tae-hwa was badly hurt and kept calling for her. Being the good person that she is, of course she rushes over to Tae-hwa's house and cares for his wounds. Still bitter and hurt about the fact that he kept her true identity from her a secret for five years, she gives him a piece of her mind in the form of crying and shouting. Later on, back at her hotel, while she reminisces about the time she spent with Tae-hwa and about his expression of his love for her, she hears a knock on the door. Guess who it is? 
None other than Song-ju
 who demands that she go out to eat. She declines at first, but eventually gives in. From there, they have a great timing eat together and even drinking soju(I think it is) together, as shown up in the top photo.
After a few drinks, Jung-suh begins to ask Song-ju 
"Did you really forget Jung-suh?"
 to which he answers, 
"Stop it."
 (If you don't remember, evil-step mother made it seem as if Kim Jisoo is pretending to be Jung-suh) After receiving that response from Song-ju, Jung-suh in her somewhat drunken and depressed state begins to tell him repeatedly that she is Jung-suh. Of course, he doesn't quite believe what she says as he still believes she is Kim Jisoo.
After that whole incident, Jung-suh perhaps realizes that she will never be with Song-ju now because she leaves him a message on his phone telling him that 
she is leaving
 with Tae-hwa to a place where no one knows them.
Catching Tae-hwa just in time before he leaves, Jung-suh hops into a van with him and head off to an unknown destination. 
Now this is where I have to give 
psychotic
 step-brother some credit. Yes, I know it's true. Although he's not my favorite character, I admire him for what he does next: In order to bring Jung-suh and Song-ju together, he drives to the beach where Jung-suh's old beach house is. Next, he calls Song-ju and tells him that he hated her because she love Song-ju (Just wait, I know it sounds crazy right now) he was going to send her away and that the only person who could make Jung-suh happy was Song-ju. He then leaves a sleeping Jung-suh in the van while he makes a clean getaway as Song-ju gets to the beach. 
When Song-ju gets out of the car and approaches an awake Jung-suh, somehow by looking at her, Song-ju realizes that the girl before him is indeed, Jung-suh. It was a happy 
reunion
 if you will and here's a little picture:
As the two are bringing back their lost love, the camera zooms in on a figure hidden in the darker background behind the corner of some building structure. It's none other than Tae-hwa who has been watching this whole time. (creepy!) Anyway, his inner monologue says that he wishes Jung-suh to forgive Yuri. (yeah right!)
Song-ju soon tells her that since Jung-suh is back, she should also go back to her home. (where evil step-mother and evil-step sister live) The end scene is Jung-suh standing outside her old home and ringing the telecom and speaking to her father.
stairway to heaven - episode 11  
Episode 11 Recap:
/5
In a couple of scenes, the microphone was visible at the top of the screen. I deducted points for that. But really, who's going to take these ratings into consideration? Anyway, in this episode, Jung-suh moves back into her old house much to her father's delight. However, things aren't made easy for her by her evil step-mother and evil step-sister of course. For one, they both urge her to stop chasing after Song-ju and the evil step-mother continues her act of being happy to see Jung-suh. Fortunately, Jung-suh's dad gave her another room so she wouldn't have to share rooms with Yuri.
What's cute though, is how Song-ju is acting all love-struck with Jung-suh, pretty much following her everywhere at work, even eating lunch with the lower class employees so he could eat with her. However, it isn't too long before Yuri comes along and insists that Song-ju must come with her for engagement preparations to which he must agree to. However, being the conniving person she is, Yuri asks Jung-suh to come with them for their engagement preparations. Jung-suh declines, but what's surprising is that 
Song-ju agrees that Jung-suh come
. I wondered why in the world he would make her do such a thing...watch the man she loves prepare for his engagement with another woman, her evil-step sister no less. However, it is evident throughout the dress shopping, shoe shopping, etc that he wasn't there to shop for Yuri. He was shopping for Jung-suh. He bought her a dress (pretty much forced her to try it on) saying that he liked it despite never really paying much attention to Yuri whenever she emerged from the dressing room in a dress.
The next day, Song-ju pretty much drags Jung-suh to the jewlery store and forces her to try rings on. He explains by saying that the woman he'll give a ring to on his engagement day will be the woman he loves. Obviously, we all know that he doesn't love Yuri. Knowing that it's wrong for him to be chasing after her when he's supposed to be engaged to Yuri, Jung-suh refuses to try on rings. 
This causes Song-ju to ask Jung-suh if she loves him.
 No answer from her. Even after asking four times, he doesn't get an answer. 
All I was thinking was "Say yes! Just freakin' say yes!"
 He drops the current question, purchases a ring that fits Jung-suh (see picture below) and tells her to wait because he's going to get the car.
However, after waiting a while, Yuri who had been following them shows up at the jewelry store. Pissed off, she too asks the same question that Song-ju had asked - if she loved him. This time, there is an answer and Jung-suh answers 
"Yes"
. Great, now if she just said that simple word to Song-ju when he had asked her the same question, he would have at least known. Or maybe he does, but he just wants to hear it. 
Some time later, Jung-suh spots Tae-hwa at Global Place staring at the mural. (hence the photo at the very top) She wonders if he's alright, if he's eaten, and if he had a safe place to sleep. He tells her he's well and congratulates her on her engagement. She tells him she's not engaged. Despite a surprised look on Tae-hwa's face, he tells Jung-suh to do it, to get engaged. Now this is where I have come to gain respect for the dude. Like I've said quite a few times, he's not my favorite character, but it takes a lot to let go of the person you love and he did that. He runs away, not wishing to speak to her any longer. (probably because it hurts too much) Nearby, watching the whole exchange was *surprise, surprise* Song-ju who comforts a sad Jung-suh. He gets her to agree to come to the engagement day.
stairway to heaven - episode 12  
Episode 12 Recap:
/5
This is the 
engagement day
 episode! Well first of all, we all know that Song-ju actually meant to get engaged to Jung-suh and not to Yuri. However, after seeing a newspaper article about how Yuri is engaged to Song-ju, Tae-hwa decides to crash the party because he had warned Yuri previously that she should 
give back to Jungsuh everything that was taken from her.
 Of course, evil step-mother has a plan of her own and calls the police, telling them that Tae-hwa (she tells them his name is Han Chulsoo) was the one behind the selling of the forged paintings. When he does get to the engagement ceremony, he is being dragged away by police just as Song-ju has offered Jung-suh the ring. 
Talk about perfect timing...
 Torn between the two men, Jung-suh chooses to reject Song-ju and chase after Tae-hwa who is being dragged away by the police. It irritates me, but Song-ju chooses not to go after Jung-suh and go through with the engagement ceremony and get engaged to Yrui.After being released from the police station, Tae-hwa tells Jung-suh that she shouldn't have come after him and that she should've gotten engaged to Song-ju. Get this: 
Jung-suh says that it was Tae-hwa's fault that she didn't get engaged to Song-ju. Had he not interrupted the ceremony, she would've become engaged to Song-ju.
 Little does she know that in the background, Song-ju is sitting in his car listening to this whole exchange. Angry, Tae-hwa tells Jung-suh never to expect to see him again. With that, he runs off and away from Jung-suh.
Later on, (after forcing her to get into his car) Song-ju has taken Jung-suh to Global Place and it is at that time they decide to 
just be friends
. Song-ju points out that friends can hang out, friends can be there for each other in hard times, and as friends, they can still see each other. Jung-suh agrees and Song-ju gives her the engagement as a 
friendship ring
, but he puts it on her ring finger.
Then Song-ju does something that makes me jump out of my seat, but for a good reason. He tells Jung-suh that there's something he forgot to do before they became friends and he proceeds to do this:
Gahh..it's the long awaited kiss. How nice. But they're just friends now right? When Jung-suh finally gets home, Yuri freaks out on her because she knew that she had met up with Song-ju. Then, 
Jung-suh actually admits that she loves Song-ju and wanted to get engaged to him
 which of course pisses Yuri off.
In the next scene, Song-ju and Tae-hwa meet up in a back alley. (Refer to photo at the beginning of this entry) Tae-hwa tells Song-ju he doesn't understand why Song-ju got engaged to another woman when Song-ju had promised him that he would make Jung-suh happy. (Have they been meeting up like this all along?) Song-ju counters that by saying that it was Tae-hwa who ruined it all by showing up and interrupting the engagement ceremony. Tae-hwa then responds by saying that it was Song-ju's responsibility to stop her from running out. After giving Tae-hwa a couple punches, he says that all of this wouldn't have happened if Tae-hwa had just told Song-ju about her memory loss. Feeling guilty, Tae-hwa agrees and backs down. Then, he does something that makes me like him even more. 
He tells Song-ju that it's still not too late and urges him to go and make her happy.
Although Jung-suh and Song-ju have agreed to stay friends, it's obvious that they still have very strong feelings for each other besides friendship.
stairway to heaven - episode 13  
Episode 13 Recap:
/5
This episode for the most part pretty much goes on about how hard it is for Song-ju and Jung-suh to be just friends. Even though Song-ju sends Jung-suh away to a cabin (where she doesn't know that Tae-hwa is either) and tells Tae-hwa that he is sending Jung-suh back to him because he can't make her happy, circumstances bring them back together when Jung-suh gets a fever and begins to say Song-ju's name in her semi-conscious state. Tae-hwa calls Song-ju to come right away and says that he is going to leave her whether he comes or not. Of course, Song-ju is there by Jung-suh's side and brings her to a clinic/medical facility where she is taken care of. In the morning, when Jung-suh wakes, she sees a sleeping Song-ju by her side and decides that they shouldn't see each other because it hurts too much. After telling him she loves him (he's sleeping, so does he really hear it?) she runs to the train station and hops aboard a train. Little does she know that Tae-hwa boarded the same train earlier.
Seeing that she is still sick, Tae-hwa takes a seat beside her to help care for her, but when he looks out the window, Song-ju is driving alongside the train, very determined to keep up with Jung-suh and not let her go.
When the train finally stops at the next station, Jung-suh wakes up and finds that Tae-hwa is gone. Panicked that he left, she gets up and runs out of the train and comes face to face with Song-ju who has managed to keep up with her. (refer to pic at the top) Happy to see each other, Song-ju and Jung-suh embrace while Tae-hwa watches hidden from a distance.
Song-ju then promises Jung-suh that he loves her and he will never let her go again. The two walk away together as Tae-hwa watches.
I have to say that I don't resent Tae-hwa as much as I used to. He's done a lot so far that has made me see how much he loves Jung-suh that he would be willing to let her go and let her be with the one she loves.
stairway to heaven - episode 14  
Episode 14 Recap:
/5
[The mic really needs to stay out of the shot. It's distracting and shows carelessness.] After almost losing Jung-suh, Song-ju decides that he will never let her go again. He confirms this by breaking off the engagement with Yuri and telling Jung-suh's father and the evil step-mother that he loves Jung-suh and wants to marry her much to the demise of Yuri and the evil-stepmother. This causes Song-ju's mother to tell him to apologize because he is the face of global group. Song-ju says that he doesn't want to lose Jung-suh but is willing to give up his position. Thus, Song-ju's mother tells him to resign and Song-ju is not only left without a job, but also without a home as Jung-suh follows him and finds out he is sleeping in a motel. They're very happy though, Song-ju saying that he loves her more than he loves himself and indeed, he does not seem bothered by the fact that he is no longer rich.
Of course, evil step-mother won't let anything get in her way
 and she is less than happy about the fact that Song-ju dumped Yuri. Somehow, with her conniving ways, she convinced Song-ju's mother to agree that if Song-ju ever returns, he will immediately be wed to Yuri.
Meanwhile, after being tricked into meeting up with the evil step-mother, Tae-hwa's dad finds out that it was her who was trying to destroy Tae-hwa and she had helped in him getting beat up and arrested at the engagement party. Pissed off to no end, Tae-hwa confronts Yuri, with Jung-suh who happened to be there to watch it all.
Tae-hwa couldn't believe the extent to which his own sister and mother had gone to harm him. Much to Yuri's horror, he then begins to talk about the accident that was Yuri's fault. Yuri stops him, telling him that no one will believe him even if he does tell everyone. Tae-hwa responds by saying that even if no one does believe him, there's still their father who knew everything also. 
I loved seeing Yuri cower away in fear.
 I hope to see more of it.
One last thing to mention: Throughout the episode (twice, really) Jung-suh has been having moments where her vision would blur for a few moments, but would then return to normal. She decides to go to a doctor who says that she should see a specialist because he couldn't determine anything quite yet. Apparently, the accident she was in caused some damage to the corner of her eye and she needs to wear glasses for the time being.
stairway to heaven - episode 15  
Episode 15 Recap:
/5
This episode was a definite tear jerker. We'll get to that later though. As explained in the last episode, 
Jung-suh must now wear glasses
 because the doctor found that there was damage to her cornea and she had been having short moments of her vision becoming blurred. We also see that Song-ju is having trouble finding another job because of his status. Whatever that means. Anyway, he only has a limited amount of cash left in his wallet and despite knowing that, he still takes Jung-suh out on a date to Global Place which pretty much wipes out his cash stock. He sees his mother walking by and with a little encouragement from Jung-suh, he attempts to regain his position back at Global Group, but he is denied and notified by his mother that by returning, he will be married to Yuri.
Walking by a cheap jewelry kisok, Song-ju decides to purchase something with the last of his money. Having no money for food, he tries to feign to Jung-suh that he is not hungry and has a stomach ache. Numerous times, he tries to hide the fact that he is broke. However, when they both step into his motel room, they find dinner for two with a card that reads 
"From a friend..."
 (ie. Director Jang) That guy is so underrated! He deserves a few rounds of applause.
The next day, Song-ju asks Jung-suh to meet him at the beach house after work. When she gets there, he presents her with this gift:
They're of by no means fancy or expensive, but they full of love. (corny I know) So here's how it looks on their fingers: (woo hoo, they're engaged)
Soon, Director Jang pulls up to the beach in a car and Jung-suh explains that she asked him to come because he is needed by his family's company. After Song-ju refuses to return because it will mean losing Jung-suh, she tells him that she has faith that his feelings for her will never change and she has faith that her feelings for him will never change. She said that no matter what happens, she will be by his side. With those golden words, Song-ju goes back to Global Group and saves the day for his company.
When Song-ju returns to the company, Yuri is all clingy, thinking that he has agreed to marry her or that he has come back to her. He explains to her, however, that he hasn't changed his mind and he tells her that 
he doesn't love her
. She's desperate though and tells him that even if it's his shell or even if he mocks her, she'll still stay with him.
She's a leech I tell you!
Crying to Song-ju's mother, the lady of Global Group says that they will announce Yuri and Song-ju's wedding. The wedding announcement is then printed on the front of the newspaper. Despite seeing the front page of the newspaper, Jung-suh is not worried and agrees to meet Song-ju for coffee. However, as she crosses the street, her vision once again blurs, but this time, she passes out on the street.
After doing more tests at the hospital, it is then determined that 
there are tumors in both her eyes
 and the doctor is afraid that the tumors are malignant. (cancerous) The only way to stop the cancer from spreading would be to remove her eyes. (Ugh!) It is also determined that 
her eyesight will gradually worsen
 with no way to cure it. Damn, this sucks! Just when things were going well with Song-ju...this had to happen! Of course, it wouldn't be a drama without something going wrong.
Anyway, for the time being, she hasn't told anyone about her health discovery today and talks to her father. If you don't now, Jung-suh's mom passed away from eye cancer and opted not to get her eyes extracted because she wanted to see Jung-suh and her father as long as she could. Jung-suh tells her father that if she were in the same situation, she would have done the same thing. Meanwhile, all this time, Song-ju has been waiting at the cafe and get this, he's been waiting for 
5 hours
! How many guys would do that? 
Only guys in dramas
. 
Jung-suh finally gets to the cafe and begins to get emotional because she knows that eventually, she won't be able to see his face. She therefore tries to memorize his face with her hands by running her hands over his face. (Refer to photo at the beginning of this entry) She then asks Jung-suh if they would watch a movie (again, because she won't be able to watch movies in the future) and he rents a 
movie bus
. (I want to try it! It's a busy that has a theatre inside! It also has popcorn, coffee, etc.)
Back on the other side of town, Tae-hwa also sees the newspaper with the wedding announcement between Song-ju and Yuri. He then packs up his stuff and announces to his father that he is going back to Jung-suh's house (to live there?) and he is going to tell everyone everything, including the fact that the accident was Yuri's fault. He also tells his father that he is the only one besides himself who knows the truth.
stairway to heaven - episode 16  
Episode 16 Recap:
/5
And the tears keep comin'. 
Finally, Tae-hwa comes back to the house
 they grew up in and gets straight to the point about what really happened the night of the accident. He tells Jung-suh and her father everything, but the evil-step mother and step-sister try to make it seem as if he is making up lies. Tae-hwa refuses to leave until "Jung-suh is married." He can't help, but notice however, that Jung-suh has been a little off lately, mainly concerning her eyesight. While he painted, he asked her to pass him specific colors of paint tubes, but each time, she handed him the wrong color.
More bad news from the doctor:
 the tumor in her eyes are 
malignant
 (cancerous) and the only option is to remove her eyes. However, the surgery only gives her a fifty/fifty chance of survival and even if she did get the surgery, there could be a chance of a relapse. 
[it's a lose-lose situation]
As you see from the photo at the top, 
this is now how Jung-suh sees the world
 as her eyesight has worsened and things have become even more blurrier, so much so, that she can no longer see the details of Song-ju's face.
Knowing that her eyesight and her health are deteriorating more and more each day, Jung-suh begins to make preparations for her death, so to speak. One of those ways, is to distance herself from the people that love her and to make the goodbye easier. She decided on having one last date with Song-ju. This included trying on the wedding dress he picked out for her. 
Despite having a happy, wonderful day, Jung-suh planned all along to break up with Song-ju at the end of their date. Alas, after having spent the night together at the beach house (nothing happened, they just slept beside each other), Song-ju wakes up and finds a letter and the ring he gave Jung-suh in his hand with no Jung-suh in sight. The letter said that she was leaving because she couldn't leave Tae-hwa and she asked for Song-ju not to look for her. Of course, Song-ju runs out of the beach house, running aimlessly down the beach calling her name. He soon speeds off in his car to look for her, but alas, Jung-suh was hiding behind the beach house all along.
stairway to heaven - episode 17  
Episode 17 Recap:
/5
As mentioned in the last episode, Jung-suh has planned to leave everyone, including Song-ju. And where is she hiding out at? 
The beach house.
 Really, come on...if you don't want people to find you, the beach house should be the last place you want to hide out at. Anyway, Tae-hwa finds her there and because he knows that her eyesight is bad, he insists to stay with her. I know that it might sound totally opposite from how I felt in the beginning, but now, 
I am actually a fan of ex-psychotic step-brother Tae-hwa.
 He has mentioned several times now that he loves her as her older brother, nothing more even though that's probably not the case, but he's giving up his own happiness for Jung-suh's happiness.
The next day, Jung-suh and Tae-hwa head into town because Jung-suh wants to see Song-ju, but only watch him from afar because she doesn't want him to know that she is losing her eyesight. When they get to Global Place, Jung-suh and Tae-hwa split up because Tae has an "appointment". What Tae-hwa is really doing, is going to the hospital to talk to the doctor about Jung-suh's condition and options for treatment. Tae-hwa finds out how much the surgery costs and decides to paint a replica painting (illegal!) for fast cash so he can help Jung-suh get the surgery. What Tae-hwa also finds out is that because of the accident that Yuri caused five years ago, Jung-suh's cornea was damaged which is contributing to her loss of vision.
The next scene shows Tae-hwa storming into Yuri's workplace, grabbing her by her collar (you go, step-brother!) and holding her up against the balcony rails. As he does this, he is telling her that she deserves to die and that if anything ever happens to Jung-suh that he was going to kill her. (Refer to picture at the beginning of this entry)
After finishing up the replica painting, Tae-hwa leaves the beach house to go and bring it to the person who is going to buy it. However, after handing it over, he is soon caught by the police and is brought to the police station. (Courtesy of the evil step-mother who tipped off the police) From the police station, Tae-hwa calls Song-ju and asks him to come. There, Tae-hwa tells Song-ju 
everything
 including the fact that Jung-suh has eye cancer. Of course, Song-ju is shocked and at first unable to believe this. Tae-hwa expresses that he tried to help her, but ended up in jail and so he begs for Song-ju's help. After disclosing the fact that Jung-suh is at the beach house, Song-ju rushes there.
Back at the beach house:
Bad news for Jung-suh
. 
Her eyesight is completely gone.
 Everything is pitch black. Song-ju arrives at the beach and spots Jung-suh aimlessly crawling around on the sand.
stairway to heaven - episode 18  
Episode 18 Recap:
/5
Awesome episode! Continuing from the last episode, Song-ju finds Jung-suh on the beach and runs to her. However, he realizes just how bad her sickness is when she mistakes him for Tae-hwa. Jung-suh begs him (she thinks it's Tae-hwa) not to tell Song-ju that she has gone completely blind. She does say, however, that she wishes to see him one more time to end things once and for all. (Didn't she already do that when she gave him the note and ran away?) Solemnly going along with it, Song-ju pretends to be Tae-hwa (by wearing a pleather jacket and not a suit jacket) and takes her to see himself. He helps her to sit down in a chair at the cafe and then changes into his suit jacket, pretending that he had just come in. Devastated by the fact that Song-ju is blind, Song-ju goes on with the act unable to stop from crying.
However, Jung-suh becomes angry when she realizes that Song-ju was pretending to be Tae-hwa, accusing him of trying to make a fool out of her. After being asked to leave several times, Song-ju refuses saying that he will never leave her side. Some time later, Song-ju convinces Jung-suh to have the operation to remove the tumors from her eyes. He says it would be foolish to try to die when you can live. She agrees, and they head to the hospital. In this episode, Jung-suh's father is told by Song-ju about her sickness and that it is the same eye cancer that her mother had. The eye surgery goes well and the cancer is removed, however, Jung-suh knows that the cancer could come back.
Meanwhile, Tae-hwa's dad convinces the detectives to lay off his son for a while and try to find the one who tried to purchase the replica paintings. (Which of course is evil step-mother) Panicking that she might be found out, evil step-mother hires the mafia(I think) to kidnap the father so he would keep his mouth shut. Somehow, he manages to escape and not be caught.
Little brat Yuri has been curious as to why Song-ju has been so busy as of late. (of course, he's been at the hospital visiting Jung-suh) She follows him to the hospital and when the coast is clear, she enters Jung-suh's hospital room. This is when she finds out that Jung-suh has become blind and get this: 
she has the audacity to be happy.
(Refer to photo at the top of this entry) She's not even sad and she doesn't even feel pity although she pretends to cry. She's completely happy that Jung-suh doesn't want to marry Song-ju because of her sickness.
However,
 that's not the way Song-ju feels. Despite Jung-suh's sickness and inability to see, he still wants very much to marry her. So much so, that he sends everyone an invitation to a "small celebration", including Yuri and her mother. Delighted, they believe that Song-ju wanted to surprise Yuri before the wedding. Everyone attends the ceremony, unsure of what the night held for them. Song-ju goes to the front of the room and explains to everyone that he asks for their blessing and that very night, Jung-suh and he will be married. At the entrance of the hall, Tae-hwa is escorting Jung-suh down the stairs as she is dressed in the wedding gown Song-ju picked out for her. (He sent it to her hospital room and Tae-hwa convinced her to put it on, but did not tell her he was going to bring her to her wedding ceremony) It'll be interesting to see how the next episode plays out. Two more to go!
stairway to heaven - episode 19  
Episode 19 Recap:
/5
I take back everything bad I said about step-brother Tae-hwa. I take it back, all back.
 As you know, in the previous episode, Song-ju had invited everyone to a "small celebration." Turns out, it was his and Jung-suh's wedding. Needless to say, Yuri and the evil step-mother are outraged, most especially the old hag. However, Tae-hwa walks into the hall and begins to tell all the guests about how Yuri hit Jung-suh with a car five years ago. The evil step-mother says that there's no proof, but then in walks Tae-hwa's dad who verifies all the information and even tells the story about how Yuri came to him and asked him to hide Jung-suh's body. The evil step-mother goes berserk, saying that all the things said were lies, but because of her yelling and screaming, she is carried out of the ceremony with Yuri running after her. Soon after, Yuri is taken to jail and the evil step-mother is taken to a psychiatric ward. (She is fixated on her daughter becoming the heir of Global Group and nothing else) The ceremony continues and Jung-suh agrees to marry Song-ju and they have a happy ceremony. Their next few days as a couple surely are very very happy in their brand new home.
The next day while Song-ju is at work, Tae-hwa has come over to take care of her as requested by Song-ju. Jung-suh expresses to him how very much she would like to see Song-ju with her eyes one last time because although he is right beside her, she misses him.
The next scene shows Song-ju at the doctor requesting that he allow for him to donate one of his eyes for Jung-suh. The doctor refuses, making it clear that a cornea from a living person is useless. It is not too long after Song-ju has left, that Tae-hwa also enters the doctor's office requesting to donate his eyes. Once again, the doctor tells him the same thing that he told Song-ju: a cornea from a living person is useless. But then Tae-hwa says something that shocks to the core: 
"But a cornea from a dead person is alright?"
 Oh no...what are you thinking Tae-hwa?? Suddenly, we're seeing Tae-hwa fill out some organ transplant papers, write some letters to Jung-suh saying that he's in France, and having a final goodbye with Jung-suh and telling her that he's going to France. (of course, he's not revealing to her that he plans to kill himself so that Jung-suh can have his eyes) In the last scene, we see Tae-hwa driving down the road, reminiscing about his times Jung-suh and eventually...he lets go of the steering wheel and covers his eyes (to protect them?) and all we hear is a 
loud crash
.
stairway to heaven - episode 20 (finale)  
Episode 20 Recap:
/5
Tae-hwa has now committed suicide in order to donate his eyes to Jung-suh so she would be able to see. As mentioned previously, corneas from living people cannot be donated, but corneas from dead people can. Knowing this, Tae-hwa gives up his life so that Jung-suh would be able to have her vision back. After finding out about the death of Tae-hwa, Song-ju is extremely shocked, but grateful that Jung-suh is able to see. Not knowing that Tae-hwa is the one who donated his corneas to her, Jung-suh is joyful that she is able to see Song-ju's face again. However, sometime soon, Jung-suh begins to feel very sick and is taken back to the hospital for some testing. The doctor then discloses that the cancer has metastasized to Jung-suh's brain and there is very little they can do for her. After finding out the news, Jung-suh refuses Song-ju's suggestion to try any sort of treatment. This is when it is revealed to her that her new corneas are from Tae-hwa. Song-ju points out that it is because he gave up his life for her that she should try to keep living. In shock, Jung-suh can't believe it, hoping that it is a lie. After calming down, Jung-suh asks Song-ju to help her see only beautiful things as it is her promise to Tae-hwa, but she still refuses to seek treatment. She prefers to live her life as much as she can without spending too much time in the hospital. Song-ju agrees and they live out their happy life as much as possible. From here on, it's mostly about Jung-suh preparing for her death. She visits Yuri in prison who admits that she feels very guilty towards Jung-suh and get this: 
Yuri apologizes.
 Jung-suh also visits the evil step-mother at the psychiatric facility where she tells the evil step-mother that Tae-hwa died and that she will soon die as well. Without saying much, the once evil step-mother touches Jung-suh's face (a gentle touch? Such a shame it's only at the end) and walks away crying.
Before Tae-hwa died, he entered a painting for the national art contest. It's a gorgeous piece:
This painting won first prize for the contest. Jung-suh asks Song-ju to take her to the beach house saying that it has to be that day at that moment. Reluctantly, Song-ju agrees. When they get to the beach, Jung-suh looks out toward the horizon and says that she wants to walk until the end. Thus begins the end. They finally sit down (refer to picture at the beginning of this entry) and knowing that her time is almost up, Jung-suh promises Song-ju that she will wait for him in heaven. As she takes her last breath, Song-ju apologizes for not being able to go with her to heaven.
The very last scene is the same scene in the very beginning of the first episode where Song-ju is playing the piano on the shores of the beach. The same quote is said: 
"Perhaps he loved her more, but that doesn't mean I loved her less."