Autumn In My Heart (2000)
Trái Tim Mùa Thu
Trái tim mùa thu (가을동화) là bộ phim truyền hình nhiều tập đầu tiên của bộ 4 phim Tình yêu bốn mùa của đài truyền hình KBS, Hàn Quốc, được công chiếu lần đầu tiên vào mùa thu năm 2000. Đây là bộ phim có lượt xem rất lớn với rating trung bình là 38,6% và cao nhất là 46,1%. Làn sóng văn hóa Hàn Quốc (Hallyu) được lan rộng ra các quốc gia châu Á sau sự thành công của bộ phim.
Tại Việt Nam, bộ phim được phát sóng lần đầu tiên trên kênh VTV1 vào năm 2002.
Bộ phim kể về một câu chuyện tình đẹp nhưng thấm đẫm nước mắt giữa hai anh em Yun Joon Suh (Choi Woo Hyuk) và Eun Suh (Moon Geun-young). Vì một hành động vô tình của cậu bé Joon Suh khi mọi người không chú ý mà Eun Suh đã bị tráo đổi thành em gái ruột của cậu trong phòng hộ sinh. Hai anh em cứ thế lớn lên trong một gia đình hạnh phúc, ngập tràn tình yêu thương và tiếng cười. Joon Suh và Eun Suh rất thân thiết với nhau, họ cùng nhau đạp xe trên con đường đi học, cùng ngắm mưa, cùng chơi oẳn tù tì.
Eun Suh đi xe đạp không giỏi, cô luôn nói "cảm ơn vì bữa ăn ngon" trước bữa ăn, thích chơi trò thú nhận và luôn thua anh trai trong trò chơi oẳn tù tì vì cô luôn ra cái đấm. Số phận của Eun Suh bị đảo ngược khi cô bị tai nạn giao thông và mọi người bàng hoàng khi phát hiện nhóm máu của cô không giống với nhóm máu bố mẹ đang nuôi cô. Đứa con gái bị thất lạc của họ là Choi Shin Ae (Lee Ae Jung) – người bạn học giỏi nhất lớp nhưng lại luôn ganh ghét với Eun Suh. Eun Suh chọn cách trở về sống với mẹ ruột của mình.
Trước khi rời gia đình hiện tại, Eun Suh đã khóc và hôn từng cái ly vẽ từng thành viên trong gia đình mà cô và anh trai đã tự tay làm và tặng mẹ nhân ngày sinh nhật. Cha ruột của Eun Suh đã mất vì căn bệnh ung thư trước khi cô ra đời, người mẹ nghèo nóng tính và anh trai côn đồ bỏ học. Vì quá đau lòng vì những chuyện xảy ra mà gia đình Yun Joon Suh sang Mỹ sinh sống theo chương trình trao đổi giáo viên và mang theo Shin Ae.
Sau khi lớn lên, Yun Joon Suh (Song Seung Hun) trở về quê hương để tìm lại người em gái mà anh luôn thương yêu. Joon Suh gặp lại Eun Suh khi cô đã nghỉ học và làm nhân viên trong khách sạn do bạn của Joon Suh là Han Tae Suk (Won Bin) làm giám đốc. Tae Suk vốn là một cậu công tử giàu có nhưng cô đơn nên cậu đã yêu thật lòng Eun Suh ngay từ lần gặp đầu tiên. Eun Suh nhìn thấy Joon Suh trên bãi biển mà hai người có rất nhiều kỷ niệm thời thơ ấu, cô đã chạy lại ôm Joon Suh từ phía sau và hai người rơi nước mắt trong hạnh phúc gặp mặt.
Khi đó, hai người mới nhận ra rằng họ đã yêu nhau từ lâu mà trước đó trong thâm tâm, họ vẫn nghĩ đó chỉ là tình anh em. Nhưng Yun Joon Suh đã có vợ chưa cưới Shin Yumi (Han Na Na), còn Eun Suh biết mình mắc bệnh máu trắng vô phương cứu chữa nên cô quyết định rời xa Yun Joon Suh. Sau khi Yun Joon Suh hiểu rõ sự tình dã đến bệnh viện tìm cô. Bệnh tình của Eun Suh ngày càng xấu đi, cô quyết định xuất viện sống hạnh phúc với Yun Joon Suh trong những ngày cuối cùng.
Eun Suh ra đi trong lúc Joon Suh cõng cô đi trên bãi biển. Sau khi Eun Suh qua đời, Joon Suh trở lại những nơi in dấu kỉ niệm của hai người để nói lời từ biệt. Joon Suh bị tai nạn ngay tại nơi Eun Suh đã từng bị tai nạn trước đó. Và lúc đó Joon Suh nghe thấy lời nói quen thuộc của Eun Suh "anh đã được tha thứ". Số phận của Joon Suh sau bộ phim không được xác định, nhưng rất nhiều ý kiến cho rằng Joon Suh đã chết.
37th Baeksang Arts Awards - 2001
KBS Drama Awards – 2000
Episode 1
A family secret is revealed after a young girl gets hit by a car.
Episode 2
Two daughters mistakenly switched at birth return to their rightful families.
Episode 3
Each girl adjusts in her own way to living with her new family, and the echo of this trauma is still heard nine years later as the characters have grown to adulthood.
Episode 4
Joon Suh continues his search for Eun Suh, who develops a relationship with Tae Suhk.
Episode 5
When Joon Suh and Eun Suh finally reunite in front of Yumi, they claim to be cousins. Eun Suh's rocky home life forces her to seek Jooh Suh's help.
Episode 6
As Joon Suh and Eun Suh draw closer, Yoon Shin Ae returns from America and has an awkward reunion with Eun Suh.
Episode 7
Joon Suh and Eun Suh's romantic relationships each grow more complicated, and the parents of Eun Suh and Yoon Shin Ae cause more problems.
Episode 8
A cabin trip opens up old feelings, and Tae Suhk and Yumi are forced to confront a bitter realization.
Episode 9
Joon Suh and Eun Suh run off together, and announce to everyone their intentions of marrying.
Episode 10
Tae Suhk and Yumi both react badly to news of the engagement, and Eun Suh's health takes a turn for the worse.
Episode 11
Joon Suh meets with his father, and Eun Suh's condition worsens.
Episode 12
Eun Suh's doctor reveals her prognosis, and she and Joon Suh try to come to terms with the news.
Episode 13
Joon Suh and Eun Suh draw closer together as they try to find a way to deal with Eun Suh's illness.
Episode 14
The search for a bone marrow transplant for Eun Suh begins.
Episode 15
Joon Suh and Tae Suhk confront their complicated feelings about Eun Suh.
Episode 16
The moving and dramatic conclusion to Autumn In My Heart.
WATCH ONLINE:
Autumn in My Heart  
가을동화 
(2000) KBS 16 Episodes
Romantic Melodrama, 
Grade: B+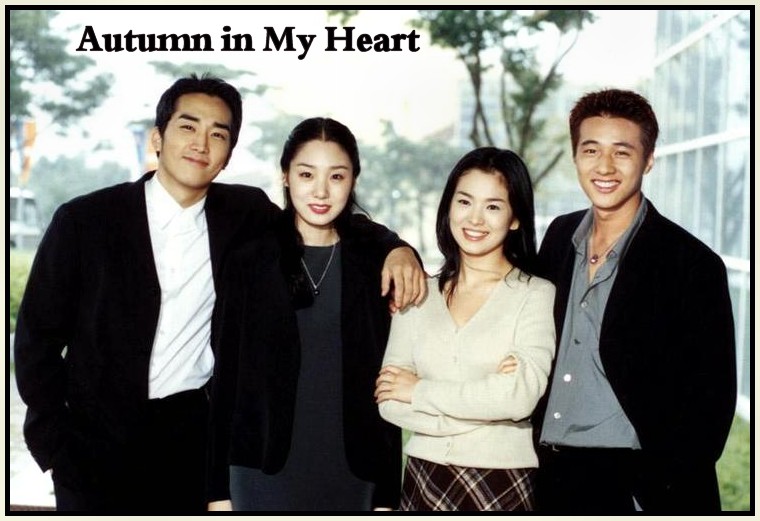 Korean Drama Review by Jill, USA
~~~~~~~~~
Autumn In My Heart

 (2000) was one of the first Korean dramas I ever watched and I remember crying buckets of tears. It was a landmark Hallyu series that had close to 46% viewership ratings in Korea and other Asian countries; its popularity is credited with launching the "Korean wave", the overseas popularity of South Korean media shows and pop culture. Full credit for beginning this phenomena must go to legendary K-drama director Seok-ho Yoon, who directed all "Four Seasons" dramas, plus 

Love Rain

. He has a unique romantic view of life, judging from the interviews I've seen of him, and these bittersweet philosophies of his show up in all these dramas. He knows how to bring out the best in his actors. Even today "newbies" to K-dramas often watch 

Autumn In My Heart

 and cite it as one of their favorite shows, so even

 

fourteen years later, as I write this, it is still popular among fans! You can't say the same about many other shows. Besides the fantastic acting and direction the musical soundtrack is also memorable, particularly the song "Reason". 

 

The story is sad from the beginning. A little boy named Joon-suh Yoon is brought to see his new baby sister in the hospital and while the father leaves the boy alone in the nursery for a few moments the little boy starts to play with the name cards on the incubators and two fall down to the floor. A nurse comes by and accidentally switches the name cards while putting them back. Two families are never to be the same again. 

The story skips to the teenage years of the two main characters, who believe they are brother and sister, and who are very close to one another: happy go lucky Eun-suh Yoon (Geun Young Moon in an absolutely brilliant performance as a youngster), and the kind and gentle Joon-suh Yoon (Woo-hyuk Choi). They are the children of a Professor named Kyo-soo Yoon and his lovely wife Kyung-ha (Eun-sook Sunwoo). They are a very happy family with none of the usual problems families with teenagers face. They smile and joke with one another and Eun-suh makes all the family members their own mugs with their portraits on them.

The teenage actors with the adult actors: Woo-hyuk Choi and Geun Young Moon with Hye Kyo Song and Seung Hun Song

Then one day after school Eun-suh gets hit by a truck and needs a blood transfusion, which leads to the Professor and his wife discovering that Eun-suh is not their biological daughter. Their biological daughter named Shin-ae (Ae Jung Lee) is the child of a very poor woman named Soon-in Kim (Hae Sook Kim) who owns a run-down cafe in town. Shin-ae is the exact opposite of Eun-suh: bratty and whiny and always seeking attention. When she finds out she is the biological daughter of parents who are much wealthier than the woman who raised her she has a tantrum and demands to become part of the Yoon family.




Eun-suh finally learns the truth when the weeping Shin-ae reveals it in a dramatic scene, with everyone standing around looking crushed. Eun-suh goes off by herself to cry and Joon-suh finds her and tries to comfort her. Grief-stricken, Eun-suh has to decide if she will stay with the Yoons or go to her biological mother and live with her. After a lot of tears she decides on her own to go live with her biological mother, and Shin-ae moves in with the Yoons. These scenes are some of the most difficult to watch in the drama, especially when Eun-suh takes out the cups she made for her family and has to split them up. I think that is my favorite scene in the entire drama. Because it is all so difficult to live in the same town now, the Yoons take Shin-ae and Joon-suh to live in America, and Eun-suh remains with her biological mother in Korea and helps her run the cafe. The scene where the Yoons drive away with Eun-suh weeping in the background gets me every time. Geun Young Moon will break your heart in this drama. It's no wonder they chose her as the little sister for the classic Korean horror film 

A Tale Of Two Sisters

 three years later.

Years go by and the grown up Eun-suh (beautiful Hye Kyo Song) still thinks about her long lost "brother" and misses him. Joon-suh is now grown up (Seung Hun Song) and comes back to Korea with a fiance to marry named Yoo-mi Shin (Na-na Han). But in the back of his mind he yearns to look for Eun-suh, his long lost "sister". He rides his bike around their favorite old haunts and tries to locate her. 





Famous Window Scene from the 1ST Song-Song Couple


Eun-suh has also never forgotten Yoon-suh. She now works as a receptionist and maid and has attracted the attention of a handsome tenant named Tae-seok Han (Won Bin). She still lives with her mother in humble surroundings. It's Eun-suh who recognizes Yoon-suh from a distance and she follows him to where he is walking on the beach with Tae-seok and Yoo-mi. Eun-suh runs up to him and gives Yoon-suh the biggest back hug you've ever seen and they have a joyous, tearful reunion.


At first Yoon-suh hides the truth of their history together from Yoo-mi and Tae-seok, but of course it eventually comes out (secrets never stay secrets forever in K-dramas!) and we end up with one messy quadrangle, as it is obvious to everyone Eun-suh and Yoon-suh have feelings for one another that go a lot deeper than brother - sister. Tae-seok falls in love with Eun-suh and Yoo-mi has to suffer jealousy while watching Yoon-suh's ever growing attachment to Eun-suh.


 


Have you ever seen a more beautiful couple in your life?


Then Eun-suh is diagnosed with a terminal illness and she tries to hide it from Yoon-suh. It's Tae-seok who gives her the most moral and financial support she needs to try and beat the illness. Tae-seok really graduates from being a jerk in the beginning of the show to being someone we would all want to take home to Mother!


The ending is pure tragedy, and I remember being very angry at the last few scenes of the drama. I thought that certain promises should have been kept by Yoon-suh. It's odd that I did not feel angry at the end of I'm Sorry, I Love You, when the character of Eunchae made the same decision that Yoon-suh does in Autumn In My Heart. I thought about that difference in my reaction for quite some time and I came to the conclusion that I must feel that men should be stronger than women. It may not be fair today, but there it is, and I cannot change my feelings because they aren't politically correct!  


I remember I had the DVDs for Autumn In My Heart mailed to me from Netflix a number of years ago. Unfortunately those days are long gone, they no longer ship the discs to you, nor do they have Autumn In My Heart on instant streaming. Nor do they offer Winter Sonata for rent or streaming anymore, norSummer Scent. How sad that it's more difficult for new K-drama fans to find and enjoy the classic K-dramas that started the Korean Hallyu wave over a decade ago. The only one of the "4 Seasons" Korean drama shows available for rent from Netflix is Spring Waltz (and who knows how long that will last).


So I think your best bet for watching Autumn In My Heart in the best quality is to buy a DVD set on Amazon. 


Don't forget the hankies! You'll need them, I promise.


~~~~~~~~~~~
Autumn in my Heart
aka 
Autumn Tale; Eternal Love; Autumn Fairy Tale
Story: Yun Jun-seo (Choi Woo-hyeok) and Yun Eun-seo (Mun Geun-yeong) are siblings, until Eun-seo is caught in an accident one day and gets a blood test done, which proves that Eun-seo has been switched with the child of Mrs. Choi (Kim Hae-suk) when being a baby. Shin-ae and Eun-seo are switched back, the former family ties are cut under tears of sorrow, and family Yun goes to America with their biological daugther Shin-ae.
Years pass by, until Jun-seo (Song Seung-heon) returns to Korea and visits an old buddy of his, Han Tae-seok (Won Bin). Tae-seok tells Jun-seo about a woman he is interested in, who works as a hotel receptionist. Only later on Jun-seo finds out that this woman is no one else but Eun-seo (Song Hye-kyo). Jun-seo falls in love with Eun-seo, even though he is already engaged to his girlfriend Yumi (Han Na-na). But his new love is also a love without a future, because Jun-seo's parents are against it. After all, Eun-seo is still their daughter in some way. 
Thereupon, Tae-seok, who is in love with Eun-seo, gets into an argument with Jun-seo which destroys their friendship, while Shin-ae (Han Chae-young) can't stand Eun-seo, because she is jealous of her. In the end, it's Shin-ae who actually has feelings for Tae-seok. However, things get even more complicated when Eun-seo finds out that she suffers from leucemia and is about to die...


Review: "Autumn in my Heart" is the reason why I avoided Korean drama series up until now. This is a soap opera through and through, which is so much loaden with incredible coincidences, love triangles (that become love polygons eventually), obvious overacting, lots and lots of tears and kitsch everywhere you look. To give the series some credit: It didn't start out that bad. The first half can even be called quite enjoyable, and can score with warmhearted romance and drama. Even though there are already some scenes to be found that show that "Autumn in my Heart" doesn't always know when it's enough of tears, there are still some moments, that can actually be considered nice.
Later on, there are also some moments which can touch us, especially because of the beautiful autumn days and shots of nature. But apart from that we are over and over again animated to groan out loud of annoyance, because of artificial drama. The more the series progresses, the worse it gets. When the story then is also degraded to an illness-of-the-week tale, I normally would have turned off the TV. But for this review I also endured the agony that the rest of the show caused in me...

So, "Autumn in my Heart" does offer a whole bag of melodrama. The main plot of the switched daughter actually sounds quite promising, and the diverse tear-filled insertions are even somewhat moving at the beginning. This is mainly thanks to the great child actors, of whom one is Mun Geun-yeong ("A Tale of Two Sisters", "Innocent Steps"), who was yet unknown by audiences back then, and who takes on the role of Eun-seo. Choi Woo-hyeok also does a good job as her p artner. The two may be siblings, but you still can't overlook that Jun-seo's feelings for Eun-seo are by far exceeding what you'd call love between brother and sister. Therefore, what could be better than to hear that the two actually don't share the same blood!? But then again, it's not that easy. The love between the two will never get the chance to be a fulfilled one. This is where the show starts to get implausible. Naturally, it's very hard to deal with such a situation, but the parents' decision to simply switch their child back, and forget all the years of raising their "daughter", is very heartless. Moreover, it's also everything but realistic, since the parents also suffer a lot from this switching, and would like nothing more than for things to remain as they once were. Sure, doing the right thing in such a situation must be hard, but why do they even have to cut off all family ties remains a mystery... 

Years later, Jun-seo returns to his home town. He has a girlfriend, whom he once asked what she would like to be reborn as, whereas she answered that she'd like to be a tree. And this, seemingly, is the only reason why he is engaged to her, as this is the same answer Eun-seo gave him as a child. As a reason Eun-seo stated that then nobody would be able to take her away from home, as her roots would be attached firmly to her beloved ones. How sweet... Und Jun-seo has a woman at his side with whom he has nothing in common, just because she reminded him of Eun-seo in this respect. If this isn't some reason to smack your forehead! But it even gets worse. Yumi, Jun-seo's girlfriend, proves to be incredibly clingy and suicidal. When she realizes that she could lose her boyfriend to Eun-seo, she tries to kill herself and even threatens Jun-seo to commit further attempts, if he would leave her! Thus, it's no surprise that we soon start to develop some real hatred towards this woman, even if it's not imaginable that such a woman could really exist in this form. Yumi somehow always remains a blank sheet and an incredible one at that. She simply serves as another element that is supposed to keep our two main protagonists apart. 

Let's talk about the main actors, since there is a big problem here, too: Song Seung-heon. He has the charisma and emotional range of a tree trunk. His wooden facial expressions, if you really want to call it "expression", becomes really annoying with time, and even the tears he manages to squeeze out somehow, never really can convince us. That's also the reason why the love story never could work out for me. Tae-seok, played by Won Bin ("Guns & Talks") is much more likeable than Jun-seo, and also proves to be a true friend. There are certainly many people out there who would have liked to see him get together with Eun-seo, but this is merely a wish that can't come true, natch. What's making Tae-seok so charismatic is his self-sacrificing, later on almost unselfish love for Eun-seo. At the beginning he might seem to be the aggressive type of man, and in fact that's also what makes us detest him at first, but his love for Eun-seo is true and it changes him. The way he tries to win Eun-seo's love and especially his self-sacrificing devotion is worth of envy. He even can give her up eventually, that's how deep his feelings for her are. Of course, he can't really forget about her, and he continues to have her in his heart, which is something he also makes Eun-seo feel oftentimes, but he pretends that he can. From Tae-seok we get to see the warmth that is missing from Jun-seo. And so we have to suffer along with this poor individual, who will never get a Happy End with Eun-seo, even though he would have deserved one throughout the course of the show. 

Song Hye-kyo ("Full House", "My Girl and I") had her debut in this series and soon became a real shooting star. Why is pretty simple: She is a natural beauty and has a charisma that you don't get to see every day. Moreover, she also can act quite well. She can only show the latter in the framework of what a soap opera allows her, but that's still enough to convince us that she has some talent. 
Yet, this all doesn't change anything. The tearfest really becomes unendurable somewhere throughout. Especially the two mothers, who naturally shed a lot of tears in several never ending scenes of grieving, become quite annoying.
During the first half the plot evolves with a pleasent pacing, even if there isn't much happening all of the time. However, from the second half on, there really isn't anything happening at all. The pacing drags down a lot, and until the end the whole series feels very stretched. The story heads nowhere, and the constant seesaw changing of the characters (at one time Jun-seo leaves Eun-seo, and shortly thereafter he can't leave her side again) becomes ridiculous, eventually. That it becomes especially bad, when there is also a terminal illness striking Eun-seo, is without saying...

The eternal staying of the camera on the faces of the protagonists suffering from lovesickness and psychological agony becomes really awkward and painful, and sometimes you even have to hit the pause-button to get a break from all of this kitsch. As already said, there are some nice outdoor shots with beautiful pictures of autumn, and there is also a good soundtrack - which, however, also becomes repetitive and cheesy after a while. This is what let's you hang on somehow. Nevertheless, the love story, the diverse entanglements and the unbelieveable coincidences never let a doubt that this is a out-of-the-book soap opera. Thus, this is nothing that you need to watch. The emotions and melodrama feels artificial in a way that it becomes really painful. If you want to do yourself a favor, then watch this show only until the second half, and after that simply turn it off. You will get a lot more out of it this way. If it weren't for the promising beginning, the series would have gotten a worse rating, that's for sure. And, by the way, as it is supposed to be in a Korean tearfest soap opera, you also shouldn't expect a happy end. 
"Autumn in my Heart" is a show for housewives, who either have nothing else to do in the afternoon or who actually like kitsch. I certainly don't fall into this category and I'm glad that I can now leave this series behind me...
(Author: Manfred Selzer)
=============================================================================
In celebration of Dramafever acquiring this, a special recap of the first episode of this much-loved drama (which I don't believe has ever been recapped before due to airing before the English-speaking web really caught on to Kdramas). Watch it on Dramafever today.
A young Moon Geun Young as Eun Suh. This girl was adorable even at that age, how is that possible?? No wonder they call her Korea's Sweetheart.
Toddler Joon-suh pulls the name-tags off the cribs of two newborns in order to play with them, and when the nurse replaces them, she unknowingly switches them. Joon-suh has unwittingly ensured that his baby sister got switched with another baby (thereby setting in motion a Great Love Story…). To be honest, I find this part uninetionally hilarious. It's just such classic melodrama with the switched-at-birth! and the tiny-mistake-leads-to-fated-chain-of-events!
Flashforward some years later and Joon-suh is a spindly, intense-looking teenager. As he's painting in the art room at school, a girl comes in and berates him for throwing away the love letter she sent him. She asks, "Don't you like me?" At this moment, Eun Suh (Moon Geun Young) appears in the doorway. Joon-sun's eyes shift to her and he responds "There is someone else." The girl slaps him and runs away, and Eun Suh, coming in, hands him a present with a note attached. "You too?" he says bitterly, and throws the present into a can of leftover paint, ruining it. He then walks out. Ah, the course of young love never did run smooth.
Afterward, two of Eun Suh's friends who had presumedly been waiting just outside run in and exclaim over the present: it had in fact been their present for Joon-suh and they'd asked Eun Suh to deliver it.
This is a neat little sequence because it sets up one representation - of Eun Suh as a love interest for Joon Suh through the positioning of the "someone else" moment and her giving him the present. Then it neatly reverses that as we gradually realize that in fact she's his sister. It's clever however because the first image we receive is of the two interacting as potential love interests rather than siblings.
The two bike home and it's clear that while Joon-suh can sometimes be gruff towards her, that he loves Eun-suh a lot. It starts raining and "Raindrops falling on my head" begins incongruously playing overhead. The two take shelter under the overhang of an old building (a barn?) anddd, we have one of the classic scenes that make this drama what is it - the original "holding out hands to the rain in sync" romantic scene (Heartstrings and approximately 100 other dramas, eat your heart out).

When they get home, Eun Suh and her mother share a bath, and it's obvious that they have a close relationship as they share teasing and laughter and secrets. Next there's a montage to underscore how completely happy and functional the family is, aka the montage of doom which means absolute misery will follow.
On the way to school next day, Eun Suh tells Joon Suh about her rival in the election for freshman class president - Choi Shin Ae. The two have an adorable bantering conversation in which they reveal that they can essentially read each other's minds. Eun Suh ends up winning class president with ease, drawing almost twice the votes of Shin Ae, who scowls at her blackly when the results are announced. The teacher then announced that Shin Ae holds first academic place in the class, but that she's chosen Eun Suh to enter an upcoming art competition, because Shin Ae entered it the previous semester.
The unpleasant Shin Ae
When class is over, Shin Ae's friends start yelling at Eun Suh, but she deftly wins the argument by turning their own words back on them. She offers to shake hands and make up with Shin Ae, but Shin Ae refuses. After gym, Eun Suh comes back to find that her treasured slip is gone. Outside, she finds a huge crowd gathered in front of a tree, where her slip has been hung from a top branch.
Knowing that it must've been Shin Ae, her friend wants to tell the teacher, but Eun Suh holds her back. Instead, she sets her lip determinedly and climbs the tree herself, retrieving the slip. Joon-suh arrives too late to stop her and watches in fear until she climbs back down safely.
Riding back home, he demands who hung the slip up there. When Eun-suh's friend tells him it was Shin Ae, he rides ahead to confront Shin Ae, whom he spots down the road. Eun Suh, trying to catch up with him, is hit by a truck and ends up in the hospital. She's not badly hurt  but Joon-suh feels incredibly guilty, saying that he shouldn't have left her behind, he should have waited. He goes to visit her and the two quickly make up (least. sibling. relationship. ever. Where are the catfights? The petty squabbles and childish cruelties?).
Eun-suh needs a blood transfusion so the doctors test both her parents, only to discover that they are both type O while Eun-suh is type B. She cannot be their daughter. Eun-suh's parents are devastated. They go to visit the woman who is raising their real daughter - the poor owner of a tiny street stall- and reveal the truth to her. All three are highly upset, but decide to leave things as they are for now. Joon-suh finds out, but they don't tell Eun-suh.
Joon-suh goes to visit Eun-suh in the hospital and essentially admits that she's the girl he "likes" (ewwwww. or awwwww. but ew). He asks, "If we weren't siblings, do you think we would have met?" To which she responds brightly, "Of course. We were destined to meet." The two play rock-paper-scissors to find out if they would have met and he lets her win.
A few days later, Eun-suh is out of the hospital, and the whole family goes to attend the school's art exhibition. Shin-Ae's poem is being exhibited, and her mother also attends - which is when the respective parents see their real daughter for the first time.
(Eun-suh's real mother)
Face of innocence...little does she know...
Thoughts
Watching this for the second time, I was struck by how very much of a Cinderella story it is. Eun-suh is bright and popular and reasonably pretty - effortlessly endearing, her bright smile and sassy, upbeat personality win over everyone around her (except Shin Ae that is). The daughter of wealthy, loving parents who buy her a pretty slip and bring her class rice cakes, one of her best qualities is that she's not stuck up and doesn't lord it over her classmates. She's simply herself, and that self lets her easily win the position of class president. She's not a sugary-sweet pushover either, however - when Shin Ae's friends start mocking her for riding on the coattails of her brother the prince, she replies calmly, "Well, if my brother's a prince, I guess that makes me a princess doesn't it?" and tosses it right back in their faces. I realize, watching this drama, that one of the things I miss in current dramas is heroines who are not just likable but also admirable and real. Heroines these days are either sweet-natured saints - Joo Mi of A Thousand Kisses, Mi Joo of Giant, etc, or, more commonly, extremely quirky/bubbly/over-the-top types - Myung Wol of Myung Wol the Spy, Gyu Won of Heartstrings, etc. Eun-suh, in contrast to this (and like Yu Jin of Winter Sonata, who is probably one of my favorite drama heroines), is intelligent, strong, and flawed in a real way.
But I digress. Beacuse of all this, Eun-suh is an utter Cinderella archetype - a girl who has it all and is poised to have it all taken away. She will lose her warm family home, her friends, and her parents, and be forced into poverty with a woman she barely knows and whom she's supposed to call "Mom." And of course, eventually, her prince will come along and rescue her from her low-end job and lifestyle. Because she's beautiful and poor and kind.
It's always interesting to revisit classics to see if they hold up, and on the balance of things I would say that this does. There are a few moments which are meant to be serious and are just flat-out funny, because they've become such drama cliches by now, but the underlying story of a family being ripped apart still rings true. Eun-suh's parents' grief is heartbreakingly real, despite the melodramatic conventions which caused it. The future romance is also well set-up (as long as you keep reminding yourself that these two are not actually related), mostly because the child actors do a great job of bringing the early warmth and affection to life.
There are distinct similarities between the pilot episodes and general setups of this and Winter Sonata, and on the whole I find Winter Sonata a better drama, but this is still a well-done story that takes a classic fairytale and gives it resonance through a Kdrama lens.
Synopsis
The story begins with toddler, Yoon Joon-Seo accidentally causing the switch of his sister and another baby when he drops the name cards on the two babies cribs in the hospital baby room. A nurse who came in put them back incorrectly. The story then continues with the teenage years of the two main characters: Yoon Joon-Seo (Choi Woo Hyuk) and Yoon Eun-Seo (Moon Geun Young). They are the children of a rich professor and believe they are biologically brother and sister until Eun-Seo gets hit by a truck and needs a blood transfusion. At the beginning, Eun-Seo is very popular in school whereas her rival Choi Shin-Ae (Lee Ae Jung), is smart but does not get the attention she craves from the teacher and their classmates. Later, their situations are reversed when the switch is discovered.
After blood tests were carried out by the doctor on Mr. and Mrs. Yoon for Eun-Seo's transfusion, the Yoons find out that Eun-Seo belongs to Mrs. Choi, and Shin-Ae is the Yoon's biological daughter. At first, only the parents and brother knew about this, but eventually, Shin-Ae discovered the truth after she got into a fierce argument with her non-biological mother over a teddy bear she received from her biological father. Eun-Seo only discovered the truth after Shin-Ae wants her biological parents to take her in. In the end, the two daughters were returned to their rightful parents. Shin-Ae moves in with the Yoon family, and Eun-Seo goes to live with Mrs. Choi (her biological father is dead) who operates a small restaurant living in abject poverty.
Years went by, and in the duration, the Yoon family went to the United States, where Joon-Seo (Song Seung Heon) returns to South Korea as a successful artist. He went back to the town he lived in, where he encountered his old friend, Han Tae-Seok (Won Bin), who stays at the hotel where Eun-Seo (Song Hye Kyo) works as a telephone receptionist. Tae-Seok (who doesn't know about the entire brother and sister mixup that happened earlier) fell in love with Eun-Seo and played games with her until she was fired from her job. One day Eun-Seo saw Joon-Seo and followed him to the beach where he was with Yoo-Mi (his fiancée) and Tae-Seok and the two "siblings" finally meet after ten years.
Eun-Seo and Joon-Seo pretend to have a sibling relationship in front of the others, but they meet each other secretly and become deeply in love, though she always refers to him as "brother." Shin-Ae (Han Chae Young) finds out about their relationship and exposes the two after she found a love letter Eun-Seo had written to Joon-Seo. The two decide to stay together, but are soon forced apart again because their parents are against the union, and Yoo-Mi hurts herself and threatens suicide to hang onto Joon-Seo.
As a fight between Joon-Seo and Tae-Seok grows over their professed love for Eun-Seo, she discovers she has leukemia (the same illness that took her biological father's life). She didn't tell anyone except Tae-Seok, who offers to pay for her treatment. When she takes a turn for the worse, the others start finding out. When it was clear that there was no hope, Joon-Seo finds out and takes her home so she can spend her last days with him. At this point, Yoo-Mi finally leaves him. Eun-Seo dies as Joon-Seo was carrying her around the beach where they spent her birthday as teenagers.
Before Eun-Seo died, she told Joon-Seo not to follow her in death, and to continue living. However, Joon-Seo, dazed and grief-stricken by the death of his lover and "sister", is struck by a truck in the same place as Eun-Seo's accident and presumably dies.
Cast
Main cast
Extended cast
Jung Dong Hwan as Yoon Kyo-Soo (Joon-Seo's father)
Sun Woo Eun Sook as Lee Kyung-Ha (Joon-Seo's mother)
Kim Hae Sook as Kim Soon-Im (Eun-Seo's mother)
Kim Na Woon as Housekeeping Supervisor Kim
Kim Hyung Jong as Ji-Han
Seo Yoon Jae as Kang-Hee
Guest cast
Soundtrack
The 13-track soundtrack for Autumn in My Heart includes Jung Il-Young's heartfelt ballads "Reason", "Prayer", and "In My Dream", as well as the main flute theme and the guitar and piano versions of some of the songs. "Romance", also known as "Forbidden Love" is the classic piece used for this soundtrack. It comes from a famous work of unknown authorship "Spanish Romance".

 

Main Title (Flute ver.)
Reason – Jung Il-Young
Romance – Choi Tae-Won
Gi do (Prayer) – Jung Il-Young
Remember – Park Jung-Won
Uhl Ma Na Nae Ga (Sincerely) – Yoon Chang-Gun
Reason (Instrumental ver.)
Romance (Piano ver.) – Lee Hong-Rae
Noon Mool (Tears) – Lee Hong-Rae
Uhl Ma Na Nae Ga (Sincerely)(Guitar ver.) – Guitar by Ham Choon-Ho
Ggoom suhk ae suh (In My Dream) – Jung Il-Young
Uhl Ma Na Nae Ga (Sincerely)(Piano ver.) – Piano by Yoo Jung-young
Gi Do (Prayer)(Piano ver.)
Popularity in the Philippines
In the Philippines, the GMA Network acquired the rights to broadcast the series outside Korea, where it gained high ratings and popularity. The theme song that was used was a cover of "Ikaw" sung by Faith Cuneta.

The GMA Network also acquired the adaptation rights to air its own rendition of Autumn in My Heart. It was released in June, 2010 and is titled simply Endless Love.
Episode 1:
In this first episode, we are introduced to the wealthy Yun family, composed of father, mother, 17ish year old brother (Joon-Suh) and 14 year old sister (Eun-suh).  Joon-Suh and Eun-Suh have a teasing, but very loving relationship, with big brother always taking care of younger sister.  At school, Eun-Suh has a volatile relationship with Shin-ae, the smart but vile girl from the other side of the tracks.
The parents learn that Eun-Suh is not their biological daughter and meet Mrs. Choi, the Mother of their daughter.  Mrs. Choi is a widowed, BattleAxe who runs an awful dump of a diner that only serves a grim stew and who struggles everyday to try to make ends meet; it's no wonder Shin-ae is as she is.
Mr and Mrs Yan struggle with what they should do next, trying to come to terms with the situation.  Should they switch daughters?  Should they tell their Eun-Suh?  Should they meet Shin-ae?
At school, Joon-Suh makes a painting to accompany Shin-ae's poem, in exchange for Shin-ae leaving Eun-Juh alone.  Poem and painting are displayed at a big gathering at the school.  Here, the Yan family and the Choi family meet and the stark truth sits before us:  Shin-ae is the Yan's true daughter and Eun-Juh is Mrs. Choi's biological daughter.
Episode 2:
Mr and Mrs Yan have now seen their daughter for the first time and are brought ever-more into Mrs. Choi's life.  They discover that her husband is dead and that her son is a thug.  Is that the environment for their biological daughter?  While Mr. Yan reaches out to Shin-ae, going as far as buying her a stuffed animal, Mrs. Yan willfully refuses to open up.   For Mrs Choi, life is not easy and realizing that her daughter is not her own, brings her own pitiful state more starkly into view.
The tension between the girls escalates when the girls learn the truth.  And by the end, the girls switch positions as Shin-ae desperately wants to leave her hard life and Eun-Suh knows that she must go to her real mother.
Episode 3:
Eun-suh is now CHOI Eun-Suh and Shin-ae is now firmly entrenched as YOON Shin-ae as the girls begin life in their new homes.  For Shin-ae, life is difficult being in the shadow of beloved Eun-suh and thus she lashes out; for Eun-suh, she faces her life with a Cinderella-ish optimism and warmth.
For Mr and Mrs Yoon, the emotional struggles continue.  Mr Yoon has agreed to take a position in the United States and the familiy will be moving there, taking Joon-Suh and Shin-ae, but they cannot bear the thought of "abandoning Eun-suh in that awful place."  Mrs. Yoon meets with Mrs. Choi and asks to take and raise Eun-suh.  Mrs. Choi agrees, but Eun-suh won't go.  She knows she must stay with her mother and must let the Yoons go.
***
It's now 9 years later and an adult Joon-suh returns.  He's about to have his engagement party where he formally introduces Yumi, a fellow artist he met in the United States, as his fiancee.  First, he wants to find his long-lost "sister", Eun-suh, but she's moved several times since and there's no finding her.  Instead, he meets up with his old friend, Tae-suhk.
Tae-suhk is the wealthy, good-for-nothing, lazy son of the Hotel Owner; he's also engaging, vivacious, charismatic, and fun.  He's the William Holden character in SABRINA and he's been banished to run the hotel (the duties which he suitably ignores).
Episode 4:
Adult Joon-suh continues to search for Eun-suh, but also must prepare for the Engagement Party.
CHOI Eun-suh works at the Hotel as a phone operator and is having continual monetary troubles.  She still lives with her mother, who now runs a little corner shop.  Together, they eke out a bare living.
Tae-Suhk (who runs the Hotel) meets Eun-suh and falls for her immediately, although his bet efforts to woo her prove more repellant than anything else. But he's not going to give up and has her transfered to HouseCleaning as a maid… as HIS maid.
Joon-suh continues to seek her out, but is on the verge of giving up.
Episode 5:
The Beach was an old favorite place for Joon-suh and Eun-suh.  Joon-suh and Yumi go there and surprisingly find Tah-suhk there.  Eun-suh spies them and runs to greet Joon-suh in an emotional reunion.
It's awkward for Joon-suh and Eun-suh, getting to know each other again after all these years.  More strangers than siblings, they struggle with how to act with each other and how to feel about each other.  In addition, it's difficult for them to quite explain their relationship, especially to Yumi, so they introduce each other as cousins.
As Eun-suh's homelife gets worse and worse, she goes to her Brother for comfort and Joon-Suh takes her in.
Episode 6:
YOON Shin-ae, the former Choi daughter, returns after completing her MBA in America.  She's successful, beautiful and has everything.  It's an awkward reunion between Eun-suh and her.   They are civil and polite, but Shin-ae's animosity is obvious.
Joon-suh and Eun-suh grow more and more comfortable with each other and the bonds they had as youths is returning.
Yumi can feel Joon-suh slipping away and she won't let that happen.
Tae-Suhk continues to try to win over Eun-suh, going so far as to affect change in his life: he's trying to be a better person.  Shin-ae's affections for Tae-Suhk are not easily hidden and her machinations to get rid of Eun-suh begin.
I've finished watching AUTUMN IN MY HEART (aka ENDLESS LOVE, aka AN AUTUMN LOVE STORY) and have absolutely fallen in love with this Korean TV melodrama-series(and I'm not alone in that. It's been so incredibly popular that there are now THEME TOURS in Korea that visit the areas protrayed in AUTUMN IN MY HEART as well as WINTER SONATA (a followup series).  It's a really cool idea, especially given how popular the series have been.  If I were planning to go to Korea…
Here's the story from ThingsAsian.com [link]
Movie Theme Tours in Korea: Winter Sonata and Autumn in My Heart

Theme travel has taken a different turn for many travelers with tourism associations collaborating with film makers to portray the finest sceneries and traditions of their countries through movies. For many years, travelers from Malaysia and Singapore have flocked to China to admire the striking countryside scenery of Dali, to the National Palace Museum and Taroko Gorge in Taiwan.

The latest country to have captured the hearts of theme travelers is South Korea. In the past two years, two Korean soap operas, Winter Sonata and Autumn in My Heart commanded a strong following of over four million viewers among Malaysians and Singaporeans. Winter Sonata was so popular among the Malay population that a translated version, "Sonata Musim Salju" was sung by Malaysian singer Hazami.

According to a television channel producer who purchased the rights to show both movies to the Malaysian audience, "These programs have successfully attracted a high number of viewers who are interested in their storyline, beautiful scenery, gorgeous actors and actresses, and, most of all, their universal themes."

According to Wai Lan, a fan of the series, the initial attraction was the breathtaking scenery and gorgeous actors, but the love story and conflicts between the characters got her totally hooked to the serials.

* * *

WINTER SONATA: Main Locations

The set of a sad yet so beautiful love story, Winter Sonata presented a collection of well-known attractions in Korea. Among the main attractions are Namiseom Island, which was where the lovers in Winter Sonata grew up and first knew each other, the snow covered Yongpyeong Resort where the skiing scenes was shot and Oedo Island Botanical Garden, all which have become some of Korea's main tourism spots.

Yu Jin and Sang Hyuk are best friends who go to the same school. A new student, Joon Sang who was from Seoul came to Namiseom Island in search of his father and ended up enrolling in the same school. Joon Sang thinks that Sang Hyuk's father is his biological father. In order to spite Sang Hyuk, he starts to get close to Yu Jin. He falls in love with the lovely Yu Jin but later found out his mother was once in love with Yu Jin's father. Wrongly suspecting they might be related, Joon Sang hastily decided to leave for the United States with his mother. However, he could not resist meeting Yu Jin for the last time. Unfortunately, he was involved in an accident while traveling to meet Yu Jin and everyone thought he died.

Yu Jin gradually got over her love for Joon Sang and ten years later, she became engaged to Sang Hyuk. She came across a person called Lee Min Hyung, who looks like Joon Sang but is more outgoing and happy than Joon Sang ever was. A curious Yu Jin started a friendship with Min Hyung, whose romantic and loving personality made him an instant heart robe among Winter Sonata's fans. Min Hyung convinced Yu Jin to migrate to Paris with Sang Hyuk.

Three years later, Yu Jin and Sang Hyuk realized they are incompatible. Yu Jin returned to Oedo Island and found a house there built exactly the same way as she described to Joon Sang years ago. Here, she found a blind man wondering around, and she discovered that he is Joon Sang/Ming Hyung. Ming Hyung did not inform her that he is Joon Sang as he was going to the United States to undergo an eye operation to avoid getting blind, but the operation was unsuccessful.

Namiseom Island: Where it All Began…

Namiseom Island is located about an hour's drive from Seoul, and was created when Cheongpyeong Dam was constructed at the downstream of the Bukhangang River. Winter Sonata fans will recognize the crescent-shaped Cheongpyeongho Lake, which is entirely surrounded by chestnut and poplar trees. Many of the earlier episodes of Winter Sonata are set here, from scenes of the two lovers riding on a bicycle to their first kiss near the lake. The cycling scenes from the movie are so popular that special Winter Sonata bicycle rentals are available to tourists who wish to ride along the same paths. Visitors can also partake in recreation activities such as water skiing and snow sleighing.

Yongpyong Ski Resort: Lost Love Found

Another Winter Sonata location is the Yongpyong Ski Resort, which is where the two lovers met again. It is in the midst of the Yongpyong Ski Resort at Dragon's Peak that the lovers rekindled their love. Here, movie fans can take a short walk around the snow covered mountain while marveling the striking scenery of Mount Balwangsan in the background. A luxurious ski resort, Yongpyong has constantly been likened to the Swiss Alps. The fact that its architecture is entirely Swiss-styled reminds travelers even more of the Alps. Besides being Korea's first and most prolific ski resort, it is considered a world class ski destination and hence was chosen as the venue for the 1998 and 2000 World Cup ski championships and the 1999 Winter Asian Games.

Oedo Island: A Happy Ending?

Winter Sonata theme tours will not be complete without a visit to the Oedo Island Botanical Garden, which is where the last scene of the movie is shot. It is here that the two lovers are reunited but the story ended a bit abruptly with a slightly sad twist?possibly setting stage for a second episode of Winter Sonata. The Botanical Garden of Oedo Island is a part of Hanrye National Park. The little white huts built along the deep blue ocean, Oedo Island oozes of true romance. When visitors get off the ferry at the boarding dock, they will come to an arch-shaped gate, which is the entrance to the Botanical Gardens. After passing this gate you will see the tropical gardens and surrounding palm trees. The romantic Venus Garden is decorated with 12 Venus statues and the flower gardens will fascinate your eyes. In the summer, cypress trees shade over these stairs creating an amazing sight. Besides the Botanical Garden, Oedo Island boosts of a sculpture park and a Korean art gallery.

For war and historical buffs, the nearby Geoje-do would be an interesting stop. Here is where the remnants of the Geoje Prisoner of War (P.O.W.) camp during the Korean War can be seen. The P.O.W. models of some main figures during the war, military equipment, a magic diorama, a mock-up of a string of marching refugees, an exhibit depicting prisoner life as well as a POW experience tank where visitors see how life was like for a prisoner of war makes this an interesting, albeit eerie place. The park sets itself ahead of the traditional museum by providing a new and refreshing style of display, offering education and entertainment through models and interactive exhibits.

* * *

AUTUMN IN MY HEART: Main Locations

Fans of this Korean drama describe Autumn in My Heart as a story of family, relationship, love and obligations all at once, in a touching and unforgettable way, set in the midst of the beautiful autumn scenery. Autumn in My Heart is a tragic love story about a pair of baby girls switched by accident at birth. The poor girl, the kindly and intelligent Yoon Eunsuh was raised by the rich family whereas the bad tempered Choi Shinae was raised by the poor family in the slums. She has always been envious of Yoon Eunsuh and her wealthy lifestyle.

One day, when Eunsuh was fourteen, she was involved in an accident lost a lot of blood. When the doctors tested her blood to transfuse her with the correct type of blood, they discovered she is not related to the rich family. The rich man who raised Eunsuh then went looking for his real daughter. When he found Choi Shinae, he brought to his home and sent the girl he had raised as his daughter to live with the poor family. Soon after, he migrated to the United States with his real daughter and his son. At first, Shinae was very happy living in the midst of wealth and luxury but after a while, she began to miss the poor family she grew up with.

In the meantime, the Yoon Joonsuh, the rich man's son met up and fell in love with Yoon Eunsuh, formerly his "sister". However, both of them repressed their feelings knowing their parents would oppose and because the son is engaged to You Mei whom he met at university and Yoon Eunsuh was dating Tai Xi. Eventually, both of Eunsuh and the Joonsuh eloped, but came back because they did not want to hurt their parents' feelings. The rich man's son was reunited with his fiancée You Mei and both of them decided to return to the States for their wedding. However, Eunsuh was diagnosed with terminal stage leukemia and Joonsuh found out just before he left for the States. He rushed to the hospital and declared his undying love for Eunsuh. They got married and spent her last months together. When Eunsuh died, a heartbroken Joonsuh was run over by a car, thus reuniting the lovers in death.

Joonsuh's Art Studio: An Elementary School

An abandoned elementary school in Yang-Yang, Gangwon-do is where Joonsuh kept a small art studio. The two lovers met here in the series. Part of the school has been converted into a studio by Korean potter; Jeong Jae-Nam whose husband is popular Korean novelist, Kim Ha-In. Today, the small school remains a popular tourist attraction, where the atmosphere is fueled with romance.

Samyang Mokjang Ranch: Eunsuh and Joonsuh's Honeymoon Destination

The Samyang Mokjang Ranch, which is the largest green pasture in Asia located on a plateau, was where Eunsuh and Joonsuh spent their honeymoon. Besides the relaxing atmosphere of dairy cows lazing around the ranch, the view from the plateau is remarkable. Spectacular scenery of the sun rising from beyond Mount Odasen can be seen from the Daegwanryeong Observatory early in the morning. In order to travel around the huge ranch, visitors need a car or bicycle. By car, it will take about 2 hours while bicycles will take about five or six hours to explore the ranch.

Abai Village: The Poor Girl's Home

Abai Village, a quaint village resembling the old Korean homes of the 60s, is where the poor family lived. Here is where Eunsuh arrived on a sailing boat after being sent to live with her blood parents. Abai Village in Sokcho is actually where many North Koreans settled after the Korean War. Travelers can get to Abai Village by car or by boat. The boat from Sokcho to Cheongho-dong can carry 35 people and after getting off the boat, visitors to Abai Village should walk south until arriving at the Cheongho-dong Dock. Besides the peaceful scenery, Abai Village is also well known for its Abai Sun-dae (Korean style sausage) which is made of squid and other seafood.

Phoenix Park: Where Eunsuh worked

The Phoenix Park Resort located about 700 meters above sea level is where Eunsuh worked. It is located in Pyeongchang, Gangwon-do, and it has Taegisan Mountain in the background. The resort consists of a hotel with about 140 rooms and the condominium has approximately 750 rooms. Besides golf, visitors can enjoy recreation activities like roller-skating, tennis, paragliding and skiing in the winter.

Hwajinpo Beach: The Finale

The romantic Hwajinpo Beach is the place where the lovers spent their last moments together. The young and handsome Joonsuh carried the beautiful Eunsuh on his back down the beach with the deep blue winter ocean slowly comes in and out of the shore makes this a must-visit for Autumn in My Heart fans. Hwajinpo Beach is already famous before Autumn in My Heart used it as a background for its most poignant and touching scene. Its beautiful 1.7-kilometer long shoreline preserved with shallow yet clean water and fine sand as well as spectacular view of sunset has made it a favored spot among travelers for many years.

Moving slightly inland, visitors will come to the Hwajinpoho Lagoon. With its graceful scenery, surrounded by a forest of pine trees and a field of sweet briers, this lagoon is the most striking lagoon in Korea. The awe-inspiring atmosphere of Hwajinpo encouraged many public figures to purchase villas along its shoreline. Villas located here were once owned by North Korean dictator Kim Il-Seong and Korea's first president Yi Seung-Man.

* * * * *

See also Why is Winter Sonata a Big Hit in Asia? by Diana Lee

* * * * *

Published on 8/12/03
Episode 7:
Eun-suh and Tae-suhk are now a couple.  Tae-suhk has turned over a new leaf, taking on the responsibilities of running the hotel, and dotes on Eun-suh.
Joon-suh and Yumi's relationship takes a turn.  Yumi knows Joon-suh doesn't love her, but yet refuses to give him up.
The Yoon parents arrive to visit Joon-suh and have a tearful reunion with Eun-suh.  Shin-ae, feeling rejected yet again, runs off and ends up in a less-pleasant reunion with her own former-mother.
Eun-suh decides to move into the Hotel's dormitory, but Shin-ae has secretly excluded her from the candidate list.  Eun-suh's mother refuses to let her back home, for her own good.   With nowhere else to go, she ends up …
Episode 8:
Joon-suh and Eun-suh take a trip to a cabin together, lying to their fiancees about where they're going.  But it rains and they are stranded there overnight.  Joon-suh and Eun-suh have a heart-to-heart.  Meanwhile, aware of the deceit, Yumi and Tae-suhk try to come to terms with Joon-suh and Eun-suh's relationship, each in his/her own way.  On the return, everyone lives with the lie, but the secret is out.
Tae-suhk goes to Eun-suh's mother (Mrs. Choi) to ask for permission to marry her daughter.  Mrs. Choi, afraid that the Han family would disapprove of her, asks the Yoons to take Eun-suh back.  The Yoons decide to adopt Eun-suh, which causes Shin-ae grief.  She responds by exposing Joon-suh's and Eun-suh's relationship.
note: On the YesAsia dvd, there's a short unsubtitled scene b/w Tae-suhk and Shin-ae.
Episode 9:
Joon-suh and Eun-suh run away together, ending up at a ranch where Eun-suh and her mother (choi) lived for a time.  As Yumi and Tae-suhk go frantic looking for them, Joon-suh and Eun-suh's relationship grows stronger until finally Joon-suh proposes to Eun-suh.
On her birthday, after a phone call to tell her Mother that she's ok, Eun-suh suddenly develops a nosebleed.  Tae-suhk finds them and brings them home.  When they return, Joon-suh and Eun-suh announce to everyone their intention to get married.
Running time: 54min
 Episode 10:
Now that the relationship is out in the open, Eun-suh officially and unquestionably breaks up with Tae-suhk, which sends him spiraling out of control.  Meanwhile, Eun-suh's natural mother encourages her to give up on Joon-suh and allow herself to be adopted by the Yoon family.
The conflict between Joon-suh and his father increases.
Yumi attempts suicide, slicing her right (drawing) wrist.  Though she survived, her use of her hand may never be 100% again.  The guilt overwhelms both Joon-suh and Eun-suh.
Guilt-ridden, Joon-suh returns to Yumi's side, helping her recover; Eun-suh gives her blessing and leaves Joon-suh.
Unbeknownst to Joon-suh, Eun-suh gets mysteriously ill.
Running time : 57min
http://evilninjax.typepad.com/evil_ninja_xs_asian_movie/kdrama_autumn_in_my_heart/
Autumn Fairy Tale (2000, KBS miniseries)Autumn Fairy Talewas a major hit in 2000, directed by critically-acclaimed director Yoon Suk-ho. This series was so popular that it not only propelled the three leads — Song Seung-hun, Song Hye-gyo and Won Bin — to stardom, it also helped Korea to become a popular tourist destination for many Asians. In fact, this was also the first series to really showcase Korean dramas internationally.
 Some might find the storyline to be pretty sentimental, as it tells the story of an undying love between two siblings, although they are not related by blood. Song Seung-un is Jun-suh, and Song Hye-gyo is Eun-suh, who grew up together as siblings for fourteen years. Due to a traffic accident, Eun-suh is hospitalized and requires a blood transfusion. It is then that the parents of the two children realize that Eun-suh is not their biological daughter. As Eun-suh's father probes into the matter, he found out that two female infants were born in the same hospital the day Eun-suh was born. After much investigation, Eun-suh's parents find that their biological daughter is Eun-suh's classmate and rival, Shin-ae, who had suffered through a much tougher life. Shin-ae hates Eun-suh for possessing a much better material life. Also, while Eun-suh grew up with her parents' and Jun-suh's love, Shin-ae grew up with a rather uncouth mother and a very abusive brother.
When the truth is revealed, emotions overwhelm Eun-suh, and being the kind-hearted girl, she choses to return to her biological mother. Shin-ae, played by child actress Lee Ae-jung, leaves with Jun-suh and her biological family for America and stays there for nine years. The show than fast forwards nine years later, as Jun Suh returns to Korea with his fiancee. Jun-suh is reunited with Eun-suh, but alas, Jun-suh's best friend, played by up-coming actor Won Bin also falls in love with her. As the story moves on, Eun-suh and Jun-suh face many obstacles which pull at viewers' hearts…
When this show was broadcast on TV, the love story between Jun-suh and Eun-suh was deemed by many as incest, although they were not biological siblings. Song Seung-hun is charistmatic as Jun-suh — I personally felt that he portrayed the role of Jun-suh quite well. Song Hye-gyo's portrayal of Eun-suh was also compelling. It was impressive to see her tearing up so naturally in the drama's many heart wrenching moments. The supporting leads, Won Bin (Taegukgi) and Han Chae-young (Bet On My Disco), who played the grown-up Shin-ae, also complemented the two leads well. However, I thought Han Chae-young was a little underused in the show. Despite the general thumbs up performance of the leads, the most impressive performance comes from the child actors. The teenage Jun-suh was played by child actor Choi Woo-hyuk and the teenage Eun-suh, played by Moon Geun-young (A Tale of Two Sisters). Despite the fact that Moon Geun-young was only 12 or 13 when she played the role of Eun-suh, she shows her caliber as one of the best actresses around. Choi Woo-hyuk also impresses the audience with his good acting skills.
With a good plot and great performance by the cast, Autumn Fairy Tale proves to you why it has such a huge following. Overall, this series is worth your every minute spent watching it.      (Review by Kit Lim)
Autumn Fairy Tale ("Gaeul donghwa"). Alternative titles: "Endless Love" or "Autumn Tale". 16 episodes. Written by Oh Su-yeon. Produced by Yoon Suk-ho. Starring Song Seung-hun, Song Hae-gyo, Won Bin, Han Na-na, Han Chae-young, Choi Woo-hyuk, Moon Geun-young, Lee Ae-jung. First aired on KBS in Korea in Autumn 2000. Official website (in Korean): click here. Available on DVD from KBS Media in Korea (no subtitles) and from MPEG Video in Malaysia (English, Chinese, and Malay subtitles).