Announcements
Aside from the NTCFSC reservations about "

exterior home sprinkler systems"

 (due to lack of reliable public water supply and electricity in a wildfire emergency in the Santa Monica Mountains), we agree with the findings of the California Chaparral Institute that they will present to Governor Gavin Newsom. 




Below is an excerpt from their letter. For a more full version click here. 





-------------





Dear Friend of the Chaparral,

I wanted to share with you the letter about wildfire that we just sent to California's new governor, Gavin Newsom. We will be testifying this week at the Capitol about it all. Wish us luck.

Dear Governor Newsom,

Encouraged by the spirit of hope that your new administration brings to Sacramento, we urge you to take the lead in creating a new wildfire policy based on science rather than tradition.

Why? Because the traditional approach to wildfire protection is backward. It focuses on vegetation rather than what we want to protect – our homes and families.

Homes burn because they are flammable and are built on fire-prone landscapes. Most structures ignite during wildfires because of flying embers that can travel a mile or more from the fire front. This is why so many families have lost their homes even though they have complied with defensible space regulations – their homes were still vulnerable to embers. This is why communities far from wildland areas, like Coffey Park in Santa Rosa, have been destroyed during wildfire and why entire neighborhoods have burned to the ground while the trees around them have not (see Fig. 1 below). This is why fuel breaks, twelve-lane highways, and even large bodies of water fail to protect our homes during wind-driven wildfires.

However, there is hope. While wildfire is inevitable, the destruction of our communities is not.

Jack Cohen, a former lead fire scientist with the U.S. Forest Service, has demonstrated this through decades of research. To stop wildfire disasters in our communities we must accept some basic principles based on science, especially with climate change and increasing numbers of people living next to wildlands. First among them is that the wildfire problem is a home ignition problem, not a wildfire control problem.
Focusing on forests and dead trees far from our communities most at risk or habitat clearance projects that have little value during wind-driven fires will only guarantee more of the same – continued catastrophic losses.

To stop the destruction of our communities by wildfire we must focus on strategies that will work in our rapidly changing environment: reduce the flammability of existing communities and prevent new ones from being built in very high fire hazard severity zones.

To read more, please view our entire letter here:

http://www.californiachaparral.com/images/Gov_Newsom_Wildfires_2019.pdf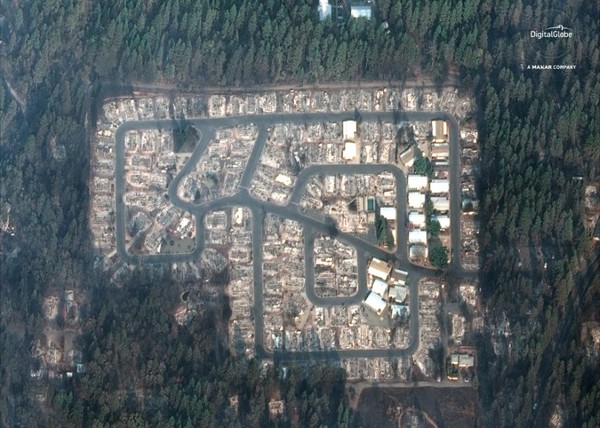 Figure 1. Camp Fire, showing the devastation of homes in the Kilcrease Circle community of Paradise. Note the surrounding green, mature forest with little or no scorching. The homes were not burned by a high-intensity crown fire, but were ignited by embers, followed by home-to-home ignitions. Photo: Digital Globe, a Maxar company via Reuters, 11/17/2018.


Rick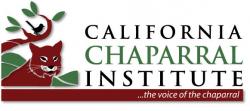 A detailed investigation by the L.A. Times reveals the history of fire preparedness and evacuation planning in Paradise. https://www.latimes.com/local/california/la-me-camp-fire-deathtrap-20181230-story.html


The Los Angeles County Fire Department estimates that embers cause the ignition of at least 50% homes that burn in wildfires. As the recent Woolsey and Camp Fires have shown, embers, carried by strong winds, fly through the air and rain down on vulnerable homes. Once homes ignite they create intense heat and more embers that then ignite other nearby homes. This turns what would be a fast-moving wildfire into an inferno, putting neighborhoods at risk and making it dangerous for vital first-responders to enter the area. By taking action long before a wildfire threatens, homeowners can address vulnerabilities. In this hour-long presentation Beth Burnam and Ryan Ulyate, Co-Presidents of the North Topanga Canyon Fire Safe Council will show video clips featuring Stephen Quarles from the Insurance Institute for Business and Home Safety. Shot in Topanga, the video demonstrates simple steps to reduce the risk from embers.
In addition, members of the NTCFSC Home Ignition Zone Evaluation team will be present to answer questions and share what they have learned from looking at over 175 Topanga homes.
With an abundance of dry vegetation and a one of the most destructive wildfire seasons on record, it's all the more important for Topangans, and all residents in the Santa Monica Mountains to take proactive steps that will make their home, neighborhoods, and communities safer.
We hope to see you there!
Wednesday December 5th at 6:00 PM
Topanga Library | County Of Los Angeles Public Library
122 N. Topanga Canyon Blvd.
Topanga CA 90290
Fire probably is the last thing most people are thinking about when entering garden centers bursting with color. But out West, where wildfire is becoming all too common, a new kind of landscape design  is emerging — fire-wise landscaping.
In California, almost 95 percent of fires are started by people, and about 7 percent of those are caused by arson.  The rest are mostly fires started by lightning, or other acts of Mother Nature such as wind taking down a power line.
—Lynne Tolmachoff, the chief of public education at Cal Fire

See the
article
in the New York Times.