What can an EMF \ EMR meter allow you to do?
1. Allows you to track and find EMF sources inside your house.
2. Allows you to asses the safety distances from ELF sources (in RF there is no real safety distance).
3. Allows you to identity where from EMF is penetrating your house.
4. Allows you to know which devices emit EMF, when, for how long and how frequent. 
5. Allows you to make sure that steps you take to minimize your exposure relay works.
6. Allows you to make sure that the protection you are installing relay makes a difference.
7. Allows you to lend the meter to family and friends.
8. Allows you to measure the EMF when ever you need or want.
What is important in EMF\EMR meter?
1. Sampling Rate - in RF meter it is most important that meter will be very fast so it will be able to measure the fast changing RF signals like WIFI, DECT, UMTS, CDMA, LTE, WIMAX and other. 
2. Simple Operation.
3. Clear Display of the outcome.
4. Long lasting. 
What an EMF \ EMR meter can't do?
As weird as it sounds, most EMF meters, even professional meters and especial RF meters will not be able to show you all the radiation in all the frequencies because of technical limitations such as sampling rate, frequency span, difficulties in measuring multiple source in multiple frequencies all in the same time and more (see below for more info). 
My recommendation, plain and simple
I recommend reading this page fully before buying an EMF/EMR meter. For those of you who want's my recommendation, but don't want to read the full explanation Please see the following table:
 Recommended for
 Model 
 Frequency response
  Picture and link
Buy now!
 Home use RF/ELF EMF meter

RF Sampling rate of 3500 per 0.5 second (Displays the Max and Average).
CORNET ED78 G/S
 RF - 100MHz - 8GHz 


  

EL30 - 50Hz - 1KHz 
ELF600 

- 50Hz -10KHz



 Home use RF meter with external antenna.

RF Sampling rate of 3500 per 0.5 second (Displays the Max and Average).


CORNET ED85
 RF 

- 1MHz - 8GHz

Only $

177.50

 (free delivery)

 Home use ELF analog meter
 TRIED FIELD 100XE Flat Band
 40Hz-100KHz
 FLAT BAND

Only 

$141.50

 (free delivery)

 Home use ELF digital meter
UHS2 from Alpha Lab
 

13Hz - 75KHz

Only

$310.00

 (free delivery)
One meter for RF+ELF or a single meter for each?
First Option - First EMF/EMR meters/detectors
First option, as a first meter I recommend the CORNET ED78S as a single meter, that can measure RF up to 8GHz and also ELF magnetic field (both one axis). 
The CORNET ED78s can be ordered from the supplier at this link. If after a while you feel you need a 3 Axis ELF meter then you can add the TRI FIELD 100XE. Most people do just fine with the CORNET ED78.
Second Option - 2 Great EMF/EMR meters/detectors
Second option, for those of you who are whiling to invest more, and get more options and abilities I recommend the CORNET ED85 (or the CORNET ED78 if you want an  internal antenna and the allarm feature) as a RF meter and the TRI FIELD 100EX as an ELF magnetic meter. These meters can be ordered from the supplier at the following links:
Want a digital ELF meter?
Recommendation 1 - The Alpha lab UHS2 ELF EMF Digital Meter
Recommendation 2 - The KAISE SK8301 ELF EMF Meter
Preview
Before I will start explaining, reviewing and telling you about different electromagnetic radiation (EMF/EMR) meters, I would like to point out that I am not trying to sell anything. All the meters that I am going to review here were tested by myself, and I own most of them. I am writing here my reviews and comments about these meters , which I use daily. I hope that if you are looking into buying one you will be able to get some information from this page which will help you to understand the types of meters available in the market and to chose the one best for you. 
I believe that every household should have EMF/EMR meters, since in home of today you can find many EMF/EMR sources. An EMF/EMR meter will help you expose most, if not all of them. after exposing the EMF/EMR sources you can start taking some actions to lower your exposure. 
Buying EMF/EMR meters and detectors
EMR is Electromagnetic Radiation, and EMF is Electromagnetic Frequencies so as far as meters it is the same.
I believe that buying your own meters is the right thing to do in most cases, especially if you are an Electromagnetic Hypersensitive (EHS) person. The best thing about having your own meter is that it belongs to you and you can use it more than once. You can use it to find EMF/EMR sources in your house, workplace or outside, just whenever you want or whenever you need. You can use it to track and monitor the changing levels of EMF/EMR during a few days or even help your family and friends by measuring their houses. 
A simple EMR meter can expose real EMF/EMR problems which can then be solved by you (moving or removal of the sources or protection from the EMF/EMR emitted from them). In addition you can take them with you when you are out, buying new equipment for the house in order to make sure when and how much EMF/EMR the new equipment will emit (for example this is the best way to find out which cordless phones emit EMF/EMR all the time and which emit it only during conversation).
I believe that today every house should have one or two meters: one for Extreme Low frequencies (ELF) and one for radio frequencies (RF).
A simple to operate $100 worth of LFE+RF EMR meters should be enough to expose most EMF/EMR sources in your house or workplace and to give you a good picture of what is going on around you as far as EMF/EMR is concerned.
Advanced meters can be right for you if you have some experience in the measuring of electronics, and after you gather some experience and knowledge about radiation.
Where to buy:
If you are looking to buy electromagnetic meters and searching for a place to buy at, I can recommend the our new eStore web store.
In addition to that you are welcome to use the links that I will give in the bottom of every review.
Some of the meters can also be purchased at No Rad's Amazon Store.


Different types and levels of EMF/EMR meters
Very Simple EMF/EMR meters – Into this category fall all the indicator type meters. These very simple meters can show you if there is ,or is not any radiation, a lot or not so much, more or less. These meters have a very basic indication, usually a set of led's or a small gauge. 
Amateur EMF/EMR meters – simple EMR meters that in addition to a basic indication gives also a numeric measurement value. 
Advanced EMF/EMR meters - EMF/EMR meters that display different types of information on a specially designed LCD. These meters can usually measure EMF/EMR in 3 axis and have advanced features like HOLD, MAX, AVERAGE. Some of them even have a internal logger (able to track EMF/EMR  levels over time) option and can be connected to a computer for data analysis. 
Professional meters - high quality, advanced meters with high precision and accuracy that address the professional market needs. These meters will usually have many advanced features some programmable options.
Multi frequency and multiple sources measurements
Please note that most of the High-frequency electromagnetic radiation meters that I encountered to date (both professional and simple) are not able to measure multiple frequencies and multiple radiation sources correctly (mobile, WIFI, cellular antennas, cordless phones, etc.). This limitation is due to the difficulty of measuring and summing up all the radiation levels in all the frequencies. Therefore the measurement of radiation sources that emit RF radiation in several frequencies (eg: WIFI, mobile phone antennas mailman third or cellular) or measuring a several radiation sources at once may not be accurate and generally results in low measurements. It is still possible to use these meters to expose radiation sources and to understand 
how to shield and how to reduce your exposure from them.
---
MICROALERT 2 - RADIO/MICROWAVE ALARM 
Highly recommended for EHS people!
This tiny EMR Meter is more of an EMR alarm device that will notify you whenever it detect EMR levels around it. The MICROALERT 2 has no numeric or light indication, it simply beeps when it is exposed to EMR. If the EMR levels are low it will beep slowly, if they are high it will beep very fast (similar to a Geigar Counter). The meter is so small it can fit into your shirt pocket (and leave some place for your turned off cell phone when). 
On the right side of the MICROALERT 2 is small knob button that controls the sensitivity of the meter. On the upper side you can find a On-Off switch and a small hole outlet for the small speaker. In order to open up the MICROALERT 2 you need to open the screw on the back side of it. This will reveal a small electronic board and a small battery which, according to the manufacturer, will last for 3 years or normal use. The MICROALERT 2 also comes with a small detachable hook that can be attached to his rear side and can be used to attach it to your belt or shirt, but I don't believe it can hold. 
Advantages: 
Very small. 

Unbreakable. 

Long battery life.
Disadvantages: 
Bottom line:
Where to buy:
---
All in one, both RF and ELF in the same meter like the ED75 and the ED25 but this time with improved frequency range (up to 8GHz), audio feedback and alarm,  Average, max and current measurement.
Advantages:
Single Axis RF and ELF meter (most RF sources are in Y axis. ELF sources usually radiate in 2 axis).

Both for RF and ELF measurement and source detection

Very sensitive RF and ELF modes
Very Fast RF meter (most important for an RF meter, 3500 measurements for every half a second and displaying the max level measured in the last half second).
RF mode from 100MHz up to 8GHz (from 0.0005mW/m2)

ELF mode LF600 - from 40 to 10KHz

 and up to 600mG

ELF mode LF30 - from 40 to 1000Kz and up to 10mG (very sensitive ELF mode).

RF mode - Audio-sound feedback
RF mode - Adjustable audio alarm
RF+ELF modes - Display Max measured value since power up 
In RF mode, display Average level since turned ON
RF measurement in dBm, V/m, mW/m2
Improved sensitivity in ELF, shows levels from 0.1 mG and up (0.5 in the ED75)
LF600 mode for low frequency from 0.05uT (0.5mG)
LF30 mode for low frequency from 0.01uT (0.1mG)

ELF measurement in uT, mG.

Histogram graph (level/time graph) showes the values measured on the l

ast 15 seconds. Helps you see fast signals and how the radiation levels changes over time. Great for RF/ELF source hunting.

Improved LCD display

Back Led light feature.
Led Light bar that marks the radiation level if you are having a hard time with the numbers). 
9V battery

Replacing the CORNET ED75

LFE and RF in the same meter
Disadvantages:
One axis only (if you want to track the source this is an advantage).
Short battery life (about 3 hours with back-light)
At first some people can find it hard to follow all the info on the LCD (but it also have a led light bar to make it easier at first)..

 

ON-OFF button is easily pushed when inside the bag.
The CORNET ED85EX will suit you if you are looking for a RF meter for up to 8 GHz , and if you are not afraid from a lot of data being presented on the same small LCD at the same time.


Where to buy:
Bottom line:
I recommend the COM as a simple EMR meter for demonstration needs (very easy to read display).
Where to buy:
Use the links in the bellow table. Sold be a web store in England. Prices are in British pound, not including VAT. You may need to pay taxes on supply.  



This item is sold by "Sensory perspective", an internet store from the UK




 
 
The ELF Electro Sensor is recommended as a first ELF meter for amateurs, beginners and people who want a basic meter for ELF EMR and want to avoid complicated to read LCD display, for finding and exposing ELF/EMR sources.
Where to buy:
In the last few years I have tested few TENMARS RF meters, 1 axis and 3 axis models (TM195, TM196, TM190). All suffered from the same issues:
Not easy to use
Sampling rate is too slow - meter could not identify fast changing signals (WIFI, DECT).
LCD not informative 
The meter changes between units' (from V/m to mV/m to uV/m , from uW/cm2 to nW/cm2, from mW/m2 to uW/m2) all the time which makes is hard to follow
They don't last for long - the sensor usually breaks after a while
Very disappointing (seems like a very good package but it is not). On paper (feature list) seems like a great deal but it was a very big disappointment for me.
As in photography, a good RF professional tester would mange to get good outcomes from every meter. The problem is that I don't think that home level user will know how to handle this meter and to compensate for it's problems and issues. 
---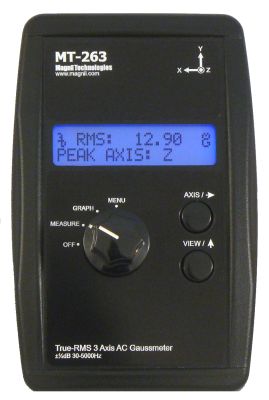 ---
More about EMF/EMR Monitoring/Measuring on this site:
All rights reserved
No Radiation For You" (c) 1/1/2010"
please contact us at : norad4u@gmail.com