Last updated: April 19, 2012.  Best viewed using Mozilla Firefox internet browser.
Great.  Just what we need.  More man-made wireless RF radiation blanketing our homes and bodies.  And during these stressful and economically hard times, they also come with costs to our pocket books, privacy and security, civil liberties, freedom of choice, and public safety.  
Burbank Water & Power's website says the wireless smart meters are mandatory, even though the U.S. government says they aren't.  So what happened to our rights to say what wireless devices we want installed on our homes?  By bypassing our input and consent, it's no wonder national consumer rights groups, privacy experts, civil libertarians, environmental groups, conservative and liberal political parties, residents, neighborhoods, cities, and counties, are opposing these installations.  Yes, the problems with wireless smart meters aren't just confined to Burbank.  They're also generating growing concerns, problems and opposition throughout the state, nation and world.
Actions you can take:
In California, 45 cities and communities have adopted measures to oppose or outlaw the installation of wireless smart meters in their communities.
1.  Write!  Write and ask your local officials to adopt and support the consumer and resident right to opt out and not have a wireless smart meters installed on your home without your consent.  Also rite and ask your local utilities that you are requesting the right to opt out and do not want a wireless smart meter on your home.  To do this, go to:



Wireless smart meters are not personal telecommunications facilities (cell towers) so the limitations of the Telecommunications Act of 1996 do not apply here -- i.e.,  city officials are not prohibited from considering environmental or health concerns when deciding how to opt out or halt the installation of wireless smart meters in their communities. 

2.  Watch!  Must-See TV: View the April 28, 2011 Santa Barbara, CA, smart meter town hall forum, featuring expert who present logical and intelligent reasons why you need to oppose smart meters at your home and community.  Click the YouTube video arrow on your right.


Bottom line: Our Congress is encouraging the adoption of smart grid technologies, but Congress and our Federal government have not mandated wireless smart meters on every home.  In addition, national consumer and state advocates are recommending voluntary consumer adoption!  Even the California Council for Science and Technology's recent health report on wireless smart meters recommends that options be considered for those who have concerns about them.  (See list of discussion items below for more details.)

Summary Background:
Local utility companies across the country are now deploying wireless smart meters on our homes (and schools and businesses).  These new wireless smart meters are different than your traditional meter because they record and communicate, via wireless RF radiation bursts, information and data to your utility company on how much energy you are using as often as every 15 minutes 24/7 --  to give them (and you) a near real-time picture of how much energy you are using during certain times of each hour and throughout the day.  In addition to the wireless smart meter monitoring your energy usage, there are also wireless gas and water meters being deployed. 
If you live in an apartment or multi-residential complex, you may not want to live or sleep in the unit that is right next to the large bank of several side-by-side installed wireless smart meters.
Wireless smart meters are just one element of the host of smart technologies being deployed -- what energy experts estimate will ultimate cost trillions of dollars to upgrade our nation's electrical grid with the hope of increasing energy efficiency and creating cost savings.  Consumer advocates, however, point out that most of the cost savings will be passed onto the energy industry and not the consumer, and that there already exist effective ways that consumers and utilities can conserve energy, and improve energy efficiency and create a greener, cleaner planet without the mandatory adoption of wireless smart meters.
And therein lies the other problem: most utility companies are telling their ratepayers that the installations are mandatory.   But, according to who?  Consumers and communities must be able to retain their rights and freedom to opt in or out of adopting wireless smart meter technologies due a variety of concerns, including these below. 
Summary: Reasons for Concern

Because this is such a new and infinitely evolving technology, and the utilities and federal and state agencies regulating them may not have anticipated the groundswell of consumer concerns and response actions they would generate, there are a growing number of reasons why we should be concerned about wireless smart meters:
Security and privacy experts have concerns about the vulnerability of the wireless smart meter networks, data ownership permissions, and the access to information by hackers and utilities and other third-party vendors when you start using your wireless smart meter and related smart grid home energy monitors and "smart" appliances; they will know what are you using and when, every 15 minutes of the day and night; has your utility shared its policy regarding personal data ownership and licensing issues regarding info and data gathered from smart meters and related smart meter technologies, potential privacy and security vulnerabilities? Security and privacy problems:

Health Effects on family: The World Health Organization has recently classified the type of radiation emitted from smart meters (non-ionizing radiation) as a Class 2B carcinogen, on par with lead and DDT.  Would you want the inside and outside of your home and schools and neighborhood sprayed with DDT 24/7 every day of the year?  Due to the radiation bursts emitted from the smart meters day and night, consumers who live near wireless smart meters or have had them installed on their homes are reporting ill and disabling health effects, including headaches, nausea, insomnia, ear ringing, and heart palpitations. 

Public safety hazards: Consumers are reporting that their wireless smart meters have exploded or started fires, and there have been reports of unsafe installations leading to public safety hazards; is your utility informing you about potential public safety hazards, and what to do and who to call if anything should occur?

Interference problems: Consumers are reporting that their wireless smart meters interfere with home security systems, wireless routers and other home appliances, as well as medical devices; is your utility informing you about potential interference problems and what to do and who to call if you experience them?
Consumers are angry to receive dramatically higher utility bills after their wireless smart meter is installed, even after dramatically reducing their energy usage -- this has lead to reports of inaccurate billing, faulty smart meters, and class action lawsuits in Bakersfield, CA, and Texas.  Is your utility explaining its plans and rate programs that may affect any rise or drop in your utility bill after installation of the smart meter, and what commitment they have to resolve any problems? Disturbingly higher utility bills:

No federal mandate for states and utilities to adopt wireless smart meters: Consumers and civil libertarians are angry that utilities are installing the wireless smart meters without obtaining our prior consent, and without allowing consumers the choice of opting in or opting out or having other non-wireless options, or keeping their old analog meter, because there is no federal law requiring mandatory adoption of wireless smart meters.  In addition, national and state consumer advocate groups are recommending voluntary adoption.  So who stole or gave away our freedom and liberty of choice?  Did you sign into a smart metering program?  Has your utility company explained the options and choices that ratepayers have if they want to opt out of a wireless smart meters, and has it informed you how it will respond if you decide to refuse wireless smart meter technologies? 

Consumers are reporting wireless smart meter utility customer service reps are responding with rude, dismissive and unhelpful remarks and answers to their requests to opt out, and that installers are using bullying and intimidation tactics in the field on ratepayers who request they want to opt out and don't want a wireless smart meter installed on their home Utilities continue to dismiss, bully and intimidate ratepayers:
State PUC's lack of response standards and options: Most state utility regulatory agencies have not (anticipated and) conducted public hearings and proceedings to fully vet, examine, address and recommend what kind of standards and options utility companies should adhere to, offer and provide when customers and communities request to opt out of or choose to refuse wireless smart meters and smart grid technologies, as well as what kind of standards and training requirements should be made of installers in the field and their response to consumers who do not want the wireless smart meters installed on their homes
State PUC's lack of response standards and options to address health reports and health effects from non-thermal RF radiation: The California State Utilities Commission has not fully explored or examined the potential non-thermal health effects of wireless smart meters and smart grid technologies, especially for those who are electro-sensitive, vulnerable populations, and those being reported and documented by physicians after their patients have had wireless smart meters installed on or near their homes
Damage and Real Estate Liability: Who is liable for any conventional home appliance, structural and/or health damages due to wireless smart meters and their installation? Who is liable if a wireless smart meter installation reduces the value of your home or your ability to sell your home?  When you move into a new home that has adopted wireless smart metering technologies, will you have the right to request it be removed, or have the choice of a wired option?  Who is vetting and determining the answers to these questions -- your city, your utility or  your state PUC? 
Other Smart Grid components and devices emit additional radiation: Environmental health advocates are concerned that wireless smart meters also typically come equipped with a wireless Home Area Network (HAN) component that will emit additional wireless RF radiation into your home; the HAN will then proceed to communicate wirelessly with the "smart" home display monitor and "smart" appliances in your home, adding to the cumulative RF radiation environment in your home; has your utility told you if your wireless smart meter comes with a wired or wireless HAN, and if they will be providing a wired or wireless home display monitor?  Will the home display monitor be mandatory, and if so, how soon will it be required?  Or will the home display monitor be optional?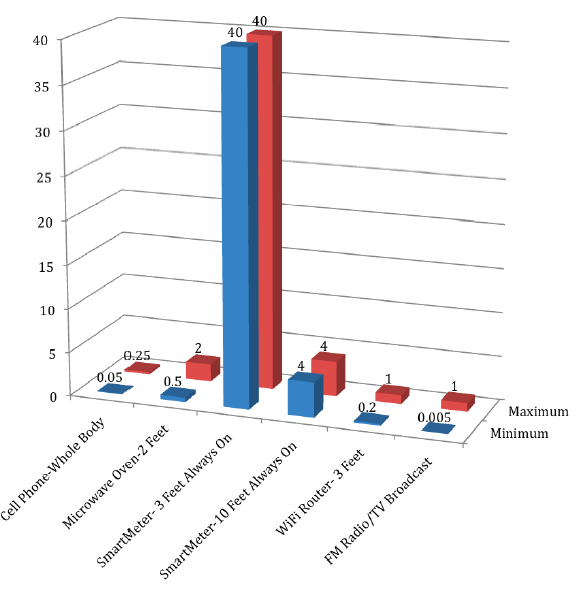 Costs of home display monitors and smart appliances: Consumer advocates are concerned about the costs and how many consumers will adopt the "smart" home display monitors and "smart" appliances that are needed to communicate with the wireless smart meter and result in possibly result in reduced consumer energy usage; has your utility explained to you if they will provide for free or do they expect you to pay for the home display monitor?

Obsolete technology costs:  Consumer advocates also recommend against the costly adoption of these meters burdening the ratepayers in the form of higher bills.  In addition,  they warn that many smart meter technologies and components could very well become obsolete with new-and-improved models just around the corner --- who will bear the costs for those upgrades?  

Time of Use Rate Programs should not be mandated: Consumer advocates are also advocating against the mandatory adoption of Time of Use (TOU) or dynamic rate schemes (which many utilities want to adopt immediately or a several months from now in order for the wireless smart meters to supposedly result in reduced consumer energy usage) --- they are opposing these rate schemes because they would result in higher utility bills for seniors, retirees, those on medical support systems, small work-at-home business owners, and low-income and fixed-income households that are unable to shift the time of day that they need to use energy; are you getting assurances from your utility that they will never require or mandate you adopt a TOU rate scheme? 
Questionable green energy benefits and savings: Many consumer and environmental groups and experts do not agree that wireless smart meters will lead to substantial consumer savings.  In communities and countries where wireless smart meters have been installed, consumers continue to complain of  dramatically higher bills that are double or triple of what they used to pay.  What is your utility estimating will be your consumer savings and how much of a reduction you will see in your monthly bills after the installation and over the years that they will be upgrading and adding more costly smart grid technologies?  What is your  utility estimating will be the $million costs in its long-term program to adopt smart grid technologies, and how will it recover those costs?
Given all these concerns and issues surrounding wireless smart meters, it's no wonder there's a growing movement of consumers, consumer advocates, and local officials who are upset and want other choices to wireless smart meters and the right to options or refuse.   Consumers groups are organizing protests, boycotts, distributing flyers, hosting educational events and presenting information at meetings, putting up signs on their homes and meters.  Two grandmothers have even gotten arrested in an attempt to protect their life and liberty. 
Their concerns are not just all theory and hype -- in areas where wireless smart meters have been installed, you'll find real-world nightmare stories from consumers complaining about how their lives have been negatively affected or destroyed because of these new installations. 
So why are utilities rushing to install them on our homes, schools and businesses, and what action can you take if you want to opt or refuse one?   
Read the details and helpful information about this issue -- click each of the discussion items below: 

Contents:
Smart Meter Discussion Items

That's right.  Our utility companies are now installing mini-cell towers on what is supposed to be the safety and sanctity of our private homes.  They're wireless smart meters that will replace the old analog meter that you have on or near our homes, businesses and schools.