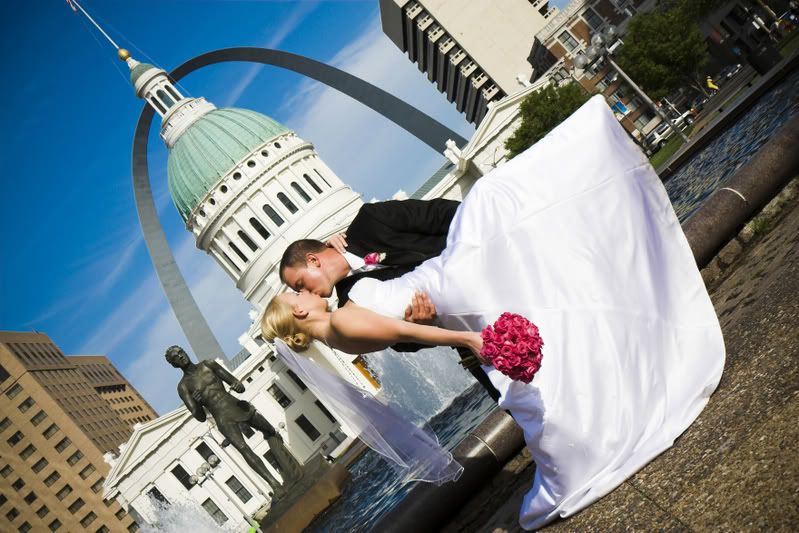 We were absolutely thrilled with all of the vendors on our wedding day. They all outdid themselves and we could not have been happier to see our vision come to life. Doing your research and listening to others' experiences truly pays off and if it weren't for the help of other brides, I would not have had such good luck on my wedding day. With that in mind, I tried to be as thorough as possible with my reviews so that hopefully my experience will help make someone else's day as perfect as mine! I included some pics too (some pro, some not), just for fun!
Just a warning, this may take awhile!
Day-of Vendors (in order of appearance…):
Coordinator – Proposing Dreams: Sabrina, Amanda D, Amanda H (www.proposingdreams.com)
Sabrina and staff did an amazing job on our wedding weekend. I had been planning the wedding for 15 months and although I had meticulously planned every detail, without them there to execute it all I don't know what I would have done! They were everywhere I needed them to be and always one step ahead of me. The ceremony and reception flowed seamlessly because of them and I cannot imagine what a disaster the rehearsal would have been without Sabrina! The ladies made sure my reception décor was setup exactly how I wanted (including setting up the candy buffet) and improvised in ways I never would have thought of! Sabrina came to the hotel and helped my girls and I get ready and was SUCH a lifesaver… we all had corset-back dresses and I can only imagine how stressful it would have been getting us all laced up without her there! She was an expert at it and each girl's dress looked beautiful! I cannot imagine my wedding being the success it was without the help of Sabrina and staff. And I cannot stress enough the value of having a day-of coordinator. My husband and I did not have to lift a finger on our wedding day and did not have to worry about the details getting done, we knew they were well taken care of!
Photographer – SJ Macky (www.sjmackyphotography.com)
What can I say about Sara that hasn't been said already? She is just the sweetest, most fun and down-to-earth vendor I have worked with. My absolute favorite! I could rave for days about her and feel like she is part of our family after all the time I have spent with her from our engagement pics to my boudoir pics and finally our wedding. My husband and I love her to death and are so thrilled with all of the photos she has taken of us over the last year. One of her biggest perks is her turnaround time… she is insanely fast at getting your images to you! For our E-pics and my B-pics, she had the images online within a day. She had our wedding sneak-previews up just a few days after the wedding and our proofs and DVD's were in hand as soon as we got home from our honeymoon. Outstanding! Jerren was the second shooter for our wedding and he did an amazing job as well, those two work great together and it was such a pleasure to share our wedding day with them! Like I said, I have nothing but love for this girl and have been thrilled with everything she has done!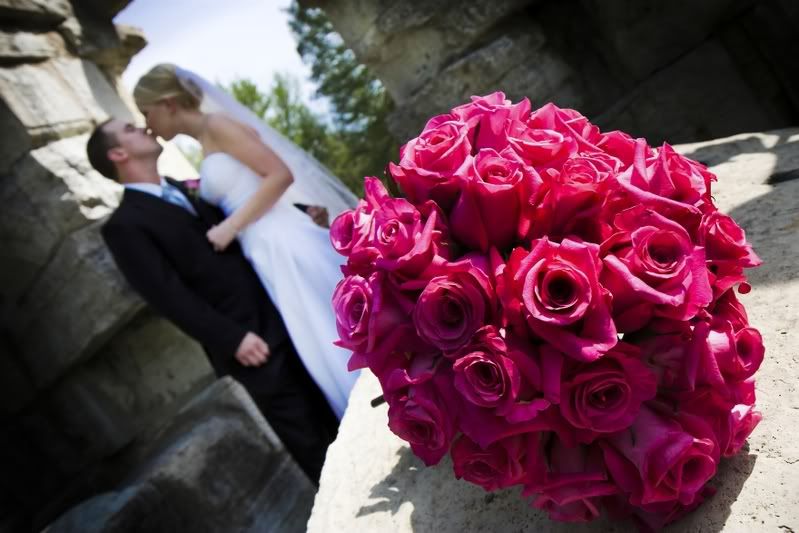 Hair & Makeup – Tami Scott (www.tamiscottstudio.com)
I wanted nothing but the best for my wedding day hair and makeup which is why I chose Tami. She is one of the top bridal hair/makeup artists in this area and I knew she would do a fabulous job for me. Her prices are definitely up there but you have to think of the investment you are making already in your photos, dress, accessories… your hair and makeup should be no exception! Tami came to my hotel, was on-time (actually, a few minutes early which never hurts), and got right to work making me beautimous! I was a little disappointed when she was finished because she didn't have me look in the mirror until it was all done and she had started packing up and there were a few things I wanted changed. So then she had to get her stuff back out which seemed inconvenient, I just wished I would have gotten a better look before she finished. Overall I was very happy with my look but felt like my hair was slightly different than what we agreed on at my trial. No biggie though, it still looked awesome and stayed put all day and night… even my veil! Tami is such a sweetheart though and truly knows her stuff. She even has her own makeup line which I purchased my lipstick from and really like! I would highly recommend her to anyone!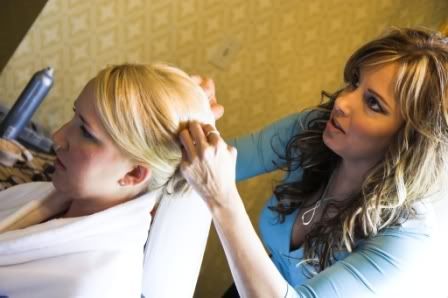 Florist – Rich West Designs (www.richwestdesigns.com)
I only budgeted for personal flowers for our wedding and Rich did an amazing job staying within my budget. He is so much fun to work with and really comes up with unique ideas for your vision. He is very honest which I truly appreciate and knows how to get the biggest bang for your buck. I had wanted to do roses with stephanotis for my BM's but knew that steph. was pretty pricey. To achieve the same look, Rich suggested we used white button poms instead. I had never seen that done before but really liked the idea so we went for it! I loved the final result and am happy to say that the bouquets were unlike any I have ever seen! He also made room in my budget for a few boutonnieres, flowers for the mom's and grandma's, and a memorial vase of Calla Lilys. Plus he threw in the toss bouquet… gotta love that! Oh yes, and he was early delivering the flowers which is an added bonus! Rich was so great to work with and I cannot recommend him enough!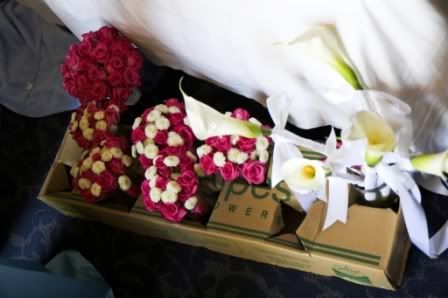 Videographer- Thunderstorm Multimedia (www.thunderstormmultimedia.com)
Another vendor that we had such a great time with on the wedding day! Mike and his assistant were so much fun and really seemed to be everywhere on our wedding day. He got along great with Sara (you definitely don't want your photog and videog butting heads!) and was not obnoxiously in the way at all… which was a concern I had in regards to videographers. We should have our wedding video soon and I just know it will be amazing! From what I have seen in his demos his work is exactly our style. Can't wait! I am just so happy we hired a videographer because I know there will be so many emotions and events that could not be captured by the photographer… specifically, the ceremony and the insane grand entrance at the reception. I am DYING to see those on video! If you are on the fence about hiring a videographer I say, DO IT! You will definitely not regret it!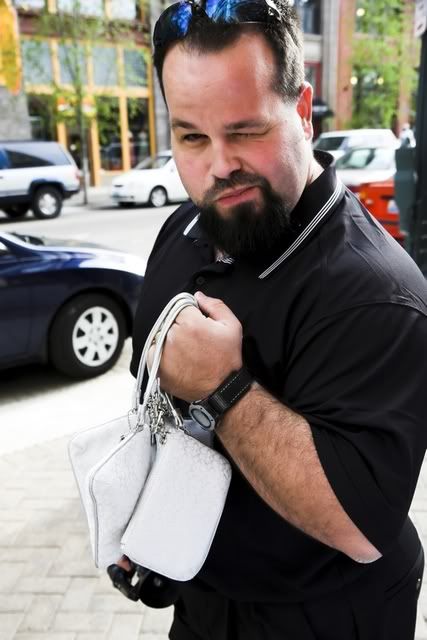 Limousine – Country Club Limos (www.countryclublimos.com)
Surprisingly, this was one of the first things we booked! When we first started planning, we saw their crazy super stretch Hummer and had to have it! Looking back, I would have rather gone with a limo-bus type vehicle (just so we would have more space/headroom… we only had about 15 people and the capacity was 25 and it was still TIGHT) but the Hummer was definitely a hit! For the life of me I can't remember our drivers name but it was a girl and she was AWESOME! She was so helpful, cheerful, and just a pleasure to be around! She was always where we needed her to be and whipped that Hummer around like she was driving a Mini! It was impressive! She also didn't mind in the least that our wedding party got a little rowdy and was quick to clean up our spills without a single complaint! Country Club was great to work with and even allowed us to split our time and arrange different vehicles for before and after the ceremony and then for the Hummer to come back for an hour at the end of the night. I really appreciated their willingness to make us happy and their flexibility. Highly recommend!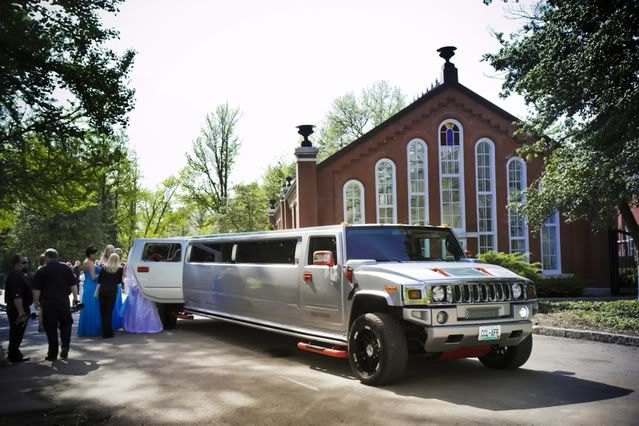 Ceremony Venue – Tower Grove Park, Piper Palm House (indoors) (www.towergrovepark.org)
Besides booking the ceremony, there really wasn't too much contact or coordination necessary. Whenever I did have questions they were always helpful and everything was as it should be for the rehearsal and ceremony. My only complaint would be their early rehearsal time (4pm on a Friday isn't exactly convenient for everyone) and that there was still orange fencing up from the park renovations. I realize it could have been worse but for what we paid I expected the full beauty of the park and that is not exactly what we got. No biggie though! We had our deposit back about 2 weeks after the ceremony for those who are wondering.
String Quartet – Rosewood Ensemble (www.rosewood-ensemble.com)
This was a last-minute decision after we started getting more declines than we expected, we decided to use the money to have a string quartet! It was something my DH REALLY wanted and I am so glad we decided to go for it. Dee was such a pleasure to work with and such a sweetheart… always quick to respond to my questions and emails. They truly are amazing at what they do and you can just hear the difference when comparing them to other quartets. We got so many compliments on their performance and I think it did a great job of adding that touch of elegance to our ceremony. I can't wait to see the video so I can hear them again… they were phenomenal!
Reception Venue- Hendri's (www.hendris.com)
There were several reasons why we chose Hendri's that I think are important to point out (since it is not a vendor I hear mentioned too terribly often). (1) While Hendri's is a banquet center, they only accommodate one event per evening. When we were looking into other venues we just hated the idea of another event going on in the next room. At Hendri's you get the run of the whole building. (2) While it might not look like much from the outside, the ambiance inside Hendri's cannot be matched! The awesome checkerboard floor, big centralized wooden bar, fireplace, and just the openness and coziness are what made us fall in love with this venue. (3) There food is un-believable! Seriously, sooooo yummy! I loved that we had non-traditional menu choices and people are still raving about how good everything was! (4) Price. For everything you get, their pricing is fantastic. We were originally considering a place like Windows but when we compared their package to Hendri's there was just no question. (5) Family owned. Hendri's is family owned and run and everyone there is so helpful and genuinely cares about your event. The week before the wedding we dropped off ALL of our décor (which was a LOT of stuff considering we provided all the glass centerpieces, candy buffet, etc) and were worried that they would be intimidated but not at all! When we arrived at our reception everything was setup just as it should be and the place looked amazing! I cannot recommend Hendri's enough!
DJ – John Larson, Sound of Success (www.sosdjs.com)
When we first started planning we were going to have a friend DJ for us. Well, a few months into it and we decided that might not be the best choice since we were doubting his reliability. At that point, the good DJ's were already booked and we were left scrambling! I went to the America's Center bridal show and met John with Sound of Success. He really impressed me with his no-frills approach and high-quality setup. I called him and spoke to him for what seemed like forever and found that we were definitely on the same page! We wanted someone to play exactly the songs we wanted without the cheese-factor. They have an awesome website setup that allows you to search for any and all the songs you want played and even listen to samples. If they don't have the song you just type it in and they will get it for you. The website also includes an awesome planner so that all the details are not forgotten (planned dances, when to do the cake cutting, etc). Well, on the night of the wedding John definitely surpassed my expectations! He did such an amazing job and played all the right songs! He said it ended up being about 95% of songs we chose but the ones he played on his own I wouldn't have known the difference because they fit right in! He was just great! I also liked that he didn't have a big banner or setup advertising for his company and his sound system was awesome! At the end of the night he gave us a CD of all the music that was played at the reception which was really cool! I could not recommend SOS enough… a phenomenal vendor!
Cake – Wedding Wonderland (www.wwcakeshop.com)
I love Wedding Wonderland because they are just a no-nonsense baker. Their prices cannot be beat and are so easy to understand. It is a simple price per slice, no confusion over every little detail like so many others do. The taste of their cake? Amazing! I was so so so so SOOOOOO happy with the design of our cake… it was freaking awesome. I did not want to cut it I was so obsessed with it! Exactly what we envisioned except better! The day before our wedding they called and had run out of the ribbon I provided them with. I told the owner where I bought it and he actually went out to get some more but wouldn't you know, there had been an outage of turquoise ribbon in the STL area over the last month (seriously, I was running around crazy trying to find stuff I ran out of!) and they didn't have any. Luckily I had JUST ENOUGH of that size ribbon left so I brought it out there and got a sneak peak and was so excited! Like I said, for the price, taste, and ease of ordering, Wedding Wonderland cannot be beat!
Pre-wedding vendors:
Travel Agent – Hayley @ Beach Bum Vacations (www.beachbumvacation.com)
Another one of my favorites! Hayley put up with my constant barrage of questions about the smallest details from resort comparisons to pricing to personal experience to just bugging! She was always a pleasure and would respond within minutes to my emails! We did all of our communication via email and I wouldn't have had it any other way. She worked with us to find the best flight and deals to Jamaica and helped us choose the perfect honeymoon location, Couples Swept Away. Beach Bum is a platinum agent with Couples so I knew she would do a great job representing us. After we had made our final payment (about 1 month prior to departure) I noticed Couples advertising a sale and found a lower rate for our vacation. I contacted Hayley and she was able to get us a refund of the difference! I thought that was great. Also, while we were on our honeymoon a few issues came up at the resort that we were having a hard time getting resolved so I emailed Hayley and before we knew it the issues were fixed and we had a bottle of champagne waiting for us in our room! I cannot recommend her enough, she is such a doll!
Rehearsal Dinner – Rigazzi's on the Hill (www.rigazzis.com)
Rigazzi's was the perfect place for our RD! It was just a mile from Tower Grove Park, offered a private room with its own bar, bathroom, and private entrance, and its pricing could not be beat! We did a buffet dinner and 3 hour open bar and had such an amazing time! The room was the perfect size for our group and the food was amazing! The staff did a great job and did not mind at all when our group got loud and made a huge mess unwrapping gifts! Such a fun time and again, price was awesome! No complaints whatsoever!
Hotel – Hyatt Regency Union Station (www.hyattregencystlouis.com)
We had our hotel block here and were very happy with everything. The rooms were very nice and the hotel is just so much fun being connected to Union Station. Everything went smoothly and as far as I know, no one had any problems. The girls and I stayed in a "parlor suite" the night before the wedding and it was perfect for getting ready in! We had 2 bathrooms, a huge mirror/makeup counter, 3 queen beds, a pull out couch/bed, 2 big tables, and tons of space. It was awesome! We got Einstein's bagels for breakfast the day of the wedding and ate the brunch buffet on Sunday. Both were great! We didn't go out after the wedding but everyone that did said there was a ton to do and lots of fun bars. The only downfall is paying for parking… it's like $15/day.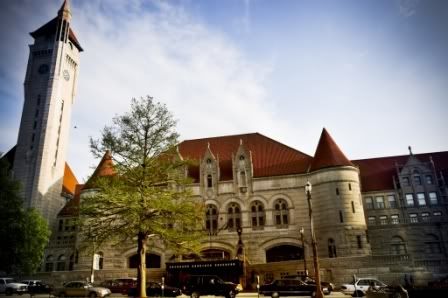 Jeweler – Helzberg Diamonds St. Clair Square (www.helzbergdiamonds.com)
My DH has gone here for all of my jewelry purchases and they have always been great, before and after the sale. No complaints! My HD surprised me and bought me the diamond stud earrings that match my E-ring as my wedding gift! SO awesome!
Bride's Dress, hair comb, and dangle necklace – Blushing Bride (www.blushingbrideshop.com)
Ooooh, another favorite vendor! Jamie and staff at Blushing Bride are all such sweethearts! I had soooooo much fun shopping for my gown here and they were never pushy or rude. Jamie truly listened to and remembered what your likes and dislikes are and made excellent recommendations accordingly. I had originally ordered a different dress, changed my mind, and found a new dress months later. I was quite the brat and Jamie never once complained or got snippy. Always such a sweetheart. Their new shop in Shiloh is adorable and their inventory is impressive! I liked that they had "real" sizes so I was able to try on almost any dress I liked. Their prices were very good as well, but the service just cannot be beat! I will definitely miss working with these girls!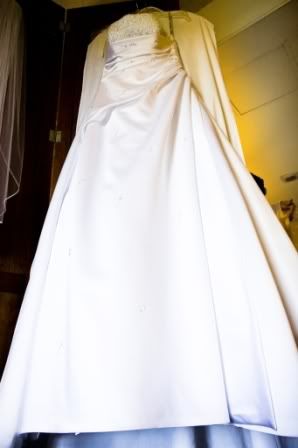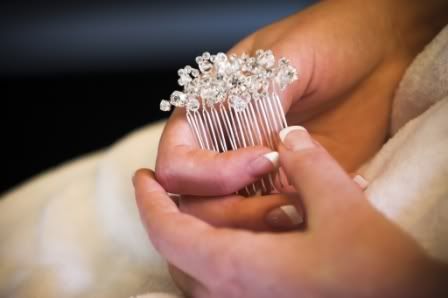 Alterations – Cindy Wilson (cndwill@charter.net)
I was referred to Cindy by Blushing, as well as other brides on STLWed. She does alterations out of her house and could not be sweeter! She is VERY good at what she does and her prices are very reasonable! She is a perfectionist and makes sure your dress is exactly as it should be. I only needed a hem, bustle, and bust cups and she did a fabulous job on those. She even steamed my dress and veil twice just to make sure it was perfect! My bustle was awesome and stayed in perfectly all night! She made the bustle so easy to understand too by color coding the laces and she even thinks of little things like pinning extra safety pins inside "just in case" and making a little pocket for the dress hangers to slip into. She is the best!
Bridesmaids Dresses – Chrissy O Bridal (www.chrissyobridal.com)
The Raylia dresses I fell in love with for my BM's were way out of our price range at any of the local stores and the popular discounters (Netbride, Pearls' Place) did not carry the designer. I found Chrissy O on the Kn0t dress board and decided to give it a shot. They were almost 50% less than all the others! The girls all got measured on their own and we placed the entire order by phone (although I did fax them a typed out summary, just to make sure we had all the details in writing) and the dresses were in about a week earlier than they said. They shipped them all to my house and we could not have been happier! Definitely worth a shot if you think a dress is out of your price range!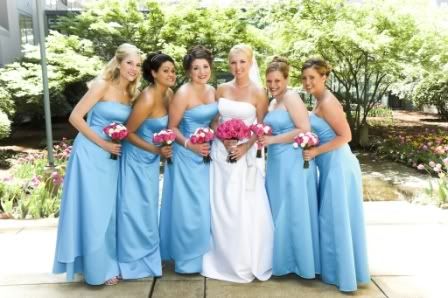 Tuxedo's – Savvi Formalwear (www.besavvi.com)
No problems whatsoever. Simply and easy, everything was accurate and the tuxes looked SO nice! My DH lost so much weight though that his tux didn't fit so they sent us to their warehouse in the Loop and we were able to trade his in the day before the wedding. Easy and painless, as it should be!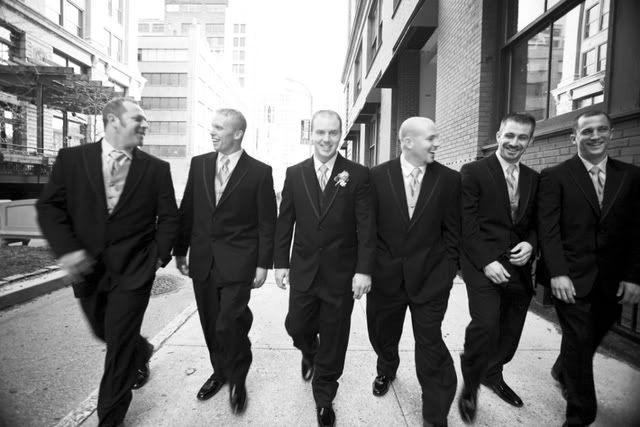 Honeymoon registry: www.honeymoonwishes.com
We used this site to register our honeymoon and linked it to our wedding website. We actually had quite a few people use it and had no problems. The funds were in our account the week of the wedding so we could use it for the honeymoon! Great site!
Post-wedding vendors:
Honeymoon – Couples Swept Away, Negril, Jamaica (www.couples.com/12sw/index.html)
Couples was simply amazing… the ultimate paradise! This all-inclusive resort has everything you could possibly ask for in a vacation. The beach was immaculate and simply breathtaking, the resort grounds were so lush and tropical and extremely well kept, our room and everywhere on the resort were extremely clean which we appreciated. They thoroughly cleaned and mopped our room everyday which was definitely needed with all the sand we tracked in! We stayed in a Garden Verandah Suite which is in the newer section of the resort. Our room was perfect our only complaint was that we could hear the road noise. If you stayed in an Oceanview or Beachfront I don't think that would be a problem. The food and drinks were heavenly and always an arm's reach away. There were, I believe, 6 restaurants to choose from and just as many, if not more, bars. It was sooo nice being able to order anything you wanted and not ever worry about tipping, and the no-kids thing… brilliant! We walked down the beach by a "family" resort and were immediately reminded of the reason we stayed at an adults-only… the peace and QUIET! There is so much included in this resort that you could really keep yourself quite busy. We tried to do as much relaxing as possible and only did 1-2 things per day. Our favorites were snorkeling (2x) and the catamaran cruise (2x)… both are a must do! We also went on a shopping excursion which was interesting (to say the least) and parasailing which we found terrifying! Our only complaint about the resort is that you have to make reservations for most things and we found that stuff booked up FAST. Once you realize that though, if you plan early enough you should be able to do everything you want. More detailed review will be posted in my blog…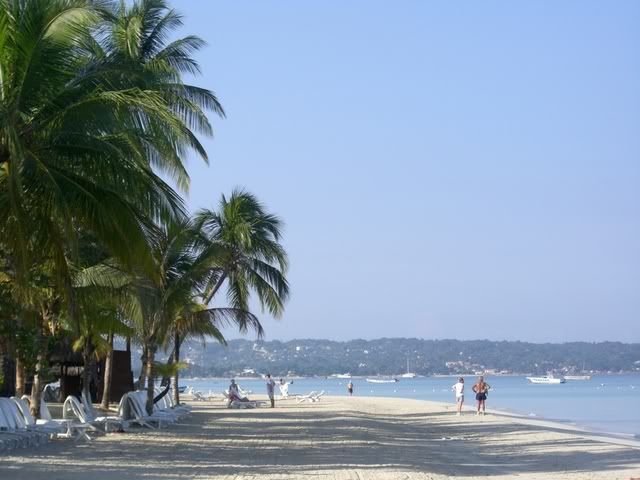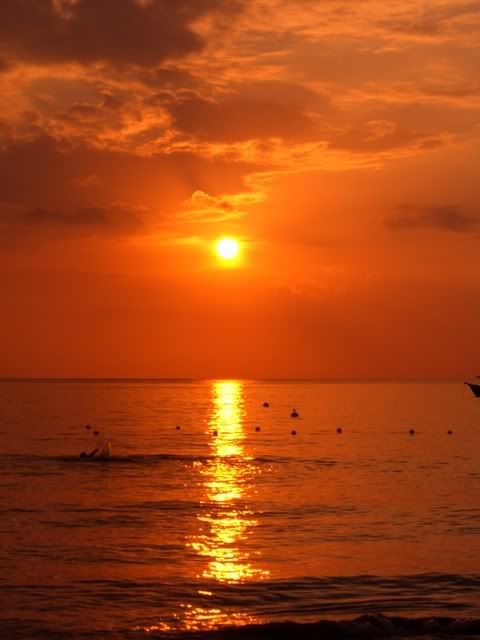 Dress Cleaning – RAM through Holiday Cleaners, Edwardsville, IL
My MIL dropped my dress off the week after the wedding and it was ready by the time we returned from the HM. I got it cleaned and preserved (which included packaging the dress and veil in a windowed box) for around $150. I obviously can't take it out of the box but from what I can tell it looks amazing!
Details, planning, and preparation:
Invitations, save-the-dates, programs, escort cards, table #'s, thank-you cards, flower girl baskets, RB pillow –DIY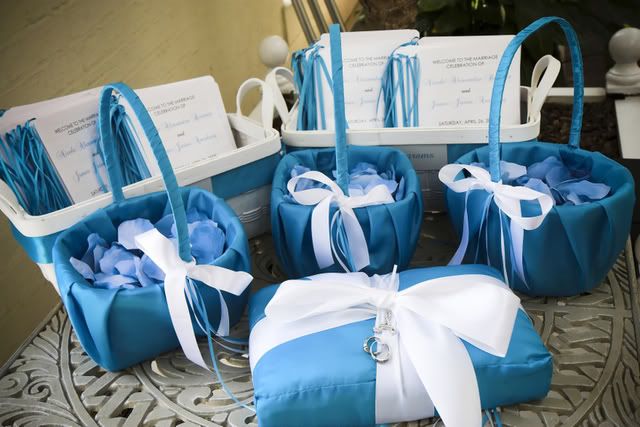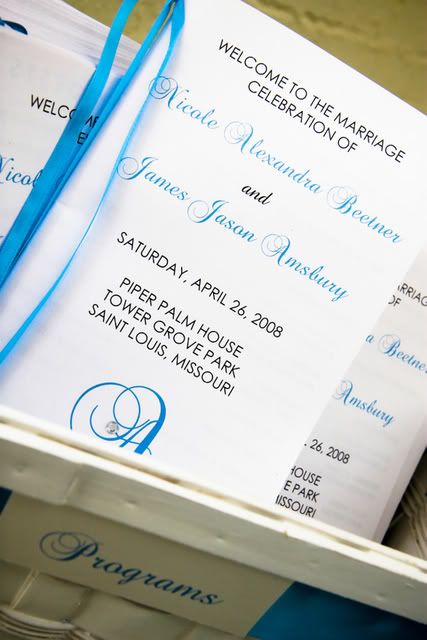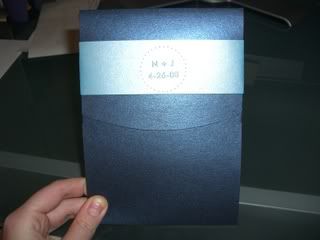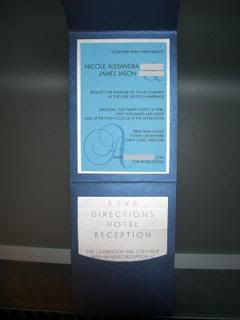 Pocketfolders: www.cardsandpockets.com
Fast shipping, great prices, great quality.
Pearlescent envelopes and text weight paper: www.paperandmore.com
Super fast shipping, awesome prices, love that you can order samples.
Pearlescent cardstock (huge sheets for inserts & escort cards): www.paper-source.com
Great value in buying cardstock in big sheets and cutting yourself. Really saves $$.
Blue pearlescent cardstock (AstroBright): Xpedx on Kingshighway www.xpedxstores.com
You can negotiate prices with them and they are super nice. Tons of items in stock.
Save-the-date magnets and thank you cards: www.vistaprint.com
I used Vistaprint for our STD magnets as well as photo thank you cards and other items. Cannot beat their prices (if you use one of their special offers) and the quality is always good.
Save-the-date postcards: www.overnightprints.com
Love love loved our postcards! The quality is sooooo professional and they ship insanely fast. Love the rounded corner option as well.
Embosser: www.wgpress.com
Very cool embosser, reasonably priced and bonus that you can order different plates.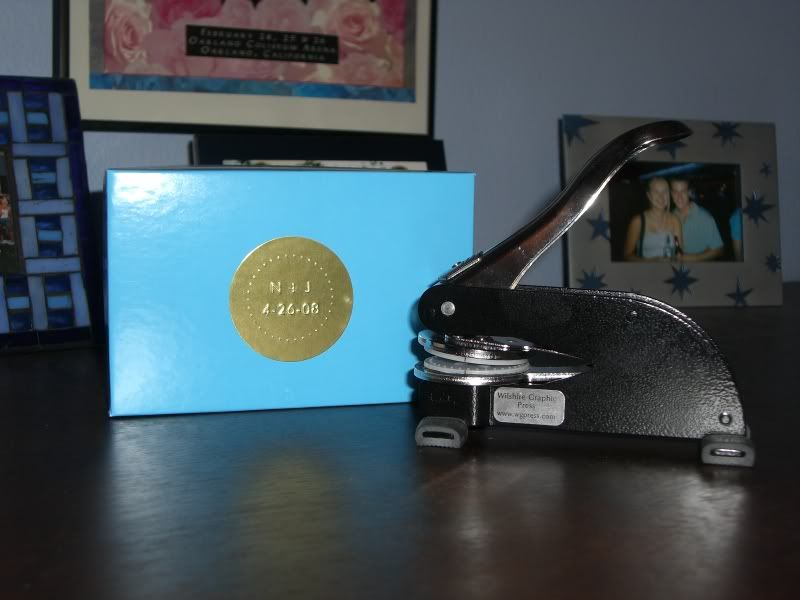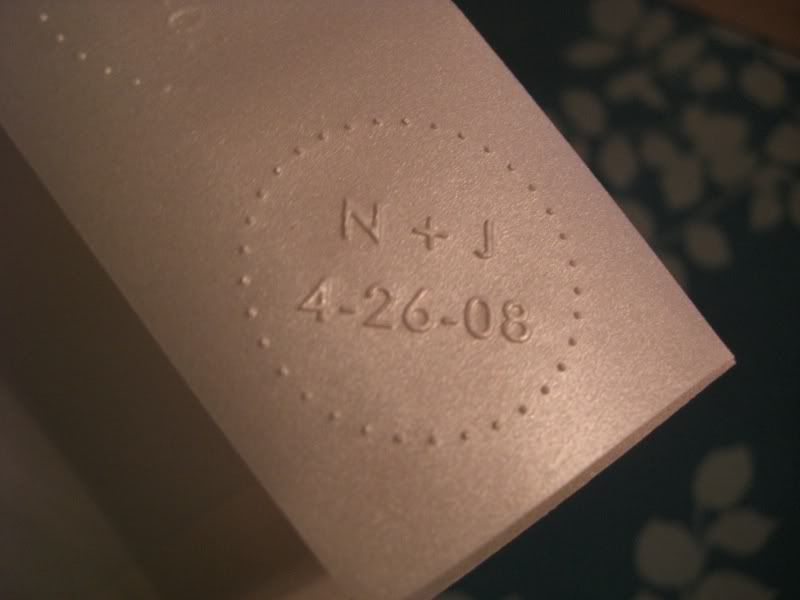 Photobooks
Engagement Pictures: www.shutterfly.com
I was very happy with the quality of this photobook. The software was easy to use and the shipping was fast.
Bpic book and guest book: www.picaboo.com
Extremely DISSATISFIED with the quality and their customer service. My b-pic book came and several of the pages were damaged (bent, stuck together) and the quality of the leather cover was bad. My guest book had the full printed cover and the image was all distorted, it had a "painted" effect to it which was so weird because the original image was hi-res. When I contacted them to get these resolved they were very slow to respond and said I would have to send back the old books before they would send new ones. It took FORVER for the first books to ship so I did not have that kind of time. When I responded asking if they could just send the new ones at the same time I sent the old ones they did not get back to me for over A WEEK! At that point, I was not going to chance it so I designed new books through Blurb. All in all, Picaboo was VERY slow to ever respond to me and the shipping was slow. I am still waiting for my refund… I did really like their design software though. It's a shame!
Bpic book REPRINT and guest book: www.blurb.com
In a flurry, I designed a new Bpic book and photo guest book through Blurb. They were pricier than Picaboo but I can totally see why… the quality is incomparable! The Blurb books turned out awesome and I am so glad I acted when I did. They do not offer as many layouts as Picaboo and their software is a little trickier but the quality is just so much better. AND, super fast shipment! Highly recommend!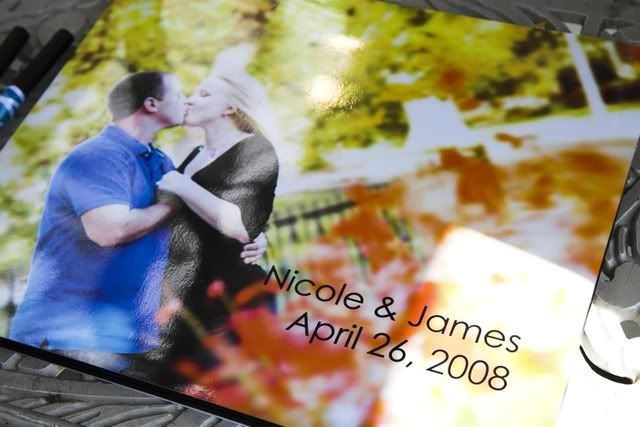 Favors, items, and décor:
Candy for buffet: www.hometowncandy.com
I found that they had the biggest selection and decent prices for what I needed. The items shipped in about 2 weeks, however, they forgot 1 bag of candy and I didn't realize it until the week of the wedding. I called them and they were able to overnight it so I received it JUST in time.
Candy buffet take-out boxes: www.cudge.net
I was not very happy with these take out boxes. The price is excellent, but when you add in the cost of shipping it is not THAT great. Still better than other prices I found though. The quality of the boxes is almost unacceptable. Many of the boxes arrived damaged and crumbled, and on some the color was inconsistent and blotchy or had ink spots. I contacted them and they sent out another 100 boxes immediately so we were able to supplement those for the ones that were bad. It was still a hassle that I would rather not had to deal with. In the end, no one noticed and they looked great for what they were.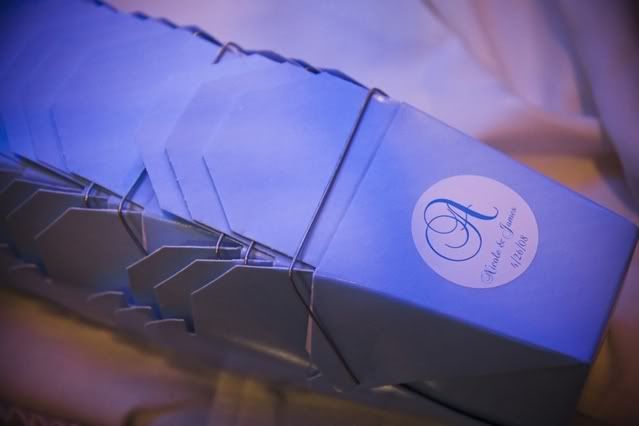 Candy buffet jars & scoops: Old Time Pottery, TJ Maxx, BB&B
Gotta love OTP and TJ Maxx! You never know what you will find but we were able to put together an awesome collection of glass jars from these places. I got the scoops at BBB, cheap and did the job! I will be selling all of these items soon.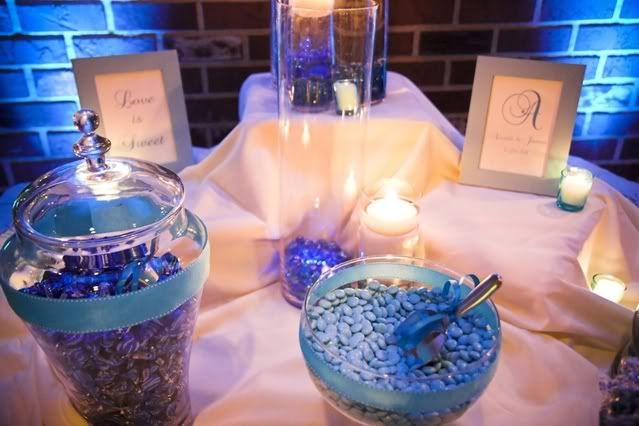 Stickers for candy boxes: Avery 5293 from www.officedepot.com
I printed these round labels for our candy buffet boxes. None of the "office" stores carry them in-store so you have to order online. Did the job, fast and easy!
Cake topper: www.favorsbyserendipity.com
I absolutely LOVE my cake topper! It was so beautiful, simple yet elegant and the quality was awesome! Much better than most "bling" toppers I have seen. We got these as a gift so I don't know about shipping or cust. Service but I assume all was well.
Cake servers: www.exclusivelyweddings.com
Our "bling" serving set was perfect for the theme of our wedding. We also got these as a gift but I assume everything went smoothly.
Toasting flutes: Swarovski
Another gift, purchased at the Swarovski store at the Galleria. I have been obsessed with these since I got engaged and knew I HAD to have them. LOVE THEM!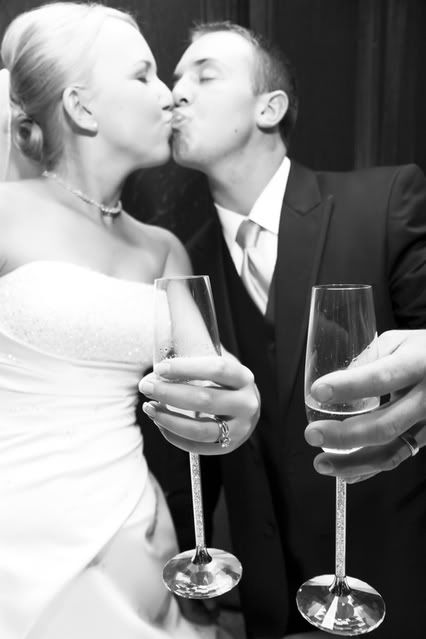 Crystal curtains for archway: www.shopwildthings.com
The crystal curtains added just a touch of sparkle to our ceremony which was perfect for me! My DH handmade our wooden archway and we wanted to "bling" it up a little! This site offers a lot of really cool sparkly stuff and is very reasonable. Fast shipping too!
Koozies for bachelor/bachelorette parties and wedding:http://stores.ebay.com/Barry-Promos
I always wanted koozies for our wedding, but most of the popular sites charged an arm and a leg just to setup your design. I found this seller from iheartben and for the price, figured what the hey! I ended up getting around 75 koozies in 3 different designs and colors (bach party, bachelorette party, and wedding) all for $80. I sent him the design and he had them here JUST in time for each event. I was a little worried that they wouldn't arrive in time but it was all good. Just make sure you explain all of your deadlines to him and are clear on color choices. I was a little disappointed with the color of our wedding koozies, it was more green than I would have liked but oh well. They were cheap and got the job done! They were a hit at all the events!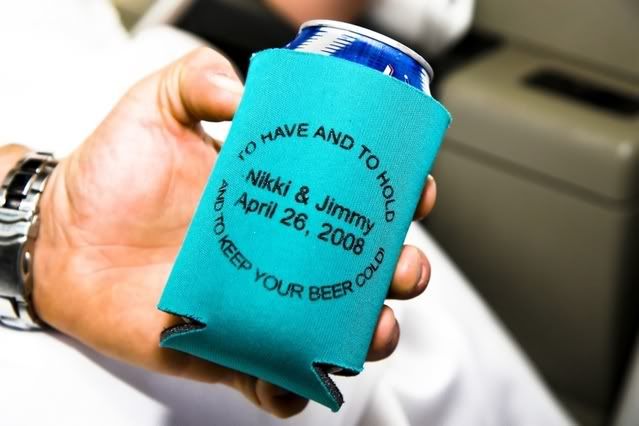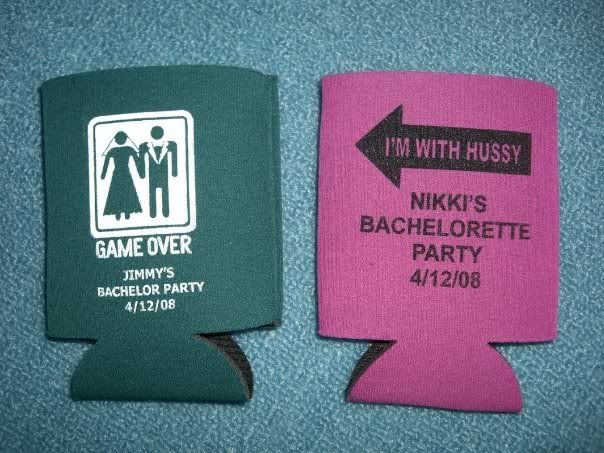 Garter: www.thegartermaker.net
Easy to order, decent shipment time. No complaints!
Turquoise votive candles: www.efavormart.com
Best prices I could find on votive holders. Decent shipment time and packaged nicely.
Pearlescent floating candles and marbles for glass cylinders: www.save-on-crafts.com
Again, best price I could find for these items. Decent shipment time.
Blue silk flower petals: www.efavormart.com
One of the few places I was able to find petals in blue.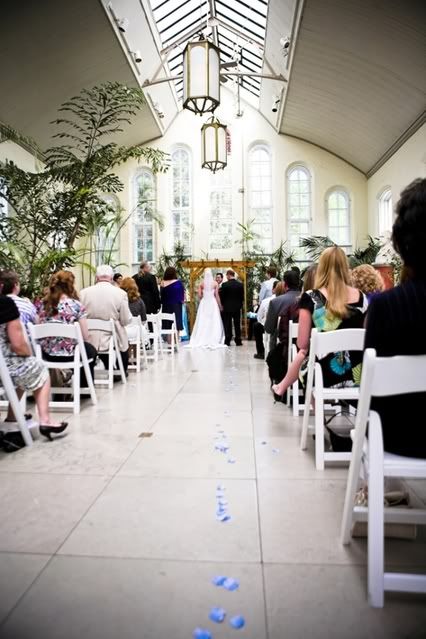 Gifts
Steak branders for groomsmen: www.steakbrands.com
The steak branders were such a hit with our GM! Decent shipping time and good quality. Very unique gift idea.
Engraved items: shot glasses, curved glass frame, photo album, yo-yo's: www.engravedgiftcollection.com
I was extremely satisfied with the products I ordered from here. They were very reasonable compared to other engraving sites and I received the shipment in no time. Highly recommend!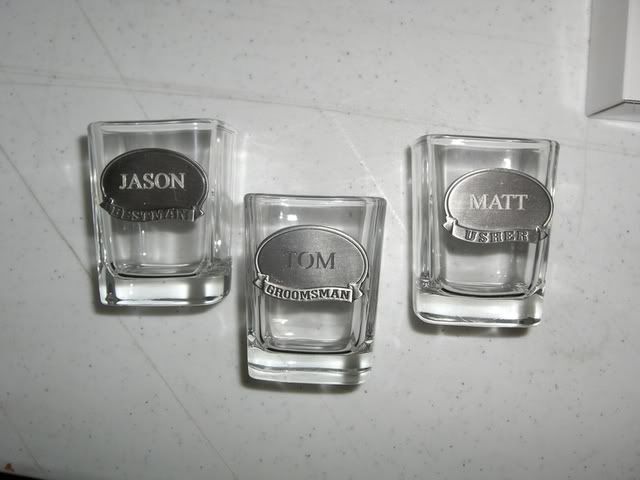 Coach Wristlets for bridesmaids: http://stores.ebay.com/JULES-FABULOUS-FANS-AND-FINDS
I did an ebay search for every seller that carried the wristlets I wanted for my BM's, then contacted them each individually to see if they could get them in bulk and if they would give me a discount. It worked out that I was able to pit the sellers against each other to get the best deal. This is a great way to get several items at a discount. My BM's were thrilled and the wristlets were AWESOME!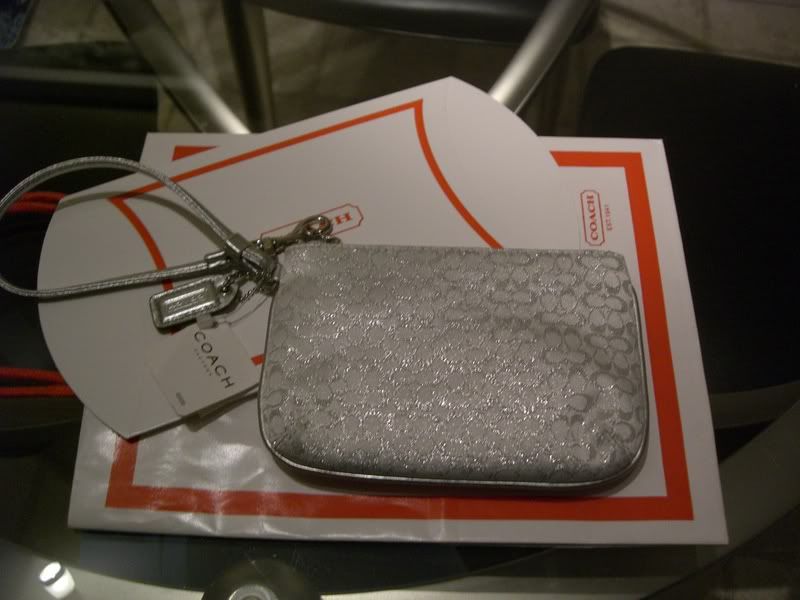 Robes for bridesmaids: Kohls and local embroiderer Coyotewear
I waited for Kohls to have a big sale and ended up getting really nice robes for like $15 each. I took them to a local embroiderer, Coyotewear, and while she did a great job it took her like FOUR months to get the robes back to me! I ended up not having to pay for the embroidery but it was quite a hassle.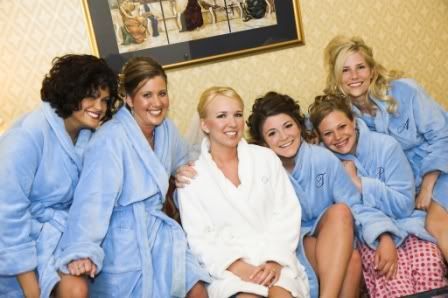 Cufflinks for groomsmen: http://stores.ebay.com/New-For-Men
I found cufflinks I liked on eBay and then contacted the seller to get a discount on buying in bulk. They were great to work with and very accommodating.
Jewelry for bridesmaids and flower girls: www.firemountaingems.com
I made all of the crystal jewelry for my BM's, flower girls, and even some for myself. Fire Mountain has a HUGE selection and great discounts for buying in bulk. I saved hundreds by making these myself and ordering from FMG but it took a LONG time to finish them all. My girls loved the jewelry and it matched their dresses perfectly. .. I think there is a lot to be said for handmade gifts!
Totes for BM's and flower girls, embroidered bikini & hankies: Target dollar bin, embroidery by local embroiderer: Personalization Plus
I could not believe it when I found turquoise totes in the Target dollar bin… they matched my wedding colors perfectly so of course I had to get them for my BM's. I also found the perfect bikini there to get embroidered with "Just Married". I took them all to a different local embroiderer, Personalization Plus, and she did a great job and had them back to me in about 4 weeks.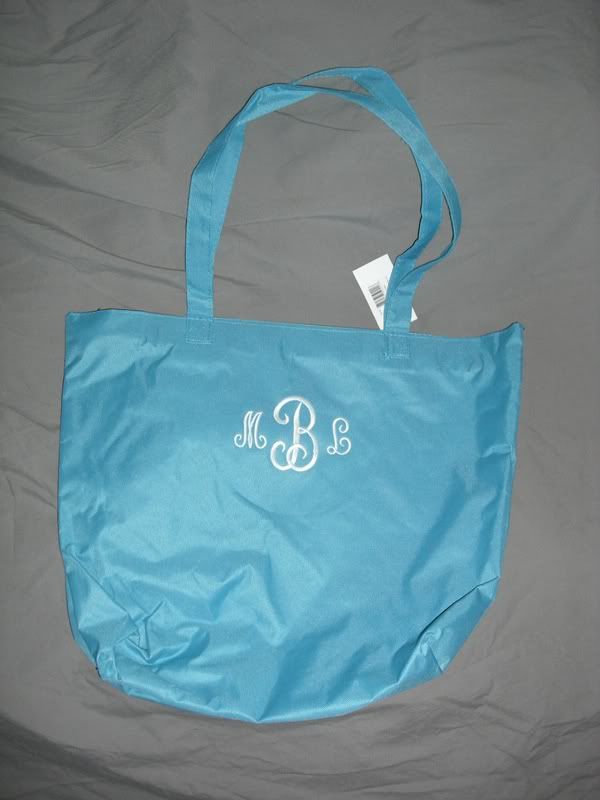 Engraved business card holder for photographer: www.thingsremembered.com
It was our photographer's birthday on our wedding day so I wanted to get her a special gift. I ordered an engraved business card holder from Things Remembered and it came in no time. Excellent quality and the box it came in was too cool! Sara absolutely loved it!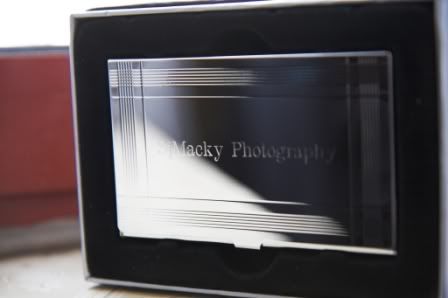 Embroidered camo backpack for ring bearer: www.americanbridal.com
Our RB loves camo stuff so when I saw this backpack I had to get it for him. It was very reasonable and included embroidery in the price.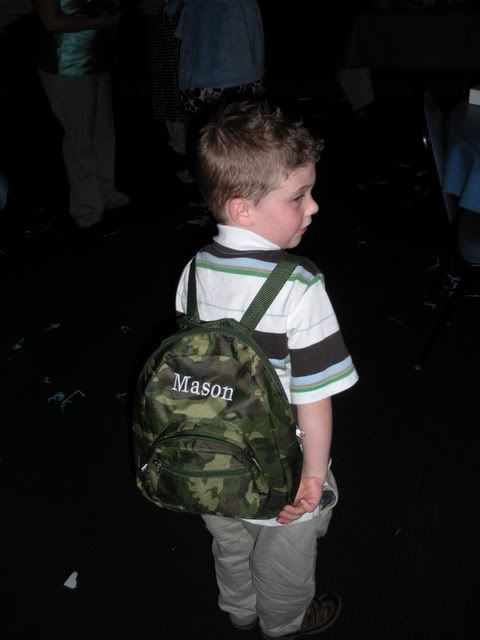 Large roll of turquoise wrapping paper & turquoise packing material: www.papermart.com
I needed a LOT of wrapping paper to wrap all the gifts we had for people so I figured my best bet was to buy in bulk. This website had a great selection of large rolls of wrapping paper and it was shipped in no time. I also got shredded turquoise packing material to fill in the boxes. Needless to say, I have a TON of both left!
Other wedding related vendors/venues:
Bridal Shower: Holiday Shores Clubhouse, Edwardsville, IL (http://www.holidayshores.us/ballroom.htm)
The ballroom at Holiday Shores was the perfect venue for my shower. It overlooks a beautiful lake, is very spacious, and has a full kitchen and option for a bartender. The only drawback is it can only be rented by individuals who live in Holiday Shores so you have to know someone to get permission to rent it.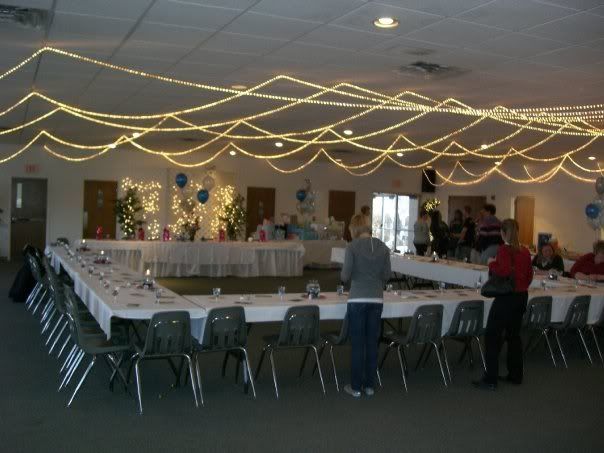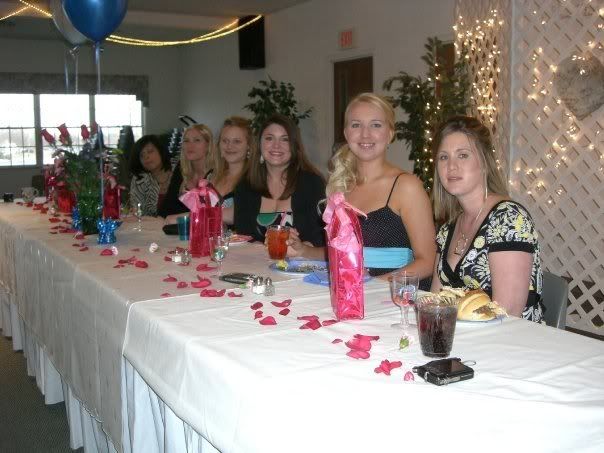 Bachelorette Party Hotel: Hotel Lumiere (http://www.lumiereplace.com/hotel.aspx)
Lumiere Place has transformed the old Embassy Suites on the Landing and it is AWESOME! All of the rooms are suites so it is perfect for a large group to have space to sleep. The location is great being right on the landing, close to tons of bars and restaurants, and of course being connected to the casino! We had so much fun at this hotel... HIGHLY recommend!
Bachelorette Party Limo: A Perfect Touch (http://www.aperfecttouchlimo.com/)
My bridesmaids rented a 14 passenger Escalade limo from them and we were beyond happy with the service we received! Our driver was so nice and did not get at all annoyed with us crazy girls and our ever-changing destination plans. He was such a gentleman and even drove one of the girls back to our hotel when she had a little too much to drink! I think their pricing was pretty reasonable too!
Like I said, all in all, I LOVED all of my vendors! I couldn't be happier with the way our wedding turned out and have received so many compliments on all the little details I worked so hard on. It was worth the hours and hours of research and work and the miles of double-sided tape and printing of cardstock! I am so glad we took the time to make our wedding truly "us", down to the smallest detail.
If there is anything I am forgetting or if anyone has any questions about a vendor, project, or anything at all, please don't hesitate to ask! I am always willing to help out another bride!