I unfortunately don't have many pictures of this car, I managed to lose them all, haha.  I got this car way back when I was just a Freshman at University (so about 7 years ago!).
Anyways, an acquaintance of mine got this car for free, but the only problem was it didn't have a title.  I agreed to help him tow it back to my place where he could fix it up.  He didn't do anything about the title and the car wouldn't run due to a bad fuel pump, so it sat in my father's yard for about two weeks before I decided to go find the title.  Several trips to the DMV and they had a new one made with the previous (at that time current) owners address on it.  I phoned up the owner and informed him that the car had changed hands a few times and it now resided in my yard and I was curious if he would sign the title.  He was very nice and agreed to meet up to sign it, we met and talked for a while and he was just all around a great guy.
So with the title now properly in my name I talked to my friend (now one full month without the car moving or him doing anything to get it running) and I told him that I wanted to buy the car off of him.  I said he got the car for free so out of generosity I would give him $200 for the car and it would be free money to him since he had zero invested in the car.  I guess, technically since the title was in my name I could have just told him to go away, but I figured it was nice.  He agreed, took the money and for some reason felt like I screwed him.  Still bitter to this day, haha.
Anyways, I bought a $20 fuel pump off of eBay, slapped it in and the car ran great.  However, since I already a Z31 for a daily I quickly became bored with the car, so I wanted to see how much faster I could make it without spending much money.  I bought another GXL (that had a Turbo 2 hood on it) with a blown rotor for $250.  I swapped over the entire rear sub-frame (LSD and five lugs), front suspension and brakes (5 lugs and 4 pot calipers), and swapped over the aluminum turbo 2 hood.   I then stripped the interior in its entirety, even the sound deadening.  She was fun and fast, but I got bored again.  I decided I wanted an RHD car, so off to Yahoo Japan I went.  I bought a steering rack and had it shipped over for a paltry $150.  Then I found a full dash in Ohio and had it shipped over for $400.  I did the entire swap from LHD to RHD with the engine still in the car and it was without a doubt much easier than I had expected (a big shout out to my buddy Steven for spending the hot summer out there with me helping out!).  With the swap done it went into storage for a while when I went to Japan.  When I got back I was doing drag runs in our driveway (our driveway is exceptionally long, perks of living in the country, haha).  The drag runs took their toll and grenaded the clutch.  So apart she came for some proper firewall work to strengthen it up and get a proper lineup on the clutch and brake pedals.  I also started to prep it for full spot welding and put on a set of Tein coilovers along with 16" 3 piece Stern wheels shod in race rubber.  Had every intention of building a track car out of it.  Then I bought a my
1971 Fairlady Z
and I forgot about my little Mazda.  I gave it to a friend who has the intention of putting a VG33 in it but he never got around to it and sold it to another mutual friend who intended to finish it.  He then sold it to some guy in Oklahoma, so I genuinely have no clue where she is residing now.  Kind of sad.  Maybe some day I will hunt her down and buy her back, haha.
Anyways, here is the most recent picture I took.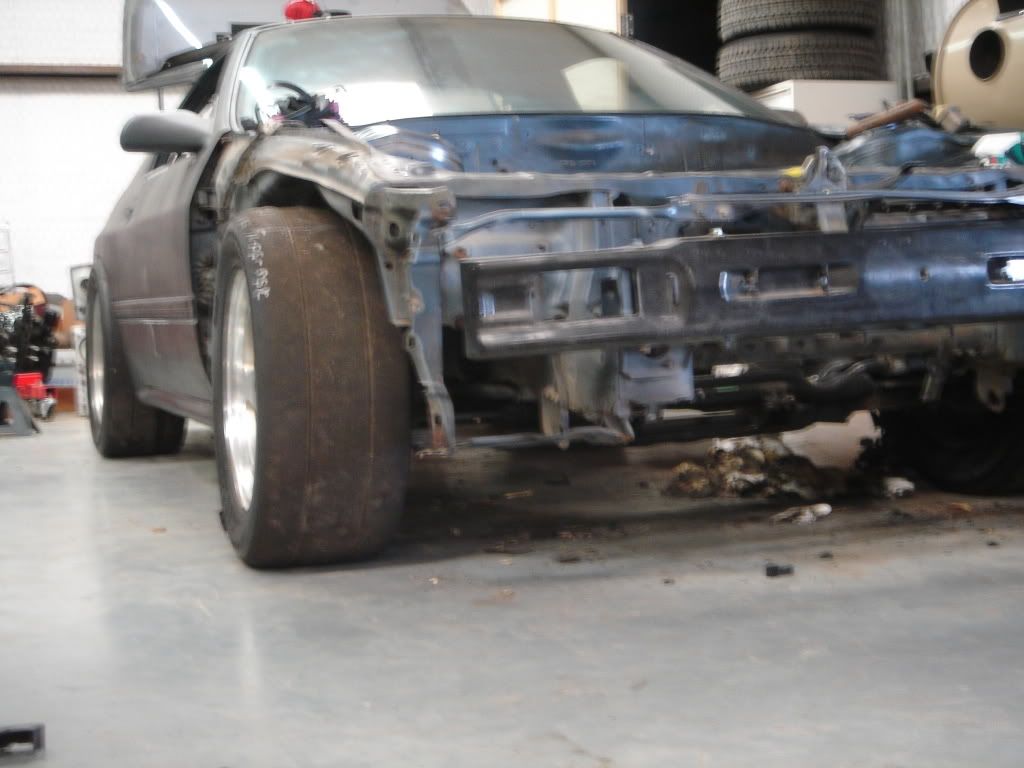 Head over to
Page 1
for more pictures!