Alrighty, not much of an update because my weekend was filled with awesome (more on this later hopefully). I did manage to get a little work done in the few hours I did have available.
I got my hands on some body filler and then set out in an effort to create a car that looks smooth and awesome!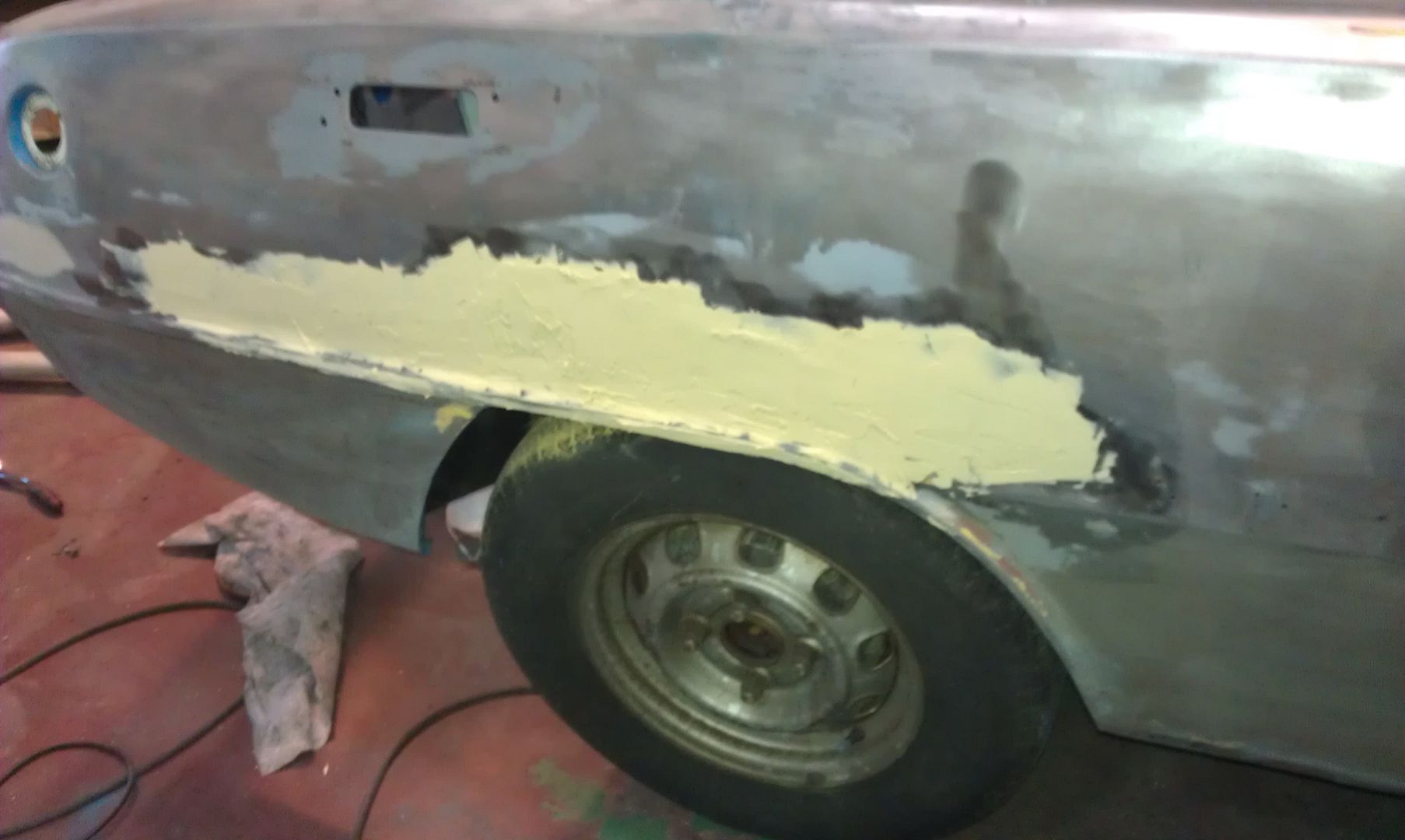 It looks like a huge amount of bondo, but most of this is getting sanded back.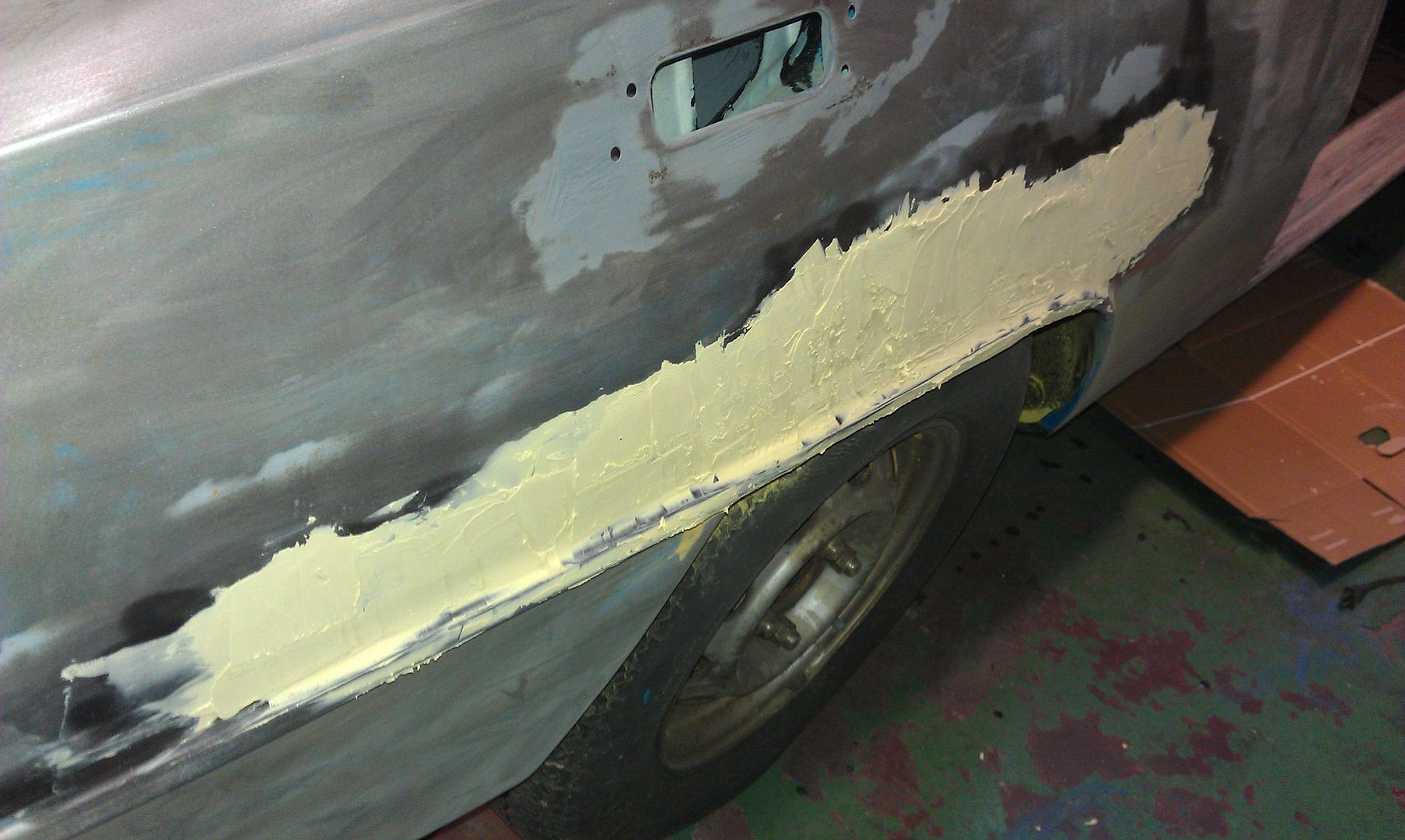 I still think that something fell on the roof because this is just ridiculous. Still, the previous guys who restored this did a decent job of pulling most of the dents out, so it's just a fine layer of bondo to make it not wavy.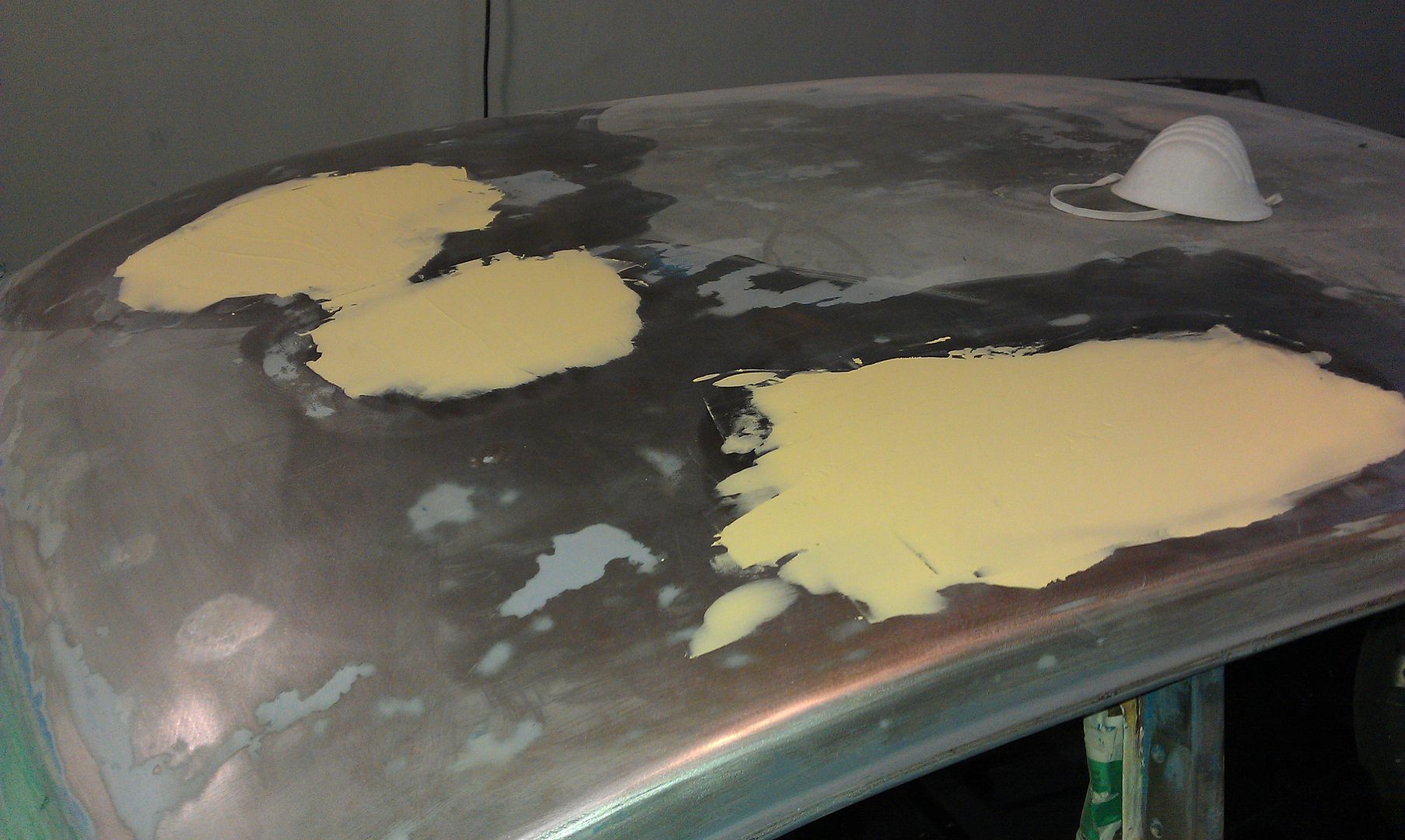 Also got a bit on the rockers too.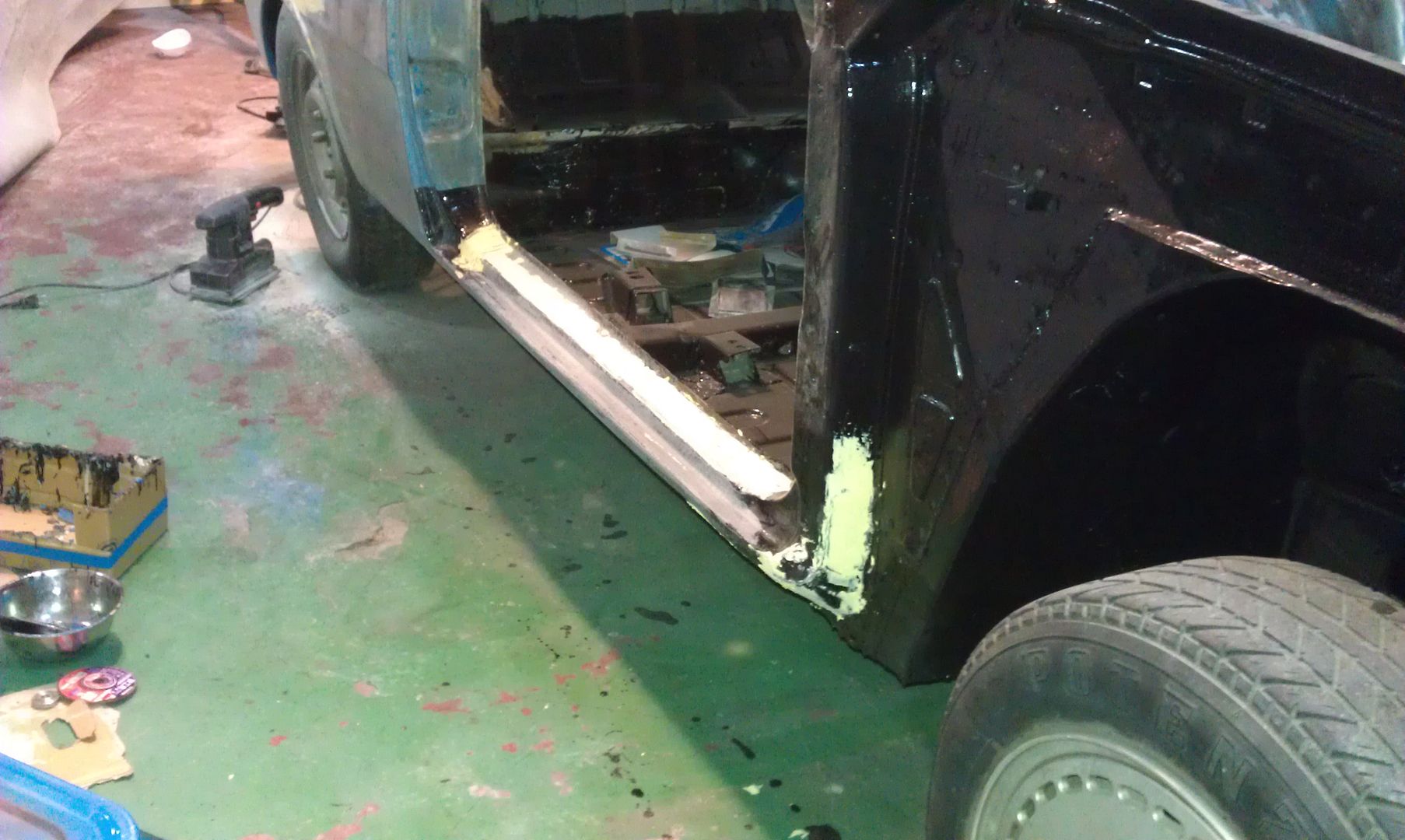 And from here on out, the sanding begins! I reckon I'll take off the majority of the bondo on there, leaving a decently smooth surface. Then its time for another round of bondo to get it closer to perfect!
During all of this though, my wonderful girlfriend started stripping the paint from the doors. She is awesome!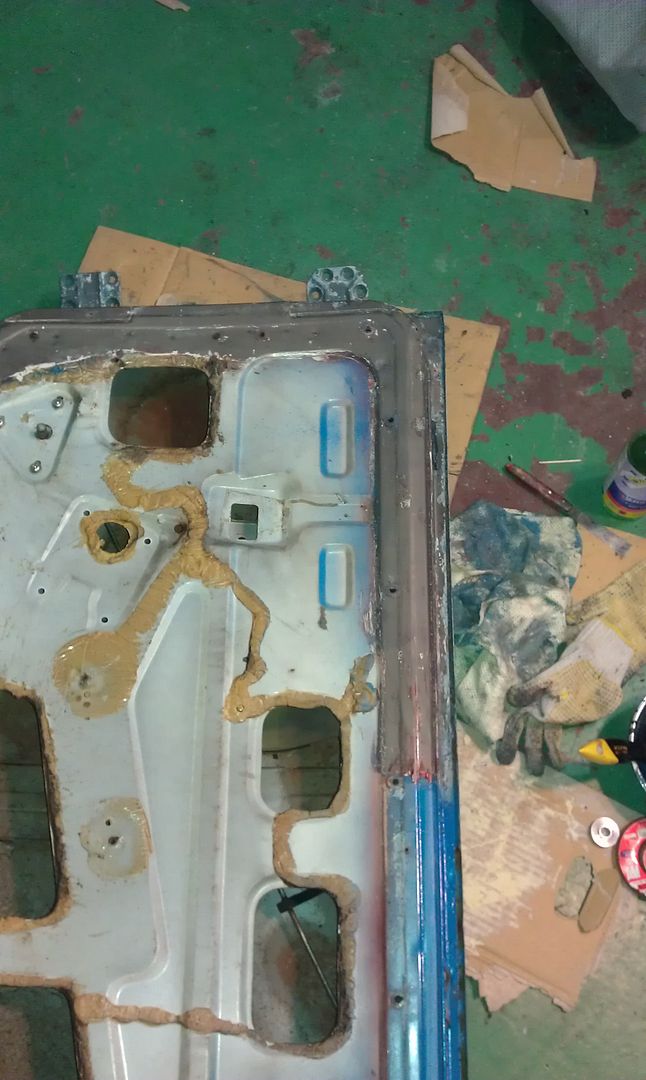 Hopefully, some serious progress will be made this weekend!
Well, serious progress is hard to gauge on this car, haha.
I spent hours sanding, applying bondo, sanding some more and trying to get a smooth form going on. This hours worth of work means that in photos, the car looks identical to how it did at the beginning of the weekend.
Nevertheless, if you look hard enough, you can see that the body is indeed looking smoother and smoother.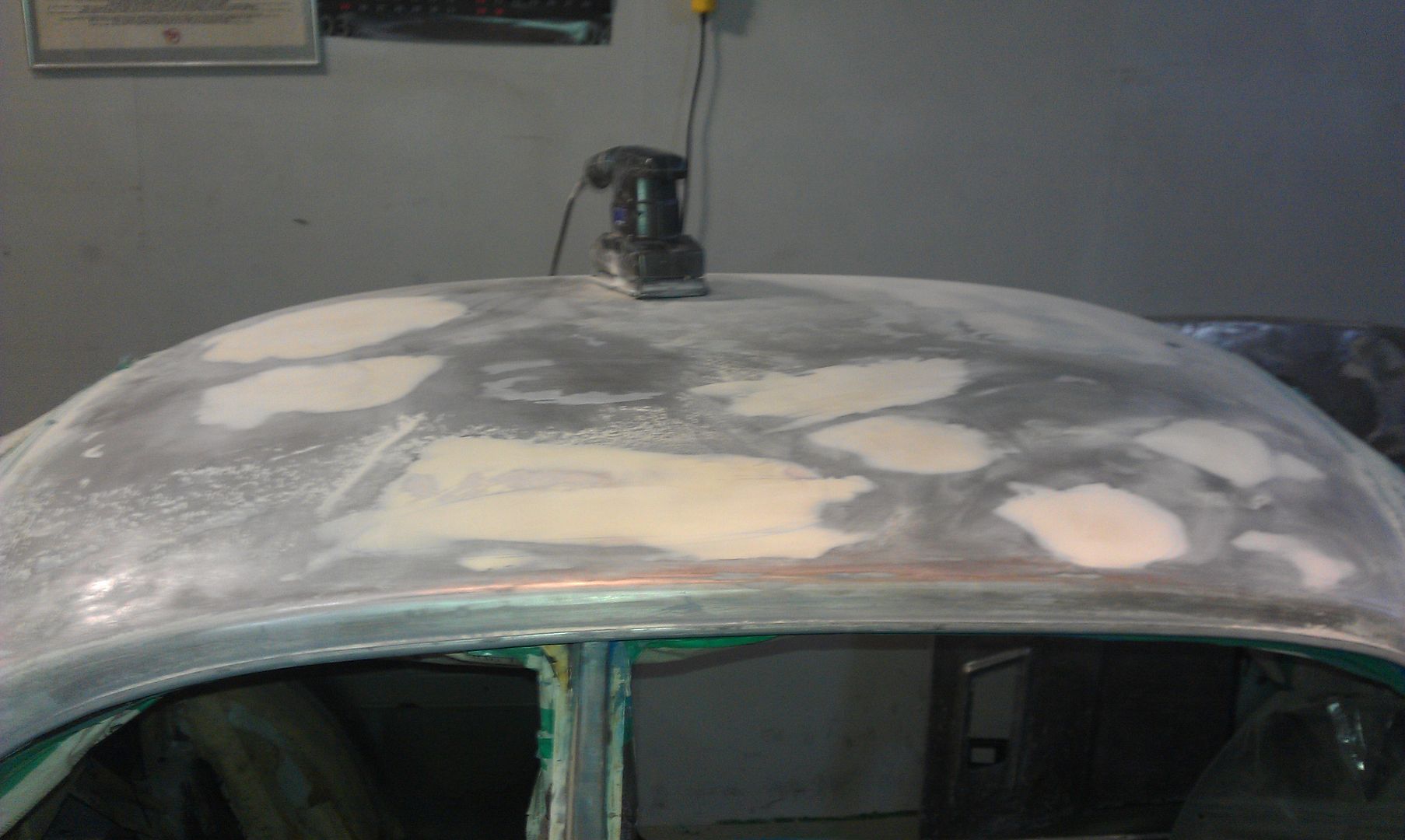 There are still some high/low spots that need to be sanded and fixed, but it's much, much closer to being smooth.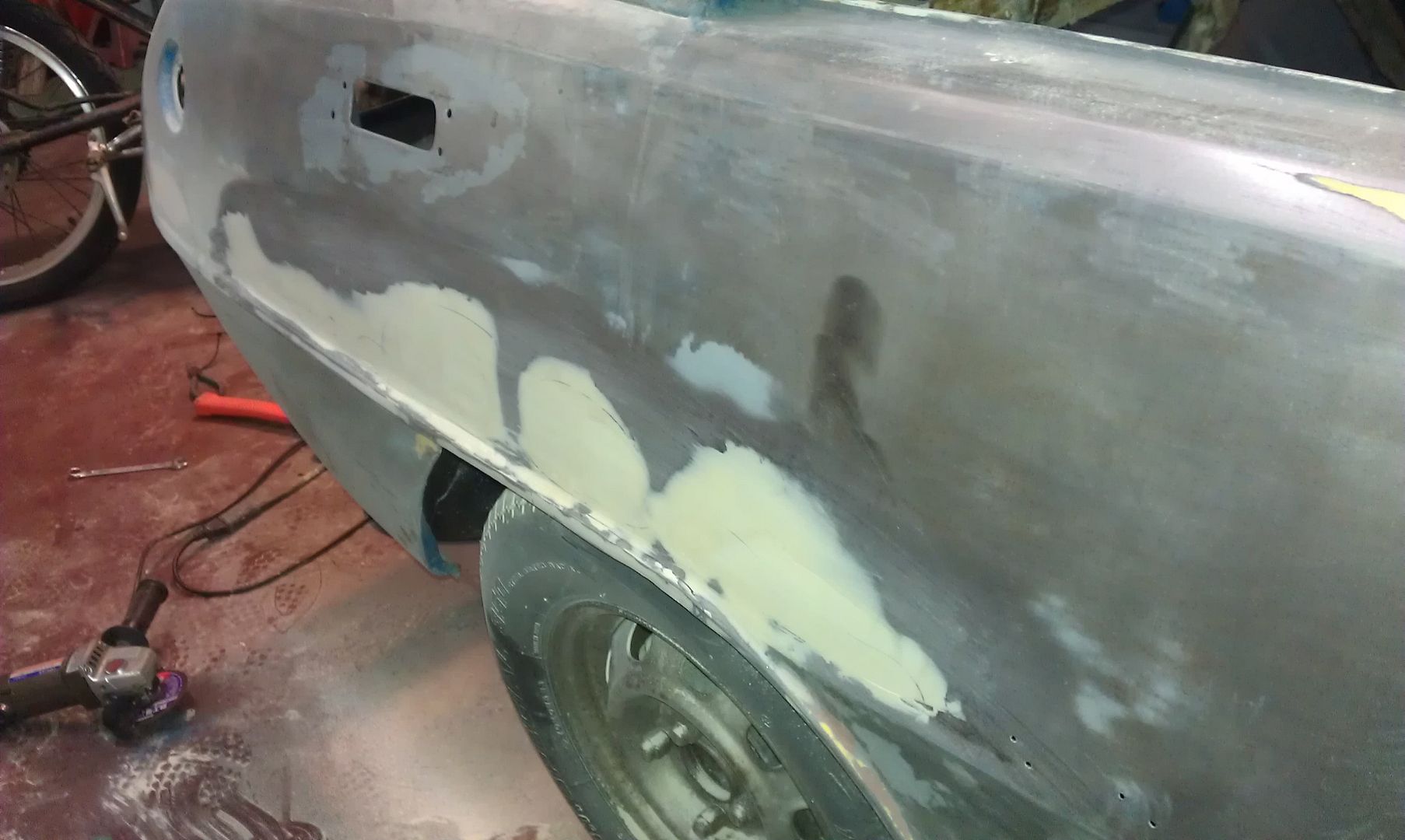 I'm still working with the coarse bondo and as soon as I get it 90% done with the coarse bondo, I will switch to the fine bondo and make it 100%.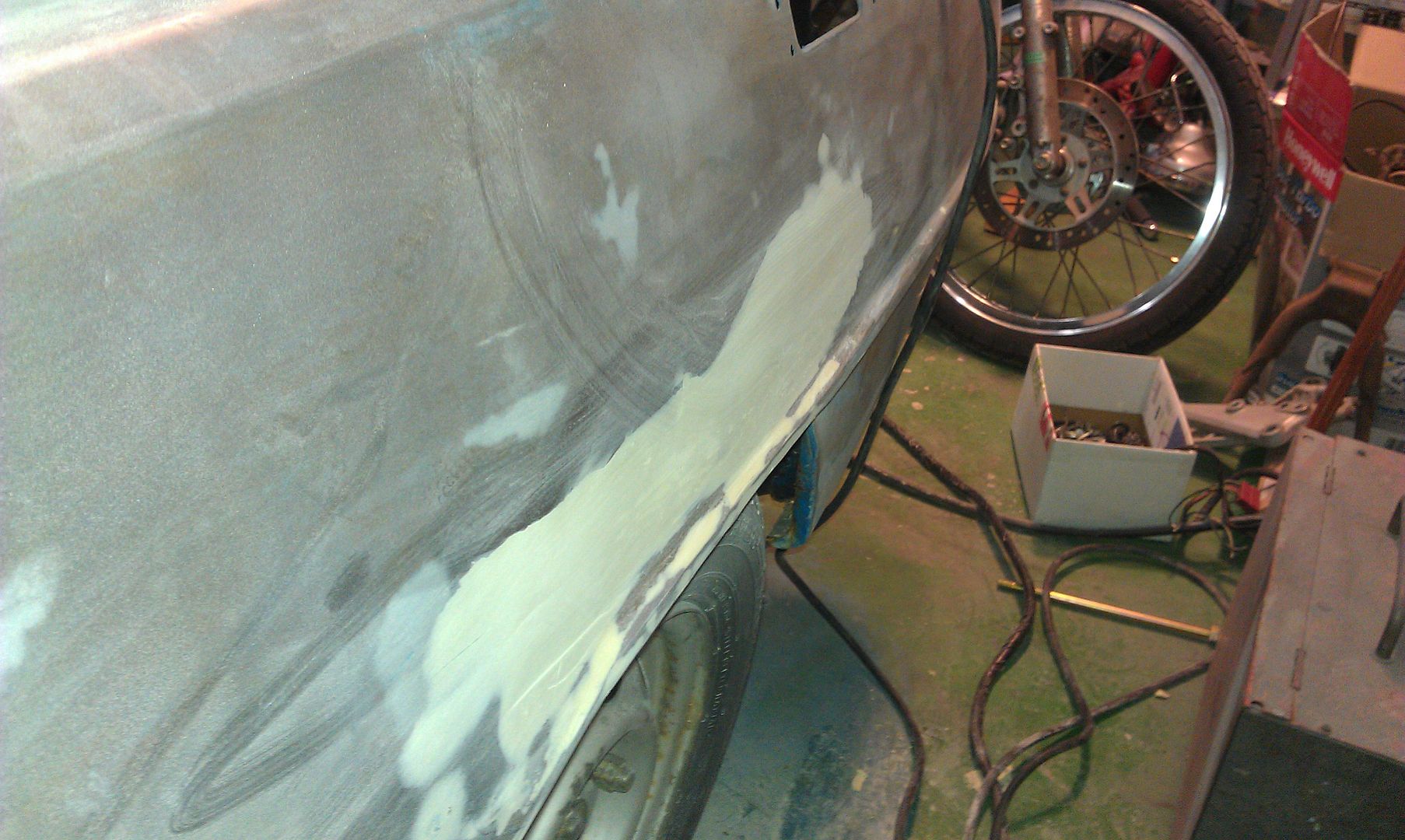 Progress is slow, but it is happening! I hope to have it in the painters over Christmas (along with putting another project I've been keeping on the hush-hush into the painters over Christmas as well).
More to come as the week progresses!

Short little update. I've done a bit more sanding and the shape is really coming together. I put on the fine bondo this past weekend and the difference from the coarse bondo is immediately noticeable! The coarse bondo is thick like play-do but the fine bondo is runny and much thinner. I haven't gotten around to sanding that just yet, but that's on my to-do list for this week. While I was mucking about with that, my lovely girlfriend got one of the doors all stripped.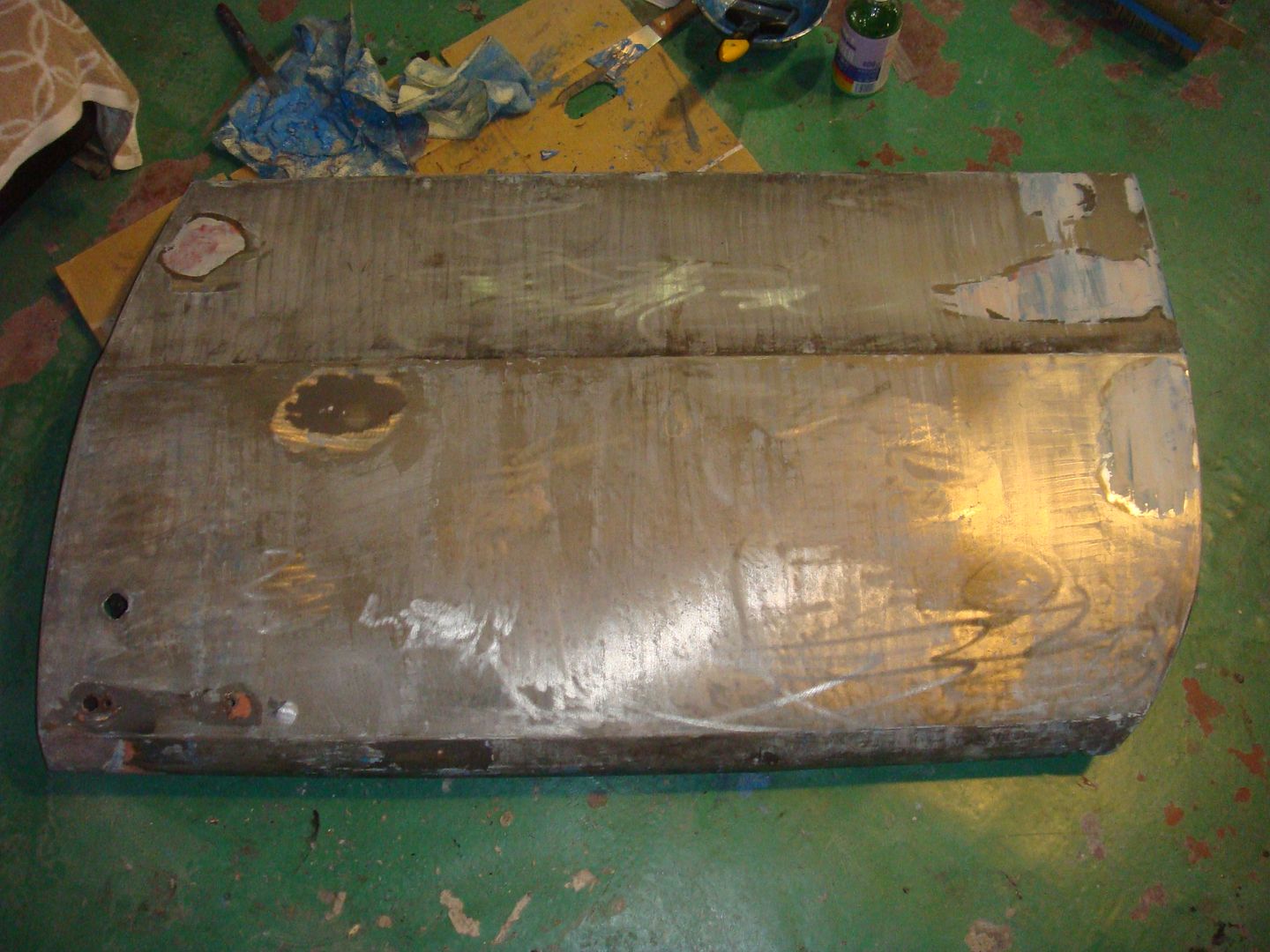 Then she started in on the second door and came across this sticker (that someone obviously did a poor job of masking off while doing the blue repaint). It's just information on tire inflation pressures and tire sizes, but it's still pretty cool. So we snapped this picture and she'll reconstruct it on the computer.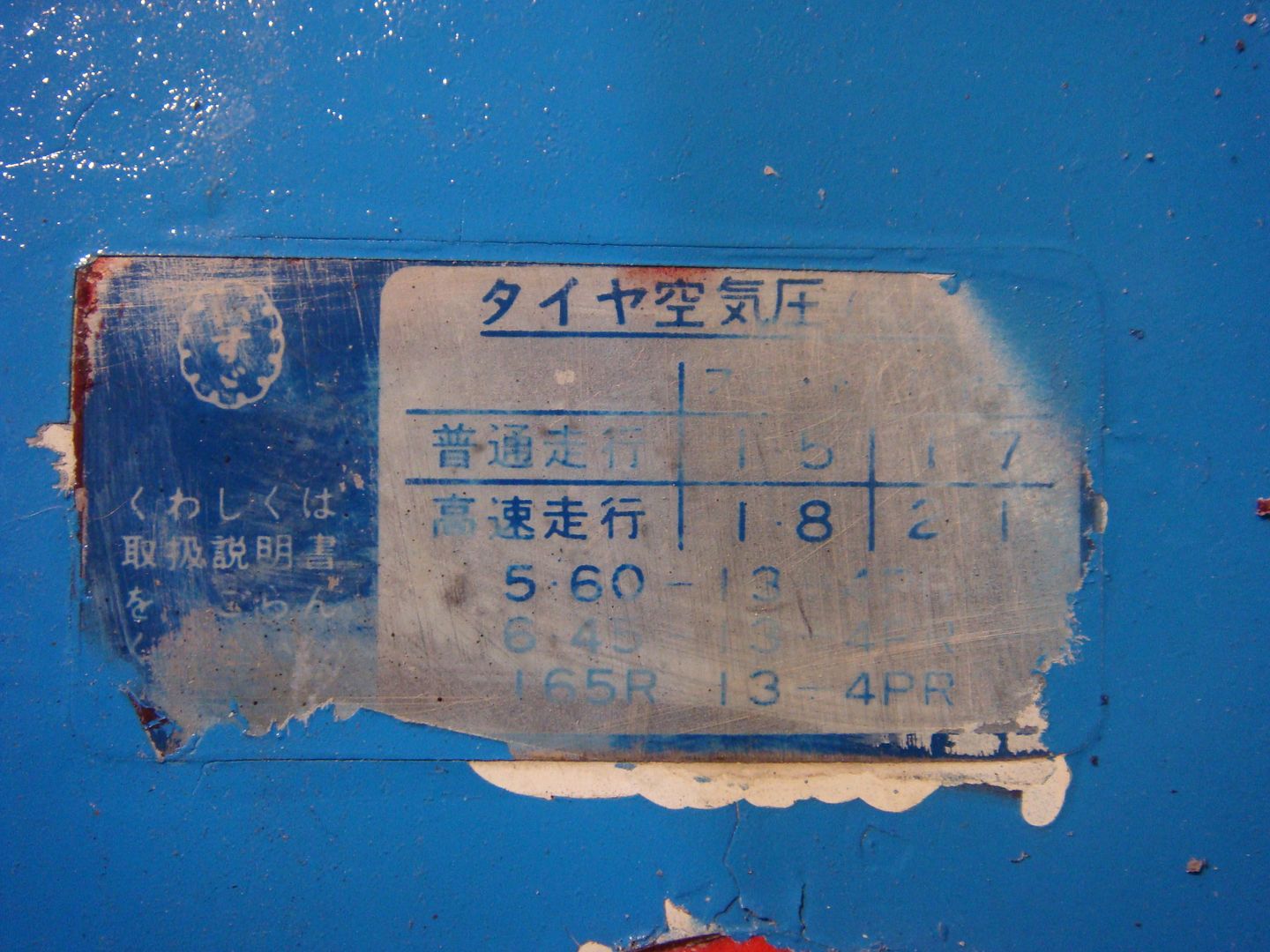 This was as far as she got on the second door before we called it a night.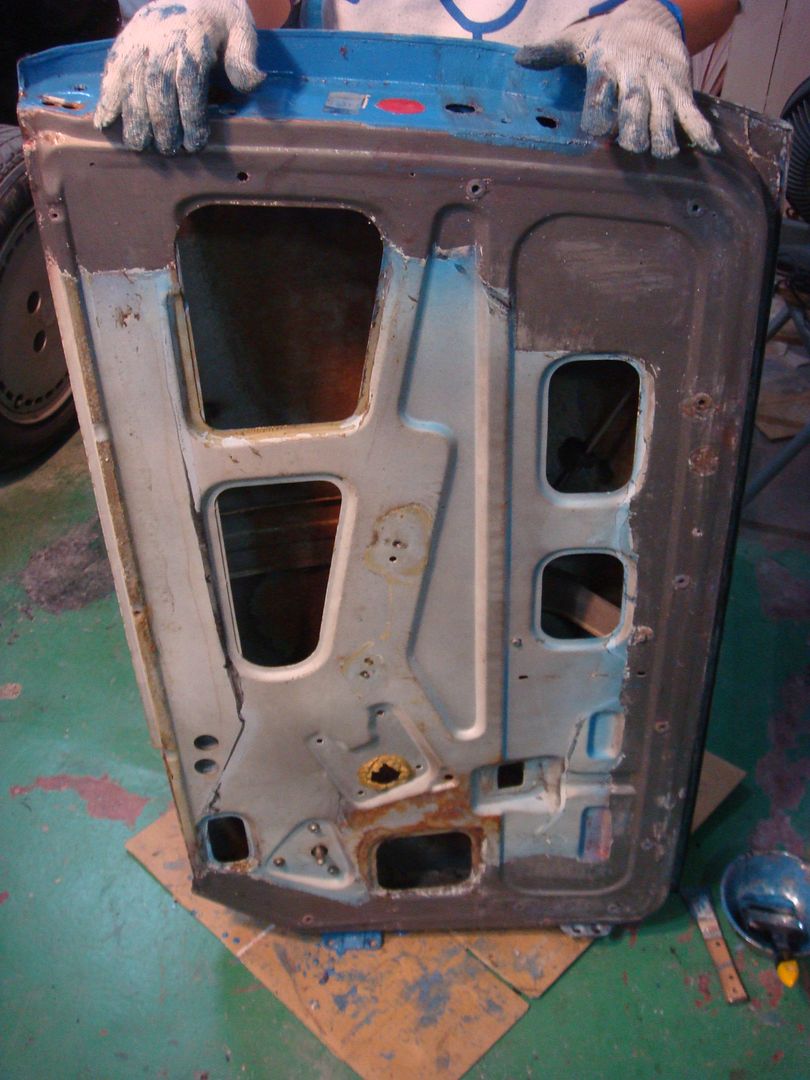 More updates to come this week as I get out and sand on the body work!
Alright, we had a long weekend, so I got out there and got my butt in gear. Which doesn't mean much because hours of sanding yields very little in the way of photographic progress. Still, I took pictures anyways!
First up was applying more bondo to sand smooth.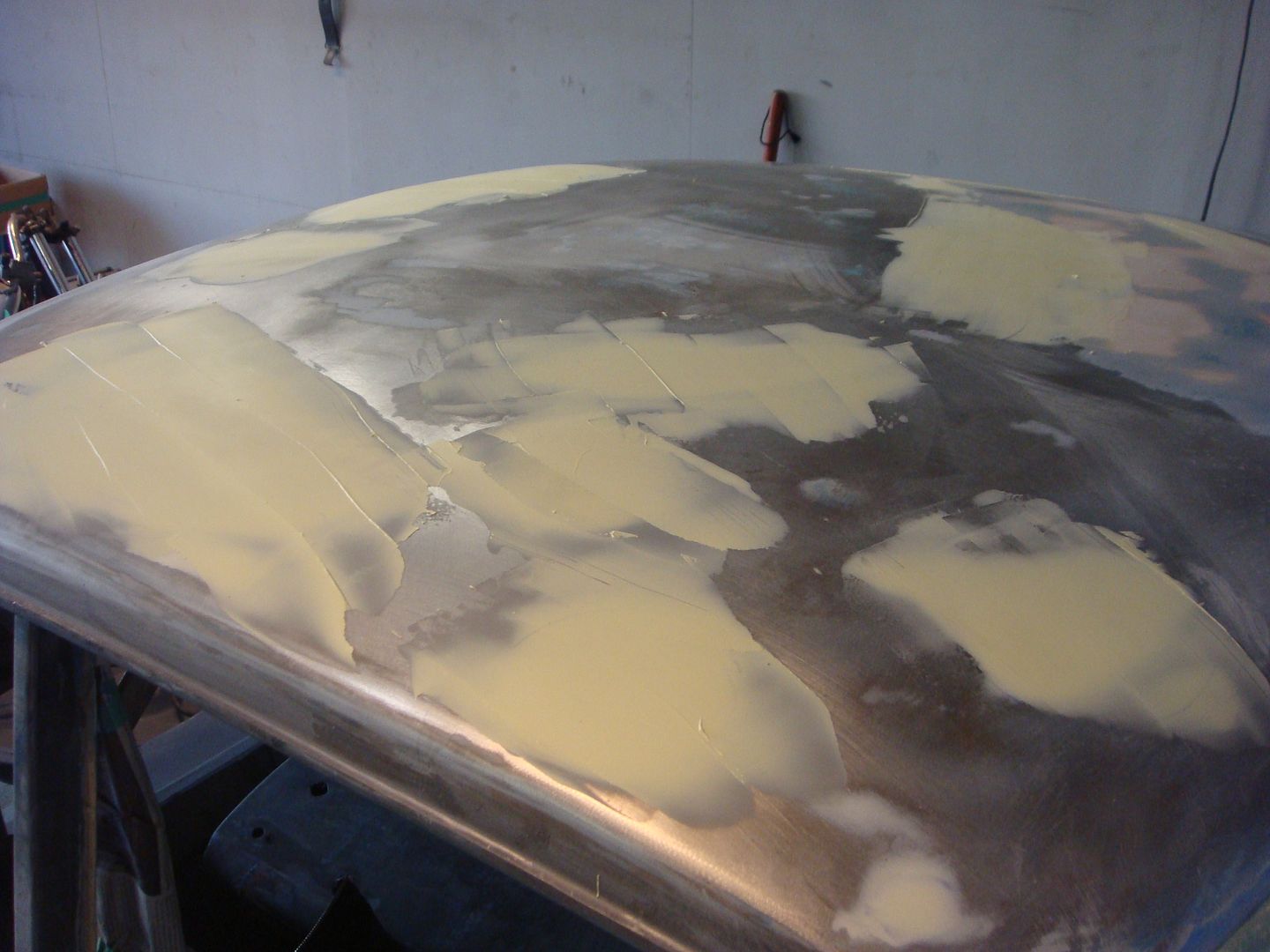 The roof and this fender are the biggest trouble spots as they were quite wavy.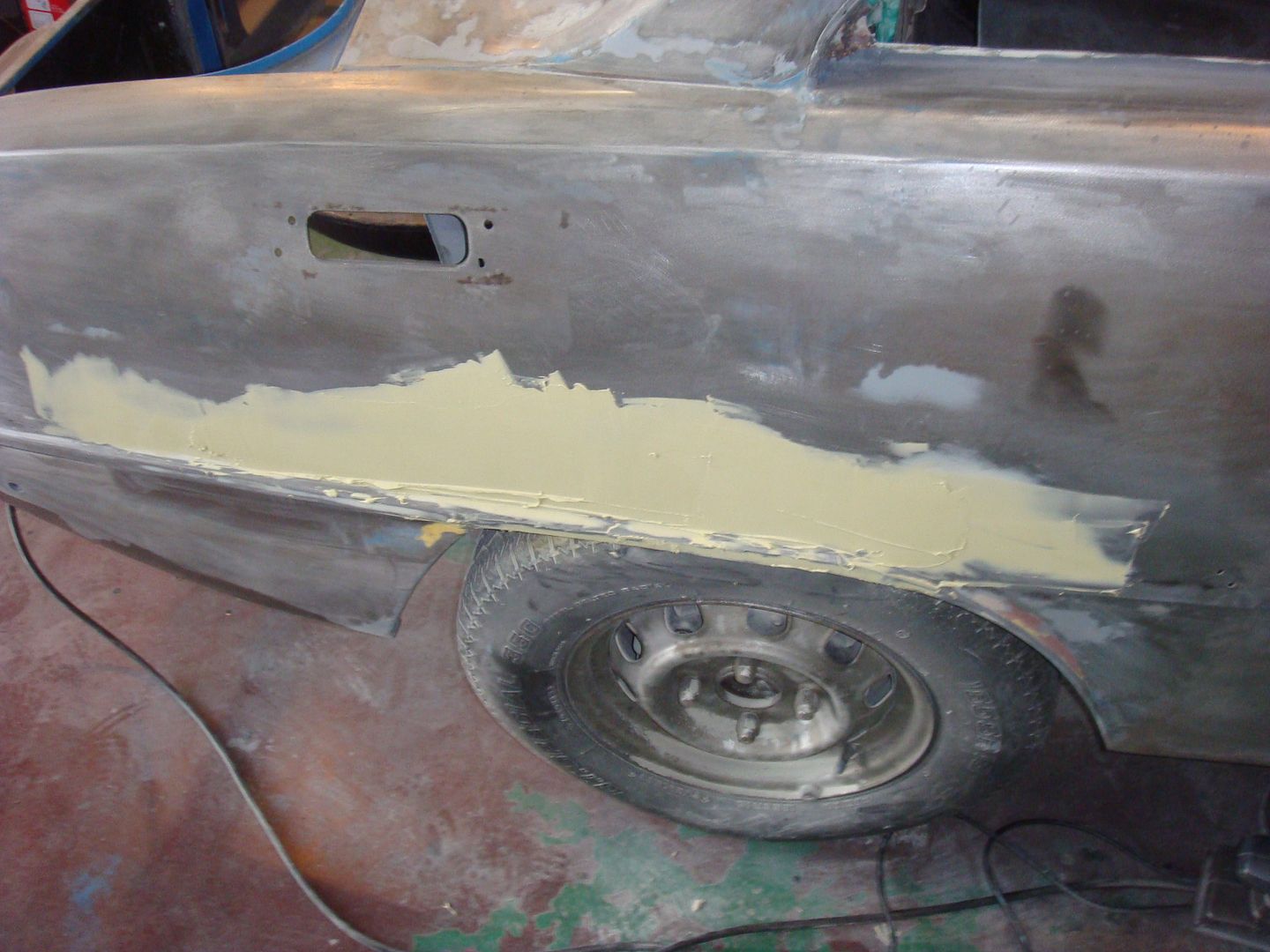 While that was drying my lovely girlfriend finished stripping all the paint from the door!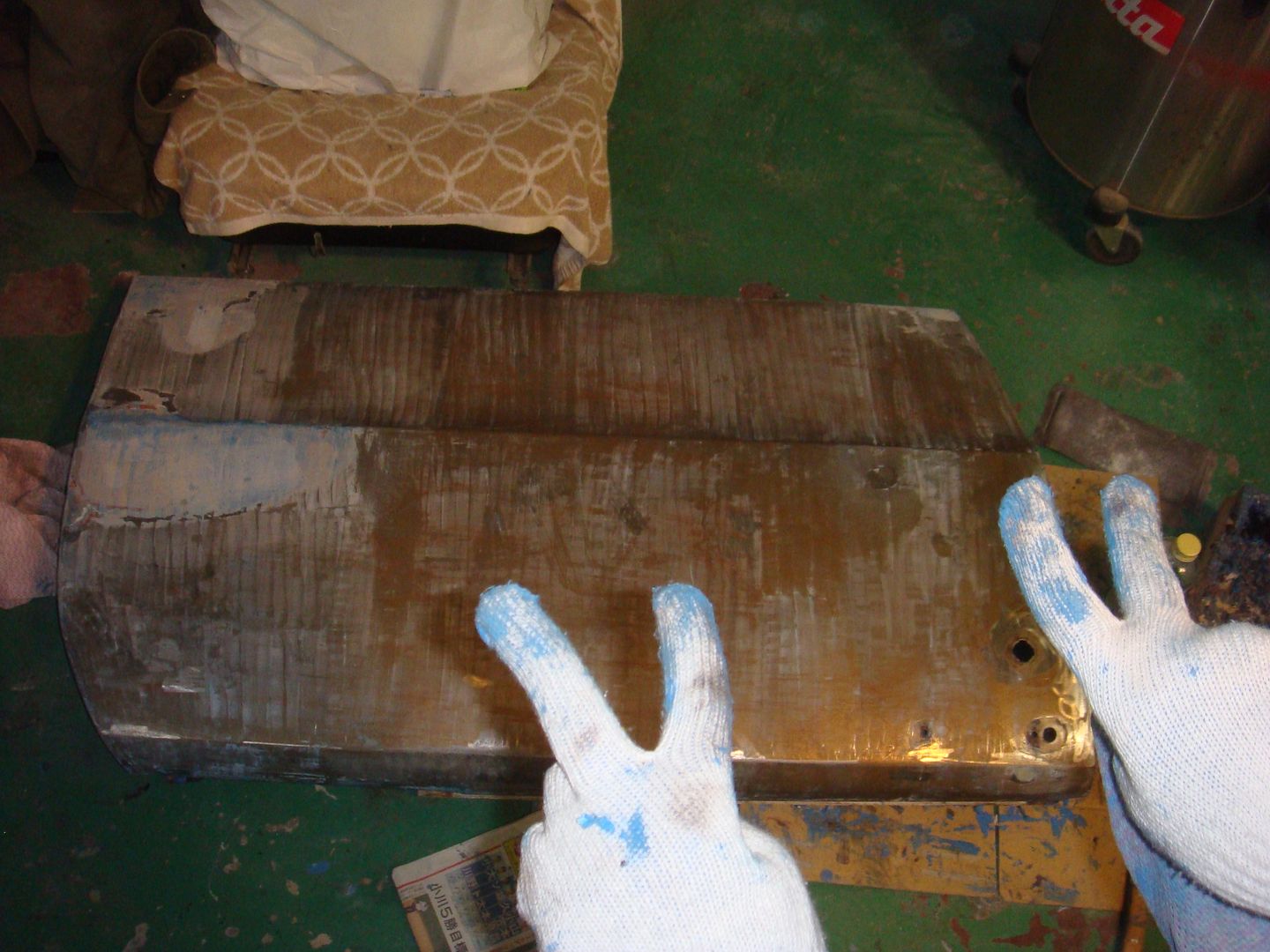 So, she started in on anything else that was blue on the car.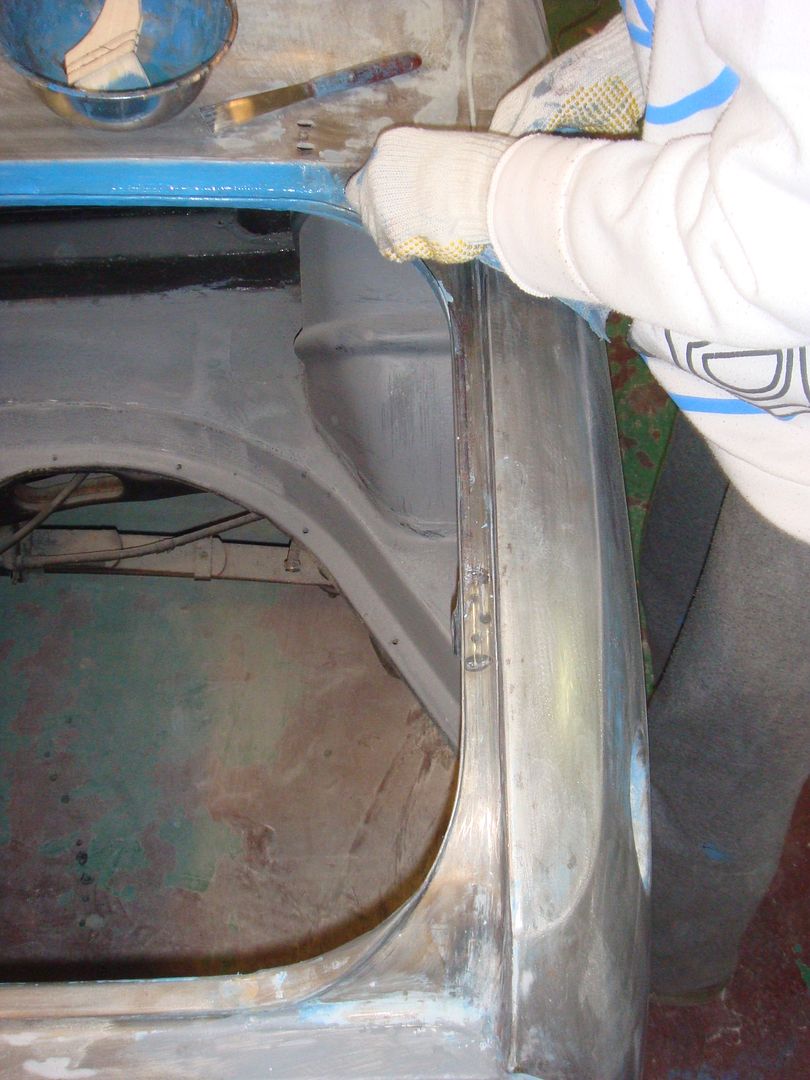 Resulting in this very clean trunk weatherstrip area.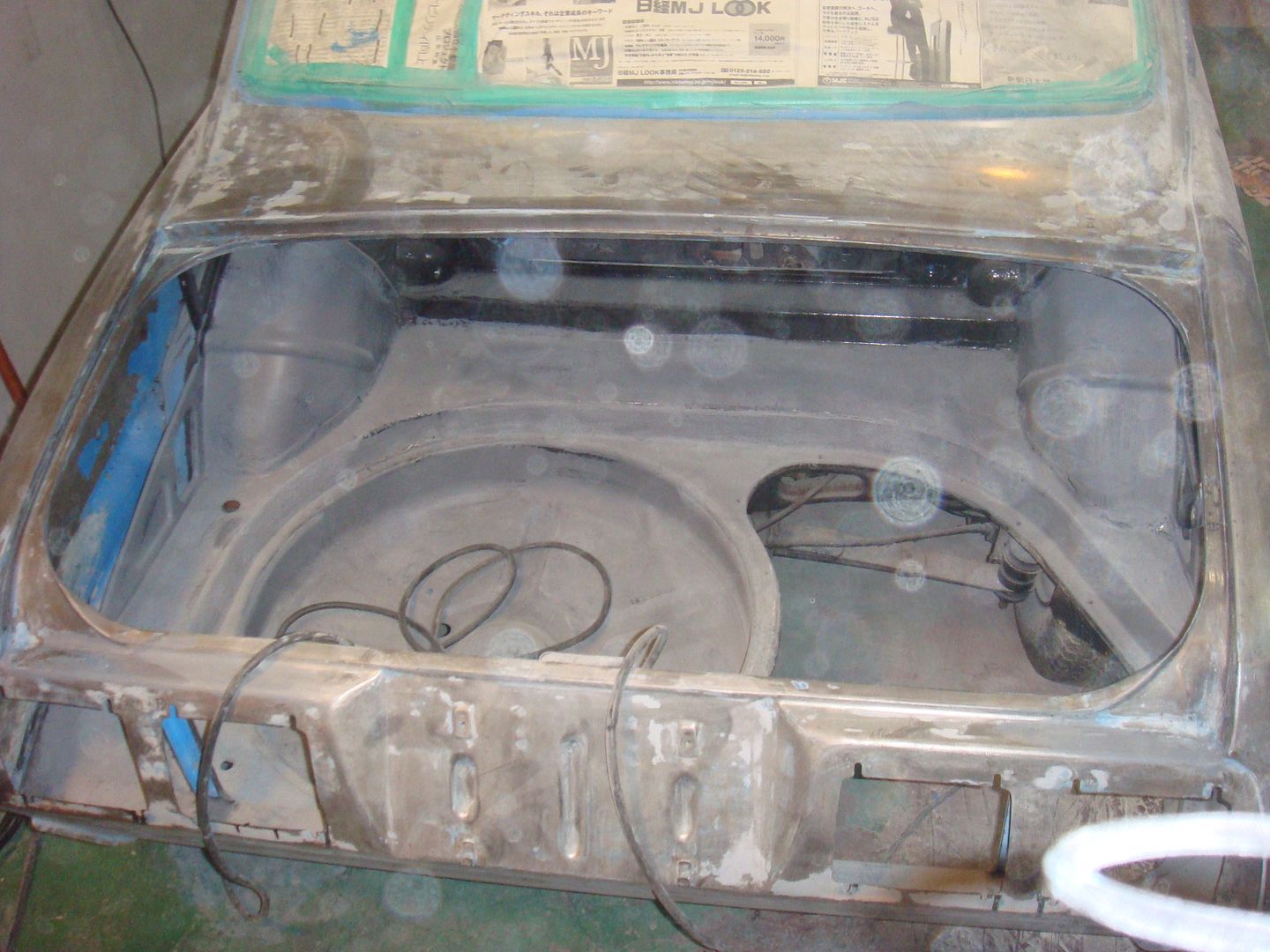 She then progressed to the small bits surrounding the front and rear glass and pulled all the remaining blue from there as well.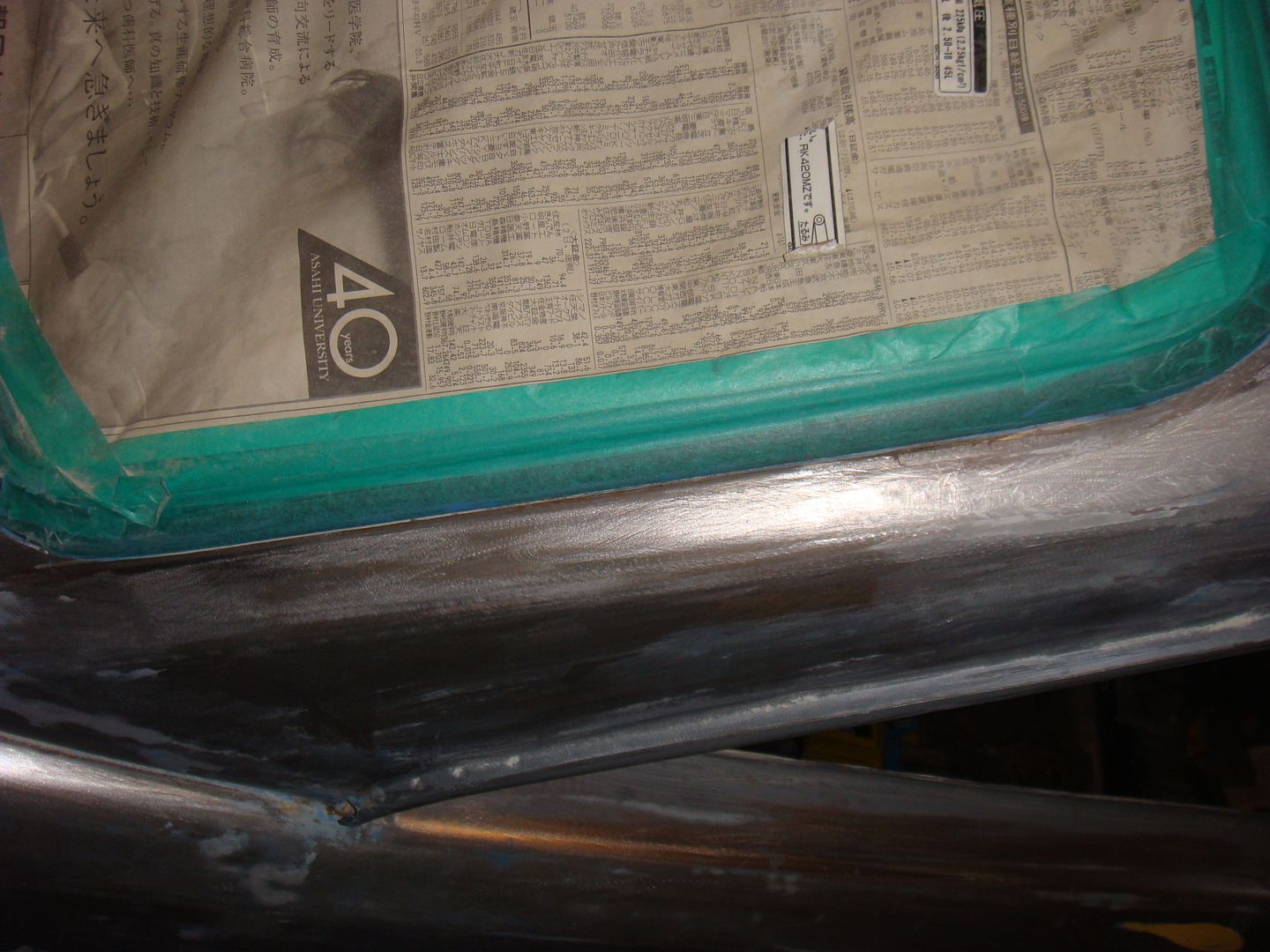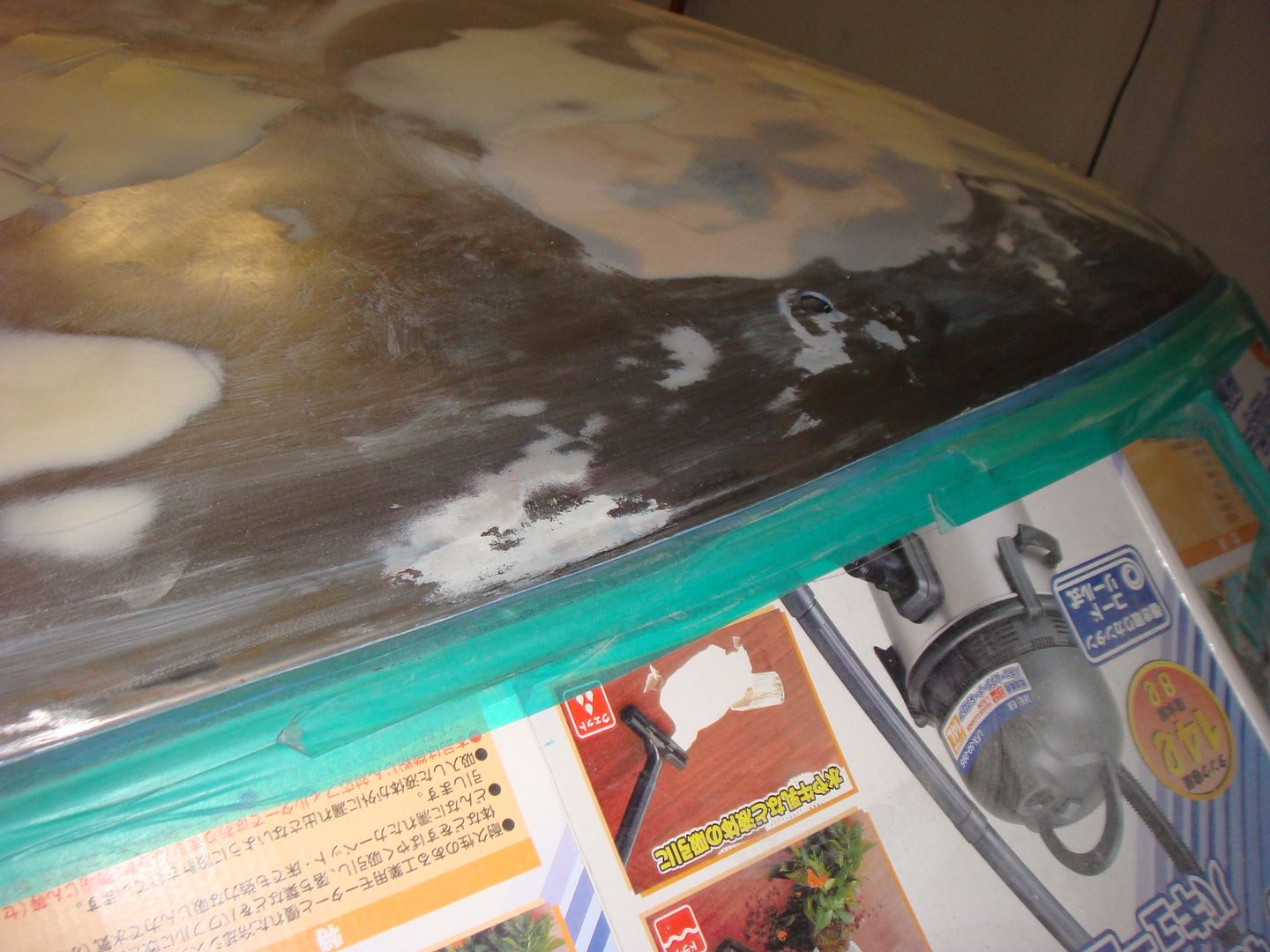 She is way more patient and steady than I could ever be. I'm such a lucky dude to have one of the greatest girlfriends of all time! This was the resulting destruction from the doors and thin areas that she stripped.
Since she was now out of a job to do, she wanted to know if she could help me sand. Hell yeah! So we got a pretty good team going on. She works with the electric sander while I follow her and smooth everything out by hand.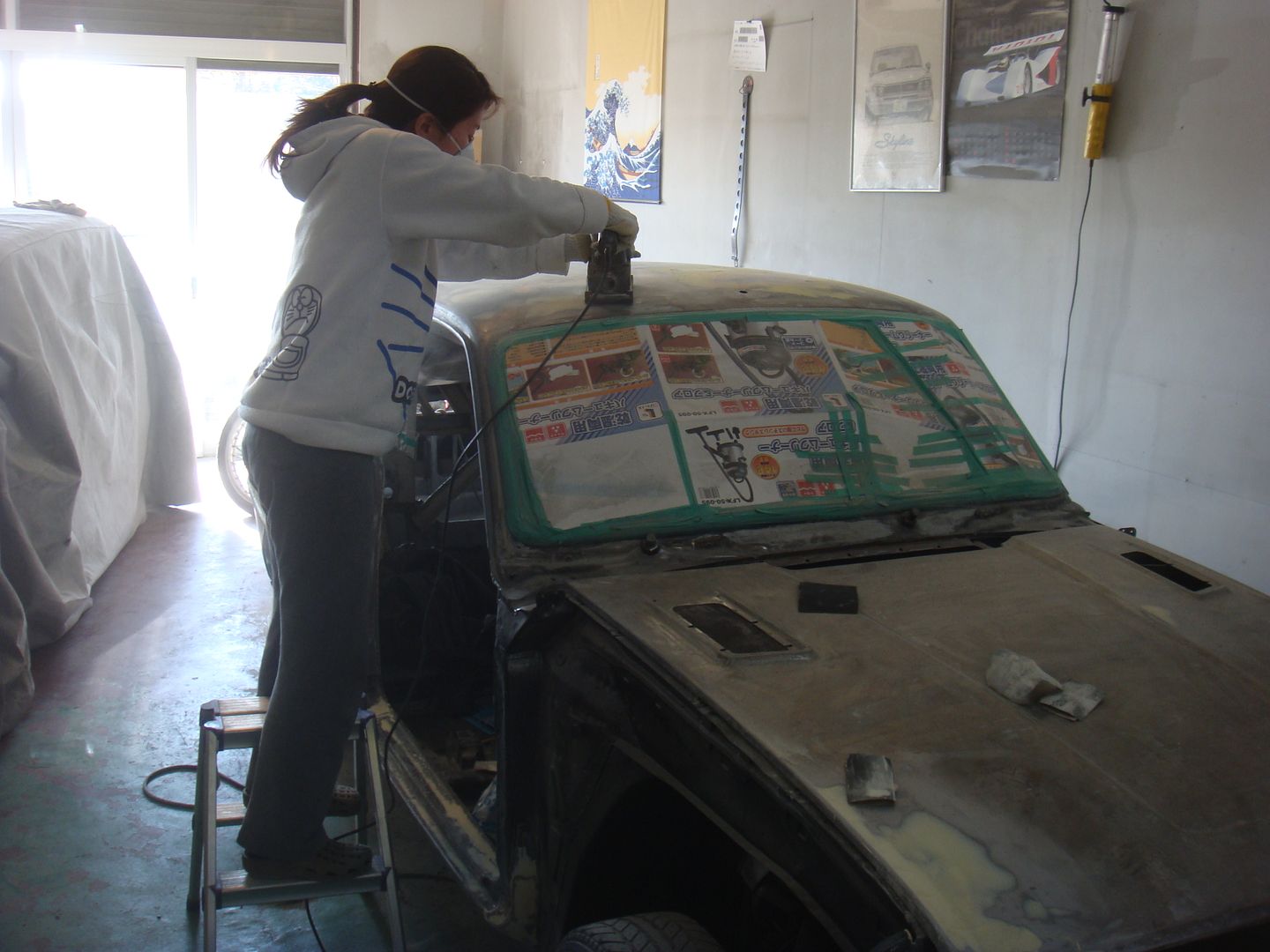 You can see that our work is starting to pay off a bit, here's the rear fender getting closer to perfectly smooth.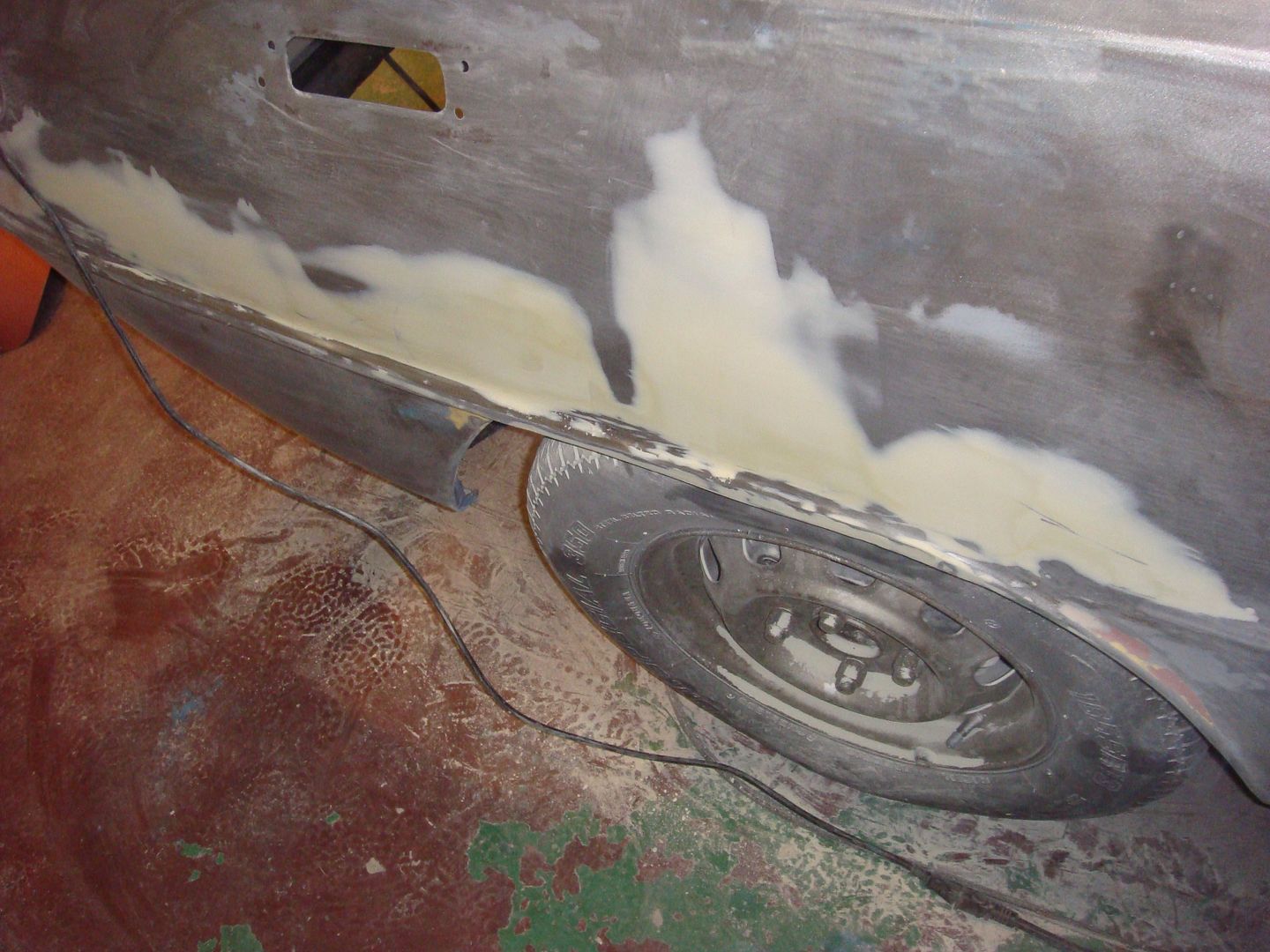 The roof is progressing quite well too!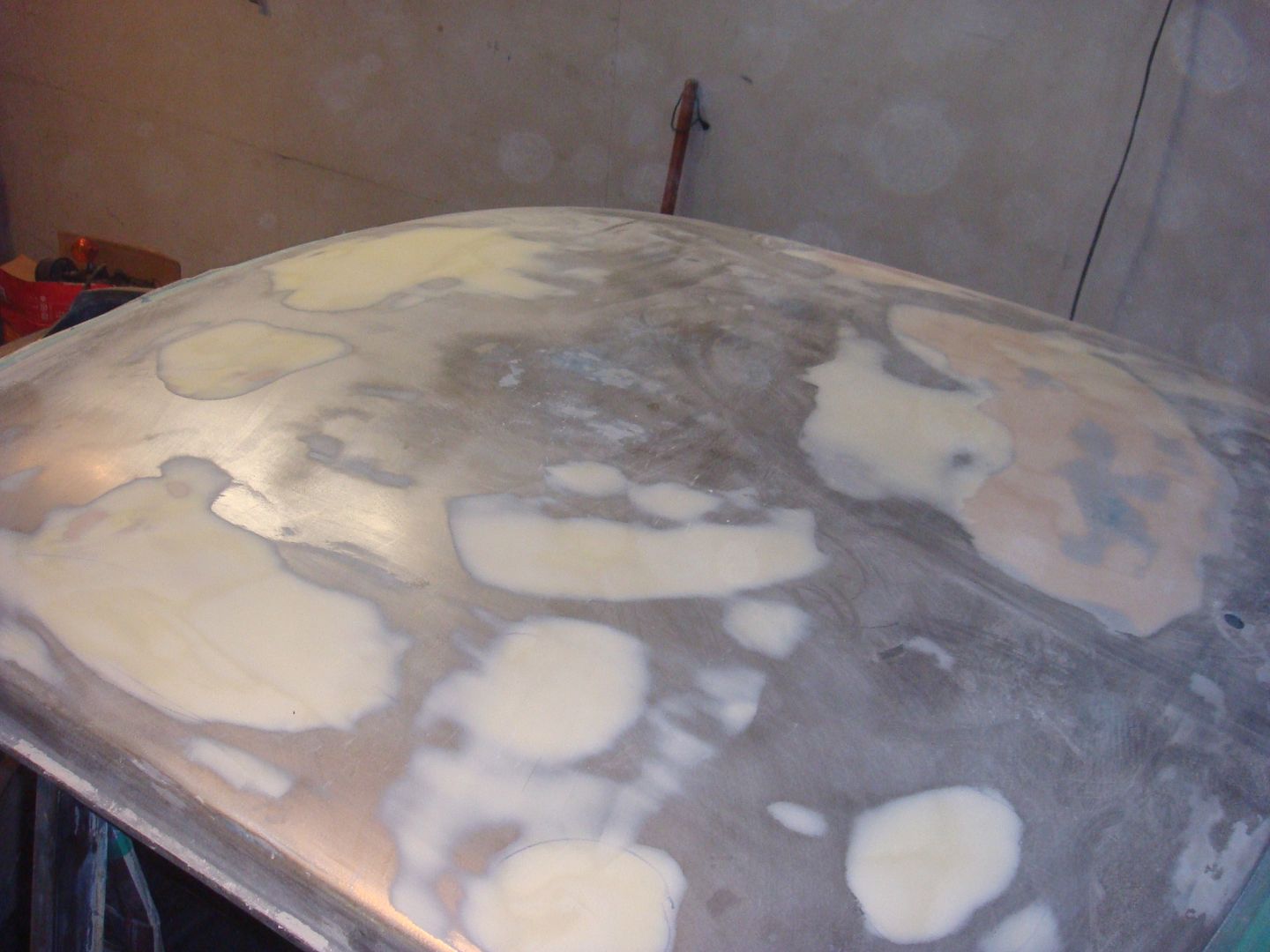 I spent a lot of time on the hood working the front corner out by hand. Since it's a complex curve, pretty much the only option is to handle this one by hand. Here it is about half way there.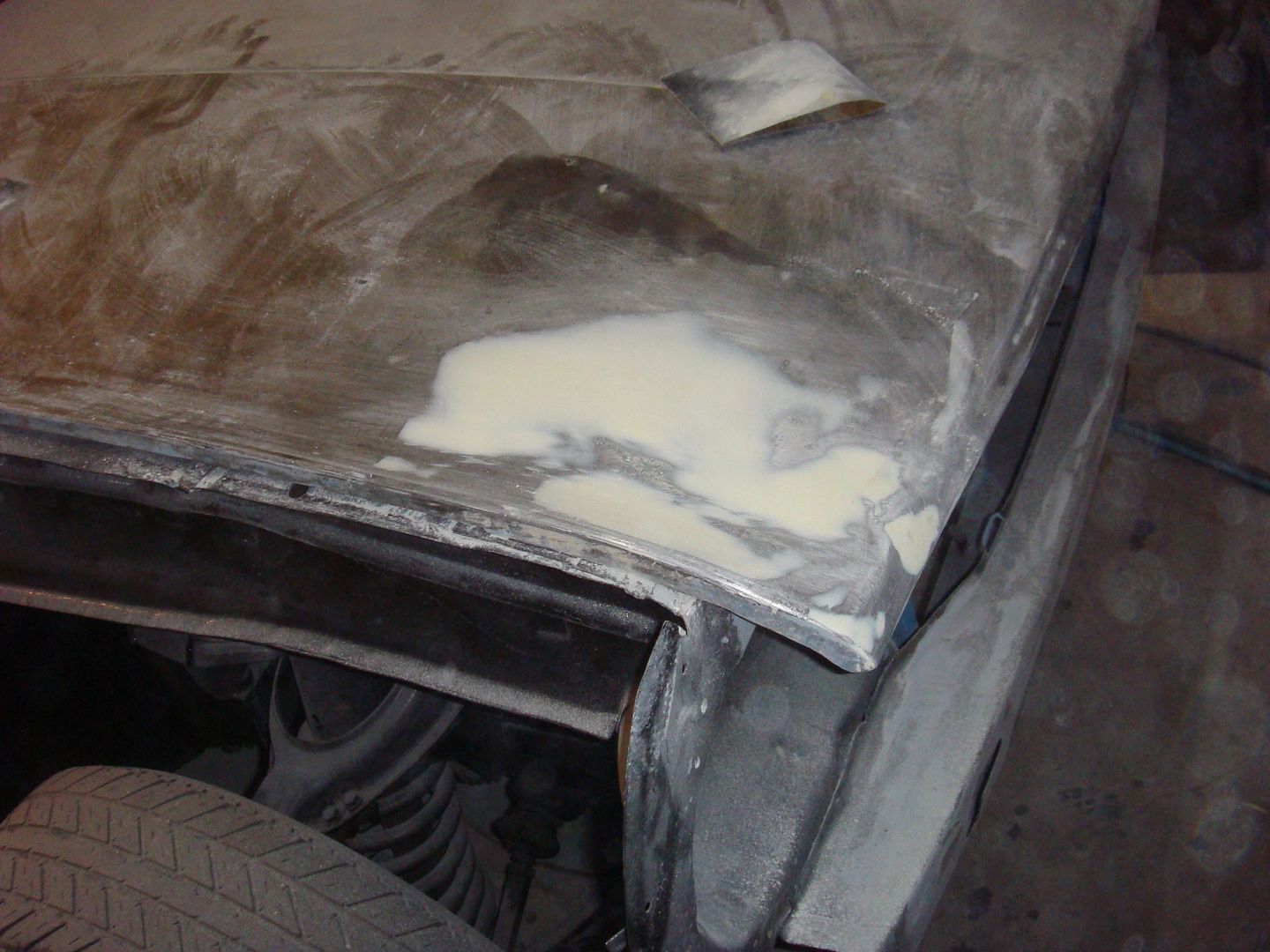 And after more bondo and more sanding, here it is nearing completion.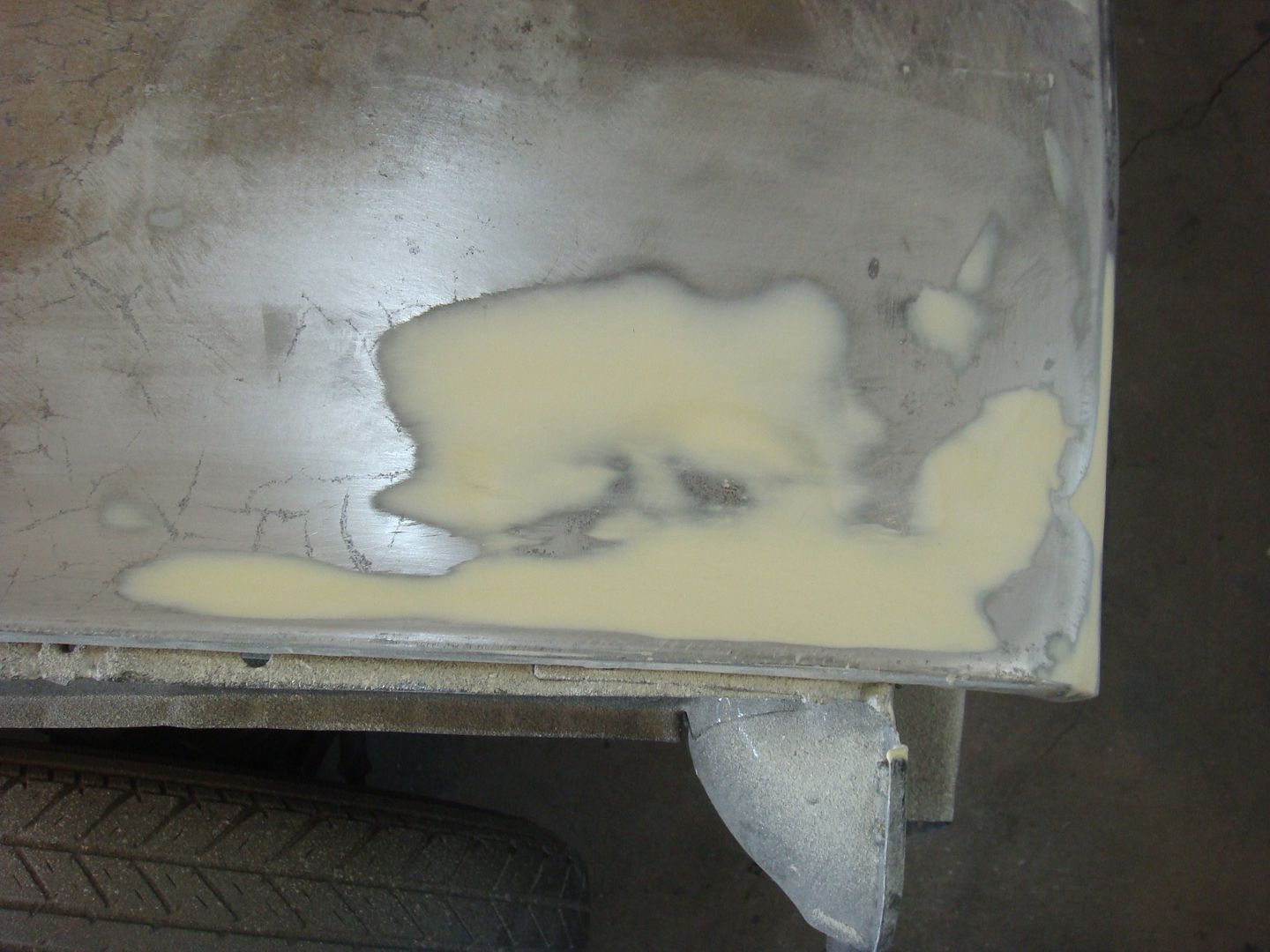 It's so close, just a small uneven spot right at the front.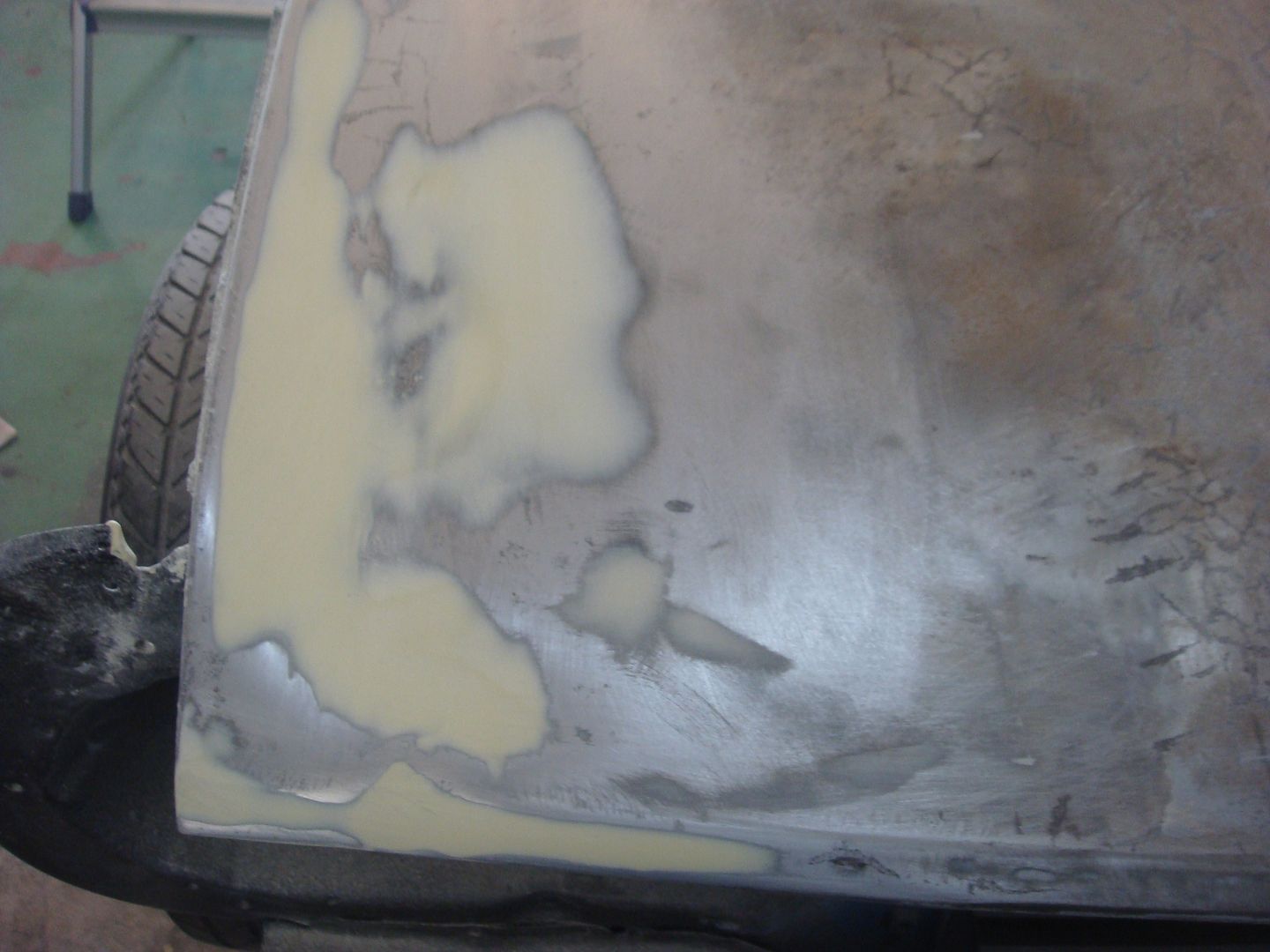 Our rear fender is nearing completion too. It's smooth to the touch and doesn't feel wavy at all.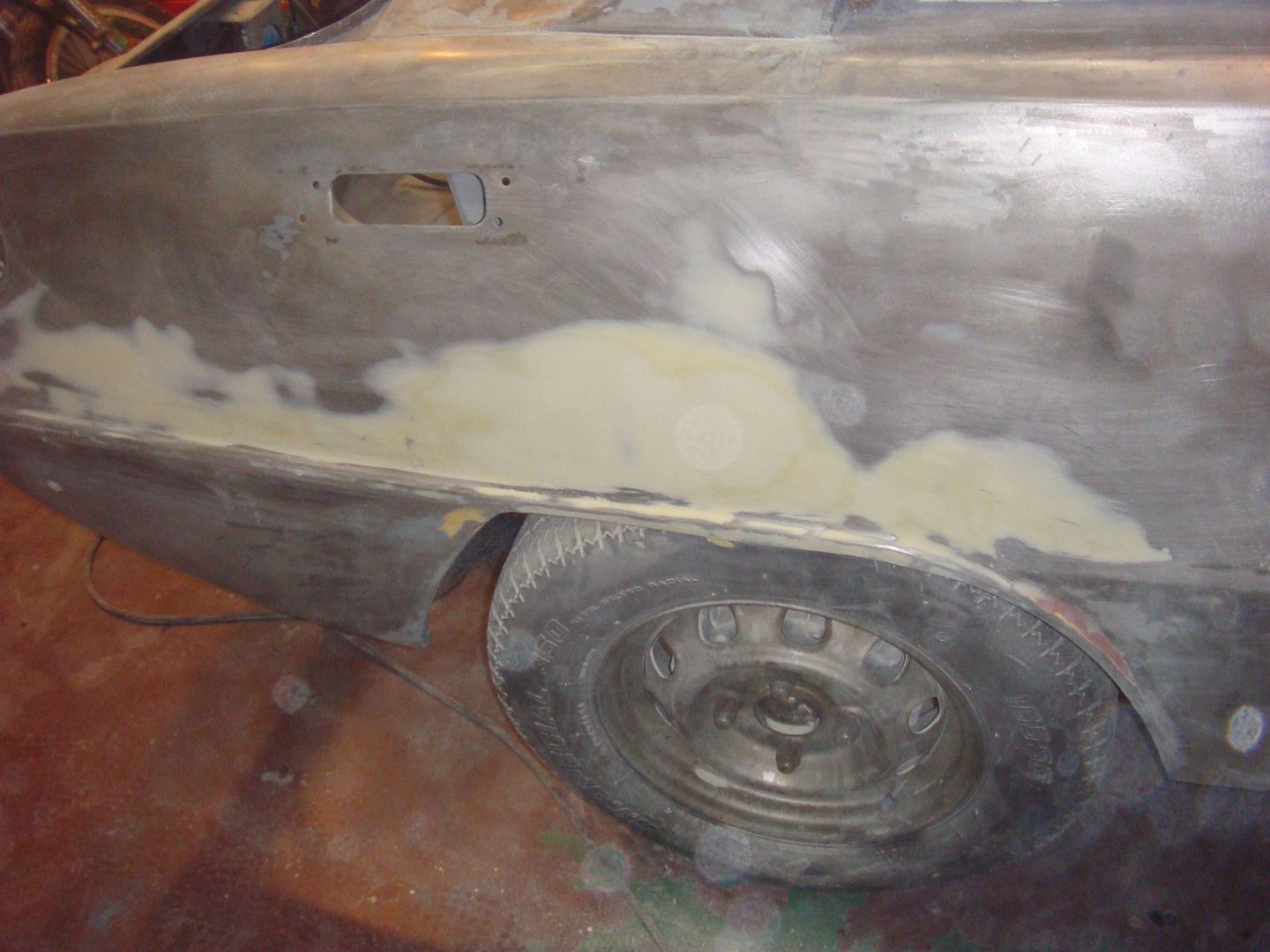 I was really upset with how difficult this fender was turning out to be, thinking it would never get done right.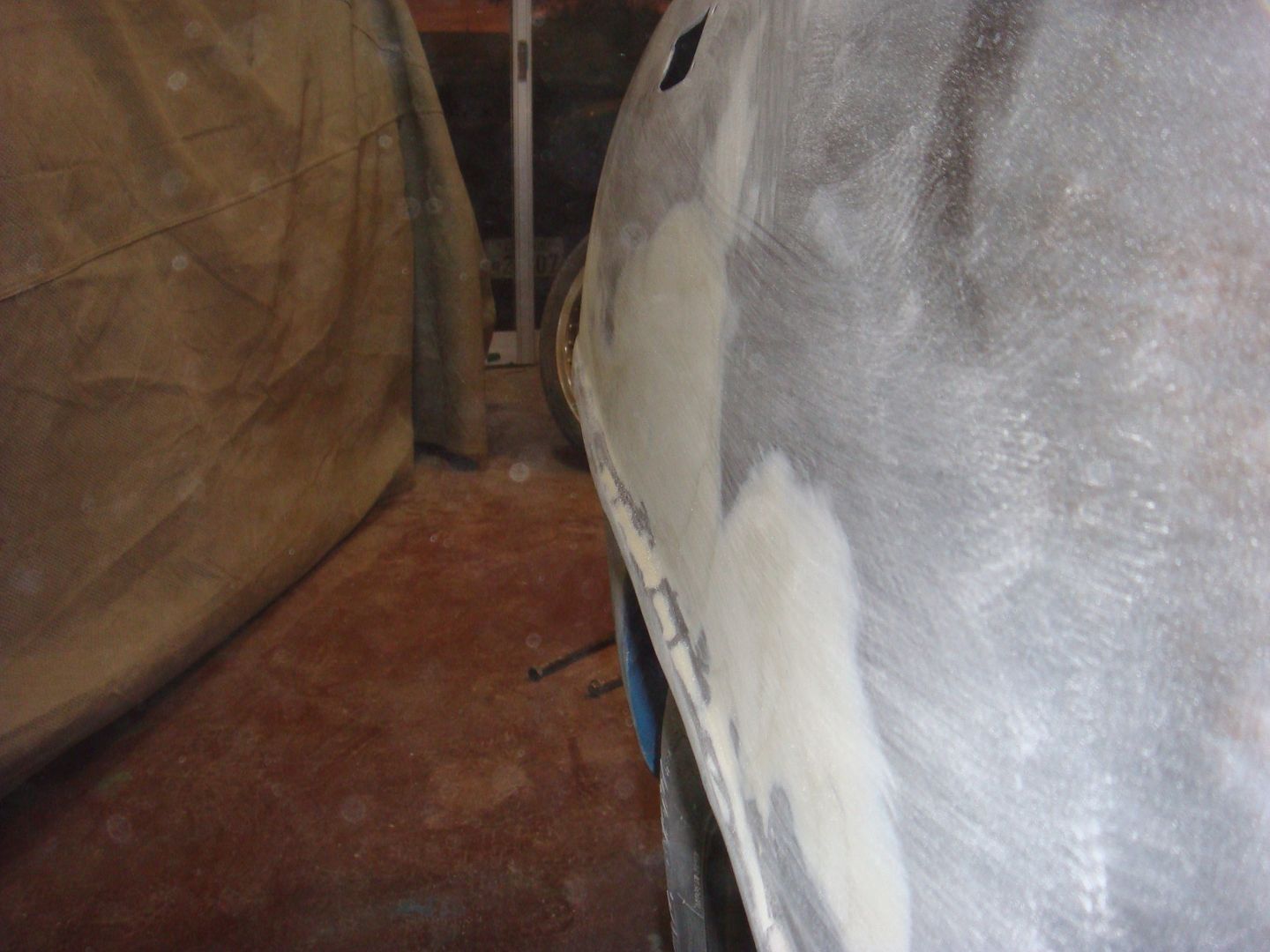 I'm quite happy with it now though. Just a few more finishing touches and it should be set!
We're really progressing along nicely and it's about time to flip the car around so I can work on the passenger side (which is in much better shape than the driver side). We still have some work to do on the front fenders (I have to drill those big scary holes for the fender mirrors) and the doors, but those will be much easier in comparison to the body. It'll definitely be done and ready to go before the end of December (which is when it goes to the paint shop)!
Alright, so I've gotten a bit more work done on the old girl this week. First and foremost was flipping the car around, so the nose is now facing the other direction. This give me much more room to work on the passenger side rear fender.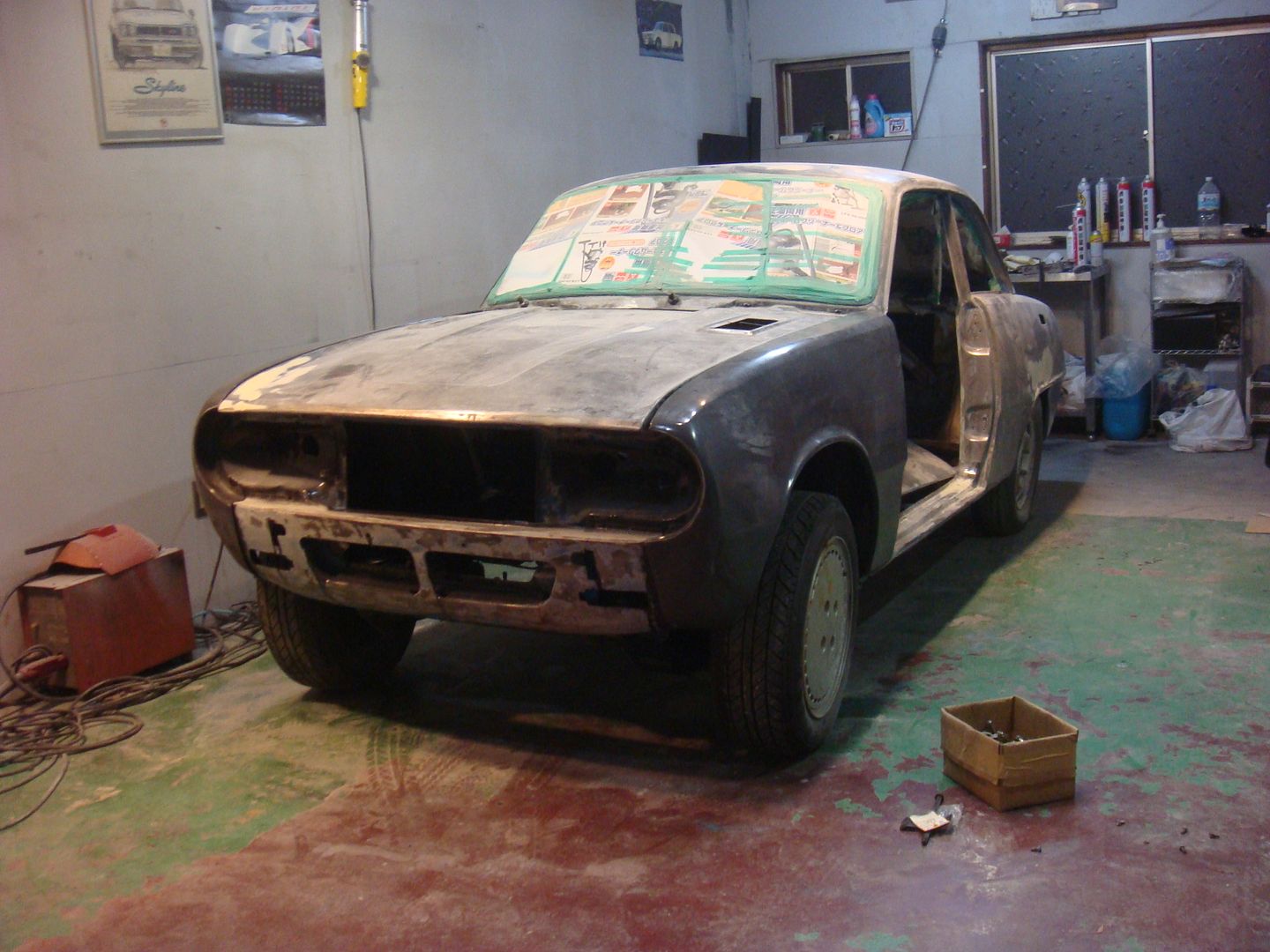 Here's a picture with the flash. You can see that the flash reflected off all the tiny bondo particles that were stirred up by moving the car. Sanding bondo puts dust on everything.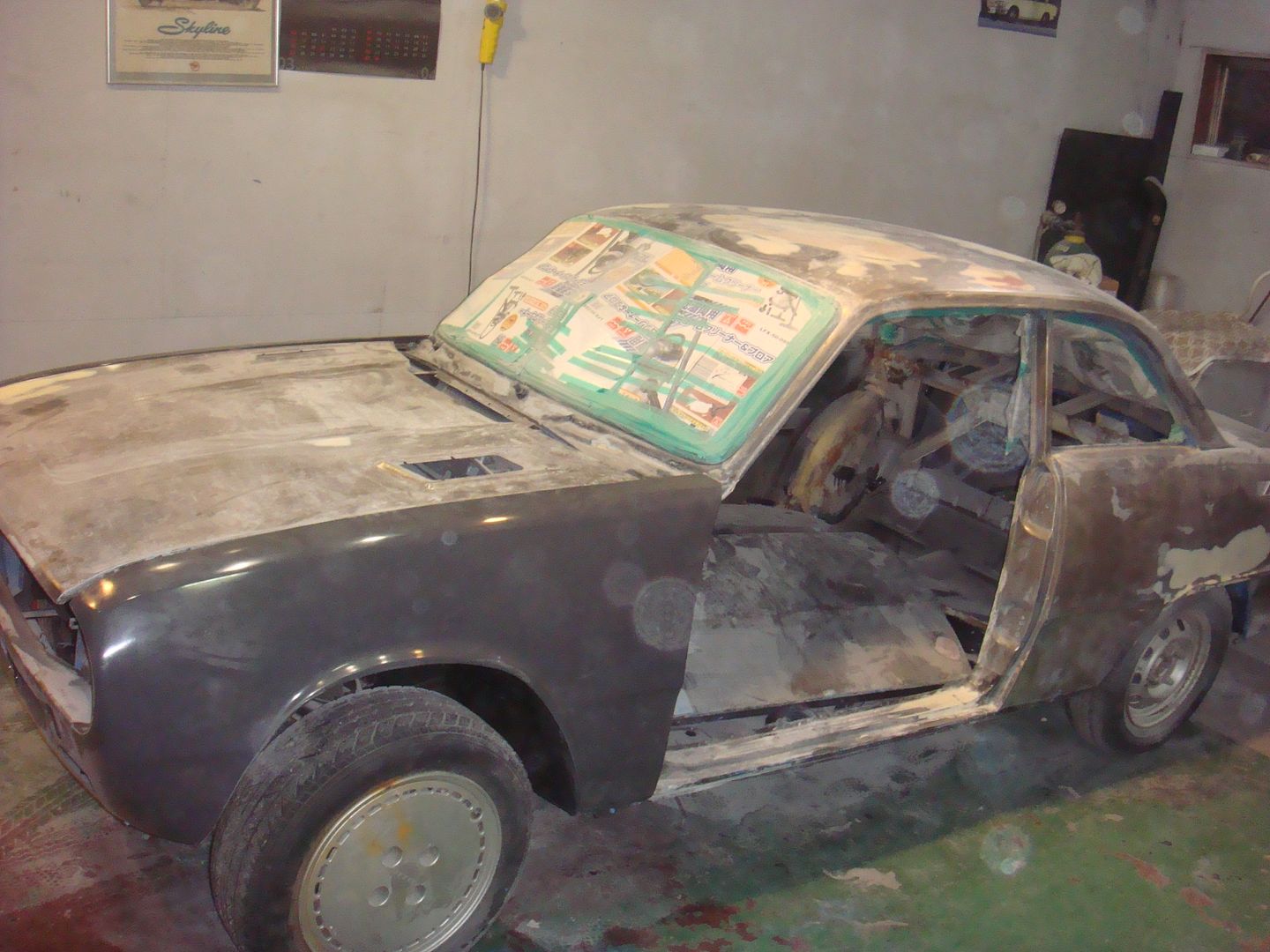 Here we applied just a little more in the way of thin layers of bondo to just make everything perfectly smooth.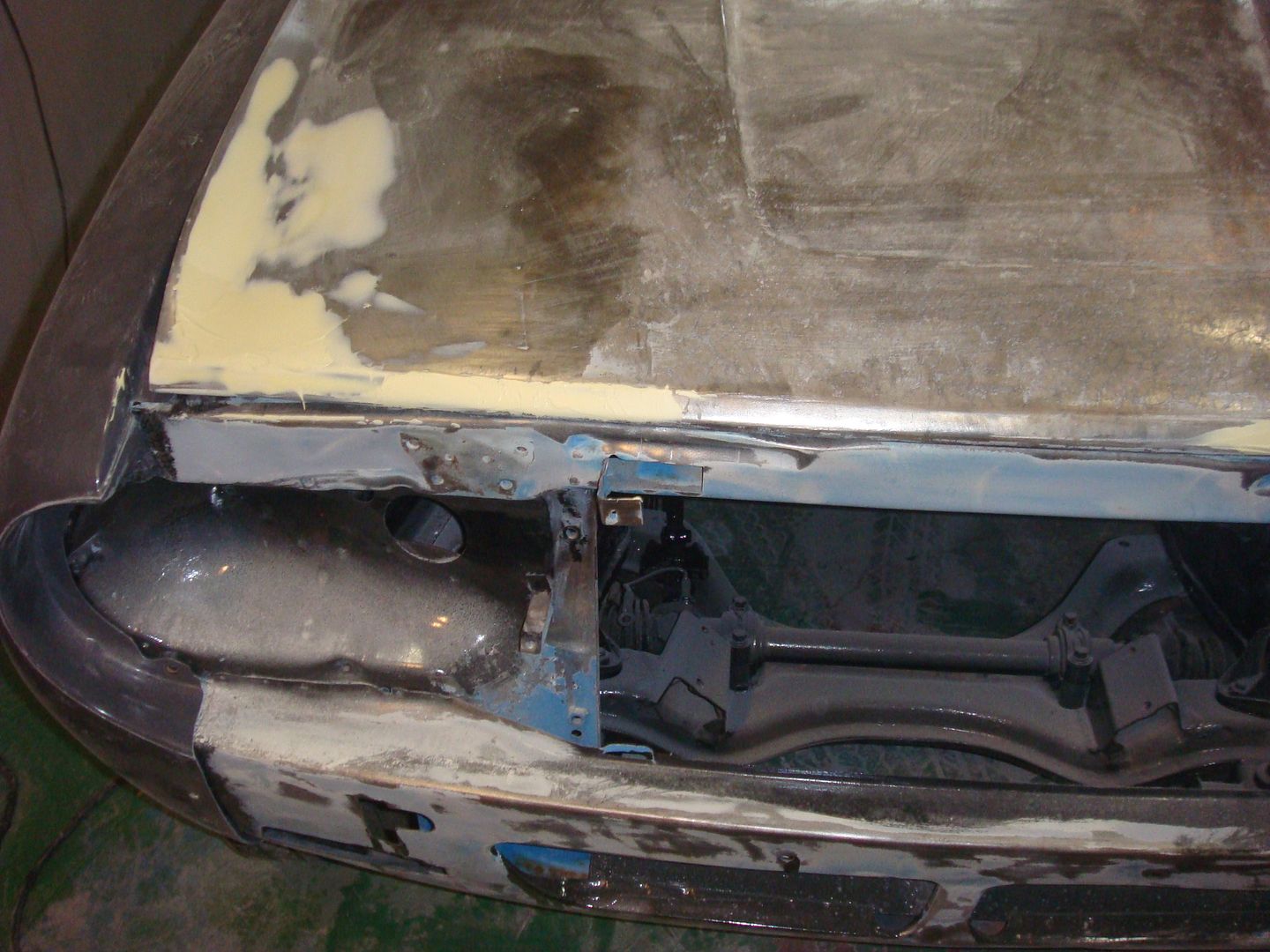 This is the passenger side rear fender that's quite wavy (and the reason I flipped the car around). This is the coarse bondo laid on pretty thick so we can take it back to where we want it to be. I can't manage to put this thick bondo on smooth at all. So, instead I build it up pretty thick and then sand a majority of it back to get it decently smooth. Then the fine bondo goes on top of this to make it look pretty.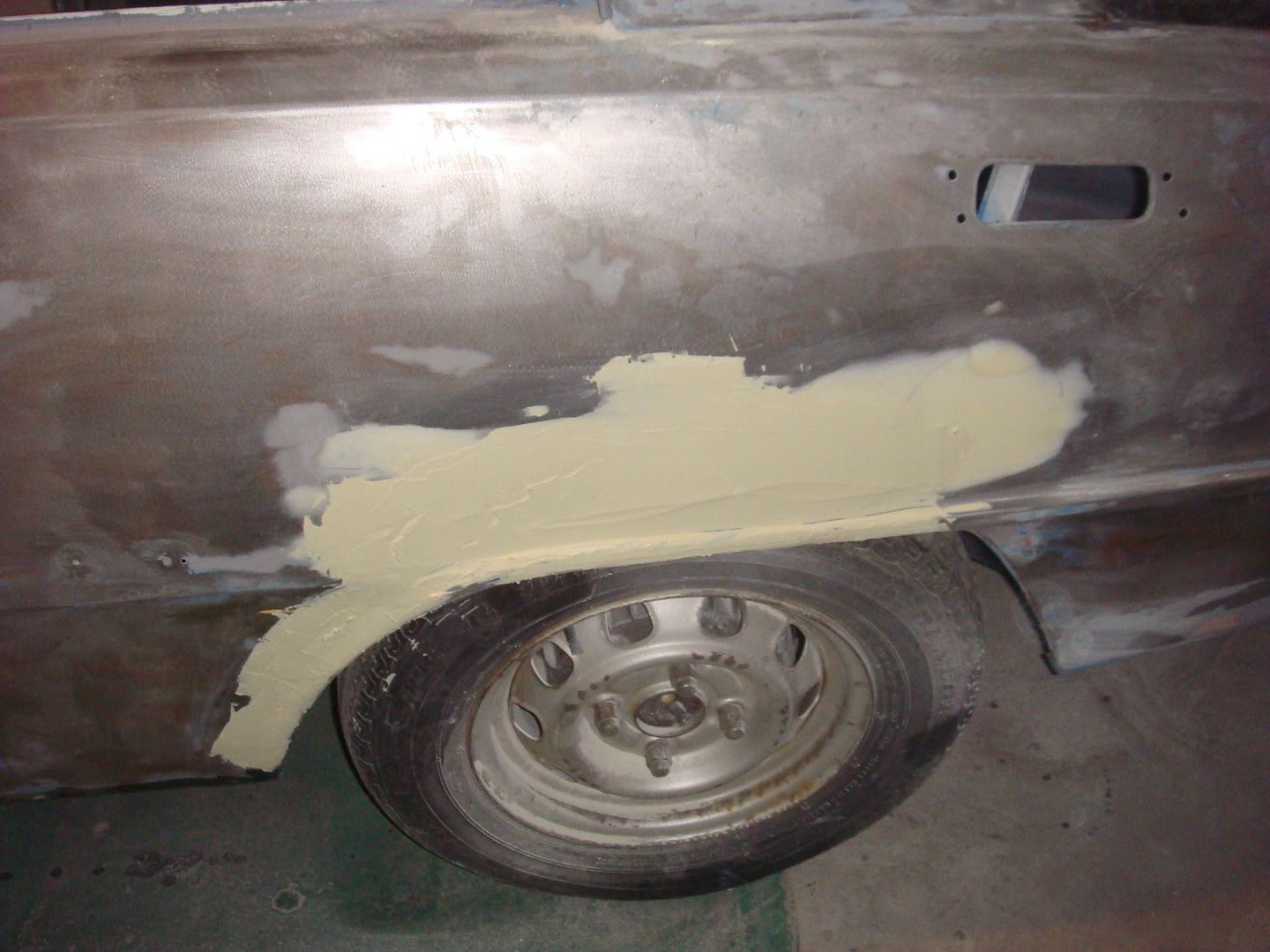 After that dried I started in on the trunk lid. Here I've removed most of the rust and made it decently smooth. Then I painted on some rust neutralizer that was supplied to me from Classic Car Nagoya. This stuff takes forever to dry, but it's like the Japanese version of POR-15.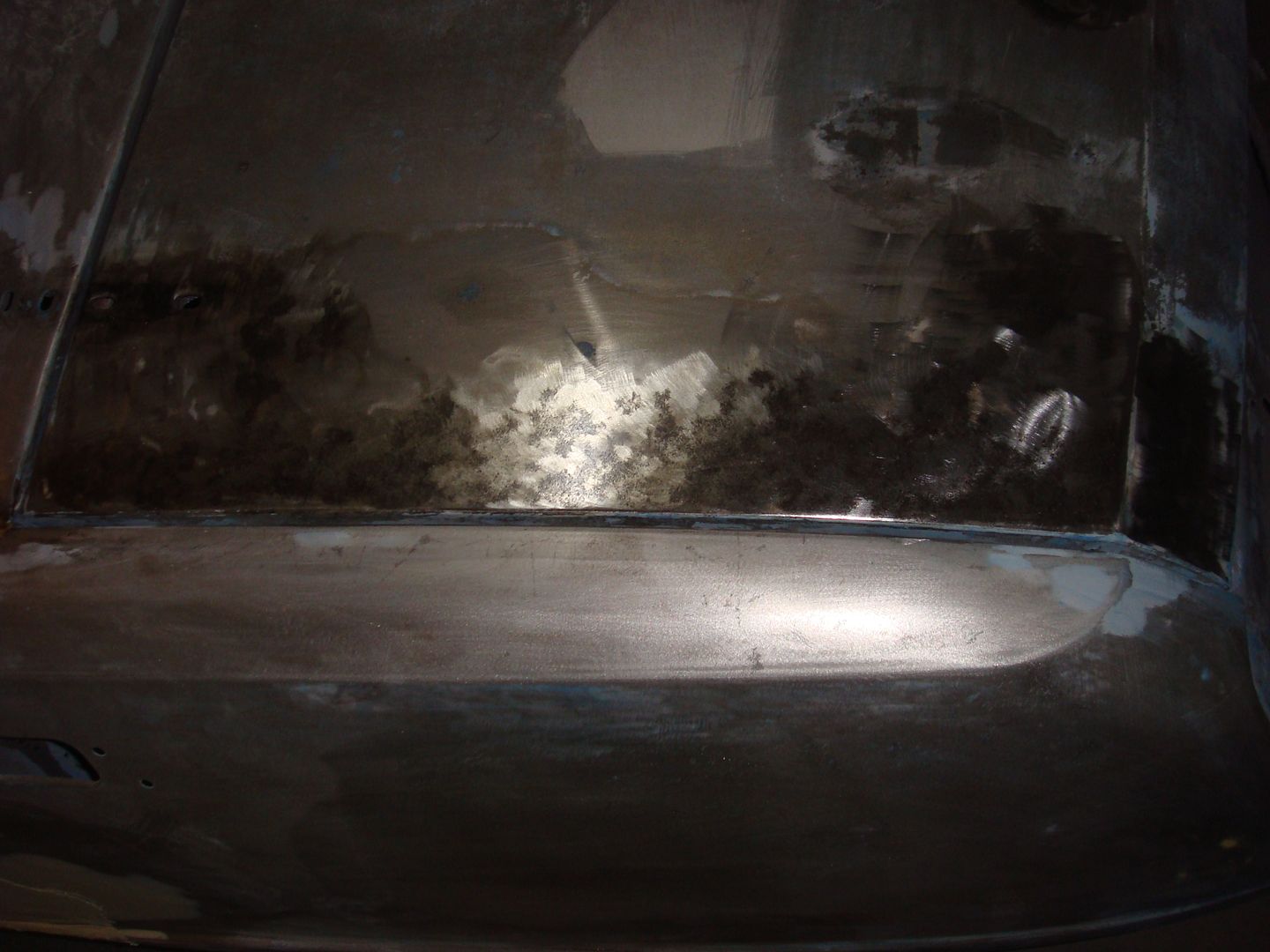 I had put the fenders on because I wanted to make them smooth and clean and it's so much easier to do this when they're mounted to something. So, next I started on the seam at the front of the fender that connected two pieces of fiberglass. Here it is all sanded down and smooth.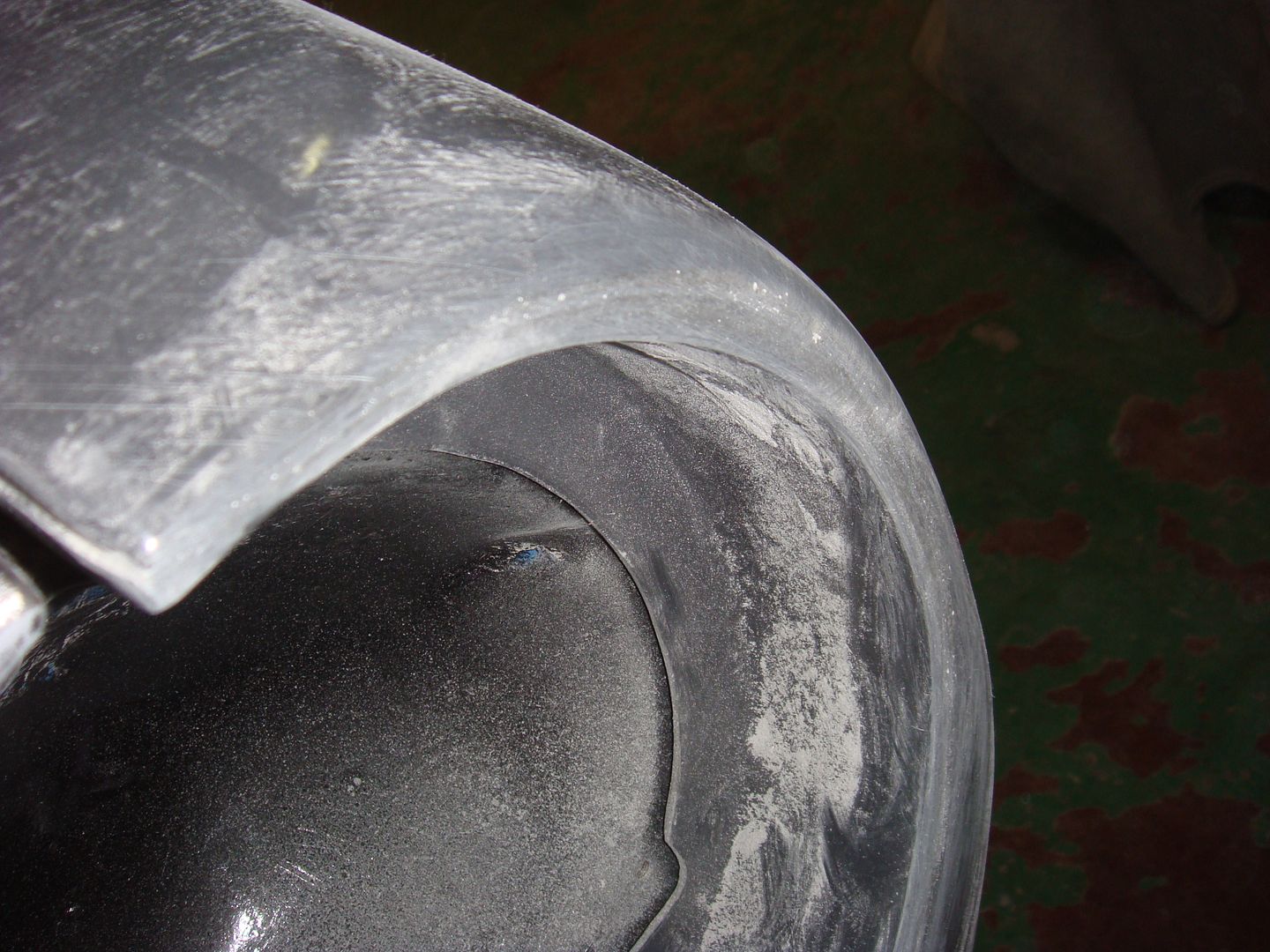 The other reason I had the fenders on was so I could put holes in them for the fender mirrors and the side markers. Here's my measurement for where the fender mirror on the passenger side will sit.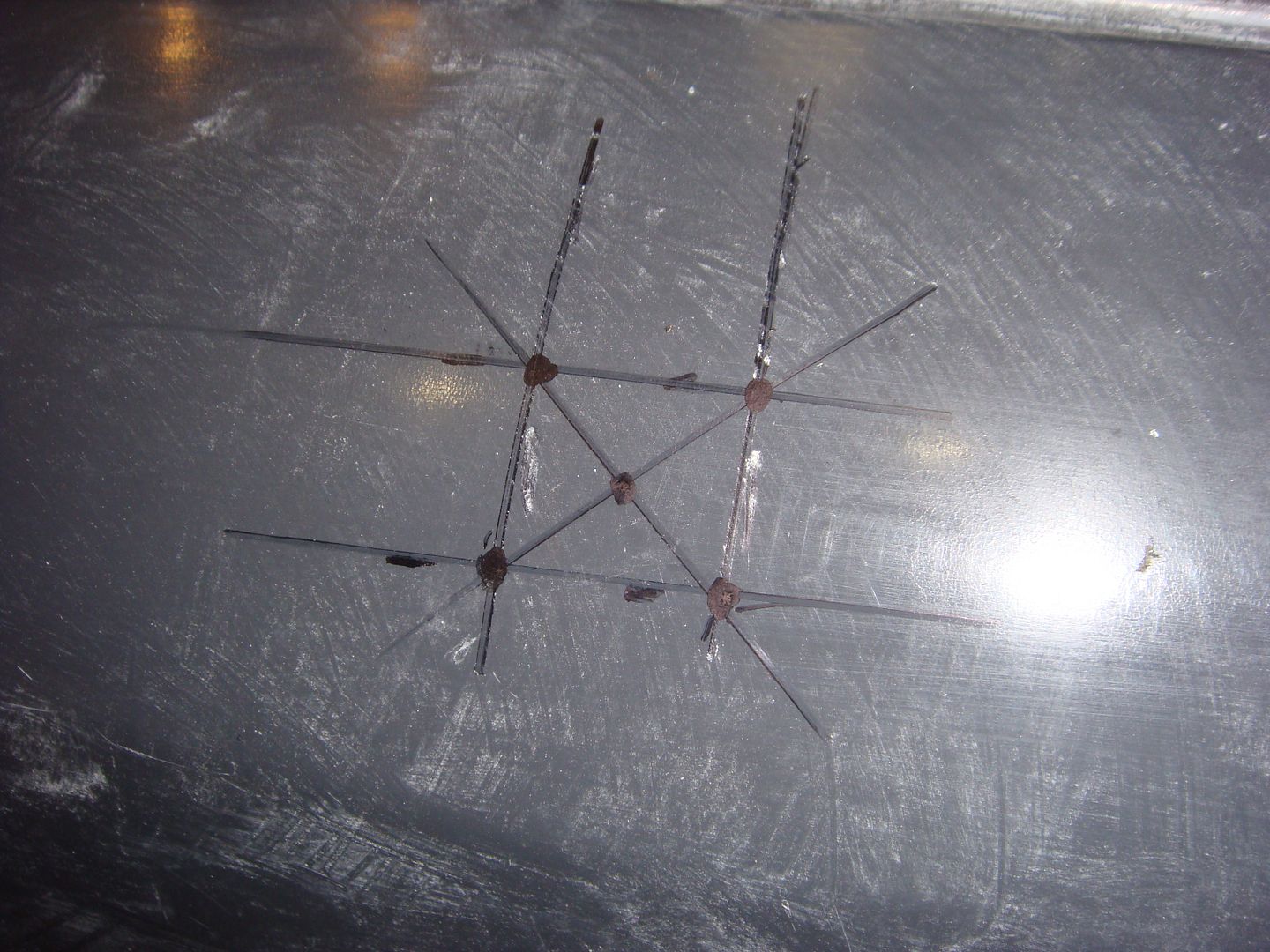 And the driver side.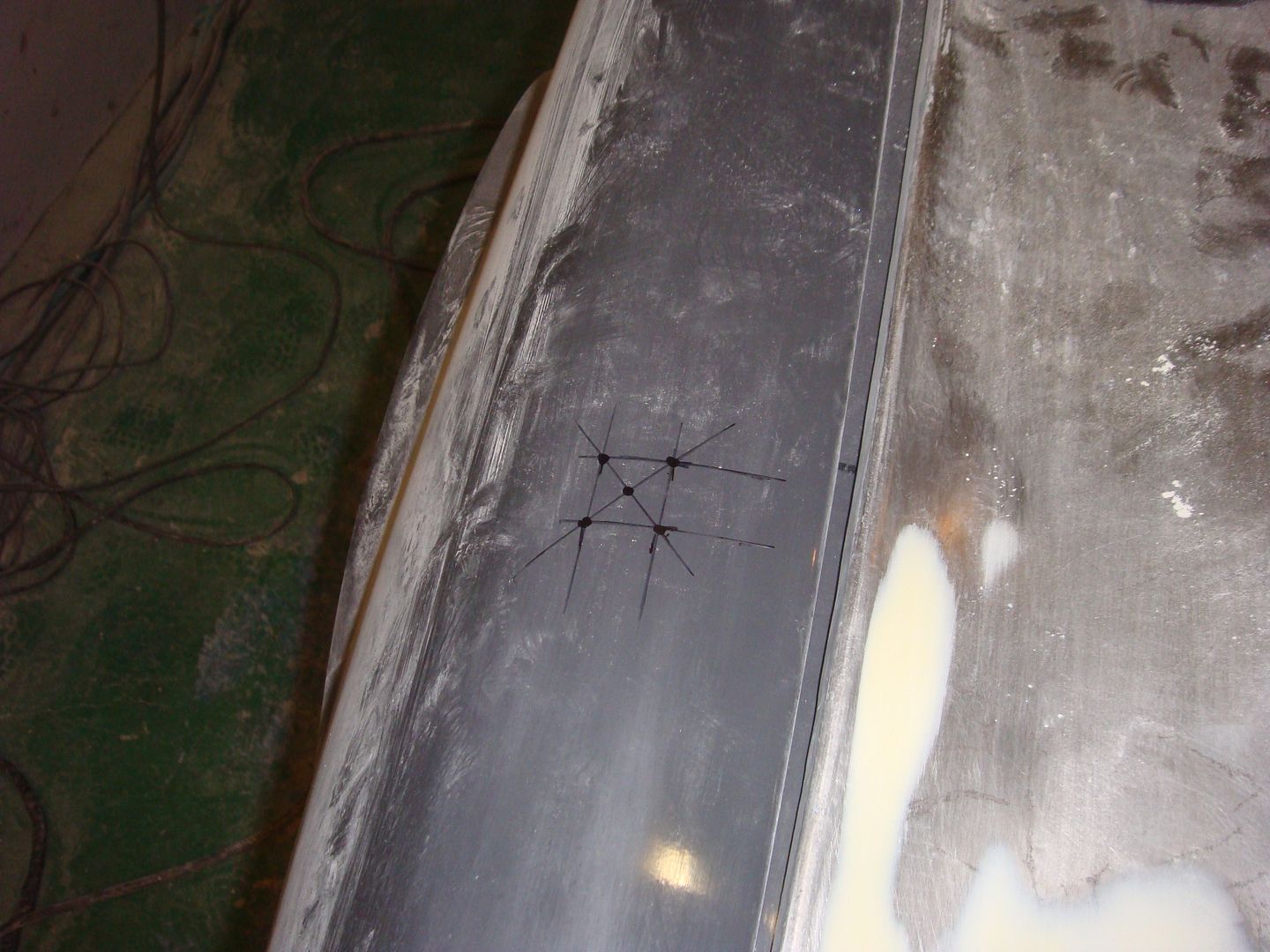 Then came the harrowing moment where I had to drill a hole in my nice fenders.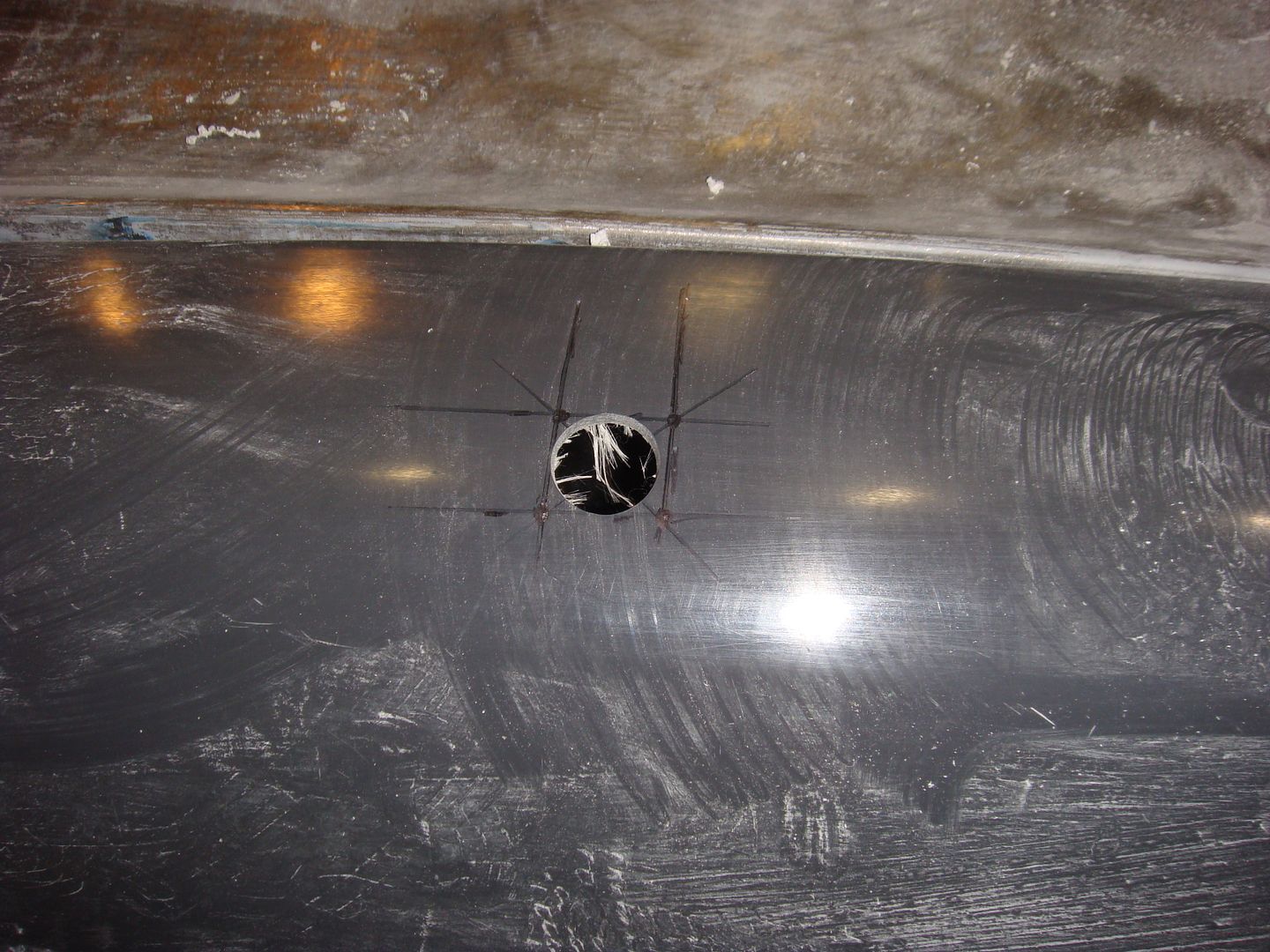 I still have to drill smaller holes to the front and rear of these hole and haven't yet started the side marker holes, but for the most part, I'm very happy with how well this turned out.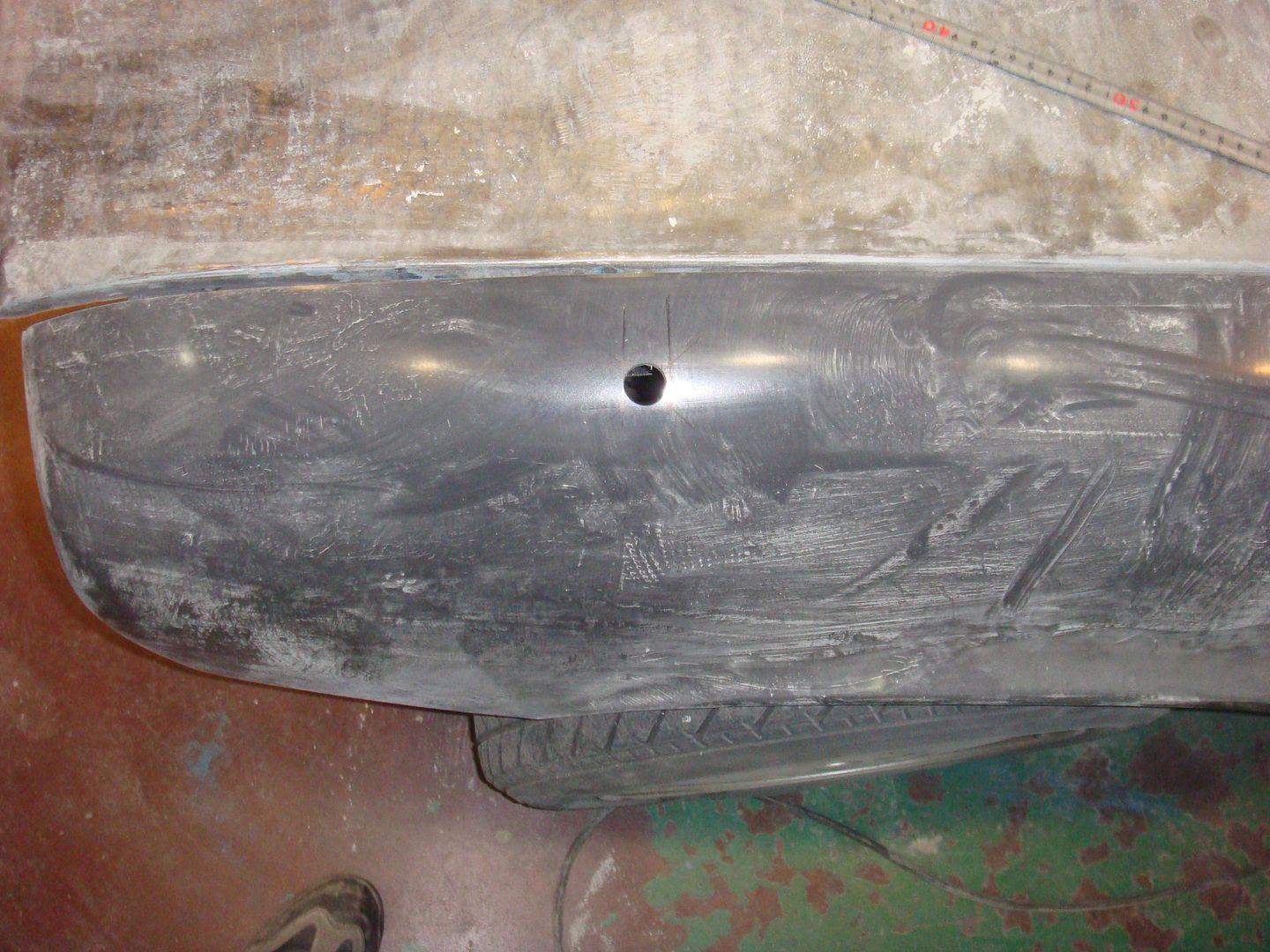 While working on the passenger side rear fender, I noticed that there was some left over bondo on the bottom rear of the fender. So, I ground all the bondo off and found this.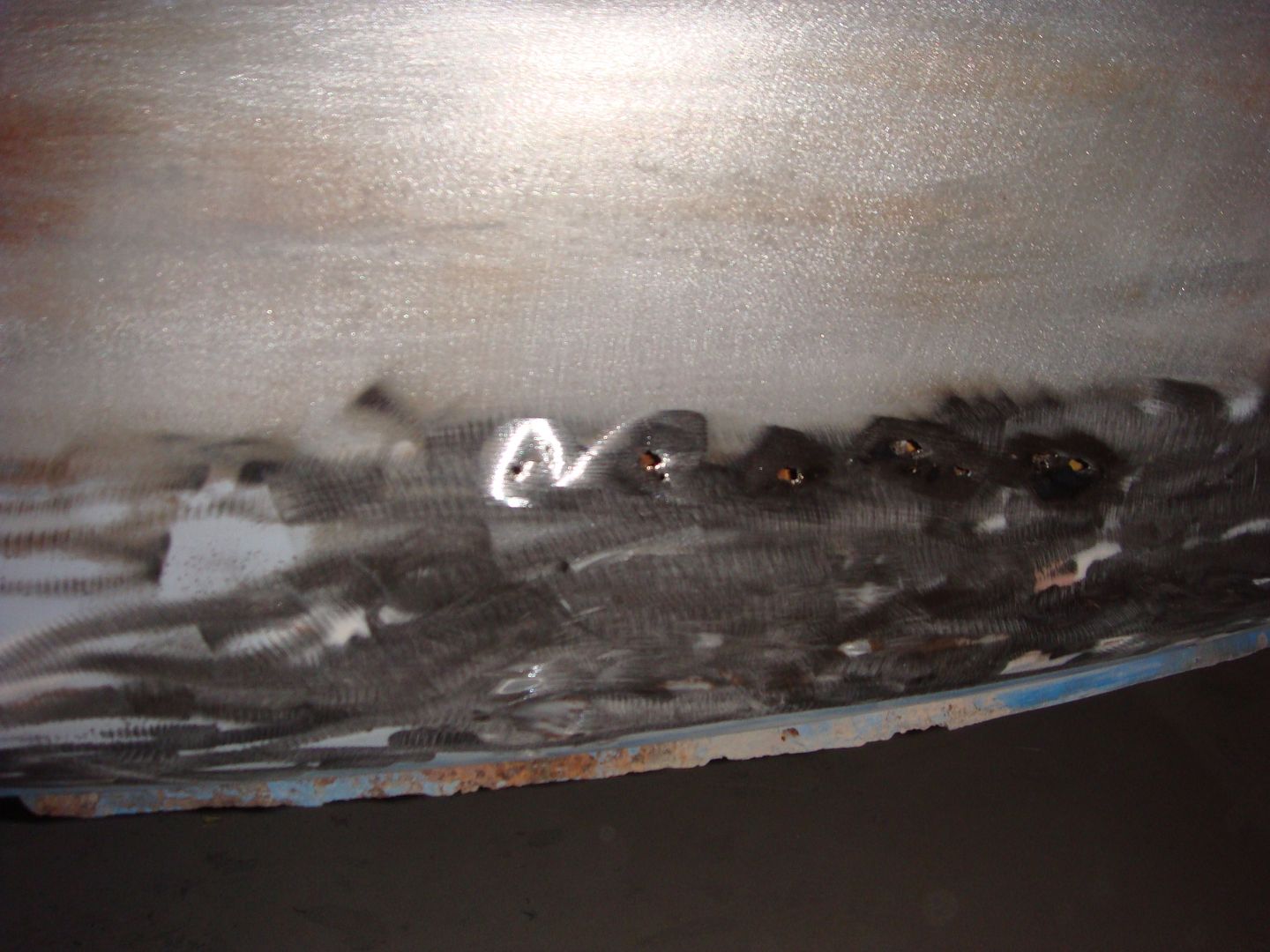 It's hard to see, but there are a bunch of pin holes and two large dents at the bottom. Since this piece can't be accessed from the inside, the previous owner just lathered on bondo. I at least wanted the shape to be kind of close, so I got to work on it.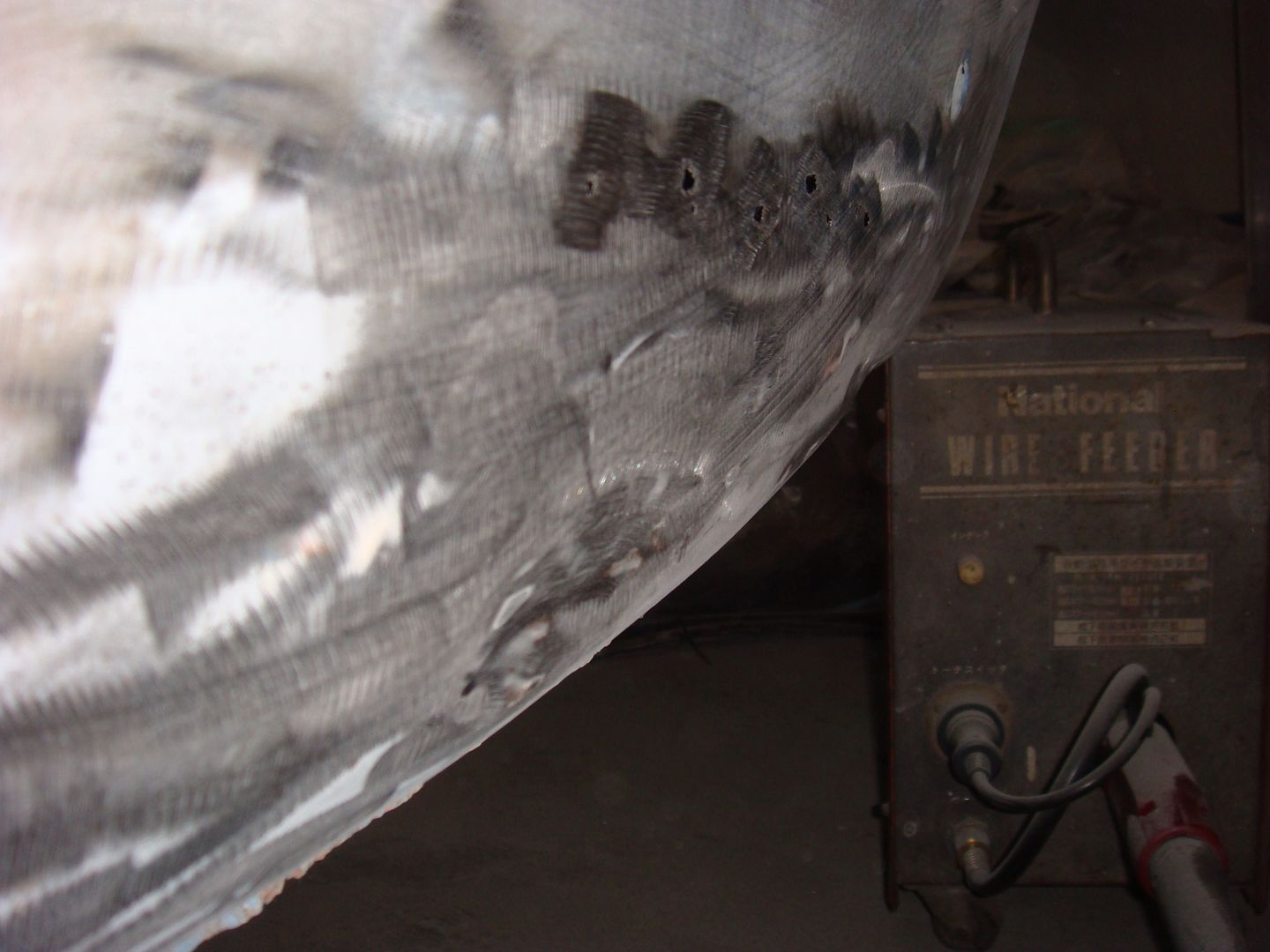 Again, hard to see, but the pin holes are 95% welded up and cleaned up and one of the major dents pulled. I pulled the dent by welding an M10 bolt to the center of the dent and then tugging on the bolt until the metal bent back into shape. This should cut down the amount of bondo needed by at least 75%. (Side note: The weird stuff that looks like glue is actually melted rubber from the pads on my gloves; I ran my fingers across the ground down surface to see how smooth it was a little too soon.)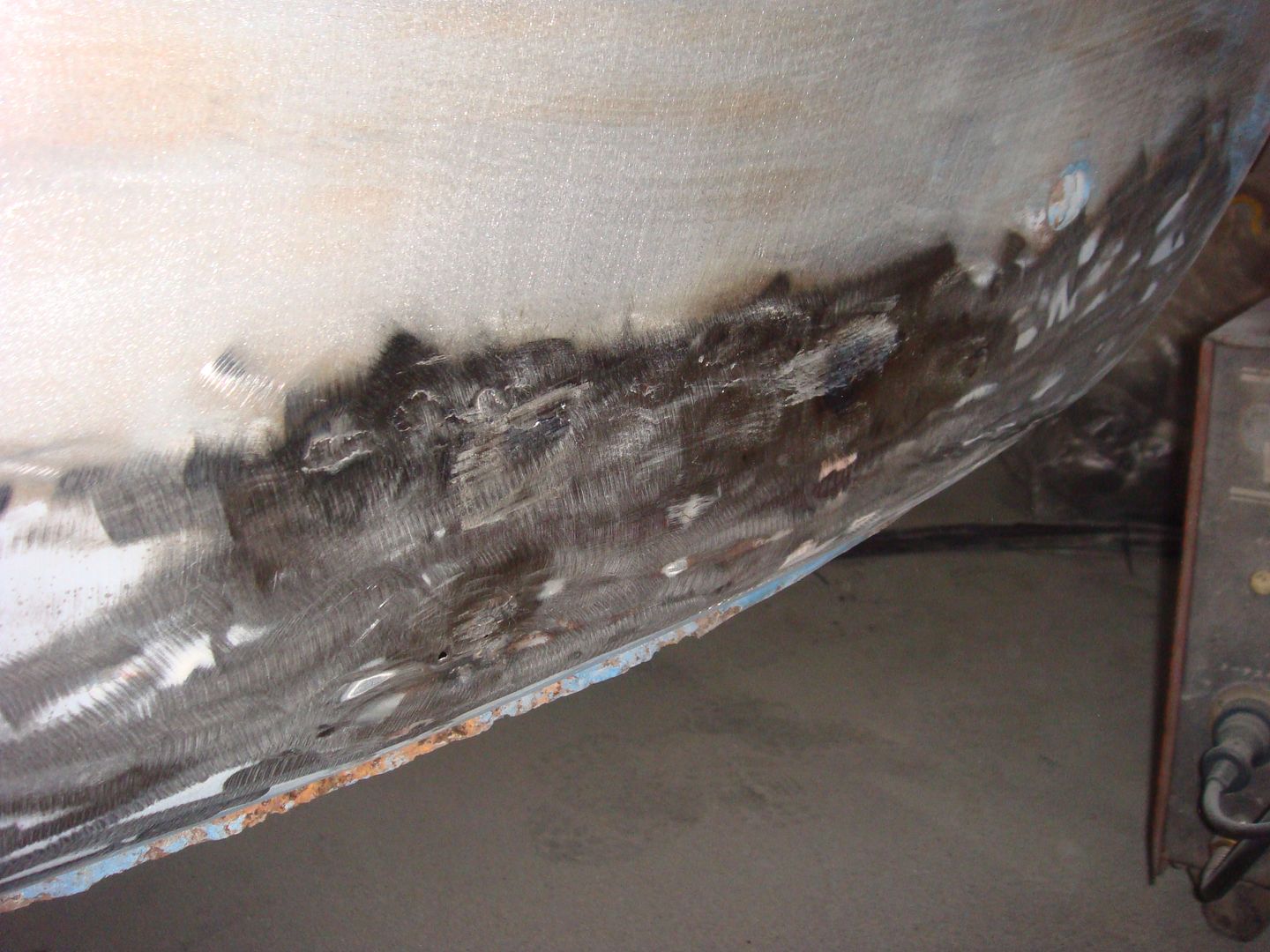 That's as far as we've come this week. I've got a lot of work planned for the weekend, so hopefully I should be able to get another good update in pretty soon!
I need a weekend from my weekends, haha.
So, I started putting on the final thin layer of bondo on Friday. It was to be the last layer of bondo for a majority of the panels. I pasted it on thin and was all set to button up a huge amount of the car this weekend. Then, when I went to check it a full day later (this stuff is supposed to harden in 30 minutes) it wasn't hard and the color was too white. I didn't mix in enough hardener. So, out came the grinder and all that bondo had to come right back off. Cost me hours worth of work. Still, I got right back into and got the final layers going!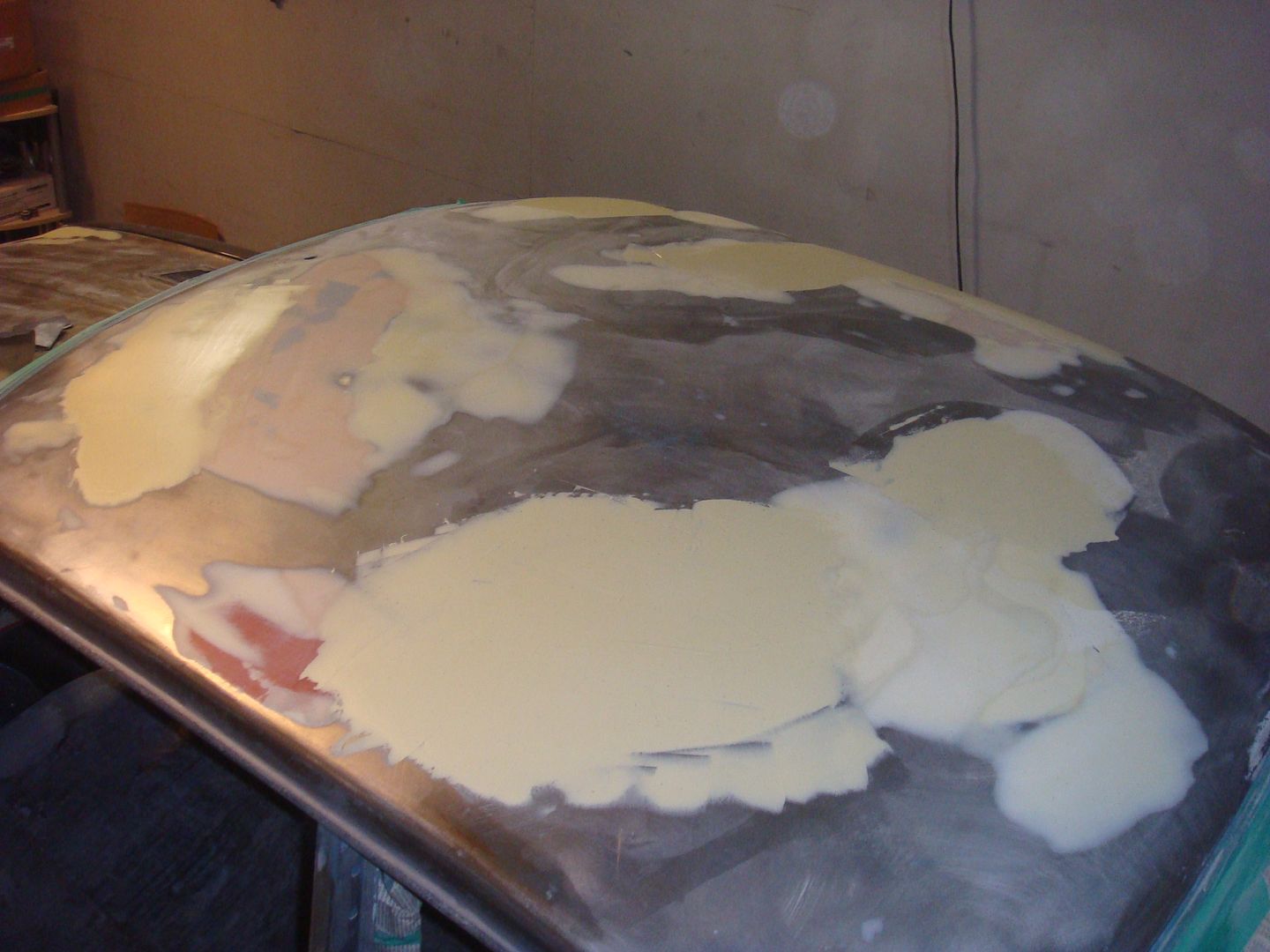 This final layer of bondo is paper thin in most places. Just trying to keep the metal from being wavy.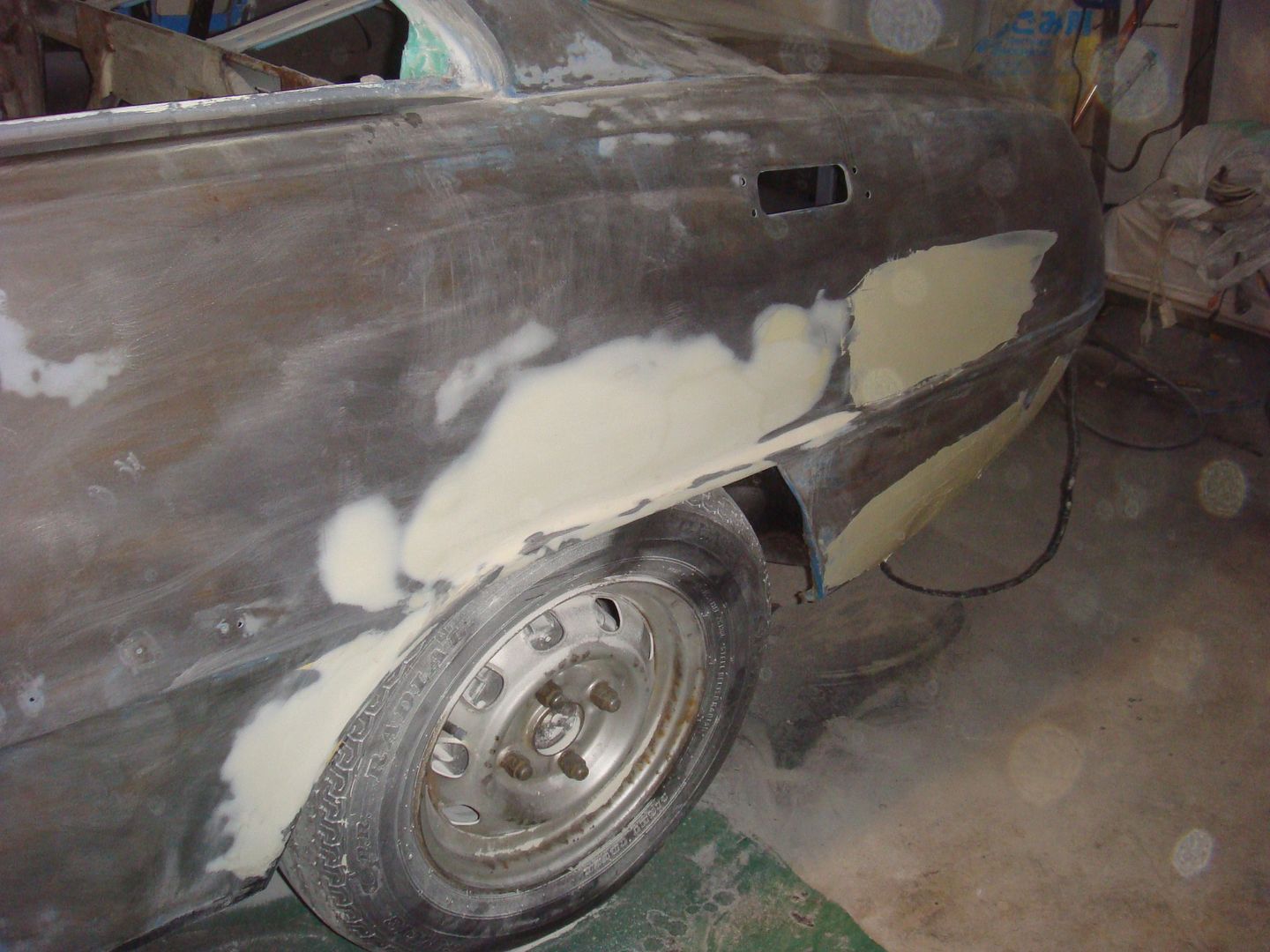 There's a pretty big wave in the lower part of the rear fender where I pulled the dent and short of removing the whole rear fender and working on it with a hammer and dolly (tools that I don't have), it's just going to take some filler.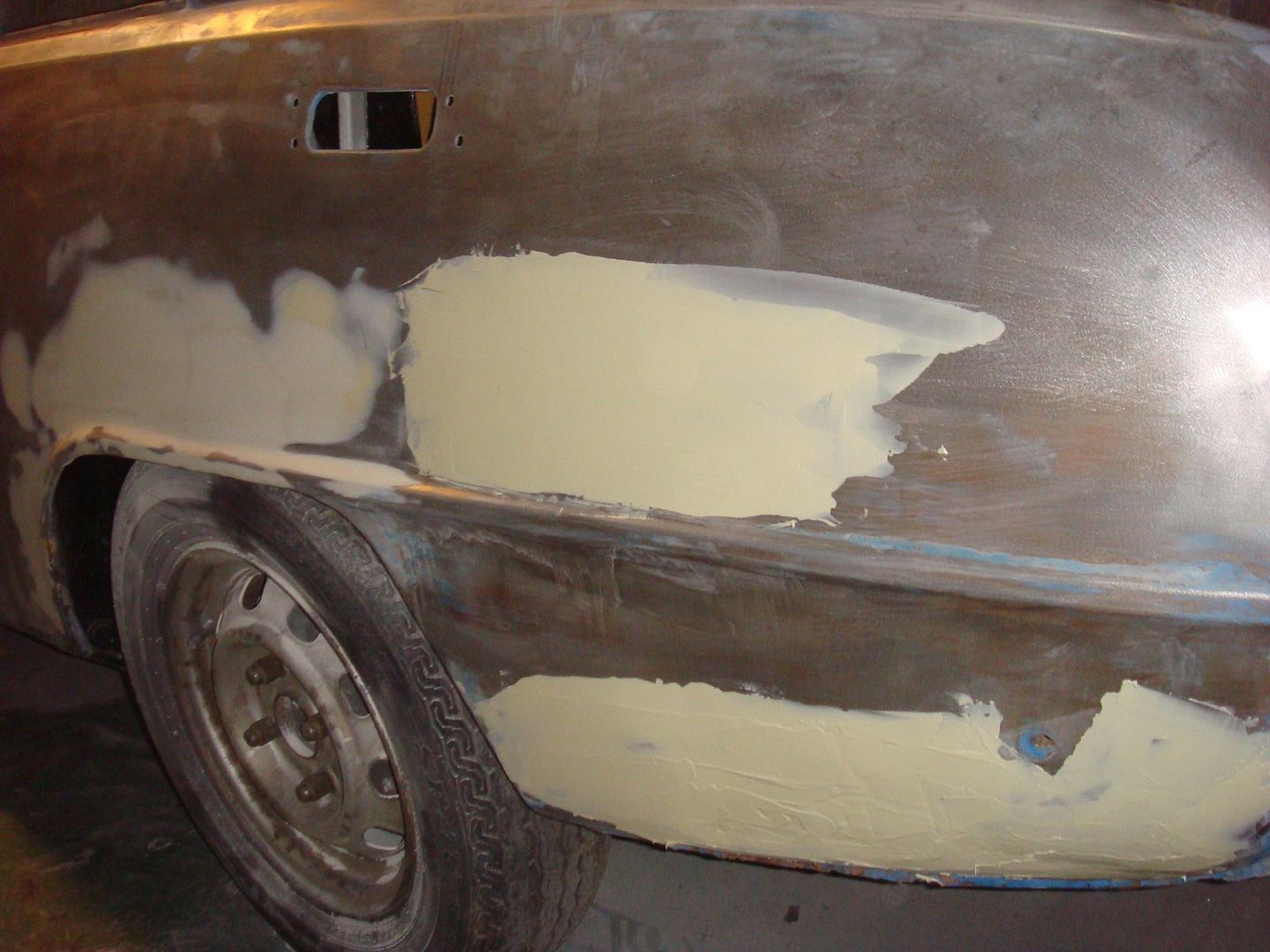 And here it is after the new final layer hardened and I went at it with a sander. The roof is about as smooth as I can make it. It's still got some minor high/low spots here and there, but I'm afraid that if I keep messing with it, I'll just make it worse. Figure it's best to quit while I'm ahead on this one.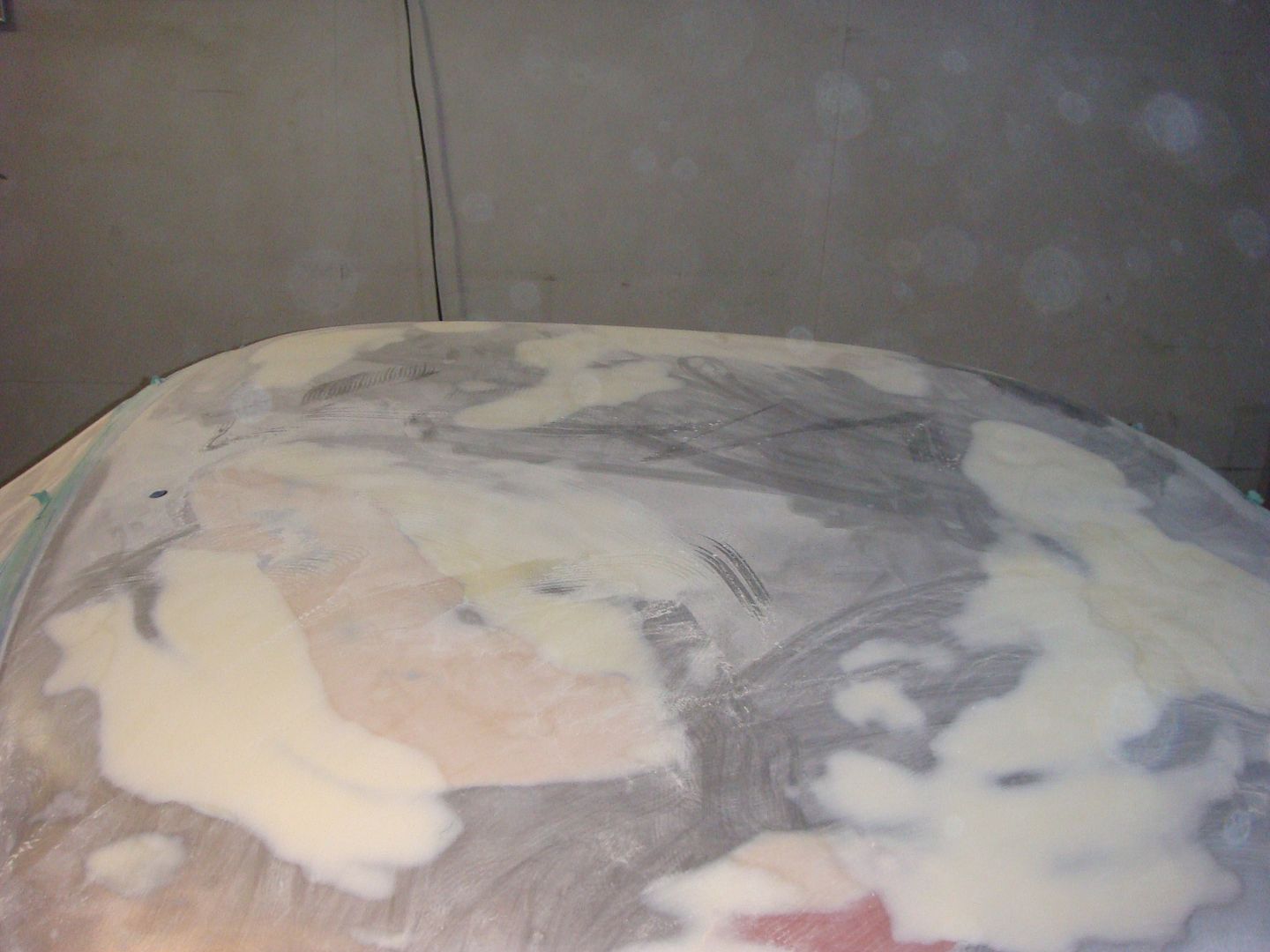 The fender with the exception of the lower rear were I pulled the dent is finished as well. It's very smooth and you can feel no seams or anything along it.
There's turning out to be way more bondo involved in getting the body to look straight than I had initially anticipated. The proper way to do the body work on this would have been to pull it completely apart (rear fenders off, car on a rotisserie, etc.) and work the metal by hand until the metal itself is perfectly smooth. The problem with that is that it takes years to get everything just right. If I ever get upset with the body work on this one a few years down the road, perhaps I'll tear it back apart and do just that. Of course, I'll need a much bigger garage!
Still, it should look pretty good when all is said and done!
More on the
Next Page!
Navigation:
Bellett Page 01 Bellett Page 02 Bellett Page 03 Bellett Page 04 Bellett Page 05 Bellett Page 06 Bellett Page 07 Bellett Page 08 Bellett Page 09 Bellett Page 10 Bellett Page 11 Bellett Page 12 Bellett Page 13 Bellett Page 14 Bellett Page 15 Bellett Page 16 Bellett Page 17