Join the good food movement in Clark County! 
Fill out our volunteer intake form
HERE
. 
Harvest Volunteers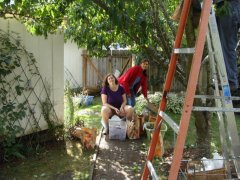 Seeking people to join our harvest crews. Participants will join us for a weekend of assisting in harvesting and taking home a portion of the bounty. We will also be sharing a breakfast together. 
Interested? Contact 
info@myurbanabundance.org
 or 360-771-1296


Tree Scout
Help us find fruit and nut trees in your neighborhood to add to Vancouver's Urban Orchard. Canvass your neighborhood, bring an outreach packet to work or just carry them 
with you around town. Vancouver's Urban Orchard has the opportunity to bring fresh foods to many in our community that are facing hunger.
Interested? Contact
info@myurbanabundance.org
or 360-771-1296
Fundraising events planning committee
Urban Abundance hosts fundraising events that weave together community-building, education surrounding the Good Food Movement, and fundraising for Urban Abundance. Do you want to help us organize?
Interested? Contact
info@myurbanabundance.org
or 360-771-1296
Outreach Leaders
Would you like to assist in getting out the message about Urban Abundance? We are seeking folks to table at farmers market and other events around town. Do you have an event to table at?
Contact
info@myurbanabundance.org
or 360-771-1296
Summer Internship
Urban Abundance 
has harvested and maintained Clark County's community and backyard orchards through volunteer efforts since 2010. Our efforts bring thousands of pounds of fruit to those in need, strengthen the community and a new generation of fruit tree stewards are trained.
 Urban Abundance 
is a program of Slow Food Southwest Washington, which works to inspire people to eat, grow and share healthy local food.
We are seeking a summer intern to help with orchard, outreach, and volunteer activities. The internship opportunity is available immediately.  All applications received prior to Friday, June 10th will be considered. 
Time commitment: 20-30 hours per week, for 3 months (June 15th to August 30th) – start & end dates may be negotiable
Location: Urban Abundance is based out of home offices and coffee shops around Clark County. Comfortability with mobile office space is required.
Orchard Responsibilities include: 
Coordinate residential harvest activities, between Harvest Leaders, volunteers, and tree owners,

Assist volunteers in distributing fruit to people in need via food bank partners

Conduct pre-harvest site visits at the homes of our registered tree owners and coordinate Tree Scout volunteers.

Assist with outreach to engage diverse participants

Perform related tracking, record-keeping, and data entry

Assist in coordination of the Foley Harvest Festival

 
Outreach Responsibilities include: 
Promote Urban Abundance programs and activities throughout outreach activities and by attending relevant events

Assist with office tasks and duties. 
Desired Qualifications: 
Passion for Urban Abundance's mission and work, 

Experience with fruit trees, urban orchards, or other gardening work, 

Experience working with volunteers, 

Experience using social media for organizational or campaign purposes (not personal), 

Access to reliable transportation, 

Excellent communication skills, and 

Ability to have fun and work hard! 
Urban Abundance offers a fun, flexible working environment.  The position is available immediately and through August 31. To apply, send your cover letter and resume to info@urbanabundance.org. The subject line should read: Summer Intern Application with your full name. In your cover letter, detail: 1. Your interest in Urban Abundances, 2. Availability for the summer, 3. Access to transportation, and 4. One or two ideas to help spread knowledge and awareness about Urban Abundance's programs.