Ketaii's Application
Always hoping for the perfect pet. 
 Hello there and welcome to my application for Ketaii! I hope you don't mind extensive applications, but I want to give my best try at convincing you of why I'd be a good owner for such a lovely pet that is ketaii. I must admit I'm a newbie at doing these applications, this is only my second one, but that's because I chose very carefully who I want to adopt, and I have many pets already, so I don't have any need of applying for all that many pets. But once in a while, one pet does flash at me from the lists, and Ketaii was one that managed to catch enough attention for me to want to put all my strength into trying to adopt him! So anyways, on with the info!
About the Owner
Hey there! My name's Hikaru, I've been playing Neopets for years now, although I was away for one whole year or a bit more, due to my sadness when I lost a pet. After coming back, I've become more and more active across the site, in my guild and on TNO. I keep my pets fed, happy and free of illness. For now, I only have 1 'official' battle pet, Morino_Ryuu, but many of my other pets have had a go at the battledome with varying results, and most of my pets have better-than average stats. I have 5 accounts:
Out of Neopets
I'm a 23 year old university student in her last year. This doesn't keep me away from the page though! I like doing pixel art, reading fantasy, sci-fi and intrigue.  I have my own domain, Mystarseed.com and an art gallery at deviantart.

Where would Ketaii go then?
Ketaii would go into my main account, tsukino_hikaru. I have a premium account on that one, and I spend a LOT of time on it. I try to visit every single day, for dailies and making some NP's, and so the pets on that one are pretty pampered (more than the rest I'd say). I worked on a simple lookup for him, so you can see what it would look like. I decided to keep the personality you gave him, so that's why it's the same as on his current lookup.
Why Ketaii?

When I was looking at the list of snow pets to look at the one I have for foster, I saw Ketaii. I hadn't really been thinking of adopting but when I saw him, his name, and then the personality, I fell in love with him! I've been on the lookout for possible inspirations for NT short stories, and I think Ketaii hit my muse head-on! Of course, I'm hoping to write one out before I totally finish this application, so you can actually read something, instead of believeing me only on what I say :P But for now, you can read the story I wrote when trying to adopt Numax. (I wasn't accepted though, so at the moment I'm just applying for Ketaii and no other pet :P)
Plans for Ketaii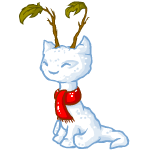 All my pets have defined personalities, petpages and in most cases, art. I love drawing, and writing, as well as webpage making (I am a professional web-designer after all!) Since I liked the way you defined Ketaii's personality, I plan on keeping it and building his story with that in mind. (Since I'm just starting this app, I haven't built much of that yet.) Hopefully, this will lead to some fun stories for the Neopian Times, that would make Keitaii pretty popular!
I usually do kitchen quests to try and raise their stats, and visit the shrine with a rotation of my pets on that account, so while I wouldn't be training Ketaii actively, he'd get stat boosts in any case. I also buy books every now and then for my pets! I also have a few items bought out already for Ketaii!

About Ketaii
Calm and soft-spoken, Ketaii tends to be rather shy and quiet, specially around strangers. He doesn't go out much, unless it's to visit Terror Mountain, where he can freely move around without worrying aout high temperatures. Ketaii is kind, once he warms up to you, and always treats people respectfully.
When alone, he likes to read books and write stories. Inspiration for these usually come from his brother, Ryuu, who tells him of all types of adventures that he's had with his cousins, specially Harsiesis and Tatsuromi.
Besides the fact that Ketaii is a snow pet, he is also an albino. Both traits are what keep him mostly indoors. He's a bit frail-looking because of this, but he is not weak. He loves climbing up the outside of Terror Mountain as exercise and visit Taelia, his favorite of the Faeries.
Ketaii was born with sensory empathic powers. This lets him feel the pain that other pets and people that he knows and connects to. The level of the connection usually reflects the level at which he feels the pain of the other. This is one reason he is very shy around strangers, he does not want to form connections with everyone he meets, because he's afraid of the consequences.
Ketaii's Favorite
Ketaiienjoys eating snowy foods since they are cooler for him. His favorite book is the Snow Aisha, and his favorite toy is a Taelia Snowglobe that he has on his desk.
Ketaii's Least Favorite
In general, Ketaii doesn't like fire-related objects, fears direct fire and would never eat any firey foods for fear of being melted. Fiery petpets make him nervous, so he keeps well away from them. From all the snowy/icy foods he likes, there's one popsicle though that he dislikes... sharp points on them make it harder to eat...
 Art for Ketaii
Well, yesterday I got the time to draw Ketaii's first artwork. I'd be using this picture for the beauty contest, and see if he gets a prize! Either way, I'll also be sending this to the art gallery, to try my luck there! Hope you like it!
Ketaii's Room
I've already constructed a room for Ketaii in my neohome for him. Here I've made a list of the furniture I want to buy to make it habitable for Ketaii. His room is on the second floor, in a cloud walled room, right above the room that Misora and Fuuko share. He has quite a good view from up there! Ryuu's room is out in the garden, he hardly likes being walled in.
Ketaii's Room Items
Snow Bean Bag
Icy Desk
Icy Bed
Icy Sofa
Snowflake Table
Snowflake Rug
Snow Chair
Snow Fridge
Snow Fireplace
Snow Aisha
Recommendations from other Neopians 
"Tsukino_Hikaru is my personal artist. On a personal level, I feel that her artistic potential far surpasses most artists that I know. She really does have a big heart for all her pets. If they were real, I'm sure she would love them just as much. Due to her compassion for pets, that's probably why she's always able to apply her artistic skills to portray her pets in the best way possible light within her drawings."  - _soul_edge_
"I've known tsukino_hikaru for a couple of years now and I'm always amazed at the amount of work she puts into her projects and the quality of her work. She always seems to have something new in the works for her pets. I'm not sure how she manages to do it all, but I do know that she truly cares about all of her pets and tries to give them the best home possible." - arwenpixie
Farewell
Well, that's the end of my application. Hope I didn't bore you with the length of it, but I hope you have the time to read through it, and visit all the links I've given you. I hope you understand I've only done this much because that's how much I'd like to adopt Ketaii. I've never done such a lengthy and thorough application before, and I doubt I will ever do one like this again. So even if in the end you choose someone else, or even choose not to abandon Ketaii, I hope he feels great that someone out there cares for him a lot.