These files are for one of the most popular items in papercrafting recently, the exploding box!!
I've included shapes for both the box and the lid. Cut them out in any size you like, in the cardstock of your choice! Use them as a memorable container for a small gift, or why not create a themed keepsake, decorated with photos and ephemera from a vacation, holiday or wedding? Imagine how touched grandparents would be to receive one of these charming boxes decorated with photos of baby's first year!
Decorate them with patterned papers, stamp on them, or distress them with sandpaper, ink or paint, or ring the changes by tying closed with some stylish ribbon!! Make an extra special box by making a lid for each layer inside!!
This enhanced collection also include 2 extra box templates - pentagonal and hexagonal exploding boxes!
Here are some examples I cut out on the Cricut, click on the photos to see a larger view.
SVG (Cricut/SCAL Version)

Price £1.00 UK





 DXF (Robo-friendly version)

Price £1.00 UK



  JPG (Import into Word then print/cut by hand)

Price £1.00 UK



Note that the dotted lines to show where the pieces need to be folded are shown for illustration only.
see the original post on her blog
!
I've shown boxes with 3 layers inside, but you can have as many or as few as you like! Just cut out the number of pieces you need, one for each layer, and make sure each one is slightly smaller than the one before. The two boxes in my photos were created with 1 lid and 3 layers each, sized at 6x6, 5 3/4 x 5 3/4 and 5 1/2 x 5 1/2 inches.
Instructions for assembly:
1. Cut out a lid and as many box pieces as you need, 1 for each layer. Remember to make each box piece smaller than the last, so that they nest easily inside each other.
2. Score and fold along the dotted lines, then flatten again.
3. Placing the largest piece on the bottom, apply adhesive as shown, and fix the next piece in place, centered on the bottom piece. Continue until you have a stack of box pieces, largest at the bottom, smallest at the top.
4. Fold the lid as shown and adhere tabs in place.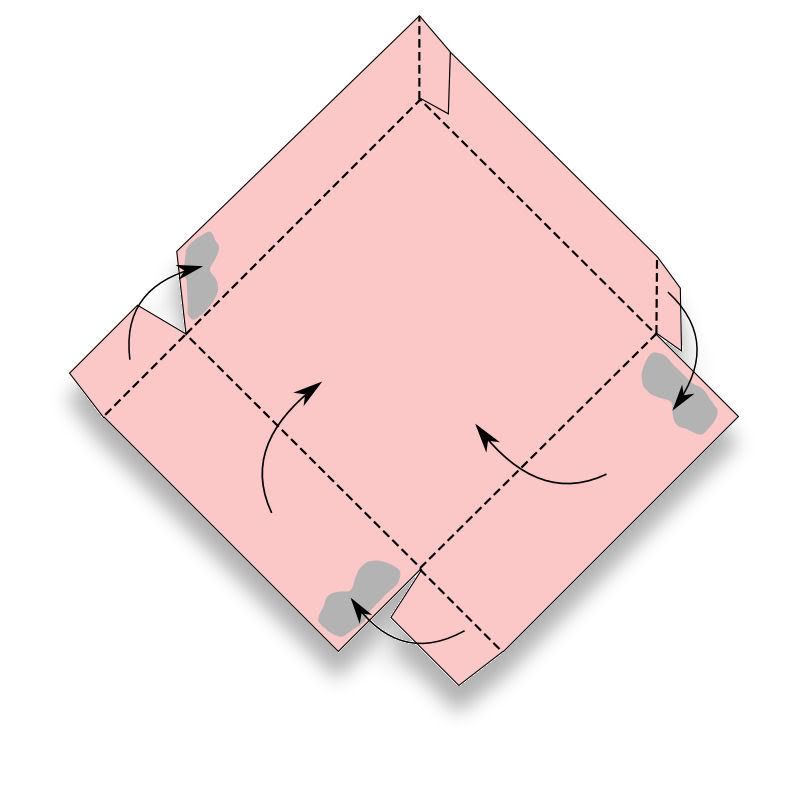 5. Fold up the sides of your box and place the lid on top. You're ready to start decorating and embellishing your exploding box!