Mukesh Ambani, the country's richest man and chairman of Reliance Industries, is understood to have gifted his wife, Nita, a unique, customised, plush corporate jet, on her birthday which was on November 1. The above photo is of Mukesh Ambani's Private Jet interior.
Its cost - a mind-boggling Rs 240 crore-plus. The aircraft, an Airbus 319 (In the above photo), has all the luxury trappings associated with the lifestyle of jet-setting kind such as a sky bar, a master bedroom as well as a bathroom with fancy showers....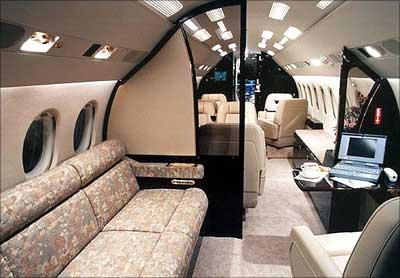 Neeta celebrated her birthday on Thursday, and recieved the gift from her husband, World's richest man and the boss of Reliance Industries! The aircraft arrived at the Delhi Indira Gandhi International airport on thursday, confirming the rumors! Mukesh will now have his office in the sky.
He got the Aircraft specially customized to his personal requirements after he had bought it! It is now reported to have a state of the art business office and cabin management system for games, music, satellite television and wireless communication.
It also has all the luxuries of a home in it, namely a master bedroom, a master lavatory with a range of showers, galleys and a sky bar in the forward lounge complete with mood lighting.
Now, Don't you call that style? Wonder where he's going to park this jet!
Mukesh Ambani offered his Private Jet to Shahrukh Khan
Recently, Mukesh Ambani offered his private jet to bollywood superstar Shahrukh Khan for his trip to Austria for a holiday with his family. Shahrukh Khan left for the Austria along with her wife, Gauri and children, Aryan and Suhana.
Shahrukh Khan was also one of the bollywood star who attended the high profile party thrown by Reliance Head, Mukesh Ambani at Reliance Petro Township in Jamnagar. The other bollywood stars who were also present there includes former bollywood actress Juhi Chawla, Kareena Kapoor etc.
After starting construction of a helipad at his Seawind residence at Cuffe Parade, Reliance Industries Limited chief Mukesh Ambani now wants to build an airport in Raigad district.
Ambani, who has a fleet of private jets including an Airbus 319, is developing the MahaMumbai Special Economic Zone (SEZ) in the district and has identified a site in Uran for the airport.
Although details of the project are not known, an official of the Navi Mumbai SEZ Private Limited, a Reliance Group company, confirmed the development and said the company was examining the feasibility of an airport. "'We are looking at it (an airport) as one of the possibilities. It is in a preliminary stage," the official said, refusing to elaborate.