To be held May 3rd, 2014

at New York City College of Technology

300 Jay Street, Brooklyn, NY 11201


---
We October  17 and 24 -- 
FRC Control system basics.  Mentors/Technical Coaches Only. 
Demo of working mini robot, review of driver station, teleoperated and autonomous mode. Become familiarized with FRC key components, speed controllers and speed control via PWM. Diagram wiring review, overview of network communications and addressing, software stack overview and laptop configuration 6-8pm Alliance Bernstein - 1345 Ave of the Americas.   REGISTER HERE
Sat Oct 20 --  Real Time Computer Programming.  Open to all NYC teams and mentors. An opportunity to  meet old friends, meet new and old mentors, and apply your CRio programming skills on 2012 robots by slightly re-adjusting/ changing programming and playing a mini game. Bring your team and your robot. 10a - 3pm  @ Francis Lewis High School.  
Sat Oct 27 and November 3 -- Chassis Design,  Mechanical and Electrical Systems. Mentors/ Technical Coaches Only. All things technical except Programming.  10a - 3p @ New York City College of Technology - 5th Floor. 
We Nov 7, and 14 - Programming the FRC control system in Java – OPEN to team students and mentors.   Workshop will cover: Runtime and Development Environment, Robot Templates, FRC API and Sensor Basics.  6-8pm @ Alliance Bernstein   
Sat Nov 10, 17 -- Workshops (Bootcamps) for Mentors and Team members – 
Overview of season;  Mechanical, Electrical and Programming systems. 10 to 3pm  NYC Tech College 186 Jay Street Brooklyn.

---
Every Week
Mechatronics Club Meeting
for City Tech Students
Every Thursday at Club Hour 12:45pm to 1:45pm (when school is in session)

Room V-508
---
Summer 2012

July 8, 2012 to August 2, 2012
---
2012
Maker Faire @ NY Hall of Science September 29 & 30, 2012

First Annual RTC (4/28/2012)

The first Annual Robotics Tournament of Chamions (RTC) took place in City Tech's very own Voorhes building. The event was a success and incorporated  various kinds  of engineering and technology skills. There was a huge turn out of participants as well as spectators . The RTC competition was not only an event where the main goal was to win forst place, but an even in which team work, knowledge, and pure fun was incorporated. Many of the students and bystanders were fully involved in the spirit of competition as well as learning new techniques and skills in the technology field. At the end of the competition, the three top winning teams were announced. In third place was City Tech's team "Work hard, Play Hard, Be Hard" which consisted of members Ethan Wong, Alexander Barbaran, Adian Murphy, Fritzpatrick Roque, Binjin Bayat Mokhtan, and Peter Segal. In second place was Queensborough Community College's team "Robo-Mech" which included team members Ryan Rampersad, Luis Solares, Giacomo Parmiren, Carlos Garcia, and David Shokumbl. Finally, the team who received the first place position was  City Tech's " fasTrak_MS" which was advised by Professor Dexter Patrick and included team members Raymond Yap, and Ali Harb. Overall the event was a great success and everyone is enthusiastic to participate in next year's event.


Here are a few images from the events:


City Tech has collaborated with Science Skills Central High School in order to mentor aspiring robotic development students. The team Robee # 1 consists of Science Skills Central High School students Rama Sagna, mechanical engineer, Tiara Mills, industrial engineer, Adrian Ayuso, electrical engineer, and Eduardo Arguello computer engineer. The team's supporting faculty members are City Tech's Dr. Andy Zhang, Dr. Iem Heng, and coach Ivonne Barreras.
---
FTC (3/17/2012 - 3/18/2012)
On April 21st, 2012, New York City College of Technology brought the students from Mechatronics Technology Center (MTC)  to compete in the Cooper Union ASME Competition. This competition entailed 3 engineering design mini-projects.  The 3 projects are: downhill car competition, parachute drop, and tallest freestand tower. The MTC teams had a great time as well as winning two prizes.  We have 6 MTC teams participated in this year Cooper Union ASME Competition.  One of the MTC teams won the 1st place in creativity and design in "downhill car event" .  That was Team#2, and the winning team  members are: Fritzpatrick Rogue, Bijin-Bayat Makhtan, An Lin, and Ethan Wong.  Whereas,  the Team#5 from MTC won 3rd place in the overall ASME Competition.  Team#5 members are: Raymond Yap, Mohammad Faizan Mohsin, and Toluwalope Olaniyan.



Here are a few photos of the Cooper Union ASME Competition and students from City Tech and other colleges:
---


Mini FTC Scrimmage on February 18, 2012 in City Tech
Time: 9:30AM to 3:30PM
Location:

186 Jay Street, 2nd floor Voorhees Cafeteria
Brooklyn, NY 11201
---
Maker Faire (9/17/2011-9/18/2011)
---
2010
Last FRC Mentor Workshop of 2010 (12/18/2010)


It was in the middle of Finals but First wanted to do one more workshop - on December 18!

We did not know what to expect but it turned out to be a full house. These folks would rather learn about robots than do Holiday Shopping. Well, I feel the same way. If only I did not have to study for finals, I would have been there too.


---


Second Bot Accepted to RICC Competition (12/5/2010)
The students submitted a second submission to the RICC competition which was also accepted, and also received a grant to defray build costs. This is the SpiderBot. A testimony to the fine work done at MTC and the advisement of our Professors.
---
Profs. Zhang, Heng, and Zia Present a CUNY I.T. Confrence (12/3/2010)
On December 3, 2010 Profs Zhang and Heng presented the work of the Mechatronics Technology Center at City Tech. The reported that the information was very well received.

CUNY's 9th Annual I.T. Conference 2010 at John Jay College,
Profs. Zhang, Heng, Berri and Zia present:

"New Approach to Teaching Product Design that Breaks the Disciplinary Boundaries"
---
We Make the RICC (11/23/2010)

The Robotic Innovation Conference and Competition (RICC)  has accepted a team from The Mechatronics Technology Center at City Tech for the 2011 competition.. 
Plus, we have qualified for a grant to help cover materials expenses.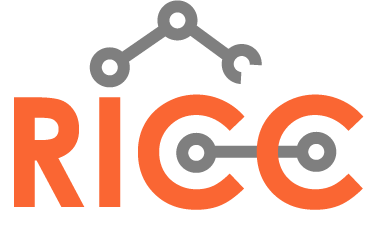 ---
NSF Support Mechatronics Technology Center (11/19/2010)
The Mechatronics Technology Center at City Tech, The New York City College of Technology received support from the National Science Foundation under its Advanced Technology Education. The core concept is to teach engineering in a hands-on environment through the vehicle of Mechatronics and Robotics. These technology are becoming vital in our developing high technology society. With this support City Tech will be at the cutting edge of technology and technology education.
---

National Instruments Visits CIty Tech (11/11/2010)


At club hour on Thursday, Nov. 11, 2010 we were treated to a visit from Jeff Steel of National Instruments makers of some of the most advanced robot and instrumentation control gear out there (which we have in our labs, by the way). Jeff presented a really helpful seminar on the LabView software for creating useful interfaces.

You never know what you might learn at club hour, its always a good idea to stop by. Room V-508, Thursdays at 1pm, or come and say "hi" anytime.
---
NSF ATE Conference, Washington DC (10/26/2010)



City Tech Goes to Washington
 In late October, several of our Professors attended the Advanced Technical Education conference in Washington DC. Several students went along to exhibit the robots and devices developed at City Tech. We made a very positive impression on the people attending the conference. In fact, we were photographed for Community College Times. Click to see the photo and read the article.



I

n the booth at the conference from left Prof. A. Zhang, Peter Segal, Carla Araile, Anthony Francis, Maria Vanegas, Prof. I. Heng. 
Also attending but not in photo: Prof. S. Berri, and Prof. F. Zia.

 

Mechatronics Technology Center

Receives support from:

The National Science Foundation

Mechatronics At City Tech:

A Collaborative Effort of the

Mechanical Engineering Technology and

Computer Engineering Technology Depts.
Mechatronics Will Change Your World.
---