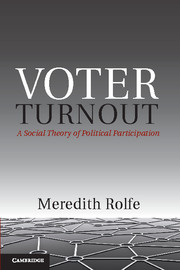 Voter Turnout
develops and empirically tests a social theory of political participation. It overturns prior understandings of why some people (such as college-degree holders, churchgoers, and citizens in national rather than local elections) vote more often than others. The book shows that the standard demographic variables are not proxies for variation in the individual costs and benefits of participation, but for systematic variation in the patterns of social ties between potential voters. Potential voters who move in larger social circles, particularly those including politicians and other mobilizing actors, have more access to the flurry of electoral activity prodding citizens to vote and increasing political discussion. Treating voting as a socially-defined practice instead of as an individual choice over personal payoffs, a social theory of participation is derived from a mathematical model with behavioral foundations that is empirically calibrated and tested using multiple methods and data sources.
Recipient of the 2013 Best Book in Political Networks Award


NOW available in Paperback from Cambridge University Press

Published Reviews:
Rolfe lays out a social theory of voter turnout that at every step is justified by and challenges data, making it both an admirably coherent account of how social interactions affect aggregate turnout and a superb case study not only in detailing the empirical implications of theoretical models, but also the use of empirics to inform theoretical development. David Siegel, Duke University, Journal of Politics (Jan. 2013)

Rolfe provides a convincing and paradigm-shifting account of the decision to vote and, in so doing, invites further empirical tests of the social theory of turnout. Lauren Ratliff, Ohio State University, Nodes & Edges, July 2013 
Recommended for upper-level undergraduate and graduate courses in Choice. Request an exam copy from Cambridge University Press.

From the Back of the Book:

This is an important book that reframes how social scientists should think about political choice. Rolfe offers a powerful new theoretical framework as well as compelling empirical results that reveal the extent to which political participation is imbedded in a dense web of social relationships. This book will set in motion of cottage industry of new research. Steven J. Rosenstone, Chancellor, Minnesota State Colleges and Universities


In Voter Turnout, Rolfe presents a dramatically new and different account of one of the most studied of political behaviors, turnout. Her explanation is of turnout as a social act. She develops a rigorous theory what she calls conditional decision making, that is decision making that varies in precise ways when embedded in different networks. She is able to derive interesting implications of this theory and contrast it with the more usual account, what she would call unconditional decision making. And she is able to test this account, among other things providing a very different explanation of education and turnout. This is a theoretically innovative and rigorous explanation that all must take seriously. John Aldrich, Duke UniversityVoter Turnout is an important book that brings a fresh perspective to the study of the most critical act of democratic participation. It will surely push political scientists to think about the act of voting in new ways. Adam J. Berinsky, Massachusetts Institute of Technology

Rolfe has produced a fascinating account of the socially contingent basis for voter turnout. She joins a rich tradition, with roots that extend at least to the early 20th century work of Tingsten, demonstrating that the decision to vote is not simply an individualistic act, but rather a decision that is contingent on the behavior of others. Her argument treats turnout as a social dilemma in which individuals are more likely to participate if their associates participate. Thus the individual-level correlates of participation are, in fact, imperfect proxies for social structural variables - in particular, for the properties of the social networks within which individuals are located. Finally, and just as important, she convincingly demonstrates the relevance of social networks and social structure for alternative micro theories of individual behavior. Robert Huckfeldt, University of California, Davis