A few of the Region 4 guys and fellow HSTA riders promoted going along to an event called STOC in Eureka Springs Arkansas.  Having a goal for this season to ride in Missouri and this added an opportunity to ride in Arkansas, so I arranged to go along.  Planed with routes from many sources and assembled by the other guys, all I had to do was prep-right, show up and follow the tail lights.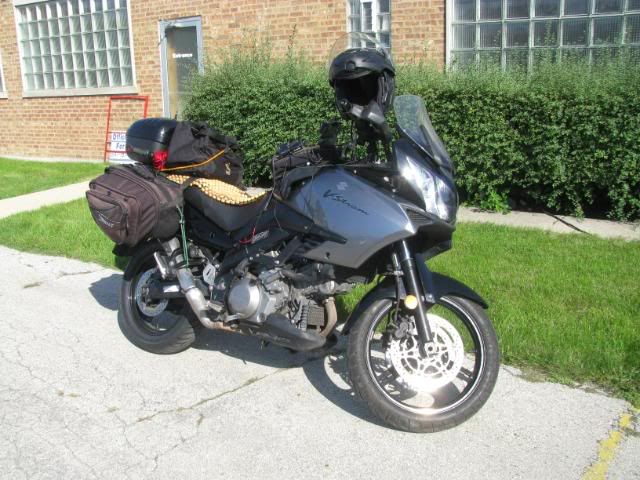 New rubber front and rear, recently tuned up, new fork oil and front brake pads, my V-Strom was road ready.
This trip would also be the first with the group being able to communicate while riding.
All four of us have added a GMRS radio, Denny at Farkle Mania had set up the other three systems using a com system and Bluetooth.  Denny and Bill would be able to answer there phone along with music and the radio.
Chuck had the music and radio on his system.
I went with the headset for the GMRS on my right ear and one ear bud in the other ear hooked into the iPod.
The added dimension of the being able to talk was an advantage, many times and in several ways.
The only big issue was with my set up, I had the only modular helmet and the wind noise at speed made understanding me a problem.
I was able to get a message across when important but I could not add to a conversation. 
Basic Plan
Thursday meeting for lunch, David Denny and Bill,
Ride the interstate down to St. Louis and then to Park Hills for the night where Chuck would join us

Friday follow rt 160 across the bottom of Missouri past Branson and then south to Eureka Springs
Saturday Ride the area, Denny assembled a 300 mile loop combing several sources
Sunday Head for home with an open plan on how to get there.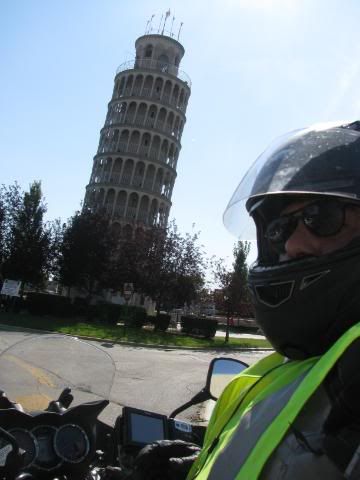 On the way to meet at the Buona Beef in Itasca, I passed the Leaning Tower in Niles Illinois.  Wanting to be a good example of a Sport-Tourer I thought a stop for the 1st photo-op was presenting itself so I pulled in. 
This information is from http://www.roadsideamerica.com/story/2092 
The Leaning Tower is a perennial stop for Roadsiders in the Chicago area, and only 15 minutes northeast of O'Hare Intl. Airport (and 10 minutes from the World's First Franchised McDonald's in Des Plaines). The Leaning Tower of Niles is, of course, a replica of Italy's Leaning Tower of Pisa. It is roughly half-sized -- 94 feet, vs. the authentic's 177 feet, and leans about 7'4" off plum (vs. Pisa's 15 foot tilt). But that hardly matters when you're standing across the street taking a picture. And the savings in overseas airfare and reduced risk of injury is worth considering.
America's Leaning Tower was built in 1934 (600 years after the original), and for many years has stood in front of the Tower YMCA. It was a utility tower, made from steel, concrete and precast stone, designed to store water. A plaque at its base says it was built to honor the outstanding scientist Galileo Galilei.
The plaza around the tower was renovated in the late 1990s, adding a fountain and other touches.
Bill's wife joined us for lunch and to send us off with well wish.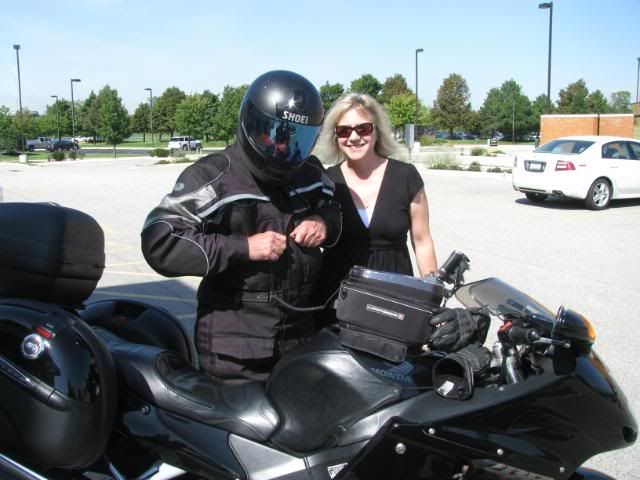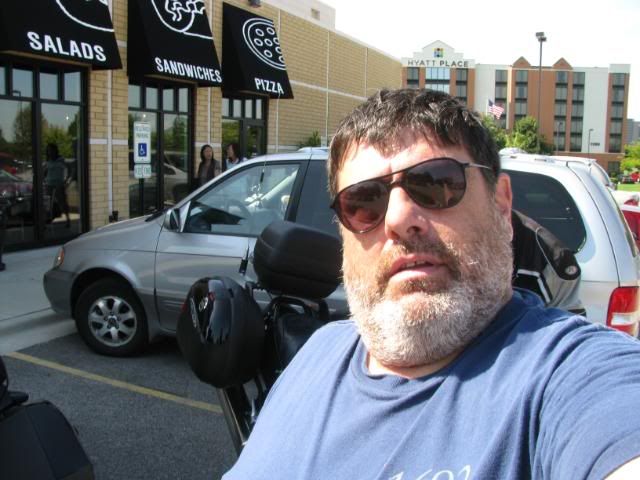 Tollways and interstate had traffic but we moved along and were able to stay together with no problems.  Wanting to avoid the rush hour in ST. Louis, Denny planned to stop in Springfield, Illinois for dinner.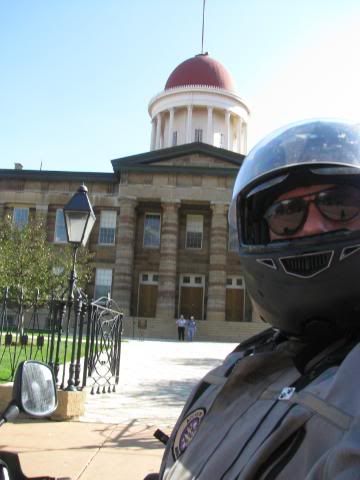 Springfield is Denny's boyhood home and capital of the State of Illinois.  He took the opportunity to see his sister.   We stopped for a photo op at the Old State Capital, where both Lincoln and O'Bama announced there candidacy for President. 
Denny's sister took us to D'Arcy's Pint a local treasure.  This is an Irish Pub and restaurant that is famous for there Pub Grub and a dish called a Horseshoe.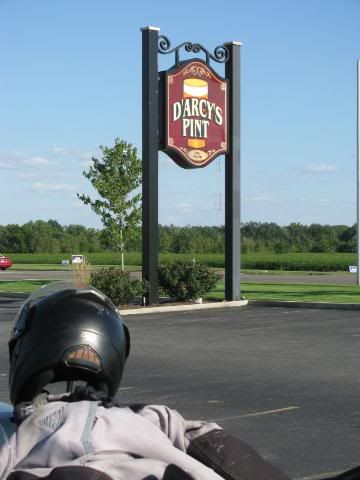 Plate, add bread, two hamburgers, pile on the crinkle cut fries and drench on a special cheese sauce.  Affectionately called a heart-attack on a plate.  While this was what Bill and Denny went for, I could not pass on the corned beef and cabbage.  
Dinner finished and bellies full we get back on 55 towards St. Louis.   I wish there was a place to stop on the interstate to photograph the St. Louis sky-line it is one of the recognizable ones.  We did pull off and head towards the Arch for a quick photo-op and then continued on to Park Hills.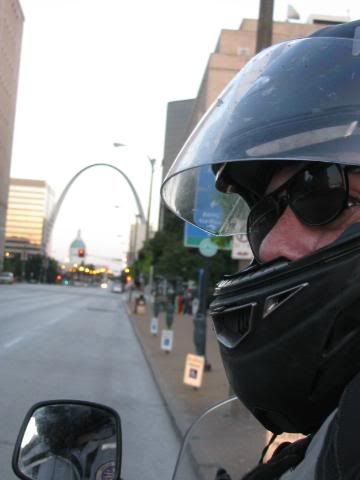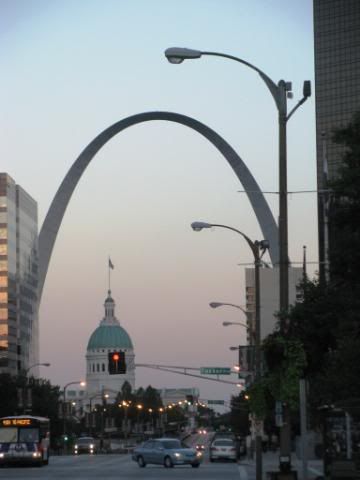 The last section of two-lane was very dark but Denny and Bill had been to Rosener's before so we found it easily.
Chuck headed down to Park Hills early, as he went to have his cruise control installed by Smitty of the FJRForum.
This gentleman specializes in adding them to FJR's.  Chuck said he lived up to his reputation, and was very impressed with how the guy worked, describing it as military like or like a surgeon, each step had the tools, parts and consumable ready when needed. He was particularly impressed that there were no wasted movements.  Chuck rolled back in as we were unpacking at Rosener's. 
Rosener's is a motel restaurant and conference place.  It is also the home of the Friend's of Freddy, an annual event that the other guys will be going back to in a couple of weeks.
First morning out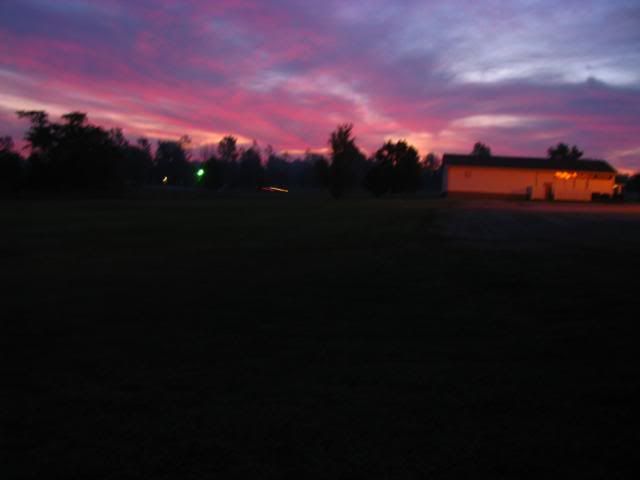 They offer a basic but nice breakfast buffet…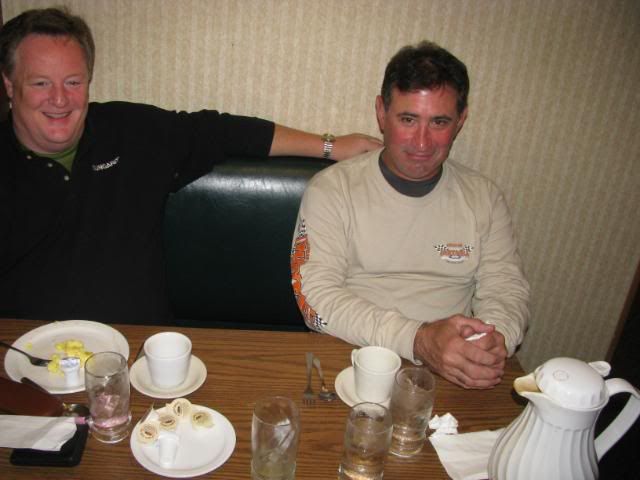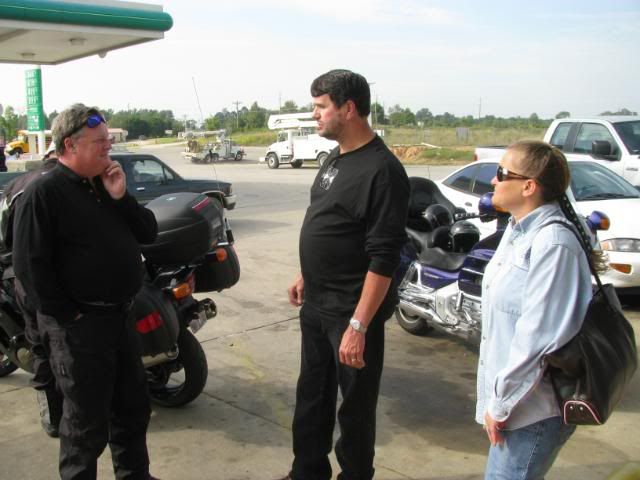 We headed off into moist foggy conditions that burned off very quickly.  Stopping for gas right before 160, a local rider offered up some advice and a story.
Click to hear the tale..http://video.google.com/videoplay?docid=-7566045114514224302&hl=en 
160 has been recommended very highly, it winds through the Mark Twain National Forest.
Offering almost every type of curve, twist and bend, 160 did not disappoint.
I did notice a new type of road kill I have not seen before, there where dead armadillos every where.
I did not see any living ones but I was very aware to be looking for them.
After miles and hours we had our eyes open for a "Feasting On Asphalt" type place.  This was a one of the places where the GMRS came in handy.  The restraunt was sited, mentioned and agreed on within moments. We could pull in without the hassle of stopping up the road and discussing should we go back or go on. 
We pulled into TJ's, which was much nicer on the inside.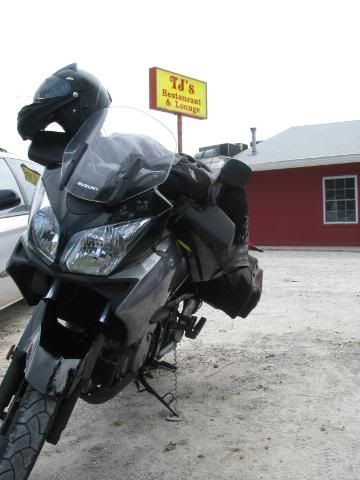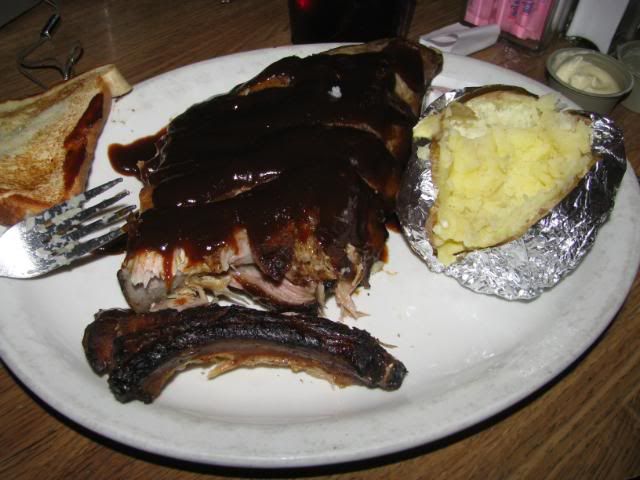 Bill and I had the ribs, I asked what kind a sauce it was and the waitress said it was TJ's secret. He would not share what's in it, but was a delicious with a slightly sweet and smokey flavor.
Chuck enjoyed the smoked brisket and Denny had a great looking BBQ sandwich.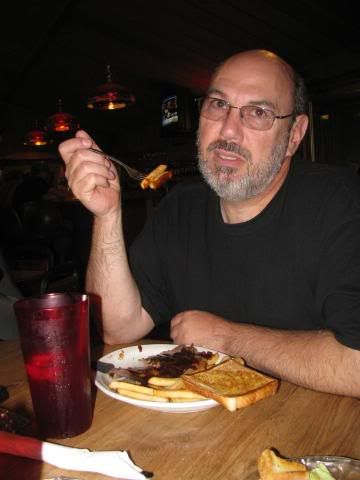 Back on the bikes we continue west and before we got to Branson, Chuck pointed out a photo-op and again the GMRS allowed this to happen without confusion or anybody having to turn around.  My first time riding in Missouri and I was very impressed and enjoyed many sights like these.
Avoiding Branson we went around "West Branson" and encountered the only real traffic delay of the entire trip.  But before too long we crossed into Arkansas and shortly we entered Eureka Springs, AR.
Eureka Springs is in the northwest corner of the state, and was sought out by people seeking the health benefits of the local springs.  Becoming a town in February of 1880, the entire town is on the National Register of Historic Places.  The narrow streets wind and twist and would be harder in a car than on a bike.  The town is more artsy than tourist trap. 
 We made our way to the Country Mountain Inn, the host of NatSTOC & TexSTOC, a combined event put on by the ST-Owners forum.  There was also another gathering of Valkyrie owners basing themselves here as well.  Catering to the two wheeled crowd this motel had a bike wash set up, as well as rags to wipe down the dew in the morning.  A fire circle to gather around at night, swimming pool and hot tub also went along with clean well appointed rooms.  I thought they were very reasonable at $59.00 a night for being in a resort town.
After unpacking and meeting a bunch of new riders doing the parking lot tire kick and happy hour thing, I believe it was owner of the motel who recommended the "Road House" about a 1/2 mile up the road. 
The Road House was motorcycle themed (basic cruiser knick knacks adorn the place) and good food.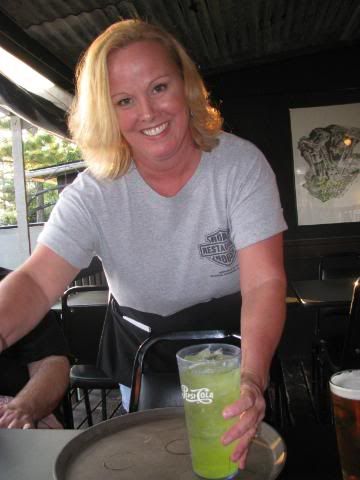 We split some appetizers and ordered a variety of menu items.
Bill and I had the Rib eye; mine was cooked to perfection, slightly seasoned and juicy to go along with large. 
Denny opted for the ribs and it looked like he enjoyed cleaning every bone.  
Chuck savored a house specialty meat loaf.
The deserts were rich and as tasty as they look.
After dinner we returned to the motel to hear more riding and road stories around the fire. The rider that I found coming from the longest distance was from SE Florida.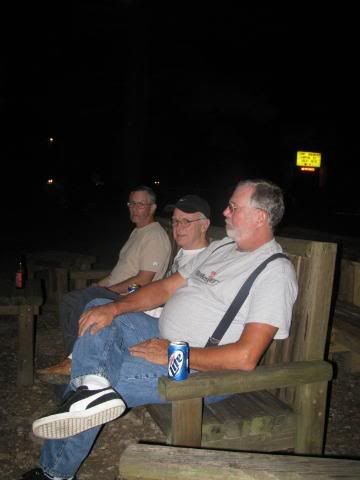 After discussing the morning plans we headed to bed.
I awoke a little before six the next morning and went out to raise my wind screen.
Denny thought more wind protection would increase my legibility on the GMRS radio.
(It did help a little)
While making the adjustment I was approached by one of the other riders out for a morning stroll while listening to a NPR science show podcast.
He also rides a V-Strom and being shorter than myself he wanted to know if I would be interested in swapping saddles.
He saw that I had the stock seat and knew it was a 1 1/2' shorter than the custom Sergeant seat that came with his previously owned DL-1000.
  We ag
reed to swap for the day and give each other the chance to swap back should either of us want too.
Well within an hour I was hoping he would want to keep the swap. I was very comfortable and I only noticed the height difference, it does not get in the way and I can still get my boots flat on the ground.
At this point the only motorcycle issue any of us had become apparent.  As noted the V-Strom is a very tall bike and I need to step up on the peg to mount the bike, especially when I have the bike loaded.  Well with my weight and the items I have carried over the miles since I purchased the bike, finally took a toll.  The hole that the pivot bolt rides in has become misshaped.  So much that the bike was sitting at a precarious angle and I was afraid it was going to either fall over or the side stand was going to brake. 
 I asked Denny if I was foolish for going off and riding instead of finding a welder to fill and drill the whole again to fix the problem.  His response was, "fuck it, just ride."
I did take his advice but also I found a brick to use under the stand and hold the bike upright.  On Saturday the guys were nice enough to pick up the brick and secure under the bungi net after each stop.   
Sunday I duck taped half the brick to a rubber tie down strap, now tethered I could be independent again.  The fix will happen at home.
Continuing with the day we took advantage of the continental breakfast and headed out.  Like the previous morning it was foggy and moisture appeared on wind screen as we rode off.  Today would take us to the Ozark National Forest, the Pig Trail and many other great roads. (if you contact me I will share the gps file)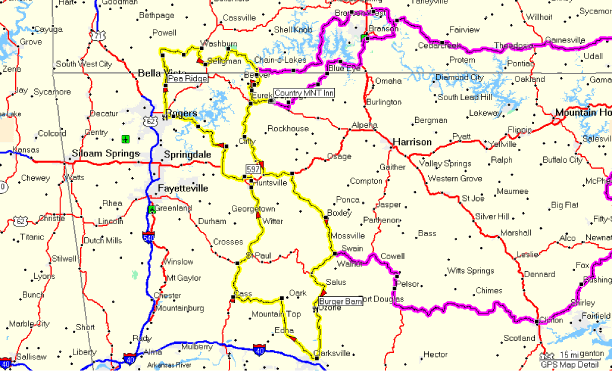 We all agreed with Bill when he mentioned that Arkansas has the cleanest roads, as in beautiful pavement and no gravel.  There where several places that had very technical tight twists, switch backing up and down the mountain side.  However for the most part the roads allowed me to ride to the fullest of what I can do (not the bike). Riding as fast as I dared, I could keep my pace. No brakes going into the corners and accelerating all the way threw and into the next one.  One nice thing about the roads we rode is you can see threw past you're stopping sight, I found very few blind corners.  Add in the fantastic scenery and you end up with an exhilarating day. 
One of the waypoints on the route was conveniently located when lunch time rolled around is called the Burger Barn.  This place is a barn shaped shack right on the road side.  With outdoor seating in a back yard atmosphere, they had a huge menu to choose from, cat fish, tacos and of course a variety burgers are a few of the offerings.
 Are we not the wacky ones......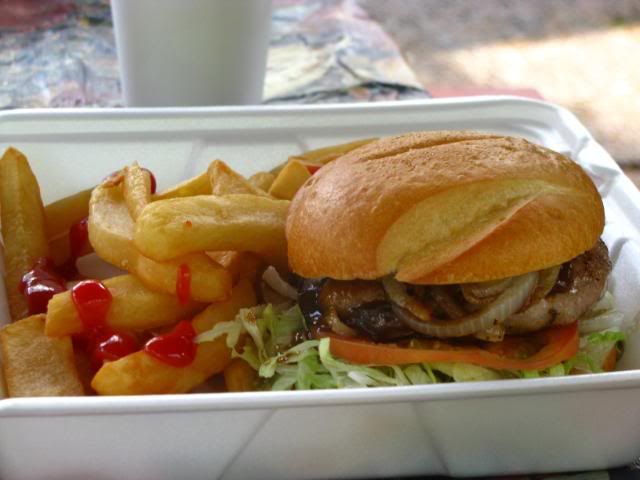 I considered cat fish but I thought with a name like the Burger Barn I should opt for a burger choice.
  A
good choice it was, fresh and meaty but not over the top large and on a simple but good bun.
 Everyone appreciated every bite.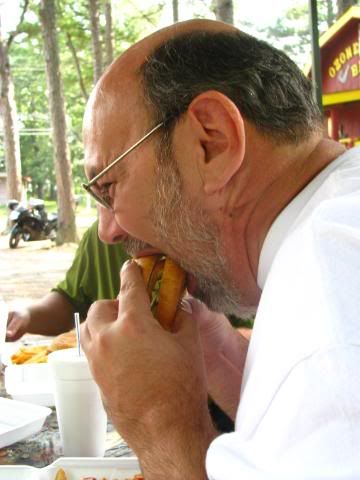 After lunch we were flying up the road and came to a straight stretch that took us back towards the mountains, it was one of those places where the sky just seems much larger than other places. This place just called for us to stop and enjoy the openness for a while.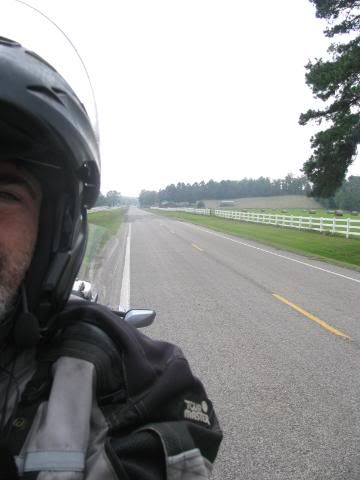 While 300 miles were planned we ended up with 230 miles for the day, which brought us back to the host motel to take advantage of the pool for a while. 
Bill
Denny - Chuck
David

From here we cooked up the plan to visit the town and be tourists for the evening.  It was at this time that my Texas V-Strom seat swapping buddy walked back over to see how I like the Sergeant Seat.  I gave him a big smile and two thumbs up. To which he responded with his own smile and said he really liked being able to reach the ground without leaning over.  Thus the deal was solidified which a hand shake.  
We rode into town with no gear or helmets, I forgot how much fun and free feeling it was to go without any gear.  We walked around looking in windows and then went to dinner in The Basin Park Hotel.  This hotel is built on a hill, so that people can enter from ground level at all eight stories.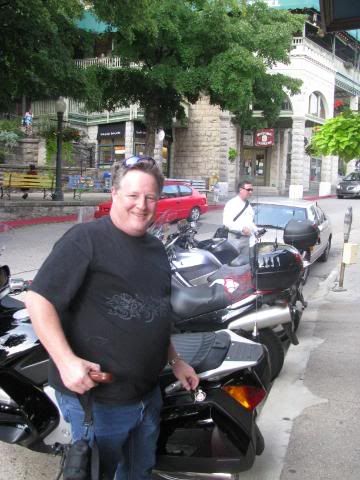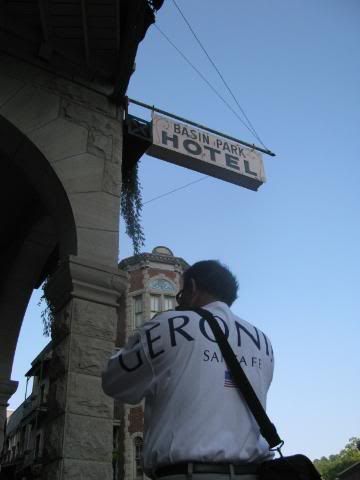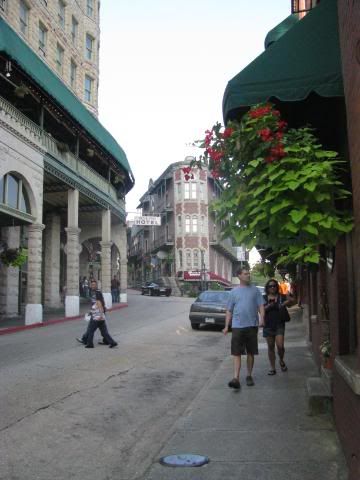 We took a table on the balcony over looking the street.
A guitar player entertained as we had another wonderful meal.  I had the Cajun Crab cakes and a Sirloin Salad; the others had pasta, a sandwich and a chicken Caesar salad.  
We saw several wedding parties being photographed on the street. 
After dinner we walked up the street looking for some souvenirs.  One of the many shops made salt water taffy on an old machine. click to view a little clip.
We skipped the group dinner and door prizes, opting to work on the ride home route and get ready to leave in the morning.