How Today's Entrepreneurs Use Continuous Innovation to Create Radically Successful Businesses
Eric Ries
Eric Ries is the creator of the Lean Startup methodology and the author of the popular entrepreneurship blog Startup Lessons Learned. He previously co-founded and served as Chief Technology Officer of IMVU. In 2007, BusinessWeek named Ries one of the Best Young Entrepreneurs of Tech and in 2009 he was honored with a TechFellow award in the category of Engineering Leadership. He serves on the advisory board of a number of technology startups, and has worked as a consultant to a number of startups, companies, and venture capital firms. In 2010, he became an Entrepreneur-in-Residence at Harvard Business School.
Source Startup Lessons Learned
Lean Start-up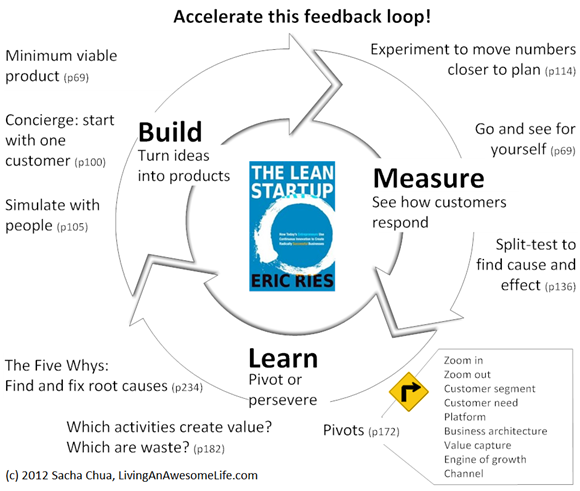 "Lean Startup" is a methodology for developing businesses and products first proposed in 2011 by Eric Ries. Based on his previous experience working in several US startups, Ries claims that startups can shorten their product development cycles by adopting a combination of business-hypothesis-driven experimentation, iterative product releases, and what he calls "validated learning". Ries' overall claim is that if startups invest their time into iteratively building products or services to meet the needs of early customer
s, they can reduce the market risks and sidestep the need for large amounts of initial project funding and expensive product launches and failures. Originally developed in 2008 by Eric Ries with high-tech companies in mind, the lean startup philosophy has since been expanded to apply to any individual, team, or company looking to introduce new products or services into the market. Today, the lean startup's popularity has grown outside of its Silicon Valley birthplace and has spread throughout the world, in large part due to the success of Ries' bestselling book, The Lean Startup: How Today's Entrepreneurs Use Continuous Innovation to Create Radically Successful Businesses.
Source Wikipedia
Additional Resources: