Downloadable Reports
Located at the bottom of he page.
Florida Department of Health Cafeteria Inspection Report

Florida Department of Health Vending Machine Sanitation Report

Cafeteria Operation Permit

Emergency Preparedness Manual attached to the bottom of this page.

Hurricane Shelter info attached to the bottom of this page.

Emergency Evacuation Locator Map attached to the bottom of this page.

Emergency Evacuation info attached to the bottom of this page.
---
Senior Parents:
BRIGHT FUTURES SCHOLARSHIP
Don't forget to have your students complete the application for Florida Bright Futures. It could mean money savings for college.
---
FAFSA.ORG
GET HELP PAYING FOR COLLEGE
Free or Reduced lunch? Qualify for PELL Grant
Federal Deadline
Online applications must be submitted by midnight Central Time, June 30, 2018.
Any corrections or updates must be submitted by midnight Central Time, September 15, 2018.
State Deadline
Florida - May 15, 
2017
 (date processed)
College Deadline
Check with the college(s) you are interested in attending. You may also want to ask your college about its definition of an application deadline - whether it is the date the college receives your FAFSA, or the date your FAFSA is processed.
---
Monarch Families:

 Regular student attendance is important for student learning and progress throughout the school year.   The state's financial support for schools is also directly linked to student attendance. Absenteeism hurts our students and hurts our schools. When students are absent they miss out on learning opportunities, can fall behind academically and our schools lose funding.
Please do not hesitate to contact Ross Lopatin at 754-322-1400.
Thank you for supporting your child's education.
---
Introducing the latest Broward County Public Schools mobile app!
New features especially for parents.
Parent Registration Information
Registration is required for parents to gain personalized access
---
Free or Reduced-Meals


PARENTS:  Effective October 5, 2016, your child(ren) must pay for breakfast and lunch unless you complete an application for Free or Reduced Meal Benefits and it is accepted by September 20, 2016.  Your family income is used to decide if your child(ren) will receive free or reduced price meals.  Information you give us is safe and is only used to determine your child's eligibility for this benefit.  Please call the school office or 754-321-0250 Food and Nutrition Benefits with any questions.  Please submit your application on line at www.myschoolapps.com.  
Recipients are have other benefits: Free/reduced SAT testing, ACT testing vouchers, qualify for PELL Grants, $9.95 per month Comcast internet service, college application fee waivers, and more.

---
Anti-Bullying Training
---
Dating Violence Parent/Caregiver Training
---
Monarch 754-322-1400



---
SAC/SAF School Advisory Meetings
SCHOOL ADVISORY COUNCIL
SCHOOL ADVISORY FORUM
MEETING DATES 2017-2018
The School Advisory Council & Forum will meet at 4:00 pm Media Center
---
Zika Virus Information and Frequently Asked Questions
Attachment at the bottom of the page.
http://www.cdc.gov/zika/schools.html
---
Attendance Policy Information
ALL COMPULSORY AGE STUDENTS ARE REQUIRED TO ATTEND SCHOOL EVERY DAY OF THE 180-DAY SCHOOL YEAR OR THE EQUIVALENT ON AN HOURLY BASIS PURSUANT TO THE STATE BOARD OF EDUCATION. PARENTS OF CHILDREN OF COMPULSORY SCHOOL AGE ARE RESPONSIBLE FOR THEIR CHILD'S DAILY SCHOOL ATTENDANCE. BECAUSE POOR ACADEMIC PERFORMANCE IS ASSOCIATED WITH NONATTENDANCE, SCHOOLS WILL RESPOND IN A TIMELY MANNER TO PREVENT THE DEVELOPMENT OF PATTERNS OF NON-ATTENDANCE WHICH MAY INDICATE EARLY SIGNS OF TRUANCY. SCHOOLS WILL COLLABORATE WITH APPROPRIATE LOCAL AND STATE AGENCIES THAT ARE INVOLVED IN TRUANCY PREVENTION, INTERVENTION, AND JUDICIAL ACTION.
ADDITIONAL INFORMATION RELATED TO ATTENDANCE CAN ALSO BE FOUND IN THE CURRENT EDITION OF THE CODE OF STUDENT CONDUCT APPROVED, AS SCHOOL BOARD POLICY.

---
EARLY SIGN-OUTS
1. No students shall be released within the final 30 minutes of the school day unless the principal/designee determines it is an emergency.
2. All schools will establish procedures for early release that ensure that all students are treated consistently.
3. Excessive early sign-outs will be addressed on a case-by-case basis to determine if there is a pattern of non-attendance. Non-attendance for instructional activities is established by tardiness, early-sign-outs, or absences for all or any part of the day.
4. Unless excused under the provisions of this policy, accumulated early sign-outs will be recorded as unexcused absences. (F.S. 1003.02 (1) (b))
---
Student Code of Conduct
Parents and students, on July 1, 2015 the 2015-16 Code of Student Conduct Handbook will be posted on Broward Schools' website at http://browardschools.com/codeofconduct. Parents and students may also access the Code of Student Conduct Handbook through BEEP Portal or use their smartphones to scan the Quick Response Code (QRC) on any of the Code Book posters displayed throughout the school's campus.

 
---
Immunization Information
Click here to access information on what immunizations are required for schools, and where to get them.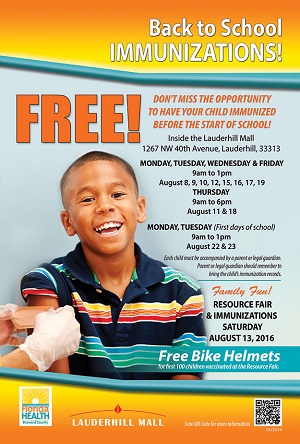 ---
Access to Medicaid Information
---
Student Insurance Plans
Click here for more information.
Student athletes, please check with your coach or the Athletic Director for more information as to which insurance is required for you to participate in sports for Monarch and Broward County Schools
---
Information for Free/Reduced Lunch
---
Student access to Pinnacle Gradebook
Students
Student login should be:
yourstudentnumber@my.browardschools.com
Password: capital P + 2 digit month + / + 2 digit day + / + 4 digit year of birthdate.
Example:  You were born on March 20th 1999.  The password would be P03/20/1999
Please remember the P must be capital and slashes must be included between the month/day/year


---
Microsoft Office 365 for Free
for all Broward Schools students.
Click here for more information...
Get a complete version of the latest Microsoft Office from the link posted
above, to use for as long as you're a student at a Broward County school.
You may even install it up to five PCs ro Macs and on other mobile devices.
Please note: To get the software, you must follow the instructions from the above link.
The flyer states you can get it at the school, but that is not accurate. All the information
you need to download and install is on the website link above.
---
Clear Up Those Obligations

Check Virtual Counselor for obligations.
Need to clear obligations to partipate in:
Athletics, Homecoming Dance, Grad Bash, Prom, Graduation Activities, and other senior activities.
Don't wait until the last minute...
Look through your room for textbooks or library books and return them the first week of school.
(Be sure text books have your name and teacher in them so you get credit.)
To pay off any obligations, go online...