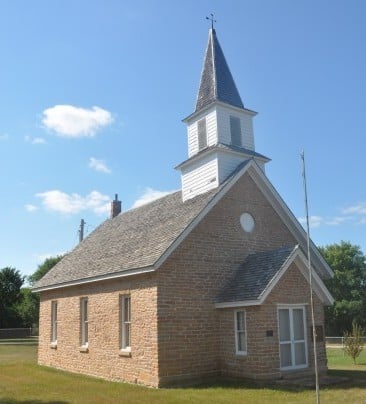 Built in 1859, listed on the National Register of Historic Places in 1982. It is one of the three oldest German Methodist congregations in Minnesota. It closed as a church in 1952. It then traded ownership, and is now owned by the LeSueur County Historical Society, and they use it to house artifacts. Visitors are welcome to tour the church; self guided tour brochures are available at the Ottawa Town Hall Kiosk year round.
   The church is also one of seven native limestone buildings left in the village and is listed with all seven others on the National Registry of Historic Places and are also on the list of Minnesota's Ten Most Endangered Properties. 
Contact Info:
Address: 
39024 Whittier St., 
Ottawa, MN 56058
On the Minnesota Scenic Byway;  Five Miles South of Le Sueur and seven miles North of St. Peter off of Highway 99 on County Rd 23 (Ottawa Rd).
Phone: 507-665-2501 or 507-665-6698 (Le Sueur chamber)
Email: julieb@lesueurchamber.org
Hours:
May 8, 2013 - September 4, 2013
Open by Appointment.
Admission:
Photo: http://www.southernminn.com/le_center_leader/news/article_a4bfbb6c-3266-5913-8e24-26cf47dfbca1.html