My adventures in Camera Collecting started roughly around 1981, when I befriended a co-worker (it was actually my boss), who was into photography and collecting. At that time I only had a Russian SLR, the ill famed Zenit E, which had moments of working properly. Upon moving to Phoenix, Arizona I started being interested in 'fixing' that Zenit and making it work properly. Little did I know that I was going to perform surgery on that camera and that I was also going to have a pretty good number of parts left over. That did it! I decided at that point that I was going to attempt any further repairs and restorations the right way, first by reading and then by experimenting on cheap cameras.
My very first major purchase was a Graflex D, a huge SLR camera using the 4x5 format. It had a working focal plane and mirror assembly but had no lens. Next, a German camera, a Voigtländer Vitomatic II, which would have good moments, pretty much like the Zenit. I decided to open it up and see what the problem was. The sight of its innards made me put it back as it was before and not touch it until I had a better understanding of its fine mechanics and optics. A few moths later I found a similar camera, a broken Vitomatic II. Joy, oh joy!... That's when my first repair took place.
I took both cameras apart, very carefully, placing each piece on a piece of paper showing a rough sketch of its location and position. I determined through trial and error what was making the first Vitomatic not work properly, which was a bent lever. I replaced it with the lever from the broken one and voilà, the camera worked beautifully. Also replaced the rangefinder with the one from the broken camera, being that it was cleaner and appeared newer. After calibrating the rangefinder I closed it up and ran a BW film through it. I was amazed at the quality and sharpness of the pictures that came out. Not one frame being out of focus or improperly exposed! Now, that was a camera! Unfortunately I sold it to a friend, he used it a lot and I believe he is still using it.
And so, my interest in collecting, repairing and restoring cameras was born!
=============================================================
To start with, one of the rarest American made cameras, the KODAK EKTRA, made in the early 1940s, when the Leicas were hard to come by due to the ongoing WWII. The most amazing feature of this camera was the removable back, which allowed for changing different types of film in mid roll. Each camera was hand machined and fit with its own lens, for each camera body and its accompanying lenses had the same serial number. Unfortunately, the price tag was very high for these times and not many of them were sold. There were only about 2,600 of them made, many which suffered from shutter failure. I happened to find this entire kit in one little town in Arizona and everything worked as it should, the camera displaying only very minor signs of usage. This is an older Black and White picture of the entire kit minus the original leather case. This kit was, unfortunately, sold soon after I found it and I have always regretted it...
====================================================
Here are a few of my other collected cameras:
The EXAKTA  B, made in Germany around mid 1930s, was the very first successfully marketed SLR. The honor of being the very first (35mm) SLR goes to SPORT, a Russian camera made at the GOMZ Optical Manufacturing Plant.
This EXAKTA  B though takes 127 film, which is no longer readily available.
The ROBOT II by Berning, a very successful manufacturer, uses 35mm film loaded in two cartridges and works by ways of a spring loaded motor, which is the big, round knob atop the camera. It takes approx. 20 photos on a fully loaded motor and the size of the negatives is 24 by 24 millimeters. It was ideal for spy work and it was also used by the Luftwaffe during the WWII.
And one of the rarer Robots, the Luftwaffen-Eigentum which has recently found its way into my ever growing collection.
---===---
This CONTAX III of early 1940 made by Zeiss is one of my most prized cameras. It was taken from one of the German U-boats, has a Kriegsmarine serial number on the camera body and the lens. Despite its advanced age, the camera works flawlessly.
The ERNEMANN  HEAG I, a wonderfully preserved folding camera from 1911, one of the few variations of the HEAG camera. ERNEMANN was later absorbed by ZEISS.
The Canon SII with the side rail flash, one of the many Leica copies from Japan, has been touted by many as a 'better and improved Leica' due to a better viewfinder/rangefinder design. I purchased this camera with its entire outfit from someone who was trying to get into Point and Shoot cameras of the 1980s. Needless to say, I paid up how much they asked for it, a whopping $20.00!!
A Konica 35 by Konishiroku, Japan. Yet another attempt at copying the famous Leicas, the Konica 35 had non interchangeable lens and enjoyed great popularity due to its simple, yet efficient design.
A Ricoh 35, another clone of the Leica system, a simple and efficient rangefinder camera, non interchangeable lens and with a Rapid Winder on the bottom plate (see folded lever under the lens) which enabled the picture taker to rapidly wind and take pictures instead of using the usual winding knob atop of the camera.
The Famous LEICAS
A Leica IIIA, screw mount camera, the beginning of a new era in 35mm photography. Since 1929, when they first came into use, Leicas have been tremendously appreciated by photographers and collectors alike. Built to last, they survived decades of picture taking with minimal down time, as they are fairly easy to repair. This particular camera is from the mid to late 1930s and it's in perfect working condition despite its advanced age.
The Leica IIIf RD (which stands for Red Dial) is considered to be an almost 'perfect' 35mm screw mount camera, that honor being reserved for its successor, the Leica IIIg. It's a piece of art, no matter if you like to shoot pictures with it or just to look at it. Featured here with the Imarect finder, an accessory used to find the correct framing of the subject for different lenses.
And finally...
The Leica M3 DS (which stands for Double Stroke), considered by many as being the absolute best 35mm ever produced by Leica. Featured on the left with a meter and 50/2 Summicron (collapsible) and on the right with same meter and 35/4 Summaron (with original Leitz Orange Filter).
 The 35mm Summaron comes with the 'bug eyes', an adaptor which enables the photographer to correctly frame the subject at this particular focal length.
Double Stroke Leicas were especially designed with the more fragile film of yesteryear in mind, two winding strokes actually putting less stress on the film than one alone.
LATEST:  I re-covered the body of this M3 with original Leica Vulcanite and now it looks like new!
==========================
A NEW ADDITION! One of my most prized collectible cameras, a mint Nikon S3 with an equally mint Nikkor 50/1.4, 135/3.5 and 135mm viewfinder. All are in mint condition. As a matter of fact, the S3 hasn't seen more than 5-6 rolls of film since was born.  Pictures to follow...
==========================
Subminiature cameras
The famous 'James Bond' camera, the Minox B. Taking special film in special cartridges, the Minox has enjoyed tremendous popularity along the years. Initially made in former Latvia (Riga), the Minox factory was moved to Germany, headed by its inventor, Mr. Walter Zapp. The Minox cameras are still produced and there are some digital cameras as well. 
Not to be outdone, the Japanese makers came up with the little gem known as Steky B. Made by Riken, of Ricoh fame, the Steky cameras used a 16mm paperbacked film loaded in special cassettes. It also featured interchangeable lenses.
Fabulous Compact Folders...
The Super Ikonta series from Carl Zeiss, to the left is Super Ikonta A for 6x4.5cm and to the right is Super Ikonta B for 6x6cm. Both have the famous and sharp Tessar lens on and are regarded as some of the best compact Medium Format cameras since they easily fit inside a jacket's pocket.
    Look at their incredibly designed rangefinders, which were an 'inspiration' to many other camera makers. Although not rare by all means, these cameras are much wanted by anyone wanting to carry a medium format camera in their coat pocket!
And I have completed the Super Ikonta collection with a Super Ikonta C, which has the 6x9 format. Pictures to follow...
The well designed Rodenstock Clarovid, a great compact 6x9cm rangefinder, with a very sharp Rodenstock Trinar Anastigmat. Nowadays the 6x9 folding rangefinders are much sought after,especially for their compact size. Think of it as one of the most pocketable larger size negative medium format cameras.
The KW Etui, from the early 1930s, an incredibly compact Large Format camera, it could fold down to a thickness seen below. The KW manufacturer later made the Praktica cameras, after the WWII.
--o0o-- 
 The Hoh & Hahne folding camera was made in Leipzig, Germany before WWII. Not a very commonly found camera due to the fact that H&H manufactured mainly large reproduction cameras.
And my lucky day on eBay brought me a beautiful ebonized British camera, the Sanderson. One of the most versatile cameras, due to the extra movements, the Sanderson was sought after by many a photographer pre WWII.
It was advertised as a Kodak camera and not many bidders were active. Well, the Kodak name was on the lens, a beautiful 101mm Kodak, coated and with an excellent shutter. Everything is working and in top shape.
My luck...                                           

============================================


A new addition! The Curt Bentzin Klapp Reflex 9x12, strut folder:

When folded, it's a pretty compact camera! Equipped with a 15cm/3.5 Carl Zeiss Triotar, pretty fast lens for those times! Focal plane shutter, foldable mirror for compactness purposes.





Some oddities...
The Zorkii 4, Special Anniversary celebrating "50 Years of Soviet Power" was issued in 1967 and is one of the more sought after Russian cameras. Resembling a Leica screw mount, the Zorkii 4 seemed rugged like a tank yet it had a very fragile shutter which could break down if not cocked the right way. So, for you Russian camera users, make sure you wind the film first and only after that you set the shutter speed, otherwise you'll say "Dosfidanie!" (Good Bye) to your camera.
The Mamyiaflex is another work horse TLR used by wedding photographers (for the somewhat softer quality of pictures) and by the specialized photographers that do close up work. One of the best TLRs ever made, it had interchangeable lenses and many other accessories.
The Yashicamat, another wonderful performer, in this instance with the rarer Lumaxar lens, later named Yashinon.  A great lens by all means, Tessar design (4 elements) and by many is thought to be in reality a German lens, possibly made by Carl Zeiss. The later Yashica SLR cameras were built with the Contax lens mount.
When I purchased this camera I put it next to a Rolleiflex 3.5E with Planar and looked through the waist level finder. To my big surprise, Yashica is much, much clearer and lets a whole lot more light through. See for yourself below. 
--o0o--
A technological idea taken too far! The ANSCO Automatic Reflex was an over engineered TLR produced by the ANSCO American Company at that time. Nice focusing mechanism but way too many levers to actuate the shutter! Nevertheless, it's a wonderful camera to hold and work.
===========================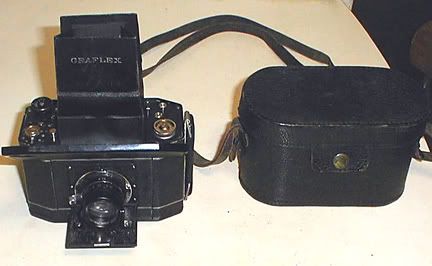 The Graflex National Series II has a shape that looks more like a box of candies, but when opened is all business. An interesting medium format camera with interchangeable lenses and using the popular 120 size film, the Graflex National Series II was made between 1934 and 1941.  Its precursor, the National Series I was made from 1933 to 1935 and did not have interchangeable lenses. Regular lens is a 75/3.5 B&L Tessar and there is a telephoto lens also available, the 140/6.3 B&L.
-=o0o=-
An oddity by all means, this camera was built pre 1919, since it bears only the name NETTEL and not CONTESSA NETEL. A strut folding 4x6 (roughly) camera, number 120, which makes it a 10x15cm size, sporting a 180mm/4.5 Zeiss Tessar lens, this camera has a focal plane shutter in working condition with speed dials (image on the right) and knobs that can adjust the shutter to variouos speeds. The back viewing plate (ground glass with unfolding viewing leather hood) can be removed to accommodate a film plate or glass plate magazine. I don't have that accessory so, if you read this and have a spare one, give me an e-mail and let me know how much you would want for it. The bellows on this baby are as immaculate as they can be for a camera that is approaching 100 years in age. 
 ============================================
A British Beauty! Houghton's Ensignette model 2C Deluxe. Unusual strut folding camera, allows for compactness and can be ready by just extending
the struts.
 ...and some niceties:
The Rollei SL35 E, without any doubt one of the classiest German SLR cameras, has enjoyed an unqualified appeal for its ergonomics, lenses and sturdiness. Together with the Contax SLR system, these two makers were like the Mercedes/BMW amongst serious SLR users. Pictured here is a mint model of the SL35 E with a mint 50/1.8 Planar lens by Carl Zeiss. 
Of course, many will object at not including the Leica R system amogst the two most popular German SLRs but let's be honest, this is about the 'most popular' German SLRs and not about the priciest.
Throughout the years, the Contax and the Rollei SLRs have outsold the Leica R system on a consistent basis. Unfortunately, the Rollei SLRs went out of production in the early 80s.
 --o0o--
A RARE ONE!
The Hasselblad 1600F, a wonder that started the wonders of the Hasselblad cameras. Made between 1948 and 1952, the 1600F series were the first medium format focal plane SLRs marketed by the Swedish camera maker Victor Hasselblad. It later evolved into the 1000F, also a focal plane shutter and then to the 500 series, all with leaf shutters incorporated in their lenses. What makes this camera very interesting is the fact that it belonged to one of America's Aeronautical Engineering pioneers, Mr. Paul G. Zimmermann. This camera was made in 1950 and has the Kodak Ektar 80/2.8 as its normal lens.
ON REPAIRING CAMERAS
So, you want to 'fix' a camera! Well, don't do what I did with my first camera, the Russian Zenit. I will walk you through a few elementary steps of preparing for a camera disassembling and reassembling. But first things first...
Check all the camera repair shops first. Here are a few that do specialized work on your older cameras:
Flutot's_Camera_Repair  for Large Format shutters and lenses. They are first rate!
Tempe_Camera_Repair  for all your older cameras' needs.
=============================================
I am starting a simple Large Format

mechanical shutter cleaning service.

Having acquired a specialized cleaner

(safe for all mechanical shutters made

out of metal), I successfully cleaned some

of the dirtiest LF shutters I had home

and they were all restored to their

original functions.  


I will clean your shutter for $25.00 plus

$10.00 postage and handling (higher for 
Canada, Alaska, Hawaii and/or 
international).  Turnaround is very fast, 
the cleaning being done the very next day
after receiving the shutter and shipping it
back within 24 hours of the cleaning.  


Please e-mail at mitica100@gmail.com 
for more information.
------------------------------------------------------------------------------------------


Now, if you really, really want to take a chance and repair the camera on your own, click on this Next_Page for a few tips.
Please come back later, since this page is a work in progress...
MUSIC!!
One day I took out my ZETA Strados electric violin, plugged it into a whole bunch of effects such as distortion and talk, then into the amplifier. This is what came out, my apologies to Deep Purple:
 http://www.tindeck.com/audio/my/246fn