Camp Minsi 2017 - Save the Dates!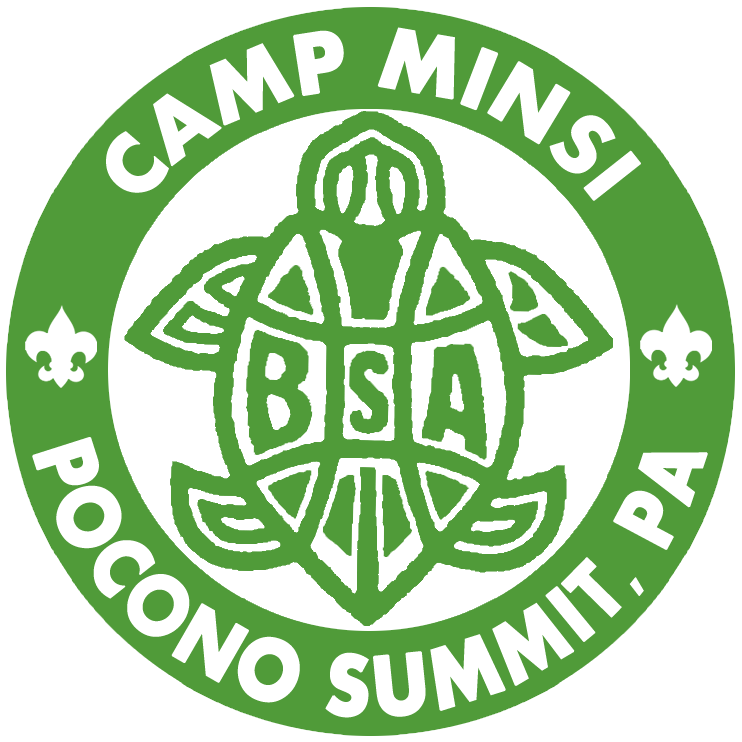 We had such a great time in 2016 at Camp Minsi Scout Reservation in
Pocono Summit, PA we are going back in 2017. We will be attending the week of July 9th - July 15th, 2017. Our goal is 100% participation in 2017.

Camp Minsi, located in the heart of the Poconos, has been serving Scouts for more than 65 years. This in council summer camp encompasses more than 1,200 acres of Pennsylvanian woodlands and the 314-acre Stillwater Lake. For directions click here. To check out the camp in things the boys do watch this video.



Trail-to-Adventure/Dan Beard

: Camp Minsi has a nationally accredited program for first year campers. The program includes a 3 hour morning or afternoon session working on the basic Scout skills and advancement. The other part of the day is reserved for merit badges and activities. The

2017 Trail to Adventure Program Guide offers more info...

Merit Badges

: Camp Minsi offers more than 45 merit badges with some great waterfront opportunities. The

2017 Merit Badge List and Program Guide.

is available. Also utilize the

Merit Badge Schedule

&

Scheduling Worksheet

when selecting your MBs.

You should be working on your prerequisites as soon as you submit your merit badge schedule!

Please register for at least one Eagle Required badge.

We ask you to register for a minimum of 3 merit badges and encourage you to register for more. Email your list to Mr. Schriffert or turn in Minsi's

Scheduling Worksheet

with your selections and times by

Sunday, April 23rd

@ 6:30 PM.  Please pay attention to prerequisites and additional costs where applicable.

Afternoon Adventures

: There are a variety of afternoon opportunities for older Scouts (and some for the younger ones). No trip to Minsi is complete without a Troop Muck Hike. Bring clothes that you can throw away, but it is a lot of fun. See a video about the

Afternoon Adventures

and

view the brochure

or watch a video about the famous

Muck Hike. Remember a Scout is Clean, but not afraid to get dirty!

Activities: Other activities are also available in the afternoon or evening based on a weekly calendar published at the beginning of the week. Check out this video of Troop 319 playing "Slip and Slide Kickball".

Pricing: Pricing will remain the same for 2017. To receive early bird pricing you must have a non-refundable $100 deposit in by 02/19/2017:
Rate Type*             
Full Payment to Troop   Per Scout      
- Early Bird Discount:  
    

   

04/03/2017              $380.00 - Need $100 deposit by 02/19/17

- Regular Camp Rate:    

    

 

05/22/2017              $400.00
- Webelos II Camp Rate:    

 

05/22/2017             
$380.00
*Additional fees may be necessary for certain merit badges (rifle/shotgun ammo, leather kits, basketry kits, etc.). These are paid in cash or check directly to Camp Minsi from the Scout.
Troop Payment Schedule:
To make it easier for the early bird payments we have divided them up across a 3 month period based on the Minsi Due dates. The balance may be paid at any time prior to
the due dates above.
- $100 –

February 19

, 2017
- $140 –
March 19
, 2017
   

    

   




    

    

    

- $140 –

April 03

, 2017
Troop T-Shirts:
The Troop will purchase Class B T-Shirts for Scouts attending Summer Camp. Additional shirts are available for other Scouts, family and friends.
See the details
.

Medical Forms:
Download and print the "required" Medial Form
.
All Scouts and Leaders must have the Medical Form completed annually by a doctor for camp and for Troop records.
Your form may not expire during camp. Please have this form completed and turned in to Tony
by
Sunday, June 18
th
at 6:30 pm
. This includes any Parent attending camp.
    - We will need a separate list of all medications, dosage and schedules when you turn in your medical form.
           - I will need original documents for both of the above and "copy" of each for the Troop.


Food Allergies and Religious Dietary Needs:
If your son has
any
food allergies, please complete the
2017 Food Allergy form
and turn it in to Tony
by

Sunday, June 18

th at 6:30 pm along with your Medical Forms. Here is Camp Minsi's page on allergies and contact information to discuss your concerns with the chef or
Lisa Empfield the Camp Director. Each boy with food allergies will meet with the chef during our tour on the first day and discuss their allergy.

Troop Photos: Troop pictures will be taken during check-in. You have the option of purchasing 5x7 or 8x10 color prints. Please send an email to Tony by 06/24/17 with the picture size and quantity you would like to order. I will need to complete the Troop Picture Order Form prior to check-in. Cash or check payments accepted on or before 07/09/17 prior to leaving for camp. Pictures will be delivered to the unit leader at the end of the week. 
 5x7 photos: 
 8x10 photos:
1 picture:      

$9.00


2-4 pictures: $7.00 each

1 picture:      $12.00
2-4 pictures: $10.00 each

Picnic Opportunity: On July 9th you will have the opportunity to purchase a picnic dinner and eat with the Troop at Camp Minsi.
Camp Minsi holds a family night on Sunday evenings. Family members are invited to stay for a picnic dinner at 5:45PM. Cost is $10.00 per person (children under 6 are $4.00)
View and download the Troop 319 Summer Camp Pictures: