Hi everybody,
I am creating a mod which will be some sort of a colony game simulator with similar mechanics to one of the best economic strategy game Anno 1602.
GENERAL FEATURES
different kinds of workers (lumberjack, miner, farmer, builder, delivery man)

basic units - citizens. They occupy jobs and become workers

different level of tools impacts the efficiency of work

when the tool wears out, worker searches his chest for the kind of tool he uses (don't forget to supply lumberjack with axes and miner with pickaxe and shovel)

You can change worker's current tool by dropping it next to them

workers doesn't work during night

workers tell you why they're not working when you get close to them

build houses, decrease taxes and make food for your people to improve their mood

keep workers at work by paying them their salary

use golden scepter on the people to ask them to follow you

use caliper to measure the distance between houses

use bank to make and convert money

use town hall to see overall information about You colony, tips, balance and more

configure mod options in a .property file
Town Hall
REQUIRED TO PLACE OTHER CHESTS
---
COLONY PEOPLE
Settlers
Uses: 
Produces: Money (taxes)
Men occupy worker chests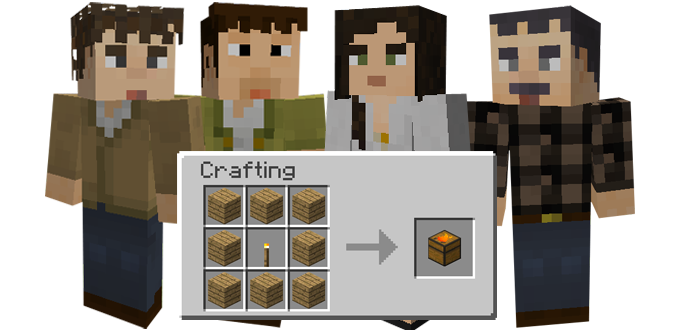 Lumberjack
Video tutorial
Uses: 
 , 
 , Money (salary)
Produces: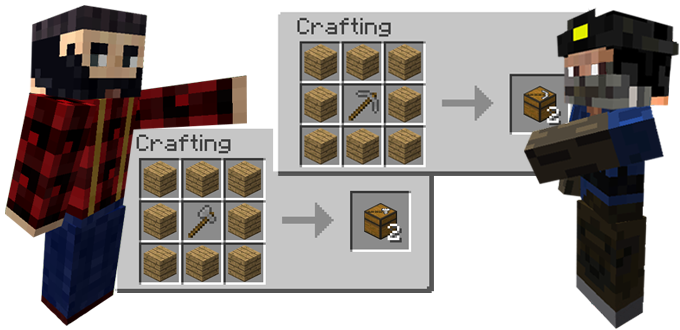 Delivery man
Video tutorial
Uses: Money (salary)
Transfers goods from workers chests to his chest (warehouse)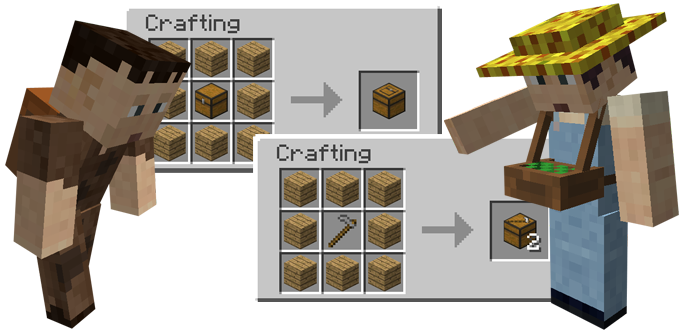 Farmer
Uses: 
 , 
 , 
 , Money (salary)
Produces: 
Builder
Uses: Money (salary), Building materials
Builds houses
Bank
Sells ingots, exchanges coins
---
To start a new colony you need to place Town Hall chest first as you cannot place other chest without it.

The settlers will spawn over time, but they need to settle, thus you need to place a citizen's chest near the town hall (up to 100 blocks by default). You don't need to build a hut yet.

When the settler have their home chests, they will start to look for a worker chest. It's essential to have a builder to build houses, so place the builders chest first somewhere. The settler should go there and convert to builder npc.

To build a house you need to open the specified chest, go to information tab and click build house causing a sign to appear over the chest. This should cause the builder to start working on hut.

To make the people happier you need to fullfill their needings. Right now it's mostly food (you can check what they need in citizen's chest), so you need to put bread, meat etc. into their chests. People are happier when you build them a house.

Settlers will advance to citizens (and nobles and aristocrats) when they are 'very happy' and have specified building level (you can upgrade houses by clicking the 'build house' button again).

You can raise/decrease taxes in town hall chest in 'Actions' section. The less taxes the more happy people are.
EXTRAS
Planned/In progress features:
other professions (blacksmith, fisherman etc.)

tax/salary system done

improved pathfinding done

building system done

adventurers
Current Dev Team:
lacozzini

rscott6666

Vlad11

Heho

eastborn
Wiki:
MineColony Wiki
Share your knowledge about MineColony with others by creating wiki articles. We would really appreciate this, as we have not so much time due to our real live but without a documentation no new people can use this mod without problems. Actually we really need people with wiki experience there so please if you have some work a little bit on it.
Used Block Id's:
MinerBlockID=97
WarehouseBlockID=98
FarmerBlockID=99
BankBlockID=100
BuilderBlockID=101
CitizenBlockID=102
TownHallBlockID=103
MarketBlockID=104
LumberjackBlockID=105
Conflicts
Known to work with:
TooManyItems

Singleplayercomands

Zan's Minimap*

Millénaire

Planes*

Spawner GUI*
(* = not approved for 1.5_1)
Not working with:
PlasticCraft (workaround: either edit the property files of plasticCraft or mineColony. See below: you can copy the code block, create a MineColony.properties file and past it in there. then change the 100 to a value between 112 and 128 which are not in use)

WildGrass

PistonMod(add a file called pistondv in minecraft/mods/ and change the id to a not used one[momentary MineColony those are 101 to 127])
Thanks To:
MCP Team (MCP)

Risugami (ModLoader)

Arbr (Miner skin)

godsblade (early skins)

everyone working on the wiki
---
HOW TO INSTALL
INSTRUCTIONS FOR INSTALLING WITHOUT TFC MOD MANAGER
Windows:
1. Install ModLoader Beta 1.6
2. Delete META-INF from the minecraft.jar
3. Copy MineColony 0.6rc10.zip file (inside 'Put into mods folder' folder) into Your .minecraft/mods folder.
4. Copy floorplans folder into Your resources folder
5. Copy MineColony.properties file into Your .minecraft folder