Retire these Words
Tomorrow is the 10th anniversary of September 11th. Not knowing what else to do people will treat it like it's a late summer replay of the 4th of July, which means flag bumper stickers, flag streamers, flag t-shirts, and maybe a few, you know, flags. We're going to hear a lot of talk. About how things "changed" after 9/11, how the world is different, and about how this whole disaster was brough on our shoulders because people in other places hate our freedom.
I know it won't do any good, but can we get through this day without talking about freedom? Or liberty? Or patriotism? Not that these aren't important, but the same way a pro sports player's number gets retired at the end of their term, how about we do the same for these words? Put them behind glass where they can be studied, scrutinized, but not mucked around with by late season amateurs.
The last decade since 9/11 has seen these words put to grotesque use. "Freedom fries," as if potatoes deep-fried in vegetable oil has anything to do with freedom. The "Patriot Act" has nothing to do with patriotism. This is just base pavlovian pandering at its worst, and it's destroying the very symbols that truly make this country great.
So do whatever you do tomorrow. Remember. Forget. Grieve. Pray. Just don't say the word "freedom," because that's not what 9/11 was about. Put the word away, someplace safe, for when we really need it.
On the Bookshelf
Drive by James Sallis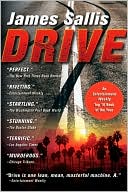 All Driver does is drive. Duh. James Sallis vodka-shot of a novella, now a soon-to-be-released movie with Ryan Gosling, got lots of press when it debuted in 2005. A lot of the good feelings are warrented. Sallis' narration is headlong and engaging. The problem is that
Drive
doesn't possess a whole lot of story nuance. Bad guys try to kill Driver. Driver kills bad guys. The end.
Drive
may be a fast gear read, but it's stuck in that gear the entire way.
B