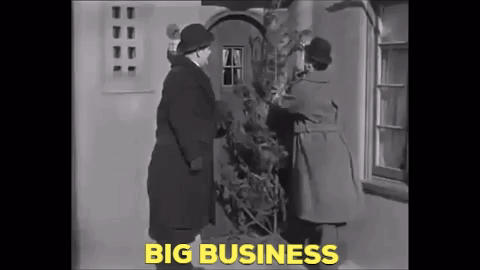 N.B. Voting closed on 2/11/2019. 
We had already lined up two seasonal shorts for the Christmas meeting (
Big Business and Below Zero)
 and that meant members had the opportunity to help choose the rest of the programme.
Nominations were collected at  meetings and by email and the results were collated so that the most popular entries could be considered for inclusion in our festive programme. 
The final programme has worked out with four shorts which will give us time for the Christmas buffet, the Sons song, the raffle and maybe another diversion or two ... 
In total we received 41 nominations - many thanks to those who took part.
The Final Tally ...



Nominated film
Total votes
Laughing Gravy
5
County Hospital
5
Towed in A Hole
5
Helpmates
3
Wrong Again
3
L-H Murder Case
3
Babes in Toyland
2
Me and My Pal
2
The Music Box
2
A Chump at Oxford
1
Blotto
1
Bonnie Scotland
1
Chickens Come Home
1
Habeus Corpus
1
Oliver the 8th
1
Swiss Miss
1
The Chimp
1
The Fixer Uppers
1
Busy Bodies
1
Men o' War

 

1


This gave us 3 films with 5 votes and, by eliminating the most recently shown of the three (Laughing Gravy which we had last Christmas) we would have County Hospital (last shown 25/3/17) and Towed in a Hole (last shown 2/9/17). This would give an excellent programme consisting of:
Thanks again to all who participated. We will try to include your other suggestions in our forthcoming meetings.