"In the years following the war (WWI), as countries struggled to repair their economies, democracy in the form of widening suffrage and social legislation spread in the western European countries and  in North America.
The new eastern states undertook programs of modernization, and peasant parties became the greatest force of democracy. Germany faced challenges from radicals and the increasing economic pressures brought by war damages and reparations.In Asia, anti-imperialist, nationalist movements gained momentum, while Japan shocked the world with its own imperialist ambitions.
         The prosperity of the 1920s was brought to a halt as an agricultural depression and the crash of the New York stock exchange triggered a worldwide depression. The international system of cooperation disintegrated in the face of increasing economic nationalism.
The Great Depression reinforced democratic government in many places, but alarmingly, the 1930s saw the rise of dictatorships in places where democratic institutions had not been firmly rooted. 
In the United States, FDR's New Deal transformed the relationship between the government and the economy, as Keynesian economics laid the foundations of the welfare state.
In Britain, the Labour party doubled its representation, but a coalition government was only able to ameliorate the effects of the economic slump.
France experienced the rise of fascism, but Popular Front coalitions of the left checked fascism's strength.
In Italy and Germany, however, fascism and Nazism took dictatorship to new levels. Racism, violence, the repression of individual liberties, the corporative state, and historic nationalism characterized the new totalitarianism, which would soon lead Europe into war.
Dissatisfaction with the settlement of World War I led to renewed conflict in 1939.  Nazi and fascist aggression initially met with apathy, but the fall of France mobilized Britain and later the U.S.A, along with other allies, in a struggle against the forces of totalitarianism.
    

  


    

    

 The war spread outside the boundaries of Europe to include colonized areas in Asia and Africa as Japan joined the Axis powers.

    

    

 


    

   

The conflict took on global proportions and paved the way for the strengthening of anti-colonial forces after the war.


    

The scale of destruction rivaled World War I, but the Nazi's final solution and the use of the atomic bomb set this conflict apart by the end of the war."
   TEXT FROM:   http://highered.mcgraw-hill.com/sites/0073106925/student_view0/
MAPS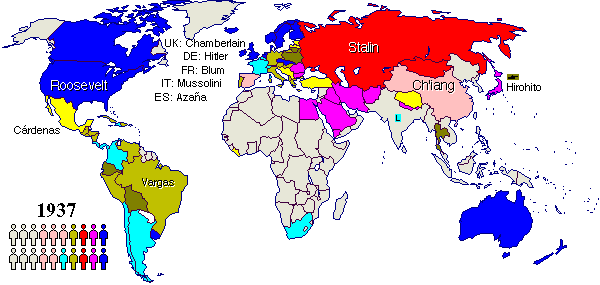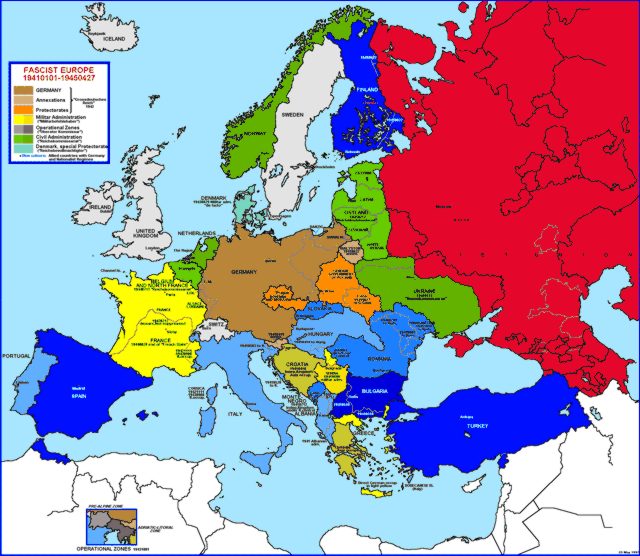 Government in the 1930s
Fascist Europe Map (1941-1945)
TIMELINES
         Hitler's rise to Power -- Test
         How Hitler consolidated power 1933-1934 -- Test
        Economic policies and benefits -- Test 
         The structures of control in the Nazi state -- Test
         Women in the Nazi state -- Test