News & Announcements
Check out music news and articles that caught my eye!
Subscribe to posts
(re) discovering Washington DC through the eyes of your children

The Penguin Song will make your Bambinos waddle and shake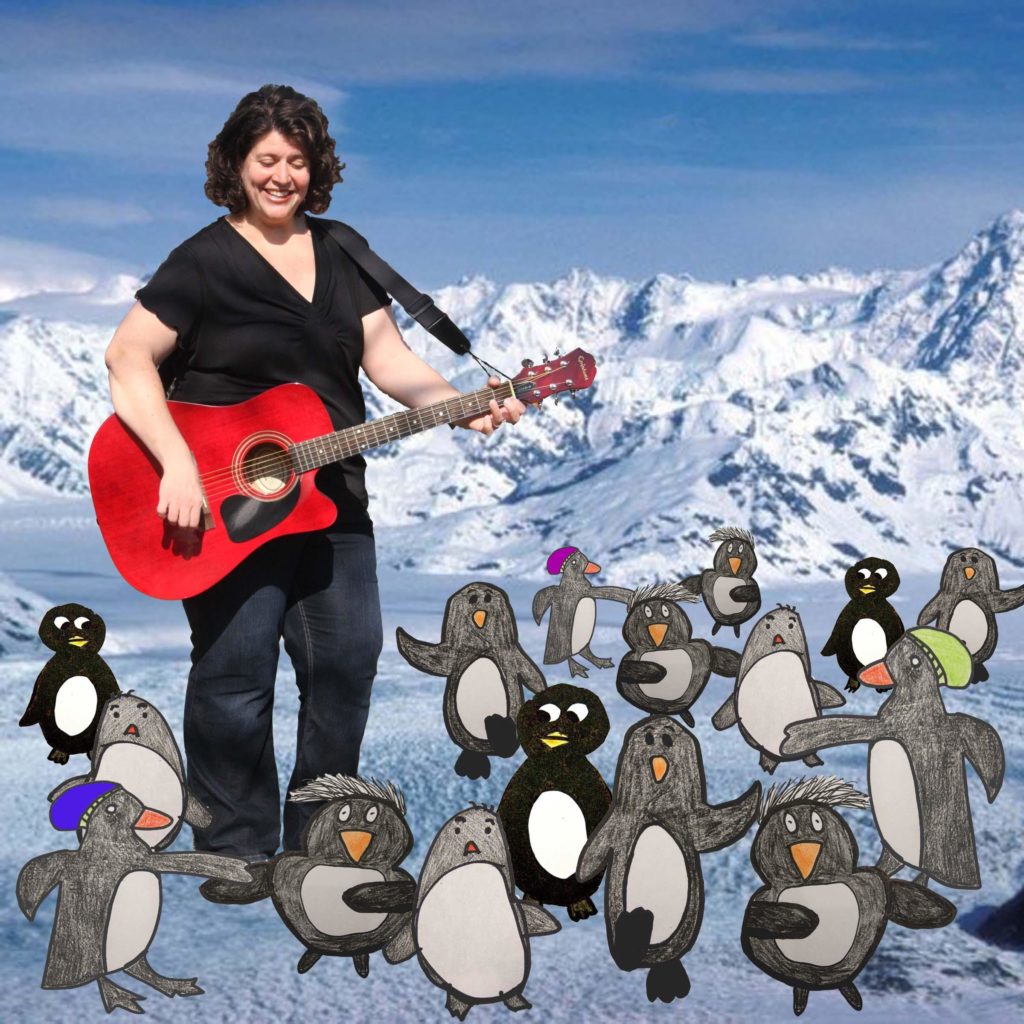 Now that winter is upon us, let's embrace the cold like our black & white feathered friends from Antarctica do! Here's the World Premiere of "The Penguin Song," a favorite track from Marsha Goodman-Wood's 2012 Gravity Vacation album. Marsha was delighted to partner with John Cullimore, fellow kindie musician and frontman of family band, Chibi Kodama, who directed and produced this video.
Marsha reports that she and her band, Marsha and the Positrons, are currently in the studio (finally!) recording a new CD and expect to have their record out by summer!
You can catch Marsha and the Positrons live at:
Eastern Market in Capitol Hill, DC for a Boogie Babes show: 

Thursday, February 1, 2018 at 10:30am

The Avalon Theatre in Chevy Chase, DC: 

Saturday, February 3, 2018 at 10:00am where they will be ki

cking off the winter family concert series! And who doesn't love hot coffee and fresh popcorn at 10:00am while cozy in a movie theatre singing and dancing?!
Jammin Java in Vienna, VA: 

Saturday, February 17, 2018 at 10:30am
The Penguin Song video features some adorable kids doing their penguin dances, plus live footage of penguins — and who doesn't like penguins?! Get some energy out at home tapping your toes and doing your version of the penguin dance. Since this is a lyric video, it's also a great opportunity for young readers to practice reading (and perhaps singing) along. Enjoy!
Join me and the Positrons on Saturday, 11/11 at 10:30am for a fun family concert!
Directions: Go north on Connecticut Ave., passing Chevy Chase Circle and crossing from Washington, DC into Chevy Chase, MD. Take the second left at W. Kirke St., and Chevy Chase Village Hall is the tan building to your right. Nearby street parking is typically available.

This show is in conjunction with The Children's Music Network. 
A 
portion of the proceeds will support their mission of celebrating the positive power of music in the lives of children by sharing songs, exchanging ideas and creating community.
Purchase tickets via Pay Pal here ($5 per person):
Marsha & the Positrons will be playing at the Smithsonian Air & Space Museum on October 26th & 27th!! Wardell, Kweku and I are super-excited to be bringing our songs about science, astronomy and flying to this incredible museum. Check out the 
Discovery Theater
 calendar for more info on reserving FREE tickets to one of the 6 shows.
Video world premiere "Ninja School" + Guest Post by Marsha Goodman-Wood
Marsha Goodman-Wood is a ninja in disguise. She is a DC-based singer/songwriter who makes music for clever kids with sharp imaginations and active minds brimming with curiosity. Marsha is also a former cognitive neuroscientist. Yep, you read that right. Brain science…pretty cool.
As a songwriter, Marsha brings her educational background and combines it with her experience as a music and drama teacher as well as her role as a mom of three. "I think about all the intense brain development that is going on in my young audiences," Marsha says. "[My background] also shapes the way that I engage with my audience. Because music uses all our senses, it activates more parts of the brain and creates very strong memories; so music is an ideal vehicle for learning. Just think of the ABCs, and how ingrained that song is in all of us."
I am happy to present two goodies to you today – the video world premiere for Marsha's single "Ninja School"* from her debut solo album Gravity Vacation, and an illuminating guest post where Marsha dives further into the whole body benefits of music.
And of course, fist bump to all those ninjas in training out there.
Marsha is currently writing for her next record which she expects to record in 2016 with her recently-formed band, The Positrons. Stay up to date with news about Marsha through her official site, Facebook, Twitter or Reverbnation, and catch her latest videos by subscribing to her YouTube channel.
*The "Ninja School" video was produced by NY-based kids artist and video producer, Patricia Shih, with illustrations by Giulia Neves.
---

I'm a cognitive neuroscientist by training, which means I used to study the brain and am still fascinated by how our brains work. I think of music as a great connector that ties together lots of different processes that are happening simultaneously in our brains. It activates our senses, is a total body experience (if you want to be technical, uses both our gross motor skills and fine motor skills), and brings an emotional and human connection. Music is also a universal source of joy!
There's some fascinating research that shows how music can aid learning and how closely music & movement are tied to language development in young children. Brain researchers have looked at movements that involve coordinating the right & left sides of the body and ones that use our whole personal space, and have found that there's a strong link between actions which send messages from one side of the brain to the other and the kinds of signals that our brains send from one side to the other when we read and speak. So, when we sing a song like "The Wheels on the Bus" or add actions or dance moves to any song, we're building and strengthening connections in the brain that are important for language development.
With my music, I think about what kinds of moves I can offer little kids to reinforce those connections kids are forming. When I perform "Ninja School" I ask the kids to show off their martial arts moves (karate chops, kicks, leaps and such). When I can, I like to include something interesting in my songs for older kids or grownups, too, like mixing fun facts into the song so there's something to take home and think about.  The title track for my record Gravity Vacation has facts about gravity and inertia that kids like to bounce along to, mixed in with some "la-la-las" the audience can sing along with. The bonus, though, is they still absorb the facts so I get the coolest stories later. A mom told me her 3-year-old old daughter explained to her out of the blue one day that we stay on the ground because of gravity!  Another family told me they were sitting around the breakfast table talking about the moons of Jupiter and started checking out NASA info online because the song sparked the kids' curiosity.
I tend to put positive messages and a little something educational into my songs because kids are sponges. They absorb everything we put out, so why not give them something interesting to think about that they might not have heard before? Mixing in information that sparks their curiosity and complements what they're learning now in school (or what they will need to learn at some point down the line) is a built-in bonus. Maybe it reaches that one kid who is not connecting with material in the classroom. Maybe it inspires a child's fascination in science and creates a budding scientist.
Plus, you don't have to teach a kid to have fun. Music is inherently fun and if you write a catchy tune and make it musically interesting that's a ton of fun in and of itself. There's definitely a place for adding in humor, imagination, and silliness in kids music. Helping listeners to explore outrageous ideas is something many artists do well, but I'm OK with taking it to a different place. It's definitely tricky to write a song that's educational, yet still fun and not preachy. That's where I try to go, and I believe people pick up on that and enjoy that about my music.
Some of the other messages in my songs are the kinds of messages that I feel we as parents are trying to share all the time. I loved hearing from the mom who told me her 8-year-old twin boys were always reluctant to wear helmets, but after listening to "Wear a Helmet," they started enthusiastically wearing them! Another mom told me her 5-year-old was about to show her a new wiggly tooth, but said, "I need to go wash the germs off my hands before I touch my mouth," since she had picked up the message in "Nobody Likes Viruses and Germs." It's amazing to think something you wrote could affect people like that.
I'm not sure where my songwriting will take me. All I know is that I'm on a journey where I'm trying to stay true to myself and write about what inspires me. The great thing about working with kids is that they are full of questions and make you think about things differently. Sometimes their questions spark my curiosity or lead me somewhere new as I try to answer them. I feel that kids can understand anything if you explain it well, so I want to honor their questions with real answers and not assume a concept is too far over their heads. It challenges me to make sure I understand a concept well enough to explain it to a 5-year-old or an 8-year-old. If that leads to a song, it's a win-win in my book!
https://kidscangroove.com/2016/02/19/video-world-premiere-ninja-school-guest-post-by-marsha-goodman-wood/
Though I've been listening to kids music for about 15 years now, I can still be surprised by what tickles my fancy.  What was it then about this video for "Sheep Don't Wear Shoes," a simple little ditty from 
Marsha Goodman-Wood
, off her album 
Gravity Vacation
?  The gentle (though not over-the-top) message of independence?  The big-eyed sheep illustrated by Danielle Dekoker and assembled into video form by fellow kids musician 
Patricia Shih
?  The fact that it stars sheep (
I do like my animated sheep
)?
I'm still not entirely sure, but I liked it enough to be happy to world-premiere the video this morning.
(Plus, my last name is "Shepherd.")
Marsha Goodman-Wood - "Sheep Don't Wear Shoes" [YouTube]
Kids' Singer Goodman-Wood Pairs with Beat Boxer on Monday
0 Written by: B. Boyd | Friday, Sep 04, 2015 11:19am 
Don't miss talented/celebrated/scientifically astute yet adorably warm and amusing, DC-based kids' songwriter Marsha Goodman-Wood's Labor Day/Monday afternoon performance at Port Discovery in Baltimore. 
Two shows: 1:30 and 2:30–Marsha and the Positrons with beat-boxer extraordinaire Max Bent. Goodman-Wood has a reputation for getting kids up and dancing. I can attest: Parents will want to dance along with their grooving brood! See you there! For real.
http://www.baltimorefishbowl.com/stories/kids-singer-goodman-wood-pairs-with-beat-boxer-on-monday/
Parenting, adventure, storytelling, and pop culture


Listening to music can be a radical act. And I don't mean in the 2112 or Footloose "music is evil" type of way. But more that the type of music we listen to is not only a reflection of our tastes and perspectives but an influence on them. Nowhere is this more true than for kids, who either end up listening to music developed for their specific age group or are subjected to their parents' musical tastes. While some kids music is absolutely inane, it doesn't have to be. Without needing to go full-on Defiance of Anthropomorphic Sea Mammals (from Portlandia), here are a few songs that may help inspire your kids to be activists or at least anti-authoritarian. Not all of these were originally for kids – many of them are straight-up folk songs – but I think they all have a kid appeal.
Science is Real / My Brother the Ape – They Might Be Giants: While the entire album is about the awesomeness of science, these two songs are purposely stirring the pot. "Science is Real" describes how while science is real, lots of other things are not, including angels, unicorns and elves. While it never explicitly mentions religion (outside of angels), it could be seen as dismissive of it. I don't take it that way because my Christianity meshes well with my trust in science, but it could be seriously challenging for some people. My Brother the Ape runs down all of the wonderful aspects of evolution, imagining inviting the entire human family tree to a giant party. It sounds pretty rocking to me, but for those who the idea of being related to a monkey is insulting…well, it's insulting. 
Sheep Don't Wear Shoes – Marsha Goodman-Wood: This pean to non-conformity is about a sheep who wants to wear shoes even though everyone tells him the title phrase, "sheep don't wear shoes." Despite peer pressure and societal norms, the narrator decides that "I'll rely on my fine wooly head" to make a decision. While there's plenty of children's media that encourages kids not to give into the misguided ideas of their friends, it's generally to guide them instead into following the advice of authority figures, a la "Just say no." But in contrast, the sheep says in the first verse, "And though I'm usually good / And though I try to obey / Maybe it's time to refuse." In the end, the sheep decides, "I've got to form my own views!" An awesome lesson for kids that you need to be the one to decide, not authority or your friends. 
This Land is Your Land – Woody Guthrie: Even though this was originally a protest song, it's somehow turned into a mother and apple pie sort of thing that kids sing at school concerts. But in those circumstances, they usually leave out a crucial piece – the last few verses. Those lyrics bring the idea of America being all of our land to a new level, with lines about blatantly ignoring No Trespassing signs, questioning the morality of economic inequality, and walking the Freedom Highway of the Civil Rights movement. These lyrics are actually fundamental to understanding the point of the song, which is much more powerful for their presence. In fact, one of my most patriotic memories is standing on the National Mall at 7 AM in January, waiting for President Obama's inauguration to begin and watching a video of Pete Seeger play this song. 
I'm Gonna Be An Engineer – Peggy Seeger: An inspirational song for any female who's been told she can't do something because "you only need to learn to be a lady." While some of the references are a bit outdated – very few people start as a typist – the struggle for gender equality in a number of different fields is still real, especially engineering. Perfect song for a budding feminist of either gender. (Note that this song is more appropriate for pre-teens or teenagers, as it does reference some of the worst aspects of sexism, including being expected to sleep with the boss and some slurs.)
Garden Song – Dave Mallett (covered by a bunch of people, including the linked one, which is awesomely John Denver with the Muppets): Although it was the standard for thousands of years, growing your own food can be a radical act these days. From people being sued by corporations for saving seeds to reducing food scarcity in urban areas, gardening can be very powerful. This is a lovely song about the peace found in the simple act of planting and nurturing seeds. As it says, "Find my way in nature's chain / Tune my body and my brain / To the music of the land." Compared to a lot of the overstimulation of children's entertainment, the patience and gentleness it espouses is pretty radical in and of itself. 
All I Want is You – by Barry Louis Polisar, cover by the Vespers: Looking at the lyrics, this seems like a standard sweet romance song. With cute images about being a couple like "If I was a flower growing wild and free / All I'd want is you to be my sweet honey bee," it's nice to listen to, but not exactly deep. But the cover of it imbues it with much more complexity. When I heard a woman singing "All I want is you, will you be my bride?" on the kids' Internet radio station for the first time, I wondered if I heard it wrong. By not changing the lyrics despite the gender-swapped singer, it opens the door for children to see a same-sex relationship as normal. Not having it be explicitly called out, just part of the lyrics, makes it all the better. 
What are your favorite children's songs that are a little different than the average kiddie rock?
http://welleatyouupweloveyouso.com/2015/08/28/songs-to-grow-up-with-music-for-little-radicals/
This fall I'll make my Baltimore debut at
Port Discovery Children's Museum
. My first shows there will be on Labor Day (September 7th, 2015) at 1:30 & 2:30PM) with the supremely talented Baltimore-based beatboxer, 
Max Bent
!
You're invited: Free all-ages concert at Forest Hills Playground on Friday, June 26th
by Alexandra Chalupa
President, Friends of Forest Hills Playground
Reposted from the Forest Hills Connection

On the last Friday in June, the Friends of Forest Hills Playground (FoFHP) invite you to pack a picnic dinner and enjoy an evening of festive music, fun and friends at our first "Picnic in the Park" concert of the summer.

Join us at the beautifully renovated park on Chesapeake Street Friday, June 26th from 5:30 to 7:30 p.m. The live performance will begin around 6 p.m. And it's free.

These "last Friday of the month" events planned for June, July and August (and tentatively September) will spotlight local artists that neighbors of all ages can enjoy: 
Marsha Goodman-Wood
Friday, June 26th: Marsha Goodman-Wood (Click her name to hear her music; read on to learn more about her and her terrific "kindie rock")
Friday, July 31st: Bob Perilla's Big Hillbilly Bluegrass Band
Friday, August 28th: Downwire – rock, blues, soul and Motown 
The Forest Hills "Picnic in the Park" concert series could also extend to the final Friday in September, featuring a unique band that includes a Forest Hills neighbor.
The series is sponsored by Friends of Forest Hills Playground, the local non-profit that helps oversee the park's care and maintenance. FoFHP was heavily involved in the redesign of the new park, working alongside ANC 3F04 Commissioner Sally Gresham and the Department of Parks and Recreation. FoFHP made certain to create a "community circle" with picnic benches, shade structures and performance space with an electrical outlet for the very purpose of hosting these types of community events. FoFHP also organizes the playground's well-attended and long-established Halloween Party.
Please look for our information table at the event, and stop by to learn more about the concert series, sign up to be a FoFHP member, enter your kids in a contest to design new Forest Hills Playground t-shirts – or just to say hello! For park news and more information about upcoming events, please follow us on Facebook and on Twitter. 
And because we'd like to keep our park clean, we're seeking volunteers to stay a few minutes after the festivities end to help pick up any trash and lost-and-found items left behind. Sign up here to help.
And now, more about the concert series' first performer, the amazing Marsha Goodman-Wood. Goodman-Wood's brand of music is called "kindie rock." Kindie stands for kids independent music, and the genre is defined by music that is entertaining for adults as well as kids. On June 26th, Goodman-Wood will perform her fun original songs mixed with familiar favorites for all ages.
Goodman-Wood is a well-known local performer, music teacher, and mother of three, who performs frequently in the DC/MD/VA area and occasionally further afield. She has appeared at the Kennedy Center Millennium Stage, the National Children's Museum, and the Long Island Children's Museum. She's a regular in the Capitol Hill area Boogie Babes series, at Busboys & Poets Rise+Rhyme series, and plays at venues such as The Avalon Theater, Jammin' Java, and at libraries, schools, fairs and festivals. 
Her concerts are fun, playful, and educational. As one recent reviewer noted, "Goodman-Wood was no ordinary children's singer…She was very, very good. Her clear voice reminded me of Carole King, as did her very curly hair. Her stage presence was lively without being grating, a highly delicate balance for a children's performer." 
She has been a Washington Post Going Out Guide editors' pick and has received songwriting awards in the Mid-Atlantic Songwriting Contest. Her debut album, Gravity Vacation has received radio airplay in New York, Pennsylvania and Massachusetts, as well as online on Pandora and other internet stations. School Library Journal praised Gravity Vacation for its "nine original songs that are a unique blend of science and positive social messages encompassed within toe tapping melodies and sing-along worthy lyrics."