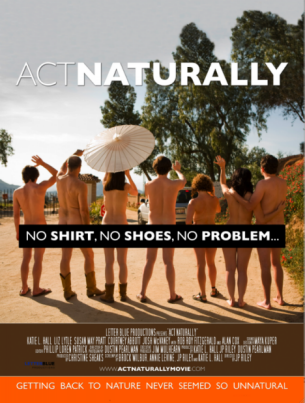 The Mid-Atlantic and Maryland World Premiere
of the Letterblue Productions feature film
Act Naturally (directed by J. P. Riley)
"When two estranged step-sisters learn of their father's untimely death on a business trip, they must travel cross-country to claim his remains. Upon arriving at their father's final destination, the girls are shocked to discover he had been leading a double life as the proprietor of a nudist resort. To top it off... this is their inheritance."
Story and character driven, ACT NATURALLY presents nudity on screen in a manner that is neither pornographic nor exploitative. In keeping with the setting and theme of the film, the MARNA previews will be CLOTHING OPTIONAL.
Sneak Previews (Each preview will show the entire 90 minute full-feature film)
Saturday, July 9, 2011 at 1-2:30 p.m. and 7-8:30 p.m.
Admission price: $15
MARNA Summer Camp and CPC Summer Gathering participants only!
Representatives from Letterblue Productions will be on hand afterwards to answer questions about the film.