Cartoon Politik
One advertising copywriter. A website. A modicum of spare time. It won't end well.

RichAndMark is proud to create cartoons for Guido Fawkes (okay, just Rich actually.) Here are a few, used and unused. Certain original art is listed on eBay here.

Will she keep her cleaner and her house?
Gordon Addresses Conference
Gordon's on the tablets
A straw in the wind...
Freddie, take aim, fire...
 Stephen defends the NHS
Whoops!
Spin Treatment
Read the Signs...
The Jackson One
Happy Birthday Damien!
A Speaker Falls...
 Emperor Mandy Has A Nice Ring To It...

This Is The Captain Of Your Ship, Calling
Kamikazekomik
Return To Duck Island
Cut and paste

John Prescott uses his second seat
Nadine is a bit mental
Gordon gets desperate

Guido claims another head
The Big Picture
Derek Draper learns the value of the Easter message

Who has had their noses in the trough?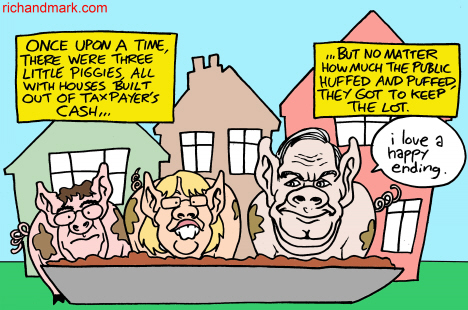 Jacqui gets a grilling.

 Cameron gets savaged by not-quite-dead sheep.

 Blind optimism about the election.

 An angry flight home.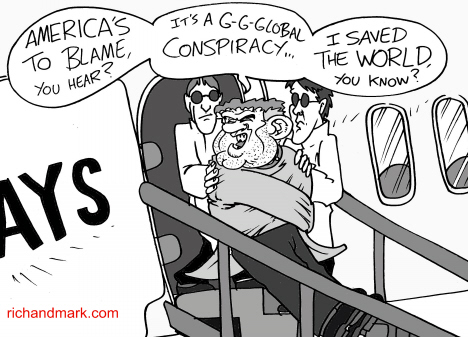 There are no words.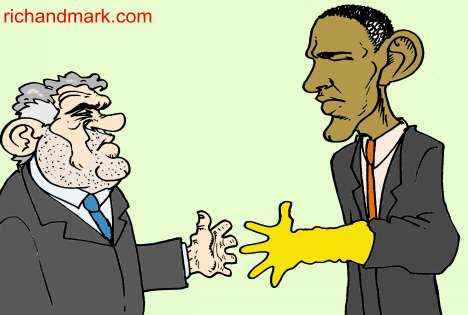 The Cure. Apparently.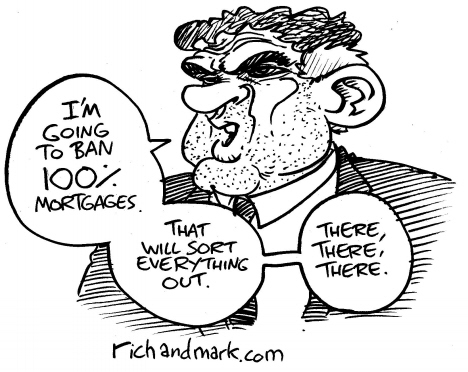 How the Lloyd's was lost...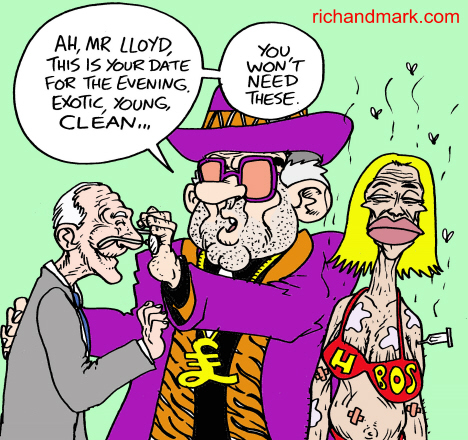 Jacqui's housing matters first attract attention.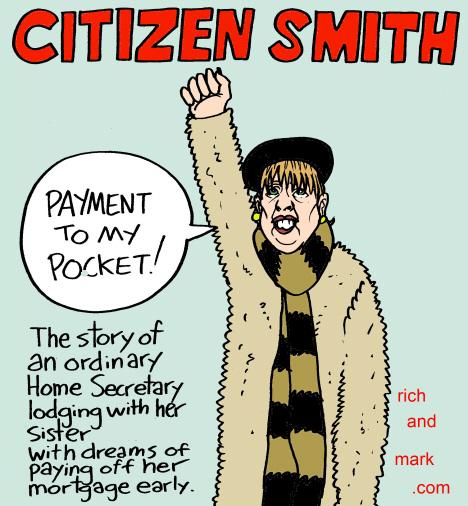 Weather hits Britain. Satire affected.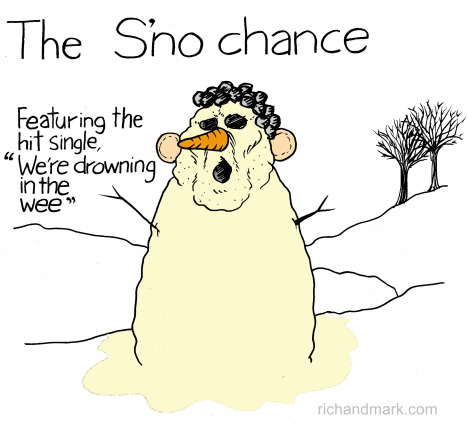 Money matters in the tabloids made simple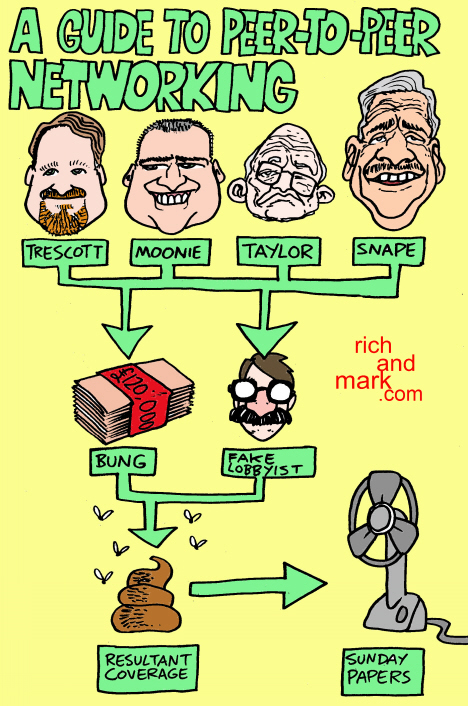 Margaret tries to draw attention away...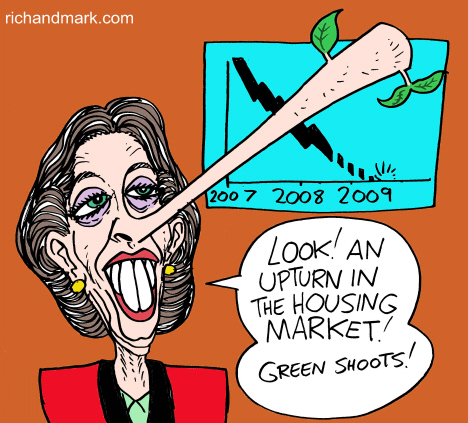 Gordon approaches the Big Blairites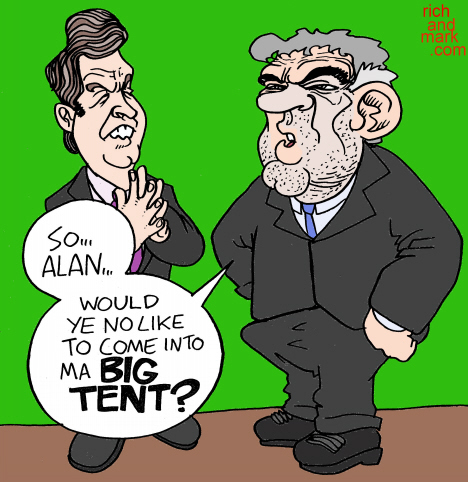 Brown makes shaky promises.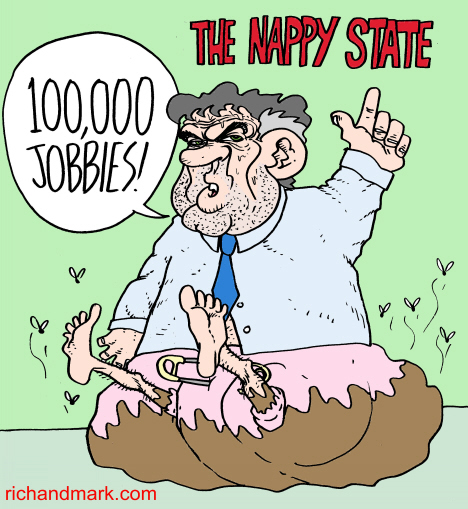 Apparently recession will bring out our wartime spirit... 
Car workers have a shaky holiday ahead...
As the pound crashes, yellow bits of metal don't.

Are the Shadow Cabinet just too toff and fat for David?

A Christmas message of bigotry.

As resignation calls mount, the Speaker isn't getting any.

 Gordon on the hunt

Government makes up new rules for homeowners.

 Gordon Brown takes it to the nation

David Cameron goes off-message

IMF is going to rock you.
Paxman gets a better look
Russell gets in the way of actual news 
Gordon brings Europe alongside. 
Mandy gets taken for a ride. 
George gets schooled by his betters. 
Mandy's back
So's Blunkett
Another bank bites the dust... 
 Will JK's million donation save Labour? No.

When Darling's mouth goes awry... 
Will Gordon get a challenge? 
 Good times for Cameron

 ...and no wonder.
Lib Dems in debt

 ...and again...

Nannies were just the start of it.
The nightmare team? 
 Obama meets Gordon and Dave...
Purnell outlines work-for-dole policies...
Harriet going for Gordon...
Glasgow byelection not looking good...
Bring out the Mugabe...
When MPs vote for their own pay rises...
David Davis makes a challenge...
Back to the Tory Sleaze stories...
Gordon calls the people...
So much sleaze to choose from...
Guido takes after his namesake...
Gordon supports human/animal embryos...
Gordon lays down the law...
Gordon fills us up...
Soldiers starve while politicians pig...
Gordon gets desperate...
Alistair's 10p tax domain...
Charles Clarke things about taking a run...
The Queen slims down her celebration plans...
...Boris is good for another quote...

 ...and the polls are bad for Gordon.
David Cameron maybe misspeaks...
David has breakfast with the cameras. 
Thatcher's hanging on...
Tom Watson MP in the shit... 
Taxis don't have to be taxing...
A government cover up
Purnell's houses handed on...
 A more Private Eye look...

Johnson's brothers at arms...  
 Guido claims a scalp

 No wonder she's nervous to walk in London alone...
Hain takes a supermarket bung for his campaign...

Gordon has a repeat meet with Mr Marr...
Gordon displays his vision for all to see.

Hope you all got the cheap champers from Calais all right. 
 She knows a good photo op, I'll give her that.

Here boy... 
 In the event of me being found in the woods with my wrists cut...

One falls, they all fall... 
Gordon makes his position most clear. 
Darling on the rocks...
A politician chooses the honourable way out for once...

Iain Blair provides all sorts of opportunities...  

 ...including telling the same joke twice.
Lord Hoyle pimps for arms dealers...
Chris Huhne can't remember writing pro-LSD article...
The new poll results are in.
Andrew Marr gives Gordon a soft landing...
...as Gordon works on a sequel to his Courage book.
Purnell makes a name for himself...
...David Cameron writes his suicide note...
...and Gordon loses his game.
True Tory Bluetongue...
I have in my hand a piece of debt.

Gordon Brown explains his political philosophy to a doubting cleric.
What a difference twenty years makes.

Cameron finds his new policy mandate for the next election
While Gummer looks to the heart of modern capitalism
Gordon Brown gets round anonymous donations... 
 ...while Osbourne starts back tracking on taxcutting.
John Prescott says goodbye to his security team...
 Cameron suggests keeping failing pupils back a year...
Generals say "Bring our Boys Home"...
Boris tells it like it is.

The truth behind the spin

 Gordon picks up some crisis tips from George

And the waste bin problem at its roots

Gordon gets fitted. 
Physics explain the Levy problems...
Tony Lit's donation reaps rewards.

 The Boris Campaign.

Lord Levy's legal issues... 
Alistair Campbell's Diary reveals a... sensitive side.

Scotland's early adoption of the smoking ban proves handy.

 Gordon promises to bring soul back to the party.
Harriet sees off her competitors. 

...but doesn't get the plum job.
John's disease...
Get a grammar schooling...
Crime does pay... 
Alistair Campbell's fruity prose...
Gordon's new power generation plans
 Gordon Vs Alan... Yin and Yang

Cherie plans ahead

The future for Ming... 
Labour's chances look poor in the Scottish elections...
                Blair's aides under suspicion...
                Gordon selling off the UK's gold reserves on the cheap...
                Arnold Schwarzeneggar to speak at the Tory conference...
                Angus MacNeil of the SNP in hot water...

Will Charles Clarke be persuaded to run against Gordon?

Gordon's nosepicking incident may be a cunning plan...

Is Tony's blessing really what David Miliband wants right now?
I expected so much more from this cartoon...
The headline that kept on giving...
Warning signs make the wine bottles...
The price of peace...
There's a lot of it about...
Stuck between Iraq and a hard face...
Cameron's habit forming...
Sith investigates...
                        The LibDems find their balls...