BORIS' CRONIES 
Jo Johnson to be director of strategy, Stanley Johnson to take over his Henley constituency and Rachel Johnson seemingly as his official spokesman. At least Ken kept his family hidden! Nick Boles, who donated £20,000 to Boris' campaign is acting chief of staff. Guto Harri, friend from Oxford University days as Director of Communications. Telegraph colleague Patience Wheatcroft to head up an audit. More to come!

NEXT WEEK'S HEADLINES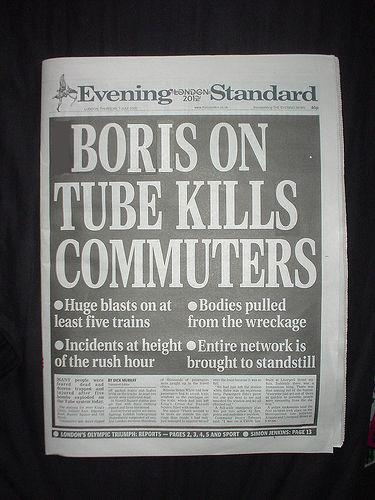 Boris Johnson, MP for the safe Tory seat of Henley has been elected Mayor of London. Despite living many miles away.
    "Hello, I'm your MP. Actually no, I'm your candidate. Gosh" - Boris

After attending both Eton and Oxford, Boris then managed to last a whole week working as a management consultant.
    "people always ask me the same question, they say, is Boris a very very clever man pretending to be an idiot? And I always say, no." - Ian Hislop
Boris then worked for The Times, before being fired for lying about a quote from his godfather, Colin Lucas, vice-chancellor of Oxford University.
     "Boris was told to engage his brain before speaking in future." - Conservative Party Official
Boris was sacked from the Conservative front bench after lying about reports of him cheating on his second wife for four years with journalist Petronalla Wyatt and quibbling over the price of an abortion.
    "I think I was once given cocaine but I sneezed so it didn't go up my nose. In fact, it may have been icing sugar." - Boris
Boris agreed to supply a convicted criminal with the address of a journalist, so that he could be beaten up.

    "He will probably have a couple of black eyes and a... cracked rib or something like that" - Darius Guppy

Boris is also under investigation by the police for theft.

    "This guy is fumbling all over the place" - Arnold Schwarzeneggar
Boris has repeatedly referred to black people as 'piccaninnies' and having 'watermelon smiles.'
    "the man to lead London back into the 17th century" - Paul Merton

Boris supported Clause 28 because he thought it stopped teachers being compelled to tell children about homosexuality. Years later, when told the truth, he replied "Oh cripes".

      "Oh, I am a polymorphous pervert" - Boris Johnson

In front of a meeting of homeless people, Boris told everyone "I have four children and a big house in Islington which is worth shedloads of money."
       "My friends, as I have discovered myself, there are no disasters, only opportunities. And, indeed, opportunities for fresh disasters" - Boris Johnson
 Boris wants to ban the Wii.
    "just say no to Nintendo. It is time to garotte the Game Boy and paralyse the PlayStation" - Boris
And now Boris is Mayor. Of London. And people fell for it.

    "I can't remember what my line on drugs is. What's my line on drugs?" - Boris
Fuck Boris.