August 26, 1949
Tennis Racquet is Released
It was on this day in 1949 that movie theaters first served the Goofy cartoon short
Tennis Racquet
. Throughout the years, Goofy has been depicted in many styles and sporting different looks, including the married Mr. Geef.
Tennis Racquet
featured a brown, earless version of Goofy as announcer, spectators, players and the maintenance man. The "Goofy" look is different, the voice is different, yet it was enough to qualify this featurette as a "Goofy" cartoon short. However, if you listen closely to the beginning of the short, you'll hear one of the Goofys, in his original voice, singing the song that had become his theme, "The World Owes Me a Living."
1918:
A young
Walt Disney
forges his parents' signatures to enlist in the American Ambulance Corps (part of the Red Cross). He changes his birth from 1901 to 1900.
The summer of 1918 was the best that Walt had known. His hours for the post office were long, but there was no drudgery to the work, and he was outdoors most of the time. At night he took girls from McKinley High School to movies and vaudeville shows.
For the first time in his life, Walt had enough money to indulge himself, and he contemplated buying a movie camera or a canoe. A girl friend urged him to buy a canoe, but he decided on the camera. He mounted it on a tripod in an alley and photographed himself in imitations of Charlie Chaplin. To please his friend, he joined another boy in buying an inexpensive canoe; it was so small and unwieldy that he and the girl were swept out into the lake on a windy Sunday.
By late summer, the Allies had stopped the Germans in the second battle of the Marne, and Marshal Foch bad ordered a counterattack. Walt grew more impatient to get in uniform, telling his parents, "I don't want my grandchildren asking me, 'Why weren't you in the war? Were you a slacker?' " The Navy had transferred Roy to Charleston, South Carolina, then assigned him to voyages between New York and France. Ray Disney had joined the Army. Walt wanted to take part in the same adventure; he couldn't conceive of returning to high school for another year. A friend at the post office, Russell Maas, shared his feelings. They decided to cross the border and enlist in the Canadian Army, which accepted younger recruits. Their plot was thwarted when Russell's mother discovered his packed suitcase; her son admitted the plan and she warned Flora Disney. One day Russell arrived at the post office and told Walt excitedly. "There' s something forming here that you and I can get into. It's a volunteer group called the American Ambulance Corps, part of the Red Cross. They need drivers, and they're not fussy about how old you are."
At noon, the two young men hurried to the headquarters of the American Red Cross. They learned the age limit for ambulance unit volunteers was seventeen. Both were sixteen, but they falsified their ages and applied as the St. John brothers, Russell and Walter. The ruse succeeded until the applications for passports which required their parents' signatures. Walt was forced to disclose his plan to his parents. "I will not sign any permission" Elias Disney declared. "It's signing a death warrant for my son."
Flora Disney argued that three of their sons had left the family home by stealth and she didn't want Walter to go the same way. "The boy is determined," she said "I would rather sign this and know where he is than have him run off."
"Well, you can sign it for me---I won't!" Elias replied, and he stalked from the room. Flora forged his name on the passport application, and Walt altered his birth date to read "1900." He and Russell Maas returned to the Red Cross, and their applications were accepted. The two boys received uniforms and reported to a tent encampment at a burned-down amusement park near the University of Chicago. Mechanics from the Yellow Cab Company taught them how to repair motors and drive cars over rough terrain.
1940:
Voice actor
Don LaFontaine
is born in Duluth, Minnesota. During his career, La Fontaine will recording over 5,000 movie trailers and over 350,000 television commercials, network promotions, and video game trailers. His Disney credits will include the animated series Fillmore! and the feature Meet the Robinsons.
1948:
Walt Disney and animator Ward Kimball (both railroad enthusiasts) return to the Studio after a 10-day trip visiting the Chicago Railroad Fair and Henry Ford's Greenfield Village. The Railroad Fair in Illinois, an event celebrating 100 years of railroad history west of Chicago, features locomotives, and various lands including - Vacationland, an Indian Village, a New Orleans section, a Gold Gulch (frontier section) with a haunted house and opera house, as well as shows and a nightly fireworks display. Henry Ford's Greenfield Village in Dearborn, Michigan, features four centuries of historic buildings (moved from their original locations) and laid out in an old fashioned Main Street design. The Wright Brothers' bicycle shop and Thomas Edison's laboratory are part of the impressive collection of buildings that Ford has assembled. Walt will be greatly influenced by what he has experienced on this trip. (The Chicago Railroad Fair was a one-time event, but Greenfield Village continues to offer visitors a trip back to the sights, sounds and sensations of America's past.)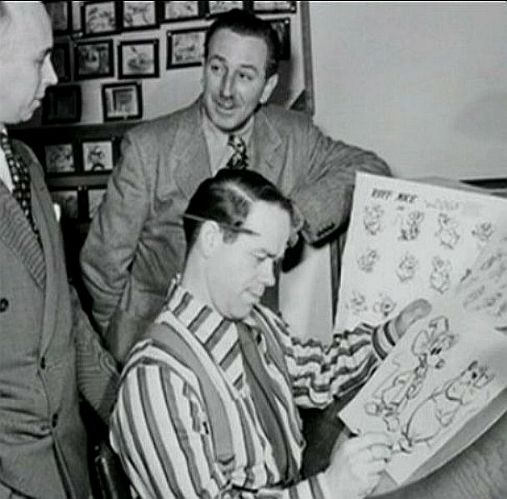 1951:
Walt Disney tells journalist & animation historian John Culhane: "The most important aim of any of the fine arts, is to get a purely emotional response from the beholder."
1979:
The Wonderful World of Disney airs part 1 of "The Sky's the Limit" on NBC.
1990:
Retta Scott, the first woman to receive screen credit as an animator at Walt Disney Studios, passes away in Foster City, California. First hired in 1938, her Bambi work includes the vicious hunting dogs in the sequence where the dogs pursue Faline and fight with Bambi. Scott also worked on Fantasia, Dumbo, and The Adventures of Ichabod and Mr. Toad. She will be named a Disney Legend in 2000.
"Retta had an astounding ability to draw powerful animals. She seemed to have a keen understanding of their moods and attitudes."
-animator Frank Thomas

"Retta had been a student at Chouinard's and she used to go with us on our drawing trips. She could draw as well as any man. One of the things she did on Bambi was a bunch of hound dogs which was very powerful and frightening."
-animator Marc Davis

1994:
Disney's Hollywood Pictures releases the comedy Camp Nowhere starring Jonathan Jackson, Christopher Lloyd, Melody Kay, Andrew Keegan, Marne Patterson, and Jessica Alba (in her first film role).
2003:
Buena Vista Records/Hollywood Records releases Hilary Duff's second album Metamorphosis - which features the single "So Yesterday."
2005:
Disney Legend Fred Joerger, a master model maker who helped create Disneyland's look by molding three-dimensional models of the Sleeping Beauty Castle, the Haunted Mansion, and other attractions, passes away at age 91. Walt Disney handpicked Joerger back in 1953 to become one of his first three model makers. Joerger also built miniature sets and props for Disney motion pictures, including Mary Poppins, Darby O'Gill and the Little People, and 20,000 Leagues Under the Sea.
" Guys like Fred (Joerger) were kind of the heroes of the next generation of Imagineers."
-Kevin Rafferty (senior show writer and director at Walt Disney Imagineering)

2006:
Thousands of fans, along actor with Kyle Massey of That's So Raven, gather at Toonfest 2006 held at Disney Studios in Burbank, California. The first official fan fest dedicated to the family-friendly game - Disney's Toontown Online - features contests, games and a parade.
2007:
Hollywood Records recording artist & actress Hilary Duff co-hosts the seventh annual Teen Choice Awards, broadcast on FOX-TV.
Pirates of the Caribbean: At World's End wins for Choice Movie: Action Adventure, and High School Musical 2 scores for Choice TV: Movie.
Disney Channel debuts "First Day of High School," the 75th episode of The Suite Life of Zack and Cody. Also premiering - two episodes of As the Bell Rings (based on Quelli dell'Intervallo, a series that airs in Italy) about the lives of six friends and their tween issues.
2008:
The Little Mermaid: Ariel's Beginning is released on DVD, as is Tim Burton's The Nightmare Before Christmas: 2-Disc Collector's Edition DVD.
Disney opens its newest exhibit - a hurricane simulator at Epcot which aims to teach visitors how to better protect their homes ahead of dangerous storms. Meteorologists and emergency management experts are among the first to experience the exhibit in the morning before it is opened to the public later in the afternoon.
2009:
A keel laying ceremony is held for the Disney Dream in Papenburg, Germany, where the new ship is starting to come to life after a lengthy design phase. The keel laying ceremony - attended by Donald Duck - is a maritime tradition in which the first block of the ship is lowered into the building dock. Builders then place a coin under the keel for good luck. The Disney Dream is expected to set sail in 2011.