This Day in Disney History
Subscribe to posts

November 19, 1932
Babes in the Woods is Released
"Once upon a time a story was told about fairies and goblins and witches of old — they haunted the forests and meadows and dells, and this is the legend the storybook tells…" These are the lyrics in the opening music of the cartoon short Babes in the Woods. In this Silly Symphony, which wandered into theaters on this day in 1932, the "babes" are two children reminiscent of Hansel and Gretel, who, in this retelling of the classic tale, become enchanted with an edible candy house, but soon to fall victim to the home's owner, a wicked witch, who changes the boy into a spider and is about to turn the girl into a rat moments before some of Disney's earliest dwarfs come to the rescue.
November 18, 1988
Oliver & Company is Released
The Disney movie 
Oliver & Company
, which was released on this day in 1988, tells the classic Charles Dickens tale of Oliver, the artful dodger, but with a twist. Departing from the typical timelessness of Disney's animated features, 
Oliver & Company
 takes place in modern-day Manhattan, and in this telling, Oliver is a little kitten, voiced by Joey Lawrence, who would grow into teen idol status on the sitcom 
Blossom
. The young feline befriends a streetwise dog named Dodger (Billy Joel) and a canine cast featuring some of Hollywood's superstars, including Dom Deluise, Robert Loggia, Cheech Marin and Bette Midler. The voice of the young human girl, Jenny, is provided by Natalie Gregory, who Disney fans may remember as Annie in 
Cranium Command
 at Epcot.
1957:
A color, full-page advertisement for Insurance by North America appears in LIFE magazine. The ad features a photo of a family of four standing in front of Disneyland's Sleeping Beauty Castle and the entrance to Fantasyland
1962:
At Disneyland, the Swiss Family Treehouse attraction opens in Adventureland. 
The opening ceremony is hosted by Walt Disney, Hayley Mills (star of The Parent Trap and Pollyana), John Mills (Hayley's father and star of Swiss Family Robinson), and Kevin Corcoran (who appears in both Pollyana and Swiss Family Robinson).
1988:
Mickey's birthday is celebrated as 5,500 underprivileged children from across the U.S., Canada, Mexico and Japan are treated to a three-day visit to Disneyland to assist Mickey in celebrating his day
1993:
The "Partner's Statue" Dedication is held at Disneyland.
Jack Lindquist, the President of Disneyland (who officially retires this same day) officiates the ceremony which includes Roy Disney unveiling the statue of Walt and Mickey Mouse (sculpted by Blaine Gibson)
At Disney World, the Audio-Animatronic robot of U.S. President Bill Clinton first performs in the Hall of Presidents attraction.
1995:
A lottery to determine who will have the opportunity to buy the first 474 houses and apartments in Disney's new Florida community Celebration, is held.
1997:
The Walt Disney World Info Line (407-824-4321) begins to inform callers that the Mr. Toad attraction is "definitely closing."
2003:
The Magic Kingdom in Florida unveils 75 6-foot tall statues of Mickey Mouse in honor of his 75th birthday.
2006:
The five-thousand square foot interactive exhibit "Too Small to See" opens at Epcot's Innoventions. Developed by Cornell University and supported by the National Science Foundation, the exhibit surrounds visitors with things at the atomic scale and exposes them to some important concepts in nanotechnology.
2009:
It is reported that Victoria & Albert's, the top-of-the-line restaurant at Walt Disney World, has been awarded its 10th consecutive AAA Five Diamond rating (one of only three Florida restaurants to earn that ultimate classification).

November 14, 1936
Mother Pluto is Released 
When a chick lays her eggs in Pluto's doghouse, he returns just in time to see more than a dozen peeping chicks hatch in the Silly Symphony Mother Pluto, which peeped into theaters on this day in 1936. Despite his efforts to escape, the youngsters latch on to the hound, who soon finds a soft spot in his heart for each of them. This Silly Symphony is unique because it featured one of Disney's established main characters. Although Pluto had been appearing in films since 1930, this marked the first time he was the star of the story. Just a year later, Pluto would be given his own series of theatrical cartoon shorts beginning with Pluto's Quin-puplets.

November 10, 1953
The Living Desert is Released, the First Film Released by Buena Vista Distribution Company
The recent Disneynature releases Earth and Oceans follow in the grand tradition of Disney's nature documentaries, and the first feature-length True-Life Adventure, The Living Desert, was originally released on this day in 1953. Following the success of the True-Life Adventure featurettes, The Living Desert took audiences into the world of desert tortoises, rattlesnake, wildcats and other desert dwellers. In addition to winning the Academy Award® for Best Documentary Feature, The Living Desert marks another milestone for Disney, as it is the first movie released under the Buena Vista Distribution Company. When Walt and Roy Disney decided to create their own film distribution division under Walt Disney Productions, they called on Irving Ludwig to help make it happen. Over the next 27 years, Ludwig helped grow the division to 20 regional offices, with locations including Los Angeles, New York and Chicago, which arranged exhibition of Disney movies at theaters throughout the United States and Canada

November 9, 1993
Fountainview Espresso & Bakery Opens at Epcot
One visit to the Fountainview Espresso & Bakery at Epcot and you'd understand how it got its name when you see the spectacular view of the musically synchronized Fountain of Nations. Opening on this day in 1993, the bakery immediately made a splash with guests by serving up fresh baked goods, specialty desserts and pastries. From crème brûlée to coconut flan, the offerings were enough to make anyone's mouth water. And for those looking to "wet" their whistle, a variety of drinks were available, including an option to add various liquors to any coffee.
October 26, 1953
Three Orphan Kittens is Released 
When a trio of stray cats find themselves in the blistering cold snow, they seek refuge in an inviting looking house, where they proceed to wreak havoc on the place, much to the chagrin of the house cook in 
Three Orphan Kittens
, which was released on this day in 1935. The kittens in this Silly Symphony meowed their ways into the hearts of the country, not only inspiring a sequel, 
More Kittens
, but by winning an Academy Award®, making Walt Disney the first producer in motion picture industry to have won the award four years in a row.

October 24, 1941
Donald's Camera is Released
Uncharacteristically, Donald Duck decides to do the right thing in the cartoon short Donald's Camera, which snapped into theaters on this day in 1941. Passing a camera shop window, Donald reads the sign, "Shoot nature with a camera instead of a gun!" Taking this to heart, the level-headed duck takes to the forest for some wildlife photography. Finding that the woodland creatures are less than cooperative and encountering an insufferable woodpecker who ends up smashing his camera, Donald soon returns to the irascible duck we all know and love, scrambling back to a sport shop and gathering an arsenal of weapons for his next "shoot."
October 11, 1964
Walt Disney's Wonderful World of Color Airs "A Rag, a Bone, a Box of Junk"
It was on this day in 1964 that television viewers got a lesson on how to create stop-motion animation by that brilliant, legendary professor of everything, Ludwig Von Drake, who presided over the festivities with the help of the cartoon short
Noah's Ark
, the main titles of
The Parent Trap
and the featurette
A Symposium on Popular Songs
. This episode of
Walt Disney's Wonderful World of Color
was directed by Disney Legend Bill Justice, who often worked alongside X Atencio on these stop-motion projects. Recently, X told D23's Scott Wolf, "We had a glass with the background underneath it and you moved a character on it. We'd move a character this far or that far depending on how fast the action was. If you had more than one character you had to move, we'd say, 'Okay, let's get a system here. We'll work clockwise,' or counter-clockwise, either way we do it, but we'd keep track of it. 'Did we move that one? Okay.' Click. Move. Click. Move. Click. If you got to a place that you couldn't remember if you moved it or not you had to go back to the beginning because there were no tests or anything that you could refer back to, so it was a very tedious job, but Bill was very good at it."
1996:
Disney World's Pleasure Island holds its fourth annual "Jazz Fest." Top-name musicians headlining the event, include Jeff Kashiwa, Greg Karukas, Craig Chaquico and Keiko Matsui. Performances are held on the West End Stage, Hub Video Stage and in the Jazz Company club.
1998:
The Journey Into Imagination ride and the attraction Image Works, both located in Epcot's Journey Into Imagination pavilion, close for renovation.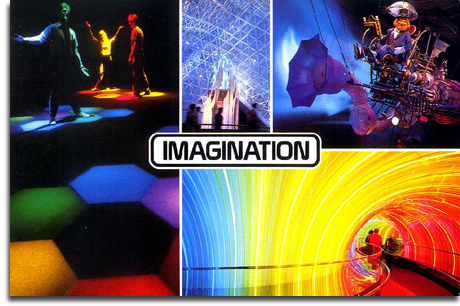 2002:
The Walt Disney Company and Frito-Lay announce a new multi-year agreement by which Frito-Lay snack products will be featured at both the Walt Disney World and Disneyland Resorts.
2009:
Mickey Mouse visits Union Station in Kansas City, Missouri (Walt Disney's hometown between 1911-1923) to celebrate the unveiling of a traveling art exhibit that pays homage to Walt Disney's lifelong love of trains.
Local preschoolers along with representatives from the Kansas City Mayor's office and hundreds of fans see Mickey before he departs from Union Station bound for Los Angeles for a viewing party for the premier of the Disney Channel primetime special, Mickey Mouse Clubhouse: Choo Choo Express (which will air Sunday October 25th). Radio Disney and representatives from the United States Marines are also on hand to help Mickey kick off Disney's annual Toys for Tots campaign.
Nearly 300 Disney VoluntEARS take part in the Greater Orlando Start! Heart Walk at Loch Haven Park in Orlando, Florida. A three-mile trek, Disney Cast Members raise more than $8,000 for research and education to help fight heart disease and stroke.
2010:
Disney fans and collectors gather at Disney's Yacht & Beach Club for a free event designed to kick off the second decade of pin trading at Disney World. (Pin trading at Disney, inspired by pin-swapping seen at Olympic Games, began as part of the company's millennium celebration, originally to last just 15 months.)
There are 33 couples tying the knot Sunday at the Walt Disney World Resort, Disneyland Resort, aboard the Disney Cruise Line and at Hong Kong Disneyland. Repeating number dates have always been popular for weddings, but this is the first double-digit date to appear in our time.
I wanted to share one couple's engagement story with you. Meet Ashley and Alex, Disney enthusiasts that got engaged before running over 13 miles!
Ashley and Alex trained all summer to participate in the Walt Disney World Half Marathon. The morning of the race, they were approached by a Cast Member who informed them they had been selected to participate in Disney Couple's Trivia. The Cast Member offered them a ride to the starting line as she briefed them on the rules of the game. When they reached the starting line, the cameraman turned his lens to Ashley as Alex proposed in front of 20,000 runners!
The couple is back at the Walt Disney World Resort today, this time surrounded by family and friends, celebrating their union in an intimate ceremony at Epcot.
I wish Ashley and Alex, along with all of the couples tying the knot on 10-10-10, much joy and happiness as they step into their very own happily-ever-after. Be sure to keep up with us on Facebook and Twitter for more stories from our 10-10-10 weddings!
October 8, 2003
Wishes: A Magical Gathering of Disney Dreams Premieres at Walt Disney World
Wish you knew what happened on this day in Disney history? On this day in 2003, the 
Wishes: A Magical Gathering of Disney Dreams
 fireworks show first burst into the skies high above Magic Kingdom in Walt Disney World. This aerial spectacular remains the biggest, brightest fireworks extravaganza in the park's history. With the theme of "wishing" on stars, this show is hosted by the voice of the premier star wisher, Jiminy Cricket. Unlike the previous long-running 
Fantasy in the Sky
 fireworks, Peter Pan, Ariel, Snow White, Aladdin and many other Disney characters are now heard over the loud speakers — telling their wishes — while choreographed fireworks explode to a lush musical score. The presentation concludes with Jiminy explaining, "Wishes can come true if you believe in them with all your heart. And the best part is you'll never run out of wishes. They're shining deep down inside of you. 'Cause that, my friends, is where the magic lives."
1957:
The Maxwell House Coffee located on Disneyland's Main Street (in operation since December 1955) closes. It will be replaced by Hills Brothers Coffee House in June 1958.
1997:
A full-service spa and health center opens at Disney World's Grand Floridian Beach Resort. First opened in June 1988, it will now be called Disney's Grand Floridian Resort & Spa.
2001:
Epcot's Journey into Your Imagination ride closes for renovations. The character Figment will be added and the attraction will reopen in June 2002 as Journey into Imagination with Figment.
"Figment is still the mascot of the Imagination pavilion. In 1999, with the premiere of Journey Into Your Imagination, he only had a cameo role. However, after an overwhelming number of guests pleaded for his return, the attraction was refurbished again, and since 2002, Journey Into Imagination with Figment has featured the playful dragon. Dreamfinder holding a small Figment used to pose for photos outside the pavilion until 1998; Figment alone made appearances after 2004, but not recently."
- Dave Smith, Disney Archives

2003:
Mickey's PhilharMagic, a new computer-animated 3-D  attraction, has its official grand opening in the PhilharMagic Concert Hall at Walt Disney World's Magic Kingdom. Pop idols Howie Dorough of The Backstreet Boys and Joey Fatone of 'N Sync are on hand for the premiere.

Over at Epcot, the Wayne Brady Show tapes at the American Gardens Stage. Guests include tennis star Serena Williams, soap opera heartthrob Cameron Matheson, astronaut Jim Lovell, and members of the original Brady Bunch Show.

In the evening, the Magic Kingdom hosts a live performance of the Brian Setzer Orchestra on the Castle Forecourt stage. Afterwards the park officially debuts a new pyrotechnic show called Wishes: A Magical Gathering of Disney Dreams. The Disney World premiere includes an introduction by actress Julie Andrews.

At Disneyland, The Golden Horseshoe Variety Show performs it's final show at 5:30 pm after more than 4,000 performances. Guests at the final performance include Wally Boag, star of the original Golden Horseshoe Revue for over 27 years.
2010:
The first Annual Swan and Dolphin Food & Wine Classic kicks off (for the next two days) at Walt Disney World.
---
When we posted last week's Magic Kingdom tilt-shift video, the hope was that a few of you would enjoy the experiment. But oh my…were we surprised. Response was overwhelming.
Some Disney Parks Blog commenters said they were moved to tears. Others cheered and described it as a mini vacation. And yes, we heard those of you who asked for more. So, we immediately found the creative "eye" and champion of the project — David Roark, manager of creative photography for Disney's Yellow Shoes Creative Group. David sat down with us and shared how he did it.
Thomas Smith: This type of project has never been attempted at Disney Parks. How'd you make it work?
David Roark: It was a lot of trial and error. My first two or three trips out of the box I was like, 'This is not going to work.' It's a combination of your height on the scene and in the Magic Kingdom Park there's just not a lot of fixed platforms where you can lock a camera off for five minutes without it moving. But there's also lightning and consistency of exposure. We started this in the middle of summer and if you start a sequence and a little cloud comes by, you need to start it over again because the clouds darken the scene so much. So, it was very trial and error. This was on the job training for me.
TS: Was it difficult to find the perfect shots?
DR: In the case of this one, nobody really knew what we were doing. (I said) "just trust me and work with me here, this will all make sense."
 TS: What lenses did you use?
DR: Nikon makes three tilt-shift lenses, they're basically architectural lenses and we're using them in a diametrically opposed application than what they're built for. They're built to actually allow you to increase the focal plane in a scene and make everything in focus. For tilt-shift, we turn them the opposite way and back tilt the focal plane so that hardly anything is in focus. And that creates that miniaturation effect.
TS: What was on your mind while putting this together?
DR: For me, it became as much a transportation story – the story of getting to the park and all the things that happen because that activity of parking your car and coming through the toll plaza. I had to think about what scenes have that kind of repetitive motion. It was a lot of fun and it's different. For me it became a little bit of an escape.
TS: Did you notice Guests wanted to see Wishes Nighttime Spectacular?
DR: Everyone wants Wishes, but Wishes is so bright and because we shoot one frame a second, there were just too many flash frames in it. But, Epcot and Illuminations, I'll make work. We'll get the fireworks.
---
The Vinylmation Holiday Series #1 is in Disney Parks.
For those unfamiliar with the "Vinylmation," don't worry – here is a brief introduction.
"Vinylmation is about expressing creativity and the mysterious thrill of the chase," said Donald Ferro, Product Developer for these new vinyl figures, when I asked him to summarize Vinylmation in one sentence.
It's a thrill for our Disney Artists to who see the Vinylmation figure as a blank canvas. Their inspiration comes from everywhere – Disney Park icons, urban landscapes and even holidays (like the new set mentioned above). With each figure having a distinctive art style and personality, the difficult part for me is choosing a favorite. I'm still looking for that SMRT-1 figure from the Park Series #1. Any help?
So how does this Vinylmation thing work?
There are a variety of figures to collect – from 3" limited releases to 9" limited edition figures. For 3" limited releases, there are typically 12 figures per series. Eleven figures are known while the twelfth is called the mystery "chaser." Each 3" Vinylmation is packaged in a "blind pack" – which means you won't know which figure you're getting until purchased. The 3" figures are sold individually or you can get a whole tray (which means you'll find the chaser, and potentially become the best friend to many collectors).
For the Holiday Series #1, there are four additional 9" limited edition figures. Unlike their 3" cousins, the 9" figures are sold sans mystery (or in a window box). The 9" figures have a finite production run, meaning only so many were made. Once a limited edition figure is gone, it's gone. Sorry.
One of my favorite 9" figures from the new Holiday series was inspired by the "Skeleton Dance," the first Silly Symphony cartoon released in 1929. I loved the music by Carl Stalling from that animated short. Add it to my favorites!
---
Today, we're offering help to guests planning their next trip to Disneyland Resort.
First, keep it simple. Start with your park ticket — buy it online at www.disneyland.com and you can skip the ticket line and go straight to the gate. Next, try to take the monorail. It opens at the same time as the gate and you might be able to enter the park faster.
Also, remember to utilize the FASTPASS Service. You can usually get another FASTPASS ticket before the first one has expired. For example, if you get a FASTPASS ticket for "Space Mountain" at 10 a.m. and it says to come back and use your FASTPASS ticket at 2 p.m., you can still get a FASTPASS ticket for another ride at 12 p.m. The trick? Just look at the time at the bottom of your ticket, and the fine print will tell you the next time you can get another FASTPASS ticket.
Shopping and eating can be an easier adventure as well. The best hours to eat are during off peak hours. That would be an early breakfast, late lunch or early or late dinner. Reservations always make life easier, call 714-781-DINE. It's also best to do your shopping during peak ride hours. More guests tend to be on the attractions between 2 p.m. and 4 p.m., so stroll through the shops during those times. It also saves you some wait time in the lines for attractions. If you need a second or third cup of coffee during a visit, the Market House on Main Street, U.S.A gives free coffee refills for same day visits (and has since 1955). 
Over at Disney's California Adventure Park, there is no charge for lockers for up to 2 hours at Grizzly River Run, based on availability. This is helpful for those hardcore river rats who know they will get soaked. You can stash your dry clothes in the locker and change afterwards. 
The video below has more fun tips from guests and Cast Members.