Fun Fact of the Day
Subscribe to posts
Doom Buggy is the show name for Disney's OmniMover system (used in their Haunted Mansion attraction). It was initially developed for the "Adventures in Inner Space" attraction. Disney World's Haunted Mansion has 160 cars with a guest capacity of 3,200 guests per hour.
The Omnimover is an amusement ride system used for Disney theme park attractions. Roger Broggie and Bert Brundage developed the system for WED Enterprises, which patented Omnimover in April 1968. The term was coined by Imagineer Bob Gurr and is a portmanteau of OmniRange and PeopleMover. 
Click Here to read an Exclusive Interview with Bob Gurr talking about the creation of the Haunted Mansion Omnimovers, People Mover, Monorail, small world boats and more! 
 Current attraction series using the Omnimover system

    * Haunted Mansion Series
          o Disneyland
          o Magic Kingdom at Walt Disney World
          o Tokyo Disneyland
          o Disneyland Paris

    * Buzz Lightyear Astro Blaster Series
          o Disneyland
          o Magic Kingdom at Walt Disney World
          o Tokyo Disneyland
          o Disneyland Paris
          o Hong Kong Disneyland

    * Boo Blasters on Boo Hill (Kings Island)

    * Hershey's Chocolate World Great American Chocolate Tour

Current individual attractions using the Omnimover system

    * Spaceship Earth

    * The Seas with Nemo & Friends System recycled from a previous attraction
          o EPCOT at Walt Disney World

Omnimover attractions no longer in operation

This list includes all Omnimover attractions that have been permanently removed and not recycled.

    * Disneyland
          o Adventure Thru Inner Space (replaced with Star Tours in 1987)

    * Epcot (Walt Disney World Resort)
          o World of Motion (replaced with Test Track in 1999)
          o Horizons (replaced with Mission: SPACE in 2003. Homages to Horizons can be found in both Mission: SPACE and in the Magic Kingdom's newly refurbished Space Mountain.)

--Two Omnimover systems have been in continuous use since their debut but have featured different attractions.

    * Buzz Lightyear's Space Ranger Spin at Tomorrowland in the Magic Kingdom uses the Omnimover ride system of two former attractions. The first attraction to occupy this space was If You Had Wings, which was sponsored by Eastern Airlines from 1972 to 1987, when they dropped sponsorship. The ride then was known as If You Could Fly until closing in January 1989. Six months later, the old ride system was reused as If You Had Wings was transformed into Delta Dreamflight, which was sponsored by Delta Air Lines until 1996. The ride vehicles were reprogrammed in 1989 to alter their viewing direction. In 1996, the ride became known as Take Flight, and closed on January 9, 1998. Buzz Lightyear's Space Ranger Spin uses the very Omnimover ride system of If You Had Wings/Delta Dreamflight, except for having new third generation vehicles that can be rotated by the riders to any angle to shoot at various targets. Space Ranger Spin also uses two of the speed tunnels from If You Had Wings.

Although Journey Into Imagination with Figment in Epcot is now an Omnimover basis track it was once all Omnimover (this was back when the Dream finder was still part of the attraction).

    * The Seas with Nemo & Friends previously was home to The Living Seas, which utilized a different attraction theme as well as a different Omnimover vehicle design.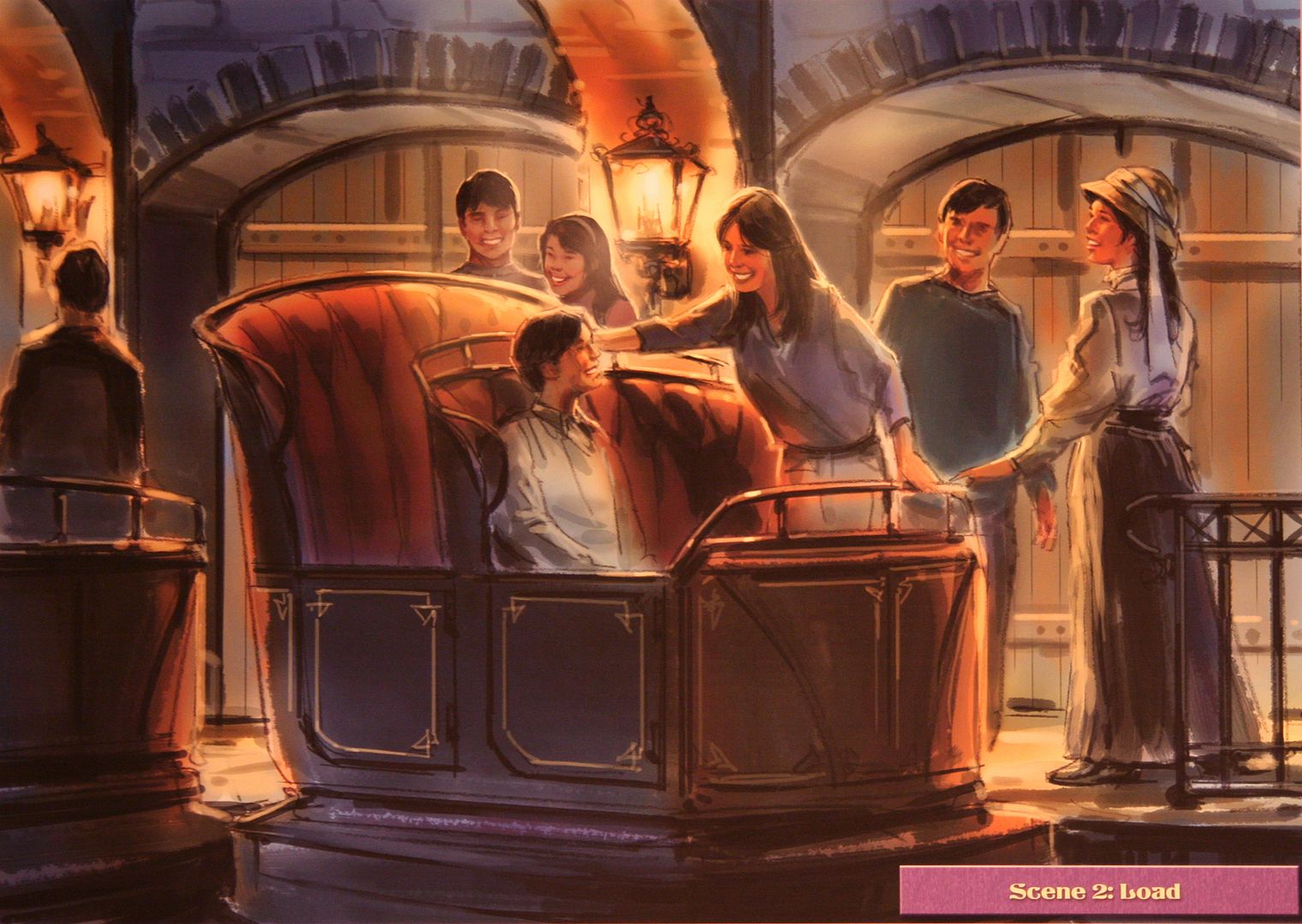 Click Here to read "Limbo: Loading the Doom Buggies" at doombuggies.com
The original eight "E ticket" attractions at WDW's Magic Kingdom were Space Mountain, Pirates of the Caribbean, Haunted Mansion, Country Bear Jamboree, Hall of Presidents, Jungle Cruise, It's a Small World, and 20,000 Leagues under the Sea.
Posted by 

Marcio Disney

 
at 12:24 AM 
0 comments


King Louie
(the orangutan voiced by
Louis Prima
) was one of the characters created especially for
Disney's The Jungle Book
, for he doesn't appear in
Rudyard Kipling
's original story.
According to Kodak (one time sponsor of Journey Into Imagination) 6% of all amateur photographs are taken at Disneyland and Walt Disney World.
"When you're lying on your back and see all the smoke billow up around the windows before you rocket off, that's just like it is inside the space shuttle." 
-Winston Scott 
(retired astronaut) 
on Epcot's Mission: SPACE