BERNADETTE AGNES KENNEDY
(MacMenamin Radda)
Of McLean, VA, died peacefully in her daughter's home in Ashburn, VA, on Friday, August 24, 2007. 
Beloved wife of the late William J. Kennedy.
Devoted mother of Donna (David) Gavin, Valerie Radda Corey, Deirdre McInnis and Thomas (Katherine Batchelder) Radda; 
Grandmother of Kevin Corey, Jr., Christopher McInnis, Maureen and Robert Gavin, Amy Radda; step-grand- children, Christina Gavin Pritchard and Joseph Gavin; and son-in-law, Carey McInnis. 
Family and friends are invited to Bernadette's Life Celebration at MONEY & KING FUNERAL HOME, 171 W. Maple Ave., Vienna, VA, on Thursday, August 30th from 2 to 4 and 6 to 8 p.m. Mass of Christian Burial will be celebrated at St. Luke Catholic Church, 7001 Georgetown Pike, McLean, VA, on Friday, August 31st at 11 a.m., with a visitation from 10 to 11 a.m. at the church. Interment will be at the Arlington National Cemetery Columbarium on Tuesday, September 11, 2007 at 1 p.m. Donations may be made to Catholic Charities, the Humane Society or Vitas Hospice.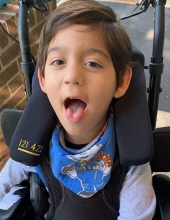 Great Grandson:  Mason Palmer McInnis  July 18, 2015-December 31, 2019 of Mc Lean, VA.
Beloved son of Christopher McInnis and Sandra Cisneros; brother of Ella and Vincent Morales and Hunter and Teagan McInnis; grandson of Miguel and Marina Cisneros and Carey and Deirdre McInnis; great-grandson of MaryEllen McInnis and Lan Radda. Relatives and friends may call at Fairfax Memorial Funeral Home, 9902 Braddock Rd. Fairfax, VA on Sunday, January 5, 2019 from 1 PM until time of service at 2 PM.
In lieu of 
Angel's Daughter Lilly https://www.washingtonpost.com/photography/2019/06/06/portraits-high-school-athletes-that-go-beyond-their-outer-strength-reveal-their-inner-drive/?noredirect=on&utm_term=.993f66c2204d
flowers donation can be made to the International FoxG1 Foundation.