Keyboard Websites
All the Touch Typing Tutors  This site is well organized and up to date. 
OneHand Typing and Keyboards Lots of links to downloads.

Mac and Windows 
TuxTyping
is an educational typing tutor for kids starring Tux, the Linux penguin. This educational game comes with two different games for practicing your typing, and having a great time doing it.
This release includes many new word lists and lessons, as well as all-new high-resolution background images and new music files for the "fish" game. It is now possible to create custom word lists from with Tux Typing itself.
Master Key-Learn to type on a new keyboard such as QWERTY or
Dvorak or improve your typing skills using our drills or any plain text files. Tracking mastery progress and playing the ParaTyper game keeps any user interested in progressing their typing skills well past 40 words per minute.
$20 Home Version, $12 Classroom Version 
Ten Thumbs Typing Tutor -Ten Thumbs is the easy and fun way to get typing. Learn the proper way to type without looking at the keys. Our unique personal trainer approach adapts to you, teaching the best habits from day one. Ten Thumbs is engaging for children and yet simple enough for adults! Plus, its the only program that lets you learn by typing the lyrics to your favorite iTunes.
 $25.95 online, or $34.95 on CD       Free Trial download
Online Typing Activities
Alfatyping Gives you step-by-step typing instructions about how to learn typing correctly. Following these 
typing instructions reduces the time spent, and increases the your typing speed and accuracy.

Artypist If you don't know how to type or you want to refresh some concepts, these lessons will guide you from the basics. You can check your statistics, set preferences, and pick individual lessons.
Button Beats
Play the piano with either your mouse or your computers keyboard. To play with your computer
keyboard click the "activate keyboard control button" on the right side of the piano (the button looks like a computer keyboard). The notes are all accurate. The sheet music is converted to a sequence of letters you type on the computer keyboard and it will play the actual song. There are hundreds of songs available for you to choose from. The songs are located in 2 places, above the piano as a drop down menu or on the piano itself under the buttonbeats logo. Select a song, click the "activate keyboard control" button on the piano then type the sequence of letters (song) you selected. You should be able to play bits of Beethoven in minutes.
Dance Mat Typing Divided into four levels, and each level is further divided into three stages. Worksheets can be printed to accompany each lesston. Uses Flash. Very cute.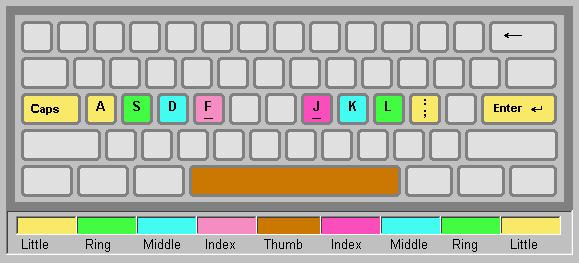 Goodtyping Learn how to type correctly in just a few hours using all your fingers. You will soon be typing faster than you ever imagined. 27 guided lessons to learn step-by-step from the beginning. Choose between 18 different keyboard layouts to learn. Web-based course. No downloads required.

Keybr Simple, easy to use. Go to the website, and start typing. Visual cues show your mistakes. No instruction.

Learn2Type Typing Test & FREE Typing tutor at Learn 2 Type - the leading FREE Web site that helps you master the skills of touch typing. Whether you're a typing expert or just a "hunt & peck" beginner, the interactive exercises in this Typing Tutor automatically adjust to your skill level. The better you get, the more challenging the Typing exercises become. You can come and go as you please and pick up the Typing lesson where you left off. There is a special version for younger kids.  
Oekosoft Touch Typing Trainer   Test the touch typing trainer for free.
The first 30 lessons of the touch typing trainer are absolutely free. If you like the program, you unlock the whole course by a small fee of € 15.
10-fast-fingers.com
typeonline.co.uk
uglytyping.goingup.us/uglytyping.htm  
dvorak.gruevy.com  
typingmaster.com/.../bubbles.asp (game)

Mac Only
Arcade Typing Tutor Arcade Typing Tutor is a program that makes typing fun. More engaging than the original missile defender arcade game on which it is based.
Free download 
Letter Invaders Based on the now ancient arcade game Space Invaders,
is designed to help improve typing skills (and therefore increase your chances of getting some sort of RSI). The idea is to blast aliens out of the sky as they attempt to land on and "kill" you. Since this is a game to improve typing skills, the aliens are words selected randomly from the dictionary. You blast the aliens out of the sky by typing them correctly.
Free download 
Windows Only 
Easy to use and effective typing program. Basic typing lessons enable beginners to understand Touch typing. Typing practice in Kiran's Typing Tutor is much more advanced and scientifically designed. User friendly and self explanatory design.
Free download
Rapid Typing Tutor Improve your typing skills through a series of easy lessons! Learning how to type properly without looking at the keyboard is simple. Rapid Typing Tutor makes keyboard training fun and entertaining. Download this typing software or take the free online typing test.
Free download

Stamina Typing Tutor 2.5 Amusing, yet multifunctional touch-typing tutor with support for several layouts: QWERTY (US, UK, ...), Dvorak, AZERTY etc. The program is perfect for novice as well as advanced users.
Free download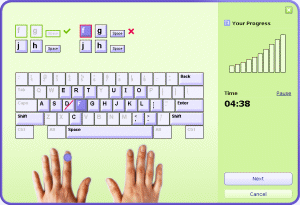 TypingMaster Typing Test With the trial version you can complete the first lessons of the course and try out all the advanced training features. Then, if you like what you see and want to complete your studies, you can buy the full version from the web store in minutes.
$39.95 online  Free trial download 
MaxType LITE This program allows you not only to test and practice your typing skills with any *.txt file, but to print out your test diplomas (statistical data will give you the information about 20 (!) parameters of your typing) and even replay the mtr-record file of your own typing. Will even measure the typing speed of each hand separately!

Free download 
This free typing tutor teaches you how to touch-type. Once you can touch-type you will not need to look at the keyboard to find the letters you want to type. The program comes in three versions: Standard, Accessible and Spanish. The Accessible version is for visually impaired or blind users.
Kid's Typing Skills-helps you master a skill needed in today's computer
oriented world and the best part - it's FREE! KID'S TYPING SKILLS will help you learn keyboarding, or typing (as it was called when typewriters were the major method of putting words on paper). You can learn about the keyboard and which finger presses which key. Practice with keyboard drills, character drills, and word drills. Take timed tests to determine and improve your typing speed.
KID'S TYPING SKILLS will run under Windows 95, 98, 2000, Me, NT, XP or Vista.
Typing Invaders / 10 Finger BreakOut
Fast Eddie's Typing Speedometer
ICanType!