Red and Aqua Weddings
Call it aqua, turquoise, or Tiffany blue.  Pairing this color with a bright red makes a color combination that can be fun and whimsical, or surprisingly elegant. 
 If you find other sites that show red and aqua weddings, email me at liza0828 at gmail dot com so that I can include them.  Also, if you use any of these photos, please give proper credit.  Click the link to go directly to the sites where I got the photos and inpsiration boards.  Enjoy!
Bridal Party
Lisa and Mike-- photos by Marni Rothschild
Me and my girls!

An amazing Indian wedding with a red and aqua palette from Lucky Me.  Photos by Lisa Lefkowitz.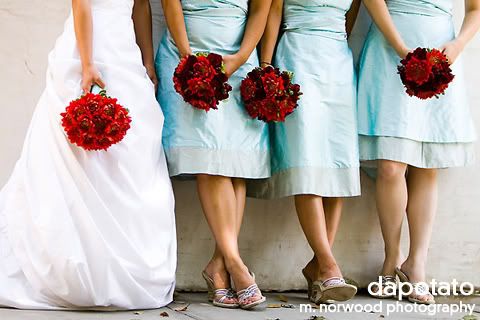 Another beautiful wedding, with a lighter shade of aqua from dapotato.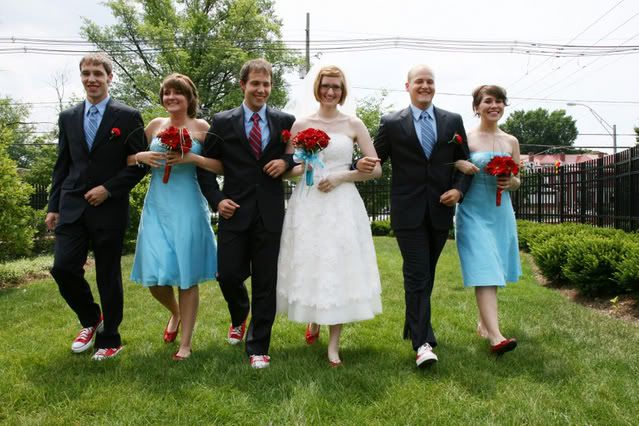 This is one of the cutest weddings I've seen... knottie pezywvu
Bright and bold colors from knottie aleithea.
Love these flower girls!  Photos by Boutswell Studio.
The guys!  From MrsStephM's bio.
From theknot.com: Kirsten and Tom
Thryn and Gabe's wedding
Shanta and Kyle's wedding
Inspiration Boards
This gorgeous inspiration board comes from Blu Sky Designs in Indianapolis.
Another inspiration board from Brenda's Wedding Blog.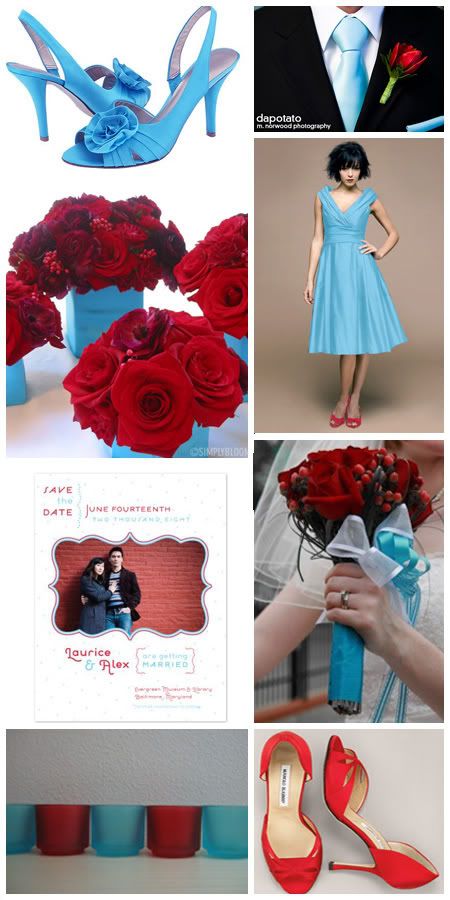 A really cute inspiration board from Budget Savvy Bride.
Inspiration board from The Bridal Blog.
This is a really fun inspiration board from Life. Love. Lipstick.
This inspiration board was not credited, but I got it from this message board.
A non-wedding related inspiration board from Stars. 
A Mexican-inspired red and aqua board from the fabulous blog, Snippet and Ink.
Another great board from Snippet and Ink.  She calls this "aqua and poppy."
Cute gifts from Etsy seller Designs by Jamie.
From SquiggleJay at polyvore.com. 
Wedding details from Amber and Jeff's "school theme" wedding.
Table Decor  
From Martha Stewart Weddings, Summer 2006.  This is what first inspired me to be a red and aqua bride. 
Tons of red and aqua pictures can be found at Project Wedding. 
This is from an adorable "vintage beach" wedding in Washington.  Pics from Married and More with Michelle.
Cute table decor idea from Julie's wedding... photos by Guy Kitchens
Our table decor and other details... This is from the Bella Tesora Events blog.
Linens that would work well with a poppy theme... from Etsy.


A centerpiece mockup from VTgirlathearts bio.
Heather and Andrae's wedding at The Knot
Kristen and Matt's wedding from The Knot
The Knot's "hot wedding colors" for summer
Plates for a red and aqua theme
 Cakes 
An absolutely gorgeous wedding in Orange County.  Photos by Boutswell Studio. 
A cake from Robin and Danny's wedding.
Very DC!  A cherry blossom themed wedding.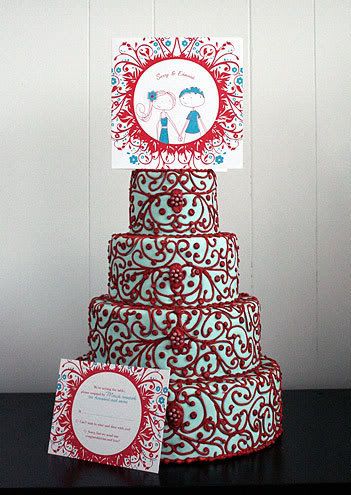 What a cake!  From Brides in the City. 
My shower cake, made by my talented friend Jenn.  It matches my invitations!
Yummy!  From SugarCups.
Our cake-- offset oval tiers with aqua ribbon and red roses.
 Invitations and Paper
These are my red and aqua invites.  You can see them on the So In Love blog.
Some more red and aqua invites, from Gourmet Invitations.
Love these address labels from Art Fire.
Invites from MountainCow Monthly
Another Etsy card
This is from Mrs. Lime's blog on the Wedding Bee.  She has lots of great inspiration pics.  The invite shown above  is from luckypaperie.com.
Lantern stationary from The Paper Source.
More invites from Gourmet Custom Design.
I love the belly band on these letterpress invitations from Bella Figura.
An invite with an Oriental flair from Naptime Cards.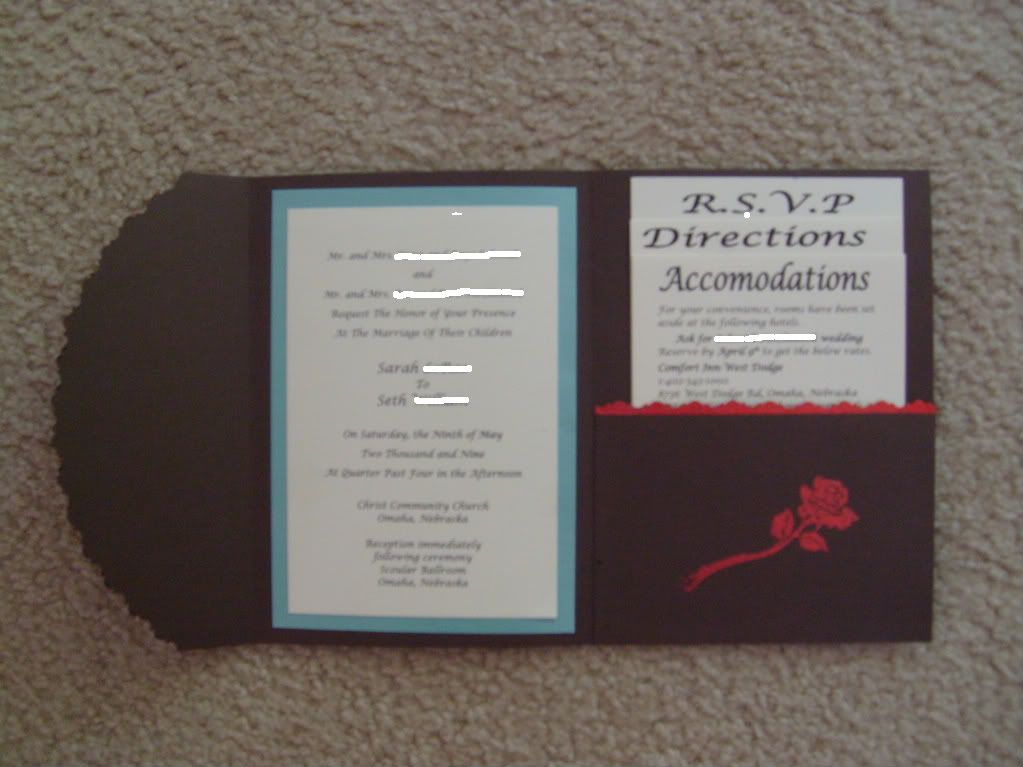 DIY invites from knottie huskerfanz.
Odds and Ends
Our escort card table... aqua cards with red writing, with wine cork holders.  Photo courtesy of Bella Tesora Events.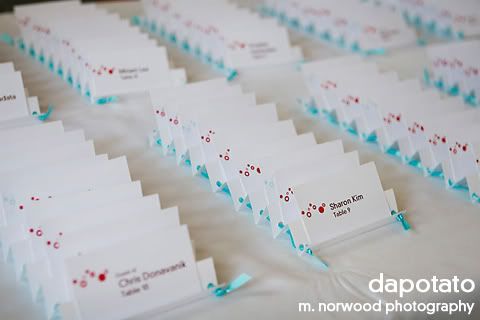 dapotato's escort cards.
 Candy buffet!  Photo by Jonathan Canlas Photography.
Favor idea from Sophie's Favors.
A cool gift for your bridesmaids from
Etsy
.
From njrunr3's bio.
Programs from MrsStephM.
Awesome bags for out-of-town guests from VegasBride.
And finally... after you send out your beautiful red and aqua invitations, you can wait for your RSVPs to come back to this mailbox!
 Thanks for stopping by!