I am using the fun and sexy art of Elias Chatzoudis. To use his art you must purchase a license at MPT HERE. The scrap kit I am using is fabulous freebie by Bel Vidotti called Sea Life. You can pick it up HERE. The mask is by WeeScotLass and can be found HERE. My supplies HERE.
Plug In used: Eye Candy 5 Nature (for water effect) optional
Let's get started!
Open a new image 600X600 and floodfill with white. Copy and paste a paper of choice as a new layer. I used paper 5. Apply WSL_Mask254 to the paper. Merge group.
Resize the wire mesh 65% and copy and paste as a new layer over the mask layer. Resize the pebble frame 80% and copy and paste as a new layer.
Resize paper 7 70%. Make it your background/fill pattern in the materials palette. Foreground/Stroke is null. Take the circle preset shape and draw out a circle in the center of the pebble frame. Convert to raster layer.
Add a new raster layer. Take your freehand selection tool (set at freehand) and draw the spot you want your "sand" to go. Do it roughly. Copy and paste paper 10 over the selection you just made. Selections-invert-hit delete on your keyboard. Copy and paste a few of the sealife elements around the pebble frame resizing them to your preference. I used the starfish, seahorse, string element and a few of the pebbles along the bottom of the frame. Copy and paste your tube as a new layer.
Resize the sealife leaves 60% and place them in the "water" part of the tag. Duplicate and mirror them.
Resize flower 07 60% and place on the top left corner of the frame. Move it under all but over the mask. Use your raster deform tool to rotate it how it looks best to you. Then duplicate flower07 and mirror. Duplicate that one and flip. Duplicate that one and mirror, so they are on all 4 corners. See my tag for reference. Drop shadow all pieces of your tag. Copy and paste my word art as a new layer.
Crop and resize your tag. Add your copyright info, watermark and name. I used a font called Mandingo for my name with a gradient glow around it.
This tag has a two part animation.
First the watery background. I used Eye Candy5 Nature -Ripples
Activate your watery paper and apply Eye Candy 5 Nature- Ripples with the following settings: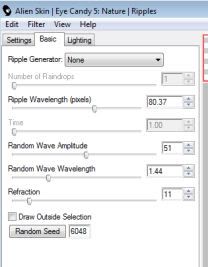 Copy your tag merged into animation shop and paste as a new animation. Back to PSP. Undo the ripples you just did and then redo them hitting the random seed button. Copy the tag merged into animation shop and paste after current frame. Do this twice more so you have a total of 4 frames to your tag. Edit-select all and change the frame properties to 30 or your own preference.
Open the two fish animations and the floating bubbles in my supplies. Select all on each and paste into current frame.
Run your animations and save as a gif!
I hope you enjoyed my tutorial!
Hugs,
Dee