I am using the fantastic artwork of Jay Trembly. To use his art you must purchase a license at CILM HERE. The scrap kit I am using is a lovely FTU kit by Bel Vidotti called Angels. You can pick up this kit HERE. Cloud tube is by Rainbow Coffi and can be found HERE. My supplies including template can be downloaded HERE.
Plug- in used: Xenofex 2 Constellation ( optional)
Let's get started!
Open my template in PSP. Add a new raster layer and drag to the bottom of your layers pallette. Floodfill it with white.
 Add another new raster layer and resize and copy and paste paper 3 as a new layer. Apply Becky_mask022 to this paper layer. Merge group. Click inside the large black design on your template with your magic wand. Copy and paste paper 06 as a new layer over your selection. Selections-Invert-hit delete on your keyboard. Delete the black design layer of your template.
 Do the same thing with each piece of the template using papers of choice from the kit and after deleting the template layers. Drop shadow the frames of the completed template. I used 2/2/50/5.
 Resize star01 50% and copy and paste as a new layer. Place it in the center of your tag on the small template piece. Resize star02 30% and copy and paste as a new layer on the outer points of the template. Duplicate this star and put on each point. Resize the purple star 20% and put these on the points of the template too. See my tag for reference.
 Copy and paste your tube as a new layer. Resize and copy the Rainbow Coffi cloud as a new layer. Make it look like your tube is sitting on the cloud if desired.
Resize the angel harp 40% and copy and paste as a new layer. Rotate a bit using your raster deform tool. Then duplicate the harp and mirror it. Merge your harp layers together.
Resize foliage of choice 50% and rotate it counter clockwise. Copy and paste it as a new layer along the bottom of the cloud.
 Resize fancy ribbon 01 80% and place behind your template layers. Rotate as preferred and then duplicate it and image flip. Drop shadow all pieces of the tag except for the cloud.
Add the word art if desired in my supplies. Crop and resize your tag as needed. Add your copyright info, watermark and name.
Animation: (optional)
Xenofex 2 Constellation
Activate your harp layer.
Click inside one of the harps with your magic wand. Hold down the shift key and click inside the other. Now both harps have the marching ants around them. Now go to selections-modify-contract by 6. Apply Xenofex 2 Constellation with the following settings: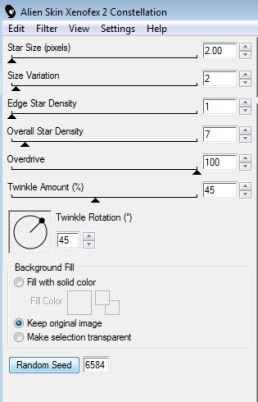 Select none. Copy your tag merged into animation shop. Back to psp and undo the constellation and reapply it again, this time changing the random seed. Select none. Copy your tag merged into animation shop and paste after current frame. Do this procedure one more time, changing the random seed again on the constellation.
Run your animation and save as a gif!
I hope you enjoyed this tutorial!
Hugs,
Dee