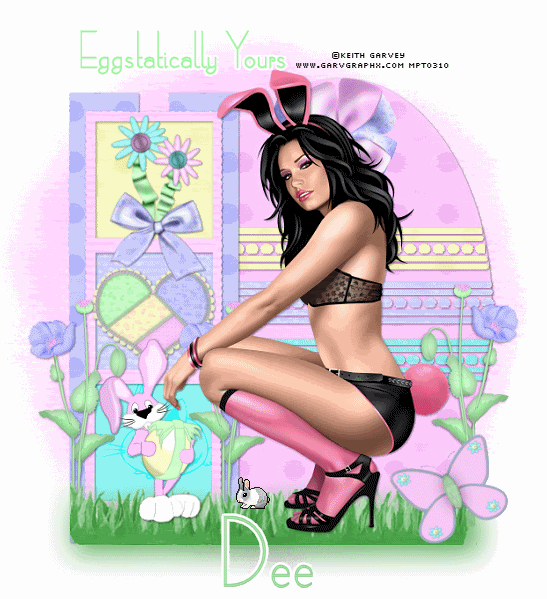 I am using the fantastic artwork of Keith Garvey. To use his art you must purchase a license at MPT HERE. I am also using a very cute freebie scrap kit called Bunny Hop by Rockin's Ruckus. You can pick it up HERE. Use a mask of choice. Grass tube can be found HERE. Template is by me and included in my supplies HERE.
Let's get busy!
Open my template in PSP. Add a new raster layer and drag to the bottom of your layers palette and floodfill it with white. Starting with the large egg shape layer of the template, Selections-select all- Selections-float, Selections-modify-smooth by 5. Copy and paste paper 9 or one of choice over the selection as a new layer. Selections -invert-hit delete on the keyboard. Now delete the black egg part of the template. Continue to do these steps for each part of the template. See my tag for reference. Drop shadow all pieces of the template. I used 2/2/44/4
Activate your white background layer and copy and paste a paper of choice as a new layer. Add a mask of choice to the paper. Merge the group.
Copy and paste the grass tube along the bottom of the tag. I colorized mine Hue:85 Saturation:92. Erase to fit your tag. I rounded the sharp corners also with the eraser tool. Duplicate the grass and on the bottom copy add a gausian blur with the with a radius of 16.00.
Copy and paste your main tube as a new layer.
Resize flower5 40% and copy and paste as a new layer. Place one on each side of the frame and one on the right side of the egg.
Resize one of the bows 40% and copy and paste it as a new layer as a deco on the egg. Resize another bow 30% and place on top of the first bow and rotate it a bit. Use any other elements of choice.
Resize 3 elements from the kit and place in each of the squares of the frame. I used the flowers with the bow, one of the hearts and one of the rabbits. Write out some word art if desired.
Crop and resize your tag. Add the copyright info, your watermark and your name. I used a font called Sympathique.
Animation: the hopping bunny
Copy and paste your tag merged into animation shop.
Open the bunny animation in my supplies.
Duplicate your tag so it has 21 frames.
Activate the bunny. Edit-select all- Edit-copy
Activate the tag. Edit-select all-Edit paste into selected frame.
Place the bunny onto the tag.
Run the animation and save the tag as a gif!
I hope you enjoyed my tutorial!
Hugs,
Dee