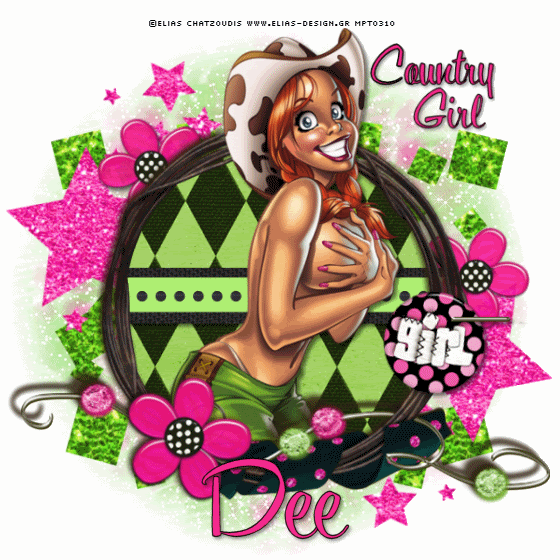 I am using the fantastic artwork of Elias Chatzoudis. To use his art you must purchase a license at MPT HERE. The scrap kit I used is a bright and fun freebie kit called Pretty, Scrappy, Girly Kit and you can pick it up HERE. Mask used is by WeeScottLass and you can pick it up HERE.
Plug-in used: Xenofex 2 Constellation (optional)
Let's get started!
Open a new image 600X600 and floodfill it with white. Resize, copy and paste a paper of choice from the kit as a new layer. Apply WSL_Mask60 to the paper layer. Layers-load/save mask-load mask from disk. Merge the group.
Resize frame 2 25% and copy and paste as a new layer. Take your freehand selection tool and draw a selection through the frame, outlining it. Try to stay on the grapevine part. Resize paper 8 and copy and paste over the selection. Selections-Invert-hit delete on the keyboard. Bring this paper layer under the frame. Copy and paste your tube as a new layer. Duplicate the frame and have one under the tube and one above her. Erase on the top frame so her head shows above.
Resize ribbon of choice 20% and copy and paste it over the paper in the frame layer. Erase any overhang.
Resize the green glitter 1 60% and copy and paste as a new layer. Bring it under your frame and paper but over the mask layer show it shows on the left side. Duplicate it and mirror. Do the same with the pink stars glitter.
Add any other elements of choice. I used a few flowers and the girl button and staple. Write out some word art if desired. I wrote "Country Girl". Resize the tag and add your copyright info, watermark and name. I used a font called Rambler ScriptJF.
Animation: (optional)
Xenofex 2 Constellation
Activate the mask layer and apply Xenofex 2 Constellation with the following settings:
Copy the tag merged into animation shop and paste as a new animation. Back to PSP. Undo constellatin and reapply it, this time changing the random seed. Copy merged into animation shop and paste after current frame. Do this process one more time for a total of 3 frames to the animation.
Run the animation and save it as a gif!
I hope you enjoyed this tutorial!
Hugs,
Dee