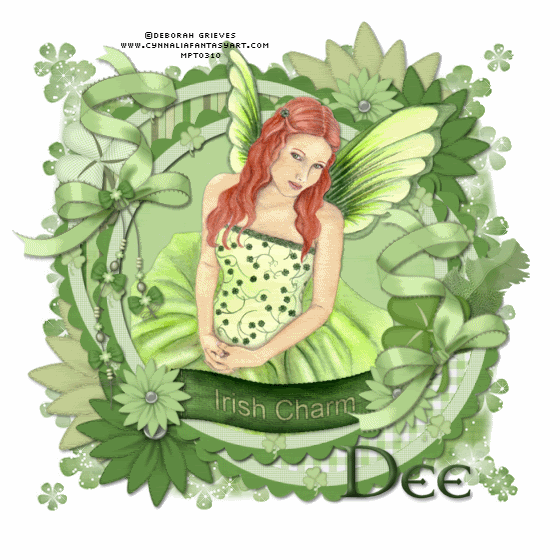 I am using the enchanting art work of Deborah Grieves. To use her art you must purchase a license at MPT HERE. I am also using a beautiful FTU scrap kit by Bluedream Designs called Irish Charm. You can pick it up HERE. Mask is by Ita and you can get it HERE.
Plug-in used: Xenofex2 Constellation (optional)
Open a new image 700x700. We can resize later. Floodfill with white. Copy and paste paper1 as a new layer. Apply itamasque027 to the paper. Layers-load/save mask-load mask from disk. Merge group.
Copy and paste frame 4 as a new layer. Duplicate the frame twice. Move one to the left and up a bit. The other move to the right and down a bit. Move these two frames under your center frame. Click inside your center frame with your magic wand. Selections-Modify-Expand by 4. Copy and paste paper4 over your selection. Selections-Invert-hit delete on your keyboard. Do the same with the other two frames, using papers of choice in them. I used paper2 and paper8. Drop shadow your frames.
Copy and paste your tube as a new layer. Erase so the head is above the frame and the lower half is under it.
Resize 60% and copy and paste one of the Irish Charm Lg bows as a new layer. Place on the left side of your center frame. Duplicate and mirror. Resize 40% two of the shamrocks and place them under the bows. Rotate them as needed. Resize one of the feathers 40% and tuck it under the ribbon.
Resize one of the flowers 70%, another 50, and move these under your frames. See my tag for reference. Duplicate them and move to the top also. Resize the charm pendant 70% and place on the left side bow. Copy and paste the word art banner as a new layer. Drop shadow all pieces of your tag.
Crop and resize your tag to your preferences. Add your copyright info, watermark and your name. I used a font called celtic garamond for my name.
Animation (optional)
Xenofex 2 Constellation
Activate your mask layer, and apply Xenofex2 Constellation with the following settings:
Copy your tag merged into animation shop. Back to PSP. Undo the constellation you just applied and reapply it but hit the random seed button. Copy merged into animation shop and paste after current frame. Do this process one more time.
Run your animation and save as a gif!
I hope you enjoyed my tutorial!
Hugs,
Dee