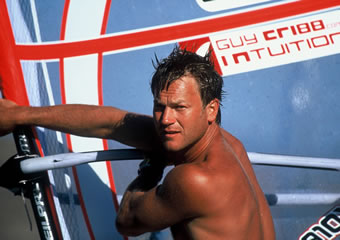 Guy Cribb is one of the worlds leading authorities on windsurfing technique and certainly the world's most active windsurfing coach. Cribby started coaching in 1992 and has been developing his skills ever since, working with British Youth and Raceboard national teams and champions. Cribby innovated 'muscle memory' as a teaching method for windsurfing (the repetition of body movements until they become intuitive) making moves like carve gibing and freestlye easy to learn in hours instead of months. He also discovered the very blue print of windsurfing, INtuition Core Skills. These are individual movements that you use time and again whatever level of windsurfing you're at. As individual skills they're easy to learn and enable efficient and rapid progression throughout your windsurfing.
Cribby wants you to enjoy the free INtuition pages online, over 50 downloadable technique magazine articles. In exchange for this access, he asks you to offer your email address for the occasional INtuition Enewsletter (emailed every 2-4 months). Below is the listing of what you'll find.
Go here to register
. None of the links in the photo below are active.