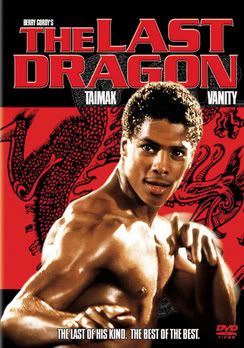 Last Update March 19, 2014
Will There be a Last Dragon Remake?
There has been talk for years about The Last Dragon Remake.  The hype started in 2008 when it was announced that Samuel L. Jackson would be playing Sho'nuff.  Then Rihanna was said to playing Laura Charles and possible Chris Brown as Leroy. 
Several years have gone by now and still no remake. Usually if a movie is in limbo for this long it doesn't get made.  People ask me everyday
when is The Last Dragon Remake happening?
My answer has always been not anytime soon, if it happens at all... It didn't happen in 2012; not looking good for 2013, will 2014 be the year? In October 2012 in an interviews with the RZA of the Wu-Tang Clan things were looking up...
"It's looking real positive. It's not easy to get movies made. You'll learn that if you ever get into this business. But, it looks very, very positive."
~ RZA, October 23, 2012 HipHopDx.com 
A year later in a October 17th, 2013 interview with Jetmag.com
Taimak
said he felt that The Last Dragon remake had a 50/50 chance of being made at this point. He also added.. 
 "I don't own the rights to the movie, Sony does. Although I've spoken to Sony, it's still up in the air. Actually, I believe the fans would be the best route to help bring that idea alive." 
Should The Last Dragon be Remade?
Although I like the attention this great film is getting because of the constant speculation of a remake. I know I am not alone in the fear that they will ruin this legendary cult classic. Sometimes classics like this should be left alone. It would be very interesting to see what could be done with modern day special effects but is it possible to recapture the soul of The Original? One thing I know from interacting with thousands of Last Dragon fans on
The Fan Tribute to The Last Dragon Facebook page
is that there are going to be some very upset people if this remake isn't spectacular. It would basically have to take the original to another level. Is that even possible?
Who's in Charge of The Last Dragon Remake
Apparently some big names have sought out the rights to The Last Dragon, these names have rumored to include Hollywood heavyweights like Quentin Tarantino & Brett Ratner, but it is writer/producer Dallas Jackson who Berry Gordy has given his blessing. 
The project is being headed up by Devon Franklin at Sony,  Berry Gordy's son Kerry Gordy, John Davis of Davis Entertainment, the RZA and Jackson. The RZA  is a kung fu fanatic and musical genius so I would say the remake could be in pretty good hands, even though his 2012 movie
"The Man With The Iron Fists"
received mixed reviews. 
The Last Dragon Remake Script
Dallas Jackson has talked about how he will have to make the remake relevant to today's urban/pop culture because tapping into 80s pop culture was such a big part of what made the original  great.  This generation's Last Dragon would probably be more Hip Hop influenced opposed to the Motown/R&B  influenced original. 
Jackson 
has said his version would be more serious than the original and that his script would deal more with the origins of the glow and origins of the main characters Leroy, Sho'nuff and Laura Charles. It would be more like Chapter 1 in the re-boot of the franchise rather than a straight remake.
Taimak's Involvment in The Last Dragon Remake
He presented his script along with Last Dragon producer Michael Schultz to Sony. Sony was interested but nothing ever happened. When the remake hype started up again in 2008, the production team got in touch with the one and only "Bruce" Leroy and the talk was that he would be involved in the remake in some way. 
Busta Rhymes did a nice impersonation of
Sho'nuff
in his 1997 Video for "Dangerous", but Samue
l L. Jackson has been 
linked to  play
The Shogun of Harlem
. No one could truly fill the shoes of the great
Julius Carry
(RIP).  I could see 
Sam Jackson, a pretty bad mofo himself who actually auditioned for the original role, doing a good job several years ago but now I think he's getting a little too old (sorry Sam). 
Wesley Johnathan
actually looks a little like he could be related to Julius Carry. I r
an into him on
Instagram
, he mentioned he played Julius Carry's son on the 1995 TV show "Misery Loves Company" and that he would love to be involved in the Remake as Bruce 
Leroy, though.  Michael Jai White is another guy that should be considered. He pulled  off 
bad-ass
 in classic blaxplotation fashion in 2009's "
Black Dynamite"
. He's a huge intimidating 
martial arts action star who can act. What not to like about that- sounds like a pretty good fit to me. (Sam Jackson as Sho'nuff Sketch below by Shen from Area221 Blog)
Laura Charles
Dallas Jackson wanted Pop/R&B Star Rihanna to play the lovely Video DJ 
Laura Charles
 originally played by
Denise "Vanity" Matthews
. In real life Vanity was also a sexy popstar as the lead singer for the Prince produced Vanity 6, so maybe this would be a better choice than many think.  The most comments I have ever received on an Instagram post was when I posted the picture below of
Vanity beside Rihanna
. 
Love it or Hate it, linking Rihanna to The Last Dragon Remake gets people talking.
Jackson actually wanted Chris Brown to play Leroy and team up with Rihanna back when they were dating, but it seems very unlikely that this would actually happen at this point. He has also mentioned Dawn Richard, one of the singers from Diddy's Danity Kane, has being a good fit for Laura as well.
"Bruce" Leroy Green
Nothing very substantial about who would fill
Taimak's
role as Leroy Green. Jackson liked the idea of Chris Brown because he actually has a Martial Arts background and has also mentioned Tristan Wilds from the Wire. I've heard people talk about Pooch Hall from "The Game", Corbin Blue and Christian Keyes to name few. I even saw one website that claimed Twilight's Taylor Lautner had signed on to play Leroy. Don't worry  so far this is all rumor and speculation.  
If the remake does get made; who should be cast? Who would you cast? 
If  the remake does happen who do you think should be cast in the roles of Eddie Arkadian, Richie Green, Leroy's Parents, Angela, Rock, Johnny Yu and Tai (the kid played by Ernie Reyes Jr.)?
What do you think of  Jason Alexander (
"Seinfeld's"
George Costanza), Danny Devito or James Gandolfini for Eddie Arkadian? Lady Gaga as Eddie's girlfriend and wanna be pop star Angela? I think 
Bobb'e J. Thompson
the Marcus PSP kid who also stared in "Role Models" would make a great
Richie Green
. 
Who do you think should star in
the remake of the Last Dragon
? Or Better Question should
The Last Dragon
even be remade at all?  Comment on
The Last Dragon Blog

Pooch Hall as Bruce Leroy? He has mentioned on Twitter that it would be his dream to play Bruce Leroy in The Last Dragon Remake if it ever happened.


What do you think?

Mention 
@TheLastGlow
on Twitter and let the world know your opinion. 

If you liked The Last Dragon you would probably also enjoy:
Kung Fu Magazine's interview with the RZA
- Pretty interesting article gives me some confidence that the RZA might do this remake right. He explains how he will have to make it relevant to today's culture/music because cultural significance was a big part of what made of what made the original so good.  He talks about a lot of other stuff too...