Announcements
Subscribe to posts
Former Pequea Valley Head Coach, Hempfield Assistant Coach, and LCJGT rules official
Bill "Big C" Chronister
was a mentor and positive influence on many Lancaster County junior golfers. He enjoyed coaching, playing, and offering his advice particularly to his son, and current Hempfield Coach, Jon. This tournament format honors his legacy.
When: Saturday, September 23rd, 8 am Shotgun 
Where: Overlook Golf Club
Benefits: Money raised will be used to fund a scholarship in honor of Bill "Big C" Chronister. The scholarship will be awarded to a graduating participant from the Lancaster County Junior Golf Tour.
Format: Junior/Parent or Younger Player/Older Player 2-person scramble. There must be at least a 10-year gap between partners.
Cost: $60 per player includes golf, cart, meal, and prizes.
For more information and a printable flyer, please see the attachment below.
The Lancaster County Golf Association Board of Directors is pleased to award its 2016-17 scholarship to Elizabethtown senior golfer RJ Smith. LANCO presents their scholarship annually to a local high school senior golfer (male or female). The award is based on the following criteria: evidence of the values of golf, improvement over the high school years, golfing excellence, academic performance, and community involvement.
After graduation, RJ will be attending the University of Pittsburgh in Oakland, PA to continue his education. He is planning on working towards a PhD in Physical Therapy. While at Elizabethtown, RJ has been a member of the National Honor Society, tennis team, and golf team where he was able to display his strong leadership skills this past season.
It was his community involvement where RJ was most able to distinguish himself. He has been active in the Science Club, Penn State Mini-Thon, and the Children's Miracle Network. The Children's Miracle Network is where RJ has focused the majority of his volunteer time helping in numerous areas like the CMN Ball and Motorama held at the Farm Show Arena.
The LANCO Golf Association is proud to annually offer this scholarship to our local high school scholar athletes. LANCO has presented this award since 2010 and past winners include Peter Chieppor, Haley Goodling, Andy Butler, Jonathan Sauder, JD Dornes, and Christopher Fieger Jr.
"The Mike Swisher Scholarship will be awarded to a student who is a resident of Central Pennsylvania and will be continuing his or her education on a secondary level. The applicant must be involved with golf, practice good sportsmanship, service to the community, and excel academically. The recipient does not need to be member of the Lebanon Country Club."

Scholarships valued at $1000 will be awarded to two males and two females student


See the attached application for more details.

RJ VanTash 11 LaC
Trey Kuntz 11 MT
Sam Beauregard 12 MT
Will Riva 12 LaC
Lauren Bird 12 LaC
Tyler Wassell 11 H
Grace Stillman 12 LM
Players of the Year
Boys – RJ VanTash 11 Lancaster Catholic
Girls – Lauren Bird 12 Lancaster Catholic & Grace Stillman 12 Lancaster Mennonite 
Coach of the Year – Ron Weaver LaC
Team Sportsmanship- Section 1-Hempfield, Sec 2-Solanco, Sec 3-Pequea Valley
Section 1
Trey Kuntz 11 MT
Sam Beauregard 12 MT
Tyler Wassell 11 H
Logan Hess 10 PM
Justin Hertzog 12 W
Shaun Fedor 10 MT
Jack Marchant 11 MT
Honorable Mention:
Brock Fassnacht 10 W
Jake Macinanti 11 MT
Allison Appleton 12 MT
Noel Veitch 11 CV 
---
Section 2
Jonathon Rush 11 Sol 
Cole Halpin 12 GS 
Austin Lauver 10 LS 
Drew Sawyer 12 Coc
Ryan Smith 11 LS
Christian Eby 12 LS
Honorable Mention:
Tayler Moyer 11 Eph
Evelyn Cable 11 Coc
Charlotte Reed 11  LS
---
Section 3
Thomas Bird,11 LaC 
Will Riva, 12 LaC
Lauren Bird, 12 LaC
RJ VanTash, 11 LaC
Sean McNamara, 12 LaC 
Cody Tobias, 11 ELCO
Ryan Woefling, 11 ELCO 
Grace Stillman, 12 LM 
Honarable Mention:
Blaine Weaver, 11 ELCO
Connor Edie, 10 LM
Andrew Longenecker, 10 NL
Cole Felty, 10 NL
Mason Moore, 10 AC
Ryan Fisher, 12 PV
Darby Mann, 12 PV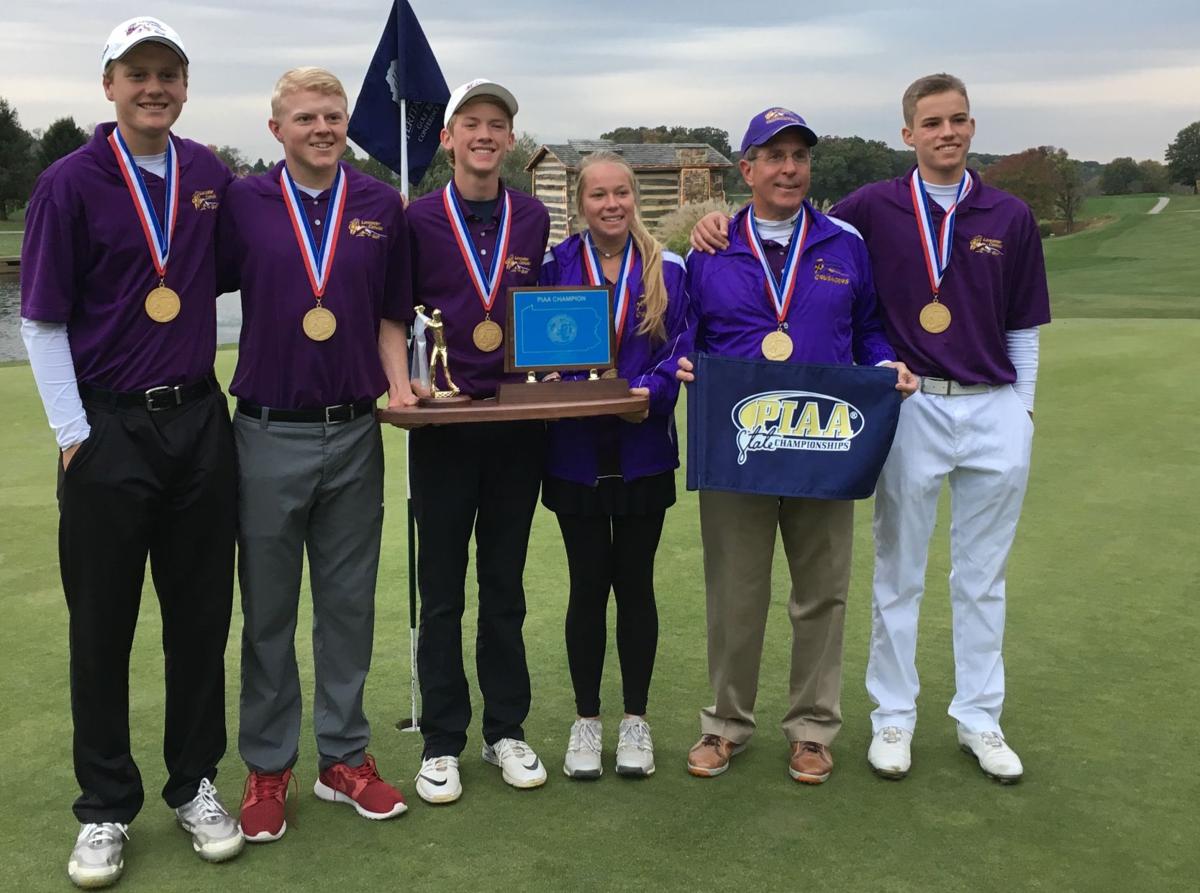 Congratulations to the Lancaster Catholic Golf Team for winning the 2016 AA PIAA Team Golf Title. Team picture and story from
LancasterOnline
. 
On behalf of the Lancaster County Golf Association I am pleased to inform you that the Association continues to offer an annual scholarship to a Lancaster County high school senior (male or female) who participates in interscholastic golf and demonstrates the values of the game of golf (i.e. honesty, fair play, integrity, etc).
Thus the Association is requesting each interested Lancaster County golf coach to nominate one high school senior golfer by December 16, 2016. Mail to:
Jon Chronister

821 Tarpley Drive

Lancaster, PA, 17601
The coach's nomination should address the student's academic progress (please forward high school transcript with recommendation), community/school activity, improvement of golf skills, and sportsmanship and leadership abilities. The nomination should be no more than two pages (typed). 
The scholarship recipient will be announced in early spring of 2017 and the award of $1,000 will be forwarded to the higher education institution the student is next attending to assist with tuition or room/ board expenses.
Thank you for your assistance.  If you have any questions, please contact me at (717) 371-4073 or jon_chronister@hempfieldsd.org.
Sincerely,
Scholarship Chairman
Printable version below:
The 2016 L-L League Championship was held on September 26th at Fairview Golf Course in Lebanon. Congratulations to all of our champions:
Boys Individual Champion - RJ VanTash, Lancaster Catholic (pictured here), 

Girls Individual Champion - Grace Stillman, Lancaster Mennonite 

League Team Champion and AAA District Team Representative - Manheim Township, 

AA District Team Representative - Lancaster Catholic. 

For full results from the 2016 L-L Tournament, visit 
2016 Final Championship Results
.