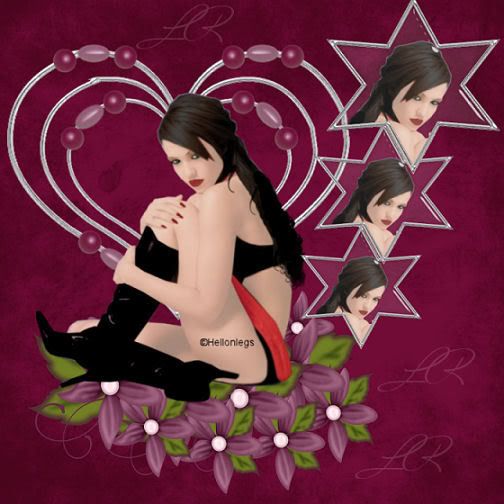 Supplies Needed
Paint Shop Pro (I used 9)
Tube of your choice - I used ©Hellonlegs
you can download the tubes
here
BC_Midnight Scrapkit FTU - ©
BeaCreations
Open up a paper of your choice. I used paper7.
Shift D to duplicate and close the original. Take your
tube copy & paste as a new layer. I resized
mine by 80% to make a little smaller. Open
up star3. Duplicate your tube layer. Place
the star over your tube. Whatever looks good
to you. Take the magic wand and click on the
outside of the star. Make sure you are on
your duplicated tube layer now and hit
delete. Resize it by 90%. Now duplicate this
and resize by 80%. Place under the bigger
one. Duplicate the lager star again and
resize 70% and place under the smaller star.
See mine for reference. Close out your paper
and your tube layer and merge all three
stars visiable. Now open back up the other
layers. On your star layer go to Image >
Mirror.
Open up the heart element. I resized this by
120% and copied and pasted as a new layer. I
put this under the tube layer. Open up
flower8 copy and paste as a new layer. Place
under your tube to make it look like she is
sitting on them. I duplicated this three
times and moved over slightly. See mine for
reference. Layer merge all visible. Resize
to your liking. Add your name and copyright
info save as a Jpeg.