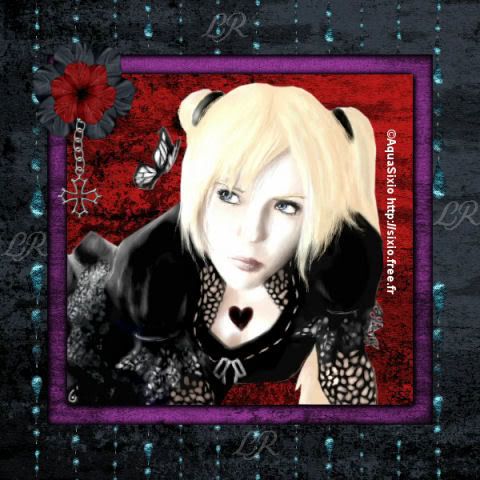 Supplies Needed
Paint Shop Pro
An tube of your choice. I'm using the art of
©
AquaSixio
Scrapkit Gothic Confusion - ©
Bluedream Designs
Open up a paper of your choice. I'm using Paper3 for the background. Open Paper1 copy and paste your tube on it. Position it the way you want and crop it to just the tube.
Merge the tube and paper1 together. Image add borders. Make sure Symmetric is checked. Use 25 for the size and white for the color.Take your magic wand and select the white border. Now copy and paste paper6 into the selection. Make sure to use a new layer for this. Selection float then go to Effects > Cutout> V&H 2 Shadow color black, Opacity 100, Blur 10.00. Now do the same thing but, this time V&H -2. Promote selection to layer.
Merge all visible.
Copy and paste what you just made onto Paper3. Open the Raindrops copy and paste as a new layer and but below your tube. Copy the raindrops and go to Image > Flip.
Open Small Flower3. Image resize by 70% twice. Then resize it by 80% once. Make sure that all layers is not checked. Copy and paste on your image. See mine for placement. Open Small Flower2 resize it by 50% twice. Copy and paste on your image. Place onto of the black flower. Open up the Charm. Copy and paste on your image. Position it below the red flower but, above the black one. Resize by 50% twice. Merge all visible.
Put your name on it and save as a Jpeg.
Make sure to place the correct copyright info on your tag.